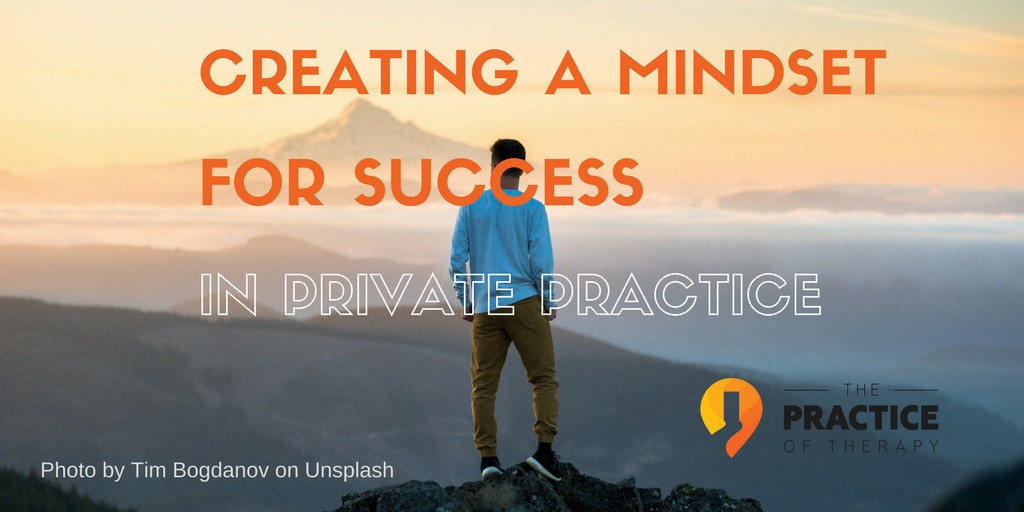 Succeeding in private practice as a therapist, counselor, social worker, psychologist or any other mental health clinician for that matter, takes a lot of hard work. And with the right mindset it can be a whole lot of fun!
One of my good private practice colleagues, Dr. David Hall said, "Going into private practice sometimes take a lot of intestinal fortitude.."   It's so true!  You really do need to be ready for the ups and downs, especially as a clinician is the the start-up and building phases of private practice.
Going into private practice takes a bit of courage.  You really have to be prepared for the roller coaster ride of starting up.  And you also have to be ready to take some calculated risks in order to grow.
This is where mindset is so important.  What I have found over and over is that the people that are most successful in private practice, or any business  for that matter, have an attitude of simply sticking it out.  In other words, not letting failures stop them in their tracks.  When faced with a barrier or a challenge they stick with it until they find a solution or another path to their goal.
One of the things that is very important to remember is that starting, building and growing a private practice takes a lot of perseverance.  You really do need to adopt a mindset of being in it for the long haul.
It takes about 2 years
On average, it takes most practices about 2 years to reach a place where it sustains itself and is viable. In other words, the referrals are a steady and constant flow.  When this happens, the cash flow is good as well.
The first couple of years that a person is in practice is critical in order for them to build the momentum they need to reach that point of being self-sustaining and viable.  So often though, people will fall into some common pitfalls that cause their practice to "failure to thrive".
Some of the common pitfalls and reasons private practices fail:
The clinician does not prepare financially for being in private practice; in other words, they do not have enough money in reserve to float the practice and pay themselves during the slow times

Does not retain clients.  This usually because they are not actually helping people or have the clinical skills they need to be effective.

Poor "customer service". Does not respond to phone calls quickly or address the logistical needs. For example, having an intake process that is communicated well to new clients.

They really fail to market and network enough to make themselves known in the community.  They set up a private practice, but put little or no effort into getting the word out.

They

don't have a website

or the website if poorly designed and not user friendly.

The

marketing messages

are not geared toward the client.  For example, all of the copy on the website is about the therapist's credentials and techniques they use; useless information for a potential client. Instead, it needs to be written in a way that a potential client feels a connection and confident they will be helped with their problems.

The space in which clients are seen is uncomfortable or unappealing. If a clinician is meeting with a client in an untidy or cluttered environment it's a turn off.  Also be aware of smells.  The location is important. If it is in a location that is hard to get to or parking is a problem, that is a turn off.

Not being well organized

or constantly changing things with the client.  Cancelling appointments or even worse just not showing up!
Of course there are lots of others!  
Success in private practice also requires having the right money mindset.  In the podcast with Jane Carter we talk about this.  For some, there is a struggle with "money shame". We can be afraid to ask clients for money and not charge enough to be truly profitable.
One of the ways to think about all this is to understand that if you are not getting paid or not getting enough to maintain your practice financially, you will quickly reach a point that you can not keep seeing clients.  The people that need your help the most will no longer be able to have you available for them.
The other thing to always remember is that running a private practice is running a business.  And for any business to succeed, it HAS TO make a profit.  Not profit in a greedy sense.  But profit in the sense that you have to be able to support yourself in order to continue to see the people that need us most. You have to keep your doors open and not be struggling yourself to be an effective helper.
If you haven't already, do listen to the podcast interview I did with Dr. David Hall.  You can listen to here:
https://practiceoftherapy.com/tpot-podcast-004-david-hall/
Also check out some of these other blog posts on this topic of mindset:
https://practiceoftherapy.com/6-tips-for-beginning-your-journey-into-private-practice/
https://practiceoftherapy.com/asking-why-matters-most/
https://practiceoftherapy.com/private-practice-mindset/
Success in private practice as counselor, therapists, psychologist or social worker does require having the right mindset.  But also, it requires taking action to move yourself forward.  We won't always get it exactly right, but the effort is where success lives!
Meet Gordon Brewer, MEd, LMFT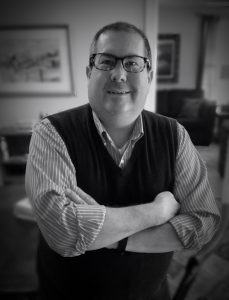 Gordon is the person behind The Practice of Therapy Podcast & Blog. He is also President and Founder of Kingsport Counseling Associates, PLLC. He is a therapist, consultant, business mentor, trainer and writer.  PLEASE Subscribe to The Practice of Therapy Podcast on iTunes, Stitcher and Google Play. Follow us on Twitter @therapistlearn and Pinterest "Like" us on Facebook.