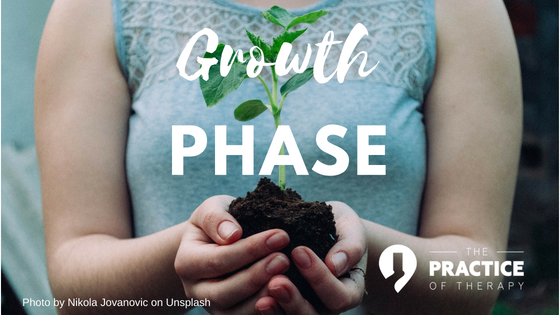 So you are in private practice already… Congratulations!
How far along are you and where are you feeling stuck?  Do you know where to focus your efforts?
Most clinicians in this phase kind of fall on a spectrum...
Started but not getting clients - maybe you are in the category of having some systems in place for seeing clients, you have an office, but you are having a hard time getting clients to come through the door. You are ready to grow, but you have not developed steady referral sources to bring new clients in.
Moving from part-time to full-time - maybe you are in this category and have a part-time private practice and you are trying to figure out how move into it full-time.  You are starting to grow and but the number of referrals seems to be a bit spotty or inconsistent. And you are not sure how to determine if it is time to make the move to full-time private practice.  Can you make it financially?
Full-time and overwhelmed -   maybe you are growing and have gone full-time but the administrative side of your practice is consuming a lot of your time which takes away from session time and the downtime you need. You just need to figure out how to work more efficiently and handle the administrative and business side of your practice better
Regardless of which category you fall into, I can help!
*Just so you know... Some of the links below are affiliate links. This simply means I do earn a commision at no extra cost to you. It just helps me fund what I am doing here. I recommend them because I trust them and know that they have worked for me an others. Thanks in advance for choosing to use some of the products and services I recommend!
---
STARTED BUT NOT GETTING THE CLIENTS YOU NEED.
In this growth phase category, your focus should be all about marketing and networking. You need to be developing a diversity of referral sources to help grow and sustain your practice.
Put time into making sure your website is optimized(SEO); be sure to blog regularly to establish yourself as an expert
Use social media to help get the word out about your practice and the fact that you are taking new clients.
Contact w/ doctor's offices, chiropractors, other therapists, and other professionals; create a practice flyer with your contact information to let them know you are accepting new referrals
List your practice in local and national directories (ie., Psychology Today, Therapy Den, Good Therapy, Google Business, etc.)
Consider offering workshops or seminars for local organizations
Consider if you might want to join some insurance panels and become credentialed with some select insurance companies.
Here are some blog posts and podcast episodes, that will give other ideas and resources for marketing and networking:
MOVING FROM PART-TIME TO FULL-TIME.
In this growth phase category, in addition to marketing and networking, you need to focus on the practice management and financial side of your practice and your personal finances.  You need to make sure you have the financial viability, practice processes, and reserves in place to sustain you during slow periods and downtime.
Meet with an accountant or other financial professionals to discuss your current financial situation
Make sure you are prepared for tax season and that you are paying self-employment taxes
Form a business entity (LLC) to help protect your personal assets (*SwyftFilings.com is an inexpensive way for doing this)
Focus on getting your debt as low as possible
Here are some blog posts, podcast episodes, and other resources I would recommend:
FULL-TIME AND OVERWHELMED.
In this growth phase category, you have experienced phenomenal growth. Congratulations! In this category, you need to focus on processes and systems. It's time to start doing more automation of tasks and also delegating.  You are probably at a point where you need to hire an administrative person either virtual or in-house.
Learn how to get more efficient with your processes by documenting what you do each day; do a time study for yourself
Focus on time management and productivity skills (Michael Hyatt's content is a great resource for this)
Batch your workflow; block off time to do your tasks
Delegate, delegate, delegate!
This is really the time to consider hiring an admin person or virtual assistant
Here are some blog posts, podcast episodes, and other resources I would recommend:
Books
[amazon_link asins='0143126563,0801075254,B00GDIE2FC' template='ProductGrid' store='POT Sales' marketplace='US' link_id='72e996c1-9757-11e8-98a4-6ffc211b4771']
---
Overall, this Growth Phase of private practice is one of the most exciting and challenging times. It will help you set the stage for future growth and the success of your practice.
I would love to work with you through this phase of your practice (it's my favorite time!).  Individual consulting or joining a Mastermind Group is one of the most effective ways to grow and maximize what you are doing and learning where to focus your efforts. It is nearly always a great return on your investment.  Apply to work with me today!