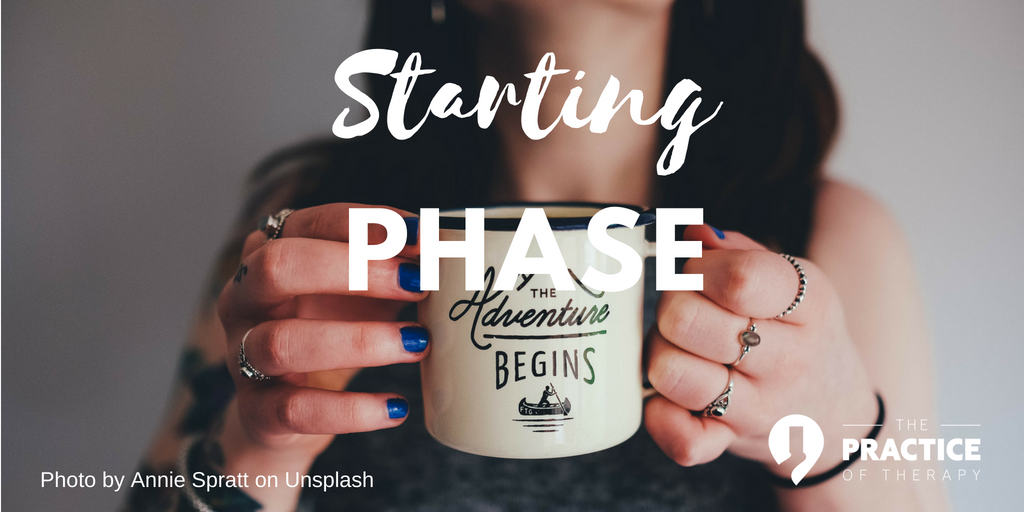 So you are thinking about private practice… Great!
There is so much to learn to know how to have a successful private practice.
You have come to the right place to learn how to get started!
I like to make things simple (especially when it's really complicated...).  I like breaking it down into 3 steps (or broad areas) to focus on as you get started.  These three areas are simply this:
Having a place to meet with clients - One of the first things to tackle in starting a private practice is figuring out where and how you are going to see clients.  It might mean subleasing a space from someone else, having online sessions, or joining a group practice that is already established. It's the first step of going into private practice.
Having your office processes set-up - Once you know where and how you are going to see clients, you need to equip your office and begin putting processes in place to do intakes, documentation and communicating with clients. Phones, email, FAX, scheduling, payment system, accounting systems, and paperwork are all part of the setting up an office both brick and mortar and online.
Getting clients and referrals- Then, once you have all of your office processes and office space ready, you have to find the clients and referral sources for people to start seeing you.  You just can't "build and they will come"... You have to build it, then TELL THEM ABOUT IT, then they will come.  We're talking about marketing here!
And that's it!  Sounds simple, right?! (NOT!! Eyes rolling…)
The good news is that I can help you with these 3 steps!

*Just so you know... Some of the links below are affiliate links. This simply means I do earn a commision at no extra cost to you. It just helps me fund what I am doing here. I recommend them because I trust them and know that they have worked for me an others. Thanks in advance for choosing to use some of the products and services I recommend!
---
HAVING A PLACE TO MEET WITH CLIENTS.
Finding a place to meet with clients sometimes takes a bit of creativity.  A good place to start is simply to ask other therapists if they know of a place or if they might have room to share their space. Check with other professionals, doctors, attorneys, chiropractors and such to see if they have unused space. The other thing to consider is to consider is meeting with people online (be sure to know your state laws and learn how online therapy is different.) The beauty of our profession is that very little is needed to meet with people. A couple of chairs and a quiet, private place to meet.
Search online for office spaces in your area; Craigslist is sometimes helpful, but be careful
Talk with other therapists in your area that might have office space they are willing to sublease
Consider joining a group private practice. It might be a good fit!
Talk to you Chamber of Commerce to see if there are office co-ops or office sharing services in your area
Look into offering online therapy. Some clinicians have built very successful practices that are strictly online
Here are some blog posts and podcast episodes along with other resources to help you begin thinking about all this:
HAVING YOUR OFFICE SYSTEMS AND PROCESSES SET-UP.
Your office set-up will be the foundation for making your practice successful.  There are so many details and logistics to think about when getting things ready to see clients. From paperwork, email, phones & faxes, bookkeeping & accounting, to taking credit cards, there is a lot to begin having in place.
Here are some blog posts and podcast episodes along with other resources to consider in setting up your office:
GETTING CLIENTS AND REFERRALS.
Once you have your office space ready and your processes in place for handling clients, you are ready to start seeing people! Where will they come from? This is where getting the word out about your practice comes in (AKA marketing...).  Having a website will be essential along with developing other referral resources through networking.
GET THE SUPPORT YOU NEED.
Starting a private practice can be scary! But you don't have to go it alone.  One of the best ways to ensure success is to get some coaching and mentoring.  There are two ways to do this. One on one coaching or joining a Mastermind Group.
One on one coaching will give you the intensity and a specific plan you need to succeed.
Mastermind Groups will give a community of support with others to help you on your journey.
RECOMMENDED READING AND BOOKS.
While you are getting your private practice started, I would recommend you learn as much as you can about running a small business and the business side of private practice. Below are some recommended books and resources from other consultants I highly recommend. This whole journey is a learning process.  Learn as much as you can!
---
[amazon_link asins='0887307280,1885167776,073521414X,1591844886,B008JF1ODU,0393705625,0718033329,B00L4HAWIS,1595555277,0143126563' template='ProductGrid' store='POT Sales' marketplace='US' link_id='da77455f-9f11-11e8-aa8e-0f37a138fe3f']
---
Other Consultants & Friends
One of the things about this private practice coaching and consulting space are all the people that want to help clinicians be successful in private practice.  Here is a list of people I can recommend not only because they are good, but they are friends as well.