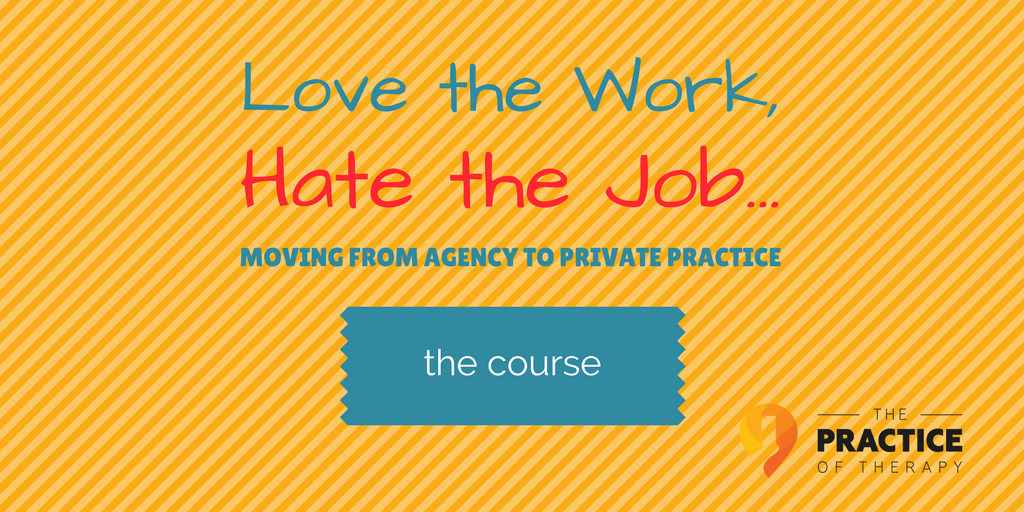 You have always wanted to help people so you became a counselor, therapist, psychologist or social worker.  You love the fact that  you have been clinically trained and put in the hard work to get where you are in life.  Graduate school, licensure and all the hard hours of study.  
Then you landed your first job at an agency and it was great!
You have been in the new job for a couple of months or maybe a few years now.  It just is not what you really wanted to do.  There are long hours, high caseloads and more paperwork than you had ever imagined.  You are just tired and feeling a bit burned-out.
You know you are helping people and that the clinical work you are doing is making a difference. It is just that all the demands and the sheer volume of clients is just too much!
You have thought about going out on your own, into private practice. Maybe even just seeing what else is out there.  You might have even thought about changing careers and getting into something different. You just can't quit your current job.  It pays well and the benefits are good.  
The truth of the matter…
You love your work, but hate the job!
Does this fit for you?
---
If you are feeling disenchanted and burned-out in your current job working for an agency or other organization, you might be looking at your options.  I know I was when I first went into private practice over 10 years ago.
"Love the Work, Hate the Job" is a course designed to help you make the transition into private practice. And if you noticed, I used the word "transition".  Because going into private practice should be done with a lot of purpose and planning.

This four-part course will help you:
Know your "WHY" and help you discern if going into private practice is something for you
Help you create a plan to move into private practice without it creating a financial burden
Show you the steps for starting and ideas for setting up a private practice
How to get referrals and the clients to work with you around your schedule
Ultimately this course will help you begin the journey and make that big transition from being employed to being self-employed.  It will show you how to have a private practice that not only replaces your current job, but allows you the freedom to be your own boss, set your own schedule and get your ideal clients.
What you will get
When you sign up, the video course lessons that will be emailed to you over the next few days.  Each email will contain one video lesson along with a worksheet for you to work through each day.
Introduction – About the Course and Tips for Use
Lesson 1- Knowing Your "WHY"
Getting clarity for yourself about private practice
Knowing if this is the right thing to do
Lesson 2 – Creating A Plan
Map out where you want to be
Knowing the numbers and financial side of things
Lesson 3 – Setting Up Your Office
Knowing how and where you will see clients
Thinking outside the box in private practice
Lesson 4 –  Getting Referrals & Seeing Clients
Marketing 101 and things to do to get referrals
Handling phone calls and getting the clients to your practice