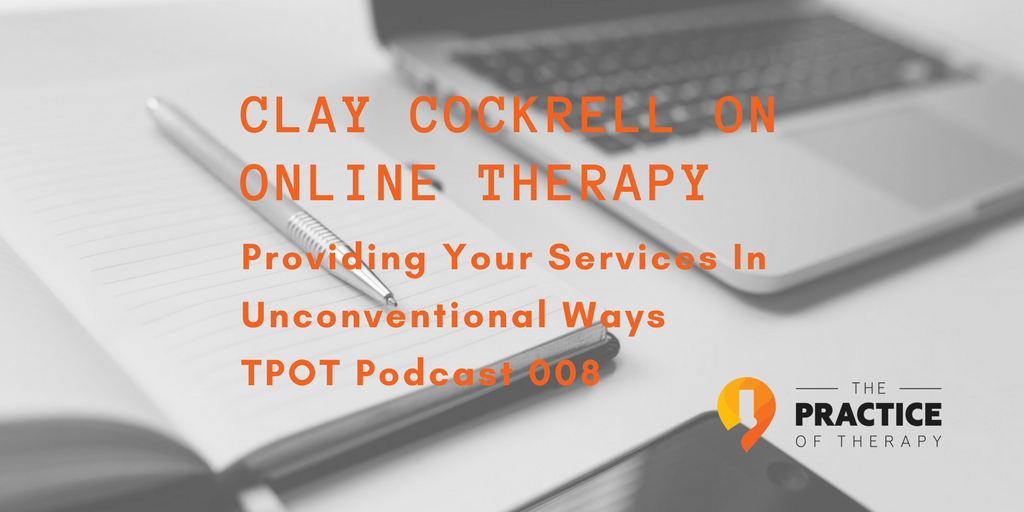 In this episode of the Practice of Therapy podcast, Gordon talks with Clay Cockrell about online counseling and building a private practice using online services. Gordon and Clay discuss how being able to add online therapy as an option for clients, can be a great way to reach people who need our services but find it difficult to reach our offices. Gordon and Clay talk some about the logistics of providing online therapy and some of its limitations due to state regulations. They also discuss how providing online counseling can have global reach and give people a way to connect with professionals in some of the remote areas of the world.
Meet Clay Cockrell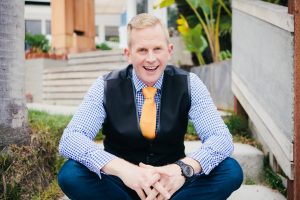 Clay Cockrell, LCSW is a therapist based in New York City and is the founder of several counseling oriented endeavors. Most recently he is the founder of Onlinecounselling.com – a listing directory with the mission of helping clients all over the world to find the therapist or life coach that will best meet their needs.  The site also works through their educational resources and podcasts to help counselors work online in an ethical, responsible and legal manner.  A majority of proceeds from the site are donated to non-profit arts.  
Clay started his career as the creator of Walk and Talk Therapy (www.walkandtalk.com).  Instead of meeting in a traditional office, he conducts counseling sessions while walking through Central Park in NY.  He has found that movement when associated with therapy is incredibly effective in allowing the healing and growth process that is so critical to the therapeutic journey.  He consults with therapists all over the world to bring this innovative approach to their own practices.  
Six years ago, Clay began his journey into the online world by the creation of Online Marital Counseling (www.maritalcounseling.com)  He works with couples all over the world via online counseling to improve and /or salvage their broken relationships.  It is incredibly valuable when the couple is living apart or having scheduling issues that prevent them from engaging in traditional couples counseling.  Clay also has a podcast, The Online Counselling Podcast.
Originally from Kentucky, Clay moved to New York City with his wife in 1997.  He has been featured on ABC's Good Morning America, CNN and National Public Radio as well as in the New York Times, The Wall Street Journal, WebMD, and The Times of London.  Most recently he was featured on CBS's "The Doctor's" where they were able to explore his specialty of counseling for the Ultra Wealthy and how to raise children in a money'ed envirornment.
"… there's a world in need of your services and this is a way for you to reach that world…" – Clay Cockrell, LCSW
Start a Private Practice Using Online Therapy 
If someone is wanting to start a private practice but might still working somewhere else, for example working for an agency,providing online counseling after hours would be a great way to possibly get started into private practice using the online space. It is important though that your start website has an emphasis on your online services and explains for clients how it all works. Education of potential clients is key.
To effectively market your online counseling services have it listed as a service your homepage. Also have a specific page about online therapy in your website. Focus on help educate potential clients on its use and how it can help them with their specific problems.
Clay talks about investing in some online advertising.  For example, Facebook ads to help boost the ability for people to find you and your website. People seeking online therapy will obviously be online and searching for you there.  
As part of this online marketing effort, directories like the Online Counseling Directory and Psychology Today can be a big boost in promoting your online therapy services.
It is also important to think about having a niche with your practice just as you would in a traditional practice. People are more likely to search for counselors and therapists based on the specific problems they are having.
Online Counseling Logistics
Be sure to use a secure online platform that is HIPAA compliant.  Not only from a legal standpoint, but ethically too. Simply using Skype is not secure and could break legal and ethical boundaries.  Two recommendations are Doxy.me and Zoom.com. This is because they both will sign a BAA (business associate agreement) which is required for HIPAA standards.
Doxy.me is a good platform choice because it is geared specifically to telehealth or telemedicine.  It features an online "waiting room" and automatically adjusts bandwidth to keep from having interruptions during the session
Gordon and Clay also discussed the importance of being aware of professionalism while holding online sessions.  For example having a background that is appealing to clients while on camera. (Don't be in your bedroom with an unmade bed in the background!)
Resources For Starting an Online Counseling Practice
Do be aware of your state laws around online therapy.  Most states say that you need to be licensed in the state where the client is physically.
Clay mentioned a resource created by the law firm Epstein, Becker and Green that outlines all the laws pertaining to online. You can find that here: https://www.onlinecounselling.com/united-states-therapist-licensure-information/
Global Reach
One of the great opportunities out there is being able to offer services to people globally. There are very few if any regulations for working with people in other countries (with the exception of Canada).  A whole niche could be created in providing online therapy to expats living abroad.  Also offering services to people living in countries without therapy and counseling available to them.  
Other Resources Mentioned:
Sign-up for the Online Counseling Directory: https://www.onlinecounselling.com/list-your-practice/
Listen to Clay's podcast: https://www.onlinecounselling.com/podcasts/
For listeners of this podcast you can use the discount code: "GordonDiscount" and get the monthly membership for $19.95 (It's normally $24.95. Thanks Clay for this generous offer!)
G-Suite Course for Therapists: practiceoftherapy.com/gsuitecourse
Meet Gordon Brewer, MEd, LMFT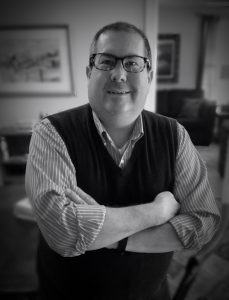 Gordon is the person behind The Practice of Therapy Podcast & Blog.He is also President and Founder of Kingsport Counseling Associates, PLLC. He is a therapist, consultant, business mentor, trainer and writer.  PLEASE Subscribe to The Practice of Therapy Podcast on iTunes, Stitcher and Google Play. Follow us on Twitter @therapistlearn and Pinterest "Like" us on Facebook.