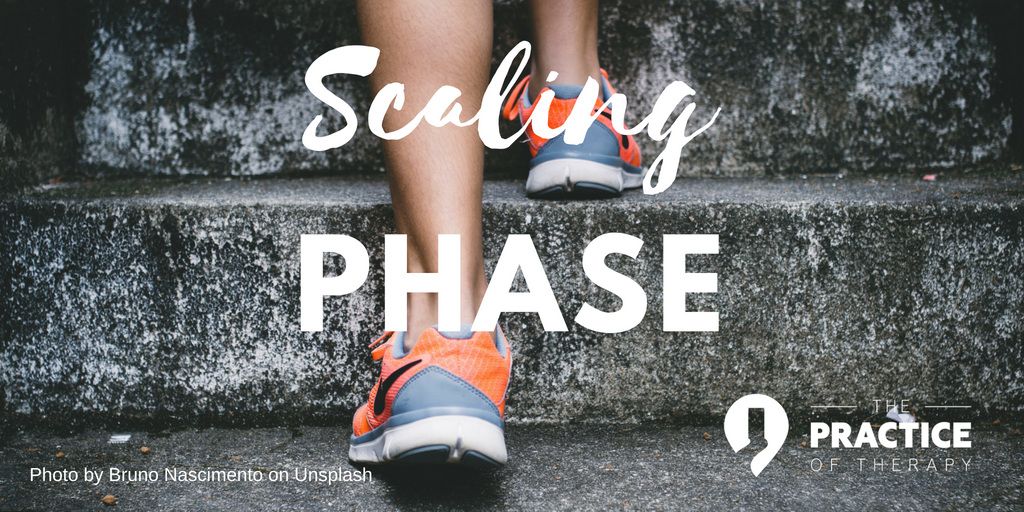 Have been in private practice for a while and you want to take your practice to the next level?
Maybe you are thinking about adding clinicians or opening an additional location...
Or maybe you are at a place where you want to add support staff for your practice...
One of the most exciting times in private practice is when you realize you are "busting at the seams" and need to either scale up or scale back.  (Most people choose to scale up!) And in order to do this, you really need to have the systems and processes in place to help you do this.  You also need to be willing to delegate more and stop doing it all yourself.
Scaling really means that you are moving from operating as a solo practitioner to being a CEO and business leader.  You need to maximize your time and productivity so that you are only spending time on those things that give you the maximum ROI for your time and energy.
Maximizing Your Time and Focus - Scaling a private practice requires being able to use your time and focus in new ways. The key is to be able to delegate and outsource more so that you can spend time "working on" your practice rather than "working in" your practice. It requires good time management skills and staying focused on the things that matter the most.
Maximizing Earning Potential- For most of us in private practice, we trade our time and expertise for money. We see clients and they pay us for our time. In order to maximize our earning potential, we need to get the most money we can for our time.  It also means finding ways to earn money "passively" without having to trade our time for money. Passive income can come in many forms (affiliate marketing, group practice, writing a book or creating an online course). Ultimately, as you scale you want to be able to diversify your streams of income from several different sources.
Starting A Group Practice - In this phase of private practice, you will most likely be adding clinicians and staff to your practice.  You will need to know which sort of structure you will want to have in terms of using contractors (1099) or employees (W2). A big part of what you will choose will depend on what amount of oversight you need to have for your organization.
Below are some recommended resources and information to help get you going in the right direction!
*Just so you know... Some of the links below are affiliate links. This simply means I do earn a commision at no extra cost to you. It just helps me fund what I am doing here. I recommend them because I trust them and know that they have worked for me an others. Thanks in advance for choosing to use some of the products and services I recommend!
---
The whole key to scaling a private practice is learning how to use your time and focus differently.  You are moving from trading your time for money to creating ways to have "passive income".  In other words, putting in time and effort into getting ways to diversify your income streams.  For most private practice owners in this phase, they are moving into seeing fewer clients and spending less time "working in the business" to more time "working on the business". They delegate and outsource more so they can spend less time doing and more time designing.
One of the first steps of this phase is to have a better understanding of how you are using your time.
Next, you want to be able to put the systems and processes in place to have your practice run itself without you having to be there all the time to make it run. This means automating as much as possible.
Delegating and outsourcing well is the key to this phase.  It means creating a team of people that will help you achieve the growth you are looking for.
Ultimately you are focusing your time on creating systems that allow your team to do the work.  Whether it is seeing clients, dealing with insurance and collections or promoting your practice, you create the space and systems for those things to happen.
Here are some blog posts and podcast episodes to give you more information:
As it is in the growth phase of private practice (and all phases for that matter), it's important to get your financial house in order. In order for your scaling to be sustainable, it has to be profitable.  Because as you grow and scale, the cost of operating your practice goes up in the same proportion.  That's why it is essential to have the right systems in place to track all of this and know where to invest your time and effort.
Be sure to talk with a professional and experts about all of this.  If you do not have an accountant...get one!
I would highly recommend that you read the book, Profit First: by Mike Michalowicz. It will totally help you rethink business finance.
Concentrate on lowering your debt as much as possible.
Understand your cash flow and know where and how revenue is being generated in your practice.
Also, understand your profit margins and how it to increase these.
Group practices can take on many shapes and structures.  At a very basic level, a group of clinicians can simply share resources (office space and admin functions). It could also use a contractor model, where clinicians operate independently and the practice keeps a portion of what they bring in.  Or you can build an entire organization that hires clinicians as employees.
Spend the time needed to put the systems and processes in place to support the group.
Hiring the right people is key to success. Make sure your people have the same values and work ethic that you do as the practice owner.
Talk and consult with other group practice owners to learn what they have about owning a group practice.
Be prepared for the financial changes this will bring for your practice.  The more you grow the more your operating costs will grow as well. It also means you will have the potential for more profit.