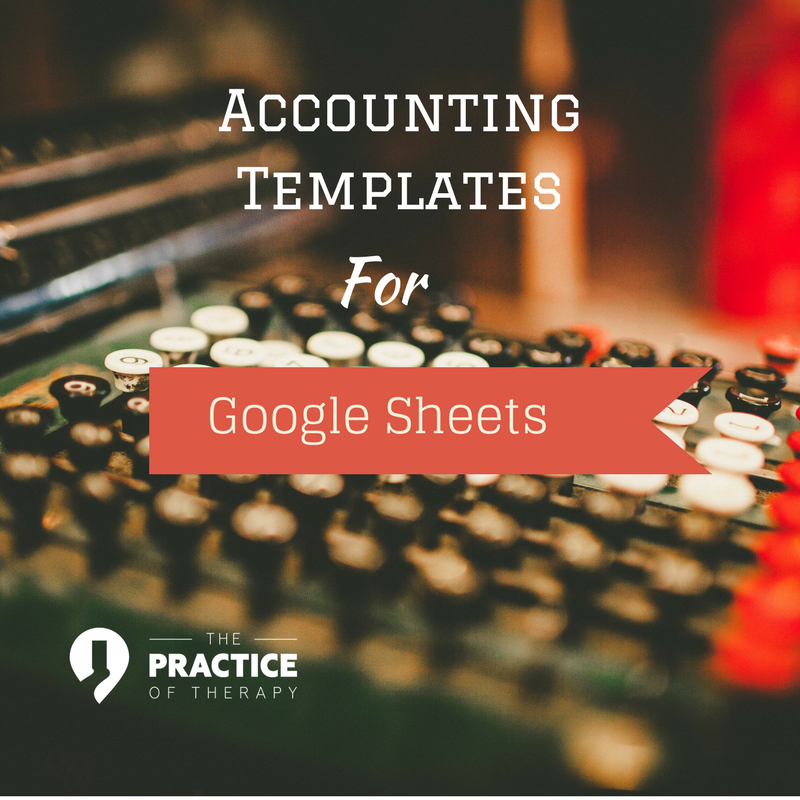 Are you are on a budget or just starting out in private practice?
Using Google Sheets to track the business side of things is a simple way to get started…
The problem is it just takes so much time to create the right spreadsheet and getting it to work the right way…
Plus… knowing HOW to set everything up!
Here's the solution…
The Practice of Therapy's Google Sheets Accounting Templates
Here's what you get…
Checking and Credit Card Register
Private Practice "Bookkeeper" with Profit and Loss Statement
Budget Tracker
Client Information and Payment Log
You will need to have a Google account and be logged in to your Google account in order use Google Sheets.  Chrome is the preferred browser.

And to be HIPAA compliant, it is recommended that you use *Google G-Suite to make your account more secure and get the BAA (Business Associate Aggeement).
Accounting Templates for Google Sheets is a set of templates designed to give counselors, therapists and other clinicians in private practice a simple way to track the business side of their practices.  The templates are ready to use with all of the basic formulas and functions pre-loaded.
All you need to do is to start plugging in your numbers and the templates do the calculations and give you a picture of the financial side of your business.
They are simple to use.  Just plug in your information and the pre-loaded formulas make all of the calculations for you!  
Checking and Credit Card Registers – Use this simple template to keep your checking account balance along with recording credit card purchases.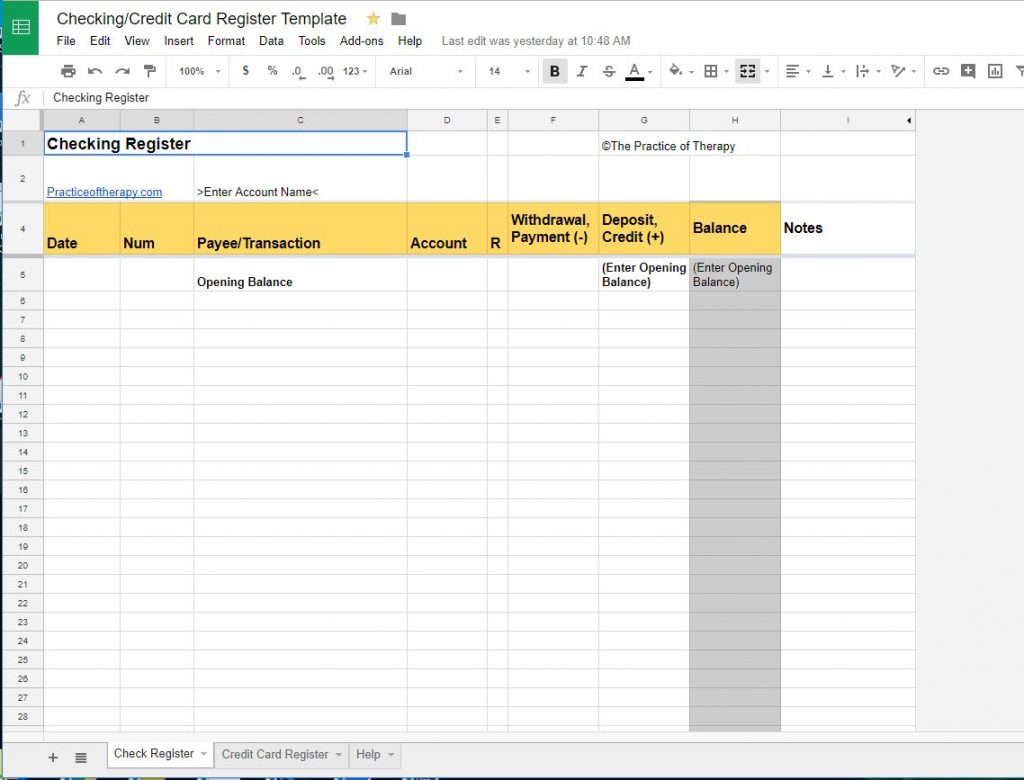 Simple check register that automatically gives a balance based on the entries
Includes a credit card register to track credit card charges used for your practice
Private Practice Bookkeeper – Helps you track your income and expenses.  It makes things easier come tax time and keeping your accounting straight.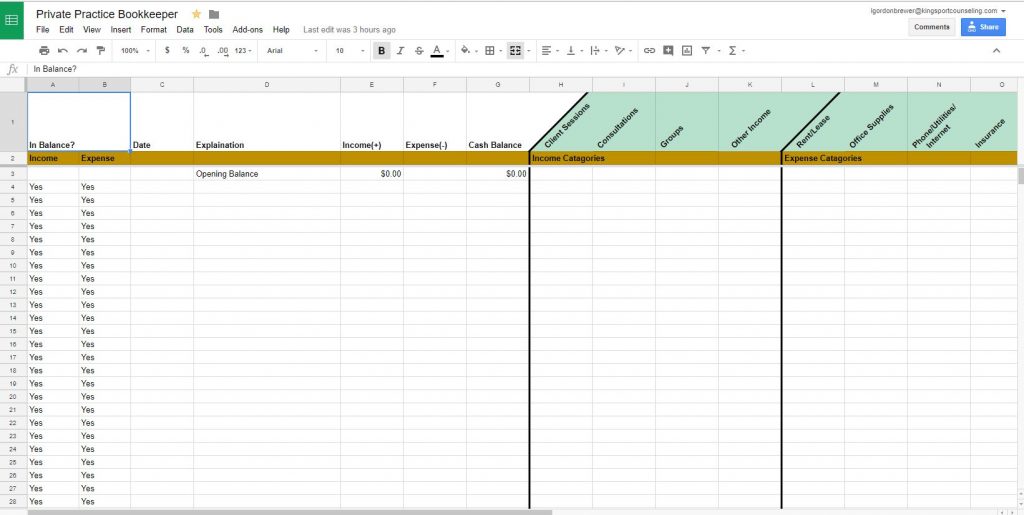 Tracks Income and Expenses
Categorizes income and expenses into "accounts" to make it easier at tax time
Checks your entries to make sure accounts are in balance according to standard accounting practices
Budget- Create an annual budget and use the tracker to see your monthly progress.  It lets you know if you are "over" or "under" the budget you have set for yourself.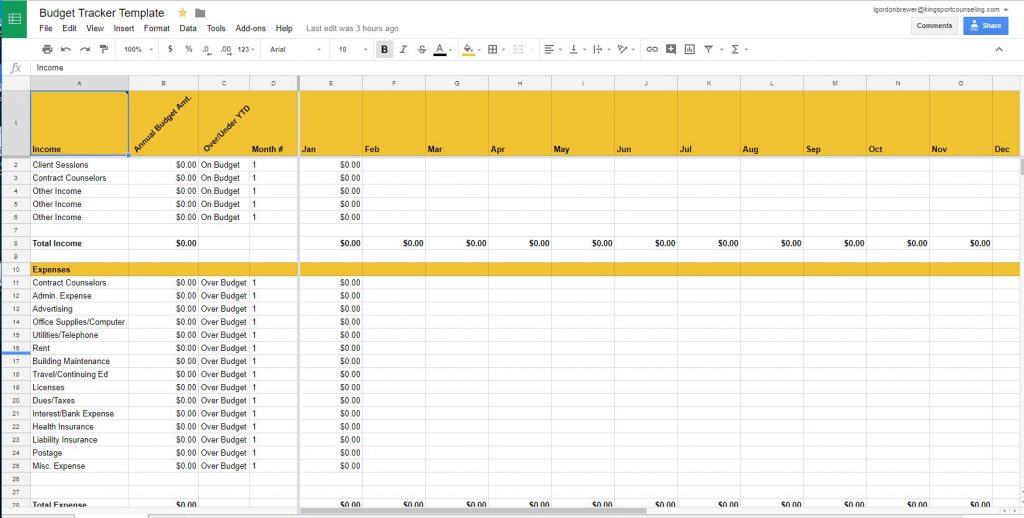 Helps you create an annual budget for your practice
Allows you to see monthly progress
Lets you track if you are "over or under" budget
Client Information and Payment Log – Helps you log and track client payments and their personal information for easy access.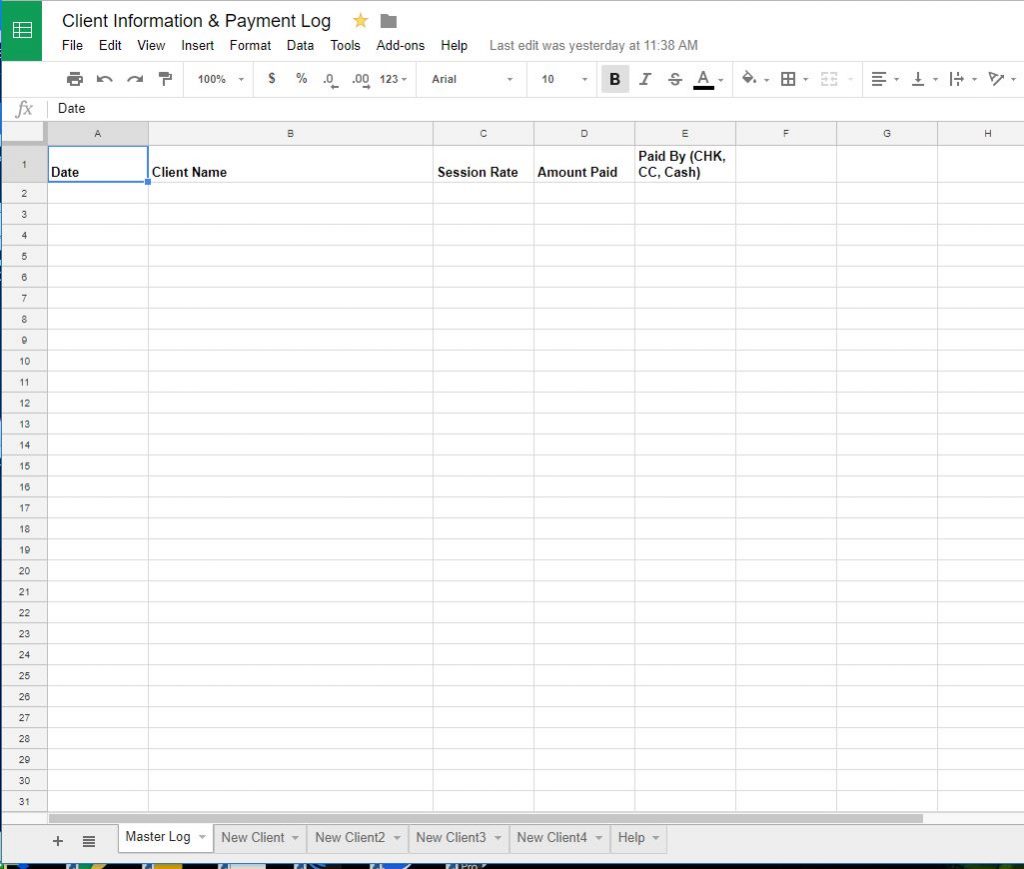 Track individual clients and their payments
Gives you a master log that allows you to record and track individual payments by clients
---
 Need something a bit more advanced? *FreshBooks is an accounting software designed for small business…
*This is an affiliate link.  We do get a commission, at no extra cost to you, if you purchase this product using this link.
Get the whole package and save! The Paperwork Packet, Google Sheets Accounting Templates, and the Session Note Helper™ bundled together…
Legal Things:  This published material is intended to be accurate and informative in the content covered.   It is provided with the understanding that legal and ethical standards vary from state to state. The author and publisher are not engaged in giving legal, accounting or other professional service advice. If legal or other services are needed, please seek out appropriate professionals.