One of the most read blog posts I have had so far is the blog post "Business Models in Private Practice".  Maybe that is because the subject of the business side of private practice has really only been written or talked about in the past 10 years or so.  And here recently the number of folks that are writing, blogging and broadcasting about private practice in the mental health field has exploded. There are now tons of resources for clinicians that are either going into or already in private practice.
In that blog post I did last year on the business models in private practice, I talked about the difference between a business model vs. a business plan.  I used a clinical analogy that most of us in the field can relate to:
Business Model = Treatment Approach
Business Plan = Treatment Plan
A business plan is simply roadmap that outlines how you will grow your practice. Business plans are a statement of business goals, reasons they are attainable, and plans for reaching them.  They can be either detailed or more general.  A good practice business plan will help keep you on track and help guide where to put your energy.
The thing to think about in creating a business plan for your practice, is that it really is essentially a map for how you will get to where you are going.  So the first thing to figure out is where you are going, then work backwards from there to create your business plan.  After-all, if you don't know where you are going, how are you going to get there?!
Think about is where you would like to be with your practice a year from now.  Where would you like to be 5 to 10 years from now?  A place to start is to think about your personal goals and aspirations.  For most, part of this is financial.  Other parts of this are probably more about your personal values and what you see as your mission in life.  In other words your "why". The first step is to get some clarity about all of this for yourself.
Other than personal goal setting or reaching certain income level, business plans are also often used to get financing for your practice.  And the reason anyone would need financing would be to have the capital and income they needed to help grow their business to a certain level or to be self-sustaining.  Banks and other lenders are going to require a pretty in-depth and comprehensive business plan before they will loan you the money.  Without going into a lot of detail about this, here is a great resource from the Small Business Administration on business plans:  https://www.sba.gov/starting-business/write-your-business-plan
Whether you are going to try and get a small business loan or not, (and I would say avoid doing this if at all possible)  it is still a good idea to have a business plan that you can work from and that will keep you on track.  It is also a good idea to write all of this down.  Here are some steps to take in creating a simple business plan for your private practice.
Create a mission statement and vision for your practice
What are your values and how do you want your potential clients to be treated with they come in the door?  What do you strive for as a person and as a mental health practitioner?  This can also be your "why".    These will be the guiding principles that will be what grounds you and from which you operate your practice. Write this out.
Financial Plan
Know your KPI's.  One of the main components for any business plan is to know your financial goals and have some KPI's, Key Performance Indicators. You would then track your KPI's to see how you are doing in achieving your financial goals. Usually this is simply having a specific dollar amount you want to achieve.  Other KPI's might be around the number of sessions held or how you spend your time.  Regardless of what you have as your KPI's, have a way to track and look at this often.  One of the best ways to figure out your KPI's is to work backwards from the numbers you have set as your goal.
So for example, if you have set a goal for yourself to be making $100,000.00. We can break this down more.  Working "backwards" from $100,000.00 we can figure out what you would need to do each day in terms of seeing clients and having sessions:
$100,000 ÷ 12 (months)  = $8333.33 a month
$8333.33 ÷ 4 (weeks) = $2083.33 a week
$2083.33 ÷ 5 (days) = $416.66 a day
$416.66 ÷ $100.00 (per session rate) = 4.16 sessions per day
In this example we have used "gross numbers".  You will need to factor in your time off and other expenses.  You will need to do more than just have 4 sessions per day at $100.00 per session to reach the goal of $100,000.00 in take home pay.  So to cover your expenses and time off, you will either need to see more clients, raise your rates or both.  In other words, you will need to bring in more than $100,000.00 if you have set that as your goal.
Track and know your expenses  
In order to have a solid business plan, you need to know what your expenses will be.  Office rent, phones, office equipment, and advertising are just a few of the expenses involved to run a practice.  But there are several other expenses to take into consideration.  These are what I call the "Hidden Expenses" (Again, here is the blog post I did on this subject).  The point being, know what your projected expenses will be in order to factor that in with your business plan and budget.
Plan your cash flow  
Sometimes it is hard to predict when we will have a high volume of clients vs. a low volume.  Generally most practices slow down around holidays. If you are not seeing clients, it also means you are not bringing in any money and your expenses are still there.  So you need to plan for times when your case load and volume of sessions go down.
The best way to handle this is to have a buffer or savings that will cover those down times.  Put into your financial plan regular savings. Treat it like you were paying a bill; something you owe to yourself.
The other thing to consider as you think about cash flow is to consider ways to diversify your income.  In other words, do more than just see clients to bring in the amount of money you need to reach your financial goals.  (More about diversifying income here).
Create and keep a budget  
With your projected income and expenses, create a budget that will help you track your KPI's, expenses and cash flow. Look at this and update it often.
Marketing Plan
A marketing plan is the primary tool for bringing in new clients. If you were to tell someone what you do and what kinds of people you work with in your practice, how would you describe it?  In other words, what is your "elevator pitch"? Your marketing plan is driven by a clear concise message that you get out to the public through your marketing efforts.   Investing your time, effort and resources into your marketing plan is where you will get a ROI, (return on investment). The ultimate goal of any marketing plan is to bring in new clients.  So learn all you can about marketing your practice and then put a plan into action.  More on marketing here…
Growth Plan
As you grow it might mean having to spend money on things that will facilitate that. For example, moving to a new office or adding support staff.  Investing in your private practice can be done either financially or in terms of time. And the old adage of "you have to spend money to make money" is true.  But you need to know how to invest wisely. Learn what is going to be the best ROI with both your time and money. Also what will truly help you grow.
This is where having a long term plan comes in.  Where would you like to be 5 or 10 years from now with your practice?  What are the small steps and investments you will need to make in order to reach those long term goals?  Put plans and actions in place in your business plan now to help you reach those long term goals.
Business plans can seem intimidating to some.  But the time spent in developing a good business plan for your private practice will be well worth it. Let it be a living document that changes and grows as your practice grows. Refer to it often so that it can be a roadmap for your growth.  The good news is that you can tweak it anytime you want  to….and you should!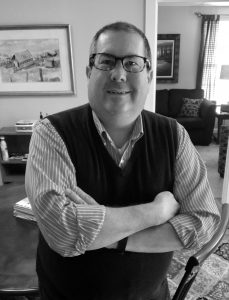 By L. Gordon Brewer, Jr., MEd. LMFT  – Gordon is the President and Founder of Kingsport Counseling Associates, PLLC. He is also a consultant and business mentor at The Practice of Therapy. Follow us on Twitter @therapistlearn.  "Like" us on Facebook.
Some other good resources