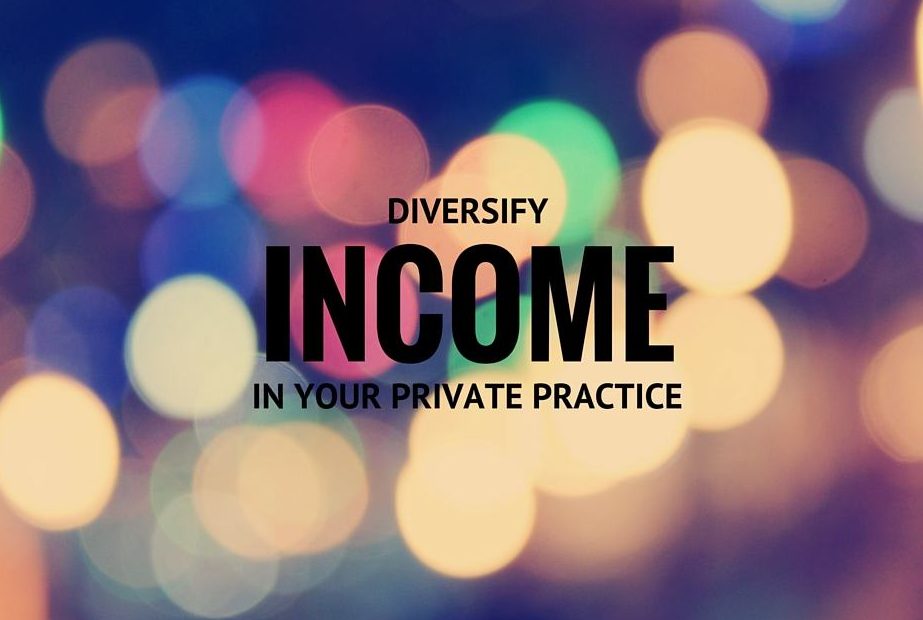 The amount of counseling income a therapist can generate is somewhat limited without diversifying streams of income.  We all have a limited amount of time we can spend doing sessions.  By diversifying streams of income, you can increase your income without having to spend more time having sessions.
There are three "traditional" ways to increase you income in private practice:
Create a higher level of counseling income for your time (increasing your rates) or
Spend more time with clients (more sessions) or
A combination of these two approaches
Other ideas for increasing or generating income for your practice:
Group therapy sessions- brings in several counseling clients at once without you having to spend the time on individual sessions.
Community workshops or classes that you charge for ; again this allows you to concentrate your time for a larger amount of income
Creating online courses or webinars you can charge for; ideas would include parenting or anger management
Writing a book or creating other materials to sell;  workbooks or guides for clients are good ways to generate income; self-publishing on Kindle.
"Monetizing" your website or blog; using affiliate marketing links to generate income when people purchase books or other items you recommend.  Check into Amazon Associates – https://affiliate-program.amazon.com/
Concierge services (retainer services); people pay in advance for sessions that they may or may not use.
Resources mentioned in this video:
The Therapist Survey – https://practiceoftherapy.com/therapy-…
Pat Flynn's "Smart Passive Income" – http://www.smartpassiveincome.com/
Joe Sanok's "Practice of the Practice" – http://www.practiceofthepractice.com/
"Brew Your Practice"- http://www.privatepracticecounselors.com/brew
Suggested Reading:
By L. Gordon Brewer, Jr., MEd. LMFT  – Gordon is the President and Founder ofKingsport Counseling Associates, PLLC.  He is also a consultant and business mentor at The Practice of Therapy.