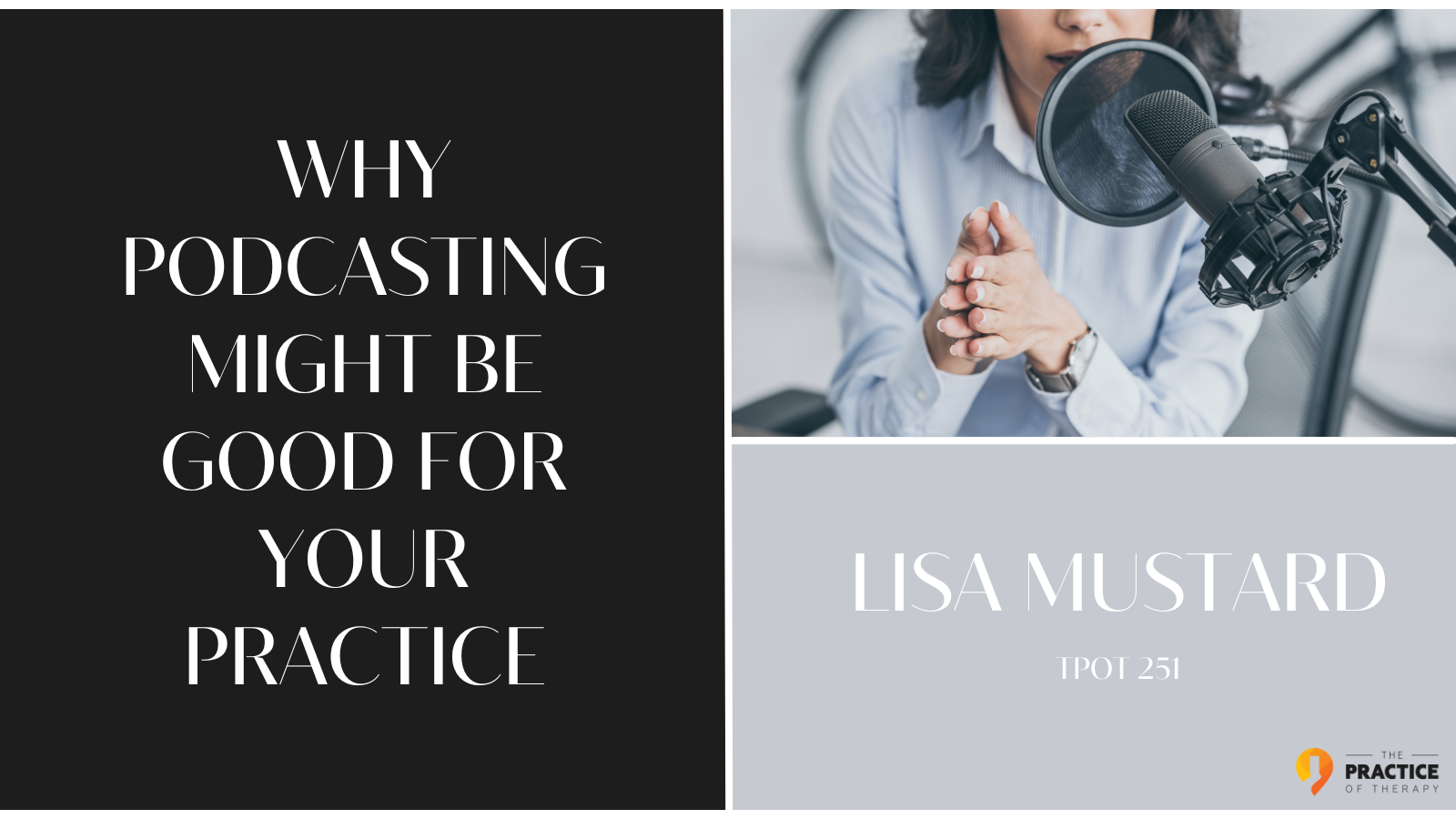 In this episode, Lisa Mustard shares the story of how she started her podcast and the importance of connecting with an audience through different channels. Tune in to hear her discuss educator certification, burnout, networking, and staying grounded as she expands the reach of her podcast.
Meet Lisa Mustard
Lisa is a Licensed Marriage and Family Therapist in South Carolina. She is also a wife to Billy, mama to two daughters, puppy wrangler, lover of health, wellness, and fitness, and a personal development junkie.
Lisa started her podcast because she was bored with the traditional modes of continuing education and professional development. She yearned for convenient education that was fun, interesting, inspiring, helpful, and easily accessible anywhere, anytime. And she couldn't find what she was looking for, so she created it. When Lisa is not podcasting or seeing clients, she is at the gym, on a run or walk, spending time with her family, or wrangling the lovable yet incorrigible Lulu, Australian Shepherd/Pitbull puppy.
Starting Your Podcasting Career
Educating mental health professionals through podcasting is powerful because it allows them to access information beyond a conference setting. At the beginning of her podcasting career, Lisa completed courses through The National Board for Certified Counselors (NBCC). Although certification is also possible at the state level, the NBCC is a better option because it allows educators to maximize their impact by reaching a more comprehensive range of audiences.
Making Progress and Overcoming Obstacles
Do not expect your final product to be perfectly polished for the first few episodes of your podcast career. Instead, focus on interviewing people that you find interesting. Although you may hit a wall after 20 or so episodes, if you can push through and remember why you love what you do, the work comes more smoothly. You will learn a lot and improve your work by staying consistent and keeping up your energy.
The Value of Your Network
For Lisa, marketing and web design were significant concerns when she started her podcast because she worked with limited resources. Thankfully, her professional network was able to refer her to people who could help with SEO, websites, and other specialized help. Networking is valuable because it is rewarding to see like-minded individuals with similar goals empower their community by supporting each other's professional endeavors. Finding a mentor to work alongside is also highly beneficial.
Supplementing Your Podcast by Engaging With Listeners Online
Once you are comfortable producing episodes, you will want to increase your engagement with your audience by diversifying your outreach methods. To build more meaningful engagement with your audience, consider establishing a quality website, maintaining an email list, and offering other avenues of communication. Offering one-on-one coaching and a quiz for listeners seeking individualized growth beyond the podcast makes Lisa's brand especially engaging.
Protecting Your Priorities as a Podcaster
Instead of striving for a perfect work-life balance, aim to identify your priorities. For many in the field, work may encroach upon values such as health and family. To protect your wellness, come up with three non-negotiable items to incorporate into your lifestyle (such as movement or rest) daily to track your contribution to your priorities. Setting time to reconnect with family, putting down the phone, and remembering what truly matters will help keep everything in perspective.
Gordon Brewer
Okay, all right. Well, hey, friends, this is Lisa mustard. And I'm so excited to be the guest on this week's episode of the practice of therapy podcast. In this episode, we are going to chat about an update on my podcast, the pod courses and the future of our new podcast network at the site craft network. That sounds good. Okay. Sounds good. All right. All right. So we did it. We did that part. Okay, so here we go. Okay. Well, hello, folks, and welcome again to the podcast. And this is, for me a pretty special episode, because I've got my friend Lisa musta. Back on here, Lisa was, we were trying to figure out when it was the last episode, and I could go back and probably what you'll find in the show notes, the previous episode we did with Lisa, but wanted you all to hear some great updates from Lisa. But Lisa, welcome to the podcast again.
Lisa Mustard
Well, thanks for having me again, Gordon. It's a pleasure to be here.
Gordon Brewer
Yes. And at least is another podcasting Pro. She's got her own podcast, the therapy show, and we're going to talk about that and what she's done with that, and then also let you fill you in on a new network that we've started. And all that that entails. So Lisa, as I start with everyone, tell folks a little more about yourself and how you've landed where you've landed?
Unknown Speaker
Sure, well, I'm excited to be here. And I am a licensed marriage and family therapist in the great state of South Carolina. I'm also a life coach, adding that to my list of things that I do. And I started the therapy show, gosh, three years ago, because I like many listening may be tired of sitting in their chairs and getting their continuing education while sitting and Will are watching a webinar and getting eye fatigue. And I just decided one day I was going to create a podcast that, hey, let's get some continuing education in our earbuds while we're on a walk or doing laundry or, like me, like Uber bring my kids around all different places. So that's how I got here. I work full time for a military branch. And I've been there many, many years, and I'm branching out into doing coaching and consulting. My coaching business is mainly for women experiencing midlife crisis, or I call it midlife blues, as well as C suite and executive women who want better work life balance. And then I also love working with mothers and daughters. So that it those are my specialties. And then the niches that I really help. And I know we're going to get into this just a little bit as we get talking. But as I've grown the podcast, I have had other opportunities present themselves. And one of them being helping other therapists start their own podcast, that's been one thing that I've been helping therapists do, as well as just consulting with them about less time, how do they do something different, that gets them out of the therapy chair, but yet still helping people and making an impact on a broader level? So that's kind of presented itself to me as well. And that's been really fun.
Gordon Brewer
Oh, yes, yes. And I think that's one of the things that's important for people to remember is, there's so much potential, I mean, treated traditionally, with therapy and therapy practice, we do kind of this one to one kind of thing. And it's there are so many different ways and avenues for us to do the one to many kind of way of helping people. And I know, as Lisa and I have have collaborated, and you're going to hear from some other folks. And I'm going to give you a shout out on some of these other podcasts where we've collaborated to perform a new podcast network called the site craft network. And Lisa was one of the first people to jump on that. And I'm just really excited for that because she's got such a unique business model around offering the pod courses and stuff. So what was it that kind of how did that whole idea get sparked for you, Lisa?
Unknown Speaker
The pod courses? Yeah.
Unknown Speaker
So many years ago, I say many years ago, it's probably been, I guess four years ago, I was at the Lowcountry mental health conference down in Charleston, South Carolina, which is a fabulous, fabulous conference. If you get the opportunity to come to Charleston and be a part of that conference. It's usually in I think it's usually in late July, here in South Carolina, in Charleston and I was sitting there and all I kept thinking was, I'm in Charleston, and I'm stuck in this. It was beautiful. I'm stuck in this auditorium for eight hours listening to these presenters and don't get me wrong. I was happy to listen to them. But I was looking around the room and I saw these you You know, I'll call them millennial therapist because I don't know what else to call them. They were, they were kind of alone, but they were on their phones. And then I looked to the other part of the room and they were folks like me kind of Gen X. And we were talking to each other. And, you know, just kind of chit chatting and stuff, we didn't have our phones out. And then there was like, all the the other group, the master therapists, like the, the 65 Plus group that were all attention, they got their notepads out and their highlighters and their five different markers, and they're just taking all the notes. And, you know, they're the ones that are raising their hands and asking questions, and the rest of us are just kind of like, whatever we're hanging out. And I thought, oh, my gosh, wouldn't it be cool if you could take these presenters and put them in our earbuds and I could be out walking along the harbor here in Charleston, or I could be, you know, just walking down King Street and shopping, but I could, I could still be here and still hear these presenters. And I thought, especially for these millennial therapists, they were just on their phones so much. I thought, I wonder if anybody's doing continuing education through podcasting. And I just kind of shuffled that idea in the in the back of my notebook somewhere, and then came across a colleague here, local to me, she's a speech therapist, and she was doing something similar. And I thought, well, she's doing it. She's doing, you know, podcasting with continuing education. So let me look into this and see if it's something that that I can do with our license, like, would they let me do that. And they were like, Yeah, you can do that. That's just one more way of getting the information out there. So that's really how I started, I got my South Carolina approved provider credential first. And then I went after the NBCC, which is a bigger credential. It's nationwide, it takes a little bit more paperwork, a little bit more technical, know how when you're doing self study, courses, but you know, it took about nine months to get the credential because it was during pandemic, and they were short staffed, and, but I got it, and I just, you know, create these courses, and I have some coming out this fall. So that's how I got started. And what's going on now is I kind of I kind of hit probably, earlier this year, I kind of hit a roadblock with it and thought it might do I really want to do this, is this something that is really feasible? Can I really, you know, can I earn an extra income with this? Because I was having a really hard time marketing them because, you know, I'm up against the big dogs and like Pepsi's a big dog, you know, and they have a marketing budget. And and so I kind of hit a wall with it. But then when I hit a wall with that I had somebody reach out and say, could you create continuing education for our practice, and I thought not is a really interesting possibility. And so then I kind of pivoted and opened up a new avenue for creating income is, is is working, you know, one on one with group practices, and small agencies that really want specific training for their therapists, but they want it to be self study. So in the process of wondering, should I continue to do this, this possibility and opportunity opened up that I wasn't expecting so and I really credit that to just the fact that I just kept going with the podcasts. And then I kept my excitement about it. I interview people that I think are interesting and cool that I want to learn more about. And just keeping the energy going for the podcast. And I think when somebody starting out new with a podcast, you know, you hit you hit a wall with it, probably anywhere between like 20 and 50 episodes. You wonder, Should I keep doing this? Is this worth it? Right? Right, you know, you know what I'm talking about? So I hit that wall, and then I just kind of kept pushing, and I'm still pushing like, I'm still, I'm still going but I'm having more fun with that. I just, I'm having more fun with it. And I'm, it's easier. People that I want to interview are showing up. And I think it's just by connecting and growing relationships and networking more. It's just, it just keep going.
Gordon Brewer
Yeah, yeah. I love hear that story hat. How did you? How did you learn the tech side of podcasting?
Unknown Speaker
Oh, Gordon. No, I'm one of those people. When I put my mind to something like, I'm gonna figure it out. What I did, honestly, and I tell people this all the time. I had a podcast at that time, like when I first got interested in podcasting. I just loved listening to other podcasts. And so I was like, I wonder how they do it. And I just started looking it up. And I did have somebody in the beginning kind of he he mentored me a little bit. But as he was mentoring me, I was kind of like, two steps ahead of him. I was like, okay, he says, This is what I need. So I would then go and research and I'd say, This is what I needed to do. And but I just really wanted to do it. And so that's, that's it like I really wanted to figure it out. And I really wanted to do it. So I did it. I didn't not not I did not do it because I didn't know how to do it. I just figured it out.
Gordon Brewer
Right. Yeah. Yeah, that's, you know, it's funny as I had when I started the practice of therapy And I guess I started in around 2016. And, you know, then I was just thinking, I have no desire to do a podcast or do anything like that. But a year later after listening to other podcasts, and just, I think one of the things that was really nice about listening to podcasts is that there's a, there's a sense of intimacy there that you don't get with other other content that you can consume. And I know it's maybe, maybe for some, it's maybe a false a false sense of intimacy. But when you're when you hear somebody talking, you feel close to closer to that. And so, start thinking about it. And yeah, and so like you, I just said, Oh, I'm going to learn this stuff. I mean, it can't be that hard. And it's really not. It's really not that hard.
Unknown Speaker
Right? Yes. And I think the people that, you know, that reached out, and they say, Well, I'm thinking about starting a podcast, and, you know, what do I need to know? But I'm like, Okay, this is, it's more than just like a question, there's so much you need to know. But I find the ones that really wanted have already done a little bit of homework, they'll say this, I guess you I think a lot of people think, oh, I want to do a podcast, but it's um, it's like producing any type of, you know, creative content, it's, there's work behind it. And you have to hone your craft, and you have to practice it. And at first, like, my first couple episodes are just all they're so cringy, as my daughter says, But you know, you get better at it, you get you get confident, and you it just grows, and it takes time. You got to have patience, but you got to keep creating the content. You really do.
Gordon Brewer
Yeah, yeah. And I think that's, that's, it's like with anything in business, I think, you know, the, the parallel with, you know, going into private practice. And all of that is, as I like to say, you've got to be persistent and consistent with things. And I think that's, that's the that's the key to things being taking off and you get you finish, eventually get this momentum, where things just really kind of start to grow and blossom.
Unknown Speaker
Yeah, definitely. Yeah, it doesn't. It doesn't happen overnight. Unless you're, you know, a big time name, I guess. Or, you know, you already have that coming into it. But even those people had to start somewhere.
Gordon Brewer
Right, right. Right. Yeah. The other thing I've heard is never compare your beginning point to your somebody else's middle point, right. Yeah, true. Yeah. True. So. So to switch gears a little bit, tell folks a little bit more about kind of your niche of just kind of working with this, you know, the 40 Somethings and midlife crisis and all of that. Yeah.
Unknown Speaker
So I you know, of course, as therapists we get in this work, because we've been through our own stuff, and we want to help other people. And when I turned 40, oh, my gosh, that was nine years ago. And I'm 49. And when I turned 40, I went through it like, overwhelmed, burnt out exhausted. And I realized that I was I didn't have really good. I didn't, I wanted to be 150% at everything, like as a mom and at my job. And it was just burning me out. I couldn't find that balance. And I was everyday looking forward every day. I was like, well, maybe today, it'll be that day, it feels balanced. But it was either, you know, in mom mode 150%. And then I'd go to work. And then I felt guilty about when I'm with my kids, I'm not with my job. And then because I had hit, you know, I had advanced in my career. And I wanted to show them like, Look, I am here I am in this 300% I'm here for you. And then when I was at work, I felt bad for not being with my kids. And my family. And I just had really bad boundaries and really poor boundaries. And the expectations I had for what I should be doing at 40 was were crazy. And I was it felt crazy making. And so at that point in my life, I decided to work with a life coach. And this person came really highly recommended by some people that have worked with them. And, and I thought, you know, I've done therapy, my you know, for the past 10 years off and on, let me try coach and just see what the difference is. I'm just really curious. And I loved it because it was action oriented. And I told him, I was like, I don't need to talk about my past. Like, I know where that stuff comes from, I can unpack that with my therapist. I need to know what to do with it moving forward, and how do I make a plan to have better boundaries and found the violent balance. And so when I worked with him and you know, kind of came through on the other side, I realized that finding balance is a myth. It's a myth. Like, we can say we want it we can talk to our colleagues about it. We can read blog posts about it, we can get our schedules out and in self care, you know, an hour block here there, but at the end of the day that's still not balanced. And I finally figured out the secret. And the secret is you want to know, the secret is? Of course, I'm gonna tell you. The secret is what? What were my values and priorities, like, what did I stand for. And once once I started to explore my values, it all started to make sense. And I was able to, then with knowing what my top values and priorities are, and were able to make an action plan to live them out daily and congruently. And when that happened, it was like magic. It was magic. Because I knew every day what was important to me, and I made a deal with myself and a commitment that I was going to walk in those values every single day. And don't get me wrong, I have some days where I feel completely off. And I'm like, this is a value, like, I'm not showing up as my best self in this value. But I'm aware, I'm aware of where I'm not showing up as my best self. And I give myself grace, because I'm not perfect. And, you know, we're humans, I'm a human, and I can't get it right all the time. But it's um, it's like magic in that sense. So that's that's really how I help midlife women kind of move through their midlife crisis or midlife blues. A lot of women say they, they feel unfulfilled in their work, they feel lonely in their marriages, they feel disconnected from their kids. They feel like they don't know themselves anymore there. And, you know, for me, this is how I know it's like when I start yearning for the old days, and I start kind of fantasizing about what it was, like 20 years ago, am I like, 20 what I was doing and, like, I don't want to go back to those that time in my life, because I was probably having a quarter life crisis, I didn't really know it, because that was my own crisis. But you start to kind of fantasize, and to me, that's a sign like you're not engaged in the present. Yes. And that's really, that's hard and being present and being aware. That's where the work is. So that's what I help how I help women is right, identify their their values and make an action plan to live them out. Yeah, daily.
Gordon Brewer
Yeah, yeah. You know, we use that term life balance a lot. And, and, you know, I was sitting, as you were saying, this, I was thinking, Okay, if my life was balanced, how would I know it? Right? Yeah, yeah. And I think, I think a lot of times we, there's an old story about this. I'm not gonna I'm not gonna go into the story. But basically, the the crux of the story was, is the guy was, was waiting for something else to show up. And in reality, it was right in front of him, you know, is, you know, and that sort of thing. And I think a lot of times, I like that whole idea of knowing what your values are, as I, as I like to say, knowing your why, behind what you're doing and in how you're how you're handling your life. And I think if you, you can identify that and get in touch with that. That is, that's where that's where it is, right?
Unknown Speaker
Oh, yeah. Yeah. And if people want to go to my website, I have a quiz on there that is titled How, how good is your work life balance? Or I like to call it is your work life balance out of whack? And you just answer a couple questions. And then you'll you'll hop on my email list. But in my email list, I start to kind of break down this, like, what is work life balance? How do we find it a little bit about how to identify your values, how to make a plan. So if you if you don't want to, you know, if you don't want coaching right now, but you're curious about this, and you can you can go to my site and take the quiz, and then you'll be on my email list and you can learn more. I just, is it okay, if I do have time for me to give an example? Yes. Okay, so a lot of women will tell me that one of their values is health, you know, in your 40s, you know, stuff happens to your body, things, you know, start to present themselves, hormones change all that stuff. I won't go into that. But, you know, so health becomes a value. If it hasn't been in the past, maybe it kind of resurfaces again, you know, so when I'm working, I want to know more about what do you envision for your health, like, how do you define health? And for me, when I was working with my coach, I would say well, health is a value and he was like, Well, what does that look like? What does health look like for you and I knew that in my 40s, I wanted to feel opt optimal and vibrant. Like that's how I would describe health. So I want optimal and vibrant health every single day. And when when we started to break down that value, he said to me, what are three things that you can do every day that are non negotiables that will have you walking with your head held high and your spine up straight, saying I am walking in my optimal and vibrant health value today. And for me, it was movement was important getting my sleep was important and eating three healthy meals a day. And so when I was able to do those things every day, I'm showing up as my best self, I'm now walking with the spring, in my step, I feel good about my health, I have optimal and vibrant health. And as I as those things became easier and easier, and just kind of fluid in my day to day I started adding in other things. So it's similar. So like, let's say, somebody says, Oh, I value family. Well, how is it? What does it look like right now? How does it look like in your family? And what would you want it to look like? So I like to say, not just family, and my coach taught me this, but like, really get clear on the vibe that you have around your value. So I said, family focus or family first. And that just really, um, because they are they're number one in my book, like, my family is everything. And my kids and my husband. So what does that look like in my day to day? And how do I show up in that value? So is it you know, setting time to reconnect with my husband every day? You know, putting down my phone and having meaningful conversation with my kids? Is it you know, what are three things that I do every day? Or could do and do do every day, that are having me really walk in that that value? So really, as you can see, I mean, it can be anything, and I don't have an agenda for what your values are only, you know, some people say, you know, faith, spirituality, having fun. time freedom, financial freedom, like those, there's so many values, and none of them are wrong. It's just what do you hold near and dear? So I get really excited with this kind of work. I think it's really,
Gordon Brewer
I love that because I think, again, it's just getting clarity on what you want. What you're what you want your life to be like. Yeah. Is is really the key to most all of it. Yeah. Yeah. So, okay, let's change gears again. Okay. Well, this is an interesting episode, because we're talking, we're talking about podcasting. But we're also talking about life balance, and, and all of that, let's, let's talk about the new network that we've we've created. And quick shout out to also Nathan Hawkins and Aaron Potratz and the shrink think podcasts. They're part of the site craft network. Also, Daniel fava in their private practice, elevated podcast, the traveling therapist with Kim Tolson is part of the network. And then I've got a second podcast, the kindness and compassion podcasts, this part of the network. So as we're recording this, and there might be a few others that have joined a network that we formed. And it was done out of a spirit of collaboration and community of really creating for it not only mental health providers or, you know, entrepreneurs and all of that sort of thing, a way to just get resources and connect with good people. And so, yeah, so I guess Lisa, tell folks kind of your vision for the, for the network, and what you what you've been thinking about,
Unknown Speaker
I am just so excited to be a part of a network where I can connect and collaborate with like minded professionals and, and folks who, you know, I don't know, I only I know maybe a handful of folks that have joined like Kim, and you and I've heard of the other podcasts. And I started to listen to this podcast and man, they're, they share some really good stuff, I'm enjoying it. But my hope is just to you know, spread the good word of what we're all doing. Helping people not only in their professional lives, but in their personal lives and helping them make an impact in the way that they they want to show up and just cross promotion and sharing resources is really exciting to me. So when somebody comes to me and says, Hey, you know, who helps with I don't know, SEO or websites, I can say hey, you should check out you know, Daniels his podcasts if you want to learn more about that. I love being able to like warm refer people to other resources that you know, I feel like give good information and give good support. And gosh, I mean, just just to have that community is is amazing. I feel like I've been doing my show you know in a silo for the past couple years of course connecting with you and other people over the years but you know, really having almost like a mastermind of like minded people who have similar similar goals is really empowering and I just love I loved the the vision foresight craft, it's really cool.
Gordon Brewer
Yeah, and by the time this comes out the the website should be up and it's site craft. network.com. And so we'll have that up. And so we'll have all the members of the network and how you can get in touch with them. And that sort of thing is certain, it's really kind of, you know, it's kind of like we're recommending things that we know are true. Going back to what you were talking about our own values and what, what, what's important to us as people in this space.
Unknown Speaker
Yeah. And I think, you know, when you put on there, like, what is this like craft network, as it being a network of podcasters, that want to help people live more meaningful lives in not just personal lives, but of course, in their business and the impact that they want to, they want to make, and I just, I love the idea of helping people do that. So I'm really excited for the future, and to be a part of this network. And I love the other aspect of site craft is if someone out there is thinking they want to start a podcast, that you are now offering that service, because so many people want to start a podcast and you know, they don't know. So when you think about that, I know you're gonna be doing, you know, the services, but are you going to be coaching people also on like, how to create the show? And yeah,
Gordon Brewer
yeah, I think one of the things that I had really envisioned I, you know, I know, as I like to say, I know just enough about this stuff to be dangerous. But, you know, I think, again, like you, you alluded to, I think when we kind of create a mastermind, we can coach each other through this, but I did plan on and as I shared with some of the people that have joined the network already, I'm kind of building the airplane as a flyer. And we are, I plan to put together some tutorials and courses and that kind of thing that will help people that that, you know, that join the network. And then also part of one of the things as well worked out some worked out for people that need it, podcast, production services. So yeah, so but yeah, we're, we're a network of independent podcasters. And so this is the big announcement here. Yeah. Yeah, we are. Yeah, here we are. So well, well, Lisa, I know we've got we got to be conscious of our time, but tell folks how they can get in touch with you.
Unknown Speaker
Sure. Well, of course, you can go over to my website, Lisa mustard.com. And mustard is just like you put on a hot dog, you can also get a free, free, free, free NBCC approved course on my website, Lisa mustard.com, forward slash pod courses, and I'm right now have nine to choose from, I'm going to be really releasing another pod course in the next couple of weeks. And that won't be available. But if you want a free course, just enter your email, and I will email you a code that then you can then you know, put in at checkout, and you'll get our free course. And you can also take that quiz, you know, how, how good is your work life balance. And if you want to reach out to me feel free to do that as well. You can find me on Facebook, Instagram on my website.
Gordon Brewer
And as as always, we'll have links here in the show notes in the show summary for people to get that to that quickly. And also you can go to site and craft site craft network.com. Right. Yeah. And also, yeah, yeah. And also practice of therapy.com. And you can find everything. Yeah, those places. So yeah.
Unknown Speaker
Well, thanks so much for having me. Yeah, been great. I'm gonna have you on my show soon. So, flop.
Gordon Brewer
Yes, sounds great. Sounds great. Take care of Lisa.
Being transparent… Some of the resources below use affiliate links which simply means we receive a commission if you purchase using the links, at no extra cost to you. Thanks for using the links!
Lisa Mustard's Resources

Resources
Meet Gordon Brewer, MEd, LMFT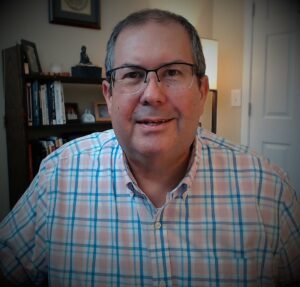 Gordon is the person behind The Practice of Therapy Podcast & Blog. He is also President and Founder of Kingsport Counseling Associates, PLLC. He is a therapist, consultant, business mentor, trainer, and writer. PLEASE Subscribe to The Practice of Therapy Podcast wherever you listen to it. Follow us on Twitter @therapistlearn, and Pinterest, "Like" us on Facebook.