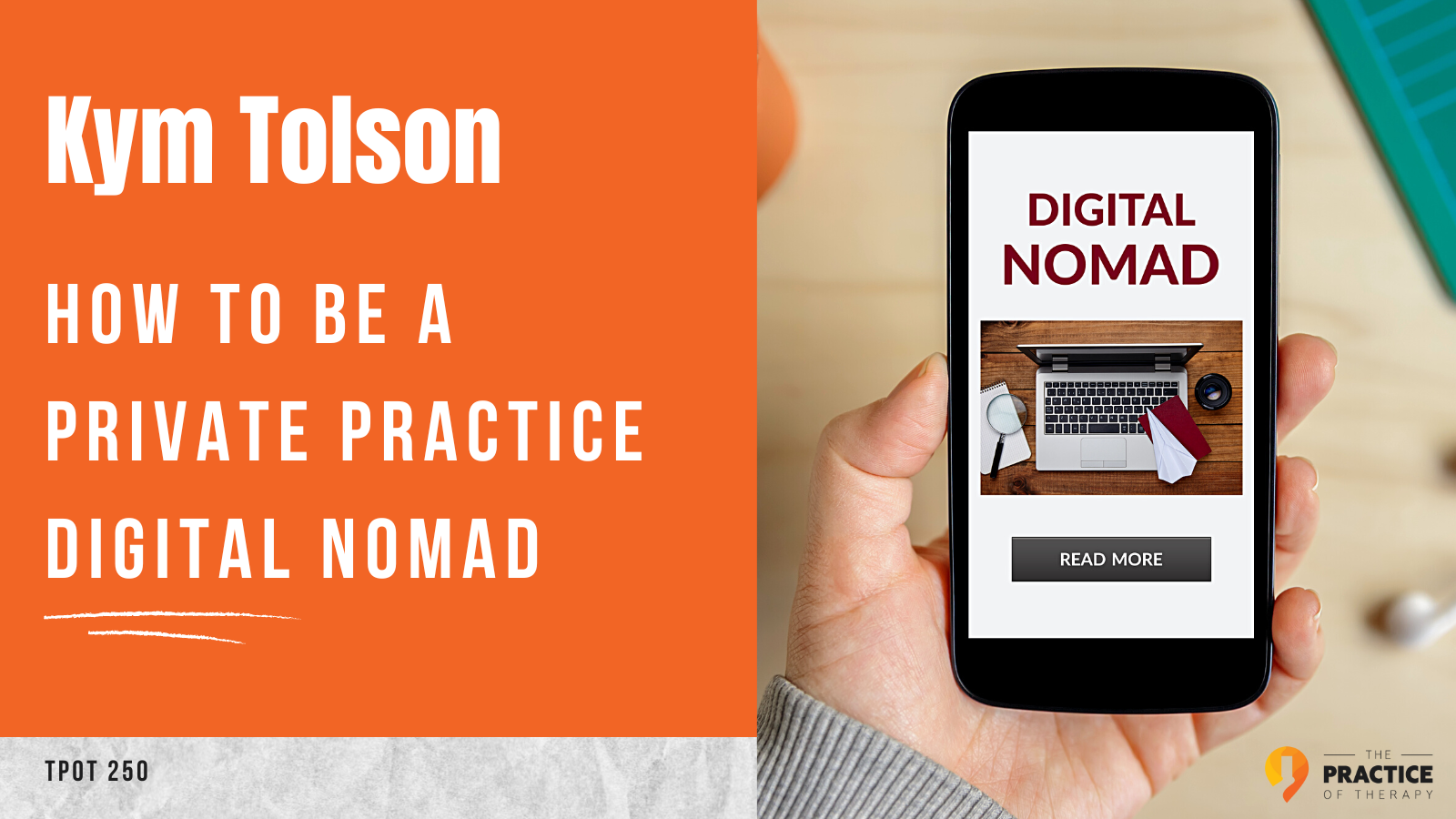 Virtual therapy offers many growth options for therapists interested in expanding their businesses while simultaneously enhancing their lifestyles. In this episode, Kym Tolson discusses the benefits of private practice as a licensed therapist, managing multiple income streams, and the importance of work-life balance. Tune in to this week's episode to learn how to navigate panels, entrepreneurship, and work-life balance.
Meet Kym Tolson
HI! I'm Kym Tolson; I'm an LCSW and CSAC licensed in the state of Virginia. I have an online insurance-based therapy practice. I lived in Florida until 2/2/22, when we (my BF and I) became digital nomads. Now, we will live in Air BnB's and travel the world.
During the COVID lockdowns, I had a lot of time to work on my "side hustles." I still saw my clients, but I also continued to perfect my course, "DIY Insurance Billing for Private Practice." Over 950 clinicians have taken my course, and I'm humbled to be able to guide so many therapists on a path of empowerment and knowledge in their practices. I truly believe it's imperative to have at least a basic understanding of insurance billing if you are going to accept it in your practice. In addition to my course, I created a supportive community, Bill Like A Boss, for therapists who are billing insurance in their private practices. Since then, I've created 8 income streams to support my traveling obsession.
Luckily, coaching other therapists through my courses, consultations, and membership has given me space to see fewer clients and make a higher income. I've been able to scale up and serve more people at the same time instead of being stuck in the 1:1 therapy model. Now I have the space and finances to be a digital nomad and actually enjoy the places I'm traveling to! Most recently, I started a Podcast!! The Traveling Therapist to share my journey as well as the stories of other traveling therapists.
Please feel free to reach out to info@kymtolson.com, www.thetravelingtherapist.com, and privatepracticeinsurancebilling.com if you would like to learn more.
Virtual Private Practices
Everyone knows that online therapy has become incredibly popular in recent years. But how can nomadic therapists optimize the flexibility that comes with it? When establishing an online practice, one must familiarize oneself with insurance restrictions and local regulations. Under certain jurisdictions, clients must be physically located in the state of the therapist's licensure at the time of their appointment.
Billing and Insurance In Private Practice
Although insurance panels make therapy accessible, they involve complicated authorizations, limited billing options, and pesky audits. These undesirable situations are avoidable if you can identify the specific type of client you want to work with and know which panels pay best. For example, if you want to serve a population that tends to be on Medicaid, you need to be aware of Medicaid's notoriously strict audits. Saving yourself from problematic panel situations is all about planning, trusting the billers you work with, and educating yourself thoroughly about each panel's specific benefits and drawbacks.
Marketing Strategies For Your Ideal Client
The most important way to guarantee that your marketing strategy yields the best results is by ensuring your profile speaks to the ideal client you want to attract into your practice. When seeking referrals, building and maintaining solid industry relationships is crucial to connecting with clients that suit you best. One way to create meaningful connections is to join online forums such as the Insurance Billing for Telehealth Practitioners Facebook group.
Build Income As An Entrepreneur
When branching out from traditional therapy settings, there are plenty of opportunities to use your expertise for further income opportunities. Recorded content, courses, memberships, and exclusive platforms are all excellent ways to build revenue while connecting with your community.
Work-Life Balance In Private Practice
Practicing online opens many doors in terms of lifestyle options for therapists. Many enjoy extended vacations and flexibility, which allows them to pursue other income streams. It is especially crucial for therapists with entrepreneurial endeavors to prioritize work-life balance. Once an income stream becomes successful, you should ensure that you work with a team of employees you trust. Knowing when to hand off a task is a trademark of good entrepreneurship because it prevents burnout and allows for growth.
Gordon Brewer 0:00
This episode of the practice of therapy podcast is brought to you by therapy notes. You can find out more about them by going to practice of therapy.com/therapy notes
Hello, I'm Gordon Brewer, and welcome to the practice of therapy podcast, where we explore the business and clinical sides of running a private practice.
Hello, folks, and welcome to the podcast. This is episode number 250, the practice of therapy podcast. Hi, I'm Gordon Brewer, glad you've joined me glad you're with me on this journey, as I like to say and hope you will take time to follow the podcast wherever you might be listening to it. Looking forward to hearing from my guest today, Kim Tolson. And Kim is, as I told her before we started recording, she is somebody I kind of aspire to be someday is a traveling therapist, and Kim has a podcast called The Traveling therapist. And we talk about some great stuff about just really how you can take your whole practice online and do everything virtually everywhere, from office spaces to all of that virtual office space to all of that sort of thing. And the other thing, too, that is interesting is is that Kim is an insurance based practice as well. And so she's able to do that as well, just all virtually and so we're going to talk about that. And also, you'll get to hear about some of the other great things that Kim is doing. Before we get to my conversation with Kim, and I'd love for you to find out more about the new and improved practice of therapy community. And it's now housed on the circle platform. And you can find out more about that by going to practice of therapy.com/community I've had the community housed on Facebook for for some time now. But quite honestly, it wasn't doing that much with it. And just felt like Facebook is fun for some things, but I think is getting really crowded and is a difficult space to just kind of exist on especially in our in our particular space as therapists and mental health providers or anybody in that kind of the Allied Health, caregiving kind of professions. And I wanted to create a community that had a little more little more privacy for it had a little more, we certainly by moving it to the circle platform, got more autonomy there and being able to have more control over who sees what and that kind of thing. And so anyway, I'd love for you to join this community. And it's a free community, this just the practice of therapy community. And you can get to it, as I mentioned already by going to practice of therapy.com/community and love for you to join in the conversation and find out more about what people are asking and what they're curious about, and how we can be of support to you in your journey as a as a private practitioner, so be sure to check it out. And the other thing too, I want to mention here, not to confuse or muddy the water a little bit I've got another community or another membership community called the practice launch club. And if you've been following or listening to the podcast for some time, you will have heard me mention this, but the doors are open for the practice launch club. And it's an exclusive membership community. For those people that are in those beginning stages of starting a private practice. It is a paid community or a paid membership. And I did it that way just to really help people have a greater sense of accountability about being part of a community. And we meet once a month by zoom. So you get some mentorship and interaction with me directly. Also you get the interaction of the other members of the group and just being able to support one another as you move through this whole landscape of private practice, particularly in those beginning stages. And again, we also have a private community there on the circle platform but it's only open to those that are part of the The practice launch club. So, again, love for you to check that out, go over to practice of therapy.com/launch club and if you want to find out if it's a good fit for you or not, I'm happy to jump on a quick call with you to see if you do feel like it would be a good fit. But again, go to practice a therapy.com/launch club. And also real quickly here before we get to my conversation with Kim, lovely to hear from our sponsor of the podcast therapy notes.
Rachel Bond 5:38
As your practice grows, the systems and processes you have in place will keep your practice running smoothly. That is why it is important to have an electronic health record system that is specific to mental health providers therapy notes is a complete practice management system with everything you need to manage patient records schedule appointments, meet with patients remotely create rich documentation and bill insurance right at your fingertips. Their streamline software is accessible wherever and whenever you need it. They are who Gordon uses in his practice. And did I mentioned that they are one of the top rated EHRs for mental health private practices. Their support is also second to none. Be sure to check them out at practice of therapy.com/therapy notes. Be sure to use the promo code Gordon to get two months free.
Gordon Brewer 6:40
Hello, folks, and welcome again to the podcast. I've really been looking forward to hearing from Kim Tolson. And I just recently get to find out about Kim and Kim, welcome to the podcast.
Kym Tolson_ 6:53
Thank you so much for having me. I'm so excited. Yes,
Gordon Brewer 6:57
I was telling Kim before we started recording that she might be counted the person that I aspire to be when I grow up one day, just what she's doing. So I'm looking forward to hearing her story. But Kim, as I start with most everyone tell folks more about yourself and how you've landed where you've landed.
Kym Tolson_ 7:16
So I'm a therapist, I was just in private practice, you know, I came up through agencies and then a group practice and then my own private practice. And, you know, I was traveling about eight to 10 weeks a year. So I was taking a lot of time off. And then I realized back in 2018, that you can actually be an online therapist, which we all know about now. But back then to me, I was like, This is amazing. This is the answer to you know, all of my problems because I was basically seeing a ton of clients cramming them in and then going on vacation because I'm obsessed with traveling basically. So when I figured out I could take my practice online, my it my insurance based practice online, I realized that, you know, I could travel, I could see my clients, I could still build insurances, so all of that sort of come together into these different brands now that I'm doing. And I'm also living as a traveling therapist. So I'm a full time digital nomad, my boyfriend and I, we live in Airbnbs. And we just, we have a little red convertible that we bought. And we put everything in the trunk and we just drive it from Airbnb to Airbnb, and we, you know, live our lives exploring the world, and I see clients and I run these side hustles as I call them to.
Gordon Brewer 8:34
Awesome. That is just so just sounds like so much fun, just, you know, to be able to travel that that's something that I, you know, hope to do one day is to just travel around, and you know, just live all that. So for now, I'll live vicariously through us. So yeah, yeah, so. So cam, tell folks a little bit more about kind of how you've got your practice structured, and, you know, particularly the fact that you're insurance based and you're moving around. So I'm assuming that that means that there are only certain clients within certain state and that sort of thing that you can see with that.
Kym Tolson_ 9:19
Exactly. Yeah. So I'm a licensed clinical social worker licensed in the state of Virginia. So all of my clients must be physically located in the state of Virginia at the time that I'm seeing them. I have a virtual address in Virginia. So that's where all the insurance payers sort of think I'm located, you know, I just give them this virtual address for credentialing purposes, and then they send their mail there and if I have to get a check or anything like that, it all goes there. And I've run all my billing through that address in Virginia and then I just, you know, live wherever I want to live basically and Bill it all that way. You do have to be aware that some states will actually not let you even see your clients from your state of licensure if you're sitting in their state, which is really crazy. So people don't know really about that they think you could just go and travel, but you do have to check and make sure on both ends both licensing boards that it's okay for you to be doing that in their state, like, for example, the state of Texas will not let an LCSW sit in that state and see clients in their state of licensure. So there's certain things like that you have to be aware of if you want to try to live this lifestyle, but you know, I've pretty much figured it out now. And that's, that's how I'm running my practice. Right.
Gordon Brewer 10:38
Right. You know, I think, you know, that that problem that you mentioned, and I want to dig into this a little bit more, because I've had other people ask me this, you know, being having a location, even though you're doing solely telehealth, how do you how did you navigate that? Is it like a Pio box? Or is it a physical address, or wow,
Kym Tolson_ 11:04
I use I use a company called anytime mail that they basically have standalone offices in different states just depends on what state they're in. There's tons of places like this, I postal is another one. There's one called Regis that's a little more expensive, a little bit more fancy. And they actually give you an office location that you can use. So I use anytime mail and basically, they sign a baa, that tells you how they're going to handle your HIPAA compliant information, basically, your pH i that comes to them, they'll open it up, they scan it, I get a scan of the mail, and then I can review it. And I can say, you know, I can download it to my computer and print it out, or they can mail it to me, which is a whole nother thing. I do have a mailing address my mother's mailing address in the State of Florida. That's where I get like real mail if I need to get mail. And then that's how that's how I navigate it. And then with the insurance companies, they just think that's my address. So I was lucky to be able to just change my address to that address for them. But a lot of the insurance companies now particularly Blue Cross Blue Shield, they've changed the way they're doing this, if you're a new therapist trying to credential with a Pio box, that's not going to work with Blue Cross Blue Shield anymore. They now want you to have actually a physical address that you could potentially see clients in if you had to, you know, so you know, new people coming up trying to do what I'm doing. Blue Cross Blue Shield probably isn't gonna be the insurance company for you. If you're looking to get credentialed. Yeah, Cigna, United behavioral health, they're still really good about it. Aetna is fine with it. As far as I know, as of the recording of this podcast.
Gordon Brewer 12:45
Right, right. Yeah. Because I know that. I know, that comes up in my in my practice launch club, I've got a few people that are doing just solely telehealth online practices. And so yeah, yeah. So that's good information to have.
Kym Tolson_ 13:03
Thank you. And I did I have a free Facebook group called insurance billing for telehealth practitioners. And we did do a poll in there to figure out how everybody is running their virtual practices. And a lot of people that aren't doing what I'm doing, that just have virtual practices are actually running the address out of their homes. That's how most people are doing it. You know, it seems to be the best option if you're okay with that.
Gordon Brewer 13:29
Right. Right. Yeah, yeah. Yeah. And I think that's yeah, I think he each person has to decide what's, what's a good fit for them on that. Yeah. As far as what they're, what they're wanting to share that kind of things. So absolutely. Yeah. Yep. So, so another another question that I bet a lot of folks are curious about being a totally telehealth, online traveling therapist. How, how have you found the best leads to work it or with it? And I'm guessing too with it. Since you're on some insurance panels, you probably get a lot of referrals that way, but what are you what are you learning about marketing?
Kym Tolson_ 14:11
Well, so my situation is a little bit interesting, since I have the side hustles. Now I actually haven't taken a new client in about two and a half years. And I really only see five clients right now, I really whittled that down. Because I'm sort of more obsessed with the entrepreneurial side of things right now. But I do you know, I do have these like bass clients that I've had with me for a few years that are just like, you know, I hate to say easy clients, but clients that just, they don't eat a lot for me, things just come up every once in a while and that sort of thing. So that that's what's going on for me right now. But I do have a membership group for therapists that are billing insurance, and it helps walk them through the process. A lot of them you know, it's the old Psychology Today. You know, really making sure your profile speaks to your eye. ideal client that you want to attract into your practice. The insurance panels do help a lot. I still get referrals almost every day just saying, Hey, I saw that you take this insurance, the networking groups in Facebook, you know, if you join your local like like Virginia or Richmond, Virginia Facebook group where you're concentrated you can get a ton of referrals that way.
Gordon Brewer 15:23
Right. Right. Yeah. Yeah, I think that's that's, you know, one of the things is that we're, we've gotten so used to going virtual with stuff. Yeah, I think nowadays, people when they're when they're looking for therapists, they are gonna go online first, obviously,
Kym Tolson_ 15:43
totally. Yeah. And that that always worked for me. I didn't have to do much. I don't know if it was because was insurance based provider. Or I had, I did have a couple of psychiatrists in the community when I was looking for referrals that, you know, really would send a lot of people to me, so I didn't have a lot of problems with that. But I reached out to them really early in my career and develop those relationships early.
Gordon Brewer 16:05
Yeah, yeah, that's good. So the other thing I know that we need to talk about is just how you've been able to diversify your income streams, which I think it sounds like that some, and I get it because I'm the same way I've really cut back on my caseload as far as actual clients. Within my practice that I see I still run a group practice, but really focusing on these other other things. So tell folks about that.
Kym Tolson_ 16:35
Yeah, so you know, I've always been, like an entrepreneur, you know, like, I wanted the lemonade stand when I was a kid, like, I've always had it in me kind of thing. And back in 2008, I'm also a certified hypnotherapist, but I did, I started recording my sessions for my clients. And they were like, gosh, you should sell these. And I was like, Maybe I should. So I started, I created some apps on the App Store, iTunes in Google and Etsy. And I started selling my hypnosis mp3. And that was back in 2008. Like, I was like the second hypnosis app on the App Store. Wow. Yeah, it's kind of crazy. And but now there's like calm and all these, you know, there's so many in there. Now, it's pretty oversaturated. But that's where I got the bug, you know, for for creating income streams. And then everything else is just been an evolution of my own struggles and things that I'm doing in my life that I feel passionate about. And that's how the insurance based stuff came about. And from there, I developed courses and a membership, and we do webinars and a Facebook group for it, you know, just all kinds of stuff. And then the traveling therapist is a whole nother brand that I started. And I just launched the first traveling therapist course, recently, which was so cool. We had a ton of people join. So much content is just unbelievable. And then from that I also did the traveling therapist podcast, which is really what I love the most just telling stories of, you know, my life as a digital nomad, pet Nomad, and then just bringing other people in their stories, people living like in Brazil, and you know, just all over the world living therapist and doing this traveling therapist thing. It's it's been so fun.
Gordon Brewer 18:24
Right, right. Yeah, there was. Yeah, I was listening to your podcast today, as we were, as we're recording this, but you had somebody on there, and I can't remember her name. But she's I remember, she was based out of New York, but she has a group practice. And she's got literally therapists in her group practice that are all over the world. Yes,
Kym Tolson_ 18:46
yeah. That might have been least this podcast. Yeah, she was an innovator, too. She had one of the first like online group practices. Back in, I think it was 2005. She started an online group practice, and it's just grown from there. But yeah, it's amazing.
Gordon Brewer 19:05
Yeah, that's incredible. So I think the, you know, and especially now more than ever, particularly with us getting, you know, we're really seeing a shortage of mental health providers, I think now is one of the best times to really consider going into private practice. And I know Yeah, and I know, I know that, you know, traditionally when I was coming along, at least in graduate school, is that you, you got your you got your license and or you get your degree and then you went to work for an agency. And, and the whole idea of being in a private practice was just kind of kind of foreign to a lot of people the time that now we've got so many resources and and people really learning about that. Yeah,
Kym Tolson_ 19:53
yeah, yeah. I mean, I wish I could have skipped the agency in the working for the group practice that you know, kind of coming up in the race, I guess. Right. You know, but But nowadays, yeah, people go right from graduate school and they hop right into their private practices, which I think is pretty amazing. Right? Yeah.
Gordon Brewer 20:12
Yeah. So yeah. So what one of the things that I know has been just kind of a topic that seems to have come up a lot here lately as I've been interviewing other people was just the decision to be on insurance panels. And not because kind of the, when you look at the kind of the the buzz that's out there with a lot of therapists, this is Oh, you don't want to be on charts, panels, you just want to be cash pay and build your practice around that. So do you mind sharing just kind of your decision to to be on insurance panels?
Kym Tolson_ 20:49
Well, I mean, honestly, in the beginning, when I went into private practice, I sort of had some people nurturing me a little bit, and they just that they were insurance based providers. So I thought that's what you did, you just became an insurance based provider, you know, and and they said, Use this biller and get on all these panels, and just do it that way. Because that's what you do. So I did that, you know, that was in the beginning. Over the years, I learned that not all insurance panels pay well, a lot of them are really difficult with you know, wanting authorizations and get o limiting how many 9083 sevens you can bill and, you know, audits and that sort of thing. So over the years, I figured out, you know, okay, you want to get on the the panels that pay the best, you know, that are pretty common for people to use, but you don't want to be on all these low payers, because then you're gonna get overworked, you're gonna have a million clients and you're getting paid like $60 an hour, you're not gonna be able to like live basically, you know, without killing yourself and working so much. So my advice to, you know, clinicians thinking about it is, you know, I think it is important to take one or two to help people that want to use their insurance for therapy, because not everybody can afford private pay, you know, but we've got to take care of ourselves, too. So make sure it's a high payer, before you panel with them, make sure that they're not going to be a huge pain to work with in your state. You know, and then think about the population you want to serve. If you if you want to serve a population that tends to be on Medicaid, you know, you're gonna want to think about that, because there's a lot of stuff that goes with Medicaid, like, they audit more frequently. You know, they're really, they really scrutinize their documentation, so it can be a little bit tougher. So I think, you know, planning it out is important and not being on just a million panels, it's going to totally overwhelm you, right? And then, you know, another big decision point is, if you want to hire billers or not the billers I hired were terrible, you know, left tons of money on the table for me, and I didn't realize it because I didn't even know how to bill insurance. And that's how this whole thing evolved. For me, it was like a nightmare story. And then I decided I was going to learn. And then I decided I wanted to teach other therapists how to do their own billing, or at least be empowered enough to look over their biller shoulder and know what's happening in their practices.
Gordon Brewer 23:11
Yes, yeah. Yeah, I would totally agree. And I think it starts with knowing, knowing your niche, and also understanding the demographics of your area. And that was that the, at least for me, that was a big part of my decision as well, the, the area we serve is, yeah, we're in the Appalachian Mountains in northeast Tennessee. And so we're surrounded kind of a small metropolitan area, and we're surrounded by our large rural area, and people are dependent on their insurance to get their services. And so just felt like we needed just kind of ethically we needed to do that.
Kym Tolson_ 23:50
Yeah, I agree with you there.
Gordon Brewer 23:53
Yeah. And it does, it doesn't mean that I think the other thing for people to be aware of is that if you have the right business model, it can work. And you can in the know your numbers, and you know what to expect, as far as, you know, insurance isn't going to pay as much as you could probably charge as a private guy, but it's still doable and still profitable.
Kym Tolson_ 24:17
Absolutely. Yeah. I mean, I did find online except for the fact that the traveling and cramming everybody in, but that's a whole different situation, you know,
Gordon Brewer 24:26
right. Yeah. So what does, what does a typical week look like for you as far as seeing clients and then, you know, navigating just Internet access and all that sort of thing.
Kym Tolson_ 24:41
There's so much involved with that. I have good internet today, but it is really a crapshoot. We definitely will always email the Airbnb owners before we actually book it to ask for a Wi Fi speed test and have them send a literal speed. As to as to show us how fast the internet is. And there have been a few times where they've been like, I don't have a speed test, but I promise it's really good. And I've fallen for it. And it's been terrible. So, you know, as I've become really familiar with like local libraries, public libraries, because they all tend to have like, excellent Wi Fi. So that's sort of my backup if the Airbnb is acting up, you know, the Wi Fi and Wi Fi in the Airbnb is acting up. So typical day, let's see, gosh, I only see the few clients that I have on Tuesday, Wednesday, Thursday mornings. That's it. I booked everything early in the mornings like this, this we're doing at 11am I usually try to stop at noon because then we get out and we go explore the place that we're staying in we go hiking or you know, walk through the town or just drive you know, yesterday, we're in Bar Harbor, Maine right now. So yesterday, we just literally drove around the entire island and just stopped off on all these little like nooks and crannies and Seal Cove yesterday, who knew there was a Seal Cove up here we lucked out, it was beautiful. So really all the business in the mornings. And then in the afternoons we go explore. And I've really set it up that way. Because, you know, I don't I don't want to be just stuck working all day, every day while I'm doing this. I want to be able to go out and really like live in these places. So that's super important to me.
Gordon Brewer 26:23
Yeah, that's, that's great. And, yeah, it sounds like you've got a really good life balance with all that. And then being able to, you know, do the fun stuff, and in its same time, continue to work.
Kym Tolson_ 26:38
Yeah, yeah, I try to. That's not to say it's not always going on in my mind, I'm still working on that, how to turn that. Eight income streams, you know, there is there are a lot of like moving parts in the background, but I've got, you know, a good team that I've hired to help me now I was trying to do it all by myself before. Oh, wow. Yeah. But now I've got like a business manager and a virtual assistant and a social media person, and, you know, somebody helping me write my emails, you know, just all of that. So it's really, it's really helped me get that work life balance back in place, because I was trying to just do it all by myself.
Gordon Brewer 27:16
Yeah, yeah, that and I think that's, that's really key. And I'm still, I'm still learning how to do that. Well, as far as learning how to outsource and, and being being able to hand stuff off. Because I think, for those of us that do have that kind of entrepreneurial spirit, we tend to tinker a lot. And we get ourselves into these different different corners and stuff. And if we're not handing it off, it's, it can get overwhelming. Yeah, and
Kym Tolson_ 27:47
me, I don't know about you, but like, every day I wake up with a new idea. I don't know if you're like this. Yeah, first, I've developed a method first, I run it by my boyfriend and have him tell me if it's a good idea or not. Because there's so many. He says, like, one out of every 10 is probably a good idea. So I read it by him. And then like, you know, my team, and then my team will like reel me back in will be like, you know, you have like four launches already going on right now. It's like, yeah, now we just have a folder where we put my ideas.
Gordon Brewer 28:18
I've got, I've got something like that on my phone. I've got a brain dump that I call it and put it in there and then go back and look at it later to try to decide. So well cam. I know, I know. I'm gonna have to have you back on the podcast just to talk about some more of this stuff. But tell folks how they can get in touch with you and connect with you. If they they want to find out more about the stuff you're doing.
Kym Tolson_ 28:44
Yeah, you can email me at info at Kim tolson.com and that's Kym to l s o n.com. Or the traveling therapist.com or private practice insurance billing.com. Those are the two places for those two brands. And then on Facebook. I've got the traveling therapist Facebook group and the insurance billing for telehealth practitioners group and the traveling therapist podcast. You want to hear about that?
Gordon Brewer 29:13
Yeah, yeah, it's uh, yeah. And we'll have links here in the show notes in the show summary and do check out our podcasts because it's a good one. You've got some great guests on there. Kim, look forward to having you back here soon.
Well, again, a big thanks to Kim for joining me on the podcast and you can find out more about Kim by going to Kim tolson.com and she spells at KYEM. DLL SVN and you'll find links here in the show summary in the show notes so you can quickly access that cam was just a facet for me Just a fascinating person to talk to. And just really kind of living the dream as I like to call it by traveling around. But yet maintaining a business and maintaining a practice, and doing it in a way that fits her lifestyle. And I think that's ultimately what it's all about in, in just thinking about our profession and what we do, day in and day out, I think it really needs to line up with not only our passions, but also the lifestyle that we want to keep for ourself. And I think by being in private practice, you've got a lot of leeway to do that in very creative way. So be sure to check out Kim's things. Also, be sure and check out the practice of therapy community, the new and improved practice of therapy community, and you can get to that by going to practice of therapy.com/community. And that's a free membership or our community, all you need to do is go to that URL and sign up or sign in and join us in the conversations we're having there, I'm really looking forward to how we can build this community out and really be more connected than maybe you get to be on social media. So anyway, looking forward to that. And also be sure and check out the practice launch club. If you're in those beginning stages of private practice. And you want to have a more intensive kind of membership experience. By meeting once a month via Zoom Plus getting lessons and support in a much more direct way. Be sure to check that out practice of therapy.com/launch club and learn how you can join. And again, big thanks to our sponsor of the podcast therapy notes. You can find out more about them by going to practice of therapy.com/therapy notes. And be sure and use the promo code Gordon, just gr d o n to try them out for two months for free. There who I use in my practice, and absolutely love that platform. And I'm very again very appreciative to them for sponsoring the podcast. And take time to follow us wherever you might be listening to the podcast. And visit us at our website to find out about tons more resources. You can get that get to there by going to practice of therapy.com so Take care, folks, I look forward to being with you. Next week in the next episode. Hard to believe I'm it 250 episodes already. That just blows my mind. Take care folks. You have been listening to the practice of therapy podcast with Gordon Brewer, part of the psych craft network of podcasts. Please visit us at practice of therapy.com For more information, resources and tools to help you in starting building and growing your private practice. And if you haven't done so already, please sign up to receive the free private practice startup guide and practice of therapy.com. The information in this podcast is intended to be accurate and authoritative concerning the subject matter covered. It is given with the understanding that neither the host guests or producers are rendering legal accounting or clinical advice. If you need a professional, you should find the right person for them.
Being transparent… Some of the resources below use affiliate links which simply means we receive a commission if you purchase using the links, at no extra cost to you. Thanks for using the links!
Kym's Resources

Resources
Meet Gordon Brewer, MEd, LMFT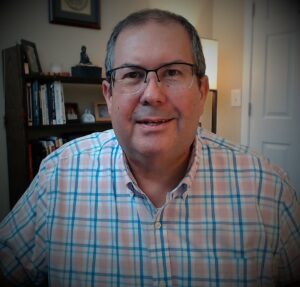 Gordon is the person behind The Practice of Therapy Podcast & Blog. He is also President and Founder of Kingsport Counseling Associates, PLLC. He is a therapist, consultant, business mentor, trainer, and writer. PLEASE Subscribe to The Practice of Therapy Podcast wherever you listen to it. Follow us on Twitter @therapistlearn, and Pinterest, "Like" us on Facebook.