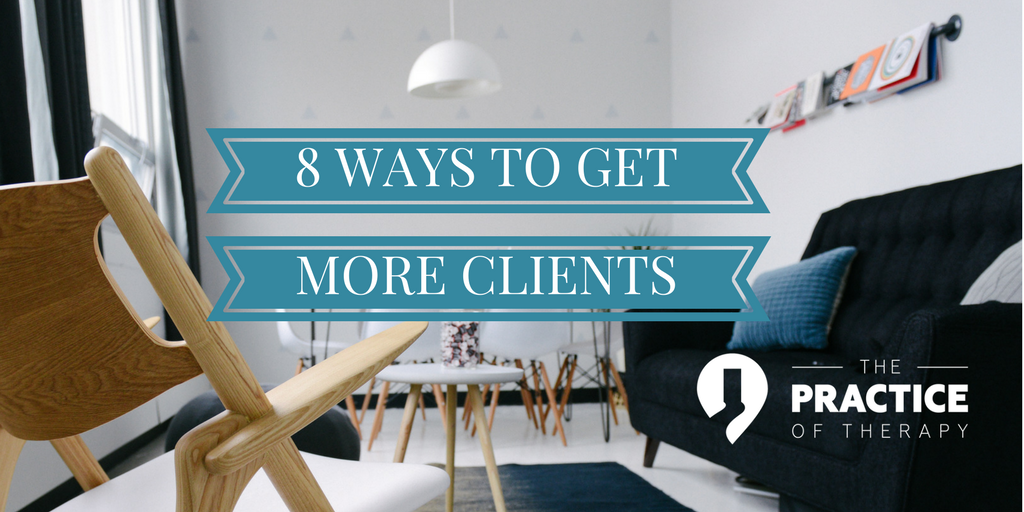 Probably the number one question people ask when they are in private practice is "How do I get more clients?".  The phone ringing is always a "happy sound" when  you are starting out or trying to grow a practice. At the very core, the business side of private practice is having enough clients coming through the door and to fill your appointment slots.  
The pain comes when a clinician feels like they have put so much effort into trying to get clients and the phone still does not ring.  It is not only frustrating but scary.  Especially if you are just starting out on your own and depending on having clients for your income.
The good news is that by refocusing your efforts, you can start getting more referrals and get yourself well on the way to having a full practice with your ideal client.
1. Niche it down
As you have probably heard before, it is so important to define a niche for yourself.  This might sound a bit counter intuitive in the beginning stages.  After all, wouldn't you want to take anyone that is willing to pay you for your services?  The truth is, you really don't.  What will help you grow faster is to find and go after your ideal client; the people you enjoy helping the most.
If you think about it, people just do not randomly say, "I think I want to go to therapy".  What happens is that they are struggling in some area of their life.  Relationship problems, problems with anxiety or depression, stress, feeling isolated or struggles with addiction. By focusing on a particular problem people have, it will make more sense to them to come to you for help with that specific problem.
From a marketing standpoint it is so very important to stand out.  By niching down, you will distinguish yourself as a specialist and expert for a particular area.  So for example, if your ideal client are women struggling with anxiety, you would want to concentrate your marketing efforts on that population.
When people search for counselors or therapists, they might first just search counselors in their area.  And depending on where you are located, there is probably going to be a lot to chose from.  So then they will narrow it down by what the therapist says they can help with. (Or sometimes by which insurances they take; more on that later)
This is why it is important to define what problems you can best help with. Your marketing will then be targeted to that niche.
2. Develop a Marketing Mindset
Most of us in the counseling and therapy fields are just good, honest people.  We like to think of ourselves as approachable and kind.  We want to truly help people.  And we would never take advantage of someone, especially if they were vulnerable.  And for a lot of us, there is just something about the  thought of "marketing" that feels like we are trying to manipulate or coerce people.
That is why I think it is important to maybe do a check on our "marketing mindset".  It is very true that we need to be mindful of the message we send to people about our practices.  In fact, most of our codes of ethics have something to say about how we advertise ourselves.  Advertising or marketing should never be salesy or coercive.  (And most marketing professionals would tell you that as well).
A better way to think about marketing is to simply think about it as getting your message to the people that need it the most.  In other words, marketing is about helping people solve their problems.  It is about giving them a solution to something they are struggling with.
Imagine you needed a therapist.  How would you find them?  Or imagine you were struggling with a particular issue, who would you go to first to ask for help?  Would you talk to a friend, doctor or clergy person?  Or would you just start researching your particular problem online?  Maybe both…
Simply put, a marketing strategy is simply helping people find you and letting them know how you will be able to help them. A good marketing strategy will make you easy to find and let people know how you will help them with the problems they are struggling with.
3. Develop a marketing strategy
Obviously there are so many different ways to market your practice.  And it can be overwhelming to think about.  Marketing can be done through websites, social media, online ads, business cards, brochures, rack cards, directories, personal contacts… the list goes on and on.  All of these can let potential clients or referral sources learn and know about your practice.  
But where should you concentrate your efforts?
Without a doubt, in order to have a successful marketing strategy for your practice, you need to have a good online presence.  For this happen you absolutely need to have a good website. Your website will be the hub for people trying to find you and your services.  Your social media, printed materials, directories and even all personal contact should point people to your website.
That is why knowing your niche or your client avatar (your ideal client) is so important.  You need to know where your potential clients spend their time, where they might look for help and how they will go about finding you. Then you will know where to put your efforts, in particular, around social media.
So for example, if your ideal client is  20-30 something female, Pinterest would be a good place to focus with your social media efforts.  If your ideal client was male 20-30 something, Twitter would be a better place to put your efforts.
Here is a cool infographic that shows some interesting stats on social media use:

http://www.socialmediatoday.com/social-networks/top-social-network-demographics-2017-infographic
4. Make Your Website Client Friendly
One of the biggest mistakes people make when it comes to their website is making it too much about themselves. That's right… your website does not need to be about you!  Instead your website needs to be about your potential client and the pain they feel.  Certainly tell about you, but the main focus should be about the client.
The other thing a good website does is make it obvious what a person can do to get the help they need.  In other words, have your contact information front and center.  Your phone number should be "above the fold" which means what they see first without having to scroll.  Make it easy for people to know how to make an appointment with you.
Also, create a clear call to action message.  This is marketing 101.  The message is simply, "call me because I can help".  It does not have to pushy.  It is simply conveying a message for potential clients to take action by getting in touch with you.
Another thing to remember about websites it to make them simple and scannable.  Most people will just not read long paragraphs.  They are going to scan your website.  They are looking to make sure they are in the right place and how you can help them.
A way to think about this is if you were going into a department store for the first time.  If you needed to buy shoes, you are going to scan the store to see where the shoe department is located in the store.  Then you will scan that department to find the men's or women's shoes, then the style you are looking for and then the right size.  Your website needs to do this as well by making it easy to find stuff people might be looking for.
Having videos on your website also makes it more user and search engine friendly.  People will watch a video long before they will read a bunch of things.  An introductory video goes a long way in helping people get to know you and them beginning to build a connection with you.  It helps ease some of the anxiety they might feel about coming to counseling or therapy.
Some basic sections of your website should be:
About (which is really about the client)

Contact information

Cost of Services

Office Location  
Also you will want to blog to help establish yourself as an expert for your particular niche and help your SEO (search engine optimization)
5. Take advantage of online directories
As you are building your online presence to bring in more clients a good place to put some effort are with directories. There are both counseling/therapy specific directories and business directories.  The best known therapist directory is the Psychology Today Directory which is a paid directory. Depending on your location, this could be a great return on your investment (ROI).  One way to think about paid directories is if they bring you one or two clients, you get your money back plus a profit.
A good strategy is to do a Google search for counselors and therapists in your area.  Also search your niche or specialty. See what comes up first.  Start by subscribing to the top one or two directories that come up for your location. There are also free directories that allow you to post basic information and then pay a premium for a more detailed listing.  
Also do not overlook other non-therapy related directories.  For example it is well worth the time to get a Google Business listing.  Others to look into are Yahoo, Bing and Yelp.  Listings like these can help with SEO by creating inbound links to your website. There is a more complete article on this here.
6. Know your referral sources well
Besides your website and building an online presence, having people in the community that will refer to you is an important piece.  Having doctors, clergy people, and even other therapists to recommend you goes a long way in filling your practice. This is especially true if you are known for a specialty or niche.
Investing in some time and effort to make those personal contacts can help boost your practice.  One inexpensive way to do this would be to create a practice flyer or rack card that can be given to doctors, chiropractors, clergy people or other professionals.  Here's an example of one that I have been using for my practice.
Obviously, people prefer to refer to someone they know.  If I want to recommend to a friend where to get their car worked on, I am going to refer them to John, the guy that works on my car.  Referring to therapists is no different with your professional contacts.
7. Invest in Learning
One of the best ways to move the needle forward is to learn from someone who has done it before. Learn from consulting by taking part in individual consulting or joining a mastermind group.  People have been where you are so why not learn from them so you do not have to go through the same struggles.
Another way to learn a lot is to listen to some of the wonderful podcasts out there geared to counselors and therapists.  Two of the best are Joe Sanok's "Practice of the Practice" and Melvin Varghese's "Selling the Couch".  Other's I would recommend are BrighterVision's  "The Therapist Experience" and Amanda Puryear's "Abundance Practice Building".
8. Consider A Few Insurance Panels or EAP's
There are a lot of pros and cons about accepting insurance.  I think you have to weigh that out for yourself and your practice.  (Check out this article on this).  The thing to consider is that when you are on insurance panels it does give your practice a bit of clout and will certainly boost the number of referrals you get.  The big downside to this though is that you will have to be willing to take a little lower fee for your services.
To be in-network with insurance companies does require going through a credentialing process.  It is a lot of work on the front end, but once it is done you don't  have to worry much about it again.  You will also need a way to manage and track claims.  This is where investing in a practice management system comes in handy.  This will allow you to send and process claims with just a few clicks.
Ultimately, getting more clients is about making yourself easy to find and communicating to potential referrals how you can help them. It is also about making yourself stand out as being a good fit for people.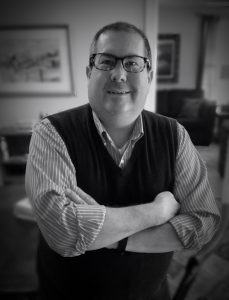 By L. Gordon Brewer, Jr., MEd. LMFT  – Gordon is the President and Founder of Kingsport Counseling Associates, PLLC. He is also a consultant and business mentor at The Practice of Therapy. Follow us on Twitter @therapistlearn.  "Like" us on Facebook.