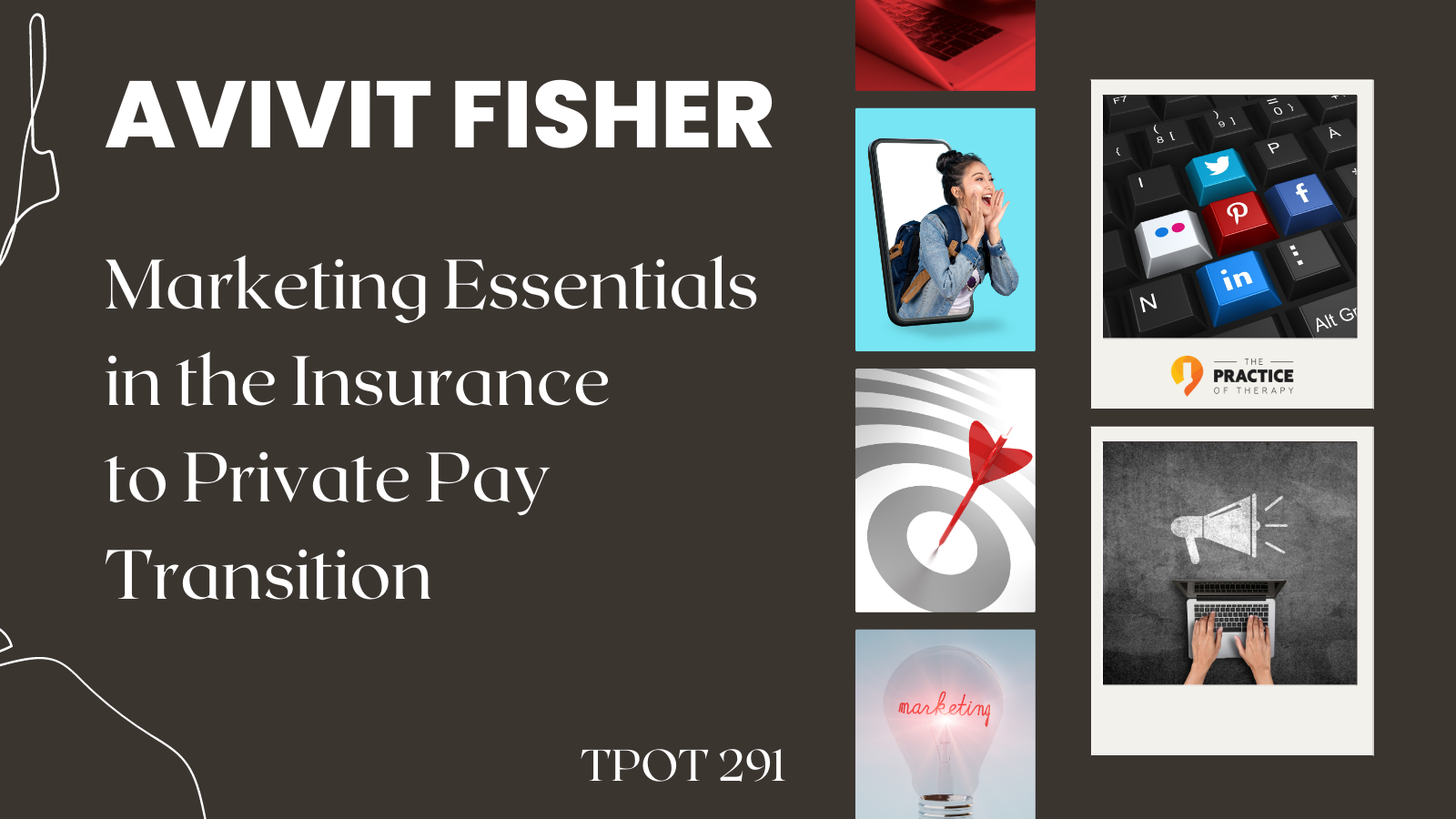 In this podcast, Avivit Fisher discusses the importance of marketing for private pay practices. She helps practitioners start, build, and grow their practices, focusing on creating a strong online presence and using SEO and email marketing. Avivit also talks about the challenges of transitioning from insurance-based to private pay practices, including the need to market services and establish fees. She addresses therapists' concerns about losing clients when no longer accepting insurance and suggests addressing objections by highlighting the benefits of being an out-of-network client. Tune in as we chat about the importance of building solid relationships, leveraging your network, and creating engaging content.
Meet Avivit Fisher
Avivit Fisher is the principal of REdD Strategy, a marketing and business consultancy for therapists in private practice. Avivit teaches therapists business skills they didn't learn in grad school. She provides guidance in strategy, process planning, business tools, and marketing so that private practitioners can create a sustainable business advantage.
She spent the first decade of her professional career as a Graphic Designer and later worked as a marketer and a project manager in a corporate environment.
In grad school, Avivit received a degree in Design Management that focused on business sustainability and entrepreneurship. She is also a content creator, copywriter, and obsessive reader.
Mastering Marketing and Communication in the Transition from Insurance to Private Pay
In the world of therapy, many practitioners start off by accepting insurance as a means to attract clients. However, there comes a point where some therapists may want to transition to a private pay practice. This transition can be challenging, as it requires a shift in marketing strategies and effective communication with existing clients. Avivit Fisher shares her insights on marketing and communication during this transition.
When making the transition from insurance to private pay, Fisher emphasizes the importance of understanding that marketing is necessary to attract clients. Unlike when working with insurance companies, clients don't automatically come to you when you're not paneled with insurance anymore. Therefore, therapists need to actively promote their services and make potential clients aware of their private practice.
Another crucial aspect of transitioning to private pay is establishing fees. Therapists must have a clear understanding of their fees and how they can support their desired number of clients. Unlike insurance, where there is a ceiling on how much therapists can charge, private pay offers more freedom. However, this newfound freedom can be intimidating for some therapists. It is essential to determine the number of clients therapists want to see each week and ensure that their fees can sustain that workload.
Unlocking the Power of Private Pay Therapy
One of the main benefits of private pay therapy is the flexibility it offers both therapists and clients. Private pay therapy allows therapists to set their own rates and have more control over their practice. Insurance company regulations or limitations do not bind them, and they can focus solely on providing quality care to their clients; this can lead to a more personalized and individualized treatment approach, as insurance guidelines do not restrict therapists.
For clients, private pay therapy can also have several advantages. Firstly, it gives them more choice and control over their treatment. They can choose a therapist who aligns with their specific needs and preferences rather than being limited to the therapists covered by their insurance. This can lead to a stronger therapeutic relationship and better outcomes.
Additionally, private pay therapy often offers more privacy and confidentiality. Clients may feel more comfortable sharing personal information and discussing sensitive topics, knowing that their information is not being shared with insurance companies. That way, therapists can create a safe and trusting environment for therapy.
Maximize Your Impact: Leverage Network and Create Engaging Content
A critical aspect of marketing a private pay therapy practice is leveraging your network. This involves establishing referral relationships with other professionals and organizations that can help support and promote your services. Therapists have a wealth of resources and relationships that they can tap into, but often they do not fully utilize them. You can expand your reach and attract new clients by creating strategic referral relationships with practices or providers whose services complement your own.
For example, if you specialize in working with children, you could establish referral relationships with practices that work with adults or couples. This way, when those practices encounter clients who may benefit from your services, they can refer them to you. Similarly, building relationships with medical providers, community organizations, and religious organizations can also help generate referrals. These relationships can be mutually beneficial, as you can also refer clients to these organizations when appropriate.
Creating content is another important aspect of marketing a private pay therapy practice. Content can include blog posts, articles, videos, podcasts, or social media posts that provide valuable information and insights related to mental health and therapy. By sharing your expertise and knowledge through content, you can establish yourself as an expert in your niche and attract potential clients. Content marketing also helps build trust and credibility with your audience, as they see you as a reliable source of information and support.
Building Strong Relationships for Effective Marketing Success
One of the key points discussed in the podcast is the importance of building relationships for effective marketing in private pay therapy practices. Gordon and Avivit highlight the benefits of cultivating relationships within the community and with other professionals in the healthcare industry. One of the main advantages of building relationships is the potential for referrals. Additionally, building relationships within the community can also help with marketing efforts. Avivit mentions that the relationships she has built in the community are one of the best marketing tools she has. When people in the community know and trust a therapist, they are more likely to recommend them to others who may be in need of therapy services. This word-of-mouth marketing can be incredibly valuable in attracting new clients.
Avivit
Okay. Hi. Thank you so much for having me on the show again, Gordon and say it's a pleasure to be here and talking to you again. I avid Fisher, the founder of red strategy and marketing consultancy for private practice owners, and I help private pay practitioners start, build and grow their private practice. And I'm also the creator of therapy business brief, a weekly newsletter for therapists who want to excel in private pay practice. So I'm happy to talk to you today about everything that has to do with marketing and private pay practice.
Gordon Brewer
Hello, folks, and welcome again to the podcast. And I'm so happy to have back with me, Avi VT Fisher, welcome back. Avete.
Avivit
Thank you so much for thank you so much for having me.
Gordon Brewer
Yes, yes. And so for folks that have been listening to the podcast, you know, that avete is no stranger to the podcast, and she is the person behind red strategy. So if, you know, obviously, for people that don't know you yet, do you want to tell folks a little more about yourself and what you're up to?
Avivit
Sure. So I'm the founder of red strategy. It's a marketing consultancy, for therapists and private practice. And what I do is I work as a marketing coach with practitioners who are starting and building and growing their private pay practices. So I help them figuring out their niche, figuring out their brand, and digital and offline marketing strategies. So I work with my clients on creating a strong online presence using SEO using email marketing. And, and anything really that has to do with that outreach and marketing their private practice.
Gordon Brewer
Yes, yes. And I know, it's, you know, in particular, and I know we're going to talk about this more for folks that have a private pay practice. That marketing becomes real important as far as making sure you get that flow of referrals, and you have folks contacting you. So yeah, so what one of the things? One question may be for your RV VT is, if someone is thinking about maybe they're insurance based, and they want to make the transition to private pay, what are the things that they should be focusing on around all of that?
Avivit
Right, and actually, I've worked with quite a few people who are making this transition. It's not an easy transition, because you're so used to generating leads through insurance companies. And so it becomes a bit of a shock to you, when you understand that clients just don't trickle your way. When you're not paneled with insurance anymore. So the most important thing that I would say, is understanding that you have to market your services for people to get to know about them and for people to find you. And the second thing that I would say is, you need to really do a good job in establishing your fees and understanding your fees. And because then it becomes really, it's a different ballgame. Because insurances have a ceiling to how much they would pay for therapy, obviously. And here you have freedom and this freedom sometimes scares therapists, and makes them feel uncomfortable. So really understanding how many clients you would like to see a week and figuring out if your fees can support that.
Gordon Brewer
Right, right. Yeah, it's, as I like to say, you kind of have to work backwards of figuring out what your what each session is going to bring in for you. And then looking at your costs and your expenses, and what's it going to leave you in the end, so to speak, you know, the profit of the of the of the practice, of course, you know, I'm a big proponent of Profit First, which we won't go down. That's a whole other whole other topic in and of itself, but so, you know, I think one of the things I know one of the questions that probably a lot of people would have is is that as they make that transition from being on edge urge panels to private, totally private pay it. I've thought about it a lot myself. I'm an insurance based practice. And there are plenty of days when you know, you think, Okay, this would be so much easier if I didn't have to deal with insurance panels. But what some of the pushback that and I think a lot of people have is that they're worried about not getting the clients because the first, one of the first things a lot of people ask when they're seeking a therapist is do you take my insurance? And so being able to address that, from a marketing standpoint? So I mean, what, what are you learning about that? And what do you find are the good strategies around that?
Avivit
That's a very good question. And actually, I wrote a little bit about this transition, and specifically, touching on communication with existing clients. Because just because you're transitioning from insurance to private paid doesn't necessarily mean that you're going to lose your insurance clients. So it's very important to plan your conversation with clients, and really, you know, address the objections in a constructive way. So if somebody's objections are regarding, regarding not being able to take care of their insurance, you might, you might want to address it by answering the by answering with the benefits of being an out of network client. So in terms of, I think there's there are benefits in terms of privacy, I think there are benefits in terms of disclosure of treatment and stuff like that. There's another element to that is that quite a few people have a very good out of network benefits. So and they don't know that. So it's up to I think it's up to therapists to explain it to them to explain that it doesn't mean that they have to pay for the treatment 100% that some of it might be covered by insurance without of network plans, and even go so far as to maybe give a little bit of direction of how to talk to insurance companies and so on.
Gordon Brewer
Yeah, it's almost, from what I know, so far, and just talking with lots of people, it is a lot, it's almost as much work getting off of panels as it is getting on panels. You know, from what, from what I understand about it all? Yeah. So, yeah, I think, yeah, I think you're right, you have to be clear about what you're offering people, so that they see it as a benefit for going with with a private pay therapist versus, you know, hindrance or that sort of thing. And I think you're right, One approach is to look at this whole idea of having to give people a diagnosis. And that being something that insurance companies require, and just the whole privacy part of it.
Avivit
Right. And also, you don't have to transition cold turkey. You can, you can start, if you're taking insurance, you can allocate a certain number of your clients to insurance, and certain number of clients that you would like to accept private pay. It's your practice, you can do what you decide is best for you. Right, so and in terms of onboarding new clients, this is when it becomes very purpose. I would say it needs to be very purposeful and how you market to, to potential clients.
Gordon Brewer
Right, right. Yeah, I love that idea of really maybe having kind of sometimes referred to as a hybrid practice, right of looking at, you know, and I would say that my practice is that way, we have quite a number of private pay clients that come to us, we're not solely insurance. And I think one of the things that is appealing to a lot of those folks is not not sharing their information with with folks. But the other thing too, from a business standpoint is I think looking at which panels are going to be the most lucrative for you to stay on. You know, fortunately, a lot of insurance companies are starting to pay higher, higher higher contract rates, but you know, looking at the volume of inserts of, of providers, plus the ones that pay the most. And I would say, go for those, and then disregard all the rest. Yeah. Yeah.
Avivit
Well, I don't I don't have a lot of information about working with insurance companies, because obviously I don't really do that. But yeah, that sounds that sounds logical. And then that makes sense. And also, there are some companies, I think, like Alma and some other companies that help you out with, with that, is that correct?
Gordon Brewer
That's correct. Yeah. In that sense. There's, there's two that come to mind. One is Alma, the another one is called headway, and there's some others that are coming out there. And so that is also, as you mentioned, it avete maybe a good alternative for people, because in many ways, you're still operating almost like a cache practice, because those companies handle all the insurance part of it for you. And they just send you a check, by understanding of it is is that with those companies, the they are treated like a, like an agency and the the insurance companies contract with them. And then they treat you as a contractor. In working with them. Yeah.
Avivit
Right. So and then that sends its it also takes care of, of referrals? Because they also, I think, send referrals. Yes. Yeah. But speaking of companies, there's another company, and I'm so sorry, I forgot its name, I can tell you a little bit later, maybe you can put it in the notes. But there is a company that allows you to check out of network benefits. And so some therapists would pay a monthly fee, just for the convenience that it provides for clients to check their out of network benefits. Or, in some other instances, clients can check themselves. So that's another way of, you know, offering service to show that you care, even though you take it even though your private pay practice.
Gordon Brewer
Right, right. Yeah, that's another great model to work under, I think is using something like a super bill as they refer to, as we refer to it, where the client pays you your full service fee up front. And then they take the super bill and turn it into their, into their insurance company and get whatever out of network benefits that the insurance company provides. Yeah, that's right. That's right. And so they reimburse the reimburse the client for that, rather than you as the therapist having to play the middleman on all of that.
Avivit
That's right. But But I'll tell you, not every client is aware of their out of network benefits. And so then it becomes up to the therapist, I think, is to tell them that they should check it, they should look into it.
Gordon Brewer
Yeah, yeah. So in a note, we were talking before we started recording of AV you're putting together a course on just how to market you know, being a cash pay practice. So what are what are some of the highlights of that that you want to share?
Avivit
Sure. So this is going to be a free mini course. And it's called Five marketing strategies for building private pay practice. And it's really an overview of fundamental marketing fundamentals, I would say. So it will be talking about building a brand it will be talking about creating an effective website website that serves as a marketing tool. It will be talking about leveraging your network creating content, and so on. So it's, it's an all encompassing in terms of information, but it's an overview. So I will share with you the link and hopefully your listeners will, will take advantage of it because it's a it's a free course. It has a lot of use right ation and right.
Gordon Brewer
Yeah, and I think that's, you know, as we've talked about before on this podcasts, I know even when you were here before IV V. You know, the whole marketing piece is a thing that I think tends to be a little bit intimidating. To Thayer First, and not something that we get any sort of training in when we're going through our training programs or our graduate school. So I mean, it's it's really good information and, and your newsletter, by the way is one of the best. And so
Avivit
yes, I appreciate you saying that. Thank you so much.
Gordon Brewer
Yeah, it's got some really good stuff in there just thinking about how do you mark it and maybe some out of the box, outside the box kind of way is thinking about it.
Avivit
Right, so my newsletter, which is called therapy business brief. So the idea for it came about because I would work with my clients with my coaching clients, and then I would find some information in the news. And that would be like, Oh, that's that's kind of connected to what we were talking about that's kind of this is there's an opportunity for you here. And I would send it to them. And I was thinking about that, I thought to myself that I should really put it together like this snapshot of mental health, news, industry news that can actually be relevant to building a private practice to highlight opportunities that are available and stuff like that. And that also makes my own insight and some marketing tips. So yeah, I I'm very proud of it. Very hard.
Gordon Brewer
Yeah. So I know you do put a lot of work into it. I imagine that takes up a lot of your time.
Avivit
Yeah. That's what it's I love it. All right. Right.
Gordon Brewer
Yeah. So I guess one, one question before we kind of close things out is, is there one or two best marketing strategies that you find are working well, for people right now.
Avivit
The first marketing search strategy is fundamentals is really figuring out who your ideal client is. And so focusing on any niche, and that can be very uncomfortable for a lot of therapists, because you might feel that you're eliminating some other people by focusing on a on a niche, but what it is, really is that just opening a channel for people to come in the door for you. So it's very important because people resonate with marketing that they can feel connected to people liked to be seen, people like to be understood. So choosing a niche is really a way for you to show that you understand this audience. So that's number one. Number two is actually, you know, I think digital presence is important and everything. But number two, I think that the most effective way is really leveraging your network, really establishing referral relationships in a strategic way. And I find that therapists have so many resources in terms of relationships. And unfortunately, they don't really use them as much as they could be. So creating, for example, relationships with a practice that, whose services are complementing to yours. So for example, if you work with children, maybe working with establishing referral relationships with a practice that works with adults or couples, something like this, then there are you know, establishing relationships with medical providers, maybe community organizations, religious organizations, anything that could help you support each other. So I would say that,
Gordon Brewer
yeah, yeah. And I think that get that kind of goes full circle. Back to why it's important to have a niche or niche, how are we gonna say that? Because if you think about it, when somebody is having trouble, or maybe there's another clinician or a doctor that was wanting to refer to you, they're gonna refer for a specific issue. It's just like, like, oh, well, they just, they need a counselor, but it might be that they're well struggling with anxiety or PTSD or, you know, any number of specific issues. So, in marketing practice, I think it's important to put your put yourself out there as an expert in that particular issue.
Avivit
Right, right. And I'm sorry, you know, with anxiety A that can affect so many different audiences and, you know, anxiety for, you know, a young mom looks very different than anxiety for a teenage boy. And so it's an important thing to to distinguish between those two niches.
Gordon Brewer
Right. Right. Yeah. And I think the other thing too, and, you know, hopefully people have heard this before. But you know if, yeah, here's an example I like to, I like to think about, I've got a good friend of mine who's a cardiologist. Yeah, but you know, but if something medical comes up, I will ask him, because I know, he has a broad knowledge besides just cardiology. And so, yeah, and so I think in that way, people even even though the you specialize, or you have a niche, people will still come to you for help, even though they know it might not be specifically for that niche.
Avivit
Right. And, and by the way, having a relationship with medical provider, like a cardiologist might be very beneficial for referrals. Because I'm sure that cardiologists for example. See, many people will have anxiety issues, and, and so on. So yeah, there's another, there's another benefit to that.
Gordon Brewer
Right. Right. And that's been my experience, too, is just those relationships you build in the community are one of the best marketing tools, anything, I mean, shout out to my my friend Keith, who's the cardiologist. I know, Keith refers patients to me all the time. You know, just because we have that relationship. And he knows what I'm like, and understands how to operate and that kind of thing. And so that's, yeah, it's, it's that it's a it's a valuable marketing tactic.
Avivit
Right. So I mean, it's not accidental, it needs to be cultivated. And it needs to be used strategically, I believe.
Gordon Brewer
Right, right. Well, obviously, I want to be respectful of your time, what sort of parting thoughts do you have just around these topics.
Avivit
And I think that the most important thing to remember is, your goal in marketing is for people to get to know you, to get to like you, and to trust that you are the right fit for them, that you are the right therapist for them. And everything that you can do to create awareness about your services, to make yourself present in a way that you're likeable to your audience and to showcase your expertise in a way that evokes trust. would be your best. Your best strategy?
Gordon Brewer
Yeah. Yeah, that old adage? No, no, like, let's see, How's it go? Know, like, and trust and know, like, and trust? Yeah, I couldn't pull up the trust part. But, ya know, like, and trust. That's, that's very true. is kind of more that's almost marketing. 101. Exactly. Yeah. Yeah. So Well, great. Well, again, we'll have links here in the show notes and the show summary for Aviv eats free course. And you can check that out. And also you can find more about avete and her services at Red strategy.com Correct. Yes. Read with two Ds. Yes, that's right. Right. And again, that'll be in the show notes and show summary. So well. Avi V. It is good to reconnect and hope to have you back again before too terribly long.
Avivit
Yeah, I would love to and thank you so much.
Being transparent… Some of the resources below use affiliate links which simply means we receive a commission if you purchase using the links, at no extra cost to you. Thanks for using the links!
Avivit Fisher's Resources
Resources
Meet Gordon Brewer, MEd, LMFT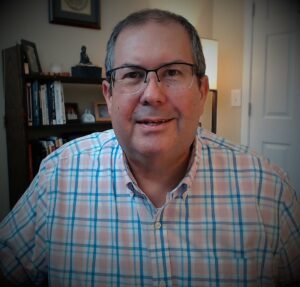 Gordon is the person behind The Practice of Therapy Podcast & Blog. He is also President and Founder of Kingsport Counseling Associates, PLLC. He is a therapist, consultant, business mentor, trainer, and writer. PLEASE Subscribe to The Practice of Therapy Podcast wherever you listen to it. Follow us on Instagram @tpotpodcast, and "Like" us on Facebook.