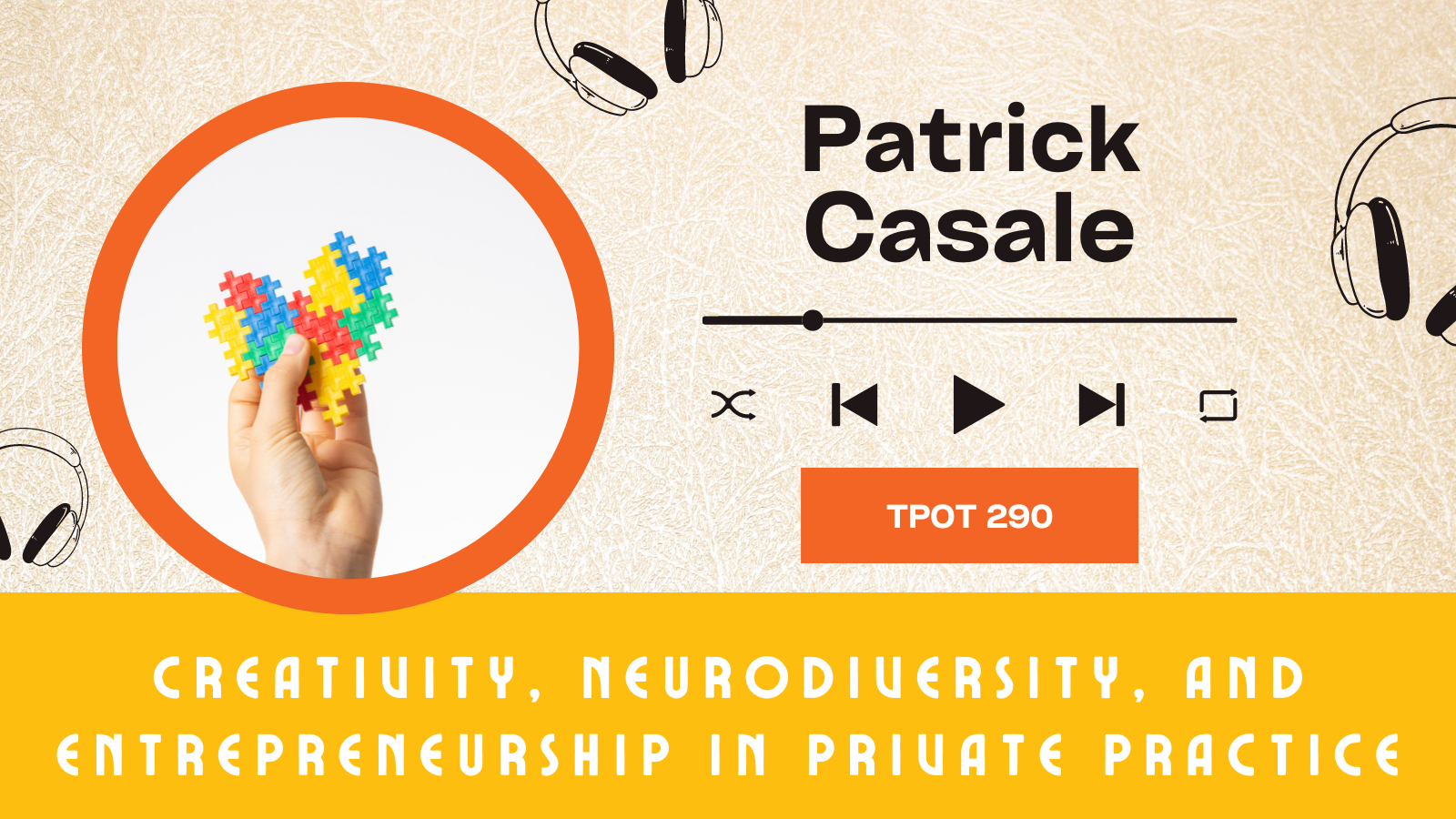 This episode is a deep dive into the realities of entrepreneurship and creativity. Patrick Casale joins the show to have honest and open conversations about fear, failure, imposter syndrome, and self-doubt. It's a reminder that we're not alone in our journey. Plus, Patrick speaks about expanding your knowledge on neurodivergent affirmative practices in mental health. Lastly, we explore the challenges and stigma surrounding autism. Join the conversation as we advocate for a more inclusive and understanding society.
Meet Patrick Casale
​​Patrick Casale is one of the most authentic voices in the mental health and entrepreneur space. He is a Licensed Mental Health and Addictions Therapist, Speaker, Retreat Planner, Podcast Host, and Business Strategist. He has been featured on Spruce Health, Brighter Vision, Not Your Typical Psychotherapy Conference, Modern Therapy Conference, Private Practice Startup, Abundance Practice Building, Selling The Couch Community, and more.
After serving his community as a mental health professional for over a decade, Patrick began to leverage his ability to build and create authentic relationships to launch a successful 7-figure group practice and a private practice coaching business, which has supported 100,000s of mental health entrepreneurs.
Patrick specializes in supporting people with the emotional and psychological components of small business ownership, especially impostor syndrome, self-doubt, and paralyzing perfectionism. Patrick helps entrepreneurs Doubt Themselves & Do It Anyway by showing up authentically, sharing lived experiences, and modeling extraordinary leadership skills.
Mastering the Art of Balancing Life and Entrepreneurship
Balancing life and entrepreneurship is a challenge that many individuals face. The demands of running a business can often overshadow personal struggles and health issues. However, it is crucial to prioritize self-care and find a balance between business responsibilities and personal well-being. It is essential to recognize that entrepreneurship is sometimes less glamorous than it may seem. While there may be moments of success and freedom, there are also behind-the-scenes struggles and sacrifices. Patrick mentions the facade of entrepreneurship, where it is often portrayed as a shiny object, with individuals working from anywhere and enjoying a glorious lifestyle. However, the reality is that entrepreneurs face many challenges and hardships.
Embracing Openness and Honesty in Sharing Experiences
Entrepreneurs need to be open and honest about their experiences. By sharing your struggles on social media and podcasts, you can let others know that they are not alone in their journey. This vulnerability allows for a more authentic portrayal of entrepreneurship and can help break down the facade surrounding it. There is also the need to set boundaries and limitations. As entrepreneurs, it is easy to fall into the trap of wanting to say yes to every opportunity and not wanting to let anyone down. However, when faced with personal challenges or limitations, it becomes crucial to prioritize and be intentional about what one says yes to; this requires self-awareness and the ability to recognize one's capacity and energy levels.
Empowering Individuals with Compassionate Support
Supporting neurodivergent individuals with compassion is crucial in creating an inclusive and understanding society. Patrick discusses the importance of vulnerability and relying on teammates when facing challenges. This vulnerability allows for open and honest communication, fostering a sense of togetherness and support. One of the key takeaways is the importance of curiosity and continued learning when working with neurodivergent individuals. Many therapists lack competence in supporting autistic adults, leading to individuals being turned away; this highlights the need for mental health professionals to expand their knowledge and understanding of neurodivergent conditions, breaking down misconceptions and ableism.
Unapologetically Neurodivergent: Embrace Your Unique Path with Pride
This episode discusses the concept of "permission to be neurodivergent." Patrick explains that neurodivergent individuals often feel overwhelmed in social situations and may have sensory overloads. He emphasizes the importance of understanding one's sensory triggers and communicating about them to manage social interactions effectively. The conversation then shifts to neurodivergence in entrepreneurs and business owners. Many individuals in these roles may be neurodivergent, as their ability to think outside the box, be creative, and constantly pivot aligns with traits often associated with neurodivergence. Challenges and mental fatigue can come with being neurodivergent, but also unique strengths and abilities that it can bring.
Gordon Brewer
Well, hello, folks, and welcome again to the podcast. And I'm so thrilled to have Patrick caselle with me today. Hey, Patrick, right. Yes, yes. Okay, good. That's good. So yeah, so Patrick, and I have we met I guess we first met a couple of years ago, and Asheville and we got some of us in this whole private practice consulting people space together. And, and I get Patrick, and I don't know why we haven't been on each other's podcast before they.
Patrick Casale
I don't know, either. And I think some of that is just life circumstances and getting in the way. And yes, and what we're going to talk about today, so
Gordon Brewer
yeah, yeah, absolutely. Absolutely. And, and so for, for those folks that might not know who you are, although I can't imagine that. Tell, tell folks about yourself and how you've landed where you've landed?
Patrick Casale
It's a complex question. So I'm from upstate New York, originally, I moved down to Asheville in 2011. Most of you who know me, if you do know me, or follow my stuff, or my story, you know that I was running from a gambling addiction that had consumed most of my life, and ultimately thought I could live here for a year change things and move back to New York. Thankfully, I have not gambled since June of 2012. And life has changed pretty significantly since that time. I graduated with my masters in 2015, went into community mental health, as most of us do thought that was the finish line and the endpoint. And that was the goal got burnt out quickly, just wasn't, wasn't built for that environment as a neurodivergent. Human being the the expectations, the hours, etc. I started my private practice in 2017. Again, I thought that was the end goal and finish line. Maybe it's just my ADHD that comes out in creative ways and gets bored easily. But I then decided I wanted to start helping therapists start and grow their businesses. And since that time, in 2020, when COVID happened, things have kind of exploded for me over the last two and a half, three years. It's kind of crazy to think that my business is not even three years old yet, but it's turned into coaching. It's turned into a podcast, it's turned into hosting international retreats all over the world speaking at conferences. I just don't think I ever envisioned being in this position.
Gordon Brewer
Yes, yes. And Patrick's got some great stuff. And, and we're gonna we're gonna hopefully hit on a lot of that stuff today. But, Patrick, I know, one of the things that we were chatting about before we started recording is just kind of, for both of us just kind of some parallel journeys with just life struggles. And, you know, how do you how do you navigate all of that? It in the midst of running a business running a practice running other entrepreneurial things? And so yeah, what are your thoughts on all that?
Patrick Casale
My thoughts are complex. Yeah, I've had for those of you who don't know, I've had two major throat surgeries in the last two years, I've got diagnosed with a chronic throat, illness and condition that really impacts point 00 1% of the population and mostly people over 65. So I'm the lucky 35 year old who got diagnosed with this condition and had major throat surgery in October of this year. One of my vocal cords was damaged in the surgery. And I still don't have full vocal capacity or range yet it is healing, thankfully, but it is a slow process. We're about eight months in now. And that was probably the scariest thing for me going into the surgery. It wasn't the fact that I was having another surgery. It wasn't knowing that it was going to be challenging. I just was very fearful that I was going to lose my voice. And as a podcaster and coach and someone who has to speak in order to make money and run my business. That was horrifying. And of course that's what ended up happening and my energy levels to have not fully come back and I just don't think I expected it. To take so long for me to be able to regain and recharge and be able to be at like my 100% self, because usually when I'm 100%, I'm very creative, I'm doing a lot of things, I'm moving a lot, and I have the capacity to create a lot. And I've noticed that I've really had to readjust to whatever this new normal is for me. And I have to schedule significantly less in my day to day, I can only really handle two meetings, two podcasts two sessions a day with anything I'm doing. And then I have to rest. And it's just been very challenging. I think that the behind the scenes of having to run multiple businesses, when you're dealing with something chronic, or when you're dealing with something that's really taking away your focus and your energy, it impacts your business. And yeah, it impacts how you show up.
Gordon Brewer
Yeah, yeah, I would totally agree. And as I've shared with folks, and this was kind of how we kind of decided on this course of conversation, we just in my, you know, my but you know, all of us have lives outside of our businesses and what we do, and my, my wife has now terminally ill, and we've started hospice care for her. But just the whole, the whole, you know, the whole journey from when she was first diagnosed with breast cancer in 2010. And being able to do the things that I love doing and loving to engage with people on the, you know, this, this platform and, and, you know, just in the work that we, that we both do as consultants and stuff, there's a bit of a, there's a sense of guilt that I experienced, of not being able to show up in those places as well as I would like to, and just feeling like there's a lot of things that I've leave hanging and, you know, just being the consummate people pleaser that I am, you know, feeling like I'm letting people down and that sort of thing. Yeah.
Patrick Casale
Yeah, it's, it's, it's really hard. And, you know, my heart goes out to both of you. And I can't imagine that it's easy to show up and just know that, at the same time, simultaneously, this is what's happening behind the scenes, I think. That's why I'm so open and honest about my own experiences on my social media and my podcasts, because I want people to know that they're not alone in this journey, because I think so often, there's this almost facade of entrepreneurialship, where it's like shiny object, feed out on the beach, everything is glorious, I can work from anywhere. In reality, there's a lot going on that that is behind the scenes that is impactful. And for me, losing my voice, I still was seeing therapy clients. Up until my surgery, I only had about four left on my caseload. I had been transitioning out of this for quite some time. And I let them know prior to surgery, I don't know if I'm when I will be back. And when I lost my voice and my vocal cords were damaged, I had to reach out to them and say, I'm actually not coming back. And there was a lot of grief around that and feelings of shame and abandonment. And it was very hard to commit to that decision. And I've also had to shift my business model because I was doing a lot of group coaching programs and individual coaching and I have not taken a coaching clients since before October. Yeah, I get bombarded by people who are emailing and DMing. Like, can I work with you? Can I work with you? And I have to say, No, I don't have the capacity. And not only is that scary financially. It's also it just brings up that feeling of am I losing myself in this business? Like, am I losing a part of myself?
Gordon Brewer
Right, right. Yeah, it's, it's that whole balance of, you know, I think, again, I suffer from a little bit of that shiny object syndrome too. And so the next next thing that comes along, you know, you want to jump on it and do that, but as being able to set those limits and set boundaries for yourself around all of this stuff. So yeah, of being able to find that balance. You know, we we throw around the term life balance, but I think in running multiple businesses as we both to it takes on a whole different takes on a whole different shape when you're facing, you know, just other things within your life.
Patrick Casale
Absolutely. And I think there are seasons to being an entrepreneur. I think that for me, right now I feel like I'm kind of in this the winter of, of my career. But I feel also like as I regained strength and energy that things are starting to grow, things are starting to percolate, and it allows you to kind of take a step back back, and be really intentional about what you say yes to. And I think that's important when your energy has shifted or when your focus has shifted. Because for people pleasers that are a lot of helpers in general, it's very easy to want to say yes to everything. Because it's like, I don't want to let someone down, I don't want to say no, I don't want to, I don't want to reject this offer. But when when you don't have the same capacity, or ability, or energy or focus, you have to be able to set these limitations for yourself and work within that scope. Because otherwise, burnout is not an option for me anymore, like burning myself out, does my does my audience no good, it does me no good. And I think also, we were talking about this before we started recording, having good teammates, in your businesses having good people you can rely on like, I have such a good infrastructure in my group practice between Clinical Directors and office managers and an admin support teams that it really never missed a beat even while I was out, dealing with my own recovery, and that that, for me, is just a reflection of just creating good culture, and also relying on the people that you need to rely on when things get challenging.
Gordon Brewer
Yeah, yeah. But I think too, just kind of giving ourselves permission to allow people to see our own vulnerabilities is huge. I know. You know, same thing for me, I've got a wonderful team, in my practice, where, you know, I've been, you know, open book with them saying, you know, you know, I'm not going to be I'm not gonna be showing up like I usually do. And in them being able to come back and reassure me, we've got this, you know, kind of thing. And so, take a lot of pride in that. And then I've hired the right people and, you know, got got a good group of people that are, are behind all of this, yeah,
Patrick Casale
makes a huge difference to be able to rely on and lean on them. It's challenging, I think, I don't know about you, but it is, it was challenging on me to accept that for myself, and to say, I'm going to have to rely on my teammates more than I usually would. But vulnerability is strength, too. I think that being open and honest and vulnerable with the people around you and your audience. And, and your staff goes a long way. It shows that you're human right. And it shows that there's this process where we're all in this together. And I think that makes a major, major difference. Sure. Sure.
Gordon Brewer
So well, Patrick, to change gears a little bit, I, one of the things I'm really interested in, is, you know, Patrick, I will say this, Patrick's one of our newest members to the site craft network, and I'm really excited to have him in this in this journey with me. You've got a newer podcast. So tell folks about that. And just kind of how that evolved.
Patrick Casale
Yeah, thank you. Um, so we have two podcasts, the whole thing's private practice podcast, which is you know about the psychological and emotional side of business ownership. And then I have recently recently released the divergent conversations podcast, which I co host with Dr. Megan Neff. We are both autistic, ADHD, mental health professionals. And Megan was on my podcast a couple of times throughout the last two years, and we've really kind of grown to be connected and have good conversation. And I approached her one day and said, Hey, would there would you have any interest in CO hosting this podcast if we weren't able to talk about adult ADHD, autism experience, diagnosis stories, sharing our own experiences with the world but also processing it from our clinical lens as we're talking and sharing so that people know clinically how to support their own neurodivergent kids or teens or adults or practices in general? And she was like, You know what, I was gonna message you the same thing. So we ended up deciding like, we really want this to be very intentional. We know that when you're talking to a marginalized group, you have to be really intentional with your language with how you speak about certain topics. We wanted it to be very sensitive. We wanted it to be very vulnerable, and we wanted it to be very real. So today, we released episode 10. And I want to say that we already have had 25,000 Plus downloads in 10 weeks, so it feels a bit overwhelming. But I think it's so so important, because we have even as mental health professionals, we are still lacking quite a bit of knowledge to be neurodivergent affirmative in our practices, and we're still using outdated language and a lot of there's still a lot of shame and stigma. around the word autism in general in our society. So Megan and I are really trying hard to advocate on a major level for people who just don't have the ability to do so.
Gordon Brewer
Right. Right. So, yeah, so this is a big broad question, what are, what are some of your top take home points or tips around all of that, for those of us that, you know, that are working in, in the mental health fields, but just also in just being able to communicate and be with folks that are neurodivergent in a better, more compassionate way?
Patrick Casale
I think curiosity is so important. And I think continued learning, right, like, we know this as mental health professionals. But I think continued learning around these subjects are important because what I what we hear so often, Megan and I both is from people who have reached out to therapists who have said, Hey, I'd like to come see you, I'm autistic. And then the therapist will say, I'm not, I'm not competent in that area. I'm not competent in supporting autistic adults, and that person gets turned away. And I think the realization is like, we have this perception of autism as a society that it looks a certain way. And I think that's just founded in ableism. But ultimately, when I tell people I'm autistic, the response is typically, how so you're too intelligent, you're too high functioning, you own multiple businesses. And it's like, you know, we're talking neurodevelopmental conditions here. So I think the big takeaways really are like, how can we support autistic and ADHD people? Because we're starting to understand that the the amount of neurodiverse people in our society are much larger than we anticipate them to be. How can we set up practices where we are Affirmative? And how can we support people in a clinical sense where we're honoring identity, so it becomes the the clinician has to do the work is really what it breaks down to and whether that means listening to podcasts, going to trainings, doing continued education from autistic ADHD trainers, really important. So I think we have a long way to go. But I do think we have this neurodivergent movement right now that's happening, where people are really openly coming out as autistic ADHD, and I got late diagnosed in life, I'm 36. Right now I got diagnosed at 35. It's been life changing. I mean, it's been really, really transformative in so many ways. But I do think and as I've talked about, on that podcast, there's a Grief Relief process of getting a diagnosis that is lifelong, that is debilitating, so. And that goes to like having family members reach out and be like, that's not true. That's not how I experienced you as a kid. And that, you know, is obviously quite minimizing and dismissive. But nevertheless, I think being able to talk about it openly, being able to share with our communities about our own struggles, yet showing up and saying, This is how we we navigate the world, this is how you can do do the same things can be really, really empowering.
Gordon Brewer
Mm hmm. Yeah, that's something that I've been kind of delving in more and more here recently, as, you know, one of my, one of my wife's caregivers, we were having that conversation, and she's recognizing that she's got, you know, some nerd divergence herself. And, you know, I think there's at least from what I hear from her, and you can, you can chime in on this, Patrick, but there is a lot of shame associated with it, and that there's, you know, she's kind of heard most of her life, you know, what's wrong with you? Or, you know, all these messages are, why can't you get it together and, and all of those kinds of things. And, and just really, I think it's been liberating for her to recognize that she's got some tendencies of have ADHD and probably kind of, could probably, you know, we haven't tested or, but could probably test out, you know, full blown ADHD kind of thing.
Patrick Casale
Yeah, there's, there's a lot of shame in these diagnoses. And we have to, if we're looking at it from the disability model, you know, autism is quite disabling for many, many people and ADHD as well in terms of executive functioning. So I think about this, like, the more affirmative we can be the more advocacy spaces that can be created, the more people who can be outward like talking about these things, who can showcase like, Okay, I am a mental health therapist. I'm a business owner, yet I struggle with these things. And here are the ways that you can navigate the world and make it easier to talk about really, really important but I do think that the importance of have, you know masking and unmasking, being able to actually drop into who you are at home when it's safe to do so, really important? I think the struggle areas like a lot of neurodivergent people who work nine to five jobs have a really hard time because of sensory overload because of executive functioning challenges because of social communication challenges, because nine to fivers are really not. Great Spaces for neurodivergent folks whose brains and systems process differently, I would joke that I'm no longer employable after leaving my job in 2017. But I think I'm also privileged enough to like own my own company. So I get to set my own hours. And I know that not everyone has the ability to do that.
Gordon Brewer
Yeah, yeah. So what are what are some things that you've learned for yourself? I mean, that you're, you would be okay to share of just how you've navigated all of this, because you you are a successful practice owner, you've, you've done, you know, you've done well. And so what, how do you attribute? What do you attribute to your success with all this?
Patrick Casale
Lots and lots of self discovery, introspection and therapy, just learning about yourself, you know, like, and, again, I have the ability to talk about this stuff pretty openly without much repercussion. Not everyone can do that. So I think that what I've learned is giving myself permission to be myself. As you notice, in this podcast, I'm not making a ton of eye contact, and I don't make a ton of eye contact in general. And I think in the past, before learning about my autism diagnosis, you're so often trying to force yourself into this box where it doesn't feel comfortable, or where you don't feel like you belong. And socially, that happens a lot when it comes to like, making eye contact, nodding your head when people are talking. So you're affirming what they're saying, like smiling when people make a joke, like you're doing all of these things, but they don't come naturally. So it takes a lot of effort and energy that goes unrecognized. And then when you get home, you're like, why am I so damn exhausted? Like what is what's happening to me is, and yes, the way I experienced autism, and the reason I sought out testing, was because I never felt like I truly landed or belonged or fit in. And I never felt like I fully arrived as a human, which seems to be a very typical autistic experience. So that is what really created the urgency to figure out what was happening. Now I this is why I think Megan and my podcast is so good, because we do have the vantage point of being clinical mental health specialists. So we see it from different angles. But I think what's happened is permission to unmask permission to be socially awkward, permission to feel like I don't want to be around a lot of people a lot of the time because it's too overwhelming for me. So getting a good sense of your sensory overload is what creates the energy drain, what reduces your capacity, and then being okay with communicating in your life about those things. So like, my wife's family is big. And we're talking like 60 people at cookouts and gatherings and holidays, and I am just too overwhelmed. So we've gotten to the point where we can easily communicate and say, I can commit to go into Christmas, I can commit to going here, I cannot commit to coming to every single event because for my system, it's just too much. And so I think it's just about learning a lot of these these compensation strategies.
Gordon Brewer
Yeah, yeah, that makes sense. Yeah, I can, I can only imagine just being having, you know, for, you know, I don't I don't know if I'm neurotypical or not. I think a lot of times I think I've got a lot of ADHD is, you know, symptoms, but what, what are the things that occurs to me is how exhausting it must be to be to have to think about kind of social cues and just being able to read body language and all of that sort of thing that doesn't necessarily come just automatically.
Patrick Casale
It makes for good therapists, I'll tell you that. You're tracking everything. But it also it also just creates this unbelievable sense of exhaustion and mental fatigue. So but I think so many entrepreneurs and business owners, in my opinion, are probably neurodivergent because the ability to think outside the box to think creatively to pivot constantly to have that flow of ideas, to have that hyper fixation when you're really in the zone. I think those things can feel really special when when you're able to tap into them and I think they can allow for people to really work differently and outside the box. There's certainly a flip side to that. But I am very thankful for the way that my brain works in a lot of ways, even though it's a challenging existence in a lot of ways as well.
Gordon Brewer
Yeah. Yeah. That's great. That's great. I love that. So to to maybe change gears again here, Patrick? What was it that got you into podcasting? And how did you? How'd you land on all that?
Patrick Casale
I'm gonna be really honest with you and your audience. And everyone who's listening. I've never listened to a podcast in my entire life. Wow. including my own. I don't listen to them. I've never have I don't think I ever will. Which is wild. Yeah. Like, we have two successful podcasts. But I think that a lot of people while I was creating this all things private practice journey and doing coaching and doing webinars and going on other people's podcasts would keep saying like, one, you have a really great podcast voice and tone. And two, you have a message, and you should share it via podcasting. And I, like so many ventures in my life, like private practice, group, practice, coaching, etc, I had the idea, I was like, I don't know how to implement it. So I'm not going to do it right now. And then one day, I was just like, I'm going to start this podcast. And I told my VA and we found a hosting platform and just started recording. And that's kind of my method to everything. Kind of feels counterintuitive to a lot of people. But it just has to get to that point in my brain where I'm like, Okay, I'm going to do it. And so it's grown. You know, we just released episode 93. Last week. And we have enough episodes in the queue in the pipeline for all things private practice to get us until March of 2024. So I love having, like authentic real conversations like we're doing right now. None of it is scripted, we just see where it goes. And I really have enjoyed having so many incredible people on because at first, I thought, I'll just talk, it'll just be me. I realized I just wanted to have conversations with business owners and entrepreneurs about their own struggles, and how they've worked through them and how they've gotten to the other side and all the cool creative things that they're doing. And what I wanted to do was amplify voices and like, share stories with people to help normalize the fear, the failure, the imperfection, the imposter syndrome, the self doubt that comes with trying anything new and doing anything creative. So it's been a been a hell of a journey. And I'm really excited to see where it continues to go.
Gordon Brewer
Yes, yes. Well, yeah, it's your podcast is good. And you've got some really good guests and really tackles some really important issues. And what I, what I love about your podcast is, is that you're there's, there are no filters there. And that's a that's a good, that's a good thing. I mean, yeah. So yeah,
Patrick Casale
I don't know any other way to be. So when it's like on other people's podcasts, I always have to ask, like, how do you Can I curse on this podcast? Myself, and I tried to censor myself to the best of my ability, but I think authenticity has become my brand. So it's really important for me on our podcasts and just be like, let's just show up how we are. And let's just see where this goes. And for me that's made for the best conversations, I can say for listening, because I never have and I don't think I ever will. Yeah, yeah,
Gordon Brewer
yeah. So okay, one other quick topic. Before we wrap things up. Tell us about the retreats and how you got those started and what what's behind all of that.
Patrick Casale
Gordon, I don't know if that's a quick topic. I actually just spoke about this at a jet as agenda Robinson summit yesterday in Washington, DC. I'll try to be as succinct as possible. So before COVID happened, I had the idea to start this business called empowered escape, I wanted to help help her step away, and immerse themselves in culture and put their phones down and actually have contact and connection. I think, because as entrepreneurs, we're so often creating what we need, and I love traveling, and I love traveling, like a local. I don't like doing the like, typical travel stuff. So then COVID hit and I was like, Well, that went out the window. I can't do that anymore. And then I pivoted and created all things private practice and help people get out of their agency jobs and, and the rest is history. But as COVID You know, I don't know how to phrase COVID anymore, because I think it's just the rest of our lives. But as it was lifting and getting more comfortable to travel and move through the world. I just put out on my Facebook one day like if I hosted a retreat in Ireland, would anyone come? And there were about 55 People 60 People were like, Yeah, Sign me up. Just so tell me when and where. And I was like Oh, crap. Now I actually have to create this. So I did create that in March of 2022, during St. Patrick's Day took 15 therapists to Ireland, small village that nobody's ever heard of including most Irish people. And since that time have done Asheville, Spain, Ireland, again, Portugal, this October, Asheville, again in August, for next year, including an international summit where I rented an entire medieval Italian village. And everything sold out in less than a week. And what I realized is, people want travel and connection and relationship and, and local experiences, I try really hard to always just use local small businesses build those relationships. So you can go back to that area again and again and again. So I do Ireland as my flagship during St. Patrick's Day, every March because I think what's cooler than saying like, let's go to Ireland during St. Patrick's Day to this old medieval village with a castle that was built in the 1200s that nobody has ever heard of, and take people out of their comfort zones, help them step away, help them immerse themselves in local experiences, work through their their imposter syndrome, perfectionism self doubt as a group, because my events serve as like intimate incubators, I don't like big events, as you can imagine. And it's been life changing, not just for me, but for the people who come, the feedback is so phenomenal that I have guests who came to Ireland 2022, who have almost come to every single event that I have put out and continue to come back. Because we are really focusing on the experience, we are really focusing on the evolution as human beings, and the ability to be vulnerable. A lot of these people have never left the country before some of these people are traveling on their own. And like, it's just amazing to witness what we can do in this field, if we can step outside of the box and look at things differently.
Gordon Brewer
Yeah, yeah. Well, I think I think you're exactly right. I think what you know, I think about the times of my life when I've grown the most. And usually, it's in the context of a retreat and being, you know, away from my normal environment and doing things that, you know, that are outside my comfort zone I can. One in particular, I'll share real quickly is just years ago, I went on a mission trip to Honduras, and you talk about it out, outside your comfort zone, you get the language barrier for me and just go into a third world country that, you know, felt scary, and all of that sort of thing. And absolutely transformed my life. Yeah. At that point. Yeah.
Patrick Casale
I think that's what life is about is experiencing. And yeah, for me, there's no better way to do it than than the way that we're doing it that way. And, you know, I've kind of coined the phrase, doubt yourself, do it anyway. And that's kind of the motto for our retreats because there's so much risk involved with traveling and, and just discomfort that comes with traveling. But in a good way, where things don't always go as planned, things can be messy. But then you get there, you kind of like drop in the group forms, you start to see people smiling, you start to see their personalities coming out, you start to see friendships forming. It's just really amazing. And I always am a wallflower, because I don't like to be the center of attention. So I love what like looking around and just seeing people like in pure joy guard down like truly being themselves and just embracing the moment. I think that's really been a wonderful thing for me and also for the people who get to attend.
Gordon Brewer
Yeah, that's great. That's great. Well, Patrick, I've got to be respectful of our time and your time. And you've added a lot here, and a lot that we talk about. And I'm looking forward to us getting connecting again here soon. Tell folks how they can get and reach you and find you and all that kind of stuff.
Patrick Casale
Yep. Thank you so much, Gordon, I appreciate it. If you want to listen to the All Things private practice podcast that's on all major platforms, and YouTube, the divergent conversation, podcast is on all major platforms and YouTube. You can go to my website, all things practice.com. You can join the Facebook group, all things private practice, all of my social media is all things private practice. And if you want to come on a retreat, the information is on the website as well.
Gordon Brewer
Awesome. And we'll have links of course in the show notes in the show summary and you're going to hear more from Patrick caselle Thanks, Patrick.
Being transparent… Some of the resources below use affiliate links which simply means we receive a commission if you purchase using the links, at no extra cost to you. Thanks for using the links!
Patrick Casale's Resources
Resources
Meet Gordon Brewer, MEd, LMFT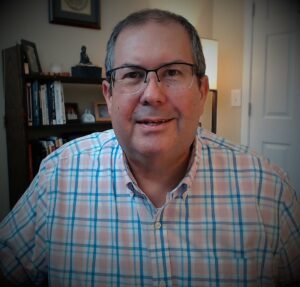 Gordon is the person behind The Practice of Therapy Podcast & Blog. He is also President and Founder of Kingsport Counseling Associates, PLLC. He is a therapist, consultant, business mentor, trainer, and writer. PLEASE Subscribe to The Practice of Therapy Podcast wherever you listen to it. Follow us on Instagram @tpotpodcast, and "Like" us on Facebook.