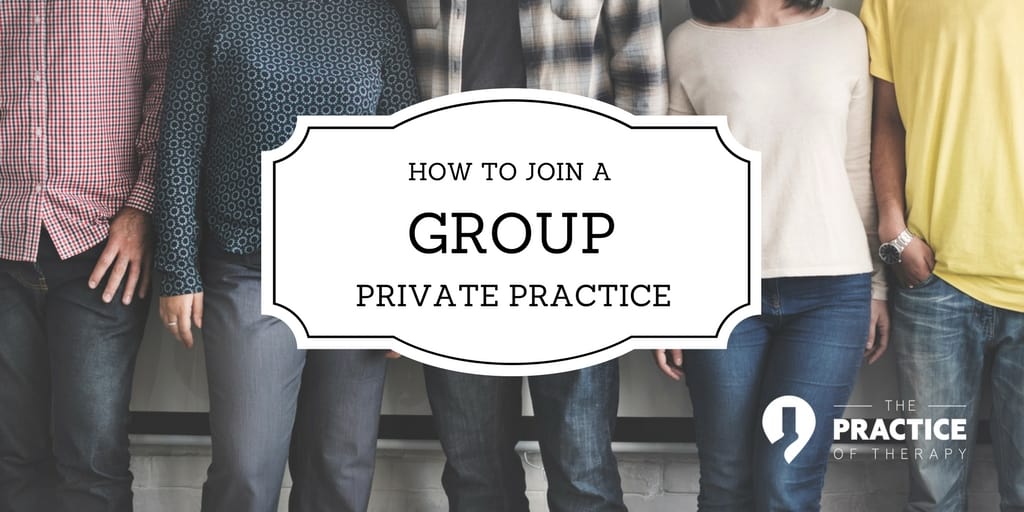 One of the interesting things that I have been recently been asked has been about joining a group practice. The question was something like, "What are some tips and questions to ask for practitioners interesting is joining a group private practice?".  For counselors, therapists and other mental health practitioners that might be working for an agency or in the public mental health clinics, this is a topic that often comes up.  
Agency work is hard work.  I know that when I started my career as a therapist it was working for a non-profit agency.  The work itself was something that is absolutely needed and is very noble work.  And what I quickly figured out was that it was something that was going to be difficult for me to do long-term.  The long hours, high demands, being on call and all the required paperwork just reaffirmed for me that being in private practice is what I really wanted to do long-term.
Why should I join a group practice?
A great way to consider going into private practice is to join a private practice group.  In the blog post I did on private practice models, I talk about the different ways in which group practices can be set up.  One of the more common ways is for all the practitioners of the group practice to be contracted by the group to provide their services. They operate independently but get the benefit of sharing the cost of running the business.  Some of the possible advantages of joining a group practice are:
Lower overhead (cost of doing business) costs

Depending on the fee structure, your overhead costs shared or done through a split-fee

"Brand" recognition of the group in the community

Usually have more built-in referral sources

Shared advertising and marketing efforts

It is less isolated than a solo-practice; you can get feedback and interaction with colleagues

Might have shared benefits like health insurance or retirement plans

Could have a built-in administrative/clerical person to take calls and set appointments

Colleagues to fill-in and/or refer to when caseloads reach their max.

You can possibly draw on the expertise of others who might have been in practice longer

Flexibility of hours and number of clients you see
When starting out in private practice, and especially if you are transitioning from agency work, joining a group practice is a good place to "get your feet wet" with private practice work.  It can provide a way to take on a few clients to start with and then build your practice from there. But just getting in with any group practice may not be all that great for you.
Find the right fit
It is very important to find the right "fit" for yourself in joining a group practice.  Ideally it is going to be a mutual "fit" and a "win-win" arrangement.  Not only will be developing a relationship with the other practitioners in the group, but having a business arrangement as well.
Ask the right questions
Here are some tips and questions to ask in finding a group practice and some things to look for as you think about joining the group:
Spend a good deal of time interviewing each other. Listen to your gut and if it feels like a good fit for you.

Learn and ask about their clinical approach and if it fits with your own approach; and yours with theirs.

What sort of practice niche or specialties do they have? Does it align with yours and do they compliment each other?

What is their current volume of clients and where are their referrals coming from?

Do the group members accept insurance or is it strictly cash pay?

What is the financial arrangement? How will you get paid and when?

Is it a contractor arrangement or employment?

Talk with others in the group, if there are any others, and get their feedback on what it is like to work in that group.

What sort of office arrangement do you have and what hours will you be able to see clients? Will you be sharing office space or have your own office?

What is the business structure of the group? Is it a Sole Proprietorship,  LLC or Corporation?

What are the growth plans for the group and do they have a business plan they are willing to share with you?

Is or will their be an opportunity for you to become a partner or have part ownership of the group in the future?

What is their marketing plan and marketing strategy for keeping a steady stream of referrals coming in?

If you were to ever leave the group, do you get to keep your clients?  

Will they ask you to sign a noncompete agreement? (Not a good idea to do this…)

If you did decide to leave the group, how much notice would they ask for?

Read any contracts or agreements thoroughly before you join the group!
Consider partnering with someone
Another idea to consider if you are working for an agency and wanting to transition into private practice, is simply finding another practitioner to go into business with.  In other words, just form your own "group" and private practice together.  It would mean starting from the ground up, but would allow you both to work on it together.  You could combine efforts and resources from the beginning.
Ethics to consider
Finally, be aware of any conflicts of interest or ethical questions that might come up if you are working for an agency and decide to transition into a private practice group. Is or would the group be a direct competitor of the agency you are currently employed by?  Of course you will want to be careful about this and not get "the rug pulled out from under you" by setting up shop in competition with the agency.  It could be grounds for dismissal which you would not want to happen!
A good strategy around this would be to go into a niche that the agency was not serving.  For example, when I went into private practice, the agency I was working for only served children and youth.  My private practice focused on working with adults and couples.  There was no conflict of interest.
If you are thinking about going into private practice, group practices would be a good place to start. If you are working for an agency and at a place in your career as counselor, therapist or other mental health practitioner and feeling overwhelmed and somewhat burned out, private practice is a good alternative.  But make the switch wisely and ask the right questions.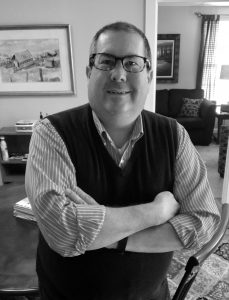 By L. Gordon Brewer, Jr., MEd. LMFT  – Gordon is the President and Founder of Kingsport Counseling Associates, PLLC. He is also a consultant and business mentor at The Practice of Therapy. Follow us on Twitter @therapistlearn.  "Like" us on Facebook.
Suggested Reading: