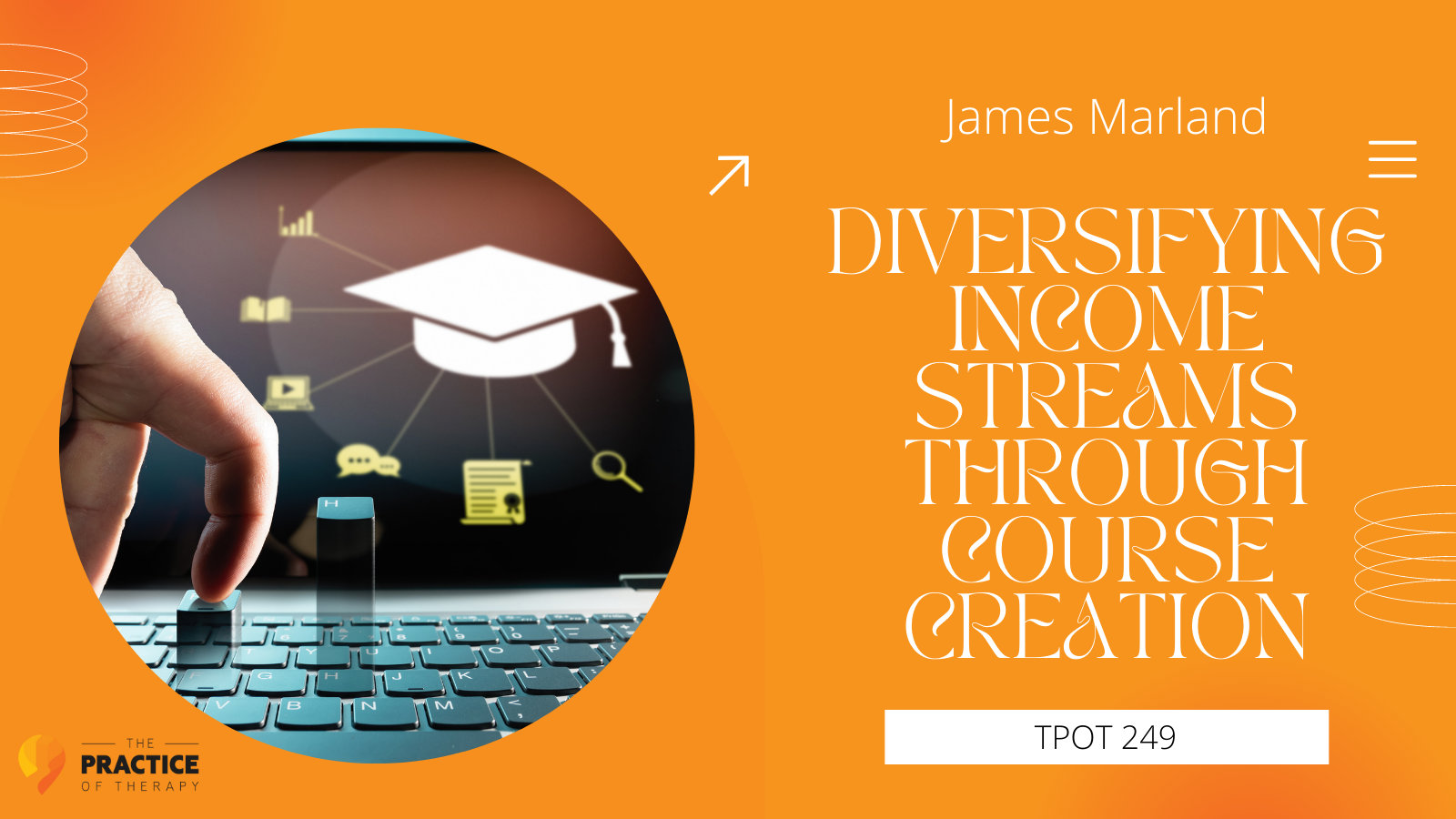 In this episode, James Marland joins the show to speak about diversifying your private practice income through course creation. An online course is a great way to build your income; plus, you can relaunch it throughout the year and automate your income stream even more. James talks about using online courses to charge clients for one-on-one sessions; just another way to diversify your private practice income! Tune in as we chat about how to create a course, the importance of marketing your courses, and navigating imposter syndrome.
Meet James Marland
James Marland is the founder of Course Creation Studio. He has a master's degree in Ministry from Lancaster Bible College as well as a Master's of Business Administration from Shippensburg University. He has worked in mental health and social services for the last 18 years. He was a youth minister for two years and spoke weekly to teens and college-age students. From 2019 to 2022, he was the chief operating officer of Moved Forward Virtual Assistants, a company that provided support services for therapists and private practice offices. He is a Faculty Member at Lorman Education Services. James is on a mission to support therapists in creating life-changing profitable online courses. He believes each therapist has at least one course within them. Unlocking that course will help many people. James is an avid reader and board game player. He hosts a monthly community game night for the people in his church and town. He still meets regularly with a group of friends he has been playing online games with for the past 7 years. In the summer, you will find him at a Pennsylvania State Park campground, where he likes to take pictures, hike, and burn things in the fire.
Automated Income For Your Private Practice
One benefit of having an online course is automated income. When you create a course, there are costs upfront. However, once the course is complete, you can sell that course day or night. Also, you can relaunch your courses at certain times. Building a business course for therapists can launch around tax time or budget time. If you have a course for school-aged kids, you can launch that course every school year. Automated income will come back repeatedly as you launch and relaunch the course.
Generate More Revenue With Online Courses
Another way to generate revenue through courses is by recording steps. You give people the information, and you provide them with homework. Then, they will come back for a one-on-one session with you after completing their homework. This is one way to generate higher revenue from an online course. Many online courses without one-on-one sessions will sell for nothing to around $99. Reoccurring coaching will help you upsell your clients and get to know them.
Navigating The Challenges of Building An Online Course
Building a course can be challenging. James wants to help people take the frustration out of building a course. People need to do a lot of research to create a successful course. Well, James has done all the research as far as creating courses. There are all sorts of different options for building your course. As far as recording goes, there are great options for $30 cameras, and there are also great options for $100 cameras. It all depends on what kind of investment you want to make and how much you are willing to spend on upfront costs.
Content Is Everything: Why Should Clients Buy Your Course?
Content is the king! People don't necessarily care what the teacher looks like. You need a minimum amount of professionalism to make a course. Your clients won't buy courses for what it is; your clients will buy courses for what they do. Gordon has a course on Google Workspace. People don't buy the course because they love Google; instead, they want to learn how to use the tools in Google Workspace to help run their practice more efficiently. Learn more about Gordon's course, Google Workspace for Therapists (formerly G-Suite for Therapists), by clicking HERE.
Gordon Brewer 0:00
This episode of the practice of therapy podcast is brought to you by therapy notes. You can find out more about them, I go into practice of therapy.com/therapy notes
Hello, I'm Gordon Brewer, and welcome to the practice of therapy podcast, where we explore the business and clinical sides of running a private practice.
Hello, everyone, and welcome to the podcast. This is episode number 249 of the practice of therapy podcast. So glad you're with me. So glad you're with me on this journey, as I like to say, and if this is your first time, listening to the podcast, welcome, and hope you'll come back for more episodes. And if you're been listening for a while, thanks for being here. Glad you're coming back every week to listen to these conversations. And I'm looking forward to hearing my conversation today with James Moreland. James has been on the podcast a few other times. And James is. And I have been doing some kind of work and collaboration together, just around course building. And I really wanted you to hear from him of just some of his ideas about building courses, building online courses, as therapists. You know, one of the things in you'll get to hear some more of this, in, in the podcast episode for today is that one of the things that's really helpful as you build your practice is to look for ways to diversify your income streams. And one of the great ways to do that, and you're going to hit get to hear more about kind of the rationale behind this is to build courses. And so looking forward to hearing from James and some of the new things that he's doing. One of the things that I mentioned in here, just a quick shout out, and you're going to hear more about this as we move down the road is is that I've launched a new podcast network. And you're gonna get to hear more about some of the other podcasts that are joining the network as we move through this. But that's just a little teaser for more to come. And also, before we get to James, one of the things I'd love for you to do is, and you've heard this in past episodes, just the importance of building community. I've started a new practice of therapy community. And as I mentioned, and other episodes are moving away from Facebook, not that Facebook is all that bad, but it's gotten really crowded. And there's just a lot of noise on Facebook as far as having private communities and that sort of thing. And so I've moved off of Facebook. And I've started a new practice of therapy community. And it's a free community if you want to join and sign up and you can go to practice of therapy.com/community. And I think what you'll find there on this circle platform is just a much more user friendly venue, so to speak, and being able to have conversations and ask questions. And when you go to that particular URL, you'll be if you haven't joined circle before, you'll be asked to sign in or sign up. And it's just a real simple process. And that'll give you access to really what is called the Welcome, welcome space. And when you get there, there is a link or a tab there for that says Start here. And when you do that, it's going to give you a quick tutorial about the space. And as much as anything, I wanted to provide a safe space for people to have conversation and interact with each other because one of the things about being in private practice is you don't want to do too much of it alone. And that's one lesson I've learned the hard way and I've created this circle space, the circle community, the practice of therapy community, to really give you an opportunity to find a space, safe space, and a part of that platform.
I've also got on there, the practice launch club member area and if you've been listening to the podcast for the last several months you will have heard me mentioned the practice launch club and the currently the doors are open if you would like to join and I would invite you to go over to practice of therapy dot com, or slash launch club. And you can find out more about that. It's really a membership community that is geared more for those folks in those beginning stages of starting a private practice. And we meet once a month via zoom. And then we have a lot of interaction in between the time in the private member area of the practice launch club. And also there are lessons and courses that you get access to by being a member. And so if you'll go over to practice of therapy.com/launch club, you can find more, more, find out more rather, my tongue is getting tied here about how to become a member of the launch club. So again, love for you to hear about that. So, before we get to my conversation with James, I'd love for you to hear more from our sponsor of the podcast therapy notes.
Rachel Bond 6:03
As your practice grows, the systems and processes you have in place will keep your practice running smoothly. That is why it is important to have an electronic health record system that is specific to mental health providers therapy notes is a complete practice management system with everything you need to manage patient records schedule appointments meet with patients remotely great rich documentation and bill insurance right at your fingertips. Their streamlined software is accessible wherever and whenever you need it. They are who Gordon uses in his practice. And did I mentioned that they are one of the top rated EHRs for mental health private practices. Their support is also second to none. Be sure to check them out at practice of therapy.com/therapy notes. Be sure to use the promo code Gordon to get two months free.
Gordon Brewer 7:06
Well, hello, everyone, and welcome again to the podcasts. And I've got glad to have back with me on the podcast James Marlin. Hey, James.
James Marland 7:15
Hi, Gordon. Thanks for having me.
Gordon Brewer 7:16
Yes, yes. And James has been working on some pretty cool stuff and kind of pivoting and transitioning from other things that he's been doing. But he's kind of, within private practice circle circles, James, getting to be kind of known as kind of the expert at being helped people outsource better and being able to do things more efficiently. So, James, as I start with everyone, why don't you tell folks a little more about yourself and how you've landed where you've landed,
James Marland 7:52
for the last three years, I was working at a virtual assistant company, providing virtual assistant services for mental health providers. And during that time I met, you know, a lot of cool people, Gordon, and Whitney and some of the other people, Daniel, and everywhere. And I talked to many, many providers, just, you know, hundreds of providers over the last three years trying to build their business, expand their business and do more things. And a key theme that kept coming up in those in those conversations and meeting with people and trends that I'm picking up on, is that time is time is limited, right? The the amount of services you can provide, the amount of things you can do during the day, there is a limit to those things. And for the last three years, I was helping people with their admin work with scheduling and insurance type services. And now currently, I am I am helping people build online courses.
Gordon Brewer 9:00
Wow. Yes, yes. And I know James and I have been then talking about just some of the things that I've been doing as far as, and he's given me a lot of good ideas is really kind of assisting me on on all of this. I'll put in just a really quick plug here for in the middle of launching a new podcast network called the site craft network. And so James has been helping me on the back end with a lot of that stuff. So James is really good at being able to help people do things more efficiently and really kind of helping put the systems together in a way but one of the things that I know, James you wanted to talk about is just this whole idea of course creation, which I think for a lot of clinicians, that might be something that sounds a little bit intimidating, but it It really is something that is a way for us to not possibly diversify income streams, but really have a greater, greater reach with folks. So just say, tell folks a little more about your thinking around all of that.
James Marland 10:15
So, so first, I'm a lifelong learner, I really like I really enjoy reading and researching and figuring things out. Like, I want to know why and what and how things work. And courses, in the form of like, degrees and things has really opened the doors for my life, you know, learning those skills, learning those things, has really changed me in a way that I can't comprehend, like those those courses have, and what the teachers who invested in me have changed my life. So personally, you know, I, I am a fan of learning new things to improve your life and to improve things that are going on in your life. And as I was talking with a therapist in a conference one day, she was talking about teenagers, and she did some work with teenagers, troubled teens. And I was thinking about, you know, I'm raising a teenager, and how cool would it be to like, be able to access what she knew about the her situation and her experience, and oh, I've been doing this for 20 years, or whatever I like, Oh, by word, because we just went out to dinner together. And we just talked about teenagers for a while. And it just got me started to think, you know, there, there are hundreds 1000s of therapists just like her who have a wealth of experience, they're experts in their field, they know how to do it. And then there's parents like me, who are struggling with, you know, kids, and they're growing up, and now he's 18. And he's, he's 18. He doesn't like it when I talk about him, but he's 18. And, and how do I deal with my transition from a parent that had a small kid to now helping him launch and grow and do those things? And so that's a personal reason, like, Someday I hope to be able to launch a course for somebody that just like that, you know, how do I help my teenage launch successfully? Or some some sort? Of course, like that? The second thing, the second personal reason is, it's another family reason is, I have I have my parents adopted a child late in life. They're, they're in their 70s Now, and my sister is in her teenage years. So, you know, there's, there's this big gap there. And they're, they're getting older, the mobility is older, and some of the specialists and things are out there, you know, they're not in their hometown. And so could they could I help somebody launch a course that could bring the experts to my parents house and help them navigate their own their own situation, their own learning and understanding to help them grow, because they're getting support in their own town, but it might, the experts are out there, you know, for their specific area, the experts are not close to them. So and I know that there are people who specialize with what they're going through, there just isn't the access there. So my, my, my dream is to create things to help people like myself that love, love learning, want to build but also help people get access to the courses and information and experts that the the online courses help us do.
Gordon Brewer 14:00
Yes, yeah. So now, you know, I know, as James and I were chatting before we started recording, you know, one concept that I think I know, one what one thing about most of us and particularly in the specific niche of mental health, but it also translates out to other kinds of helping professions. You know, we're, we're limited in our ability to help but so many people, and there's only so much time in a day that we can can do stuff. I mean, you know, the traditional way of doing therapy or helping people is within our professions is just one to one. You know, you you got somebody sitting in front of you and you're working with them or, you know, in the case of a physical therapist, they're working with one particular person but the one thing about doing courses or just doing things like that, you Use as you move from doing the one to one way of providing service or help to people to the one to many. And I think there's just, I think people are, like you said, alluded to James, I think people are hungry for the knowledge and will be, and are looking for ways to get get help in a particular area.
James Marland 15:22
Yeah, well just look at all the books that go out on those types of subjects or even, you know, type into your Google search bar, how do I deal with whatever and it pops up? There are people out there looking for knowledge, we are in a knowledge and sharing knowledge has never been easier, you know, just with location and online courses and being able to access the experts. Yeah, easier, cheaper.
Gordon Brewer 15:51
Right. Right. And that the other thing too, is that I think, again, particularly those of us kind of in the, in the mental health professions, you know, a lot of the knowledge and expertise that we have, can translate in so many different ways. And I think being able to communicate that through something like an online course, is, is a good, good way to do that. So, so yeah, so James, tell folks maybe a little bit more about kind of your concepts around, being able to help providers do good do the stead of the one to one, the one to many.
James Marland 16:40
Sure, so part of this is providing a plan, right, or a path for people to follow. I think the when people have lots of options, and lots of information, it gets, it gets overwhelming. And so having a clear, stage and plan where you identify who your customer is, identify your niche, create, create a business strategy, a business plan, a marketing strategy, like where you're going to host it, those things, if, if I can give them options, and just a plan of what works, then all they have to do is take what they know and apply it to the plan. It's, it sounds that almost sounded too easy. There is some work to it, like you got to do a little bit of market research, and you got to like talk to people, and you have to get feedback and ideas. You also have to you know, create the slides and audio or video, whatever you have to do. But once you create the templates, you just follow the plan and work it out. And there's there's lots of there's lots of benefits to creating a course it's not just, I'm going to create this course and sell it, there's a lot of other things that you can do with that course as part of a grander or bigger business strategy. Because most most therapists at right now, I would assume, they're they're not into the course building business, but they can see how a course could benefit their practice. Right? Right.
Gordon Brewer 18:24
You know, it's, we kind of alluded to it, but it's a great way. I think for clinicians that are looking for ways to diversify their income, which again and in the folks that I consult with, that's something I really encourage them to do is to look for other ways to create income for yourself so that you're not constantly building a caseload to where you, you reach a sort of a glass ceiling with your caseload. But being able to, to be able to kind of have the time that you need, and create ways to build passive income for yourself, within your within your practice, you know,
James Marland 19:08
yeah, those are, those are kind of two of the benefits I have. I read a book called The Ultimate course formula. And there's there's a lot of good information there. And they and it was easily adaptable to therapy practices. One of the one of the benefits was automated income. So if you build a course yes, there's work right at the front front end but then that course can be you know, selling day and night or you can relaunch it at certain times. For example, you know, if you build a business course for other therapists, you can launch a launch it around tax time around budget time. If you have a course for school aged kids, you know, every year that they go to school so you could launch you know, relaunch of course have a successful first day of school have a Successful summertime, you know, during those regular school times, holidays, you know, winter winter blues, the all sorts of seasonal type things, you can have this, this automated income that just keeps coming back over and over again as you launch it. And then the second way of, you know, revenue is, if you if you record some steps, you, you give people the the information, give them homework, and then they come back for a one on one session with you, after they've done their homework, that is a way to I mean, that's kind of the normal therapy model anyway, so you, you, you give homework, have them do it talk about their homework. And that's one way to generate a higher level of revenue from just an online course that most online courses are many online courses, without that one on one component will sell from, you know, free as an online content creator, or 290 $9. Without that, the recurring comeback without coaching,
Gordon Brewer 21:10
it's one of the things about creating courses, I've you know, and I've, I've got several that I've put out there, it's, it's a lot of work on the front end, and really being able to know how to organize things. And like you said, Get slide decks together, be able to record it and edit the recording, all of that sort of thing, and then getting it posted up on whatever platform you're using to present the courses and that sort of thing. And so really part of what your your expertise is, is in James is helping people organize all of that on the backend.
James Marland 21:53
Yeah, taking the taking the mystery out of it, you know, taking the the frustration out of it. Like I talked to some people about their frustrations, and they were like, you know, how long does it take? And what's the technology? And do you use lights or cameras? And What program do you use? And where do you host it? And, you know, how much does all this cost? That's a lot of research. But But guess what, that's what I like to do. That's right, my right up my alley, I read research on this and providing people with options and given people, you know, there's ranges, like you can, you can record on a, you can record perfectly fine on a 20 $30 camera, or you can buy, you know, $100 $100 camera, it's it's kind of what what, what are you going for. And here's, here's the secret about cameras, though. I like to I like I like tech and tools. So but the content is actually the king, like, people don't necessarily care what the teacher looks like, or what's going on, you have to have a minimum, you know, a minimum amount of professionalism. But beyond that, they they want the benefits of the course, like people don't buy courses for what the course is they buy it for what it does. They want the they they want, why why buy they get the course you you have a course on Google, right? And so why do people take their course on Google? It's not necessarily because they love Google. They want to be better at what they doing. They want that benefit, right? of the course.
Gordon Brewer 23:40
Yes, yes. And that's, yeah, and that was one of the things, you know, to just having done several courses. Now. One of the things that all of my courses have come out of have been something that I've been passionate about that I wanted to teach people. And so like you mentioned, the Google workspace for therapists course, and that sort of thing. And then the Money Matters course. And I've got another I'm just getting started. And in private practice, and all all of that came out of just kind of my, again, my passion. And I think that's something that people need to take into account when they're thinking about, Okay, can I create a course? Or could I create some other sort of content? It doesn't necessarily have to be a course. I mean, I mean, really, I would say even dream big and do like a podcast or, or something like that? No. I think it's very doable. And what uh, yeah, again, the thing is, is that you don't have to be intimidated by that. And that you can get the help and the expertise to help kind of walk you through the process of pulling all that together.
James Marland 24:53
Right. The one of the one of the things I keep coming up with is don't be worried about things that you don't need to be worried about at this moment. omit they're like people are worried about, you know, the like, how do I build eight courses? Or how do I, how do I talk on a podcast for for six, six months, you know and create a podcast, you you create what what is in front of you right now you don't worry about the problems that you don't need to worry about. In the moment, there are experts and people to help as you go through. You know, one of the things that I'm learning how to do better is is funnels, you know, funneling your courses. But when I was starting, you know, three or four months ago, I thought and this was before I did the research, but I was thinking, oh, I need to have all these courses bill, all the pipeline built the whole thing built, right from the, from the beginning. And then one of the one of the books I was reading said, that's not how education works. Most of the time, people, when you take a class, you go, you get the syllabus, you say, Okay, I want to take that class, then then over a progression of time, the teacher teaches the class, and they they build it ahead of you, and they take the feedback that you're giving in the class and how the class is doing to improve on the next class. And I think that that works for podcasts, too. You know, you don't have to have a year's worth of content, you build a few, get some feedback, improve, build the next one, improve, get the feedback. That's how the education system works in our country anyways, right now, you, you, you, you do it, improve it, do it again. Right. Right. Keep keep improving.
Gordon Brewer 26:52
Yeah, yeah. And I think I think to one of the things that I know, one, one point, James, that you have kind of hit on that I want to really kind of emphasize is that people listening to this podcast, you have some expertise in some particular area. And you are you have things that you're passionate about that you want to get people get, get the get the information out there, don't get caught too hung up on how you're going to get it out there. Because that's what people like James to do for us help you get it out there. But I would say identify what it is that you're passionate about. And really think about how you're going to what you want to communicate a metaphor that just kind of came to me as we were talking, James is, you know, if somebody, somebody is going to have surgery, I've got a friend that's getting ready to have some knee surgery. And I dare say that most of the backend stuff leading up to his surgery, that doctor is not going to be involved in that they're going to be nurses, they're going to be techs, are going to be all these people that do all this stuff on the back end, to lead up to the actual surgery, which is what the doctors expertise is in, but the back end stuff getting prepped for that surgery, he doesn't do at all. And so leaving it to other people that are kind of experts in that and you know, it's just anybody that's have had surgery, you know that you deal with a lot of a lot of people, before the surgeon even comes in to see you and in fact, you might even been knocked out and not even talk to the surgeon, they're just gonna come in and do the do the individual fix. So they, I think created our course, if you think about it that way. And then being able to outsource with, with folks like James really takes a lot of the pressure off about getting a course out there.
James Marland 29:00
One of my dream clients would be somebody who has, you know, something, they've learned an outline or something. And they don't want to do the PowerPoint, they just want somebody to put it up for them, then they'll talk about it. And they don't want to do that. They don't want to put it into a teachable or some sort of platform. You know that that type of stuff that that they might not even be interested in learning how to do any of that. But it would be just like you said, you learn something, then you created a course. There's a lot of people who have learned things, a lot of therapists who have learned how to do their business or how to do a technique or how to deal with certain types of clients that they could help other therapists learn. They just they have it in their notes already. It's just needs to get, you know, generated and put out there. I there was not somebody somebody recently wrote like a 1010 point I'd like a 10 point outline on how they cured their insomnia or how they work in other insomnia. And I'm like, right there, it was, like, there's a there's a mini course, right there. Right? In your in, in Facebook, that happens all the time. Yeah, because they did a lot of work on that. And it was for them, and they shared it. And they could share it in a greater audience. Not necessarily, they could generate money. But it could also be like marketing, like, Okay, I'm gonna, I'm gonna make this course on insomnia, if you want to have and then at the end of the course, you know, give that away for free. At the end of the course, say, if you want to work with somebody who understands your struggles, here's my number, you know, here's my webpage, let's do a one on one, you know, homework assignment counseling, you could maybe make a group course out of it, you know, that those types of things? That it seems like there's, there's lots of, you know, low hanging fruit on those things before you even have to think terribly hard about, well, what's my next course, you know, you you made, you made something about your passions that helped you and you just turned it, you know, turn turned your already used material into something that other people would want to use and and connect it? Yeah,
Gordon Brewer 31:22
what one example that comes to mind or that James is, you know, for those of us that are do therapy, if you think about it, when we get new clients, and, you know, I think we're particularly if you're, you know, if you are a therapist that has a specific niche, which, by the way, every therapist should have a specific niche. But if you are a therapist that has a specific niche, if you were to think about the sessions you've had with people over the years, you tell them the same things, and you give them the same same information, the same psychoeducation share with them the same information. And so being able to kind of catalog that information and put it in a course format, you could really, you could probably help a whole lot more people than you're able to just the one on one.
James Marland 32:21
And on the on the back end of that, you could have a course on how to get the most out of your therapy, you know, like, these are the these are the four skills that people use to get the most out of their therapists or like in customer service type of use, because many people that they've never been to therapy, so they don't exactly know what they're doing. So you could use a course or just a short mini course on, you know, how this is how to best use what we're doing. Here's, yeah, there's just a lot of creative ideas. And I'm sure we're just scratching the surface sure on how how our experts, you know, our expert helpers, and healers can have they've, they've already like it's in them. I believe there's a course at least one. And every helper and healer, they know how to do it. And they know, they know what works. And yeah, it just excites me that I can be a part of the process to help help more people.
Gordon Brewer 33:27
Right, right. You know, you mentioned you mentioned something an idea. And I have to give a shout out to our mutual friends, Aaron portraits and Nathan Hawkins that they created a course very much what you described that just simply prepares clients for therapy. And so very cool. Yeah. And so when when they have an intake or whatever, they have their clients go and take this mini course, just preparing them on what to expect when they start coming to therapy. So I mean, that's just one of you know, a plethora of ideas that that people can do and putting, putting courses together and just really thinking about the knowledge that you have, and ways in which you could do this. So, James, any parting thoughts here on on all this?
James Marland 34:22
course creation can sound scary, you know, because there is some technical parts to it. But there are, there's plenty of resources out there. There's plenty of people doing it. One of the things you might have heard this about starting a business. But one of the what when's the best time to create a course right? The best time to create a course was probably five to 10 years ago, right? Like in the beginning, where you hear all these people now who are writing books and they're grading, but the second best time to create a course is today, you know? So just like starting a business, I wish I would have done this five years ago and As I'm going through this course creation material, I'm like, Oh, I was down on myself a little bit, oh man, I wish I would have started, like, I can't believe just how much fun it is and like how how much growth there is and how much potential there is. And I wish I would have started so long ago, but that you can start today. So don't let that detract from you. The other thing is, imposter syndrome is another big problem that people are like, Oh, who who's gonna listen to me. And the thing I want to say about that is how many pizza shops are in your town, you know, if they would have listened to if their second pizza shop, would have said, Oh, there's already a pizza shop here, I can't do it, there would only be one pizza shop. But guess what, in my town alone in like a 10 mile radius, there's, there's like 15 or 20. You know, there's all these pizza shops and Italian restaurants and things that do their own brand and connect with their own brand of people. And they're successful in their own right. And probably the customers don't, don't cross pollinate too much. And that's the same way with courses, you have your way of doing something that's going to connect with your audience. And there's ways to do your research, to craft your perfect pitch and your perfect niche to get to your your clients. So that's, that's what I want to leave you with don't don't have the imposter syndrome. And don't believe that you're too late to get started. Because the best time to start is today.
Gordon Brewer 36:31
Right? Right. So yeah, great, great wisdom there, James. So tell folks how they can get in touch with you to find out more if they want to start a conversation with you about maybe doing some course creation and absolutely sort of thing?
James Marland 36:47
Well, I'll include a link for you to get some freebie I think I'm going to put out the first, like how to get how to niche down out for free. Like if even if you're just started and thinking how can I even do this, I'd like to give you that free course. And then I'm going to be James at course creation studio.com James, at course creation studio.com. And I am building the webpage now. So it should be up by the time this is released. Of course creation studio.com.
Gordon Brewer 37:19
Awesome. James, thanks for being on the podcast again. And I'm sure folks are going to be hearing a lot more from you here in the future.
Well, big thanks to James for being with me on the podcast again. And I really love the things that Jane bring James brought up in this particular episode, you know, kind of a take home for at least for me that I think is important for people to remember is, is being able to look for ways to diversify your income because, you know, just doing traditional therapy and being able to do that one to one kind of interaction with people kind of, in many ways kind of limits your reach. And there's an in there's a limit to how much of that you can do. But by creating other streams of income, particularly like white courses, which create what is sometimes referred to as passive income for yourself, can really kind of boost your practice and also just being able to do going from the one to one way of doing things to the one to many way of doing things. And I know it's made a difference in my practice and and what I'm doing, especially with the practice of therapy, and if you want to get some ideas about courses, you can join me on the circle community, as I mentioned at the beginning of this, moving the practice of therapy community to the circle platform, which is already set up, then you can go to practice of therapy.com/community. And sign up for free to become part of that community. And it will be a safe place for you to ask questions, have conversations with other clinicians and get the support you need in in running your private practice. And the other thing I'll mention here is if you are in those beginning stages of running a private practice, I've got another exclusive community or membership available called the practice launch club. And if you've been following the podcast for some time now you will have heard me mention that back in back in June when I launched that, but I'm still accepting members to that, to that, to that community and to that to that membership and we meet once a month via zoom. And so there's a lot of interaction with that and you get not only some coaching for me and mentorship for me, but also other therapists that are in those beginning stages of their, of their practices. And so I invite you to go over and check that out. And you can find out more about that by going to practice of therapy.com/launch. Club. And so invite you to check that out. It also might not to mention, be sure and check out James's information and find out more about him and what he's doing. And you can find those links here on our show summary, and show notes for you to connect with James and learn how he can help you create that those courses around topics that you're passionate about. So be sure to check that out. And also big thanks to our sponsor of the podcast therapy nets. And you can find out more about them by going into practice of therapy.com/therapy notes and be sure and use the promo code just Gordon GLR doin to try them out for two months for free there who I use in my practice and couldn't live without them. So glad glad they're with me on this journey. So take care folks do take time to follow us wherever you might be listening to your podcasts and love to hear from you love to see you in the circle community on the practice of therapy community on circle, and hope to see you there. Take care folks. You have been listening to the practice of therapy podcast with Gordon Brewer, part of the psych craft network of podcasts. Please visit us at practice of therapy.com For more information, resources and tools to help you in starting building and growing your private practice. And if you haven't done so already, please sign up to receive the free private practice startup guide and practice of therapy.com. The information in this podcast is intended to be accurate and authoritative concerning the subject matter covered. It has given with the understanding that neither the host guests or producers are rendering legal accounting or clinical advice. If you need a professional, you should find the right person for them.
Being transparent… Some of the resources below use affiliate links which simply means we receive a commission if you purchase using the links, at no extra cost to you. Thanks for using the links!
James Marland's Resources
Resources
Meet Gordon Brewer, MEd, LMFT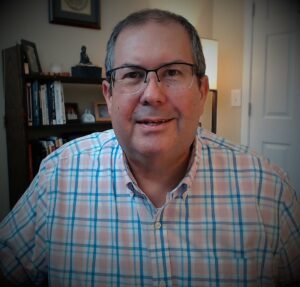 Gordon is the person behind The Practice of Therapy Podcast & Blog. He is also President and Founder of Kingsport Counseling Associates, PLLC. He is a therapist, consultant, business mentor, trainer, and writer. PLEASE Subscribe to The Practice of Therapy Podcast wherever you listen to it. Follow us on Twitter @therapistlearn, and Pinterest, "Like" us on Facebook.