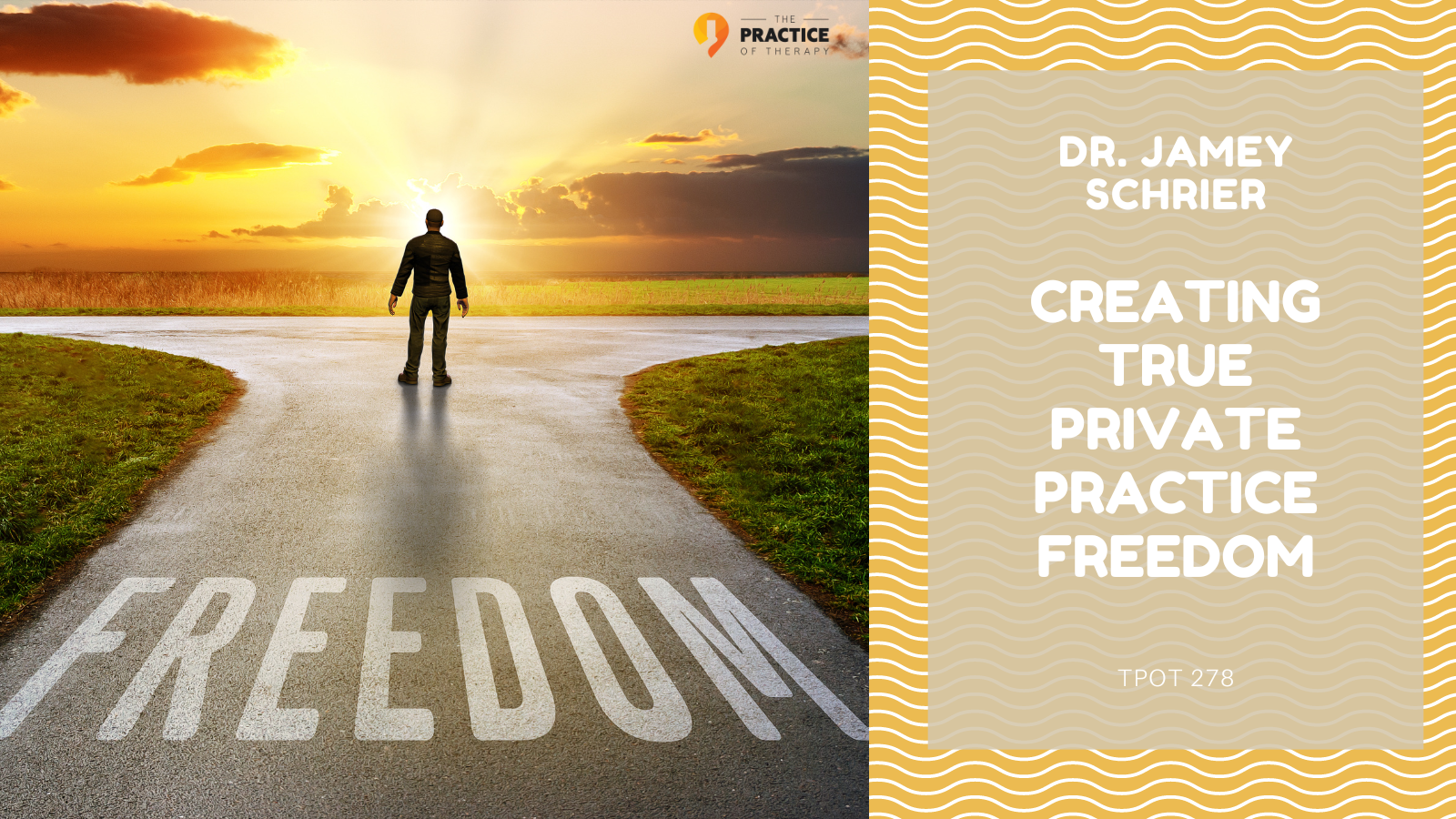 In this episode, Dr. Jamey Schrier, a physical therapist who has been in the business ownership world for over 25 years, joins the show. Dr. Jamey Schrier shares his experience working with hundreds of practice owners and what it takes to create true practice freedom. He also discusses his background and how he got started in business ownership, highlighting the importance of taking a leap of faith to pursue your passions. He also dives deep into the common challenges and misconceptions associated with private practice ownership and offers practical advice on how to avoid burnout and achieve success in the long run. This episode provides excellent resources for those interested in practice building and learning how to do a better job in business growth.
Meet Dr. Jamey Schrier
Dr. Jamey Schrier is a physical therapist, former private practice owner, author of The Practice Freedom Method, and founder of Practice Freedom U, a company solely focused on helping physical therapists build highly profitable practices while becoming "operationally irrelevant", allowing them to live a more fulfilled and balanced life.
After expanding and successfully selling his own PT business, Jamey began teaching practice owners and their teams his proven business-building methodology that shows physical therapists step by step how to overcome their immediate challenges to create the financially stable practice they love and the well-balanced life they deserve.
He has helped hundreds of private practice owners and their teams achieve this level of success and is on a mission to help thousands more!
Are You An Overwhelmed Operator?
Being an overwhelmed operator can be a stressful and challenging experience. It can be difficult to juggle the responsibilities of running a business, managing employees, and treating patients all at once. It can be even more challenging to find the time to reflect on the state of your business and make the necessary changes to ensure success. Fortunately, resources are available to help overwhelmed operators make the changes required to create practice freedom. Dr. Jamey Schrier is a physical therapist who has experienced this struggle himself. After his practice caught fire, he took the time to reflect and discovered how to create true practice freedom. He has since been helping other overwhelmed operators by sharing his story and offering advice through his book, The Practice Freedom Method.
Create Success Through Self-Awareness and Honesty
Being open and honest with yourself is essential to succeed in private practice. It can be challenging to confront the truth about our strengths and weaknesses, but it is vital for growth. Taking the time to reflect on our successes and failures can help us identify improvement areas and make better decisions moving forward. Additionally, it is crucial to be honest with ourselves about our goals and realistic about what we can accomplish. Being open and honest with ourselves can help us to create a successful practice and achieve our goals.
Learn How To Delegate and Outsource
Letting go can be challenging to grasp, but it is a crucial component of success in private practice. It is essential to recognize when to delegate tasks, hire employees, and take a step back from day-to-day operations. Dr. Schrier experienced the difficulties of owning a private practice, including working more hours despite hiring people and dealing with constant turnover. After his place caught on fire and burned down, he took the time to reflect and realized he needed to let go to succeed. He hired a business coach and created a successful practice in which he took 137 days off and made more money than ever before. His story is a reminder that letting go is one essential piece to success in private practice.
Knowing Your 'Why' In Private Practice
Knowing your 'why' in private practice is essential for success. Knowing why you do what you do will help you stay motivated and focused on your goals. It will also help you make decisions that align with your values and purpose. Dr. Jamey Schrier, a physical therapist with 25 years of experience, knows this too well. After taking the leap of faith to open his practice, he soon found himself overwhelmed and struggling to keep it afloat. Dr. Jamey Schrier had to take a step back and reflect on why he was doing this in the first place. After taking 137 days off and making more money, he knew he had found the answer. He wrote a book about his journey and has since been coaching others on creating true practice freedom. Knowing your 'why' is another key to achieving success in private practice.
Gordon Brewer
Okay, you can do your blurb.
Jamey Schrier
Hi, I'm Jamie Schreier, and I'm excited to be on the practice of therapy to be speaking about really my experience working with hundreds and hundreds of practice owners and diving into what it takes to create true practice freedom.
Gordon Brewer
Well, hello, everyone, and welcome again to the podcast. I am looking forward to meeting Jamie Schreier. Welcome, Jamie.
Jamey Schrier
Oh, thank you, Gordon. Appreciate being on. Yes. And
Gordon Brewer
so Jamie has got discovered his website. And he's got a lot of great resources, which, as most people know, with this podcast, I love being able to share great resources with people on practice building and just how we can do better job at what we do. But Jamie is I start with everyone. Why don't you tell folks a little more about yourself and how you've landed where you've landed?
Jamey Schrier
Yeah, great question. So I, so I'm a physical therapist, by by trade, that have been in a physical therapist for over 25 years now. And I always just thought I'd be in the business ownership world. My dad owned a small business, I remember going with him, and you know, just experiencing what it's like. And a few years after I graduated, you know, bounced around a little bit, hospital systems and such. And I took the leap of faith that I'm sure many of your listeners, if not all of them, have taken in one time or another, the leap of faith to say, I'm good at what I do. I love treating, I'm gonna run my own business, because I can't really stand being told what to do by other people, when they go on vacations and all this other stuff. I want to do it the way I think it needs to be done. So that's what I did. And for about two years, it was great. And then something happened that I wasn't really prepared for. We started to grow, which is nice. And as you grow, as you know, Gordon, you need to hire people. And you think people act like you do think like you do show up on time, like you do. And you know what they don't, they really don't they think the way they think. And that started causing a lot of stress. A lot of angst, people would come people would go, you get the Monday morning letter, hey, this is great. You're the best I'm leaving. It's not you. It's me, you know, some of that stuff. And it really caused a lot of financial issues, a lot of just angst within myself. relationship with my wife, kids, I was I just started working more and more hours, although hiring people should have caused me to work less hours. But that's not the case. And it was really a big struggle. And then almost like a blessing in disguise happened. My place caught on fire and burned out. Which, you know, I was driving home from the beach. And my wife got a call from my father in law says, I think your place is on fire. I see it on TV. And without skipping a beat. I said good. I hope it's my sweet and I hope it burns to the ground. That was the level of I wasn't happy now. It was almost like a snow day, right? Remember, when you're younger, you had a snow day, and you're like no school. That's what it was like for me not having to go to work on Monday, or Tuesday, or literally the next three to four months. But it gave me time to reflect and gave me time to be like, what am I really doing here? Am I really going to try to grow a business? Or am I going to keep going down the path that I'm going to which I really wasn't happy. I even contemplated leaving the profession altogether. So I decided I'm gonna I'm gonna figure out how to do this. I know it's possible. There's other talented therapists there's nothing that I cannot delegate to someone. I just don't know how to do it. So I hired a business coach. And I spent the next nine years I'm a slow learner. Nine years creating a practice only had two locations. It wasn't this massive practice. But it did grow to you know, a good seven figure business. And I took that year which was 2013 when I remove myself from a schedule did not treat one patient even though people would tell me you have to they won't send you people and all that other junk. 137 days off I made more money than I've ever made. I had a fantastic staff, and was getting great reviews and everything. And that's when I realized, Wow, I did I think I did something really unique here. And I started sharing it with other people. And then people said, Hey, can you coach me? And then for the past 10 years, I've been in this coaching world, or types of people.
Gordon Brewer
All right, and you've got a book that you wrote as well.
Jamey Schrier
Yeah, I wrote a book called The practice freedom method. And it was really based on my journey on I think a lot of books out there, kind of like how to books, right, they give you strategy, they give you concepts and lessons, this book was more more of almost like a personal Autobiography of not only what I was going through, but I peel back the curtain of what was really going on with me. And my relationships, and my personal experience, I, you know, I had to go on medication, it was so bad financially. I mean, so I really share all of these things that, you know, the book has been out now a few years, people seem to really resonate with, but don't always hear about because, you know, it's kind of like the Facebook world. If you look on Facebook, you would think the world is perfect. And everyone is just doing fantastic. Because that's all you see. But the reality business is not easy. And I you know, I really tried to share what it's really like, and then give people, you know, ways that they can improve their
Gordon Brewer
mind. Yeah, that's great. That's great. So as you rebuilt your practice, literally, I mean, from the building up, what, what did you learn about what were the key elements that were maybe missing before that made the change for you?
Jamey Schrier
Yeah, the thing that really stuck out me to the most is, I was just doing too many things. I coined this term, the overwhelmed operator, I was the consummate overwhelmed operator, I would do my job. And I was still treating pretty much a full caseload about 30 hours a week. But then I would hire someone, I would kind of do their job. You know, I'd hire another therapist, but I would jump in and micromanage a little bit, I'd hire an office manager, but I would be doing some stuff, I was running the Costco to pick up paper towels, you know, I was jumping in with insurance issues. So I was working 70 hours a week, just trying to keep things going, just trying to keep the plates spinning. And when I had a break, I started to realize like, you cannot build any type of successful business. And when I say success, Gordon, it's much more than just money. Yes, we need to be financially well compensated in our businesses. But it's about having time, time freedom, it's about doing something that I love and feel passionate about and impacting other people. I wasn't achieving any of those. And yet, I was working a ton. That's like, the worst thing you want to do is, hey, I'm going to work a million hours and make no money and be unhappy. And I start to realize, and I start talking to a lot of other people, there's so many people in the same boat. So that's what became my journey my journey became, how do I identify and then determine what things I should be doing? And more importantly, what things that I really shouldn't be doing? Yeah, the more I started to, and I'm happy to share how I did this, the more I started to do less of the things I didn't like to do. The better my business became, the happier I came, which was, you look back, you're like, Well, of course you do less things you don't like things to improve. But when you're in the middle of everything, you don't think that's the case, because you have a hard time letting go.
Gordon Brewer
Right? Right. Yeah. So yeah, so how did you I guess one, and what you're, what you're mentioning, I think, is gonna resonate with a lot of people. And that you, you busy yourself to death and you don't We don't delegate or outsource enough of the things that we just don't enjoy doing. I'm guilty of it myself. And you know, I've been there done that bought the t shirt as they say, you know, so what was your process of really starting to get through the weeds and really figure out okay, what do I need to be offloading? What do I need to be doing more of all of those kinds of things?
Jamey Schrier
I think the first thing I know the first thing that I did. And the first thing that I that I teach people when when they face something like this is, we have to tell the truth. There's a great quote that says all progress starts by telling the truth. And obviously, in your field, a lot of it is about telling the truth and coming out with stuff and then dealing with it. So in this case, it's being open and honest with myself. And a way to do that is to write down specifically the things that you do every hour, every day. And spend, I remember doing this exercise is years ago, and in my mind, I did about seven things. But when I wrote my list, it was like 60, different tasks I was doing so many simultaneously. And you start to realize, when you see a list written on a piece of paper, I like to write the list on a piece of paper, hand it, you know, pencil pen to paper, you realize, no wonder I'm overwhelmed. Look how many things I'm doing. And this is all in the last week or two. So that's a place to start, write a list of all the things that you're doing. And then the next thing that that I did, is I like to look at things as energy and time. I'm a very big energy and time person. And the idea is, what are sorry, not time, energy and money, energy and money. Time is energy and money. Are the tasks that I'm doing. Is is something that I love to do. That feeds me, that gives me energy? Or is it something that takes energy away? So I refer these as high energy tasks or low energy task. So it take this list of everything I'm doing. And I would put an h or an MO, high energy, low energy. So that's number one. If it was like, it wasn't high or wasn't low, that's fine. I'm not really worried about those right now. I would just put like, nothing. And then I looked at it as how, how profitable or beneficial is the exercise? So I would put a financial value to it. So sometimes I would answer the front desk film. What's funny is because I actually had a front desk person, but I'd still jump in and answer the phone sometimes. Well, at the time, that was a $15 an hour job. So I put $15 on that. And then treating patients Yes, I loved it. Yes, I was good at it. How much was that worth $35 an hour. So now I had this sheet of tasks that I've done, and they have an energy associated with them, and they have a financial value. Then what I did is determine what is my value? What am I worth an hour? The easiest way is determine well, how much money are you making. And you can just divide that by 2000 hours, which would give you about what your hourly rate is. You could also put what your what you think your worth is if you have the time to really build and market and grow your business. So I started looking at what my value was. And I said, Well, my values, at least at the time, about $150 An hour based on what I was should have been getting paid and stuff. And then the exercise became okay, what is something that isn't worth my $150 An hour such as the $15 an hour task? And what is low energy? It sounds so simple, Gordon. Right? Right. It's so stupid how simple it is. And yet it was it was sometimes difficult to do it because of other these other things going on. But that's how I started. So then I would just highlight and circle, low energy, low value, low energy, low value, meaning the cost of it. And I said okay, well where do I begin? The first thing I ever delegated was answering the phones. It didn't cost me anything to delegate it because I already had someone answering the phones but I jump in there. Oh my god, I was a pain in the butt. I would jump in and answer it sometimes. So I just basically went to her and I went Claudia I just appalling. Sighs I realized I've been jumping in and answer the phone. And the reason I have is, well, sometimes you're not here, or sometimes it rings too much. Can we, you know, tighten up that and I promise I will not jump in. And she said, Sure. Let me know. That freed me up that gave me time back. But it also gives me energy back. Yeah, because I wasn't in love with answering the phones. So that's where I started. One of the big ones I delegated. And I know this is a big one, you can tell me what you think about this one, huh? I delegated bookkeeping.
Gordon Brewer
Interesting.
Jamey Schrier
I couldn't get to the nearest I don't think I ever personally reconciled my books. First of all, I wasn't really sure how to do it. Second of all, I hated getting so detailed with numbers. So I'd look in the bank account, and I'd look at my supposedly my reconciliation. If it was off by a few 1000. I'd be like, that's not bad. That we just trust and hope it was right. Yeah. Yeah, hope is never a strategy. When I actually found a bookkeeper, a local bookkeeper, she transformed my world. Unbelievable how many things I was doing wrong. Nim was worth every penny, of what I did. Multiple. Yeah. Anyways, that's an idea of what I did. So then the game really became what can Jamie delegate this week? Or this month? What can I start to remove off my plate? I started with the easy stuff first. And then I went to the things that were a little bigger.
Gordon Brewer
Yeah, yeah, in that that story is just sounds so familiar with. I think a lot of a lot of people in their practices, they, you know, when they start their practice, they're doing a lot of the bootstrapping, they're doing all this stuff. Which I think that I think that's a good idea and let you learn all the moving parts. But if you keep hanging on to that, and keep answering the phone, you keep doing all those other tasks that keep the boat afloat, so to speak. You just wear yourself out. And so for you, Jamie, what was that? How was it that you are able to begin to let go of those things? Because that's a tough one for people.
Jamey Schrier
Yeah, that was a tough one. Letting Go came down to a few things. One, what was I trying to hang on to? One of the Hang on, we're, no one can do it as well as me. Now, the front desk answering the phones, she could do it just fine. But when I started hiring therapists, when I started hiring directors and other people to lead and manage my business, it was it was more difficult to let that go because I didn't think they could do it as well as me. What I begin to learn, though, is anytime you start to feel like that, you can turn and say, Well, what is it that you want them to be able to do? So I call it no do communicate? What do you want this person to to know? What do you want them to be able to do or perform? And how do you want them to be able to communicate? So then I started writing those things down. And in essence, I was creating the process, I was creating the training around the thing, which then I felt more comfortable, they felt more comfortable because they knew specifically what the position was. But that was one that was one big one is they can't do as good as me the other one. Later on when I started to, you know, reduce my treatment hours. Because I knew if I was going to truly run and build a bigger business, I couldn't be delivering the services as well. It's not that it can't be done. But you it's very, very difficult. I'll just say impossible to be the owner, the manager and the therapists, as well as the person taking out the trash and doing it. It's not that you're not willing to do it. It's too much to handle for one person. So when I started to look at hiring other people and started to look at what would it take for them to be successful? It changed completely how I thought, but then something else came along that says, well, Jamie, if you stop treating who are you? Like you identify as a therapist? Hey, I'm Jamie, what do you do? I'm a physical therapist. I was sewing engrained in my own identity, that I didn't know who I was outside of that, that was a much deeper type of thing that I had to address and engage with. of who am I really? Am I, Jamie, a business owner in the business of physical therapy, Jamie, the entrepreneur, or am I just Jamie the therapists. And when I started to look at myself as something bigger, more potential, it became easier than to let go. I think a lot of people and it doesn't matter what industry it is. But a lot of people, whether it's you know, psychotherapy, mental health, chiropractic, physical therapy, what have you, we start to get so ingrained in that is who are our identity is because of the training we've had, because of the investment we have, that we start to struggle with letting go and actually embracing this, this, this, this unbelievable opportunity to truly be a business owner, that just creates a business to help others and all that and not up everything. Those were the two biggest score.
Gordon Brewer
Right, right. You know what one thing that folks that listen to this podcast, hear from me all the time, is understanding your why. And I think what happens is you're describing this, what I thought of is, is that a lot of times we get so busy doing all the stuff that we lose sight of the why I know at the very beginning, you talked about you know, the reason for us going into practice or going into private practice in particularly, is we want that freedom and that autonomy that being your owning your own practice brings, or at least that we perceive it it brings. And the problem is is that we get so busy with stuff. And really, you know, and I think the intent behind it is is we want to have a you know, an excellent practice, provide excellent care for people and all of those kinds of things which are good. But if we start getting too far into running the practice, or at running us, then we lose sight of our why or we lose sight of, you know, our whole reason for doing it to begin with.
Jamey Schrier
For sure. And, you know, I described my wife at the beginning with this is not how I wanted my life to be. I mean, I remember, you know, love my parents, I love my father, but he was working six days a week, he didn't come to my games unless they were on a Friday. And I remember, you know, my parents, you know, arguing about money, normal stuff, but it was a lot, and then the arguments about what someone else has. So you start to grow up in your formative years with this in your brain. And all of a sudden, my wife and I are having arguments about money. Yeah. And it's affecting everything. And I start to get anxious and worried about money. And I realize people in our professions are helpful, do good professions. A lot of us have these money blocks. And it's no wonder that is it we have the money blocks. What's the reason many of us do not do well financially? Or is it some other reason? Well, I don't think there's a lack of people. I mean, I, I, when I talk about my physical therapy clients, there's not a lack of human bodies that fail. When we talk about mental health now that it's coming more to the fore. There's just as number you got a human body, you got a brain, you're going to have some mental health issues, depending on what every specialty is. It's you're talking about 342 million people just in this country. There's not a lack of people that need help. In fact, there's considerably more people that need your help them actually do what you do. So it's being selfish, by not looking of how to build a business where you're not doing everything, because you can serve more people if you do that. So for me, the why became selfishly, my business is designed to serve my life. My wife isn't designed to serve my business. Now, like you said, first couple years, Bootstrap, you do what you got to do. But if you're more than two years, and you say the words I'm overwhelmed, stressed and busy, it's because you have too many things you are doing and the things that you're doing are not energizing and lighting you up. So so the real journey becomes how do I do the things that I love that moves me towards the life, I want to have the money, the time and the freedom I want to have while building a business and a team that serves people at the highest level. So there are no losers, everyone wins in that model. Right now, I guarantee 99% of the people that are listening, they're losing. They personally are losing, because you're sacrificing you to do this. And you're justifying it perhaps, well, I'm really trying to do good, I do good. You have to do good starting with you. You have to be I said this at a workshop last week. Fantastically selfish, you have to be fantastically selfish, because you are the light, the more you can continue to shine brighter and take care of you. You will shine bright on so many other people. If you struggle, and you know, obviously, you know this with just in the mental health if you struggle, that energy goes out there. Right? That's a good energy. Right? You can only fake it for so long. It's our job to take care of ourselves, which is why my business started to shift in my life started to shift as I was focusing on things that I really enjoyed doing, and started delegating, and learning how to do systems and all that stuff.
Gordon Brewer
Right. Right. Yeah. So how did you learn the those things? Would you say? Just the hard way? Like I say all the time, I've learned a lot of stuff the hard way?
Jamey Schrier
The expensive way? For sure. That's part of the hard way. I think I think part of when when I was in my, I guess I call it sabbatical for a few months. Well, look, we all invest a ton of money to go to school. There was no guarantees we were gonna get in school. And yet we separate. Once we got in school, there was no guarantees, we're gonna get into higher education Master's doctorates. But we sacrificed, we studied, we worked hard, and we paid a bunch of money. Then we get out of school, no guarantee they're not guaranteeing you a job. But we thought, you know, this is what we want to do. You open up a business, there's no guarantee you're gonna get new clients, there's no guarantee they're gonna pay you. But then something happens. I don't know what it is. But something happens with the idea of So how much have you invested in money and time in your business itself in learning how to grow this business and build a business? I know my answer was $14.95. After putting hundreds of 1000s in my education, I put next to nothing in my business. And then I was wondering why my business wasn't doing well. So I thought about this during my time away, and I realized, I'm going to if I want what I want, like that's why the why is so important. What is it that you want? Why is it important? I want it freedom. I want to know what it's like to run and own a business that can just help so many more people without me doing everything, it went against everyone I knew no one I knew in a small business was was operating like that. I didn't care. So I knew I was gonna have to invest. So I hired a coach. Right? I took growth. I started reading tons of books, but the biggest difference was a coach. Because reading is great. listening to podcast is great. But for me hiring a coach helped me with accountability, and helped me with prioritizing what was most important, because in my mind, it all seemed important, but I couldn't do it all because that overwhelmed me. So that's when things really started to move is when I started hiring a coach to keep track of everything and I still failed a bunch, but I learned
Gordon Brewer
Oh, yeah. Ditto to everything you said because that's been my experience as well. Just have you know, when you when you invest in that way of getting coaching, mentoring, those kinds of things. At least for me, I've always gotten the ROI out of that if not two, three, tenfold Oh, yeah. Putting that that that energy in that way so
Jamey Schrier
and yeah. And realizing that you are investing in the most important thing in your life right now. Right much more important in your family of course, but it's close because your business especially if you're the primary breadwinner, your business is giving your family their lives, right businesses, like in my case, my business supports everything in my family. So if I'm not doing everything I can to help my business and help everyone in it, including the clients and the staff that then help support my family. That's not a that's not a good model. And I see a lot of talented smart people that just don't shift and take this business seriously. Right? It's almost like I know, for me, it was almost like a hobby. I mean, yes, it was my business. But I didn't treat it like that I tried to treat it like a self employed, I was trading time for money, right? I treat him so I got paid for the hour, or whatever it is. And there was no leverage. I started running out of time, and all that. So you know, I've worked a lot of people in the psychotherapy business loved the model, great model, especially if, you know, I think the business has a lot more of a cash based model. But even some of my clients in the insurance space, there's not a lack of people. We just got to make sure that a it's a profitable model. Right? That's number one. And be how do you begin to delegate and remove and eliminate the things that don't light you up and serve you well, and doesn't serve the business? Well, when you start to do that things start to accelerate, but it's scary for a lot of people because we're used to doing things the way we do. Right,
Gordon Brewer
right, is that there's that whole scarcity mentality that we get to have to overcome?
Jamey Schrier
Yeah, yeah. And this comfort zone issue, right. I mean, right. No one's ever grown inside the comfort zone.
Gordon Brewer
Exactly. Exactly. So
Jamey Schrier
but it's hard. You know, getting out of the comfort zone is not easy. It's not easy. That's why I've always recommend having some accountability partner, whether it's a mentor, whether it's a small group of like minded people, almost like a little mastermind, or it's having, you know, an accountability coach or a private coach. You can't you can't create something inside of the brain that created where you are right now. You can't magically change that. Yes, you can read books and podcasts. But you're still biased by what you think. So if you're going to change how you think, to get to a different solution than you already created, isn't that like, impossible to do? Sure, like, if your bias is your bias, you can't all of a sudden think outside of your bias. I mean, this is what started to hit me when I was working with people. I'm like, Oh, my God, I've never even thought about this. And my coach would say, well, because you can only think like you think, right? And I'm like, Oh my God, this, this makes sense. And then you start getting confidence. And that's, that's what we're really in. As business owners, as practice owners, we are in the confidence game. We're trying to increase our confidence that gets us more motivated to do things which gives us better results, which increases our confidence, etc.
Gordon Brewer
Right, we get we get the value of a coaches is that they can point out the stuff you don't know that you don't know. Exactly, yeah. Yeah. Oh, man. Yeah. Well, Jamie, I know we could spend a full day talking about all of this. And I want to be respectful of your time. tell folks how they can get in touch with you and where they can find you and all your great stuff.
Jamey Schrier
Yeah, so that the best thing to do is just go on my website, practice freedom you the letter u.com, you can you could download a copy of my book there, the practice freedom method, you can order it on Amazon. But if you'd like a digital version for free, you can download that. And then there's also a quiz that I have on there. It's called the practice owners quiz. It's a great next step to really determine what are the areas you're really having struggle with. So I asked like 3035 questions in seven different parts of a business, because some people don't even realize there's that many different parts, and then you get a score. And then based on your score, I then provide resources to help you with the specific things that you're that you're struggling with. So that's probably the next step. Obviously, if you're on LinkedIn, you can follow me on LinkedIn. I'm always putting out lots of free stuff. Courses, I do webinars and things like that. Obviously, I do things podcasts like this. So there's not a lack of free stuff out there.
Gordon Brewer
Yeah, well, that's great. And we'll be sure and have links in the show notes and this No summary for people to find it find it easily Well Jamie I'm so glad we connected and I hope to maybe get you back on the podcast again
Jamey Schrier
I'd love that Gordon Thank you appreciate you inviting me
Gordon Brewer
it was great to have you
Being transparent… Some of the resources below use affiliate links which simply means we receive a commission if you purchase using the links, at no extra cost to you. Thanks for using the links!
Dr. Jamey Schrier's Resources
Jamey Schrier | Why You Should Outsource In Private Practice | TPOT 185
Resources
Meet Gordon Brewer, MEd, LMFT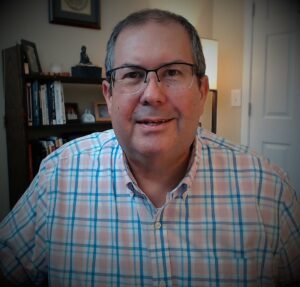 Gordon is the person behind The Practice of Therapy Podcast & Blog. He is also President and Founder of Kingsport Counseling Associates, PLLC. He is a therapist, consultant, business mentor, trainer, and writer. PLEASE Subscribe to The Practice of Therapy Podcast wherever you listen to it. Follow us on Instagram @tpotpodcast, and "Like" us on Facebook.