In this episode of the Practice of Therapy Podcast, host Gordon Brewer speaks with Jonathan Sabbagh, the Co-Founder and CEO of Journey Clinical, about the revolutionary practice of using psychedelics in psychotherapy. Sabbagh shares his personal journey with post-traumatic stress disorder, anxiety, depression, and substance abuse and how he found relief through ayahuasca ceremonies. The conversation covers the history and research behind psychedelic therapy, the potential benefits and risks, and the future of integrating this practice into mainstream psychotherapy. Listen in to learn more about the transformative power of psychedelics in mental health treatment.
Meet Jonathan Sabbagh
Jonathan is the Co-Founder and CEO of Journey Clinical, the leading telehealth platform expanding access to Psychedelic-Assisted Psychotherapy. A serial entrepreneur, Jonathan built his career in finance, spending over two decades working for hedge funds and building businesses in Switzerland and NYC. After receiving a difficult diagnosis of PTSD and extreme burnout, Jonathan left the world of finance to focus on his mental health, during which he personally experienced the transformative benefits of plant medicine and Ketamine-Assisted Psychotherapy (KAP). Jonathan's personal healing journey inspired him to begin formal clinical psychology training at The New School with the vision of expanding access to transformative psychedelic-assisted therapies to the millions of Americans living with depression and anxiety. Ultimately, Jonathan's personal and professional journey motivated him to found Journey Clinical in 2020, the #1 platform in the US that enables licensed mental health professionals to deliver KAP at scale. Learn more at www.JourneyClinical.com.
Psychedelics Revolutionizing Psychotherapy
Psychedelics have been revolutionizing the practice of psychotherapy in recent years, offering a new approach to treating mental health issues and helping people to achieve greater well-being. For many, psychedelics have been a life-changing experience, allowing them to gain insight into their own mental health and explore new ways of treating their issues. Psychedelics can also help people analyze different ways of thinking and feeling. So, psychedelics can help reduce stress and anxiety and promote a sense of well-being; this is in contrast to traditional forms of psychotherapy, which can often be time-consuming and difficult to access.
Psychedelic Therapy For Mainstream Adoption
Ketamine has been used in psychedelic-assisted psychotherapy and has been an FDA-approved drug since 1970. It is on the WHO's top 10 list of medications to have and is frequently used in emergency rooms for people who are highly suicidal to reduce their symptoms. Studies have shown that it is very effective in treating anxiety and depression. Psychedelic-assisted psychotherapy is a treatment that works with a therapist, where there are preparation and dosing sessions. In the preparation sessions, the therapist will work with the patient to manage expectations and to bring mindful attention to whatever unfolds without expectation. During the dosing session, the patient will be administered the drug in the therapist's presence. Integration work is also significant, as this is where long-term behavioral change can occur.
Providing Insurance-Based Therapy Sessions
One of the critical components of Journey Clinical's offering is the ability to provide insurance-based therapy sessions; this is a crucial component of their offering, as it allows mental health professionals to offer their services to patients who may not have the financial means to pay out of pocket. By providing insurance-based therapy sessions, Journey Clinical is helping to make mental health services more accessible and affordable for more people. Additionally, they provide resources and guidance on the scope of practice, consent to touch, and other legal matters. Journey Clinical also offers various other services, including live webinars, expert-led consultation groups, local meetups, and specialized groups on LGBTQI and psychedelics. These services help to ensure that mental health professionals have access to the most up-to-date information and resources.
Building A Lucrative Private Practice
Journey Clinical is helping mental health professionals to build a lucrative therapy practice by providing resources, guidance, and support. They offer tremendous resources for both the therapist and the patient to get ready for their session. This includes a preparation session with a therapist that can be done in person or remotely. Once the patient is prepared, they can then receive their ketamine, and the modality of treatment can vary from self-led protocols, virtual protocols, or in-person protocols. This allows for flexibility for both the therapist and the patient. Furthermore, no additional liability insurance is needed as this is similar to a patient taking a medication prescribed to them by a medical practitioner and having a therapy session. However, therapists can also get general liability insurance for additional protection.
Gordon Brewer
Okay, do you can do the blurb?
Jonathan Sabbagh
Great. Oh, can you get Can you give me give me the name of the podcast again?
Gordon Brewer
Yes. The practice of therapy podcast,
Speaker 1
the practice of therapy. Okay, great. Okay. Hi, I'm Jonathan Sabbagh, and I am the co founder of Journey clinical. I am here on the practice of therapy podcast to talk about how psychedelics are being brought into the context of psychotherapy to help. I'm gonna do that again. I'm sorry. Sure. Okay. Hi, I'm Jonathan Sabbagh, and I'm excited to be on the practice of therapy podcast to talk about how psychedelics are revolutionising the practice of psychotherapy, and how therapists are bringing this amazing practice to their patients today
Gordon Brewer
are well, Hello, folks, and welcome, again to the podcast. And I'm really looking forward to this conversation and you allow listening into my conversation with Jonathan. Jonathan Sivan. Welcome, Jonathan. Thank you. Nice to be here. Yeah. So as I start with everybody, usually on this podcast, tell folks a little bit more about yourself and how you've landed where you've landed?
Speaker 1
Sure thing. So you know, I am from Switzerland, originally. And I spent most of my career working in finance, where I built two businesses from the ground up, I had about a 20 year career in that space. But while I was building that first company, I actually suffered a very substantial burnout, which turned out to be the result of undiagnosed post traumatic stress disorder. And so I really spent most of my adult life suffering from anxiety, depression, and substance abuse. About eight years ago, I was on a downward spiral. And a friend of mine recommended I try ayahuasca and so I had a traditional iOS Oscar ceremony. And then I had seven more in the, in the span of two weeks. And I, you know, asked for, and I worked with that, but I said for about two years, but after a while, you know, I really felt like I wasn't able to process those experiences anymore. And so I seek the help of a therapist here in New York, who worked with ketamine assisted psychotherapy. And, you know, we really started to build that bond. And that work was very helpful. And I was finally diagnosed with post traumatic stress disorder, which was a huge relief, because having a condition that you don't quite understand, is influencing your life in such a way, it was really quite, very difficult, really. And so, you know, that was very transformative, it helped me lead a much more normative life. But it also prompted a career pivot, I just simply didn't feel connected to the work I was doing. And felt that I needed to do something that was more in line with who I was, and what I what I wanted to bring to the world. And so I quit finance. And at the age of 38, I went back to school to study clinical psychology, here in New York at the new school. And while I was in that process of becoming a clinician, I really felt the need to integrate all of those years of being an entrepreneur with my goal of bringing these medicines responsibly to the world. And so that's when I decided to found journey clinical Allah with my wife, actually.
Gordon Brewer
Oh, that's great. Yeah. It's what's interesting to me is the fact that and this is a theme I hear from a lot of folks here on this podcast, particularly in this mental health therapy world is we we go into we go into it because of our own life experiences and the transformations that we've experienced ourselves through different bottles and different ways of doing all of this
Speaker 1
100% I think that this is a very common theme in in the world of psychedelics, and mental health as a whole. I think it's often a second career. You know, what my belief is that, I think that we, through this process of self discovery, we change but we also don't really change I think we are, you know, as we are, and we learn how to accept ourselves and rediscover ourselves in a different lens and shift our perspective on our experiences. And so it's probably only natural, that we go back also to, you know, our, our prior inclinations, and what we enjoy doing, but with a different perspective, and I feel that's very much been the case for me, at least in my life.
Gordon Brewer
Yes. And, you know, I think you hit on something that I think is universal, and just in this helping in these helping professions is that we help people see the world through a different lens. And that's really, if we were to outweigh all the different theories, all the different things? That's kind of the goal of whichever way you get there. So yeah, so Well, I know, I know, one of the things that this is, you know, I think a lot of us in this field have been reading and hearing a lot more about psychedelics and the use of that, especially to treat really chronic conditions. Tell us what you've learned and how you kind of got started with journey clinical,
Speaker 1
for sure. I mean, maybe like for context, just reminding, you know where we're at, in, in the world with psychedelics, and why there's such a topic of conversation today. You know, for the fact the past 50 years, there hasn't been any kind of innovation. In the field of psychotherapy, it's been very much going back to a traditional mode of therapy, and medication management, with SSRIs in a pretty disjointed way, actually, where people are seeing a prescriber and then seeing a therapist, and there's also no collaboration between those two parties. And, you know, in the 60s, there was an advent of research on psychedelic assisted psychotherapy at Harvard and other institutions. But you know, the Nixon administration really put an end to that. And so, in recent years, in the last 10 years, you know, psychedelics have come back to the forefront, maps that a tremendous amount of work to work with the DEA and to get MDMA, in clinical trials for the treatment of post traumatic stress disorder. They're in phase three clinical trials, they achieved breakthrough status from the FDA. There are also other companies like compass pathways, and you soon that got psilocybin, which is the active component of magic mushrooms in clinic and phase two clinical trials. And also he received a breakthrough status from the FDA for the treatment of depression. And there are countless amounts of drugs being developed right now a lot of money has poured in an investment into that sector. And so, you know, the other compound that has been used, actually, quite actively is ketamine. And so, you know, ketamine is a dissociative anesthetic. It has properties of regulating glutamates. In the central nervous system, it also helps increase neuroplasticity, so do other psychedelics. And so ketamine, you know, has been an FDA approved drugs since 1970. It is on the WHO top 10 list of medications to have, it's very frequently used in emergency rooms for people who are highly suicidal to reduce those symptoms. And there's a tremendous amount of research that has shown that it's very effective to treat anxiety and depression. And actually, in the 90s, a gentleman called Get a group Biscay was working to treat alcoholism with ketamine. And so that got brought over. And so in recent years, it was used in, you know, IV clinics simply using the neurological components of ketamine and not really considering the, you know, dissociation or the psychedelic effect. And so you'd had patients that were working with ketamine that had tremendous psychedelic experiences very cathartic, they didn't quite know what to do with it. And so that's when you know, the idea of bringing that to the model that maps and compass pathway are doing, which is psychedelic assisted psychotherapy, came into play. And so just at a high level, what is psychedelic assisted psychotherapy, it is essentially the idea that you're incorporating these treatments in a practice as an adjunct to therapy that they are, there's a treatment that works with a therapist where there is preparation sessions. In those preparation sessions, a therapist will work with a patient to one describe what to expect to work on to, you know, manage expectations, that sign that's not set enough. But people go into these sessions with sometimes an idea that they're going to have a breakthrough experience or a very big, ego dissolution, but actually working with people to work on that transference to the medicine and to sit, bring mindful attention to whatever unfolds without an expectation is a big part of preparation. Then you have something called the dosing session in the dosing session, the patient will be administered the drug in the presence of a therapist, and have that session, which can be at a higher dose psychedelic at a lower dose psycholytic, which means that they have more interaction experience interaction with the therapist, and then the integration work and the integration work is really, really important because that's where you process all of the information during that window of about seven days of neuroplasticity. And a lot of studies have found that actually, it's through integration, that long term behavioral change happens. So that's at a high level. What's going on in the psychedelic space today?
Gordon Brewer
Yeah, yeah. Yeah, go ahead. This is fascinating to me. Yeah.
Speaker 1
Yeah, yeah. And so you know, what we landed on at journey clinical is that, for us, the best path to essentially ensuring mainstream adoption of these treatments and delivering them at scale to patients responsibly and sustainably, was to empower licensed mental health professionals to incorporate them in their practice as an adjunct to therapy very much like EMDR. And, you know, the reason for that is they're in better local communities, they have a relationship with that patient population. But more importantly, they have a really strong therapeutic alliance, that they develop through maybe years of therapy with their patients. And so what we started to look at was, what is the main barrier to entry for therapists to incorporate these treatments in their practice, and what we found was forming and maintaining relationships with prescribing physicians, is actually the main barrier to entry, we actually surveyed 600 therapists, and that really, is what came up as the number one issue. And you know, I don't know if you know this, but there's actually only 25,000 psychiatrist in America. They're mostly located in large cities, and most of them are not psychedelically informed. There's a similar shortage of psychiatric nurse practitioners. And people see that often when they're trying to get medication management, they put in wasteless. It's very, very problematic. Oh, yeah. And so, you know, what we landed on is that essentially supplying them with that resource is really what is the main, the main need. And so you know, what's going on right now is that they're either referring outs to chain clinics, or direct to consumer platforms, where there really isn't any kind of therapy, there's simply sending the patient ketamine ins, or when they do have that kind of relationship, they're fickle, it puts a lot of pressure on the pricing for the patient. And it really limits the revenue potential of growing their practice for the therapist. And that's not ideal, right. So like, if you're spending years with a therapist working to build a therapeutic alliance, and all of a sudden, you're being handed off to someone you've never met, or an app, that's clearly not the best patient experience. And so it's important to understand what we do at journey clinical, we're not an online ketamine clinic, we are essentially building a back end infrastructure solution to allow for therapist incorporate these treatments in their practice, we are the necessary infrastructure for psychedelic assisted psychotherapy to exist. And so practically, how that works is that we set them up with everything they need to incorporate, you know, first ketamine because that's what's FDA approved in their practice. So it works practically what by supporting a collaborative care model, where therapists join journey clinical, they refer their patients to our in house medical team, we have a 30 person medical team, we see those patients for a full hour intake, we will we'll assess eligibility, we'll track outcomes, and we'll do a prescription. If they're eligible, we'll send them an offer to ketamine sessions that they can do in a variety of modalities. We support at home in person remotes, group, group remotes, retreat formats, and I think we're supporting as well, couples therapy and all this is delivered by the therapist. So the therapist is the one delivering the dosing session. And the reason why we've got so many modalities is that it's really important to offer flexibility to the therapist based on how their practice wants to be run. But also patients might want to start with one modality with a therapist and progress to another. And so they'll then the patient will come back within a month for those adjustments. And we'll see them regularly for follow up consultations on the therapist side. And I think this is really what we're offering. It's not a it's not ketamine prescriptions, it's what we're offering is this collaborative care model where we become the therapists in house doctor. And so basically, they're getting access 24/7 To a world class medical team, just like if they're working for a large clinic or hospital system. And we're there to support them when there is a difficult experience and they do happen. We're here to support the therapist and the patient and really triangulate that that really mitigates negative outcomes. But we're also here to collaborate on an ongoing basis with a therapist who is seeing, you know, who has the best exposure to the patient's progress, to understand how the treatment is impacting the patients so that we can essentially build bespoke treatment plans at scale. So we're basically building concierge mental health at scale. And all this is tech enabled. We've got a tech portal where prescribers have basically what is an EMR our therapy, our member therapists have a member portal on that portal. There is a 22 training module that fluids developed there. They get C credits for that for ketamine training we have experience initial learning, we have peer consultation groups, we have the ability for therapists to have a cap experience with other members, we give them a library of resources. We give them marketing office hours. I mean, there's a lot of offerings there. And they refer their patients for the portal, they can track the patient outcomes for the portal and the patients have a poor. So that's at a high level, I threw a lot of you.
Gordon Brewer
Oh, that's it? Yeah. So are they? Yeah. So what would on the, I guess, if our if people that are listening to the podcast, I would imagine there are people that say, Yeah, I'd really love to be able to offer this to our, to our patients. What is the what is the training process, like for the therapist on that side? Because I, you know, I daresay for a lot of folks, the sounds really may be kind of intimidating, without really kind of any prior knowledge of okay, how do I, how do I navigate these types of sessions? How do we? How does all of that work? Yeah,
Speaker 1
that's a great question. So first of all, it's important to note that we only work with licensed mental health professionals. So they're already very equipped to be able to navigate any kind of cathartic experience. And so bringing that knowledge that they've developed over the years of studying and training and practicing therapy is a tremendous asset in this context, right. So that's already something that we've seen a lot of our therapists, you know, get comfortable with. And you know, we've got almost 800 of them in our network today. And so the other part is that they can join journey. And on our portal, there is a full educational offering, where they have 22 modules on ketamine assisted psychotherapy, there's another 22 module training on preparation and integration, we offer them peer consultation groups with other members, does experiential training. So if they want to have a cap experience, they can experience it with other journey members. There are, you know, we put a lot of content out there. So we have SMEs that come and talk about ifs and cap or EMDR, and cap or Gestalt, and cap, I mean, we've got a tremendous amount of information available to them, through the form of live webinars or pure expert led consultation groups, we have a huge community offering, like something that people tend to forget, is that, you know, it's, it's a lonely job to be a therapist. And so having access to community of peers, who are there to support you, and who have done this before is a tremendous value. And so we really have, you know, we have local meetups with our members, there are specialized groups on, you know, LGBTQI and psychedelics, or we're doing one on post mortem, not post mortem. What do you say when it's after, after birth, it's boosted. Post cap. So we really work on on delivering continuous content, we also help them with resources on scope of practice with lawyers. Consent to touch so that so basically, all they need to do is join journey, go through a process, and it usually takes them about a month to go through the education and then they can start referring patients. And to date, we have 800 therapists in our network, we've seen close to 2000 patients, and I saw really interesting number is that in the last 10 months, our therapists have delivered more than 3500 Cat sessions.
Gordon Brewer
Wow. Wow. Are you running into any? Any problems with you know, unfortunately, here in the US there everything. There's not a whole lot of licensure portability, that's there in terms of state restrictions or that sort of thing for offering this type of service? Yeah.
Speaker 1
Yeah, that's a very good question. So again, I want to you have to break it down. And what's happening here. A therapist is referring patients to our medical team, our medical team is responsible for eligibility, prescriptions and outcome monitoring. So anything linked to the ketamine itself lies with journey clinical, we're the ones taking on the medical legal liability here, right, the therapist is only delivering a psychotherapy session. That's it, they're not administering the drugs. They're not making any kind of decisions on eligibility or treatment plan. And they're not even administering blood pressure cuff. That's the patients that the patients are doing that themselves. So the therapist really is only reporting this session in our portal. And so that falls completely within the scope of practice of any licensed mental health professional. In any state. We have a whole webinar that we actually deliver on this topic, and so even some of these sessions can be reimbursed for insurance because you know, they are a therapy session or at least part in out of in and out of network really. Right,
Gordon Brewer
right. So with, get one question that might come up for people is with, you know, I guess, ketamine assisted or psychedelic kinds of things are there? Are there situations where it's contra indicates indicated? I would think that, you know that comes up a good bit as well.
Speaker 1
Of course, that's a very important question. So I don't believe psychedelics are for everybody. They're not a panacea. Unfortunately, there is a very large population of people that do do qualify for this treatments today. And there are counter indications that are, you know, some chronic cystitis, high blood pressure, other medical concepts, you know, conditions that might be counterindicated personality disorders, someone who's having a manic episode and a bipolar. Who's bipolar and having a manic episode might not be appropriate bipolar depression, however, it does work with ketamine. So there's a spectrum. And so we do all that work, we essentially do a full medical evaluation for psychiatric evaluation. And in the cases where, for example, someone suffers from high blood pressure, we'll ask the patients to get clearance from their primary care provider, or their cardiologist or whatever applies for that condition. So we're very thorough, and essentially, assessing eligibility.
Gordon Brewer
Yes. So with another question that I'm sure will come up for people is, is billing and how that's handled? You know, like with insurance companies, and all of that sort of thing?
Speaker 1
Yeah, great question. So at journey clinical, right now we are out of network. So we do provide super bills. But the treatment on our end is quite cheap, we only charge $250 for an intake, and $150, for follow up consultation. The ketamine itself cannot be covered by insurance, because it's an off label prescription. However, the therapy is therapy. So they can code those sessions as therapy sessions. The dosing sessions are a little bit longer. So at least part of that can be coded as a therapy session. And it can be in network of or out of network, we do help with those codes. But there are traditional therapy sessions.
Gordon Brewer
Right. Right. And, and the I asked that question, mainly because I know there are a lot of folks out there that are insurance based, I was thinking, you know, my practice is insurance based. And so that would be something to work out. But I think for somebody that maybe has a cash based practice, this would be a great fit and add on, and that sort of thing for the work they're doing. Yeah,
Speaker 1
it also works if you're insurance based, because part of those sessions can be are coded as psychotherapy sessions. So there, there's nothing. There's no special code that needs to be put in place for cap. It's an hour therapy session, right? Sure. Sure. The cap session itself is longer. So that's the one where where it's about two hours.
Gordon Brewer
Okay. Okay. Yeah. So that that makes sense. That makes sense. So just thinking with the just thinking the logistics of it, so somebody decides to do this type of session? What does that look like logistically for somebody maybe on the on the local end? Does the does the patient or the client come in with, with the ketamine in hand? And then they start is there? Do we do a video link with Cherny? Yeah, just those kinds of questions. Yeah.
Speaker 1
Yeah, that's a great question. So we provide a tremendous amount of resources for both the therapist and the patient to get ready before the session and explain how it's going to unfold. And so the way it works is that the patient will have a preparation session with a therapist that can be in person or remote, then that's an hour session, a normal therapy session. Once they have that once they're ready with that, they will see their ketamine, they will come then there's a variety of modalities, right? So if it's at home, for example, we have a protocol where the therapist will do a preparation session before the patient will self administer the ketamine at home and then the therapist can will have to vet so there has to be a chaperone at home that's around and that chaperone can be picked up by the patient, but the therapist has to vet the patient and sorry, has to vet the chaperone before. You know you don't want someone who is having an argument with their spouse to have that spouse be angry and walk into the room while they're having that session or maybe activates the patient. And then the therapist will check in with the patient before the session. The patient can self administer the ketamine alone with the chaperone in another room and then the therapist checks And after, and then the therapist will do the integration session. So that's the essentially self led protocol. Then we have virtual protocol so remote where just like you and I are on Zoom, the patient will have the same preparation, they will self administer the ketamine at home with a chaperone and the therapist will be on zoom with the patients, there is a in person. So in that case, the same process applies. But the patient will come to the therapists office, self, administer the ketamine, the self, administer a blood pressure cuff before the session, and after and then self administer the ketamine and then the patient will have a chaperone come and pick them up. From the therapist office, we always record we asked that as a requirements. And then there are you know, the ability to do this in group sessions. It can be in couple of sessions, it can be in or we have some members who actually deliver retreats, we have a member who bought two pieces of land, because she has been doing so well. And delivers weekend retreats for patients who come in a group setting. So there's a variety of modalities, but the format is always the same. The patient receives the ketamine at home, self administers the drug, you know, for the session, and the therapist delivers the therapy. Right?
Gordon Brewer
What sort of what sort of additional liability insurance or that sort of thing might be needed with this?
Speaker 1
Yeah, so no additional liability insurance is needed. Because, again, you know, if you if you look at patients who take take, you know, SSRIs, or anxiety medication, those, or we're on Suboxone, and are having a therapy session, there's no difference here, right? Essentially, the patient is taking a medication prescribed to them by a medical professional for a specific condition, and having a therapy session from a liability perspective. And from malpractice perspective, there is no difference there whatsoever. So there's no special requirement. If therapist wants to have additional protection, what they can do is get a general liability insurance. On top of that, you know, if someone if they're scared of someone falling and hurting themselves or things,
Gordon Brewer
yeah, yeah, that makes sense. That makes sense. Well, Jonathan, this is this is fascinating stuff. One One other question I was just wondering is, and just thinking about the business sides of things, what are you finding that people are? How it's benefiting them financially with these kinds of add ons?
Speaker 1
Yeah, that's a very good question. So what we found is that, you know, members who work with us, and were really successful, build a whole cap practice, I mean, they have waitlists and really are able to build out a whole offering is there is 40 million people in therapy today, a large percentage of those people are suffering from anxiety, depression. And so those patients are applicable. And so we really help therapists for the process of talking about it with their patients of getting it out there in their local communities, we give them you know, content to put on their website, they have a journey, clinical badge, because a lot of people have us as a standard of quality they put on their social media, we help them outreach to their patients. So we really support them in building out their practice. And what we found is that this can be an extremely lucrative offering to add to their practice, you know, we have some people who are in even smaller communities, in more rural areas, and so there's not so many providers available out there. And as soon as word gets out, they get really, really full. So with a little bit of effort, and we really help them through that. Once though, you know, once that gets going and you know, through word of mouth, it really can really grow their practice very quickly.
Gordon Brewer
Wow. Yeah, yeah, that's, uh, you know, again, what, that tying in the business side of it, I think is, you know, part of what this, this podcast is about is just being able to make those, those connections there with, you know, looking at ways to diversify your income first, diversify your reach, being able to be more effective as a therapist and being able to genuinely help people in different ways, which I think is really important.
Speaker 1
Absolutely. And, you know, that's our whole business model. What we wanted to do is essentially bake into our business model, a virtuous cycle, where if our therapists do well, our business then does well. And so that's really everything we focus on. It's also why we decided to focus on the therapist as our main customer, because, you know, by supporting their practice, that's how we get to the most people sustainably, so, so we're all about supporting them, helping them build out their practice, giving them the tools, we give them handouts. I know it can be challenging to do that. But we've done it very successfully multiple times over as I said, we grew to 800 people in less than 10 months, and it's growing very rapidly. And all of those therapists are really being able to build out their practice, learn from other therapists in our network who have done it's Cecily come for advice. We give them resources. So it's doable. And it works in that way.
Gordon Brewer
Awesome. Awesome. Well, Jonathan, I want to be respectful of your time. And this was this was a fascinating conversation. tell folks how they can find you and find out more about journey clinic.
Speaker 1
Sure thing. So they can go to our website, journey clinical.com and set up an appointment with our team and someone will be happy to give them an explanation of the offering demo of our platform and help them onboard.
Gordon Brewer
Awesome. And we'll have links here in the show notes in the show summary for people to get to that easily. So what Jonathan, this is great, and I hope maybe we can have another conversation about all of this and, and the things that we learn on the clinical side with with this, this modality. I would love that. That'd be a lot of fun. All right, thanks. Thank you.
Being transparent… Some of the resources below use affiliate links which simply means we receive a commission if you purchase using the links, at no extra cost to you. Thanks for using the links!
Jonathan Sabbagh's Resources
Resources
Meet Gordon Brewer, MEd, LMFT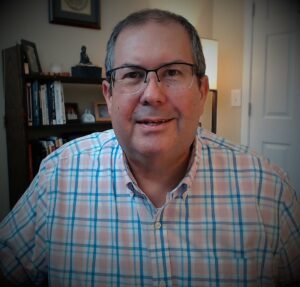 Gordon is the person behind The Practice of Therapy Podcast & Blog. He is also President and Founder of Kingsport Counseling Associates, PLLC. He is a therapist, consultant, business mentor, trainer, and writer. PLEASE Subscribe to The Practice of Therapy Podcast wherever you listen to it. Follow us on Instagram @tpotpodcast, and "Like" us on Facebook.