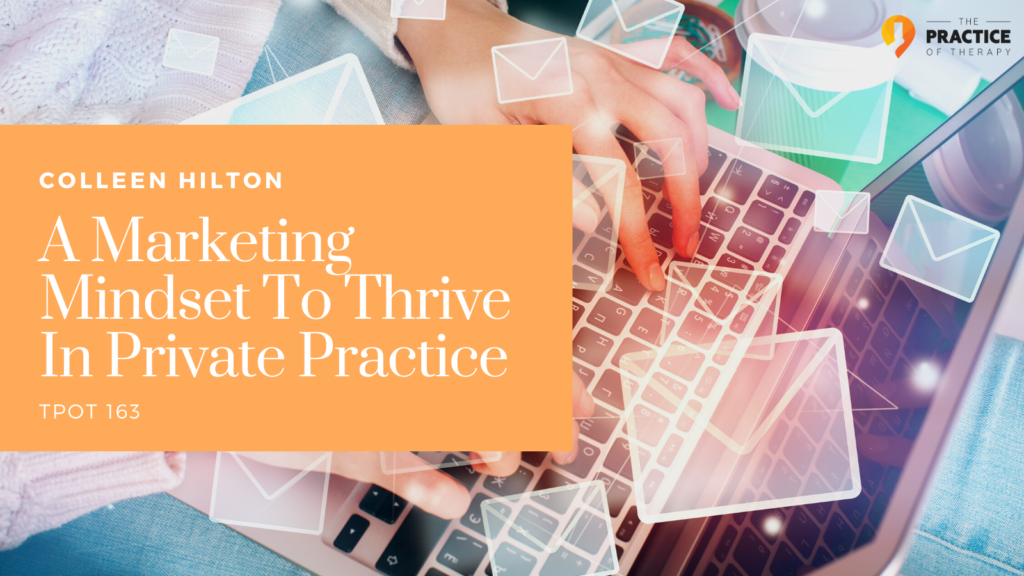 In this episode, Colleen Hilton joins the show to talk about our marketing mindset in private practice. Many therapists think that marketing is icky. However, marketing is actually essential to get clients the help that they need. The more effective your marketing efforts are, the better you can help the right people. Tune in as we talk about finding your ideal client and how Thrivelution can be a win-win for both therapists and clients.
Meet Colleen Hilton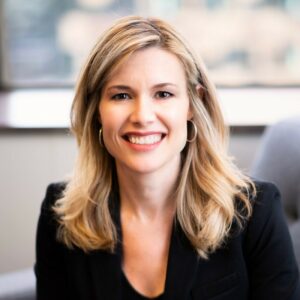 Colleen Hilton is the founder & CEO of Acuity Counseling, Acuity Consulting and Thrivelution LLC. She is also a licensed Marriage & Family Therapist & an AAMFT approved Supervisor, with over 14 years of experience in the industry.
Since 2016, Acuity Counseling has been providing boutique therapy services, with a retail-style model, making high-quality mental health available to the general public. With 3 brick and mortar locations and a strong online presence throughout the state via telehealth, Acuity is seeking to make a difference across all of Washington state.
Acuity Consulting focuses on creating change in the business world by offering leadership coaching, and organizational mental health training. By supporting individuals and organizations in personal and professional change, believing in the systemic impact we will have together.
Colleen co-founded Thrivelution LLC in 2020, amidst the unprecedented circumstances of the Covid-19 pandemic. Thrivelution is disrupting the current market space by throwing out the antiquated practice of directory style searches, focusing on the quality of matches, and demonstrating a return on investment for small business owners.
Colleen is outspoken as a leader and educator on the business side of the mental health industry. She is active in coaching private practice owners, as well as new group practice owners, in how to align their values as a helper, with their role as a business owner to assist them in creating successful, profitable businesses.
Personally, Colleen is a wife and the proud mother of two inspiring young women. She is passionate about warm weather (still missing
SoCal), boating, and finding great food wherever she is at. Colleen loves people and making new connections, finding great joy in learning from others, and hearing the amazing stories every person has to share.
Success Mindset
Many therapists think that marketing is icky or too salesy. Colleen is working on debunking that marketing mindset for private practice owners. Instead, we should use marketing to create a mindset for success. Marketing and advertising get an awful rap in the mental health industry. We feel like somehow being a helper doesn't align with marketing and advertising, but Colleen honestly believes that our professional ethics require that we do beneficial marketing and advertising.
Charge What You're Worth
Your marketing mindset has a lot to do with finances too. If you don't have enough money, then you are struggling. How will that impact the work that you do for clients? If you can hone in on marketing, then you can market to your ideal client and attract the person into your practice. That is why it's essential to have an exact brand. Then, the feedback loop just starts to work in a beautiful way where the clients are coming to us. We can charge what we're worth!
Market To Your Ideal Client
When we do effective marketing, we reach our ideal client and provide the most qualified help. While on the other hand, if our net is too broad or there is no net at all, we can't help our ideal clients. Clients will not magically find you when you build a website. We should be practicing from an abundance mindset – there are many clients out there, and you really should be helping the people you are passionate about supporting.
Colleen will reverse engineer her marketing. So, think about your ideal client and answer these questions:
What do they do for a living?
What gender do they identify as?
Where do they hang out?
What are their problems?
How can you solve their problems?
Then, start thinking about ways you can engage with your ideal client. We are not selling something. Instead, we are communicating the value that we have and how we can provide help. Marketing is the ability to help people find you. Potential clients are out there, and they are struggling. By using doing effective marketing, we can provide them the exact solution that they are looking for.
Get More Clients Through Marketing
What if your ideal client is out there with the wrong therapist? They have a terrible experience, so they visit another therapist. Yet again, they have a terrible experience. Sadly, this keeps happening to your ideal client. Eventually, they give up on therapy altogether. Now, their problems keep getting worse and worse. They are digging a hole for themselves, and they can't figure out how to get out. Maybe ten years pass by, and they finally find you. If you could find that ideal client ten years ago, they would be in a much different place today.
Give your clients what they are looking for in the first place. When you find your ideal client, you help them, and they get to help you. Working with our ideal client allows us to be supported financially. When we are supported financially, then we can do our best work. After grad school, we have the hopes and dreams to open a private practice. Like any business, marketing is a crucial component to getting more clients. For therapists, it's no different – we need to practice effective marketing techniques!
About Thrivelution
Colleen stumbled with her marketing at first. She didn't know how to communicate with potential clients. She had referral relationships, the directory listing, yet she didn't find herself with the right clients. Unfortunately, when you don't have the right clients, then you need to turn them away. It's a shame for the client because they ask for help, yet they find themselves with a roadblock.
So, Colleen wanted to know why there wasn't a "dating app" for finding a therapist. Clients should go on the app and ask for what they want. Then, therapists should advertise their services. We need a matching system that focuses on clinical fit. Thrivelution is an algorithm that will present options to clients and clinicians. That way, they can mutually agree to the relationship. Once it's a good fit, the clinicians can take it from there. Clinicians can build thriving private practices, and clients can find the best therapist for them – it's a win-win!
Hello, everyone. And welcome again to the practice of therapy podcast. And I'm so excited for everyone to get to meet hock Colleen Hilton, uh, from, uh, yeah. We're, we're just having trouble speaking today. Aren't we colleagues? It's a Friday. I'm feeling it. Yeah. Yeah. But anyway, welcome, Colleen. I'm glad you're here with me.

Thank you. I'm super excited to be here. Yeah. So Colleen has one of those, the principle people behind a new platform that when I found out about it, I got real excited because it's a new, a newer marketing platform and directory for therapists, uh, called thrive evolution. And, uh, I'm done. Cause I was, as I was saying to Kali, before we started recording, I always want to put an extra syllable at it, but thrive Lucian and Colleen is going to tell us about that and just kind of her excitement around marketing.

And I think more than more importantly, she's going to be talking about kind of our marketing mindset. So again, welcome Colleen and glad you're here. Thank you. I'm super excited to be here. This is me. A lot of fun. Yeah. Yeah. So as a, as a start with everyone, why don't you tell folks a little bit about your practice journey and, um, how you've landed, where you landed.

Yeah. Uh, well, I, I feel like it's such a personal journey for all of us, how we came to therapy and, and what drives us to be helpers. Um, uh, my, my specialty actually ended up being, working with first responders in crisis management and critical incident, stress debriefings, um, quite by accident. Just based on my internship, I ended up at a police station and, uh, just really connected with the community.

And so I like to say that they chose me more than I chose them. Um, but, uh, through moves in life, um, I found myself in a position to start a group practice, uh, in 2016 and really founded it on values of professional growth and collaboration, which I think are so important in our industry. Um, But really found it difficult or challenging point to figure out how to run an efficient business, not having had that education in grad school.

I mean, they teach us how to be clinicians and I think we're naturally empathic. Uh, but to really be successful in private practice, both as a solo practitioner and with a group practice, you really have to understand business and marketing and finance. And those are things that we don't get educated on.

Um, And I found that I found real success in my group practice when I was able to hone in on marketing. And so that's really become a passion of mine, um, and changing our mindsets around marketing in the mental health industry. Yeah. So, yeah, and I think that's, um, one of the things that as a stuck point for a lot of us is that we just, and you were talking about this too, before we started recording, just how we, we tend to think of marketing as kind of icky or too salesy, that sort of thing.

And, and you've really kind of helped debunk some of that mindset. You want to say more about that? Just about yeah. Mindset. Yeah. I mean, I think marketing and advertising gets a really bad rap in the mental health industry. We feel like somehow being a helper, doesn't align with doing marketing and advertising, but I truly believe that our professional ethics require that we do really effective marketing and advertising.

So that we can reach our ideal client, who we can provide the most quality help to, uh, if we're casting an incredibly wide net or, you know, maybe no net at all, because we feel like the clients should just kind of magically find us when we build a website. Um, we're not practicing from an abundance mindset that there are lots of clients out there, and I really should be helping the people I'm passionate about helping and I'm trained.

To help. Um, and, and it feeds back into the finances as well. If I'm, if I'm not full for what is financially the right position for me personally, now I'm struggling. And how does that impact the work that I do clinically and maybe distract me in my sessions. Uh, But if we can really hone in on marketing, if we can market to our ideal client and attract that person into our practice and have a very clear brand, then the feedback loop just starts to work in a wonderful way where the clients are coming to us.

We can charge what we're worth with all of our education and our training that makes us feel good about what we're doing. Our clients have better outcomes because we're a good clinical fit. Um, and like I said, the feedback loop just goes around in this wonderful manner. So yeah. Um, I'm, I'm really passionate about therapists and counselors, um, taking a second look at marketing and advertising for their practice and, and really thinking differently who is my ideal client and how do I connect with them in a meaningful way.

Yeah. So kind of walk us through kind of your process for doing that. And, um, yeah. How, how would somebody go about doing that? Yeah, I think, I think there's, uh, there's a lot of different levels. And if we talk about it from what I'm going to call it general marketing perspective. Um, we think of marketing, like a funnel, um, where we can cast a wide net at the top and we're building awareness about what we do.

And we might interact with people who aren't potential customers. And who aren't the person that we actually want to connect with all the way down to a finite point of maybe a direct referral through a psychiatrist or whatnot, where. The person referred to you as really educated in what you do. And it's a very ideal match.

And, um, and it's, it's just very easy, like point to point, if that makes sense. Um, when we're thinking about how do we reach clients, we want to make sure that we're not necessarily casting such a wide net at the top of the funnel that we're not interacting with our ideal client. And we also don't want to only rely on referral relationships because that eliminates.

So many possibilities of connecting with people. So I think about, I kind of reverse engineer, my marketing, and I think about who is my ideal client and kind of build the archetype on paper. Right. Where, what do they do for a living? Um, are they male or female? Jenna, uh, gender X, uh, where do they hang out?

What do they do for a living? Um, what are their problems and how can I help? Solve those problems. And then I start thinking about ways that I can engage with them through my website, through social media marketing, um, through mutual referrals and networking that I can really reach that population and provide real value to them because I think that's, that's the key.

We're not selling something. We're communicating the value that we have and, and how we can provide help. Yes. Yeah. One of the ways I've heard marketing described as really just being able to help people find the help fi help people that need your help be able to find you. Yeah. I mean, that's, that's really exactly it.

The, the. Potential clients are out there already and they're already struggling and they're already looking for help by us doing really effective marketing. We can provide them the exact solution that they're looking for, as opposed to them maybe going to three or four therapists before they find the right person or heaven forbid they have three or four poor experiences and they give up on the process.

Yeah. Um, or, or they give up on the process for 10 years and when they finally do reapproach it, you know, they're that much further behind. So marketing just really helps give them what they're looking for in the first place. Um, And, and frankly it supports our healthy businesses financially and really that's the Holy grail in our industry.

You know, we come out of grad school and most of us have the hope and dream to open a private practice. Um, and marketing's key component of having that be successful. Right, right. Yeah. So you've, you've been on the kind of the ground floor in developing, uh, this new new platform thrive loop, thrive, Lucian, and, um, yeah.

Tell folks, maybe kind of the backstory behind that and how you've gotten to where you are today and, and all of that. Yeah. Um, so this, my passion for marketing has really driven, thrive Lucian and, and its inception. Um, when I had my group practice and I was really kind of stumbling around with the marketing and trying to figure out, you know, how to communicate with client potential clients and how to get out there.

Um, I think I was doing all the traditional things, right. I had the referral relationships. We had, um, the directory listings. Um, but I just, we found ourselves with, I'm going to say abundance of clients, but not the right clients. And that is disheartening for us where we have to say, I'm not the right fit for you.

It's disheartening for our clients because they're asking for help and they keep running into all these roadblocks. Um, and. Just in full candor. I had gone through a divorce earlier in my life, and I was chatting with Josh Dirkson, Greg Brueggeman, who are the other co-founders. And I said, gosh, why isn't there like a dating app for find your therapist?

Why can't, why can't clients go on and say, this is what I'm looking for in an ideal therapist. And why can't they just advertise who they are so that we can find each other more easily. Um, and I think we all chuckled and then revisited the conversation later and went like. Why isn't there some sort of dating app or a matching system that is really focused on clinical fit.

Um, and it was out of that conversation that thrive Lucian was born, that there had to be a better way than these antiquated white pages style directories. Where clients are faced with a hundred options, there's decision fatigue. They might make dozens of phone calls with no responses. Clinicians are managing all these phone calls while they're trying to run their private practice and doing like in-between those sessions that 10 minute window is returning phone calls.

Um, it's just a frustrating, uh, antiquated system all the way around. I mean, here we are. 2021 and COVID has created such awareness and people are wanting the help now, um, more than ever, and are much more educated in what they're looking for. We have to have a better way of matching clients with clinicians.

Uh, and so that's what we built with revolution. We built a proprietary algorithm that matches based on qualitative factors. And then. Presents the options to clients and clinicians to kind of mutually agree to that relationships. So there's that chance to vet each other out. And once it's a good fit, the clinicians can take it from there.

Uh, and the hope is, is that we're supporting clients and finding the right counselors and we're supporting clinicians in building really thriving, private PAC practices. Wow. Wow. Yeah. I love that. I love that idea because you're right. I had not really thought about it. Uh, you know, it's, um, Uh, that about creating an algorithm that that's just, that's huge because I, you know, I think I've had re just not too, it's not too unusual for me to get people to, to contact me to say, Hey Gordon, my daughter or son is often in college and they're in this particular town.

Is there a therapist you can recommend for me? And, you know, best I can do is go to. You know, have been good, just going to psychology today and kind of looking through just the, the tons of people that are there and have no clue if they'd be a good fit for their son or daughter. Yeah. Yeah. Those, those profiles.

I mean, they're great for a high level look, but the real magic in therapy is that therapeutic Alliance we build with our clients. And how do you convey that in a static? White pages, style search. Um, you know, the problem you're talking about is, is real. And a lot of people will even, you know, they'll in the best of intentions say, Oh, well, you should try my therapist.

My therapist was fantastic. Right. Um, but that therapist isn't the right therapist for every client. So those personal referrals even become hard to create matches. So, um, I'm, I'm just, I'm so excited about the idea of the self of the therapist kind of coming to life through this searching process so that you can look for the person who does the type of work you need maybe CBT or EMDR, but also is the human that you can connect with.

Uh, cause that's, that's really where the magic of therapy occurs. Yeah. Yeah. So tell folks how thrive Lucian works. I mean, from both, uh, The provider side, but also the client side. Uh, with the directory and all of that. Yeah. So, um, on the client side, we look like a matching service. If you, if you go to our website, it's, uh, it's very easy to navigate, very engaging and they can go through and answer questions about what their ideal therapist would be.

Is it a male or female? Do they have. So many years of experience, um, are they providing tele-health or in-person? Um, and they can go through a series of questions, uh, on the counselor side, if somewhat similar. It's tell us about yourselves. What are the things you're passionate about? What are your areas of expertise?

You know, who's your ideal client so that we can help match and, uh, clients are then presented with fewer options, but higher quality. So they're given maybe three to five counselors who are going to be really good fits and they're even. Uh, explained how it's a good fit. So I might be a 90% match, but Gordon, you might be a hundred percent match and clients can see what are the things that align and what are the things that maybe don't align and make a really educated decision about whether or not they would potentially want to work with this person.

Um, we have photo content and video content, and I always encourage counselors to build a video that really allows your personality to come through, uh, because that is the, that is the component of the magic of therapy. Um, and, and so counselors can build that profile linking to their website, outside resources and really showcase.

Who they are. So once a match is made on both sides, the counselor has a down, uh, dashboard and they can see what that potential client is looking for in a counselor and decide, you know, am I the right fit for this person? Do I have room in my caseload? You really evaluate all this and accept or decline.

If they accept communication is opened up. And the client, the counselor can go from there in evaluating a relationship and seeing if we're going to schedule an intake. Um, but at the same time, if a counselor doesn't have time, rather than playing phone tag, or simply not returning the phone call, which.

Yeah, leads to that really difficult position for client. They click decline and our system works to rematch that client with another therapist who could be a good fit. So it, it frees up time and energy. On the counselor's side, you get so much more information. It's not just a cold call with a voicemail.

Um, so we're really hoping to expedite that. That connection process on both sides, give counselors, you know, more space so they can do the, what they're really good at, which is a therapy. So I'm, I'm just, I'm so excited about all of this. I mean, I'm really, we're in this space and mental health. It's a shift in our whole industry, how people, people are flocking to get help.

Um, and so I just, I have this. Mindset of abundance, that there is no reason why anyone who's in private practice, isn't, uh, isn't working with the clients that they love and being really invigorated and, and thriving. Right. Right. And I couldn't agree. I couldn't agree more because I think, um, You know that, like you said, that abundance mindset is so important and that we, there, there are more than enough therapy clients out there for the therapists that we have.

In fact, right now, at least what I'm hearing, the buzz I'm hearing is there is really a shortage of mental health. Providers in the country. And I know even in my area, just finding people to hire has been a, for my group practice has been something that's been a bit of a task. Yeah. It's, it's a challenge for sure.

Um, but I, and as a group practice owner, I completely agree with you. The finding the right clinician to bring into a practice is more challenging than ever. And, and yet we still have clinicians who are. Yeah, hesitating to start that practice or hesitating to join a group, you know, just for kind of fear.

Am I going to be able to find clients? Am I going to be able to make money at this and create a financially stable? Place for myself and my family. And I'm just excited to be part of that solution. Um, and kind of unlocking us from that fear of doing the things that we're really passionate about. Right, right.

Yeah. So, so tell, tell folks about how they can, um, you know, if somebody is interested in getting started with you guys, what, what is that process. Okay. Yeah, so they can visit our website at thrive, lucian.com. Um, and we've put together a special promo code for you Gordon and for your listeners. Um, so if they enter the promo code match 21.

They will get an additional two months for free and the platform is free right now. Um, we are really wanting to demonstrate value to the therapist and proof of concept. So we're partnering with them, not looking to make revenue on this. Um, we're looking to. To create an opportunity, you know, at some point down the road, you know, we'll look at the revenue side, but right now we really want to build relationships with the counselors.

So if they go in and they put match 21 in the promo code, they'll get an additional two months on top of whatever our free period turns out to be. So there's absolutely no risk today. Um, there's also the opportunity to get a kind of step-by-step. Start your practice checklist. Um, if they're at the thrive, lucian.com backslash thrive, practice checklist, um, they can, they can get access to that and that'll give them step by step what they need to do everything from how to file your EIN to setting up your website.

Um, really trying to help people get past some of those initial hurdles of nobody ever taught me how to do this. Right. Right. We really want to help people. You know, jump across that and, and start what they've always, always been thinking of. Oh, that's, that's great. And we'll have of course links to all of this in the show summary in the show notes for people to get easy access.

So yeah. So KA, Colleen, what are some other parting thoughts that you'd like to leave with the folks that are listening to this episode? I guess. At this point, I'm, I'm just sitting at 2021 with a place of such optimism and excitement and hope. Um, we, as an industry, we have so many new opportunities, uh, both from a business standpoint, but really to.

Deliver the care and help that people are, are wanting. And so I just want to challenge everyone to think about their preconceived notions and the narratives that we've had as an industry. And this is the moment for us to reevaluate them and, you know, kind of turn everything on its head and think about how we can do things differently and how we can adapt and really be resilient as an industry through COVID and, and really.

Jump into the opportunities that it is presenting us with. Right, right, right. I could, again, I couldn't agree more. I think now more than ever is a great time for people to move into, um, private practice or really, um, Yeah, but because the other, the other thing too, just as a side note is, um, what we've learned this last year, the really the silver lining with COVID has been that, um, it doesn't take it.

Doesn't take a lot of stuff to open a practice. I mean, with tele-health and all of that dynamic, um, You know, uh, the doors are wide open at this point. Yeah. They, they, they really are. And you know, mental health is so wonderful as an industry and that we are so collaborative. We have colleagues, you know, all across the United States and podcasts like yours Gordon that really.

You know, seek to open the doors and demystify the process. So, you know, if you've ever thought about it, you know, now's the moment to be tapping into some of the resources, um, through influencers like yourself. And I hope that revolution can be a resource. Or clinicians, but you know, that was the moment to kind of step forward bravely.

All right. Well, Colleen, I'm so glad you're, uh, you joined me for this and I'm, I'm sure we'll be having more conversations in the future about marketing and, um, Letting people really, um, learn from your resources and, and, uh, again, you know, be sure and check them out, thrive, lucian.com and again, links in the show notes and the show SAHMRI.

So be sure and check it out and I'm sure Colleen will be talking to you again. Well, thank you so much for having me Gordon. I have been enjoying our conversation immensely. Thank
Being transparent… Some of the resources below use affiliate links which simply means we receive a commission if you purchase using the links, at no extra cost to you. Thanks for using the links!
Colleen

's Resources
Thrivelution.com

Code:"MATCH21″ For 2 months free!
Resources
Meet Gordon Brewer, MEd, LMFT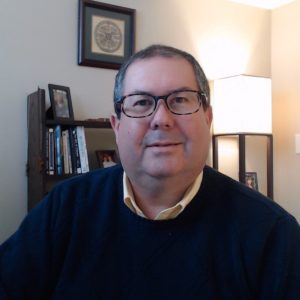 Gordon is the person behind The Practice of Therapy Podcast & Blog. He is also President and Founder of Kingsport Counseling Associates, PLLC. He is a therapist, consultant, business mentor, trainer, and writer. PLEASE Subscribe to The Practice of Therapy Podcast wherever you listen to it. Follow us on Twitter @therapistlearn, and Pinterest, "Like" us on Facebook.