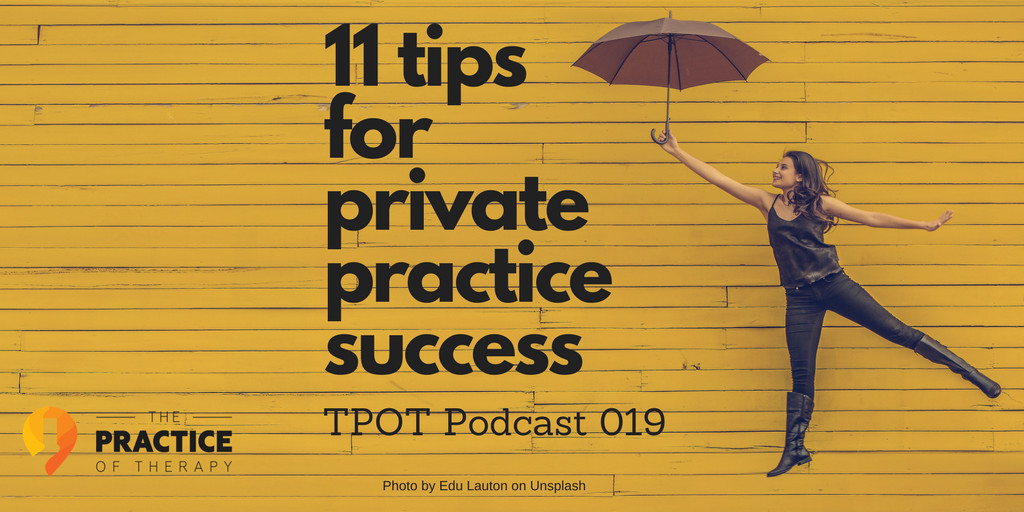 In this episode, Gordon talks about 11 things therapists, counselors and other mental health clinicians can do to help their private practices succeed in the coming year.  From being action oriented to planning and preparing for the long haul, private practice success depends as much as anything on being persistent and consistent. Owning and running a small business takes a lot of knowledge and skill.  Gordon discusses these top things he has learned in his years as a private practice owner.
Being in private practice as a therapist has been, so far, one of the most rewarding and challenging things I have ever done.  I never would have dreamed that my practice would have evolved and grown to the place it is today.
This past year, 2017, has been a year of significant growth.  The major piece being moving into my own building.  The second being adding 3 new therapists to the practice.  And as a result of these things, it has caused me to evaluate and look at what I need to do to continue the growth.
What I have learned…
When going into private practice there is so much you need to know.  The truth is that what you learn about being in practice is never ending.  I have not only learned to be a better clinician, but I have also learned how to be a better business person and learn what it takes to run small business.
Private practice not only takes a certain mindset for you to succeed. It takes consistency and being persistent in your efforts. Be a constant learner and don't be afraid to take some risks and try new things.
11 Things you can do to find success
1. Put things into action
The first thing anyone going into private practice does is to simply act and start.  In other words, having a mindset of action rather than sitting around waiting for the timing to be right. This can happen in any number of ways.
2. Learn about business
One of the biggest detractors for clinicians going into private practice is that they just never learned about business.  We have all hopefully received great clinical training and have the skill set to be an effective clinician.  But do you have the skill set you need for knowing how to run a business?  
Business basics encompass several areas.  For example, basic accounting knowledge, marketing knowledge, financial management, people management skills, budgeting, business plans, profit margins, return on investment, daily operations knowledge…just to name a few…
All of this can be learned and built upon as you grow.
3. Learn how to market
A big part of having a private practice is learning how to market your practice to ensure you get the clients you need to stay in business.  Marketing comes in many forms.  Having a website, being active on social media, and networking within your community are just a few of the ways to market a private practice.
Your private practice website will be your number one marketing tool.  In fact, investing in a good website design with great SEO (search engine optimization) will absolutely pay for itself.  After all, the first place people go to find anything is of course the internet. And having a good website that is easy to find will pretty much guarantee having the clients you need.
If you are looking for a "turn-key" solution to having a website for you private practice, I recommend you check out BrighterVision**.  BrighterVision specializes in therapist and counselor websites. They will take care of the design and SEO to help you get your message out there and be noticed..

**This is an affiliate link which means Practice of Therapy gets paid a commission at no extra cost to you by purchasing from them.
4. Create a network of referral sources
This is tied to the marketing piece but is somewhat different.  Marketing your practice helps you build this network.  Having a network of multiple referral sources is what will bring stability to your practice. But more specifically, having a network of referral sources is simply having a way to have your referrals come in from people who know you and will refer to you regularly.  
Also though, your website and directories, like Psychology Today can be part of your referral source network
5. Niche it down
Having a specialty is key to getting recognized and standing out. This is especially true if you are in an area where there are a lot of therapists already in practice. Having a specialty will also ensure you are getting your ideal clients.  A happy therapist is a better therapist…
6. Have a plan
If you don't know where you are going, how are going to get there?!  Planning things out and setting goals for yourself is one of the biggest predictors of success in private practice.  
Having long, intermediate and short term goals is a good approach.  In other words, having 5 year, then 1 year and then 3 months and weekly goals is a good way to approach it.  Write all of this down too!
7. Reinvest in your practice
One of the things that is important to do is to reinvest in you practice as you grow.  It might be things like getting a better computer or printer.  Also investing in things that will help your daily operations go more smoothly are absolutely essential in having things grow well.  
For example, investing in a virtual assistant or getting practice management software will go a long way in automating and taking things off  your plate as you grow. In fact, the more you can invest and create processes that automate and/or cause you to do less work will always be well worth the investment.
8. Know yourself well
One of the usual questions I ask clients in my therapy sessions is, "why do you think you are like you are?".  It's always a big question for them. The same is true for you as a clinician.  It is so important from the very beginning to know yourself well and to handle stress in a healthy way.  What we do as clinicians is tough work!  It is so important to keep yourself healthy physically, mentally and spiritually to do this kind of work.
Know your own strengths and limitations. It will go a long way in helping you have a successful practice to know what  you do well and what things you need to pass on to others.
9. Get support
Private practice, especially a solo private practice, can be a lonely place. And one of the things people make the mistake of doing is trying to do too much on their own. Bootstrapping is a good thing when you are just starting out and putting things together.  But if you do too much bootstrapping as you grow, you will become quickly overwhelmed.
First of all, give yourself permission to get some coaching and mentoring as you start, build or grow your private practice.  It will absolutely be a great return on your investment.  Everytime I have taken advantage of coaching and mentoring, whether it be individually or in a mastermind group, I have seen results.
Secondly, connect with other therapists and counselors in your community.  Whether it be through trade organizations(ACA, AAMFT, NASW, etc.) or just local contact, it will only serve to help you in your practice.
One thinking mistake for a lot of folks is to adopt a competition mentality vs. a collaboration mentality with other therapists and counselors in your area.  Approaching things from a collaboration mindset is always the best route to go. There is more than enough business to go around and people will always be in need of your services.
10. Be financially prepared
The number one reason private practice clinicians fail, is that they do not prepare themselves financially for some of the ups and downs of being in practice.  In particular those times when things might be slow or there is a lag in income. You need to create a financial buffer for yourself.  Ideally have 3 to 6 months income in reserve to cover slow times when they happen.  Also to give you some built in vacation time.  After all, if you are not seeing clients, you won't be getting any income, unless you have prepared for this.
The other thing that will help with times of slower income is having some other streams of income; AKA passive income.  This means having ways to make money that is not simply trading your time for money. For example, adding other clinicians to your practice or monetizing your website through affiliate programs or selling some sort of product.
And yet another part of this is to have your personal finances in order. Focus on getting yourself out of debt and managing your home budget well. After all, it's kind of where the "rubber meets the road" when it comes to your quality of life.  It's what most all of us strive for is to live comfortably and within our means.
11. Be ready for the long haul
Finally, be ready for the long haul.  It does take time to build a practice from scratch.  It takes time to build clientele and referral sources.  On average, it takes about 2 years for most practices to become established and consistent.  It can be shorter if you put a lot of emphasis on marketing and networking.  But go into it with "tortoise mentality".  Make a plan, stick to the plan and make adjustments along the way.  Be patient with your growth.  And usually what happens is you reach a tipping point in which things will take off.  
And when you reach that "take off" point, be ready for that.  Have the systems in place to handle the volume and keep things running smoothly.
These 11 things are certainly not everything you need to know about private practice.  So much goes into running a successful practice as a therapist or counselor.  Nonetheless, being in private practice is absolutely doable.  It takes commitment, a bit of "intestinal fortitude, persistence and consistency.  
My hope is that you will give yourself permission to jump in and take yourself to the next level, regardless of where you are in your journey.
Other resources mentioned:
Session Note Helper™- A solution for completing your session and progress notes in half the time.
G-Suite for Therapists – a course to help you increase your productivity using the tools of G-Suite
Mastermind Group– Apply and learn about the upcoming Mastermind Groups starting in 2018
Meet Gordon Brewer, MEd, LMFT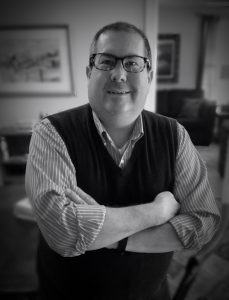 Gordon is the person behind The Practice of Therapy Podcast & Blog.He is also President and Founder of Kingsport Counseling Associates, PLLC. He is a therapist, consultant, business mentor, trainer and writer.  PLEASE Subscribe to The Practice of Therapy Podcast on iTunes, Stitcher and Google Play. Follow us on Twitter @therapistlearn and Pinterest "Like" us on Facebook.