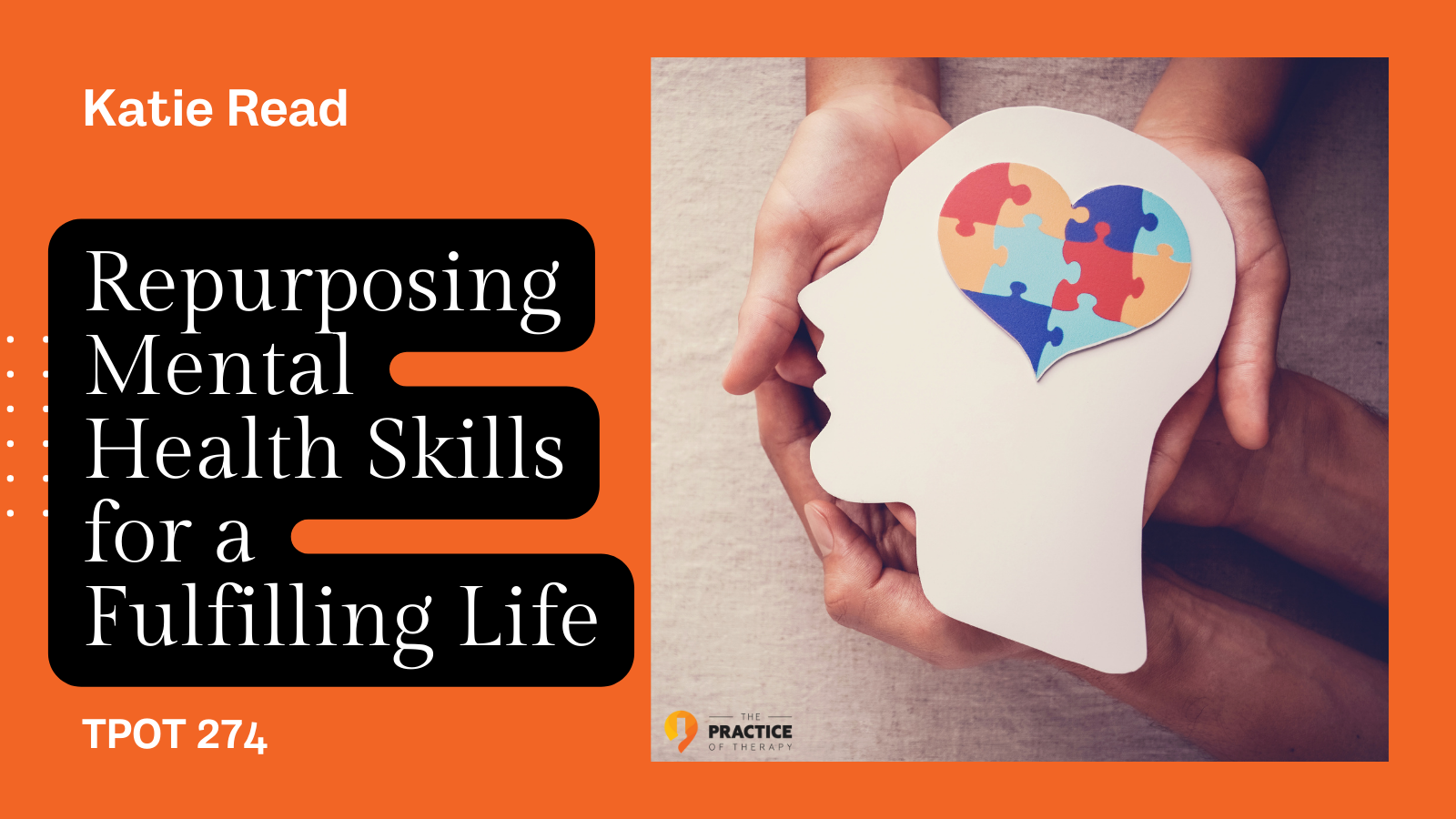 In this episode of the Practice of Therapy, Gordon interviews Katie Read, a long-time therapist who has worked in private practice, taught grad school, directed community mental health programs, and created therapy training materials. The two discuss how mental health therapists are outgrowing their offices by repurposing their skills, creating amazing lives for themselves, and helping their clients. Katie shares her story and experiences in the field and how she found success by branching out and trying different roles. Gordon and Katie also discuss the importance of adapting to change in the mental health field and finding ways to keep growing and improving as a therapist.
Meet Katie Read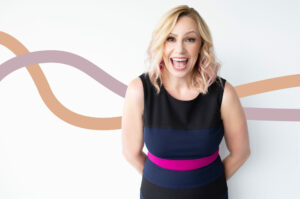 Katie takes lessons from her nearly-20 successful years in the field to help clinicians grow…then OUTgrow…their practices.
Immediately upon licensure, Katie was made Director of a large Transitional Aged Youth program in Oakland, CA. Later, she was recruited to Direct one of Sacramento's largest Wraparound Programs. From there, she moved into the role of Director of Clinical Supervision, personally supervising 40+ interns toward licensure.
Concurrently, Katie had private practices in multiple cities, taught graduate psychology students, and wrote and created therapist training materials.
Katie is also a special needs mom and loves helping other moms tune into their own intuition and lead their best-possible lives by taking the – sometimes scary – leap into following what's best for them deep down.
Mental Health Therapists Are Outgrowing Offices
Mental health therapists are outgrowing their offices by taking their existing skills and repurposing them to create new ways to help their clients. This could include marketing, copywriting, creating online courses, running retreats, and offering coaching certifications. These new methods allow therapists to bring their true, authentic selves to work and to niche down to topics they are passionate about. They also allow therapists to make more money and spend more time with their families.
Coaching Certification for Therapists
Coaching certifications for therapists is a great way to repurpose your existing skills to create extraordinary lives for yourself and your clients. With the Clinic Coach Academy, therapists get credit for all their experience and training and can niche down to the work they are most passionate about. They can bring their true authentic self to work and break through the glass ceiling of traditional therapy. Plus, with the flexibility that coaching offers, therapists can make their family their priority and still make a living.
The Differences Between Therapy and Coaching
Therapy and coaching are two different types of professional services. Therapy is a form of treatment provided by a mental health professional such as a psychologist or psychiatrist. Therapy focuses on helping individuals understand and work through their mental health issues, such as depression, anxiety, and trauma. Coaching is a more general form of service that may involve providing guidance, advice, and support to clients to help them reach their goals. Coaching is typically done by a life coach or other professional trained in assisting individuals to achieve their goals. Coaching does not focus on mental health issues but on helping clients reach their goals and make positive changes in their lives.
Financial Freedom and Security
Finding financial freedom and security is a goal that many mental health professionals strive for. Through creative solutions, such as repurposing existing skills and taking on new roles, therapists can break through the traditional office-based therapy model and reach a new level of financial stability. By leveraging their expertise and knowledge, therapists can create new opportunities for themselves and their clients, allowing them to achieve financial freedom and security. With the proper support and guidance, therapists can find a way to make a living while helping others in the process.
Katie Read
Okay, do a little intro
Gordon Brewer
did a little BB. Yeah.
Katie Read
Okay, sounds good. Hey, I'm Katie Reed, I am so excited to be on practice of therapy with my friend Gordon. Today, we are going to be talking about all the ways that mental health therapists are outgrowing their offices, taking all the skills, they already have repurposing them and creating amazing lives for themselves and helping their clients in the process.
Gordon Brewer
Well, hello, everyone, and welcome again to the podcast and you just don't know how thrilled I am to have the famous Katie Reed with me on the podcast. Glad you're
Katie Read
Oh, thank you. I'm so excited to be here. We'll use that word famous in a very limited. Yeah, okay.
Gordon Brewer
Well, at least in my mind, you're famous because Katie and I have run in the same circles. But with this is the first time we've ever ever got to me to sit down. Yeah. So this is, this is this is a great time. So Katie, for folks that don't know about you, which they should know about you, but they don't know about you. Tell them a little bit more about yourself and how you've landed where you've landed?
Katie Read
Sure. Great question. I am Katie Reed, I am a long time therapist, I always joke that I had every job in the field from private practice to teaching grad school to directing large community mental health programs, creating therapy, training materials, I've done it all I've loved it all. If you've had any job in this field, I probably had a similar job. And we could probably bond over. And I loved it all. And then we hit a point where a couple of things happened in my life kind of back to back that forced me to change my trajectory. One is that my two young boys were diagnosed with special needs, and I could no longer I had to, you know, make them my priority taking care of them, I could no longer just turn off my phone and be sitting in sessions all day long. And then a while a little bit after that, we were actually moved to a new state with my husband's job. And so all of a sudden, I lost my livelihood, I had to start from ground zero. I'm getting relicensed in a new state, despite all my prior years of experience. And during that time, I needed to make money to support the family. And so I was like, Okay, I'm not licensed here can't go open an office, what am I going to do, and it forced me to get creative. And to make a long story short, what eventually I moved into was helping therapists with marketing, with copywriting, things like that, that was a skill I already had. And I knew I could, you know, figure it out little by little, as even as I always say, is like a middle aged, non techie, suburban mom. If I can figure out the internet, anybody can, oh, my goodness, my husband still can't believe it. But that grew pretty quickly. And I discovered that actually, what I really loved were when I would get therapists clients who were moving into kind of a next level of their own life. So they were like, I'm thinking about coaching, I'm thinking about how do I create an online course or they're wanting to run a retreat or things like this, and that jazz, my creativity, so much work thing with them, and I loved it. And what eventually grew through all of that is that over time, I came to develop the only coaching certification that actually exists for people who are therapists first. And so it gives the therapists credit for everything they already know, everything they already do, all those years of grad school, all those years of sitting with clients. And it sets you apart a little bit in the coaching world. We call it the clinic coach Academy. It's the clinic coach certification. And so that's what I do now. And we teach therapists how to step in to their next level, how to outgrow the office. For a lot of people, it ends up that they're doing work that they feel the most called to do than they've ever done because they're able to really finally niche down to things they're really passionate about, use all their creativity, use all their personality, bring their true authentic self to the work in a way that you don't always experience as a therapist. And so that's what I do now. I love it. It's a lot of fun.
Gordon Brewer
Oh, yeah, that's great. And, you know, it's funny, because as I was telling Katie, before we started recording, I've actually got one of my therapists. She's been with me the longest, and she's really reaching that point. Where she's really thinking, Okay, I'm ready to do something different. I'm ready to do something a little more. And she's, you know, say same. Same scenario. To some degree. She's mom, she's a single mom and she's your her kids are getting older and she's having to spend more time doing things with them, all of those kinds of things. So Really looking at that whole, whole process? And I think for those of us that have been doing it a while, we realize that they're we reached this kind of glass ceiling to some degree. And so they're figuring out what is that next step? How do we do all this stuff?
Katie Read
Yeah, exactly. And there's the glass ceiling financially, I think there's the glass ceiling in terms of your time, like your therapist, same thing, where, at a certain point, when we learn to uncouple, our income from the number of hours or but can be sitting in a chair, suddenly, things open up, suddenly, there are new possibilities for bringing yourself to the work in a whole different way, and actually having a much bigger impact. Because you can now help more people than you could see in your therapy practice day after day.
Gordon Brewer
Right? Right. Yeah. So is you've done all of this? Tell us? You know, this is a question that comes up a good bit, how do you see the difference between moving into coaching or what some people refer to as life coaching versus therapy?
Katie Read
Absolutely, this is a really common question. And so the way I always define it, and that I define it for my clients is that coaching, you're going to deal with a non clinical level of need, therapy you can deal with anything, is as a therapist, you can help people with clinical levels of need, and you know, that somebody might come in with a clinical level of need, but a year later, they're doing much better. And now you're working more on actualization things, you know, higher level skills. So they're now in a non clinical level of need. But that's still appropriate for therapy, no coaching, because we do, I always want to give the disclaimer, as therapists we are held to our ethical standards, no matter what, whether you want to call yourself a coach or retreat leader, whatever you're held to your ethical standards, to me, that carries a certain responsibility that we explain the difference to our clients, that we are very clear about the difference. And an easy example I like to give because I think it makes a lot of sense to people, let's say, because a lot of therapists are experts in anxiety, for example, in your private practice, and you're seeing people with generalized anxiety disorder, and you're seeing people with really intense anxiety symptoms that are really hampering their lives, what you're teaching them what you're working through with those clients, you can actually take those same skills and apply them to people with lower levels of need. So you could apply those to people who get first date jitters, for example, here we have a non clinical level of need, Oh, I get so nervous on first dates, I just need some skills for first dates, or I want to move into public speaking, but Oh, I get so nervous. It's so hard, I just need some skills for public speaking, you can actually repurpose the skills that you have still be working with a population that you love. But it's just that they're not at that clinical level of need, where their life and their behavior is really deeply impacted.
Gordon Brewer
Yeah, yeah. You know, one way I've heard it kind of couched is is that therapy is more about looking at a person's internal world, and how their past has affected it and all those kinds of things. Whereas coaching is more working on a specific problem around a specific issue.
Katie Read
Yes, that's beautifully said yes, I love that. And I think and that's kind of the fun part with coaching is that often as therapists, you and I know, you choose a niche, and you get some people that come in, and they're in your niche, and they're a great client, but six months later, you're helping them with every single part of their entire life, whether or not you're truly an expert in that area, you're expected to be the expert in everything. And with coaching, because we do choose that one certain area that one certain problem. Now, we really, truly get to pick something that we love that we're passionate about, and that we can be an expert in. And you're not expected to also go solve their marriage problems and help them overcome their eating disorder, everything else. Therapy, that's just a realistic course of therapy. You're just helping with this one problem that you hopefully are passionate about, and that you love helping people with.
Gordon Brewer
Right, right. Yeah. I love that. So yeah, so what is people maybe are kind of thinking about this. I know that a lot of times I hear from folks, particularly people that I do coaching with and consulting with and we talk about this transition. There's a little bit of a pushback from what we get trained to do of saying, well, now I'm a therapist. I'm not I'm not a coach. I mean, anybody can be a coach, but I'm specialized and they kind of get on their high horse a little bit. You want to talk a little bit about that.
Katie Read
Sure. I mean, I think it's common and it makes sense and I think But the reality of the coaching world is that this is still a world in its infancy, I think coaching as a specialty as a thing that people are doing. Yes, it is a multi multibillion billion dollar industry, it is still a baby industry. And because of that it is kind of the Wild West, right? Like anybody can wake up tomorrow and be like, I'm a life coach now. And the trouble is, if that person has the brother in law, who's a website designer that can build them a beautiful website, by the weekend, they are going to look like a better life coach, then you as a therapist will when you're home, trying to do it yourself on Wix and figure it all out as you go. That is one of the challenges, right? That was part of actually my impetus in creating the certification and actually calling it clinic coach, a clinically trained coach, just to help people set themselves apart a little bit. I would not be surprised, given that I do feel like coaching is still in its infancy. It would not surprise me one bit, if eventually, as coaching grows through its adolescent stages, if eventually, you actually do need some sort of therapist background, to be able to call yourself a coach, I would not be surprised if coaching begins to codify a little bit and say, Okay, actually, no, you do need a psychology degree, or you do need some sort of therapist background or therapist license, whatever it is, before you can use that title and call yourself a coach. But we're not there yet. And it is the Wild West. That said, and this is always the caveat I'll give. And people get mad at me for saying this. But there are crappy therapists, there are great therapists, just like there are crappy coaches. And there are great coaches, there are crappy accountants and they're great. field has this. And so as therapists, I truly don't think you can throw out the baby with the bathwater on coaching, the reality of coaching in a lot of ways, many people who might not be trained therapists, they might still come in with a lived expertise with an experience that they have gone through that now they want to help other people with. And in fact, a lot of the therapists who come into our program, they're not necessarily coming in and saying I want to use my therapy expertise, they're coming in and saying, I went through a terrible divorce. And I want to help other people so that their divorces don't have to be that bad. Or like, in my case, I'm a Special Needs mom, maybe I'm gonna go try to help other Special Needs Moms, because I know the depth and emotion of that experience, just from living it not because I was ever trained in school and anything like that. And so that's part of where we, as therapists, I think, get to be more human, as we start to outgrow the office, because we can bring in more of ourselves and what we love and what we're passionate about, but also just our authentic life experience.
Gordon Brewer
Right, right. Yeah. So say more about outgrowing the office. I love that way of catching that. So yeah, yeah.
Katie Read
For me, when I think about it, and what we see in our clients is that there are a lot of people who hit a certain point in their career where maybe they've been a therapist already, they've had their private practice 1015 years, you know, it's going well, they're making good money. Like they're, they enjoy the work, they're happy with it. But they also hit that point where they've looked around and they've been like, so I've got 20 years until retirement. Am I just coming to this little office every day? And just seeing a couple of clients every day? And kind of having a lot of the similar same conversations every day from now until then, like, is that really it? And they hit that point where they're kind of ready for the next challenge? And they're starting to look around and think well, what if I have more to offer? What if I have more creativity to use? What if I have more of my story to tell? And that becomes the catalyst where they start looking around going, Okay, how what else could I do? Where I'm still a helping professional? I'm not just burning out and leaving the field like many do, I still want to help people? How can I do it in a way that creates more freedom, or more vitality or more excitement again, I always think back to when I was in grad school, I was like the nerd that ran home to read my books because I was so excited about everything we were learning. You know, you'd get together with all your friends in your cohort and just talk talk talk all night about all the cool stuff you were learning. And it's funny then we go through all the years of working you don't necessarily find that level of excitement again. Until for me at least and for I we have people in our group all the time coming in going, oh my gosh, I just stayed up all right, working on this because I was so excited. Look at what I made you guys. And it's you find that excitement again. Because you're learning so much new stuff. You're on that new learning curve, which so many of us are just lifelong learners and that's what good isn't motivated anyway. And there's just excited to be there. And what I find really cool is that like, I'm a Gen X person, but I find more and more and I, I think social media for this, I think younger and younger people, millennials, even Gen Z are realizing sooner, the thing that took some of us into our 40s to realize, which is Wait, I can do more. There's a lot of people out here doing more, there's just therapists on the internet, putting content out people writing books, people, leading retreats, if they can do it, I can I and people are jumping in younger and younger and just exploring what the bigger possibilities are for them.
Gordon Brewer
Right, right is that it's that whole overcoming impostor syndrome kind of thing? Because, yes, particularly for those of us in this in this field, the our knowledge just translates in so many different ways. As far as the different things that we can do with our, with our, you know, our knowledge.
Katie Read
Well, and it's interesting, I find over and over that therapists as a whole, we devalue, and underestimate how much we actually know, compared to the average layperson who did not go to school for psychology. And so I have people in my group all the time who come in with that impostor syndrome feeling like, you know, I'm not the top Harvard researcher in this area, I don't have a famous TED talk about this topic, and therefore I am nothing, I have nothing to offer. And getting through that barrier when they start to go out and talk to their own potential clients. And they come back into our group, and they're like, I talked about the most basic stuff that I just thought everybody knew. And this client was blown away. They had never heard anything like that before. Like, right, you know, so much. And you don't realize how much you know, currently, because we all probably talk to therapists all day. So this is like our language. Right? Right. And so we're used to it, but the average person is like, wait, what, like, my thoughts? Create feelings? Wait, what? You know, there's a link there. Those things?
Gordon Brewer
Yes. Yeah. It's that whole phenomenon. We don't the curse of knowledge to some degree. I mean, it's just kind of like we can, we're at a certain level, but there's just not. Other folks are not.
Katie Read
Right, because right, you went to grad school you studied for those exams, you've sat, you know, things so deeply in your bones that you don't give yourself credit for often as a therapist.
Gordon Brewer
Yeah. Right. So if someone is thinking about it, this is getting their wheels turning, and they're thinking about, Okay, what would it mean for me to pivot into doing moving more to a broader reach with, with what you're doing? I mean, it's that that whole phenomenon of going from the one to one way of providing services to the one to many, what would you say is the starting place for folks?
Katie Read
So, interestingly, I actually still recommend when you move over, and you start offering coaching, I actually recommend still starting one to one for most people, not for everyone, but for most people, and here's why. It's a different language. So you're learning to speak a different language, it is a more problem first language, because if someone is on the internet, and they're saying, you know, my husband never listens to me, and they're trying to go find that solution on the Internet, what do I do to make my husband Listen to me, they're in the problem in their head. And so we cannot come in as therapists and go into a coaching space and say, I help people find joy and love and balance in their marriage. It's not targeted enough, they're like, you don't get the problem, we that's a bigger problem than that my husband never listens to me. And so we actually need to train ourselves to come in and say, Oh, I help people who feel like their husbands never listened to them. I help you open that communication backup in your marriage, I help you guys get back on the same page. So we need to first learn how to do that and articulate what we can do what we can help people with. And then we learn to kind of package our services like yep, this is what I help people with. And I have an eight week coaching package. And these are the various things that we do in these eight weeks. And this is the cost of it. And so we learn to sell ourselves, we learn to sell our services. And for me, I know a lot of therapists get sort of turned off by that word sales. I don't know about you. For me, I am extremely security motivated, and I always have been. And when I realized that learning to explain what I can help people with, explain it on the internet, which is different than like one on one face to face, explain it on the internet, explain on a webpage what I can help people with and actually accept payment for my knowledge for my services. This is the universal skill Security. This is the skill that helps us like when I moved one state over my security as a therapist was ripped away, I no longer had a license the end like full stop, it took a year to go through the whole long re licensure process. That was a terrible feeling. And that was definitely a motivator for me was, I never want to have that lack of security ever again, I want to be able to create my own income, when and how I need to do it. No matter what my family needs from me, no matter what bizarre hours I need to work, I want to know the unsecure and my ability to create my own income. And so to get back to our original point, why I recommend starting one on one is that you have those initial one on one coaching clients or consulting clients or people who sign up for your online course, you learn so much from them. Because you learn how to get on a call and talk to people about what you do. You learn in the moment from the questions that they ask what people most need from you what they're coming to you for. And you then you can take all of that. And once you've done those first couple of one on one clients, now you have a better sense of all of this. Now, if we want to start to maximize your time, now we can move into small groups. Now we can move into large groups we can move into also maybe we can move into retreats, you know, whatever it is you see yourself doing. But you need those foundational skills of getting those couple of one on one clients. Meanwhile, you're gonna do something you're very familiar with building an email list, starting to just give value to let people know who you are, what you can help people with. And that's how that little word of word of mouth starts to grow. The little buzz starts to grow where people say, oh, yeah, Katie? Oh, yeah, yeah, she helps people if their husband isn't listening to them. But I know a coach that does that. And so that is where you now start to little by little become the go to expert in your area. And this is where now suddenly the world opens up. Because you can offer any number of things. You can write the books, you can speak at the conferences, you can host the retreats, you can just run evergreen coaching and online course packages, whatever you want to do, it becomes anything, we actually just had a client, which was super exciting. She was just contacted by a TV station, because they are doing they want to put out a big national show in the area of her coaching niche. And they wanted to talk to her about being the expert on there, which is incredible. Like, you just never know what kind of opportunities might pop up when you start putting yourself out there.
Gordon Brewer
Right. Right. Yeah. The it's in much of the same way it is with our practices, there is no lack of people that need our help with things. Right. Exactly. And so it's a matter of positioning yourself in such a way that they can find you. Yep. Yeah. Completely. Yeah. And that's, that's just marketing. 101. Right.
Katie Read
Exactly. Yeah, well, and I think of marketing, I know that so many therapists are like, Oh, marketing, it's terrible. It's a dirty word. To me, marketing is just what you said, letting people know that you're available to help them. And the kind of beautiful thing I think about social media as much as there's a lot of things that are not beautiful, social media. But one beautiful thing about it is you actually have a free platform where you can be yourself, and trust that the people who are going to be drawn to you will find you and will just through you being yourself that you will build that authentic connection with some of these people who are meant to be your future clients. And I think it's another thing that gives therapists impostor syndrome as they might be thinking about a niche, and they look at it, and they're like, oh, but this other person is like the famous queen of that niche. So why would I even bother? Not realizing that the giant Titans, the kings and queens of these different niches, they don't have time to sit one on one with coaching, they don't do any of that anymore. And so for you to be able to be that person that someone is drawn to, and you have the time and you offer the service is amazing.
Gordon Brewer
Yes, yes. And I would, what I would add to that is that everybody has a unique voice and things and I think we, we all resonate with people at different times in different ways. And then it's, you know, if somebody, if somebody doesn't necessarily resonate with me, they might absolutely resonate with you, Katie. And so it's just, yeah, and so I think we all have our own style and our own way of doing things and, and I think that's, that's why there's more than enough out there for for everyone. Yeah. And
Katie Read
it's more than possible to for therapists to do it. I talk a lot about what has been important to me, which is, I say, creating a more freedom based life, and I had to really sit with What does That means to me and I, for me, what I came to was freedom, I kind of divided into three areas. One was for me that freedom of time, because like I said, I suddenly had all day speech and PT and OT and ABA and so many different things that I needed to be shepherding my kiddos around to, I needed to create a career where I could put my family first, I could work whatever bizarre schedule, I needed to work, and I could still make enough money to support us. And so that was that time freedom for me. And it's very different things for different people. We've had clients who had to go take care of an ailing parent, or had to go take care of a new grandbaby or any number of things that suddenly their time, they couldn't be the button share therapist all the time anymore. So time freedom is huge. I also think about values freedom. So when I say that, so part of that, of course, is just what do you value? What do you put first in your own life, what's the most important to you. And for some, that might be your family that might be traveling, showing your kids to the world, you know, whatever that is having enough downtime for yourself, making sure you build a schedule that works with your own psychology. And that's how much downtime you want to create your life. It can also though, for some of our clients, they might have a very woowoo side to their personality or a particular religion, that is really an important part of their value system, that as a therapist, they've maybe always kept under wraps. But when we step out into coaching, just like you said, people are going to be drawn to you I live in an area that is actually heavily Mormon. And I see coaches who are out here going I am Mormon, I help Mormon moms with XYZ. And of course, that makes complete sense. Because now you can step forward with that. Find the people who are like you will understand my life experience because we share this certain value. So being able to step into your own values, freedom. And then finally, of course, the financial freedom piece, which is what we always think about with freedom, which therapists sometimes get up in arms of you start talking about money, and yet I have yet to meet a therapist who's like I really want to own 10 Rolls Royces. Magic, like all of us just want that basic, good. Yes, life where if the car breaks down, you're not in a panic. It's not like you can afford your basics you can save for retirement, this is all we're really going for. And so that financial freedom to just know that you're taking care of you're living a life where you're not in financial panic day and night, like I know, I certainly was, especially all through my internship years and all my early practice years. I remember those days very well, the ramen noodle days. And so living a life where you're not there anymore, creating that kind of financial freedom is really how most of us are.
Gordon Brewer
Right, right. It's it's about the lifestyle we want to live. I mean, exactly, yeah. And it's a, you know, resonates with me, because, you know, as you mentioned with your kids, and my wife is disabled. And so, you know, the freedom I have with my practice now to be able to attend to her needs. And then when I first went into private practice, my daughter was entering high school when she was in the band, and all of that. And so it was involved with all of those kinds of things. And so, yeah, and so yeah, it's it's really, as people hear from me all the time understanding your why, and making sure that your why lines up with your practice.
Katie Read
Yep. Yep, absolutely. Absolutely. I
Gordon Brewer
love that. Yeah. So Katie, what have you got on the horizon? I know you've got lots of great stuff going on. And what's a new things? So tell us about that?
Katie Read
Yeah, we are. So a couple of different things. So number one, if anyone wants to find me, it's Katie reed.com. I only there's only one way to work with me, which is the six figure flagship program. The application for that program is on that page. And I have one of those names that you can spell 57 different ways. So it is Ka ti e r e ad.com. I'm sure you'll put the link there. But we actually have something else another just free offering opening up today. In fact, as I'm talking to you, I'm wondering how our technology is going in the back end because we just opened it up right before I hopped on with you. I got the idea. Recently, I wanted to stay more connected to clients who had graduated from the clinic coach academy after they graduated. And I just had a random brainstorm on my morning walk one day to just send out little two minute audio messages to folks via text just send them out in the morning on a number of different topics related to mindset and motivation and resilience and just all the things that kind of come up in our group but also just in daily life. And I started sending the Want to clients and it was really successful. And I thought, You know what, I'm gonna open this up for everybody. Because these are really not just for therapists. They're certainly not just for therapists becoming coaches, these are little conversation pieces that anybody could kind of work into their day, listen to it for two minutes on your way into the office, whatever it is. And so we're calling it the growing edge micro cast. It's like a little micro podcast. Yeah. And so we're just opening that up. And you can people can go if they would like to receive those. It's a little like I said, like a two minute audio. You can play me on double speed. Although I do talk kind of fast. You can go sign up for those. The option is that, Hey, Katie read.com. Or at Hey, Katie read on Instagram, either of those places, Hey, Katie, read, it's easy to opt in, we send you those you can opt out, obviously, anytime. It's all free. But this is my way. I'm excited about it. Because it's my way of taking what I've really learned and grown through as both a therapist and then in the last couple years of entrepreneurship, taking a ton of those little lessons learned, and maybe just hopefully giving people that thing, where once in a while, it's just exactly what you needed to hear that day. Or it's just the little reframe, or the little aha moment that you're like, Oh, I didn't think of it that way before. And we've already clients have been bringing them into their therapy sessions with their own clients, bringing them in the coaching session. So it's just that little like, you know, friend that you have a little two minute chat with in the morning, and then you can kind of think about it later on during the day. So we're excited for that.
Gordon Brewer
Yeah, that's brilliant. I love that. That's, that's really great. And what Amy? Yeah. And as Katie mentioned, we'll have this in the show notes and the show summary for people to get to easily with all these things. Well, Katie, I want to be respectful of your time. What parting thoughts do you have for folks?
Katie Read
You know, I think, Hmm, good question. I feel like, I'm so excited about the possibilities for all of us therapists right now. I feel like we're on the precipice of just so many different ways that therapists are finding sort of new respect in the world new acceptance, I don't think there's as much pushback on therapy as there used to be not, that obviously doesn't apply to every place in the country or in the world. But I feel like more and more of the younger generations are coming to appreciate therapy and understand it and just fold it into their everyday lives. And that as people grow, then also coaching becomes that next evolution for them where they're like, Wow, I'm really at a really decent baseline functioning right now. I'm not having any major mental health issues going on. But I have these other areas in my life that are still sticking points that I'd still like to improve upon. And for any therapist out there thinking, though, that's not really for me, somebody else will be better at doing that than I will. I'm just here to say to you, literally, the only people who will succeed are the people who stand up and start right now. Yeah, that's it. And there is no magic formula. This is the beautiful thing. I think especially like the rise of the popularity of Tik Tok and things like that. You don't need to be a supermodel. You don't need to be the top brilliant brain at Harvard, you don't need to be any of the things that we like to put in our way. I'm too old, I'm too young. I'm too this I'm too that none of that are no normal people average everyday people who just have that education, that life experience, and that willingness to help others are rising to the top so quickly right now. And I'm so excited to see it. And to me, this is the way that all of us can stay helping professionals, not burn out, not leave the field early, make more money, be able to live the good lives that we want to live, which he is is not selfish, it makes you a better therapist, when you are pursuing your own good life. It makes you a better helping professional, because you're speaking from the point of view of somebody who's there already. And then you can pull your clients up with you, which is a lot easier to do than being with your clients and being like you should really go there to the top of that. I've never been there. But it looks nice up there, doesn't it? Yeah, no, no, no. Get to the top of that hill, pull them up with you. It makes you an even better therapist in the long run. Yeah,
Gordon Brewer
yeah. I think the thing that I was the word that was kind of resonating in my mind as you were saying that, Katie is just the ability to make yourself accessible to folks. Yes. Yeah. I think that's that's so important. And just all the way around. Yeah,
Katie Read
yep. Completely. And that's accessibility is so big. Like if you go to Katie reed.com backslash freebie. We have a ton of freebies I'm there's way too many hours of me talking on the internet. But that is possible for any You therapists who do you can put out so much free information, so much free help, that really you become accessible to everyone at that point. And it's amazing to be able to do that. I love that and you too, you have a bigger impact beyond just your hometown, you have this much larger impact to be had.
Gordon Brewer
That's great. That's great. Well, Katie, again, I want to be respectful of your time, and I'm looking forward to getting getting together with you. I know. Really little plug here for our friend, Whitney Owens and the wise practice Summit. Katie and I both will be at that summit and I'm looking forward to it. And yeah, so I can't
Katie Read
wait. I will be nervously delivering the opening keynote. I just found out the other day I was opening night I was like, Whoa, no nerves.
Gordon Brewer
It'll be awesome. You'll you'll do great with that. Yeah, well, thanks again, Katie for being on the podcast and you know, we're happy having you back again.
Katie Read
Okay, good. Can't wait. Thanks.
Being transparent… Some of the resources below use affiliate links which simply means we receive a commission if you purchase using the links, at no extra cost to you. Thanks for using the links!
Katie's Resources
Resources
Meet Gordon Brewer, MEd, LMFT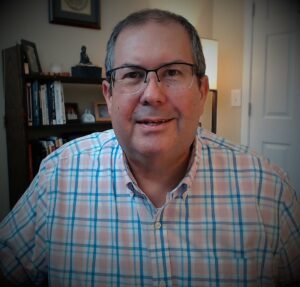 Gordon is the person behind The Practice of Therapy Podcast & Blog. He is also President and Founder of Kingsport Counseling Associates, PLLC. He is a therapist, consultant, business mentor, trainer, and writer. PLEASE Subscribe to The Practice of Therapy Podcast wherever you listen to it. Follow us on Instagram @tpotpodcast, and "Like" us on Facebook.