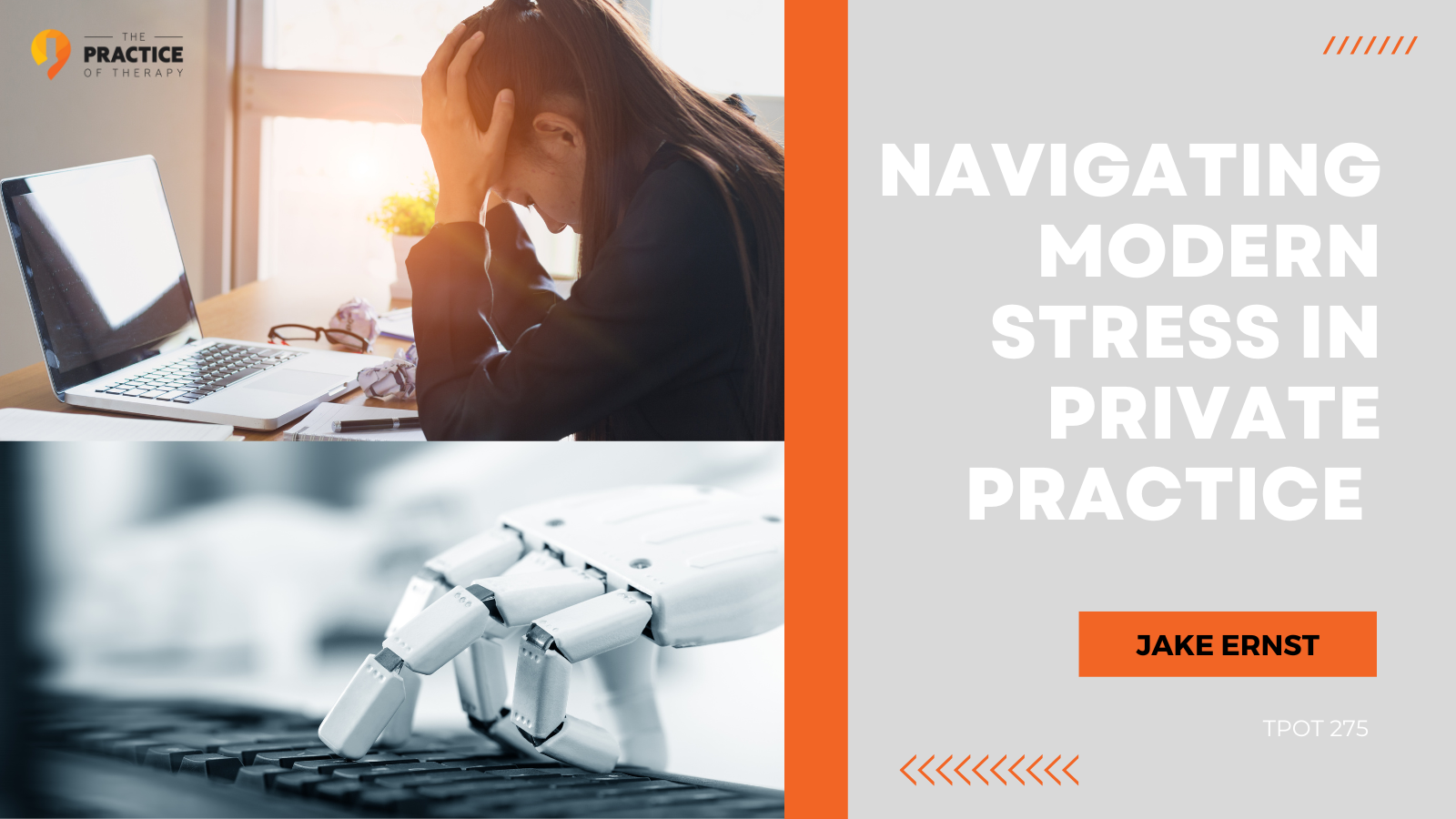 In this episode, host Gordon Brewer speaks with guest Jake Ernst, a therapist in private practice and clinical director of a group practice in Toronto, Canada. Ernst shares that he primarily works with young people and their families on skill-building for the modern world, helping individuals navigate stress in the current landscape, and unlocking potential in relationships through parent and family-based therapy. Tune in as Brewer and Ernst discuss the importance of staying current and adapting as a therapist in changing times.
Meet Jake Ernst
Jake Ernst is the Clinical Director at Straight Up Health, which is a mental health clinic for young people and their families in Toronto, Canada. As a therapist, Jake helps people identify patterns that keep them stuck so they can reconnect with themselves and build a life they love.
Navigating Modern Stress With Creativity
In today's world, navigating modern stress can be a daunting task. With the rise of social media and the ever-changing landscape of our lives, it can be challenging to stay grounded and connected to ourselves. Fortunately, creativity can be a powerful tool to help us manage stress and move forward. It can help us express ourselves, process our emotions, and find meaning in our lives. Creative activities such as writing, drawing, painting, photography, and music can help us to feel more connected to ourselves and the world around us. Creative activities also allow us to gain perspective and clarity, which enables us to manage our stress better.
Protect Client Privacy Online
In the digital age, we must be mindful of handling our client's confidential information, particularly regarding social media. Social media has become a massive part of our lives, and we must protect our client's privacy online. The first step in protecting client privacy online is to be aware of the laws and regulations that govern the use of social media, such as the Health Insurance Portability and Accountability Act (HIPAA). HIPAA is a federal law that protects the privacy of individuals' health information. It is essential to be aware of the laws and regulations that govern the use of social media and to abide by them.
Tech Companies Changing Therapy
Therapists must understand online therapy's ethical implications and potential risks to our client's well-being. Tech companies are changing the therapy landscape, but we must be mindful of the impact and risks of using technology in our practice. We must also be aware of the potential for further litigation and regulation of social media use as the research unfolds. Ultimately, it is up to us as therapists to stay informed and use our judgment to ensure that our clients receive the best care possible.
AI Bots Can Disrupt Relationships
The use of AI bots in therapy is a rapidly growing trend. AI bots are computer programs designed to simulate human behavior and can be used to provide online therapy services. AI bots can offer a convenient and cost-effective way for people to access therapy. However, there are potential risks associated with using AI bots in therapy. One of the primary concerns is the potential for AI bots to disrupt relationships.
AI bots are designed to simulate human behavior, but they lack the emotional and relational connection necessary for a successful therapeutic relationship. AI bots can provide a convenient and cost-effective way for people to access therapy, but they cannot understand the nuances of human relationships. AI bots can also be programmed to provide automated responses to specific questions, which can lead to a lack of personalized care.
Gordon Brewer
Okay, if you want to do a little blurb
Jake Ernst
just so we have the name, correct. You said it's practice of therapy.
Gordon Brewer
Yes, practice of therapy.
Jake Ernst
All right. Hello, everyone. My name is Jakers. And I'm very excited to be a guest on the practice of therapy podcast. And I want to share a little bit about myself, I am a therapist in private practice. I'm also the clinical director of a group practice in Toronto, Canada, I work with young people and their families, primarily, what I work with young people a lot on is skill building. For the modern times, I would say that I'm seeing a lot of kids and a lot of young people interested in doing therapy. But perhaps also not necessarily even in the clinical range of, let's say, more traditional mental health diagnoses. And so I see I'm doing a ton of skill building with kids and just helping kids make sense of the world that they're in the current landscape that we all find ourselves in, and really just sort of navigating just the stress, modern times. And in addition to that, I work with their parents as well. And so I, you know, I, I do a lot of parenting work and family based therapy as well, to help people be their best self and unlock their true potential, and to support themselves in their relationships.
Gordon Brewer
Well, hello, everyone, and welcome again to the podcasts. And I'm looking forward to you getting to know Jake oeuvres. Welcome, Jake.
Jake Ernst
Thank you for having me. I'm happy to be here. Yes. So
Gordon Brewer
I'm excited to get to know Jake. He's a fellow podcaster. And also is doing some great work as a therapist up in Toronto. But Jake, is always start with everyone. Tell us a little more about yourself and how you've landed where you've landed?
Jake Ernst
Yeah, I love this question. Because I think it recently I've started to talk about myself as not my profession, but just the person that I am, I think that when I get into these spaces, I think it's really easy to collapse ourselves into the job that we do and the work that we do and what we get paid for. And so I a little bit about myself, I am a really creative person and a deeply creative person at that, I would say that a lot of the reason why and how I saw show up on social media and online is through the access point of creativity. And as a therapist, that's another way for me to access my creativity, so that I can share those really deep, you know, desires to create and make and just make complete a lot of the things that feel really abstract in my life in my worlds. And then of course, in my relationships. And so I tried to through my creativity, explore various themes. And I think that well being is one of the things that constantly comes up for me. And I think that has been true throughout my whole life. I really early on, my mom told me that she's like, you're going to be a helper, you're going to help other people, you have this white light around you and you're going to be a helper. And I never really knew what that meant early on, I thought that it meant that I had to become a doctor, I thought that it was just my calling. And so I put the doctor hat on for a while. And then I was like it doesn't really fit. And so I decided to help people in other ways. And I just I decided to become a therapist, specifically a therapist working with young people and their families, because I think that childlike essence is just so special. And for me, I just love watching kids grow and helping them be their best selves. So I think that often therapy as a profession requires us to erase our personhood. I think a lot of us, you know, of course, come to this work, and we don't talk a lot of our selves at work while we do our work. And being online and just you know, being able to create and write allows me to also hold space for both of those.
Gordon Brewer
Right, right. Yeah, you know, it's it's interesting, just thinking about bringing ourselves to our work. One of the things that I've really tapped into a lot more here later in my career, and I'm not going to go into how long I've been doing this. But one of the things that I think gives all of us credibility in our profession, is doing a bit of self disclosure, about our own struggles in our own lives and that sort of thing, because I think that makes us much more engaging with people and, you know, one of the cornerstones of, of therapy is being able to engage and bond with people and that sort of thing. And so I think that that's one thing that that really helps with that. So kudos to you for taking that approach with us in your therapy. So,
Jake Ernst
yeah, I mean, it's one of the it's one of those things right where I think it's so easy to kind of get so Orual bound and rigid around what is the right way to be a therapist? And what is the right way to show up perhaps even on social media, or even online and sharing, you know, of course, and making this work more accessible for folks, and D stigmatizing conversations that we know need to be d stigmatized. And so I agree with you there.
Gordon Brewer
Yeah, yeah. So I know that one thing that's a passion of yours is social media. And just, you've put a lot of thought into talking about how it's affecting us as a society and kids especially. And so tell us about all of that.
Jake Ernst
Yeah, I think so as I should say, I'm a millennial. And so I would say that I have one foot firmly planted into pre internet days. And then I have the other foot kind of firmly planted in the growing up online days. I would as as a millennial, I remember, you know, dial up internet, I remember coming home when the streetlights, had to come on. I remember playing outside with my, my brothers and sister. And I remember, you know, just having a play based childhood, and one that was just taught me so much just by accessing those parts of myself. However, I think that what I'm starting to see is we're moving into this era of phone based childhoods. And so there are many kids, of course, we're growing up right now, having phone based childhoods, and not necessarily enabling them to build the skills and to, to be able to figure out like, how do I be human in this really complex, modern world, growing up, and so I sort of being kind of on, on both sides of that fence, really interested me as a therapist, and I have to say, there are no children that I'm talking to nowadays, that don't bring up social media. First there, they talk about this all the time is just being such a big part of their life and a big part of their emotions, their relationships, their friendships, their thinking patterns, like you know, it's starting to, you know, even just come into how they understand themselves and their identity, their social development is really tied up in this stuff. And so I think, as a therapist, especially one who works with young people, nowadays, we really are wise to not separate them, meaning separating social media from the reality of kids. It's just, they're just so intertwined.
Gordon Brewer
Yeah, yeah. And I think, you know, I'll say it out loud, folks, some of the boomer generation. And so I've been on that, that crux of moving from the analog world world to the digital world, and seeing all the changes that have occurred. And, you know, our, our digital world and online world is not going to go away, it's, you know, not to get too far down a rabbit trail, but just this whole advent of AI technology. And, and all of that is just mind blowing at this point,
Jake Ernst
is, you know, I, usually when I speak about this work, I like to sort of frame it from a historical perspective and talk about some of the major revolutions that just says humans we've had to sit through. And so one of the big ones that comes to mind, at least over the past century is the steam revolution. That was a really big shift, and just really changed a lot of the ways that we do things. Of course, electricity was another major revolution that we've had to sort of sit through, and just really make sense of like, how does this change the way we work with the way that we relate the way that we connect the way that we play, and you know, the way we make money even. And then, as of recently, we are undergoing to other major revolutions as well. There's the computing revolution, which was, which, of course, was the internet days. And then there's also now the intelligence revolution, which is AI, web three, and all that kind of stuff. And so I'm not sure how much information people know about this stuff. But there's web one, which is the internet. Then there's web two, which is, you know, social media and websites and E commerce, that sort of thing. And then there's also web three, which is now we're starting to sort of see wood, which is blockchain and intelligence, Metaverse, that kind of thing.
Gordon Brewer
Yeah. I've not heard those terms before. That's a good, a good category. categorization of all of that, I think. Yeah. And it's,
Jake Ernst
especially from the standpoint of how it's going to change the way that we practice and change the way that we do therapy as well, I have, I've been kind of keeping my pulse on just how this is going to change the ERP. And we are already starting to see a lot of these internet based therapy providers, which I think we could talk about, of course, some of the risks and risk and ethical dilemmas associated with those right companies. And I should be clear, they are a tech company, not a health company. Those Those things are those companies are starting to use intelligence in a way that I don't think that as a therapy professional, we're really ready to grapple with how that affects people's well being
Gordon Brewer
right All right, yeah, well, this might be a good segue into a topic that I think he could probably speak to. Because it has to do with social media. And that is this whole thing of confidentiality protecting people's privacy. But yet everyone is putting their information online and social media. And so how do we navigate that as therapists and that sort of thing? I mean, it's kind of like, I remember hearing at one conference I went to, and I think it was a thing illegal, unethical, and they said, Absolutely do not look at your clients profiles. So, you know, I don't know the correct answer to that. But that's, that's probably something that we all do. At some point, you know, we get curious about our clients, and then look at, you know, their profiles and say, Oh, this is what's going on in their life, or this is how they see the world kind of thing.
Jake Ernst
It's an interesting conversation just about boundaries in general, right. I think, with this, you know, really unbound read level of access that we have. I think that yeah, like, of course, there are, there's the option to do that. And those options may present themselves, especially as a as a person like myself, who writes online, and I produce content publicly. There are clients who have come to me and said, Oh, I follow you, or I read your work, or I really liked what you said about this. And, you know, of course, I have to wade through the many ethical complications of not that navigation. And I think, to your question, like, what is the right answer? I think the challenge is that there are many right answers, right? Yeah. And I think the way that we're all going to sort of sit through those many right answers is, I think we're gonna see some regulations changing. And quite frankly, some of the really, you know, traditional norms around therapy might even change to, for example, around self disclosure, and I come to that prediction, because a lot of the clients that I work with right now, who are, you know, younger and have grown up in, you know, this age of, well, I know, a lot of things will a lot of people, and why is my therapist withholding all this personal information? I'm noticing that a lot of teenagers now want self disclosure, they want to know, like, have you had anxiety before? You know, they're and they're not afraid to ask those types of questions.
Gordon Brewer
Right. Right. Yeah. So yeah. So how, how are you thinking about social media and the effects that it's having on us? Is, I guess, is not only as therapists but also as a, you know, world in general.
Jake Ernst
Yeah, I'm following closely some of the research of Jonathan Hite. He is a professor and a researcher at in New York. And he is, you know, really leading the charge on this really big kind of question of our time right now, which is, what is the impact of social media on teen mental health? And is are there causal links there as well? Does Social Media cause the rise in teen mental health? And so for? To answer your question, I really kind of come back to this that question, which is, what is the relationship between technology in general and well being, and it's one that I hear about every single day with young people and families, whether that is, you know, anything with regards to, you know, screen monitoring, or screen time and consequences thing? And, you know, these are where parents are going to nowadays, when they're thinking about like, what are the consequences? Well, I can use screens as consequences. And so I'm not even just talking about, you know, what are the health impacts, of course of like scrolling on our phones, and the dopamine dependency and the loops that we fall into, although that is, of course, a layer, but I think it's just permeating every aspect of life, whether that be home school work, you know, I think it's really for me, it comes back to what are these big questions that we, as let's say adults have in our control? And so in my mind, those are things like age dating, social media, answering the question of when should kids get a cell phone? And how long should they stay on the iPad, versus transitioning to a phone or a smartphone. And so part of that part of the really big challenge with that is that the research is unfolding currently. And so in terms of best practice, and a lot of the evidence that we of course, rely on to make these health decisions. We don't necessarily have a lot of these answers yet. And I think that my prediction is that social media litigation is going to be the next tobacco litigation. And interesting, I think that we are going to have to see some some further litigation on this in order for these big companies to make changes so that they can further set some limits and parameters so that parents can also start to fully understand the impacts and its effects.
Gordon Brewer
Right, right. That's, that's it distinct concept just Yeah, thinking about. I've never heard anybody put it that way, the next tobacco legislation kind of thing. And I think, well, we're seeing the crux of it right now with what's going on in Congress and the Tick Tock and that sort of thing about protecting information and all those kinds of things.
Jake Ernst
We sure are and you know, we were seeing the many layers of just that specific issue really kind of permeate right and really branch out into other these other questions, right, not just for example, you know, the mental health of kids, but some of the geopolitical impacts that these types of technologies are having on our relationships to ourselves and to each other. And I think that, for me, the, the really important point to surface there is that it changes how we connect with each other changes how we relate to each other. And so, as a therapist, I have to wonder, does this change us at a deeper level? And does it change, for example, the way that we develop and grow and the executive functioning skills, let's say that we of course, are evolved, have evolved to, to utilize?
Gordon Brewer
All right, right, where, where do you see what do you see happening in our world is, as therapists What do you you know, you mentioned earlier, just the the tech companies kind of jumping into jumping into the therapy arena. I mean, as far as the you know, not not to call anybody out on this. But when we say tech companies, I think of things like BetterHelp, and talkspace. And those types of things that are just advertising prolifically now. And, yeah, so your thoughts on all of that?
Jake Ernst
I, what I'm starting to see. And what I have been reading about and following quite closely, is just how these companies are using things like algorithm and intelligence in order to inform their work. And specifically inform their technology and change the way that it allows them to roll out different services as an example, there is suggestive evidence that says that there are many of these companies who are using intelligence and AI bots in order to optimize the access to that and matching of therapists. And so there is sort of that kind of ethical question, right, that remains of how can an AI bot match better than humans can? And so I think there is a balance between Well, there could be a potential that it could, especially if, you know, we want to improve the speed at which we do so. But then I think it also really kind of goes back to the ethical piece of how much information does an AI bot need to know about someone in order to actually inform that matching process? And so another way that the AI, is showing up in therapy as well is with some of the text based services. There have been some questions. I'm not here to make a declaration or to make a link here. But there have been some questions around who's to say that that isn't an AI bot on the other end of that text message? Who's to say that that is a real person on the other end of that techspace support? And so I think that part of you know, where my concern sort of lies, is that when we are starting to use AI to provide therapy, like where are the checks and balances? In doing so, where I, where I've seen, one of the bigger kinds of questions come in is also in clinical supervision. There's some also suggestive evidence that says that some of these companies have been using AI bots to run alongside a therapy session with a clinician and client, so that you can have in the moment clinical supervision happening on the screen saying ask this question, or hey, have you thought about pursuing this direction? Have you thought about like, maybe going this route? And so again, it's it's all that privacy data stuff, right, that really collapses into the AI the AI question?
Gordon Brewer
Yeah, there's, I've heard a lot recently about, well, we've heard it across the, across the board across a lot of professions, like medicine for one and then law, about the AI bots, just being being able to, you know, tap into that knowledge. I mean, like, you know, an AI bot, giving you a medical diagnosis based on the symptoms that you have, and the blood work that you that gets fed into, you know, these different, you know, databases and they're able to pull from it and it's just a one hand, it's kind of miraculous, but on the other hand, it's kind of scary. In that sense.
Jake Ernst
One of the things that I really am sorting through is this question of Is This a moral panic? And therefore just some like adjustment challenges, or is it actually a cause for concern? And I, I walked that line pretty often that I think sometimes it is, of course, our fear of the unknown and your discomfort with it being a bit unchartered. And at the same time, I think that there are certainly some risks that we haven't explored before or haven't seen. So it rightfully so, you know, raises the alarm bells.
Gordon Brewer
Oh, yeah. Oh, yeah. And yeah, there's Are you familiar with Seth Godin. And his he has a podcast called a Kimbo and recent episode talked about this exact topic about, in fact, the whole, the whole episode was set, Golden's voice that was duplicated from, from from artificial intelligence. And he kind of tells that at the beginning, but also says it at the end, and I'm a regular listener of that podcast, and he could not tell that it was actually him, it was actually, you know, a computer generated voice that matched is so I mean, yeah,
Jake Ernst
yeah. So, you know, to that exact point, I think it's going to revolutionize many of our systems that we currently have in place, and therefore is going to disrupt a ton of things, and the ways that we work and the ways that we connect, and I think that I worry about how these things take over our humanity and take over the things and features of our human system that we need in place in order to survive, and in order to be well, and in order to be healthy. I think that the connections that I sort of made to a lot of these revolutionary changes, do sort of map on and sort of capitalize off of the already, like functioning systems that we have in place in our own bodies, for example, I see the overlap between the way the algorithm works, similar to how our nervous system circuits work. And I think that it's that that impulse, right, that sort of sense of, you know, it's, it's quite random, there's a bit of a slot machine effect to it, that different situations make us feel different things or think different things or, you know, change the state of our stress system or stress response in our body. And, yeah, I think, I think that there has been a lot of research into how these systems operate. And just quite frankly, how powerful they can be, when they look at like the algorithm, for example, on Tik Tok, it is the most powerful algorithm algorithm of any of the social media apps, it is just so good at what it does, and the hardware is swell out there. And that is exactly why it's so dangerous and so ethically challenging.
Gordon Brewer
Right, right. Yeah. Well, it's it. Yeah, I think you're, you're right, I think the implications for us, particularly in our field, you know, just thinking about, just from a relational standpoint of, of, you know, one of our core human needs is to be connected to others, and, and to be able to have that relational thing. But it's almost like, what is happening is, is that we're getting a relationship with this artificial thing. And, yeah, and so it's, yeah, it's just me thinking about, you know, what happens in the brain with that with the dopamine response, all of that stuff? Is something we're dealing with. I mean, it's just, you know, I do a lot of work with men that are struggling with sex addiction, particularly pornography addictions. And it's, it's, what it does to the brain is, is, you know, is there the research backs it up? And so it's just, yeah, it's a it's a whole phenomenon. That's just gonna continue to kind of blow up, I think,
Jake Ernst
I yeah, I totally see that in, you know, there's, of course, the dopamine piece. And there's the oxytocin piece, I know, with, with respect to our phones, like it has really significantly decreased the amount of eye contact that we're making with each other. And it's just really, really changing just the ways that those really subtle ways, right, that we connect, I think about, you know, the ways that, you know, touch has has been impacted. And quite frankly, a lot of just our sense perception in general. And just the way that we use our senses to connect with one another. So things like listening to each other, making eye contact, touching, right, just being able to be present in a very physical sense. It's, it's turning it into a different connective experience.
Gordon Brewer
Right, right. Yeah. So what are you what are you seeing as the way forward with all this stuff? I know we've been hitting a pretty broad but important topic here.
Jake Ernst
We are. I see many solutions sort of on the table and I I'd love to see, of course, legislative changes that will cause some companies to really take this stuff seriously. As an example, the Facebook files that were leaked in 2021, in the fall of 2021, showed that, so there was a whistleblower who leaked this, they showed that there was an impact of teenage mental health, and specifically the mental health of girls on Instagram. And that's an that's a really key example that I point to, as a way that in evidence for why these changes should take effect. And so what I would like to see is one person one profile, I think that would really change the experience of being online, specifically through the lens of anonymity, but then also just through the lens of, you know, the filtering that we personally do in order to decide what we're going to put out there what we're going to say. So I think one person, one account will be important change. Another one is age dating, social media, I think that there should be no middle schooler who is going through puberty and going through really rapid social development, doing it online, and doing it with a front facing camera taking pictures of themselves and comparing themselves to other people. I think that age gating social media, I, you know, maybe Bolden saying this, but I think it should be at least 16 or 17, before kids should be allowed to freely use social media. And I also think that if there are going to be younger kids online, then there should be limits, there should be by the companies that if your profile is set at age 14, you should only be allowed one hour a day. That's what the data is saying is that once kids get into more than two hours per day, especially then that's when we start to see the mental health effects. From a parent side of things, I think one of my main recommendations is no phones and bedrooms. I think that as soon as kids get quiet and private with the phone, I think that's where we start to see some of these challenges take place to specifically past 12am. So I would say no phones in bed, in the bedrooms past 10pm. And really, especially no phones overnight, because that's when kids start to go inward, and they start to encounter some pretty dangerous themes and some pretty dangerous things. And so I think that like guardianship element is really important. And then I think overall, you know, I really try not to personalize a systemic issue. And I try not to overshare on all these like little personal things that we can do differently. Because I do think that is a broader conversation. So I'll say that caveat. But I think that we are all at a place where we are all going to have to figure out what is our own relationship with dopamine technology, overuse, what is actually healthy for us. And I think that we should start treating it like food, we should start treating it like other things that we put into our body or consume. And I think that it's going to become, you know, lifestyle, diet stuff, social media habits, you know, fitness and movement stuff. I think it's just going to become another really important branch of healthcare that we need to talk about.
Gordon Brewer
Right. Right. And we haven't even touched on gaming yet. I mean, that's just Yeah, yeah. Same same category. Yeah.
Jake Ernst
Absolutely. Absolutely. And so I think I think I think with anything, there's the personal habit component, right, which is that, which is to say that in schools, I think we should start educating kids about these types of things. And this isn't just, you know, phones and social media apps, right. We're also talking about, you know, things like gambling apps, we're talking about pornography, we're talking about email, right? We're talking about just the ways that we are so looped in and connected to these really designed to be addictive apps and websites. I think some kids in video games, I know there's a big discussion about like, are video games violent? But that's actually not, I think the conversation that we need to have, I think we need to have the conversation of how much is too much. And are you indulgent? And are you doing too much of it? Regardless of the theme? I think that what I would love to point our attention to is, you know, we can't just be living online, we can't just be doing one thing all the time. We need diversity, and we need to build our own personal habits around this too.
Gordon Brewer
Right? Right. Yeah. Well, Jake, I know, I've got to be respectful of your time. And it's this is, this is a long conversation, a long topic for us to you know, pack into a podcast, but tell folks a little bit about how they can get in touch with you and also tell them about your podcast.
Jake Ernst
Yeah, absolutely. So you can get in touch with me probably on social media is the best place. I know. We just. Yeah. Yeah. But you can follow me at MSW. Jake. That's where I post a lot of my thoughts and quite frankly, a lot of my analysis of things that I'm seeing in the therapy room and beyond. And I'm also writing on substack which is where I have my newsletter. So if you want to just search eneste Have you Jake, on the substack app, or also the sub SEC website, you can find my longer form writing that you wouldn't find on social media. And finally, I have a podcast where I also talked about this kind of stuff, just like we are here. So the podcast is called this isn't therapy. And I do that with my very best friend Simon, who is not a therapist. And it's just a fun time, we like to have a laugh, and we'd like to talk about some of the things that are happening in your life.
Gordon Brewer
Yeah, and I'm looking forward to listening to that. Yeah. So it will have links here in the show notes in the show summaries, so you can get to that. So any parting thoughts here? Jake, with all of this?
Jake Ernst
Yeah, I think my parting thoughts are that I think that we are all digital natives, right? We are just also new to this. We are all so new. And in any process of newness. I think that we just have to go slowly practice that self kindness and really practice discernment as as challenging as that is. I think that we need to find ways to access our own sense of self and just figure out what we need in relation to all these really big challenges that are coming our way. And, of course, that is not just related to technology.
Gordon Brewer
Yes, yes. Well, thank you for the work you're doing and I really looking forward to, hopefully us getting together again and talking more about these things because I think it's important, important and relevant to all this going on in our world.
Jake Ernst
Meet Sue Gordon, congrats on all your success. All right.
Being transparent… Some of the resources below use affiliate links which simply means we receive a commission if you purchase using the links, at no extra cost to you. Thanks for using the links!
Jake's Resources
Resources
Meet Gordon Brewer, MEd, LMFT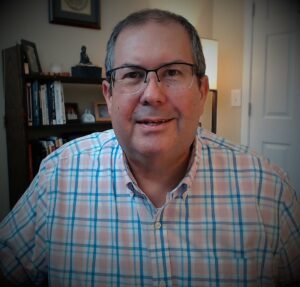 Gordon is the person behind The Practice of Therapy Podcast & Blog. He is also President and Founder of Kingsport Counseling Associates, PLLC. He is a therapist, consultant, business mentor, trainer, and writer. PLEASE Subscribe to The Practice of Therapy Podcast wherever you listen to it. Follow us on Instagram @tpotpodcast, and "Like" us on Facebook.