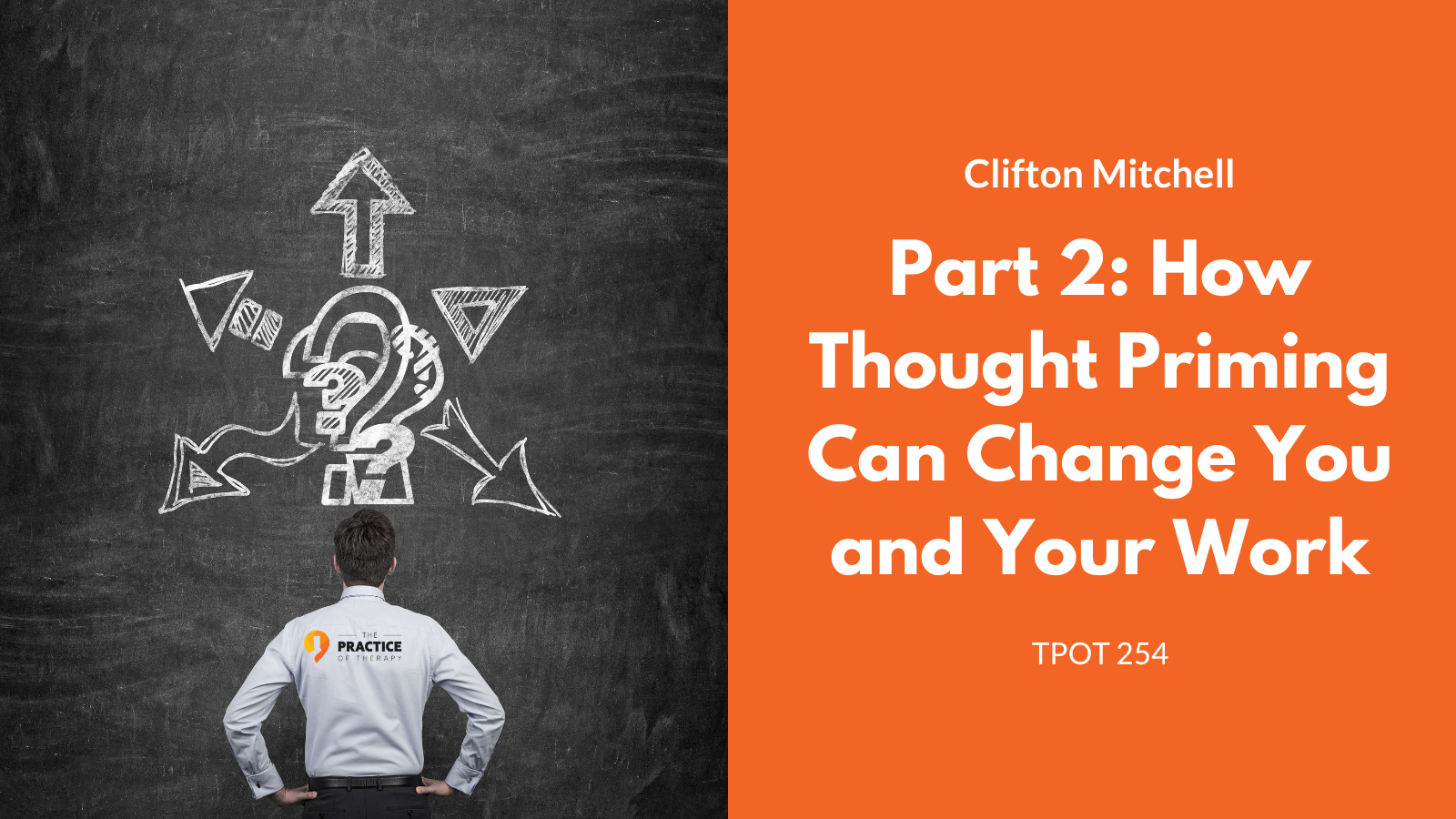 Engaging empathetically with clients is a big part of therapy, but it is essential to incorporate targeted strategies to achieve maximum improvement. In this episode, retired professor Clifton Mitchell continues his discussion on maximizing the benefits of therapy sessions by targeting the subconscious and using specific language. Tune in this week to learn how Mitchell's methods can reprogram bad habits, dissatisfaction in life, or general frustration by using neurology to intentionally target triggers and reprogram the mind.
Meet Clifton Mitchell
Clifton Mitchell, Ph.D., is an international clinical trainer and keynote speaker with love for teaching and over 30 years of training experience. He delivers practical information in a uniquely entertaining, fast-paced style that is filled with humor and illuminating examples. In his latest book, Priming: Programming the Mind for Habit Change and Success, he teaches a scientifically-based system for partnering with the subconscious to eliminate bad habits and create success-advancing behaviors. He also demonstrates how priming can radically intensify therapeutic communications and improve outcomes.
For over 20 years, he has studied and presented seminars on methods for dealing with resistance in therapy. In his book, Effective Techniques for Dealing with Highly Resistant Clients, he presents cutting-edge approaches for managing psychological resistance. He has also trained thousands of mental health professionals to manage difficult, perplexing legal and ethical issues, and his latest training is in an entertaining, dynamic game show format.
He is a contributing author in therapy books and published in numerous professional journals, including the Psychotherapy Networker, Psychotherapy in Australia, Journal of Personality Assessment, Perceptual and Motor Skills, Psychology and Education, Journal of Psychological Type, The Professional School Counselor, Sober World, Counselor, Vistas, and The Advocate. His research includes investigations of therapeutic resistance, legal and ethical issues, subliminal message tapes, stress and coping, PMS, and personality types. His ideas and writings have also been published in Men's Health Today and Barron's Financial Weekly. Dr. Mitchell is currently a professor Emeritus at East Tennessee State University in Johnson City, TN, where he was awarded Teacher of the Year in 2002.
Framing Concepts in Present Tense to Create Real Change
Often, the language we use to set intentions and goals occurs in the future. We tell ourselves that we will lose weight or quit smoking, but our minds do not know what to do with these thoughts because we do not cue ourselves to actually take action. Instead of stating a desire for your future, aim to trigger action within your subconscious. If you can repeatedly create action from your thoughts by phrasing them in the present tense, you will effectively rewire your brain. This change is especially radical because neurological changes in your brain will be evident under a microscope after about a month of repetitive reprogramming.
Repetition and Reinforcement are Essential Catalysts for Improvement
Repetition is the most effective way to reprogram because repeated actions write themselves into our subconscious. Popular research suggests that an individual will take twenty-one days to reform a habit, but the timespan varies based on the habit's complexity. For challenging habits such as overeating, Mitchell recommends adding a supplemental action to reinforce changes. For example, if you are trying to curb overeating, you might conclude each meal by verbalizing that you are finished. By telling yourself that you are finished, you will trigger yourself to conclude the mindset of eating and help you move on.
Trigger Positive Change Using Specific, Targeted Language
As a therapist, your responses trigger the client's thoughts, so you must carefully consider how to use your phrasing to trigger the most beneficial therapeutic results. Using specific words to trigger positive change is a transformative therapeutic strategy, but therapists should not disregard precision or caution because sloppy and haphazard language will prompt counterintuitive thoughts. If you validate a client's frustration by reiterating their struggle, you risk indulging their wallowing and reinforcing their negative thoughts.
Reprogramming in Action: Using a High Level of Empathetic Responding
Clifton's approach incorporates a "high level of empathetic responding" to shift the dialogue in a more targeted, purposeful direction. Mitchell recommends deviating from traditional questioning styles to investigate triggers more effectively because traditional questioning often asks the client to dwell on the obvious. Instead, implementing more open-ended dialogue to target dissatisfaction by replacing negative sentiments with action-based concepts rewrites the brain's triggers to provoke positive change rather than wallowing.
Gordon Brewer
Right. Yeah, no, no. Another thing you mentioned in the book is being aware of the tense that you use. Yes. In your, in your reprogramming. I mean, to say I will do this or that is too much in the future.
Clifton Mitchell
It's all in, if I will, I'm going to I should, all to all of those, all of that language is this is something that's going to happen in the future. And your mind is saying, Okay, tell me when you want to start. You're not saying do anything. Now. I'm gonna lose some weight, I ought to lose some I need to stop smoking. Well, yeah, you need to stop smoking and your brain knew that years ago. But you're not triggering action, you are stating a desire in the future. And your subconscious is sitting there. Now you need to understand something about the subconscious. The sub the purpose of your subconscious, is to automate, period. The subconscious is like a puppy dog sitting there going, what do you want me to automate? What do you want me to automate? Whatever you start doing and repeating, it will start literally burning neurons to automatically program this. And by the way, we can see this neural growth now with the new studies in less than a month's time, literally, under a microscope. So the neural growth that comes from repeatedly programming or anything happens much quicker than we ever thought. That's why we now have all this neuroplasticity research that says, yes, you can change your brain literally at the physical level at the neurological level. So the subconscious is sitting there, looking at what you're doing. And if you start doing something repeatedly, it immediately picks up on it and wants to create neural networks in your brain to turn it into an automatic process. Right? So it's waiting. Yes. But if you just say, I'm going to do this in the future, it's sitting there going, Okay, what do you want me to program now? In fact, what's your programming is the statement that are you going to do in the future over and over, and it will keep saying that make you say that over and over and over again, because that's what you're repeating. That's not giving it direction to start doing something now. So you need to program your mind in the present tense. I want you to start working on this now. Make me some neural connections that send me in this direction.
Gordon Brewer
Yeah, yeah. So the the other thing that comes up as you're, as you're talking about this is just I'm thinking about habit forming and how we do that, and how this play, you know, this whole idea of priming, and creating new dominant thoughts. And so how does our brain do that? I mean, how do we, and I know you mentioned in the book is through repetition, repetition is
Clifton Mitchell
everything. If you look at the neuroscience research, the body brain plasticity, you can look at nutrition, motivation, all sorts of factors. But the bottom line is that repetition dominates everything. Repetition is the primary overarching factor that will create mental programming our habits, period. So you can have you can look at all the other factors, but none of them stand up to repetition. Whatever is repeated, the subconscious picks up on and starts programming period. Now, let's make a comment about habits. There historically has been this thing it takes 21 days to form a new habit that came from Max Maxwell Maltz, is that right? Hope I got that right. Psycho Cybernetics. And that was a self observation research on habit change says it's average about 66 days a little over two months, and that is very dependent on what the habit is. A more complex habit is going to take even longer, a less complex habit shorter. Let me give you an example. My wife read some research that says if you use mouthwash at night, you should use your mouthwash before you brush your teeth because if you brush your teeth and then use mouthwash, the mouthwash will wipe out the fluoride benefits from brushing your teeth. I always had done my mouth Washington brush my teeth so I had to reverse this automatic process habit that I've been doing for years. So I'm coming to the bathroom at night before I go to bed and trying to remember mouthwash before brushing my teeth. I'm trying to over ride Have a 10 year well formed habit that I don't even have to think to do. How long? Well, so I really had to initially concentrate with my conscious mind, think about what I'm doing. Okay, let's do the mouthwash first before we brush the teeth. But in about two weeks of consciously deliberately forcing myself to do that, I started seeing the automation come in. Now, it's completely automatic, by the way, in my life. So that was a very simple habit, right? In about two weeks, I got I got it going. I could feel the automation coming in a month, I was doing it automatically. But if you have a more complex habit that's deeply ingrained, one of you know, overeating, excessive eating, people see food in the garbage or triggers everywhere in our culture. It's more complex, and it's gonna take more time to override those habits. But consistency and repetition is everything.
Gordon Brewer
Yes, yeah. As I was reading the book, and thinking about that, one of the things for me, just personally is, is that over the last two years, really, it started in the middle of the COVID pandemic, dammit. But I realized that my health was out of control, and getting so much weight and that sort of thing. And I was trying to remember and recollect how I changed my habits. You know, I've lost 40 pounds over this time period. And I'm running again, and just, you know, just all of that sort of thing. Feels great. I mean, not to brag, but I just feel so much, so much better physically, and that sort of thing. But I'm still just kind of going back. Okay, how did I do this? How did you do it? Yeah, consciously.
Clifton Mitchell
You first you had to get aware of it. And then your conscious mind had to initially take over and override the subconscious urges and trigger. Yeah. And that's why we need our conscious mind. Our conscious mind is the control panel, by the way, you can think of the conscious mind is this control panel that's sending signals to the subconscious to do it. Conscious mind on this computer is the mouse and the pad and the keys to the subconscious mind is all that processing that happens in all those chips inside of the computer. How does that processing take place, I push a button here. And all of these things at switches are triggered. It's the same way with the human mind, the conscious mind is the control panel and the subconscious mind or all those chips and literally electronic circuits. We don't realize when we push one button 1000s of switches the trigger.
Gordon Brewer
Right, right. Yeah, sorry. 1000s. Yeah, it was one of the things was, I think it required which this ties into the dominant thoughts is just being able to be consciously aware of what your dominant thoughts are, in your mindset around things is, and, you know, I can remember, you know, part of part of my mental process on days when I was, you know, really being conscious of what I ate, and how many calories and all of that kind of thing, as I switch my thinking of thinking, you know, when I finished my last meal, instead of saying, oh, you can't have any more to myself. I said to myself, Oh, you're finished for the day. You?
Clifton Mitchell
I'm finished.
Gordon Brewer
I'm finished. Yes.
Clifton Mitchell
I'm gonna bet something. I bet you never used to say the word finished after a meal. Right? Did you in the past, say the word finished after a meal? Probably not think of the word finished. Now let's just take this to do an exercise. I'm gonna scratch my hair this. I got a subconscious itch and it says get your finger there. You said the word finished. Think of all the triggers and the meaning of the word finish. Finished. Done. Completed. No other action needed concluded. Move on to something else. Do you see all the meanings and not just hitting the ones that come to mind in the word finish? Yeah. If you didn't, if you say the word finished, you are triggering all of these meanings that send you somewhere else. And I bet you never said the word finish.
Gordon Brewer
Yeah, yeah. Yeah, I just I just thought, yeah, you know, it's just kind of like, yeah, the thoughts that came to mind devices that were there was a sense of accomplishment. You know, it was
Clifton Mitchell
it means accomplishment. Look at that finished. I have accomplished I have concluded. I am done. See, but there's another built in meaning to finish isn't sure accomplishment? You did it. Complete? Say there's so much in that work. Yeah, but if you never say that word you can't trigger all of that. Yeah, yeah. If you say this. That's good. I wonder what's for dessert? We got any dessert? Yeah. Oh, do I need? Do I need it? Do we have any Joe's cookies left? See there's a completely different mindset.
Gordon Brewer
Yeah. Yeah. Yeah. So that
Clifton Mitchell
just the word finished does trigger so much. Great work.
Gordon Brewer
Yeah, yeah. So to shift gears maybe just a little bit. And I think we probably as you're listening to this, you're listening to the second half of this. But the the, in thinking about what we talk to our clients about and how we frame things. You want to say a little more about that?
Clifton Mitchell
Well, yes, the bottom line is, let's just back up and get real basic with therapy. The client says something, you say something, they say something, he you say something, what you say, and how you say what you say, is the therapy. Period. Therapy doesn't take place in theory Ville. It doesn't take place. And technique Ville techniques don't work unless you have the right words to go with. Therapy takes place in the moment to moment interaction between you and the client. They say something, you say something, what you say, and how you say what you say, is the therapy. It's not somewhere else. It's right there in that moment to moment interaction. So this is my big thing. You can't say things any on way, any old way, and be therapeutic. You can't be sloppy, haphazard, deleterious with your language, and be therapeutic. You need to respond when the client says something in a manner. And you're going to do it whether you want to or not, that triggers beneficial therapeutic thoughts in the client. So give me any statement, you can think of that a client said to you just give me a statement.
Gordon Brewer
Yeah. I'm so I'm so tired of this. I'm sick of being sick.
Clifton Mitchell
Okay, excellent. So clap says I'm so tired of this, I'm sick of being sick, I can say, Wow, you sound really worn out and tired, and you really are sick a lot. This has really gotten you down, and I can sit there and wallow in them. Now what I would recommend is what I call high level of empathic responding. It sounds like these events, and these repetitious events in your life are quite exhausting for you. And what I'm hearing is, you're really looking for a way to create change in your life to move in a different direction. Now, that was a simple response to the getting a response. I could sit there and wallow in they're worn out. They're targeted, or but I latched on. Okay, I understand what you're saying this has been absolutely exhausting. And it sounds like to me, you're looking for this. Now. Let's say you're looking for this or you want this. What's going to happen next in the dialog? Well, if the client says yes, that's what I want. That client has you've already created movement in a new direction, they've said, and they're showing you're tapped into a motivation. Okay, so you're looking for new places to go. And new alternatives and new alternatives, new behaviors to incorporate into your life. Notice all the things I'm saying. I could say, Wow, this got you down, you're worn out you sound depressed. You sound fatigue is really bad. Tell me all the bad things happening. And we can wallow in it. Yeah. Or I can possibly trigger things. That's a beginning statement of trying to lead them in a direction right. Now suppose I say, Well, I don't know what I want. Which is probably the three most common words in therapy or the I don't know, response and I have a whole chapter about it. My resistance book. I don't want to fight that by the way. Hmm. Because if I fight not knowing I just create not knowing, I would just simply say, well, you're stumped at this moment. Notice I say at this moment, implying you're not going to be stumped in the future. At this moment, currently, you're feeling really stumped as you search for a direction that may be beneficial for you. So I'm not denying their stumped, but I'm not harping on it. And I say at this moment, currently, so I'm also planting the seed, this is a temporary state, My language is not locking them into this state. In fact, it's trying to say this is temporary. You will can there is another way. And then I say, as you're searching for and considering alternatives, now, when I say searching for considering alternatives, what's going to happen in their mind? They're gonna run out and start momentarily. The dominant thoughts is go search for look for alternatives. My language is directing their mind to do this, but I didn't tell them go look for alternatives. I said, as you're looking for alternatives, in implying that they're naturally doing this, so I'm not pushing it on them. I'm just suggesting this. And if they go, Yeah, I've got no resistance. And no, you can then keep walking down this road. But if we sit there and talk about how they got down, and how sad it was, and yes, and this has been burdensome, and tell me all the bad thing that's ever happened to you, you are sitting there triggering and actually growing the problem. Now, there's nothing wrong with that, because the one of the initial jobs of therapists is to grow up the negativity of the current situation, because that creates motivation for a new situation. So you want to this is really strange, but research says that you it's good for the client to analyze their problem and actually feel worse, to some degree initially. Because feeling worse, and magnifying the negative creates motivation to move towards the new behavior. So sometimes there's a benefit in staying there on the negative for a while. But if that's all you do, and you don't trigger other stuff, you're gonna go nowhere. You got you're gonna actually wallow in resistance, and you create resistance by not moving away from it. So your language is going to lead that client down the road. Yeah. And what do you do many ways to do this?
Gordon Brewer
Yeah, one of the questions I find myself asking clients a lot is when they especially on the first, usually like a first session, and they're talking about, you know, what they're struggling with, and all of that sort of thing. I usually ask the question, Well, why do you think you are like you are?
Clifton Mitchell
Oh, okay. Well, now you're going to trigger a lot of things. And yeah, yeah, yeah. For example, I wouldn't use a question. And I wouldn't use why. Okay, make and here's the reason and I don't mean to be critical. And if you have a highly motivated client, that's going to work fine. Highly unmotivated resistant client, a why question is very threatening. Why do you think it is? Well, it almost sounds like, all right, tell me where you screwed up in your life. Tell me where you're making mistakes. Tell me how you've messed up. So there's a couple of things we need to realize about questions. Many times therapist asked questions with preordained dancers. They ask a question trying to get the client to say what they want the client to say. The therapist and the client both knows the answer. Such questions are really micro confrontations. They're little mini confrontations. I'm gonna put it on you. I'm confronting you. But we don't we tend to think of them as helpful but to the client, they can be very threatening. So when you ask a why question, it really brings it even on home a little harder. You know, it's like I'm pregnant. Oh, why didn't you use birth control? That really says, Boy, you screwed up, you dummy. Why didn't you know I'm really putting the blame on you straw. So I would suggest that you soften that up. And the way you soften it up is don't ask a question. It asks what I call a curious command. What is a curious command? It is a command group. thematically delivered with a pair language of curiosity. You're coming from not a position of knowing trying to get them to understand you're coming from a position of naivety, I'm dumb, helped me to understand. So if you said, Well, tell me. Tell me. What resulted in things getting like this helped me to understand how you the evolution of this, and your real puzzle, then the client has to explain to you to help you understand why it happened. Yeah, but they don't feel like they're being threatened. They feel like they're helping you out to grasp their world. Yes. Makes sense.
Gordon Brewer
Yes, it does. And what it what it reminds me of is, is moving from the why questions, which I believe or not, when you said that, I realized that one of the things that I have done that is much more effective, is asking how questions? Yeah. How, how is it that this happens? Yeah, rather than why it is.
Clifton Mitchell
And then back it down another notch. You need to get dumb and curious. And, and by the way, make sure you do this. Clients talk more if you do this, literally. It's incredible. They don't talk and you do this, and they talk. It's so
Gordon Brewer
yeah, just for folks listening it What? What? What cliff is doing. He's He's, he's gesturing with his hands towards himself.
Clifton Mitchell
gorge yourself. Yeah. So if you just say, Wow, okay, so So help me to understand the evolution of your life to get to this point. Now, look at that. There's no question there. Help me to understand the evolution of your life. To get to this point, that's not a question. What is that that's a command, I want you to tell me how you got here. But it doesn't come across as a command it comes across as I need you to help me out. And that's what I call the curiosity party, you're naive, helped me to understand how events unfolded that resulted in things being as they are now. And you want to be dumb here. So the client feels like they have to explain to you now we get to the same information. But I didn't come at you in a way that was trying to criticize you, or feel threatening to you, we have to remember that questions that put people on the spot or that have what I call preordained answers. You know, what do you think, what what do you think that was beneficial? If you went and got drunk like that? You know that? That's a preordained crash answer question. Or micro confrontations. That little confrontations. And the more we can cut those out, the more the client feels free to talk and unthreatened. Yes, that makes sense. Yes. Okay. Here's language, priming, and triggering the client. So if I just say, tell me, help me to understand, I'm triggering what explained to me teach me. I'm not saying I'm coming heir to you. So I'm triggering a very different set of mental processes in the clients mind.
Gordon Brewer
Yes, yes. Oh, this is such great stuff. And, you know, I've got to be aware of our time because, yeah, this is just, this is just great stuff. So cliff, tell folks how they can get in touch with you. And also, I'm going to mention here, if you are wanting to dive in deeper to this, there is a course that cliff did called overcoming resistance, and priming for change. And I'm gonna have links here in the show notes in the show summary. And in the cart, so to speak, is going to be open for a couple of weeks, not a week here as this episode comes out. So you can get that course and also get the CES associated with it. So it's a it's a great course, and also the book that cliff tell how they can get off. Get all of this.
Clifton Mitchell
Well, the courses that you're talking about, are available through psych Maven just come out. And I haven't even looked at him on there myself. But one of them is dealing with the magneto resistance. It's actually quite long and has done a very sophisticated videoing of it. And the other one is about priming. And it's basically my keynote presentation on the concept of priming that I've done in mental health conferences. Yes. Now I also have books all of us trainers have booked Clint, if you want to get in the training business, you got to write a book. In June, there's no way around it these days. If you go to my website, cleverly named Clifton mitchell.com. You can see my two books, effective techniques for dealing with highly resistant clients and priming, programming the mind for habit change and success. And they talk about these two topics that are highly interlinked. There's actually a chapter in the resistance book, about priming that introduces the concept. And that chapter expanded is the priming book basically.
Gordon Brewer
Right, right. And we'll have links in the show notes and the show summary here for folks to get to that easily. And also you if you haven't done so already, be sure and get on my email list and you will be getting emails about this. So you can't miss out on any of this. So
Clifton Mitchell
let me mention one more thing I want to say. My books are we're talking rather scientific here, but my books are not written at some highly scientific level. Now they're written to be understood by anybody with a high school education they're written written to be quick reads that try to get to the point as quickly as possible. Oh, there's a lot of scientific stuff here in there. But my my resistance book, I try to be very to the point you can pick it up randomly and read it my programming book you can I tell Gordon, just just read the chapter titles, the quotes, the arc, print the chapter summaries, and you can get the points and then you can delve into other stuff in detail. So these are not difficult reads.
Gordon Brewer
Yes, yes. And that's I can attest to that. Because that's, yeah, exactly was my experience. I did his priming book over the weekend. And so it was, yeah, and it's just a lot to think about. So. Well, Clift I'm so glad we reconnected and I'm sure I'm gonna have you back for more conversations. And be sure to check out his stuff in the show notes in the show summary and thanks again.
Clifton Mitchell
Thank you and I appreciate so much you have me on the practice of theory therapy podcast. Thank you
Being transparent… Some of the resources below use affiliate links which simply means we receive a commission if you purchase using the links, at no extra cost to you. Thanks for using the links!
Clifton Mitchell's Resources
Resources
Meet Gordon Brewer, MEd, LMFT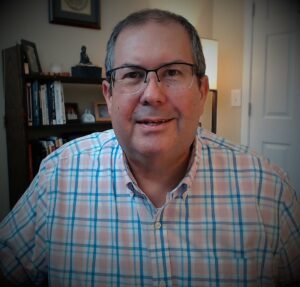 Gordon is the person behind The Practice of Therapy Podcast & Blog. He is also President and Founder of Kingsport Counseling Associates, PLLC. He is a therapist, consultant, business mentor, trainer, and writer. PLEASE Subscribe to The Practice of Therapy Podcast wherever you listen to it. Follow us on Twitter @therapistlearn, and Pinterest, "Like" us on Facebook.