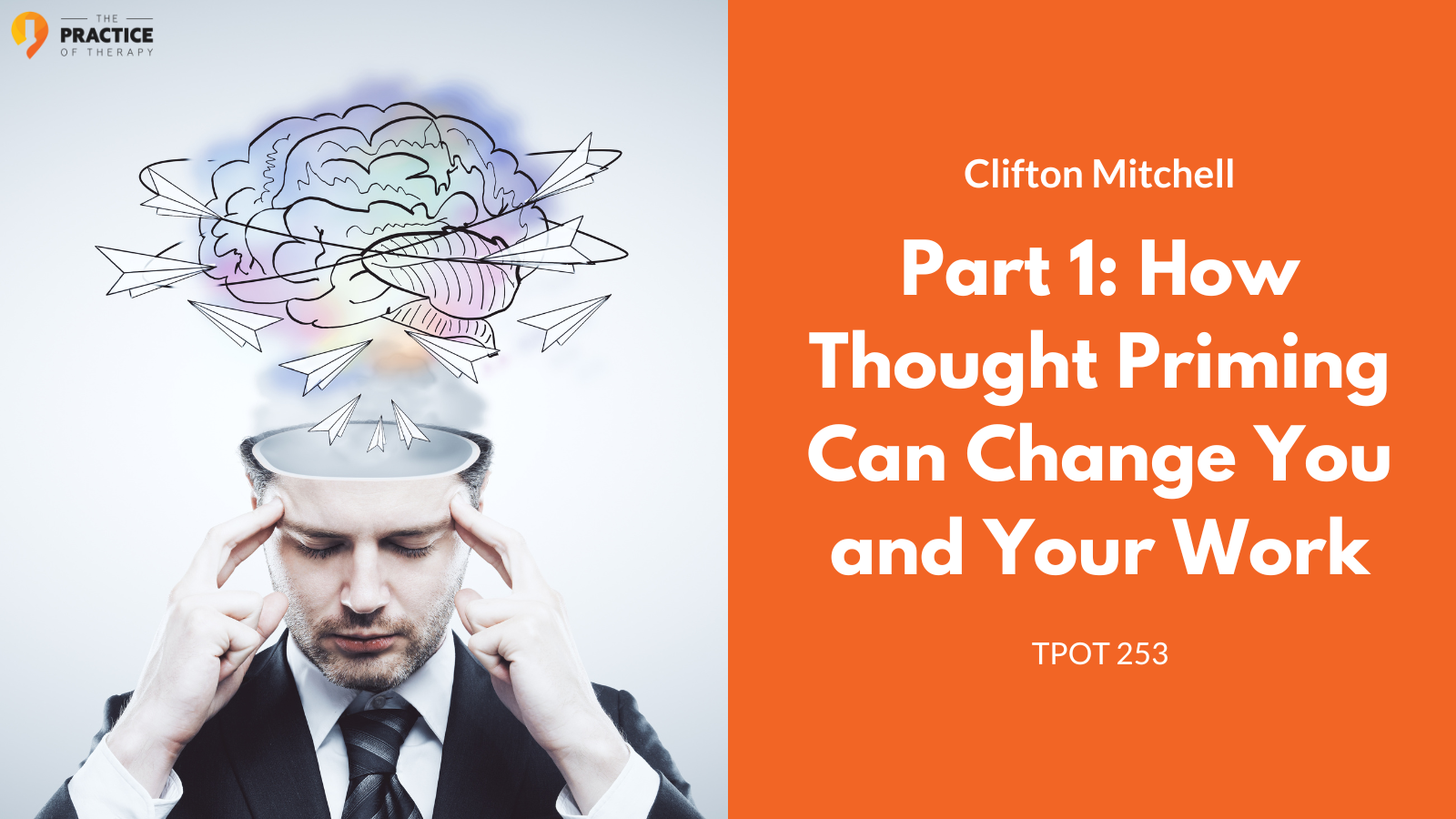 In this episode, retired professor Clifton Mitchell explains how he uses Dominant Thought Theory to incorporate the practice of priming into his sessions with clients. Mitchell aims to reprogram his clients' minds by investigating the subconscious origins behind the thoughts preceding our actions. He carefully identifies triggers and strategically replaces them with new, more positive associations to help individuals exhibiting undesirable behaviors or bad habits.
Meet Clifton Mitchell
Clifton Mitchell, Ph.D., is an international clinical trainer and keynote speaker with love for teaching and over 30 years of training experience. He delivers practical information in a uniquely entertaining, fast-paced style that is filled with humor and illuminating examples. In his latest book, Priming: Programming the Mind for Habit Change and Success, he teaches a scientifically-based system for partnering with the subconscious to eliminate bad habits and create success-advancing behaviors. He also demonstrates how priming can radically intensify therapeutic communications and improve outcomes.
For over 20 years, he has studied and presented seminars on methods for dealing with resistance in therapy. In his book, Effective Techniques for Dealing with Highly Resistant Clients, he presents cutting-edge approaches for managing psychological resistance. He has also trained thousands of mental health professionals to manage difficult, perplexing legal and ethical issues, and his latest training is in an entertaining, dynamic game show format.
He is a contributing author in therapy books and published in numerous professional journals, including the Psychotherapy Networker, Psychotherapy in Australia, Journal of Personality Assessment, Perceptual and Motor Skills, Psychology and Education, Journal of Psychological Type, The Professional School Counselor, Sober World, Counselor, Vistas, and The Advocate. His research includes investigations of therapeutic resistance, legal and ethical issues, subliminal message tapes, stress and coping, PMS, and personality types. His ideas and writings have also been published in Men's Health Today and Barron's Financial Weekly. Dr. Mitchell is currently a professor Emeritus at East Tennessee State University in Johnson City, TN, where he was awarded Teacher of the Year in 2002.
Dominant Thought Theory Affects Every Action
Dominant Thought Theory states that our minds are always moving in the direction of our current dominant thought, whether positive or negative. Each word an individual hears or says links to potential associations in their mind, which will subconsciously influence their thoughts and actions. Mitchell's approach focuses on this theory because it addresses undesirable behaviors at their source. Scientific literature refers to this concept as priming, a vital component of therapeutic dialogue. You will optimize your influence by maintaining an active awareness of your thoughts and actions in a therapy setting.
Focus on Preconscious and Preparatory Thoughts
The thoughts taking place before anything we do are called preconscious or preparatory thoughts. Before you take even the most minor action, such as moving a finger, your brain creates a thought. Before this thought, yet another, more subconscious, thought precedes it. As different things capture your attention, they prime your thoughts without you even realizing it. By understanding preconscious thoughts, we come to understand that our actions become triggered at an unconscious level. You can modify your behavior and thoughts by tapping into your mind and identifying your most unconscious triggers.
Your Subconscious Mind + Ironic Process Theory
By learning to trigger positive preparatory thoughts, you can change bad habits. For therapists, strategically modifying clients' preparatory thoughts can transform their thoughts, behaviors, and actions. This method cannot become effective through mere intention, however. When targeting the subconscious mind, one must account for the Ironic Process Theory, which is the idea that you cannot force yourself not to think about something. For example, if you tell a client that they must not think of a white bear, their mind will be dominated by thoughts of a white bear. Instead of focusing on what not to think, address problematic thoughts by replacing them with better ones.
Mental Programming is Not Just Positive Thinking
Cognitive behavioral therapy is flawed because of its emphasis on refuting negative thoughts rather than replacing them with better, more productive mental programming. Rather than using sessions to focus on depression or other hardships, you might ask the client to recall contentment in life or to imagine a meaningful, active endeavor. Creating positive triggers should not be confused with affirmations because the latter do not program the mind to change actions and behaviors. By using mental programming to address subconscious triggers, your client will improve their mindset more effectively.
Clifton Mitchell
Okay. Hello, I'm Cliff Mitchell and I am delighted to be speaking on the practice of therapy podcast. Let me tell you just a little bit about myself. I am a retired college professor, I taught on a counseling program masters level counselors for a little over 23 years. And along with that, I also developed some training programs for mental health professionals that I've done around the country in various countries around the world, primarily dealing with the management of resistance within therapy, which includes the concept of priming we're going to talk about today, and I do legal and ethical trainings and a game show fashion and my legal and ethical training we do we play Family Feud in jeopardy around legal and ethical dilemmas. Today's topic, though, is going to be on priming, which is a fascinating topic that I think all therapists should understand and learn because you're doing it constantly in your therapeutic dialogue. And if you don't do it, right, it's going to be working against you. I also have several books. I don't know. Am I supposed to plug my books if I am, but
Gordon Brewer
we'll get we'll do that at the end. All right. Yeah. Yeah. Yeah. All right. That's good.
Clifton Mitchell
That was good. You let me know, I can read.
Gordon Brewer
All right, let's pause here. And that way, we'll have a good clean break. Well, hello, folks, and welcome to the podcast. And, you know, I have been looking forward to doing this interview for a couple of years now, and have just procrastinated, but I'm finally doing it. Getting to talk with my old college professor and friend, Dr. Clifton Mitchell. Welcome Clift
Clifton Mitchell
to the podcast. I appreciate it. Gordon. Yes.
Gordon Brewer
You folks are in for a treat today with listening to Cliff tease. Hey, I can honestly say and I'm not trying to butter you up here Clift. But I really did look forward to every one of your classes that I took. And it was just so much fun. And you make all of this, just learning about the clinical stuff, and just the logic of it all and everything just just very digestible. So I'm glad to have you on here. So as I start with everyone, tell folks a little bit about yourself, and how you've landed, where you've landed, and that sort of thing?
Clifton Mitchell
Well, it's a little bit of a long story. But let's let me back up and go chronologically, and I'll try to do this quickly says not to bore you. Prior to becoming a college professor, I did some motivational speaking for a while. And I did motivational speaking on a topic that I called dominant thought theory that basically says, your mind is always moving in the direction of the current dominant thought, whether you say it in the positive or the negative. Then I went and became a college professor for years. And there were a series of events, basically, guys asked to do a training on resistance. And I went and did it at a conference. And people started coming and asked me to do trainings, I realized we have a gap in our knowledge on the management of resistance. So I went into the study of resistance and wrote a book and was going around the country training on resistance. And one day it occurred to me and this was, should have been obvious, but it wasn't, you know, this motivational speaking stuff I did on dominant thought theory, ties right into resistance, and I pull the two together after a number of years of, and it turned out, it worked phenomenally well. And then I said, Wow, somebody needs to write a book on this concept of dominant thought theory, or what's called priming in the scientific literature. And so long story short, I actually have adjusted my resistance training to include a huge chunk of understanding of priming, and what's going on in priming. And then I wrote a book on priming that I have out there that tries to be everything to everybody, it covers the scientific research and how the brain works. And then it tells you how to use this as a self help tool for yourself. And there's also a chapter in it for therapists on understanding that you are priming your clients in your therapeutic dialogue. Therefore, you need to get very aware of what you're doing and saying and how it's influencing them. And so now, the training business has slowed down with COVID. But I'm still out here kicking a little bit right. From the college.
Gordon Brewer
Yeah. And in the show notes, I'll say this. We are with the these episodes coming out. Cliff has been generous enough along with my friend David Hall, site Maven to reopen his his course on resistance and it's 9.75 hours of CPE you can get from that. So well. I'll say more about this at the at the close of the At the beginning of the show, you heard me speak about it, but also at the end here, and you'll, you'll be easily accessing that. So here's the question. What is priming? For people that don't know?
Clifton Mitchell
Okay? Priming is not that complicated, it's pretty easy, but I'm gonna get pretty scientific for a moment and describe what priming is. Before you do anything, before you move your hand, before you say a word before you think or thought before you make the smallest action, there is a thought. And there's even a thought that you think before you think a thought. And that's kind of odd to think before you think a thought, there's a thought behind that thought before you move your finger, there's a thought behind that thought. Now, these thoughts that are curved before anything we do happens are called pre conscious thought, or preparatory thoughts. And these are the thoughts that occurred at an unconscious level that trigger all of our actions, all of our thoughts. Now, if you can trigger pre conscious or preparatory thoughts in the direction you want someone to go, you can start triggering actions and triggering new thoughts. But the triggering of pre conscious thought or preparatory thought, as I prefer to call them pre conscious is a little too technical sounding. It's the thought that prepares you to think of thought it's the thought that prepares you to move to do an action. So if you can trigger these, you can change behavior, you can change your own behavior. And we're constantly being triggered all the time, by one of my examples is, if this happened, and everybody's had this happens, I'm sitting in this room, and I think, oh, I need to go in that room to do such and such, I get such and such. And I get up and go to the other room and all of a sudden something catches my attention, and I start doing this and then something else catches my attention, I start doing that. And then I come back and sit down in the first room where I started and go hold it, what did I get up for in the first place? Now, what is happening here, I will tell you what's happening, you had a thought to go do something, and you got up to when to do it, and something grabbed your attention. And it literally primed a preparatory thought and all of a sudden had you doing that other thing, or you saw something or thought something or something triggered, then something else triggered something and you went to do that, that you came back and sat down and your your original goal or objective of getting up to do something that got overwritten. Because things were triggered, and you didn't even realize they were being triggered. Now they're being triggered constantly throughout your day. And so if you can learn to trigger the right thoughts or preparatory thoughts in your self, you can change your bad habits. And if you learn to trigger the right thoughts in your clients mind, you start triggering new behaviors and new thoughts and new actions in your clients. But it's very tricky to trigger these thoughts. You cannot do it in any Oh, haphazard way. So priming is triggering preparatory thoughts that trigger other thoughts and actions. Yes, yeah. How's that sound?
Gordon Brewer
Yeah, that that that sounded good. And I will say, the cliff's book, and I'm gonna hold it up. I know not everybody will see this. But the book is called priming programming the mind for habit change in success. And I will tell you folks that I cliff, gave me a copy of this book in preparation for this interview. And it was one that I just could not put down. And there are just so many questions going through my head, and I'm sure your hands as well, because as he's already alluded to it, it's it's primed a lot of other thoughts, just around this process. And one of the one of the concepts that she talked about in the book Clift is this thing called the ironic process. And I know in my own practice, I use a lot of cognitive behavioral kinds of techniques with folks. And I realized in the book when you were talking about this, that the ironic process probably gets very much in the way of doing effective cognitive behavioral therapy. So tell folks about the ironic process.
Clifton Mitchell
Ironic process. Theory, by the way ties directly to priming they're, they're almost interlinked, but they're discussed separately and the research basically says this. You cannot force yourself not to think about something. If I say think about a white bear Don't think about a white bear. Regardless, you're going to think about a white bear. And that's an old experiment that was actually done. And this has been shown over and over and over again, in the scientific research. If you're listening to me now, I'll just say whatever you do for the next moment, don't think about the color of your car. And it doesn't matter the color of your car, it's going to flash in your mind, if I say, think about the color of your car, it's going to flash also, it doesn't matter. If I state something in the negative, if I state it for that moment, that thought is going to dominate your thinking. So a what we would say a thought that has a No not a shouldn't have when the don't and a won't, is basically worthless when it comes to programming your mind, because it's going to trigger the very thing you don't want to think about. Now another way of saying this, is that your mind your conscious mind can only attend it cannot not attend. So you're always attending to something, the question is, what are you attending to, and I'll give you let me give you a quick example of fun, fascinating research, they would bring subjects in and have them put a golf ball, maybe five to 10 feet and try to get it in a little circle in a room and give them about 20 practice shots. And then they would get to the money shot. And they would say, Well, the next shot, if you can get the ball in the circle, we're going to give you $20. And just before they would go hit the ball, they say now whatever you do, don't knock that ball pass that hole. And then they watch what happened. And basically what happens is they don't hit the ball, pass the circle or the hole, boom, they hit the ball, pass the circle of the hole. Now some people overcompensated and because you said don't hit it past the hole, they hit it way short of the hole, and they didn't get close to the hole. So what happened is, is this momentary thought don't hit do this triggered everything. And they actually, of course, hit the ball much worse on the money shot, because there was money on it too little pressure there too. So they just slipped this little fall into somebody's mind. And all of a sudden, there it is. Now we all have experienced this, you've got a worry something you're obsessing about. And you're laying in bed and you're sad as hell, you know, don't think about this quick thing about this just it doesn't work, it's impossible. Your mind can only attend, it cannot not attend. So when you go to do something, let's talk about cognitive therapy, cognitive therapists spin, in my mind, too much time on refuting the negative thoughts and not enough time on replacing them with better, more productive and I would say mental programming thoughts. I don't like affirmations or positive thinking, are you just saying a positive thought and there is a technical difference there. The more you sit and talk about this negative cognition, the more you're feeding that negative cognition. The more you talk about a replacement thought, the more you're creating the replacement thought and really the the emphasis should be on the replacement thought and not the refuting of the negative thought and it's out of balance generally, because when you teach it, you already start teaching refute the negative, okay? refuted but you've It doesn't do any good to refute the negative you do if you don't have a opposite positive mental programming thought. And here's the interesting thing. You don't even have to refute the negative if you can just replace the thought with another thought. The other thought will fade away. Now here's the the irony of that is you cannot force of thought to fade away. All the way to get rid of a thought is replace it with another thought. So the entire emphasis should be on replacement replacement. If you replace the thought you don't want goes away and you've probably all had this happen. You're upset about something you sit around obsessing and all of a sudden, somebody's let's go to a movie. Let's watch this movie. And you start watching the movie and pretty soon you're captured in the movie. And the movie is over. And now you remember oh yeah, before the movie started, I was all upset over this thing. But basically the movie brought you into it and it ended up replacing the things you did won't and that's how you got rid of it. Get rid of a thought by trying to get rid of the thought you can only replace thoughts with other thoughts. This ironic process is all about this this important point in how the brain works.
Gordon Brewer
Yeah, it's that that's that's affirming for me because one of the things that I don't know where I picked it up along the way, but I one of the things I know I talk with clients It's about is about this idea of thought stopping, which is an oxymoron. Now I know.
Clifton Mitchell
Well, there are thought stopping techniques that really work. Yeah. Again, but once you, you know, you do one of these quick drawing thought stopping techniques, you better come back and have a replacement. Yes. All right, we'll come back.
Gordon Brewer
Yeah, yeah. So here's the I'll share this real quickly, I want to get your input on this. So I do the thing. Imagine, imagine in your mind a white horse. And I want you to imagine all the details you can about this white horse, how big it is, and all of that sort of thing. Okay, now wants you to stop thinking, thinking about the white horse, can you stop thinking about the white horse? And I just keep talking about the white horse. And they understand the ridiculousness of that. And I said, Okay, now, so now I want you to imagine a stop sign. And I want you to imagine that the foot of that stop sign a pig, with lipstick on and a funny hat. And I want you to think about something funny that that pig is doing. And then I have them say, Okay, what, what it tells me what that pig is doing. That's so funny to you. And they they do that? And then I say, Okay, guess what you're not thinking about now? Yeah. Yeah. So I'm just wondering is that kind of, kind of in the, in the realm of what you're talking about, it's not
Clifton Mitchell
kind of in the realm, it's exactly in the realm. That's exactly what we're saying. Of course, this has enormous implications in therapy, if the client comes in, and they're depressed. And you say, Oh, how's your depression this week, raise your depression on a one to 10 scale. Tell me about the DOMs. When you are depressed, and, and you sit there, and you harp on this depression, depression, depression, you're not helping the depression, you've got to find the positive opposite of that depression and start triggering the other things just like you triggered the pig in the stop sign and the lipstick to get rid of the white horse. If we keep talking about what the problem is, we, we better bury ourselves in the problem. Now the solution focus therapy, people are very aware of this, they always start, what would you be doing instead? What is the opposite of this? And so if you can't get there, you're going to be in trouble. Now, I want to talk about two things related to this, if y'all don't mind, yes. First I want to talk about is there's two components to creating change. There is the current place that people at this is the don't want part of their behavior. That is the place they want to get to this is the do what part of behavior. Good therapists need to create grow up the negative, undesirable part of the don't want side. But you also which will be spent a lot of time on that. But you'll also need to create a Git to place in your dialogue in your language as you're talking to the client. And you do this with words, and you start putting new words in planting seeds by making a little comment here and there. And you need to create a get to place in the conscious mind. Now here's the thing, there's much more power in creating and being pulled to the get to place than being pushed from the don't want side. A pool is always more pleasant than a push. And if you're being pushed away, but you don't know where you're going, you're going to always circle back to where you started, you've got to get a well formed get to place and you start planting that seed with dominant thoughts. Now, the other thing I want to talk about is the scientific part of this. And I've tried to do this briefly. Whenever you say a word, what happens in that mind is that word and every word associated with that word gets momentarily triggered. In other words, how do we understand these words I'm saying right now, when you hear the word, your brain sends out these little neuron feelers to all the meanings and associations to that word, and you get a meaning out of it. Now, this has been shown over and over and over again in the promising research. So if I say the word to you, elephant, what's going to happen is any word associated with elephant you're going to have quicker access to in your thinking. So words like gray Tusk, large jungle, Tarzan, all of these words associated with elephant are going to be more accessible to your to your brain, your mind, because I said elephant, everything associated with it become successful. So if I say depression, everything associated with depression gets triggered. If I say tell me about time times when you are content and engaged in life, and found yourself in a meaningful, active endeavor. Now, everything associated with a meaningful active endeavor gets triggered. So every word is not one word. And this is what therapists need to realize. Every word you say, is really a cluster of words that are being fired off in the brain. So every time you say a word, you should ask yourself, what is the cluster of words that are being fired off, and you realize that each word has a multitude of power to create new places to get to and other words and to trigger free conscious preparatory thought? So words become very powerful. If you say the right words, they become very detrimental, if you say the wrong words.
Gordon Brewer
Yes, yes. So that's the basis behind Yeah, yeah. And so yeah, so what one of the things that I think what that I really stood out for me in the book, was just how much of our subconscious controls what we do? And all of it? Yeah, I mean, it's, it's really just, yeah, I mean, it's just, and I want you to say more about this, but I just, you know, driving into work today, I was totally unaware of how I got here to the office. Yeah. And so that they say more about that,
Clifton Mitchell
well, the the, for a long time, and Freud started this. And he's right, they started looking at how the brain works in the mind, workplace, you look at the conscious mind, the subconscious mind and the unconscious mind. Now the unconscious mind super deep down there, you probably never know what's going on, and you can't access it. conscious mind is the thought you're thinking about right now, it's the thought you're thinking about that you can stop and think about the thought you're thinking about. It's what you're thinking that you know, you're thinking. Now, the subconscious mind is doing everything else that you're doing that you don't know you're doing when you're doing it like it's moving my hands right now, it's also thinking before I say every single word I'm saying to you at this moment, my subconscious is processing what those words going to mean before they even come out of my mouth. And it's doing that at lightning speed. It's also telling my eyes when to blink my heart, when to beat my lungs when to breathe, and digesting the food in my stomach. So it's doing a multitude of processes behind the scene. And this is quite wonderful. Because we don't have to stop and think about it. So it's very easy to tell which part of your brain is working. If when you're doing something, you have to stop and think about what you're doing step by step, your conscious mind is in control. But if when you're doing something, you can actually be thinking about something else, your subconscious mind is in control. Now, when we look at our behavior, probably 99% plus of what we do every day, is actually subconscious mind behavior. And my favorite example I love to do is when you get up in the morning, and you get ready for work, and you take your shower, and you use the bathroom, and you get in front of the sink, and you shave or put on your makeup and you brush your teeth, you don't have to think to do any of that, because you've done it day after day after day, when you're brushing your teeth, you're not going to push it in, pull it out, push it and pull it off. You don't have to do that you're thinking about what you got to do during the day. You're thinking about your planning, you're wondering about this, you're wondering about that you're on automatic pilot, we're all on automatic pilot. And this is why many times we leave the bathroom and walk down the hall and stop and think, did I brush my teeth, you can't even remember, if you brushed your teeth. It's the same thing as you drive to work the same pattern. And you get there and you have no recollection your unconscious mind was all fun lala land and subconscious mind was driving the car. And it does a great job most of the time, until you get into car and you want to go somewhere else. And which is the opposite direction. And all of a sudden the automatic pilot kicks in and you find yourself driving to work this way when you really wanted to go that way because your automatic pilot kicked in because it was being triggered and primed by all of the cues and the signs and outed landmarks as you drove down the road. happens to us all the time. It's all evidence of the subconscious mind which controls 99 plus percent of our behavior, which when applied to therapy says this therapist should be talking to the subconscious mind because that's what's controlling behavior. So how do you talk to it what you realize that every word is a cluster of words and you say words that trigger what you want to happen, not what you don't want to happen. And when you do that you're priming. Now you're priming whether you're aware of it or not. I will therapists to get consciously aware of it and get very deliberate in priming the client the proper way in the direction Should I need to go?
Gordon Brewer
Yes, yes. Yeah. And this, for me, this just has so much really creates a lot of change for me and thinking about how I do therapy now as to how I'm already thinking about specific clients that I have and how I'm going to probably changed the way that I have conversations with them. Well, yeah, and it's not hard
Clifton Mitchell
to do. Yeah, let me mention this from the other side for a second. And I do not mean this in any way, bragging, but I have looked at this stuff for 20 to 30 years of my life, it took 20 years to write the priming book, because when I went and started to do it, it would became overwhelming. There's so much research out there, I had to figure out what to put in it. But I can listen to a client for five or 10 minutes now, because I'm extremely consciously aware of the words they're using to describe their problem. And I can pinpoint the words they're using, that are triggering their problem that are keeping them stuck in the loop of the problem by the language they're using to describe it. Or clients, rarely, extremely rarely talk about their problem in the policy, they tell you, this is what I don't want, this is what happened, I don't want these are the things I don't want. They almost never walk in and say this is what I do want in a precisely defined way. And our job is to take that what they don't want and kind of figure out what they do want in a precisely defined way in the therapeutic dialogue.
Gordon Brewer
Right, right. Yeah. So one of the things you said earlier that I think would be fun to kind of unpack a little more is how this is different than just positive, positive thinking, affirmations and all of that sort of thing. And I know in the book, you mentioned Zig Ziglar, and the power of positive thinking and that sort of thing. And, yeah, and so there, and I've been listening to another podcast by Kate bowler, and I'll, I'll, I'll mention more about that another time. But there are situations in people's lives where it's just there are bad things that are happening to you. And you can't just think your way out of it by having positive thoughts and that sort of thing. And so, yeah, so you want to say more about that. As far as that those those different concepts
Clifton Mitchell
from Yes, and we'll take them off one at a time. The first thing I want to say is what I when I talk about priming, I don't use the word affirmations or positive thinking, I use the word mental programming may cause I want you to realize the language you're using to talk to yourself is the programming language of your mind. So you are mentally programming your mind just like you would use a computer language to program a computer. Because the mind is also a binary triggering switches type of organ, believe it or not works very much like a computer. So let's do a positive thinking. Now, you have to be careful here. But let me just say this, the typical idea of positive thinking, is this a workout? I believe that the good yes, we just think positive everything's going to work out. Well guess what? If you just think positive and good thoughts, it's not always going to work out. And the research shows by the way that successful people are not just pollyannish positive thinkers. In fact, successful people are constantly calculating what could go wrong and preparing for it. This is how they're successful. They say well, it's even the smallest thing we're going to have a picnic What if it rains well, we need to be able to get to see and hear and have a shelter and have a backup place to go. They're not just saying let's just be positive and hope it doesn't rain today at the picnic. Think positive and well right now that they're always planning for what could go wrong and preparing for it and that makes them successful. Successful people are not Pollyanna ish Yes, it'll work out just think positive have faith this and that because it doesn't it doesn't always work out and you can assure that and that's the downside of positive thinking and research hardcore research on positive thinking it backfires on people and it's it's many times to a fantastical, it's too mythical, it's too hopeful in the midst of unreality. Affirmations is another nice often use Word and I don't use it because so much of the affirmations that are out there are just mythical hogwash. It It's just not gonna happen. I would in my book, I talk about him and I literally went online and five or 10 minutes, I found enormous amount of affirmations. And I boohoo them, for example. I am aligned with the energy of abundance. Well, what is this energy of? What is the line with this energy mean? What are you telling your brain? I don't know what that means your brain goes, What are you talking about? What is the energy abundance? Your Abundance flows into my life with ease and grace? So isn't that nice? Things are gonna come to me. And I don't have to do anything. Oh, isn't that miraculous? Or universal creative force supports and empowers me to successfully fulfill my life's purpose. Wow, I don't know if the universe isn't thinking about you that much, you know. So, the problem with so many affirmations is they do not program the mind and trigger any action in your mind. They're not telling your mind. What I want you to do for me. They're not providing it guidance and direction to trigger pre conscious thought that triggers actions and thoughts. They're kind of they're mythical. They're hopeful. I trust in divine timing. The universe always has my back. While it did the other day when that car ran into mine and didn't and my fender, you know? Here's a great one. My fears of tomorrow are simply melting away. Oh, they are. Wow. And by the way, you said my fears. And guess what happened when you started that with my fears, you just triggered all your fears. Because the words my fears is going to instantly back into your mind with all your fears. You know, today, I will not stress over things I can't control. Well, look at the wording I will not stress. You just set your mind to the things you're stressing over with that thought. And if you were to repeat this and say I will not stress over the things I can't control, we have to go back to ironic process. You cannot not stress. You're talking about stress. You're creating stress. Okay. You know,
I let go of all the negativity that that rests in my body and mind. Well, yeah, as soon as you say negativity, you're triggering negativity. So positive thinking is to Pollyanna ish affirmations of a dune. I've rarely, if ever, but every now and then you see one, every now and I see an affirmation that is good mental programming. Yes. But they don't direct the mind. They don't say trigger this, see me in this direction. trigger these thoughts trigger these actions. They're not programmed the the mind to do anything. In fact, many of them are saying I don't have to do anything and it's going to mythically happen. And it doesn't. Yeah, it may or may not but you're not for sure a program anything any action in your own mind.
Being transparent… Some of the resources below use affiliate links which simply means we receive a commission if you purchase using the links, at no extra cost to you. Thanks for using the links!
Clifton Mitchell's Resources
Resources
Meet Gordon Brewer, MEd, LMFT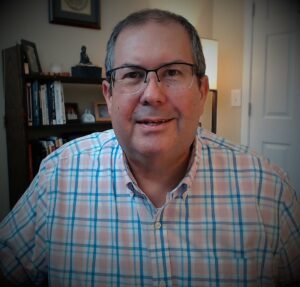 Gordon is the person behind The Practice of Therapy Podcast & Blog. He is also President and Founder of Kingsport Counseling Associates, PLLC. He is a therapist, consultant, business mentor, trainer, and writer. PLEASE Subscribe to The Practice of Therapy Podcast wherever you listen to it. Follow us on Twitter @therapistlearn, and Pinterest, "Like" us on Facebook.