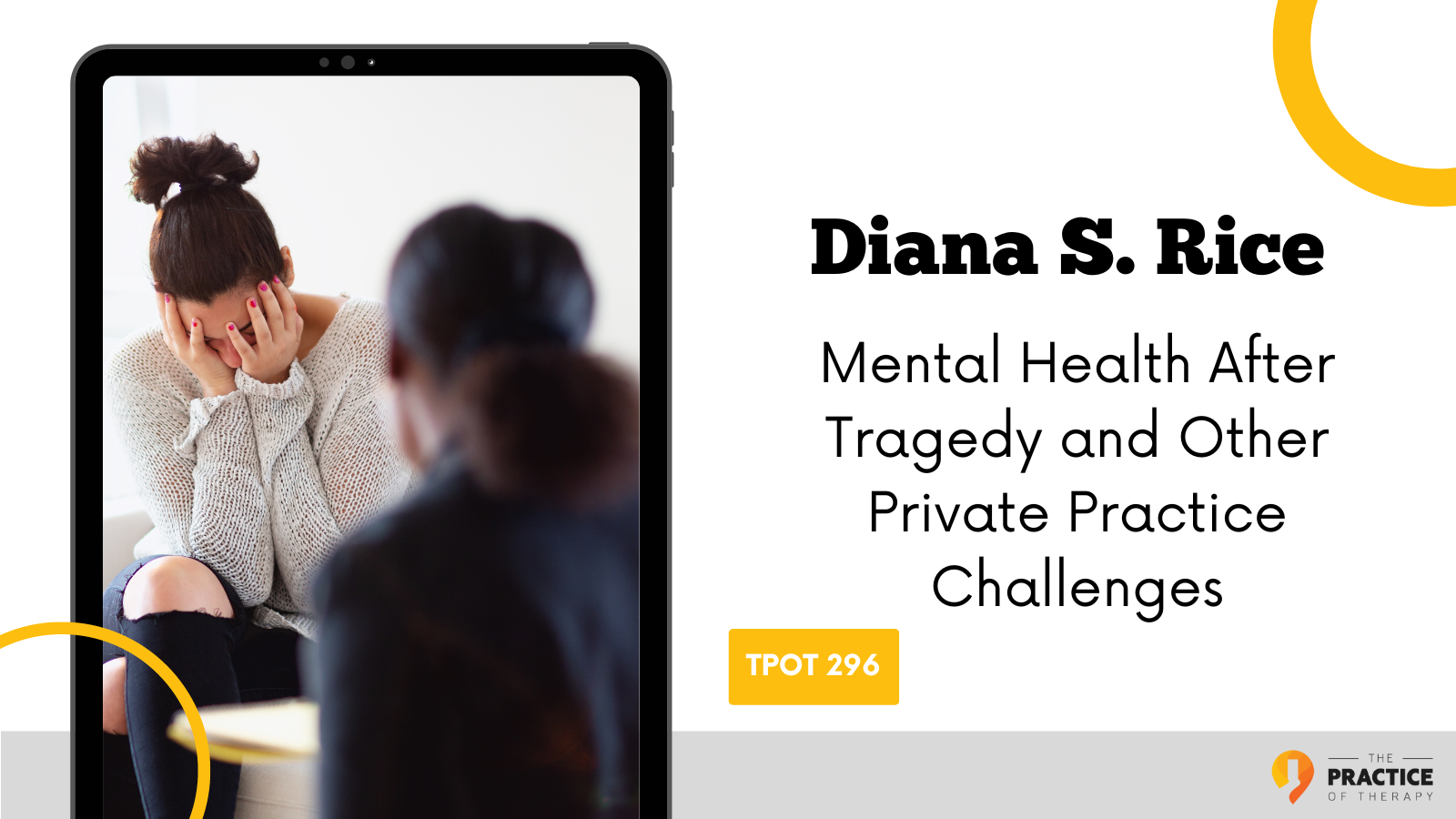 In this episode, we delve into the critical topic of teen mental health after tragedy. Mental Health After Tragedy & Other Private Practice Challenges features Diana Rice, a seasoned therapist with firsthand experience working with adolescents who have faced traumatic events. Her insights shed light on the vital role of support and mental health resources for young individuals navigating challenging circumstances. Shifting gears, we also dive into the unique challenges private practice owners face, including the absence of business education in therapy training programs. Diana and Gordon candidly discuss the delicate balance required to navigate a successful private practice. They address the interplay between personal beliefs, such as the Christian faith, and the demands of running a thriving therapeutic business.
Meet Diana S. Rice
Diana is the founder and owner of Through the Valley Therapy, a private practice in South Florida where she offers compassionate and personalized mental health services. With her background in Early Childhood Education, Women's Studies, and Mental Health, Diana strives to create a warm and inclusive environment where individuals from all walks of life can find solace and support.
Through the Valley Therapy recognizes that therapy is a personal journey and aims to meet clients wherever they may be in their mental health journey. Whether individuals seek assistance with childhood trauma, relationship difficulties, or any other concern, Diana's holistic approach ensures that all aspects of their well-being are taken into account.
The practice's name, Through the Valley Therapy, symbolizes the idea of guiding clients through challenging times, helping them find strength, and providing a safe space for healing. With Diana's integrative approach and emphasis on mental health, the practice offers a wide range of counseling services tailored to each individual's unique needs.
Through the Valley Therapy is dedicated to promoting mental well-being and empowering individuals to overcome obstacles that may be hindering their growth and happiness. Clients can trust that their mental health is in capable hands as they embark on this transformative journey toward resilience and self-discovery.
Teen Mental Health After Tragedy
Teen mental health after tragedy is a topic of great importance in today's society. In this episode, Diana provides insight into the experiences of a therapist who has worked with teens in the aftermath of traumatic events. Her story highlights the challenges and the importance of providing support and mental health resources to young people who have experienced tragedy.
Diana mentions the impact of a school shooting in Parkland, Florida, and how it affected not only the students directly involved but also teens throughout the state. The widespread use of social media allowed them to connect and share their experiences, creating a sense of community and understanding. This highlights the need for mental health services that can address the unique challenges faced by teens in the aftermath of such events.
Navigating Teen Mental Health
This episode also touches on the role of schools in addressing teen mental health. Diana mentions that every school received a grant for mental health following the Parkland shooting. This shows a recognition of the importance of providing support and resources to students who may be struggling with their mental health.
Additionally, Diana discusses the impact of the COVID-19 pandemic on teen mental health. The pandemic brought about new challenges and stressors for young people, exacerbating existing mental health issues. Diana emphasizes the importance of listening to one's instincts and taking care of oneself to support others effectively. She also highlights the need for ongoing learning and professional development to stay informed and provide the best possible care for clients.
Diana's personal experiences as a therapist working with teens after tragedy demonstrate the resilience and strength of young people. She shares how she had to confront her anxieties and insecurities to be present for her clients. Her dedication to her profession and her commitment to helping others is inspiring.
Balancing Challenges and Faith in Private Practice
Private practice can be a rewarding and fulfilling career path for therapists, but it also comes with its challenges. One of the main challenges discussed in this episode is finding balance in private practice. Private practice owners may have received training in therapy techniques; however, they were not taught about the business side of running a private practice.
Gordon and Diana discuss how their personal lives and beliefs, such as their Christian faith, have influenced their approach to finding balance in their private practices. They talk about how finding the right path or purpose can make things easier and help things fall into place. When therapists are aligned with their true calling and values, they are more likely to find balance in their work.
Diana shares her experience of transitioning from the film industry to private practice. She reflects on how her previous experience in the film industry, where she had to sell herself and act as her own CEO, has helped her in her private practice. Diana highlights the importance of understanding oneself as a brand and a CEO and having a clear mission statement and purpose; this suggests that therapists must view themselves as entrepreneurs and business owners to succeed in private practice.
The Intersection of Business Education, Guilt, and Access in Therapy Practice
Diana also discusses the need for more business education in therapy training programs. She expresses gratitude for having personal experience with business work but acknowledges that many therapists do not have this advantage. Diana argues that business education should be included in therapy training programs, as it is an essential skill for therapists in private practice.
Plus, Diana and Gordon touch on the guilt and balancing act that comes with private practice. They recognize the need for quality therapy that is accessible and affordable, particularly for underserved communities. However, they also acknowledge the need to make a living and run a successful business. Gordon and Diana discuss the tension between wanting to help others and making money and how they navigate this balance as therapists and Christians.
Gordon Brewer
Okay, if you want to do a little blurb Hey, I'm
Diana S. Rice
Diana from through the valley therapy in Florida. I am a private practice practitioner, a licensed mental health counselor, and a certified integrative mental health professional, who's been in private practice now for about three years. I think it was July 7 was my three year anniversary.
Gordon Brewer
Well, hello, everyone, and welcome again to the podcasts. And I'm really looking forward to hearing from Diana rice. Hi, Diana. Welcome.
Diana S. Rice
Thank you.
Gordon Brewer
Yeah, so it's, we were chatting a little bit before we started recording, and I'm really excited for you all to hear her story. You know, when I started this podcast, it was exactly for this reason for people to be able to tell, you know, clinicians to be able to tell their story about their journey into private practice and the meaning that it's creating in their lives and that sort of thing. So, Diana, is a start with everyone. tell folks a little bit about yourself, and how you've landed where you've landed? I know that's a big question. Yeah.
Diana S. Rice
Um, well, the first time I ever heard the word counseling is when I was a peer counselor at in middle school at Crystal Lake Middle School in Broward County. And I was like, Okay, I'm going to try out this class. And then in seventh grade, we had a tragedy happened where one of our fellow classmates drowned at the lake at Crystal Lake. And at that point, I remember my teacher, Mr. Tillman say, all right, Diana, everything you were taught in this class, let's get to work. I mean, how old 1213 years old, and I took it seriously. And at that point, I think that is when the seed was planted. And I took it like to heart I am a highly sensitive therapist. And so and I come from a background of I'm a bipoc, therapist, black indigenous people of color therapists, and I come from the inner city, and I grew up with a single immigrant mom. And so we didn't have resources. And so to me, that counseling class was my resource for not only myself, but then I was learning how to help others as as well.
Gordon Brewer
Right, right. Yeah. It's, it's interesting how I think even at earlier ages, I think sometimes people recognize and us, those of us in this field, just kind of have a talent or a pension for being able to be a helper or listener and that that sort of thing.
Diana S. Rice
Yes, yes. I am. So seven paths grade happened, eighth grade happened. I felt such a connection and a sense of purpose, because I came, like I said, from a background of dysfunctionality, which, you know, I see now healed trauma equals wisdom. And so just just looking back, and in looking back, like I am, I am grateful, like, even through all the pain, and suffering and understanding and like, this is my journey, just like everyone listening has their own journey and their own story to tell, especially if you're a practitioner, if you are a therapist, or social worker, or a marriage, family, therapist, psychologist, whatever it is that you are in the mental health field, understanding like, there is a reason you started this right. It definitely wasn't for the money.
Gordon Brewer
Right? Yeah, yeah. That's, that's so true. But yeah, I think it's interesting, you know, as I've talked with, you know, you know, so many different therapists across the country and across the world. You know, one theme that runs through all of that is that we all have our own experiences and hardships in life that have kind of steered us in a direction. And I think when we recognize our own healing from that recovery from those things, it really inspires us to want to help others in the same way.
Diana S. Rice
Yes, of course. I mean, that's, sometimes I feel that sorry, that's the calling yet, you know, because I am in tuned, spiritually. I mean, I'm a I'm a Christian bipoc therapist, but I take everybody honestly, if you look at my website, you you'll get the vibe that I have. Sorry. And, and understanding like, the journey like I started off, not only in seventh grade, and in high school, I was a peer counselor as well. And then we had more tragedy and in that was in the 80s when crack started, and we had a situation in the high school where someone accidentally shot their best friend Yeah. And you know, and they were high on crack. And so this is sitting in my school systems, you know, in the, in the Broward County Schools, and I had to once again, like, I took it seriously, you know, there's other people that took the class and it was just for fun, but I think, just due to how I am and who I am now that I realized, like, back in the day, I thought differently than a lot of people and it's due to my own complex PTSD, but as well as just how my brain functions like I it was super, like serious for me. doff and I am known amongst my peers that I grew up with, like, you know, fun loving and everything, but at the same time, deep inside, I was just like, No, somebody's hurt. And I somebody needs another person. And so that teacher, Mr. Hilton, you know, was like, alright, Diana, here we go. You gotta take what I'm teaching you seriously, now your peers need you. So it was like, your peers need you. Your peers need you and I, I remember, in the high school yearbook I wrote, you know, they asked a question, you know, what do you want to be when you grow up? I said, a psychologist. But things didn't go exactly that way. Honestly. I didn't have money. I didn't know what I was. I was the first one to graduate high school on my mom's side of the family who was raising me. She's from South America. And you know, she came with her that American dream, and I'm grateful for how she raised me now. That made me tough, but at the same time, that toughness. Because I'm a bipoc therapist in South Florida with a lot of immigrant families, I get those teenagers. That's my specialty. I work with adolescents. Wow. Well, and so I worked with, you know, high school, middle school. And that's kind of my niche right now people know me as the therapist with adolescents. I worked at alternative schools, most of my time, in K therapist in Broward County. So it's like I never left Broward. And yeah. And now I give back to my community. And in July of 2020, God said, while I was working at the alternative school, you're going to open up your own private practice. And I fought it. I was like, No, thank you. Oh, no, no, actually, it was May, because March was when the shutdown happened. The pandemic happened. And I was working at that high school. And all of a sudden, here we are having to learn how to go on D zoom meetings, how to just do everything online. And I'm working with teenagers in an alternative school, trying to get them not to hurt others or hurt themselves. The only therapist at the school at the time. So anyway, all of a sudden, God's like, yeah, you're gonna open this up in July. And I'm just like, No. So I work during the day at the school. And in the evenings, I started taking one or two clients at a time. And here I am now three years later, in my own private practice full time.
Gordon Brewer
Wow. Wow. Yeah. So that's, yeah, that's a great kind of maybe to shift gears. What was I know, obviously, your spirituality and what your and your beliefs and your faith are a big part of what who you are? What was that process like when you maybe this is a bad use of words, but when you pulled the trigger to change from school, school work, agency slash schoolwork into private practice? What all went into that decision for you?
Diana S. Rice
Oh, goodness, well, I am married to a businessman. And I'm really grateful for that. I also back in 2012, had to take a break from being a I was a registered intern at the time. My youngest son, the one who made this variant hilarium, whatever it's called. He, he had a traumatic brain injury. And so I had to quit working at the agency. At that time, I was working for a place called a nonprofit called for friends of children. And I was going into the homes of and those schools of my clients. And so I had to quit to homeschool him for about two years. And at that time, you know, I started studying the brain a lot. And even before that, when I was in my internship at one of the Broward County Schools, I was noticing like a lot of these young kids were being diagnosed and most people around them, the adults, the psychiatrists, psychiatric nurses, they cared more about the diagnosis and they weren't listening to the Kids and I was an intern learning, you know, these are all my guinea pigs. I hate to say it that way, but that's what internship is, you know, you got all the booksmart. But now here you are in your internship going, Oh, I have to apply it. So I started learning and listening and understanding, like, being in the school system here, which I am a product of the Broward County school system, like, you know, I get it. It's a whole different vibe in South Florida, South Florida should be its own state, honestly. Yeah. Yeah. So, um, anyway, it was just a place where I left that agency to homeschool. I already had this open mind of there has to be other ways to deal with mental disease or illness or unhealthiness. You know, because what was happening wasn't working. Like it was just, I saw the anger in the kids. I saw the depression in them and all and I realized what was working with me that unconditional positive regard that Carl Rogers talks
Gordon Brewer
about, right. Right.
Diana S. Rice
Listen, and feel validated and heard. So as I started doing that, and started worrying more about who they are. They're like, you're not going to ask me about this. You're not and I'm like, not at this time, unless you want me to I let them lead the sessions. And they realize like I was genuine with them. And I wanted to meet them where they were. And are I mean, I'm still like, therapists just a little more fine tuned. Anyway, so back to 2012. My son has that accident. And I still am learning about holistic measures, because I realized a lot of these kids were having side effects, but nobody cared about how they were eating or sleeping. Or even pooping, like, you know, and I know that sounds weird. It's like, Wait, we're whole beings. And I became a disciple of Jesus in 2000. So my faith was really into play as well. I never pushed my faith on anybody. Plus, I could get in trouble in a public school system. So it was just like, I am a woman of prayer. And I asked every morning for guidance and understanding of first do no harm. And so after that accident, I started just having to be the advocate for my son. And I learned even more about, you know, neurobiology, neuroplasticity, just the understanding, is there other ways that we can help his brain and I found a book called nourish your noggin, in the library. And I started that, and I love studying and researching and reading and, you know, it's like, I'm a lifelong learner. So, after two years, he got himself into high school. And I chose a different career. And I went totally away from being a therapist.
Gordon Brewer
Wow. Wow. Yeah. So what do you do? Just curious.
Diana S. Rice
I went into the South Florida film industry.
Gordon Brewer
Wow. Yeah,
Diana S. Rice
I had a friend from middle school. And she was a producer in New York, and she was here visiting and she asked to take pictures. And I'm like, Yeah, let's do it. Let's have some I needed fun in my life. Because through that trauma of vicarious trauma with your son, and just doing what you do for a living, like we all, as practitioners, we have that compassion, fatigue, we have vicarious trauma, we can have burnout and we have to understand those things as as a therapist, because sometimes we go Go, go, go, go, trying to help everybody else, not understanding your subconscious is picking all this stuff up. Right? And then all of a sudden, if you're not caring for yourself and putting that oxygen tank on first, and then you're wondering, Why am I feeling these certain ways? Or I can't I'm over this, you know, it's because you're out of balance. Anyway, I was totally out of balance at that time. And so I needed some fun in my life. And so she's like, take these pictures are looking for ethnically ambiguous. Women like you, you're over 40 Why don't you send the pictures to the agencies in Florida and see what happens? And within one month, I had three agents.
Gordon Brewer
Wow. Wow. So was it modeling or actually doing some acting or what was?
Diana S. Rice
It was all of it? At first, it was like lifestyle commercials, you know, just extra work, whatever I got my hands on, and that would actually pay, you know, and I got a bug. And I loved it. And then while I was on set, I'm that nerdy person where I'm with A, we're not with a little notebook and a pad and everybody else's second And I'm sitting there just taking notes like, okay, so this guy behind the cameras doing this, and that person would and then I would ask questions. And then I ended up behind the camera, I ended up becoming a producer, a PA, Set Decoration decorator for different companies. I think my favorite was becoming a casting director for student films for Palm Beach Atlantic University.
Gordon Brewer
Wow. Wow, that is fascinating. That is fascinating.
Diana S. Rice
I loved it. I loved being in that industry a lot. But honestly, because I am an open book therapist. My, it was hard on my family in a way. I mean, I was having so much fun. And I just realized, like, I needed this. And this I, I've always been a real creative is just due to the circumstances of my childhood and everything, I was not in a place where that was encouraged because that's just not how it is. It's just like, you're just trying to survive in the inner city. Most not all of us, because I'm not gonna, but I my, in my realm of influence and understanding, that's what I saw. It's like we're trying to when you don't have resources, or you don't have, you know, a healthy family unit, or even an environment that is positive around you. And you're all you're seeing is like surviving, you know, there's neighborhoods around here where, you know, you're watching your friend get shot down, you know, playing basketball. I mean, these are the kids I would work with. And it's not I never saw that kind of tragedy, but I've saw some I grew up in New York, by the way, I came to Florida, okay, I was 12 or 11. I came to South Florida, but I was I grew up in Queens, New York. Mm hmm. So, anyway, so for six years, I would say from 2014 to 2018 13 1280. Yeah, cuz I'm still like, that still gives me a little gig here and there. I love it. Like, every year, he's like, somebody out of the blue says, Hey, you want to do a commercial or something? And I'm like, sure. Do you know and I, yeah, I got excited. Um, but I also understand that that being a therapist is the actual purpose that I'm in this world. And that was clear when 2018 When the Parkland Stoneman Douglas shooting happened. And I've been in February, and I was still working in the industry. And I had a few families that remembered that I was a therapist, and they asked, Hey, can you come and help can, but I had, my license was gone, like I did, I let everything go. I was in career. And then little by little, my agents and work just started diminishing in the film industry. And I knew right, was calling me back and I'm like, no, no, please. No, please. No. Like, yeah, this is not about you, woman. And so by September of 2018, I got the job at the alternative school in Broward as the crisis intervention counselor. Mm hmm. And basically, they were like, listen, we're we have a lot of hurting teens. You know, the whole state of Florida probably was feeling this whole thing that happened. us especially Broward County is especially parkland and live in the town right next to Parkland Deerfield Beach. Wow. And teenagers now, okay, with seats, social media, and everything. They all felt it. I mean, I don't care where you were, they knew each other, a lot of them, you know, they needed different places. And even though they might be separated from schools, even private schools, even charter schools, they, they I learned that, you know, with all the social media, they knew each other locally, like, wow. So anyway, yeah, I, the principal I'll never forget. He's like, Hey, listen, we have to create this together. I don't even know where to start with this. But, you know, every school received a grant for mental health because of that. And that's, that's where I came back into being a therapist and back, you know, working in the school system.
Gordon Brewer
Yeah. Yeah. And then that, that led to Yeah, yeah. It's interesting, because then there was this whole phenomenon of the, the pandemic with COVID and that they That caused a whole other shift for, I guess lots of ways. Yeah.
Diana S. Rice
Because I really listened to like, what? My gut, gut instinct, you know, I don't know, Holy Spirit, whatever you're feeling to call it, I, you know, I know what it is inside of me and I'm, I'm still I had to learn to be still, in my own healing, I had to learn to just take that deep breath, and be merry, and not Martha, if anyone is that that's listening. Right. And because I'm a, you know, I'm, I'm just that type A anxious anxiety, you know, and at the same time, I had to realize this is not about me, and I have to be still to listen, to listen, really good with empathy and listening to others. But when it was for myself, that guilt and that shame that was embedded from your past, you know, it's just like, No, you're not worthy of that. And that inner critic, I had a shrink that inner critic. So I've worked, I go, you know, I've done EMDR I, I try pray basically everything I try. And then I encourage my clients to either go and get that done separately, or, you know, we, we work things out in my own private practice. And because I'm not everybody's cup of tea, you know, figure out like, where they're going to get their healing. Some people outgrow me, and that's fine. That's fine. So with that being said, it is it's been an interesting ride. So September of 2021. Is when the school let me go. And I'm not gonna go into that, because everybody has their own opinion of what happened back then. And I realized at that moment, wow, God, you prepared me in 2020 for what was to come and I'm so grateful. So back to the pandemic, when that shutdown happened at the same at the same time in the end of December of 2019. And the beginning of January and then February of 2020. We had tragedy in Deerfield Beach. We had local high school students, Deerfield Beach, high school students who died by suicide. And it happened like it was that and this was before the pandemic. And I'm working at the alternative school. And, and so and I grew up in Deerfield. So I live in Deerfield. I grew up and grew up in Deerfield. I went to Deerfield high. So that's, you know, that's my heart. They're my own high school. And so we had that tragedy, somebody you know, he died by suicide. Then a couple of weeks later, another football player was killed at a funeral. I think it was gang related. And then a couple of weeks later, another scholar athlete did the same and and died by suicide. And so we had that tragedy. On top of parkland in Deerfield, then I'm a therapist, but I'm, I'm seeing you know, and then the pandemic hits. Yeah. And so it was just like a whirlwind of like, whoa, but in my instinct, all of a sudden, I'm like, Okay, I need to learn, I need to learn. So I found a webinar. And I don't know if you if you've ever heard of Dwight bein. Right, being familiar.
Gordon Brewer
Yeah, he had
Diana S. Rice
a he's been a trauma therapist who's done natural disasters. Killings, you know, mass shooting, and just like 911 like he had. And to me, that's was my instinct to go into that kind of training. Because I'm like, a natural disaster I need to learn, like, and he's done it for so long. So he had a training and I went on it and I'll never forget, because he had like, a whole, like, calendar of like, okay, what I've seen in years, you know, after a couple of years, this is what you'll see in the group. And you know, and so I just hung on every one of his words, I took every webinar I possibly could on trauma, I took every zoom call and meeting with peers to just keep learning so I can be effective and focused on helping not only my clients but for me to I mean, like, hey, US therapists, we're human beings. Right? You know, and I think people like on the outside, forget that therapists are humans, doctors are humans. Right? Oh, Not firefighters are humans, you know? And so it's like, we're not, we're not super power people, like, you know, we might have these trainings. But we still have our personal lives. Right. Right.
Gordon Brewer
So and finding that balance, right. Yeah. All of that sort of thing? Yeah. Well, you know, one of the things that occurs to me, as you were, you know, telling your story, Diana is, I think when we find, you know, to put it in, you know, I identify as a Christian as well. And one of the things that, you know, to put it in that, in that vernacular, and kind of these terms, you know, is kind of the finding the finding the path or the will of God, or however you prefer to, to couch that. And I recognize that, are there people that are listening, that that's not not their thing, which is okay. But I think when you find that right path, things just kind of open up for you. And you, and when you're on that right path, it just things become easier, and things fall into place, and that sort of thing. And so I kind of hear that, kind of hear that in your story a little bit and moving into private, moving into private practice through all these twists and turns and trauma, and all of that sort of thing. has kind of led you to this place you're in now. Yeah. Yeah.
Diana S. Rice
With the private practice, like for anyone that's either in it, or is considering it, it is you really edge because they don't teach this in school, I know, in my school didn't teach anything about business, right? I'm told that I'm married to a businessman, I'm great. I had to have my own production company for a minute. It's kind of like, and being in the film industry, I was sort of my own CEO. You know, and because I had hated to say it, but I had to sell myself, right, this is acting and modeling and just producing whatever you need to get the gig to pay. It's right in mentality. So I noticed that everything I learned in the film industry as I am moving into my own private practice, that is what helped me it's like, understand, like, Okay, I am my own brand. I am my own CEO, I am, you know, like, what is my mission statement? What is my purpose of understanding? Oh, it's like, because we get overwhelmed. And we're not like I said, we're not taught this in. Just pretty sad. Because yeah, we should all no matter your career.
Gordon Brewer
Yeah, yeah. Yeah. And that's it. Yeah, that's the whole reason I started this podcast, and the stuff that I'm doing is, is that I know that there's so many of us out there, that, you know, my journey has some parallel features to yours, and that I worked in an agency that worked with at risk children and youth and their families and did the intensive, in home, therapy, and all of that kind of thing. And so you see, that whole side of things. And, but it also can lead to a lot of burnout. And then, if you're burnt out, like we were, you were talking about earlier on, you're not going to be of any help to anyone. And so being able to, the thing that I love about private practice is that you get to kind of control more of your path, and also be able to, you know, do the self care. I mean, it was, you know, I've shared before on the podcast, I'm in a situation now with my wife, and that she's, she's now terminally ill, and we've got hospice involved, and that sort of thing. But that whole, this whole journey started back in 2000, she was first diagnosed in 2010. And so that was the point at which I started making the transition, to go into private practice. And if I had not had done that, it would be the, you know, her care would have been an impossible task. Plus, my daughter was going into high school, then and all of that sort of thing. And so, yeah, and so, you know, it's private practices afforded me the time and the freedom and the autonomy to, to be able to do all of those things. So, yeah, yeah,
Diana S. Rice
I noticed like, like what you're saying, because, you know, like I said before, we are humans with our own personal lives that we have to function in and work through and, and do our own self care and ask For our own help, right. Okay, we do not need all the answers. With the private practice, though. I think for me, it's the balance that you were talking about, like, especially if you have seen, like, what what we've seen, like in that agency, I think most people that come out of school, that's the first job they can get. Right? Right. Right, your time. That's like, internship, you got to do your time. And that's probably the best teacher honestly, because you're seeing everything, right. Thing, everything that you learned in that DSM, which, by the way, if CPTSD was in that DSM, that big old fat book would be a little pamphlet, but that's Yeah. get in trouble for that. Yeah. At the same time, it's the guilt that we have. I had killed because I know the need out there. Right. I know the need of and people can't afford quality therapy. And that is where I had to learn to balance. Because me My heart is for my bipoc community. It is for my inner city, clientele. It is for the single mom, it is for where I came from, at the same time.
I have to be a businesswoman. Right, right. And see how that just
is like, well, and then I am a Christian, right? I am. And so it's like, balancing, like the love of money is the root of all kinds of evil, you know? Oh, yeah. You see what I mean? And, and so I have, I have learned, like, you have to understand like to be in that private practice. It's okay to charge what you're worth.
Unknown Speaker
Yes, yes. Right.
Diana S. Rice
Right. And I have come with my boundaries, right. I'll take two pro bono cases per year. And I will like, I will try to find the client, other, you know, the agency of the resource. And then, you know, there are certain families that I will do a sliding scale, but it isn't. That isn't how I do everything. Because listen, I live in South Florida, you know, how did I had the AC? Yes. Thanks for like, yeah. Eat? Yeah, I have to take care of myself like,
Gordon Brewer
yeah, because if you if you didn't, you couldn't take care of the people that you're passionate about. Right?
Diana S. Rice
And so was me working in the last three years, because remember, I'm coming from that alternative school from an agency, seeing things like Oh, my goodness, and I also had to realize this. I'm not Jesus Christ. I'm here to save the world. Right? Right. I'm here to love others. I'm here to love others, and then utilize my gifts and talents to help move the kingdom forward into those talents and gifts, and survive and thrive in the world that God has given me, like here in my city. So it was learning how to balance all these things. And that takes time that takes you know, introspection, that takes own healing, because guess what, you're going to get triggered by other people in your practice. Right? Right.
Gordon Brewer
Oh, yeah. This is Oh, Diana, this is great stuff. And I've got to be aware of our time and I hope we can continue this conversation. Yeah, Hear hear in the future. But yeah, so tell folks how they can get in touch with you. If they would like to find out more about you and the work you're doing?
Diana S. Rice
Sure. I'm, it's my website is through the valley.com. Or you can find me on Instagram. I am not no big social media buff. try my best and you'll see once. If you see my name, you're gonna be like, ooh, this girl's cheesy, but that's okay. Yeah, that's okay. Because I'm not here to please people. I'm here to please God. Because if people were my goal, I wouldn't be a servant of Christ. Yeah, you know, and, yeah, just check out my website, you'll you'll get a good vibe of who I am and I'm part of your tribe or not. And if I am then you know, reach out to me. I'm like, it's an open book. I try to respond to people. He's within 24 hours if I don't have my emergency like I hear you Gordon about the hospice thing because I just got a call yesterday from Um, sir. And she's been battling cancer for for a long time. And they said, Yeah, they've only given her six months to live right now. Wow. Yeah. And so like, it's it's ballin, but I also know like her faith, and I'm, I know my faith and, you know, whoever's listening, it's not about guilting or shaming you into understanding your purpose or faith or whatever I just want you to understand, like, you are loved by an almighty creator. And you have this purpose and calling and it's scary. And walking by faith and not by sight. It's like, Whoa, it's it's hard. And the life wasn't meant to be easy.
Gordon Brewer
Mm hmm. Yeah,
Diana S. Rice
yeah. What then and now, a trot, you have a tribe. I mean, Gordon created this tribe, like, I already feel like connected to gorta I just met the dude. So
Gordon Brewer
well, you're, you're kind to say that and I, I can't agree with you more. It's, it's about community. It's about knowing that you're not alone. And that you there are people and something greater than ourselves as walking along beside you through through the whole journey. So yeah, well, Diana will will have the links to your to your website in and your social media for pokes easy to find in the show notes here. And I hope that we can continue this conversation here later. Before too long.
Diana S. Rice
All right, Gordon, you let me know when all right.
Unknown Speaker
Take care. All right. Bye. All right.
Being transparent… Some of the resources below use affiliate links which simply means we receive a commission if you purchase using the links, at no extra cost to you. Thanks for using the links!
Diana S. Rice's Resources
Resources
Meet Gordon Brewer, MEd, LMFT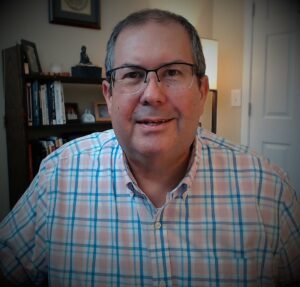 Gordon is the person behind The Practice of Therapy Podcast & Blog. He is also President and Founder of Kingsport Counseling Associates, PLLC. He is a therapist, consultant, business mentor, trainer, and writer. PLEASE Subscribe to The Practice of Therapy Podcast wherever you listen to it. Follow us on Instagram @tpotpodcast, and "Like" us on Facebook.