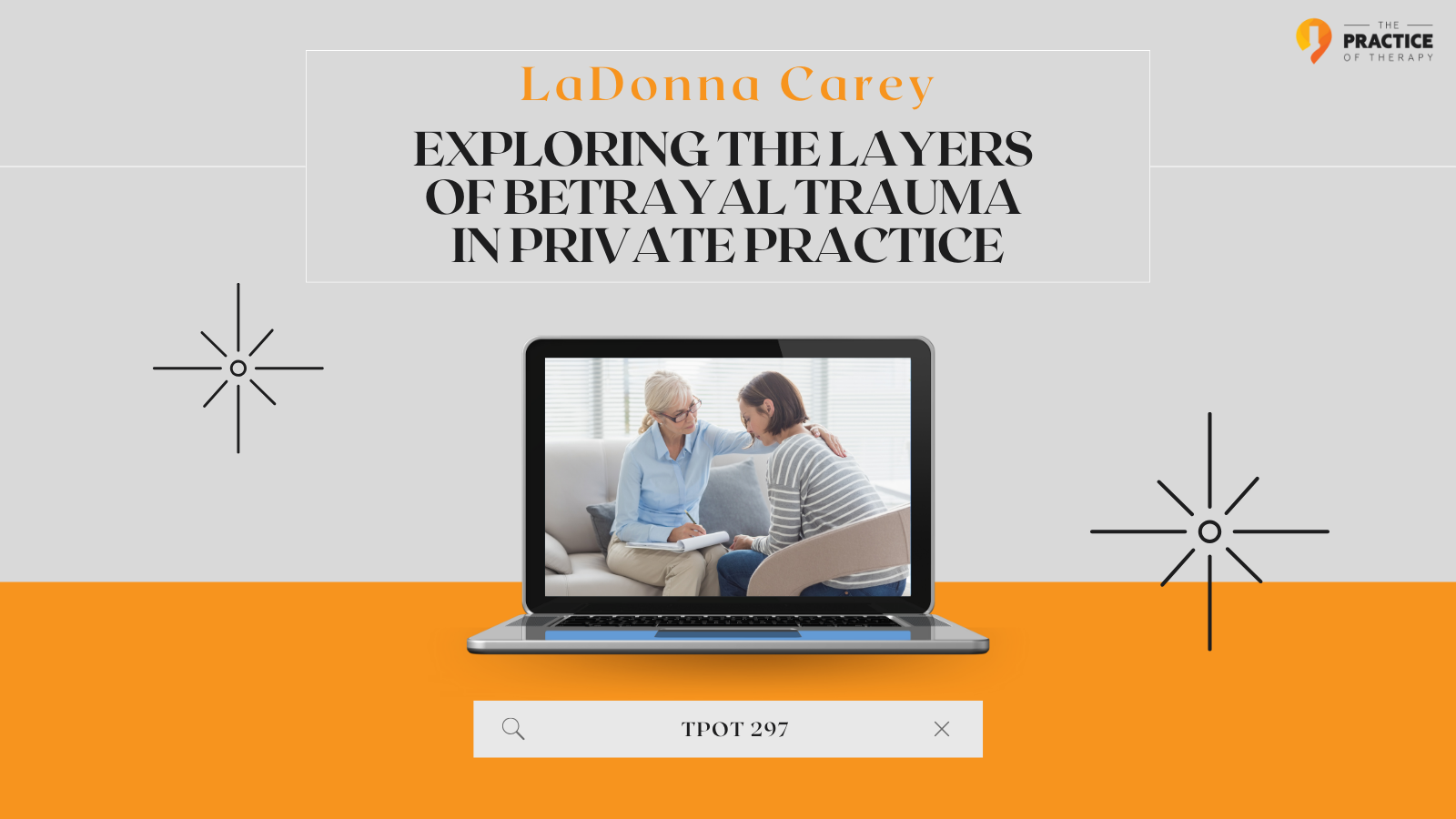 Join us in a deep dive with LaDonna Carey as we explore the profound impact of betrayal trauma in therapy sessions. Discover how betrayal can shatter trust, disrupt attachment, and leave individuals grappling with profound loss and confusion. Gain insights into the urgent need for therapists to equip themselves with the knowledge and skills to address this often-overlooked form of trauma. Uncover the complexities of healing from betrayal trauma, from navigating the aftermath to rebuilding trust, and the crucial role of empathy, understanding attachment styles, and open dialogue in the process. Don't miss this eye-opening journey into the world of betrayal trauma and its significance in the therapy room.
Meet LaDonna Carey
LaDonna Carey is a Senior Psychological Examiner in Tennessee. She earned a master's degree in Clinical Psychology from East Tennessee State University in 1989, where she later returned to teach in the psychology department from 2014-2020. Her private practice of thirty+ years is in Kingsport, TN, where she serves clients across Tennessee with face-to-face and virtual therapy. LaDonna has had a passion for working with Intimate Partner Violence since undergraduate school. Her clinical training and work have focused on treating betrayal trauma in individuals and couples. She has participated in training through IITAP for Partner Trauma Therapist certification as well as several modalities of couples work: Gottman Level Two, The Couple Institute Developmental Couples Therapy, Relational Life Therapy, Discernment Therapy, and PACT.
LaDonna created a group for women who are healing from betrayal trauma called Gathering Our Hearts, has continuing education programs for therapists related to betrayal trauma and is hosting a retreat for therapist in Hilton SC this October called Navigating the Storm: A Healers Role in Betrayal Trauma Recovery.
In addition to her practice, LaDonna has served several companies as a consultant/trainer and managed the on-site EAP of a Fortune 500 company for 17 years. She is trained and experienced in delivering CISM services in manufacturing, banking, retail, and nuclear businesses.
LaDonna enjoys spending time with her family and friends, golfing, live music, and recently she became a grandparent!
Exploring Betrayal Trauma with LaDonna Carey
Betrayal trauma can be devastating. LaDonna Carey discusses the impact of betrayal trauma in therapy sessions. She highlights the profound effect that betrayal has on individuals and their relationships. LaDonna defines betrayal trauma as a "lifequake," where everything one has known is turned upside down. It occurs when the person you rely on to take care of you and be your partner breaks your trust and commitment. It can manifest in various forms, such as hidden lives, affairs, financial infidelities, or undisclosed addictions. The traumatic aspect lies in the realization that the person you thought you knew deceived you, leading to a loss of security and shattered attachment.
Betrayal Trauma: Navigating the Profound Aftermath
The aftermath of betrayal trauma is profound. It leaves individuals questioning their entire foundation and sense of self. LaDonna mentions that many people contact her daily, seeking therapy from someone experienced in betrayal trauma. They often feel let down by therapists who do not understand or acknowledge the depth of their pain. This highlights the urgent need for therapists to be equipped with the knowledge and skills to address this type of trauma. Betrayal trauma is not commonly discussed or taught in traditional therapy training programs. However, as LaDonna points out, it is becoming increasingly prevalent due to the ease of access to information and the covert nature of betrayal facilitated by the internet. Additionally, the phenomenon of gray divorce, where individuals experience unexpected divorces later in life, often involves hidden lives and betrayal.
Understanding and Healing from Betrayal Trauma
The devastating impact of betrayal trauma cannot be underestimated. It shatters trust, disrupts attachment, and leaves individuals grappling with a sense of loss and confusion. As therapists, it is crucial to recognize and address this type of trauma to provide effective support and healing for those experiencing it. Betrayal trauma can have a profound and lasting impact on individuals and their relationships. LaDonna emphasizes the need for therapists to be knowledgeable and skilled in addressing this type of trauma. By understanding the nature of betrayal trauma and providing appropriate support, therapists can help individuals navigate the aftermath and begin the journey towards healing and rebuilding trust.
Guiding Through Betrayal Trauma and Trust Restoration
Betrayal trauma often leads to complex PTSD symptoms, which can be caused by emotional abuse, verbal abuse, physical abuse, or addiction over a period of time. Recognizing and assessing these symptoms is crucial in providing effective therapy. One of the first steps in working with betrayal trauma is helping clients find a sense of security and stability after experiencing a "lifequake." Without this stability, healing cannot begin. Rebuilding trust is a major hurdle in the aftermath of betrayal trauma. LaDonna highlights the importance of transparency and openness in the early stages of rebuilding trust. The betrayer must take responsibility for being trustworthy and demonstrate through their actions that they can be trusted. This may involve sharing passwords, being open about whereabouts, and following through on commitments. Trust is built gradually, starting with small actions that prove reliability.
The Role of Empathy, Understanding Attachment Styles, and Open Dialogue
Empathy is another key component in rebuilding trust. The betrayer needs to understand and acknowledge the emotional impact of their actions on their partner. Writing an empathy letter can help facilitate this understanding and open up dialogue between the couple. By showing empathy and validating their partner's emotions, the betrayer can begin to rebuild trust. Understanding attachment styles is also important in the process of rebuilding trust. Serial cheaters or individuals with addiction issues often exhibit an avoidant attachment style, while the betrayed partner may have a state attachment style. Recognizing these attachment styles can help the couple understand their patterns of interaction and work towards creating a more secure attachment.
Gordon Brewer
Okay, if you want to do the little blurb
LaDonna Carey
okay, I'm Madonna Carrie. And I'm very happy to be here on the practice of therapy, to talk about betrayal, trauma, and how it shows up in the therapy room.
Gordon Brewer
Hello, everyone, and welcome again to the podcasts. And I'm really, you know, in one way, I'm kind of embarrassed that I haven't had Madonna on here before. But Madonna, welcome Madonna. Carrie.
LaDonna Carey
Thank you. I'm really happy to be here. So we kind of cross paths for years.
Gordon Brewer
Yes, we have. Yeah, yeah. La Dona an hour in the same town, which is crazy that we were just talking about how we, we've talked to each other. We've texted each other, we refer to each other and just never have spoken in person.
LaDonna Carey
Yeah. So it's a great new beginning.
Gordon Brewer
Yes, it is. So yeah, so Madonna, I'm so glad you're with me on this. And we'll do. I'm sure we'll be doing this again. But as I start with everyone, why don't you tell folks a little bit more about yourself, and how you've landed where you've landed?
LaDonna Carey
Okay, sure. Well, I've got a master's in clinical psychology. And I've been doing private practice since 1989. So a few years under my belt there. I've done a few things through the years, I've always done my private practice. I did the contract at Eastman Chemical for that 17 years to do their on site EAP program. I taught at ETSU in the psych department for about six years as adjunct and taught personality and intro to psych and health psychology. So that was a lot of fun. And these last years, I guess you pretty much since COVID. I've just been doing private practice. Yeah, but actually, I've added doing some continuing education courses. And I have a group that's called gathering our hearts. That's for women who have gone through betrayal, trauma, and I do different groups with them virtually kind of psychoeducational in self care groups. And so I kind of bounced doing a lot of different things.
Gordon Brewer
Right. Well, I know la donna has a great, great reputation in town. And I'm so glad that she's I can say Emma's kind of loosely associated with her just by location as much as anything but and another fun fact is law, Donna's daughter in law actually worked for me earlier on as a as an intake coordinator. So it's, you know, it's a small world, but sometimes we just don't cross paths like we should. But But yeah,
LaDonna Carey
it's amazing. Even in a small town, that yes, we don't run into each other more.
Gordon Brewer
I know it is crazy, is crazy. Well, Madonna, I know one of the things we're going to be talking about is just betrayal, trauma. So maybe for folks that are out there that might not you know, I think most people would understand what you mean by that. But why don't you kind of define what how you see betrayal, trauma, and what that looks like.
LaDonna Carey
I'll tell you what I'm talking with therapists that I'm trying with it or you talking with clients who come in, the term that I use usually is life quake, that it's really just like, everything that you've known in your life has turned upside down, and the whole foundation of what you thought it was. So essentially, betrayal. Trauma is when the person that you rely on to take care of you and being your partner and holding commitments. That's really a part of your security. And what you think is your secure attachment through an attachment lens. You find out that maybe they have a hidden life, or maybe they're having an affair, or financial infidelity. He's maybe addictions that you really weren't aware of. And it's the traumatic part of it is I'm looking at somebody that I thought I've known for years. And I realized I don't know you at all, because you could deceive me in that way and be okay
Gordon Brewer
with it. Right. Yeah, no,
LaDonna Carey
really just the aftermath.
Gordon Brewer
Yeah, yeah. Well, I know. That's one of the things I spent a few years but I know when I went through some of the Gottman training, we were talking about, you know, a big part of any marriage counseling stuff is that you're good be dealing with affairs and betrayal and that sort of thing. And, and I think looking through it, and looking at it through the trauma lens is probably a very smart way to go about it.
LaDonna Carey
Yeah. I have people contact me at typically three or four people a day, who are looking for somebody who's experienced in betrayal trauma. And that was one of the reasons I decided to do the continuing ed course. Because these folks were saying, Yeah, I went to see some therapist and I felt betrayed by them, because they didn't know what I was talking about. And it's not anything that we learned in school. You even when I was going through school, we weren't talking about trauma. You I've learned all that through the years after grad school. So there's really a need for therapists to be able to meet the need of the number of clients that are going through betrayals, and I think that just continues to escalate with internet access to just about anything that you want to find, and the covert nature of that. And I work with folks who are going through the Gray Divorce, you know, midlife divorce unexpected most times? And it seems like that there's a lot of betrayal and hidden lives that go along with that population to
Gordon Brewer
Right, right. I can. I know, I've had several over the years that same, same scenario. So as you when you're in your training, and when you're thinking about this, what are some of the I know, this is a very broad question, but what are some of the things that I think are that you think are important for people to think about and working with betrayal, trauma, just from a clinical through a clinical lens,
LaDonna Carey
I think, to be able to assess for the complex PTSD symptoms, to recognize that typically, when there's betrayal, trauma, there's some form of PTSD. And depending on the length of it, if there's emotional abuse, verbal abuse, physical abuse that's gone on. If it's being addictions over a period of time, then you're going to see the complex PTSD, that's you occurring there. And to recognize, the first thing that we have to be able to do is to help our clients find some level of security, kind of finding their feet again, and they're flooding again, after a life quake. And until that happens, they're not going to get over it. A lot of the clients that I see have said you people are tired of it, because they're just not over yet. But maybe they're going through new what, what I call trickle truths near there, they're finding out a little bit at a time and younger spouse might be saying, That's all of it. That's all I did. And then you find something else and more kind of trickles and trickles and trickles. And our folks, you know, while it trickle truth is going on, they're not going to have stability. So they're not going to be able to get over it. They can't even start healing until they have some sort of stabilization.
Gordon Brewer
Yeah, you know, what, what do you see as maybe the steps to building trust again, if they, I mean, I know there's really, you know, I've one of the ways I've heard it put and I can't remember exactly where I heard this, I'm sure it was at a conference, but when you're when you're when a when a couple or has been is facing betrayal, trauma, really, the person on the receiving end has three choices, they can either accept the status quo, they can get out divorce, or they can do what they need to do both. It's uh, you know, both partners, do what they need to do to change the relationship and change, change the, you know, the nature of their of their relationship. So if you think I know, one of the biggest, biggest hurdles is developing that trust again, and what are you finding that works? Helps with that other than, as I like to say, You got to play with your hands on the table for one for a while. And so yeah, for a long while,
LaDonna Carey
forevermore. Excellent. Yeah. And I, yeah, when I went through the pack training, you know, one of the big things that we talk about in that is just openness and trance Parents say that everything has to be open, everything has to be transparent. And that's the very beginning stages, by what I tell folks, when they ask about how do you build trust. Again, it's the betrayers, responsibility to be trustworthy. So what sorts of things are you willing to do to demonstrate that you're trustworthy? And also, what kind of things do you understand from your partner that they need? In order to start even opening themselves to? Are you trustworthy or not? There's gonna be a lot of skepticism, you probably optimistic skepticism, you, I hope that I can trust you. Sometimes we desperately need to trust our partner, that what you're saying is true. But to get the couple to talk about, what is it that the betrayer really needs to do? Now, sometimes in the therapy that I've done with couples, the betrayer, wants to step up and say, well, but here are the things you need to be doing. What I remind them is that your spouse didn't betray your trust. You're the one that's kind of blown things up with the betrayal, whatever it is. So you got to do the first groundwork here, you have to start working on the stabilization with it. So are you going to share all your passwords? Are you going to be okay with I think it's live 360, you know, where everybody knows where everybody is on the phones, are you willing to do what you're saying you're going to do, and you recognize that trust really kind of begins around the perimeter, we're going to start small. And if you say, I'm going to the store and picking up a loaf of bread, you go to the store and you pick up a loaf of bread. And that's what you do. And it's the amount of time to go get a loaf of bread, and you don't take your phone with you, you you go and show that you're trustworthy with it. Another thing that's really important is to create an empathy for what your partner's going toward you so far, whether it be trial, or one of the exercises that we do is to write an empathy letter, which is a statement of, here's my understanding of what you're going through emotionally. And what I've created with this. And I have some dialogue with a couple in that regard. Another thing I talked to them about are their attachment styles. And typically what you see with a person who maybe has been a serial cheat or has addiction issues such as that, you typically see more the avoidant attachment style. And an interesting thing about the person who has been betrayed is that you can have a state attachment style, you they may have had a secure attachment style until everything blew up around them. And then they're gonna move into an insecure attachment style, of course, because there's a lot of insecurity that's bigger. So helping the couple be able to understand that and to navigate that. And what do we need to do with our particular attachment style individually? That'll help us move more to a secure attachment again?
Gordon Brewer
Yeah, yeah. Yeah. And that's, that's always the, the hard part to me seems to be when they're at that, at that place, where maybe the person that has perpetrated the mistrust, I don't know if that's a good way to put that. But that's, think about it, if they have if they are doing all of the things to try to be transparent, but but their, their partner is still just really leery and just really having a hard time with it. And just really still working through that. When they maybe feel falsely accused of stuff. When they've really done nothing, done nothing wrong in the present.
LaDonna Carey
Yeah, part of the way I dress that is to help educate about PTSD and complex PTSD and the triggers that are going to be there. And how, how are we going to navigate these triggers together as a couple? And really the research that I've read the discussions I've had with other therapists and the trainings and such that I've been through with this. It's not An unusual, it's a four to five year period of time before the betrayed person really can start catching their breath a little bit, right. So it's not a quick fix. And when you're the person who's betrayed, and that's very uncomfortable, and we don't like being accused, we don't want not being trusted. We help in the home to be able to understand the experience of the betrayed. Also understand and how they can regulate their own emotions. Yeah, no cause, yeah, with avoidant attachment, they've avoided any of those emotions and numb themselves out to it for probably most of their life. So to help them learn how to be patient, and how to help their partner through those triggers, because that's part of what solidifies the relationship even more over time to and helping them understand this is going to be a while. And I use the analogy, if somebody gets busted up in a car wreck, and they're in the hospital for a while, and then they're going to rehab and then they're going to physical therapy, and they're learning how to walk again. It's going to take a good period of time. And we were just emotionally devastated when we're blindsided by betrayal. And so that's going to take a good period of time to Yeah,
Gordon Brewer
yeah, I like that analogy, because, and I've used that before just comparing it to a physical wound. And that you're, you know, it takes time to heal, and it has to come from the inside, inside out, but it doesn't. The person that created the wound needs to be aware of when they're poking at the wound, or they're doing things that are gonna gonna not help the wound to heal. Yeah,
LaDonna Carey
yeah. Yeah, that's good. And it's a tough spot for both people. Yeah. And sometimes people even going back to we've got the three choices in idea in the discernment training, discernment counseling training. Yeah. Which talks about those noon? Are we just gonna call it quits right now? Yeah. And are we gonna do some more work to see if we want to be together? Or are we ready to commit to marriage counseling? And really both commit to that? So I've backed up with some couples, sometimes in San Diego, it sounds like we got folks leaning in and out to us. Garmins words. Yeah, yeah. And so let's figure out what we're doing here. And let's just put it all on the table. And I work real hard with my couples and with my individuals have, I'm very open and transparent with them. And I feel like it's my job, you're paying me to maybe say some things that are going to be difficult for you to hear. But that I know, are really important for you to hear. So let's figure out how we can all you work on the secure attachment in the therapy room. That you know, I'm not saying anything that just to be mean or ugly or to shame in any way. But there are things that really need to be brought out and whatever emotions that brings up in you. Let's talk about that. And because we can talk about how you guys can soothe each other while that's going on.
Gordon Brewer
Right. Right. That's, that's good. Yeah. So just switch gears a little bit, Madonna, why don't you tell folks a little bit now you've got a retreat coming up. That sounds exciting, and some of the other trainings that you're doing?
LaDonna Carey
Yeah, I am so excited about the retreat, because it's in Hilton Head, which is one of my most favorite places. The name of it is navigating the storm. And, you know, with betrayal, trauma being the storm, and really the therapist role in helping clients through that. I've partnered up with a trauma yoga master in she's in California. So she's gonna come in and do a couple of days of just mind body work and trauma yoga work, you to instruct the therapist who are the era that that aspect of it, how to help their clients really to ground themselves. And then I'm doing two days of training. There's 14.5 hours of continuing ed with it. And we're going to talk about betrayal, trauma, emotional and verbal abuse, ethics of it, different treatment modalities, yoga, and we're going to do Some of it in the gorgeous beach house that we have, we're going to do some of it by the pool, and we're going to do some of it by the beach. Because my thought is we work hard. So we need to play hard. And if we can play on the beach and get continuing a, that's a good thing. I'm also doing some marketing with that you how to market your individual practice, how to market your couples work, how to do intensives, and how to market that. So there should be a really good package that you come away from the retreat. So yeah, super excited about that.
Gordon Brewer
And then the other can, where can people find that?
LaDonna Carey
Well, um, I've got a link on my Facebook page. That is just Madonna, Carrie counseling, so we can find that they are. Can I send you a link that we guess what? podcast? Yeah,
Gordon Brewer
I was gonna say we'll have links in the show notes in the show summaries for people for that. Yeah. And I was gonna say, I've seen the website and it looks like a beautiful location, Hilton Head if nobody if people aren't familiar with it. It's on the coast of South Carolina. And it is one of the most beautiful locations in the southeast. As far as beaches go,
LaDonna Carey
yeah, yeah, it's just gorgeous. And we're going October the 22nd, through the 26th. And all of the local site, don't tell people to come in October, because it's the best time of the year to be in Hilton Head. So we're going to come down there we got, if you've ever been to the jazz corner in Hilton hand, we got tickets to go to jazz corner and CDs guys, on Sunday night, when we get there, which is just a treat to do. So we we got a pretty good balance. So we're going to have some fun and learn some things. The other thing that I added to the retreat, because I think it's really important is we're going to have six months of consultation with the folks who come to the retreat, so that we can stay in touch monthly with each other talk about our cases, and really kind of build that community and continue to grow together. So I'm excited about that part of it too.
Gordon Brewer
Awesome. Awesome. That's great. Well, we're gonna want to be respectful of your time. Are there any other parting thoughts that you have around the things that you're doing?
LaDonna Carey
Well, um, if anybody has any questions about them, of course, they can email me or you can give me a call either one, I'm at contact at Madonna carrie.com, or my website is Madonna. carrie.com, there's a contact spot there that you can just click and send me an email. I'm really passionate about helping therapists be able to help folks who are going through this. And like my three hour continuing ed course, is $39. So I want to make it achievable. And I've paid a whole bunch for trainings over the years, I've been very fortunate in being able to do that. And the more that I can share at a price that's beneficial, that's going to help folks be able to grow their practice in their skill set. I'm very invested in doing that. So certainly send me an email, if you're interested in that I can send you a link to the different courses that I'm teaching. And oh, another thing I'm doing, I'll say this quickly. I have a third Thursday therapist, book club. It's a virtual book club. And we just started that a couple of months ago. I had Jennifer Parker there. And she talked to us about her book coercive relationships. Last month, Jen Townes came on. And she talked about the name of her book is our deepest roots. And it's about an attachment lands and queer relationships, and the betrayal trauma that folks go through in that regard. And I'm on vacation in September, in October, we got an author coming in that's going to talk about betrayal, trauma, and religious trauma. So you know, if folks want to log into that, it you can send me an email or the website for that is betrayal recovery center.com/book Club, and that'll take you to where you can sign up and then I send emails out with our zoom links.
Gordon Brewer
Awesome, awesome, man. Well, again, we'll have those links So you can get in touch with Madonna on the in the show notes on the show summary so well, Madonna we need to get together for coffee. I mean it's just there's no excuse for us.
LaDonna Carey
Yes, we need real life interaction. I agree we will do that.
Gordon Brewer
Yes. Well, thanks Madonna and I'm sure Madonna will be coming back on the podcast again before long live
Being transparent… Some of the resources below use affiliate links which simply means we receive a commission if you purchase using the links, at no extra cost to you. Thanks for using the links!
LaDonna Carey's Resources
Email: Contact@LaDonnaCarey.com
Resources
Meet Gordon Brewer, MEd, LMFT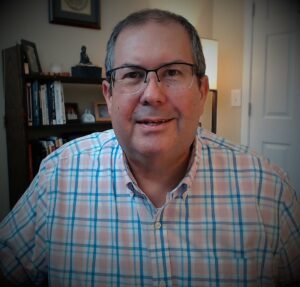 Gordon is the person behind The Practice of Therapy Podcast & Blog. He is also President and Founder of Kingsport Counseling Associates, PLLC. He is a therapist, consultant, business mentor, trainer, and writer. PLEASE Subscribe to The Practice of Therapy Podcast wherever you listen to it. Follow us on Instagram @tpotpodcast, and "Like" us on Facebook.