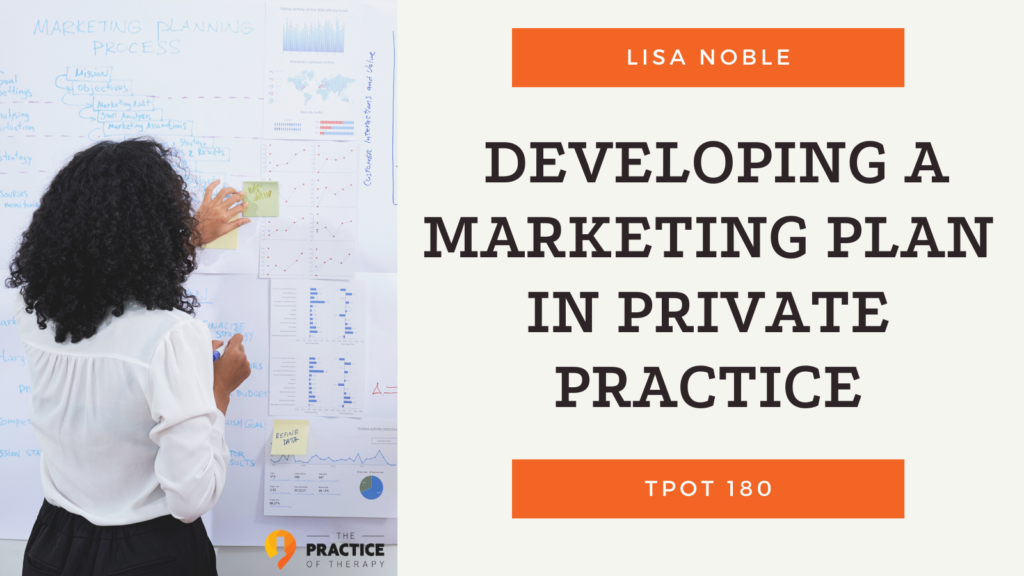 This episode is all about having a marketing plan for your private practice. I am lucky to be joined by Lisa Noble; she is a Brand Strategist and Web Designer. First, we talk about how relationship-building can be one of your most significant assets for marketing and getting more clients into your practice. Then, Lisa dives into social media trends and answers the question: which social media platform should I be on? Later, Lisa gives the scoop on how she starts from scratch when building a successful marketing plan for private practice owners.
Meet Lisa Noble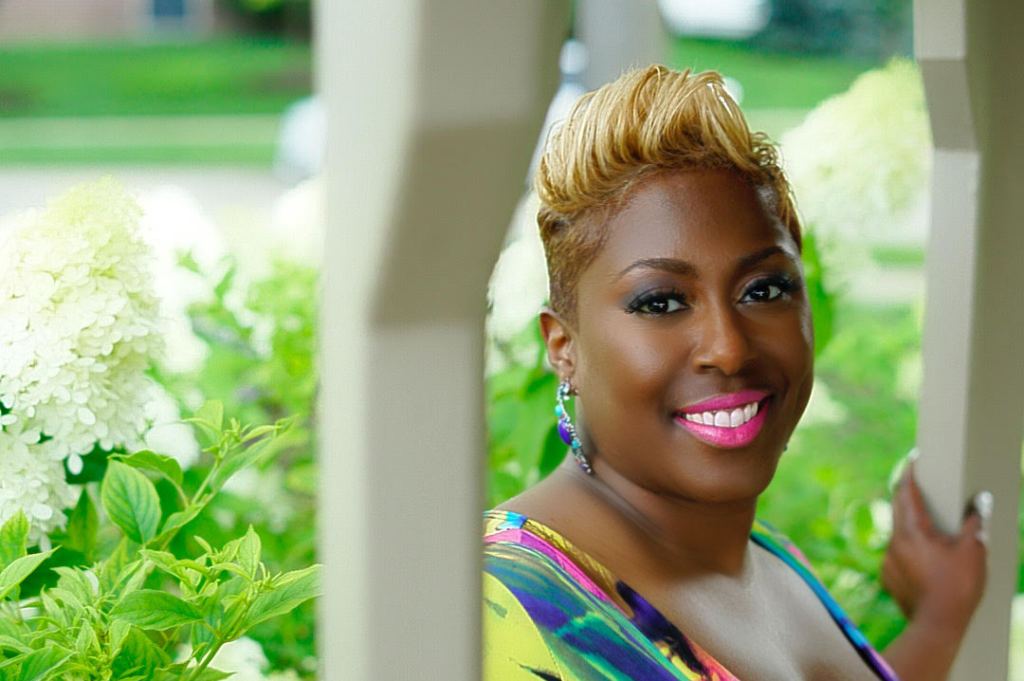 I'm Lisa M. Noble and as a Brand Strategist and Web Designer, I work with female therapists and entrepreneurs who are eager to build and grow their client loads.
I specialize in brand and marketing strategies to help my therapists get the traffic and marketing pieces to running a private practice.
I started this business because as a professional web designer working in corporate I learned that a website with no strategy behind it is just a pretty brochure. In that role, I got an insider's look and saw exactly how to create strategies that help businesses grow and make websites that convert sales.
For over 15 years I've worked with business owners, therapists, and private practice owners, confused, and frustrated about how to move forward with their businesses so I know exactly what works and what doesn't! I believe that every therapist should work with the clients they would love to work with.
Relationship Building To Boost Marketing
When starting a marketing strategy, talk with your colleagues. Talk with people who are in your niche as well as those who are outside of it. When you start talking to them, you can first find out what they've already done as private practice owners; they've already paved the way and done some of the marketing that you need to do. In addition, these people will be a good referral source because their private practice will get full, especially now with what's going on during the pandemic. Please send an email to other private practice owners and ask them to get coffee or send them a Zoom invite. When it comes down to it, marketing is about building relationships.
Social Media Trends In Private Practice
Video is massive on social media right now. Many people don't want to hear it, but it's time to step out of your comfort zone and start making videos. People are trying to connect and decide who they want to talk to. So, get on video and show your mannerisms, show what you look like, how you speak, tell them your philosophies about certain things, and reveal your formula to help them. That way, potential clients can get an idea of how you will talk to them. Videos are the very key to bringing business in the door.
If you're not sure which social media platform to start on, that is okay! You'll want to be on the social media platform that your ideal client is on. So, think about who your ideal client is. What do they like to do? Where do they like to hang out? What is their favorite social media platform? Then, you can determine what kind of social media platform you need to be on. Also, remember that social media is constantly changing, and different demographics jump on trends at various times. So, be sure to keep up to date with what's going on in the virtual world.
Starting Your Marketing Plan From Scratch
First, you'll want to know who your ideal customer is and get to know them. You'll want to know what your professional goals are and the goals of your ideal client. Next, you can create a logo and start looking at your social media channels. After, make a brand style guide that will cover every aspect of your business. What mood will your brand give off? What colors do you want to use? What fonts will you write in?
Later, you can create your website and add content. You'll want to make sure to set up pages; it's so helpful when you're thinking about SEO. Not many people realize that SEO needs to be part of their marketing strategy. Eventually, PR will come into play. Sadly, many times, people will try to do a marketing plan by just throwing darts at the board and not really having a good plan in mind. If you don't know where you're going, then how are you going to get there? It's critical to have a plan in mind!
Gordon Brewer 0:00
This episode is brought to you by the solo to group practice webinar. It's a free webinar that you can find at practice of therapy.com slash group, and also brought to you by therapy notes therapy notes.com.
This is the practice of therapy podcast with Gordon Brewer, helping you to navigate your private practice journey.
This is session number one at the practice of therapy podcast. Hello, everyone. I'm Gordon Brewer, hope you've had a good month of May.
As this particular episode is coming out, it's the last day of May if all goes well, and we will have just started kicked off the kind of unofficial start to summer, which is Memorial Day weekend, and I hope you've had time to get together with family and friends and, and that sort of thing. Yeah, and the The other thing too, at least as I'm recording this one a, one of the things I finally did is did some batching some recording this early on before this episode comes out but get the news this week at least as I'm recording this back in middle part of May that we're we're starting to lift the mask mandate, which I know for me has been just kind of a weird feeling even I know that I'm fully vaccinated, and everybody in my family is fully vaccinated have been for a while. And so it just feels weird to take the mask off. And but it's same time, I'm so glad we don't have to feel so afraid when we're out in the grocery stores and that sort of thing. So anyway, before I digress too much I'm looking forward to you hearing from my guest today, Lisa noble, Lisa was one of those great people that reached out to me, and we have a conversation about marketing, particularly if you're in the beginning stages of thinking about marketing your practice, and really what it means to develop a marketing plan. And I know for a lot of folks out there, I know in my practice, we're just been incredibly busy. So marketing has been something that I've kind of put kind of not so much in the forefront. But I've got to be cautious about that. And I would urge us to be cautious about that. Because I think we go through different peaks and spikes within our practice. And I think marketing your practice is something that needs to be ongoing and sort of constant. to constantly make sure that you are finding the ways that people can connect with you and find out about how you can help them. And again, marketing is just simply building relationships with people and making sure that people that watch your help can find you. So anyway, we'll get to my conversation with Lisa here in just a minute. But before we get to that, here's we come to the end of May May. One of the things I want to let you know about is an upcoming free webinar. And the webinar is going to be on using Google workspace in your practice. And for those of you that know or have heard from me, I'm a big fan of using Google workspace used to be known as G Suite. But anyway, I'm putting together this free webinar. And it's gonna be on Friday, June the 11th at 2pm. Eastern, and you can sign up and go register for that free webinar at practice of therapy.com slash g w s webinar practice of therapy.com slash g w s webinar. And in this webinar, again, I'm just going to go through how I use Google workspace in my practice and some of the tools that people myself and other people are using around managing their practice and the potential for setting up a whole practice platform that will manage the business side of your practice. So be sure to check that out. Again, it's practice of therapy.com slash g w s webinar. And even if you're not able to join the live webinar, be sure and register anyway and that way you can get the replay and we'll be holding that on webinar ninja and it works pretty well for webinars. So anyway, look forward to seeing you there. And also, before we get to Lisa, be sure to check out our sponsor for the For the podcast, and that is therapy notes, therapy notes.com. They are one of the highest ranked electronic health record systems for private practice owners and those of us in the mental health field there who I use my practice, and they have a platform that is second to none for being able to schedule your clients send reminders, file insurance claims, and also telehealth available all in one place. And also use that in conjunction with Google workspace. So I'll share some of that in the webinar coming up. But anyway, therapy notes.com. And be sure and use the promo code Gordon, just g o r, d o n, and you can get two months of their services at no cost to us. So be sure and check them out therapy notes.com. And so without further ado, here's my conversation with Lisa Noble.
Well, hello, everyone, and welcome again to the podcast. And I'm so happy for everyone to get to know Lisa noble, who has joined me today. So Lisa, welcome to the podcast.
Lisa Noble 6:22
Thank you so much. I am just honored to be here. Thank you,
Gordon Brewer 6:26
well, it's good. I'm glad that you connected with me. And I'm looking forward to people hearing from you and the company that you started and just really how you're branching out and helping people, particularly in private practice with their social media and marketing and that sort of thing. And so, as I start with everyone, why don't you tell folks a little bit about your journey and how you've landed where you've landed? Well, I
Lisa Noble 6:53
started off going to school for web design and development. And what I found was that I could create these beautiful websites, but there was no strategy behind them. So they really weren't moving the way that people wanted them to move. So that's when I really started teaching myself about strategy and finding out how to market these businesses and really expand their reach and talk to people beyond just in their local area. I started working for companies like ad agencies and corporate companies that were doing like big brand stuff, you know, they bring in agency, and it's like, hundreds of 1000s of dollars being spent. And I really kind of learned as I went along. And, um, when I started thinking about my clients, I was like, I can do this on the small business budget. And bring that big, grand, you know, ad agency type feel, bringing all the strategy bringing all the photos, photos, shoots and things like that I can do that for for people and really grow their businesses. So yeah, so I started off creating pretty pictures on online and being kind of a geek, a programmer and then took what I loved the art of it, and started really helping people.
Gordon Brewer 8:21
I'm really excited to hear about that. Because one of the things that I think for most private practice owners find most intimidating is just the whole thing about marketing and getting their name out there and in branding and all of that. And so I guess one thing that people might be interested in is how did you get interested in folks that might be in private practice and therapists in general,
Lisa Noble 8:47
um, well,
it really was my art. She was a therapist that became a private practice owner, she left her job and decided to open her private practice. And she asked me to help her with her marketing and her branding. And what I found was that I could connect with her colleagues. And I found that there was really a disconnect when people are even thinking about being a therapist and it being a business and talking with her and her colleagues. And I kind of got to know the language and the lingo as well as I worked for a healthcare company. So I knew about the HIPAA restrictions and those types of things. So it was kind of like a really good niche for me after talking with them and finding out their needs. And a lot of times, they're being very quiet about what they're doing just because they just don't think of it as a business. And in helping her I found that I could really make a difference in this small niche instead of being so broad because I was trying to figure out a way that I could make my business grow without trying to help everybody because when you get into Some marketing and business you that's that's just a way that you're never going to grow because you're trying to help everybody it once I figured out that I could really become an expert, and in working with these type of people and really get to know their industry, I thought that that was a good niche for me.
Gordon Brewer 10:18
Yes, yes. And I it's such a such a needed niche, because I think if somebody were gonna approach marketing where they really wanted to outsource, and we were Yeah, and you and I were talking about that a little bit before we started recording, just the importance of doing that. I think it's so great that we have people like you that can can really cater to the small business owner or really the, the small private practice owner, because it's, it's such, it's such a needed thing. So yeah, so if somebody thinks about really developing a marketing strategy, kind of how we're How do you see kind of the starting place,
Lisa Noble 11:02
I think the starting place is to talk with your, your colleagues, those who are in your, in your niche, your specialty, as well as those who are, who are outside of it. Because when you start talking to them, you can first find out what they they've already done it their private practice owner, they've already kind of paved the way and done some of the marketing that you haven't done, as well as they could be a good referral source, because their private practice is gonna get full, especially now with with what's going on with the pandemic, I think, now people, it's not as hard to get clients now people, they're actually filling their private practices, and they're going to need to be able to refer. So it would be good if you kind of paved that way and already, maybe email someone and say, hey, let's do a zoom, let's have coffee, over zoom, and just get to know each other because I you know, I'm either either in a similar niche, or I could be somebody, like, that's doing something that that could really, I guess, parallel with what you're doing. Whereas like, if somebody is a, maybe a couple's counselor, then I could be somebody that handles children. So then they can refer, you know, the Child Services to me, that's a good way, I think, to really start marketing start almost a pitch email to say, Hey, you know, maybe we can work together and refer and just get to know be on their radar, get to know them and know what they're doing.
Gordon Brewer 12:44
Right. Yeah, I love I love that idea. And that, that that approach, because I think at least what I'm learning in my own practice is that we are full in where I was, in fact, is we're recording this. Yeah. How it is we're recording this yesterday, I had had a conversation with intake coordinator, and we were just talking about starting a waitlist. And the the thing about a waitlist is that it's really kind of useless. And I think people could do a much better service by being able to refer to other therapists that you know, are in a particular niche, and you can make sure that people get matched for somebody that is going to be helpful for them have really given giving those good referrals. And I think, to what you're talking about, Lisa, that is I think so important. Is that really, when it comes down to it, marketing is just about building relationships. And yeah, and so being able to have those, those people. So yeah, so I know we talked a little bit just about how one of the things that you help people with is just with their social media, what approaches are you finding that are working well for people, when it comes to kind of marketing through social media and that sort of thing?
Lisa Noble 14:06
Well, a lot of my clients, they don't want to hear it, but video, it's like, you have to get out of your comfort zone. And even for myself, video is not something that I just want to do all the time. I can't say I'm an introvert, but it does, it does strike a little fear. But doing social media, I'm doing video because people are really trying to connect and decide who that they want to talk to. So if you're showing your mannerisms, you're showing what you look like how you speak. You know telling them your your philosophies about certain things, your formula to help what's your solution, that is so key if I can see you and and get an idea of how we're going to actually talk to each other. That's very key to bringing business in the door.
Gordon Brewer 15:01
Right, right. Yeah, that's a that's a theme I've heard from a lot of people is that that, you know, video is really the way to go. When it comes to social media or whatever, whatever format that takes it what are what are your thoughts about which social medias we need to focus on or our be on our does it matter
Lisa Noble 15:24
that really is about who your who your ideal client is, you really have to get to know who that person is. And what I find is that a lot of times therapists really have a great understanding, because they've already, you know, sat down and talked to this person for a very long time. So they know who they are, where they're hanging, hanging out, pretty much they know the demographics. They know the psychographics. Like where they actually are going in, where they were hanging out what they were searched for online. So in knowing who your ideal client is, then you can decide where they're actually hanging out. Are they on Instagram? Are they on even LinkedIn? LinkedIn is a good source? Facebook, are they in a particular Facebook group? Do you need to hang out there and just be kind of the expert? Who starts to answer questions? Do you need to start your own Facebook group? What does that look like? So it really depends on who that person is that?
Gordon Brewer 16:29
Yeah, what so what sort of trends are you seeing as far as demographics about who, who tends to gravitate to which social media
Lisa Noble 16:37
is changing all the time, Twitter is more of a male based social media platform, probably probably from the age of like, 20, to even 60s, it depends if they're, they have a lot of political views and things like that. That's more what Twitter is, Instagram is like all over the gambit. Now, I would say it's probably more female. And it has a lot of fashion based things. So if you have a woman that you're trying to speak to, and she is more on the fashion side, she's more, you know, lifestyle, brand type person, she's she's traveling and things like that, you can find her on Instagram, and it all depends on like hashtags and things that you put out there. And then Facebook is everybody is everybody. Um, Facebook has so many people as billions and billions of people on there every day. But they're, they're not really on there to be. So to they're really there to hang out with their their friends and, and socialize. So it's just how you speak to them. But getting into the groups is really, it really works. Well, I think, yeah. Because there, there are a lot of groups that are there specifically for people who are dealing with certain things or want to know certain things want to educate themselves on things. So Facebook, you can pretty much find anybody.
Gordon Brewer 18:06
What are you seeing with Pinterest these days?
Lisa Noble 18:09
Pinterest is more about female based social media. And it's a slower turnover. Like you're trying to connect with people, it takes a lot more time. But yeah, I'm definitely female. And she is pinning things all the time. So if she's searching for something, it's more of a of a search engine, kind of like a Google. So she if she's trying to find something like decorating tips and things like that, you can connect with her on there.
Gordon Brewer 18:40
Right, right. Well, that's a, I think that's helpful, because I think, you know, another thing that I've heard is, whichever social media you use, use the one that you like to use yourself. And in fact, in focus on that, rather than trying to be at all places all at once. Very true.
Lisa Noble 19:01
And a lot of times our ideal customer is very similar to us. And that's what a lot of times people find. So yeah, that would that would be where you start and then you research and find out more about the person. as you go along, ask questions, find out more about who you are, you're actually speaking to on a regular basis, and then take it from there.
Gordon Brewer 19:24
Right. Right. That's great. So I guess maybe one of the things that people might be curious about when you work with clients around just helping them with their marketing, particularly in the private practice contacts, what what's kind of your process for that? Well, a lot of times
Lisa Noble 19:44
we start off from from the very beginning, some people don't even have a logo yet. So we really start to talk about the ideal customer and get to know them. And that helps me to get to know your goals and the goals of your customer, and then we, if we have to create a logo, we will we actually start looking at your social media channels if you have them to create, like kind of a brand style guide to every, it's like every aspect of your brand will be within this guide. It's mood as far as the colors that we use for your brand, the fonts that we use, all that kind of stuff goes comes into play. Before we even create your social media graphics and things like that, who who is this person? What do they look like? What kind of things do they like, all that can go into imagery as well as fonts. And then we we just create your website if you don't have one. And that is the content of the website. That's whatever topics that need to be on there. The pages, I'm setting up SEO if we need to, because SEO is part of your marketing strategy as well. You don't want to have a website out there and Google is is not even looking at it and sending people your way. That could be a way that you can be referred, you can get referrals without even trying because Google is is referring you. And then. So it's different aspects for different people. It depends on what you need, and what your goals are. Right? It may even be PR, a lot of times public relations comes into play, like doing things like podcasts to get in front of your audience finding your niche. Like I'm here speaking to you, because your your format is for people who are private practice owners, a part of your marketing, right decisions and create an action plan.
Gordon Brewer 21:49
Right, right. Yeah, I think that's, you know, the thing I love about that is that I think a lot of times people will try to do a marketing plan by just kind of throwing darts at the board and not really having a good plan in mind and something that folks hear from me, if you don't know where you're going, how are you going to get there? And so really kind of thinking about what are what are the outcomes you're looking for, with a particular marketing plan. And I would say the same thing would be true for for creating a business plan or anything that you do within your practice of really having a goal or an end, an end in mind that you're trying to accomplish?
Lisa Noble 22:34
Yes, usually we have, like a success plan, we have to start from the beginning, we have to say, Okay, what, what, where are we starting? And then where do we want to be? And then we'll create those actions, those action steps in between to make it there, depending on what the person's goal is.
Gordon Brewer 22:52
Right? And also being able to kind of determine, what are your KPIs, your key performance indicators? In other words, how you how you know that your advertising is working? And, you know, one of the things that I always tell people, Lisa is, don't really do any, any sort of advertising or that sort of thing, unless you have a way of measuring if it's getting you results. And yeah, and so one of the I'll just kind of interject here. One of the things that I do with pretty much all of our all of my clients is I asked them, How they found out about me or how they learned about Kingsport counseling My, my, my practice and the majority of them and I, I would say, I would say 95% of them say, well, we found you online. And so just really that importance of going back to what you said a minute ago just about understanding about SEO, Search Engine Optimization, and how to put content out there that Google is going to boost to the top when people search for certain things. And so, yeah,
Lisa Noble 24:11
definitely about your keywords as well as creating more content, because a lot, some people just want to put a website up and never touch it again. You have to continue to add content to your website in order for Google to keep coming back and saying and checking it is, you know, if you it's just like if you want a company, you got to keep checking in with people. Right? With Google. Yeah. To add to your blog posts,
Gordon Brewer 24:38
right, right. In social media, you have to be social.
Lisa Noble 24:42
Yes, yeah.
Gordon Brewer 24:43
Yeah, that's right. That's right. Yeah, that's great. Well, Lisa, I want to be respectful of your time and I'm so glad you connected with me and, and what and all and so tell folks how they can get in touch. With you, and if they want to find out more. And also, I know we had talked about, you're creating a membership site for people to be able to access materials, you want to talk about that.
Lisa Noble 25:11
Yes, I'm so excited about it. So what I'm doing is I am creating a membership site where you can get templates for your social media graphics, as well as it's like a monthly thing where you will get caption information and a monthly content calendar to help with private practice owners and therapists to be able to put content on their social media channels without the overwhelm. So that would be coming out. Once you know, right before this, this podcast goes out. So I'm really excited about that. And in order to stay in contact with me, which I would love for you guys to do, you can either go to my website at V as in Victor V is in Victor s o l.com. Or you can go to my social media channels at
Gordon Brewer 26:00
vivid visual solutions. Awesome. And we'll have links here in the show notes in the show summary so people can access that really easily. So well, Lisa, I'm so glad you joined me for the podcasts. And I hope that we can connect again here soon.
I'm so glad you got to hear from Lisa. And I'm really grateful that she joined me on the podcast, be sure to check out her stuff@vvsl.com. And we've also got links here in the show summary in the show notes. So they can easily access that. And, you know, again, marketing is something that is kind of an ongoing thing within a private practice, you don't want to slack off on that too much. Because if you will, a lot of times we can take our referral sources and the people coming into our practice new clients for granted, especially when you find yourself really busy, because it can drop off. And so you need to really kind of keep that there in the forefront. So again, thanks to Lisa for joining me and talking about marketing plans. Also be sure and register for my upcoming webinar, Google workspace for therapists. And again, you can register for this free webinar by going to practice of therapy.com slash g w s webinar. And in this webinar, I'm going to give you an introduction to how I use Google workspace within my practice, but also how some other folks are using it in their practices. So be sure to register for that. Again, it's going to be on Friday, June the 11th at 2pm. Eastern time. And even if he can't join at that particular time, be sure to register anyway, practice of therapy.com g w s webinar. And also, as usual, many thanks to our sponsor for the podcast, therapy notes therapy notes.com. They are the leading Electronic Health Record system for mental health providers in private practice. They're who I use in my practice, so be sure and check them out. And be sure and use the promo code Gordon just g o r, d o n. And you can get two months of their services at no charge. And so it's a win win situation by checking them out. And so thanks again folks for joining me for the podcast. Be sure and subscribe to the podcast where ever you might be listening to it. And looking forward to you in these future episodes. Again, got a lot of great people lined up and a lot of great topics coming up. So be sure and subscribe so you get notified of the new episodes when they come out. And also leave us a review and a rating. It's just always helpful to get honest feedback from people about the podcast and know how we're doing so take care folks. Have a great rest of your week or weekend whenever you like the listening to this.
You have been listening to the practice of therapy podcast with Gordon Brewer. Please visit us at practice of therapy.com for more information, resources and tools to help you in starting building and growing your private practice. And if you haven't done so already, please sign up to receive the free private practice startup guide and practice of therapy.com The information in this podcast is intended to be accurate and authoritative concerning the subject matter covered. It is given with the understanding that neither the host guests or producers are rendering legal accounting or clinical advice. If you need a professional, you should find the right person for them.
Being transparent… Some of the resources below use affiliate links which simply means we receive a commission if you purchase using the links, at no extra cost to you. Thanks for using the links!
Lisa's Resources
Resources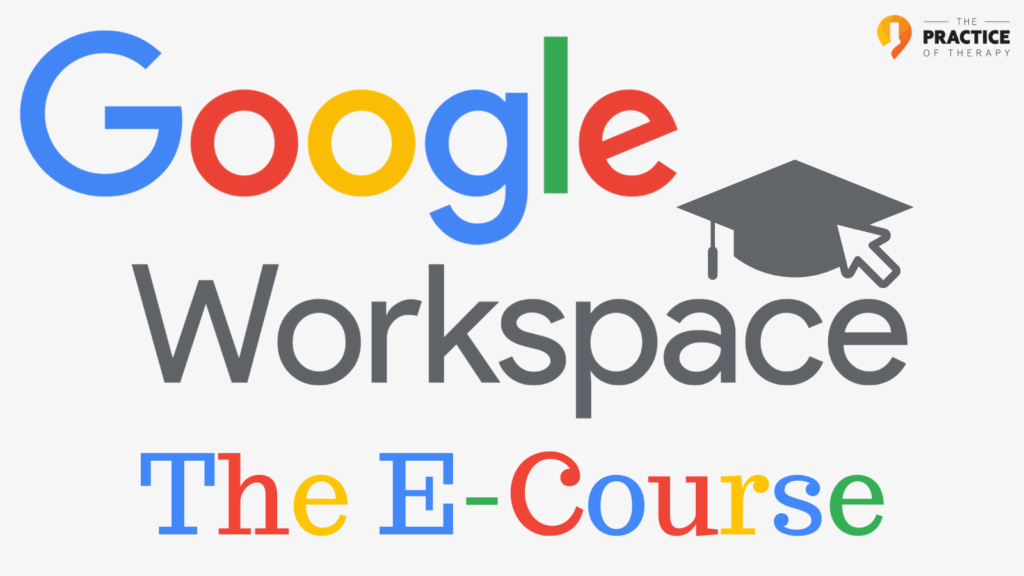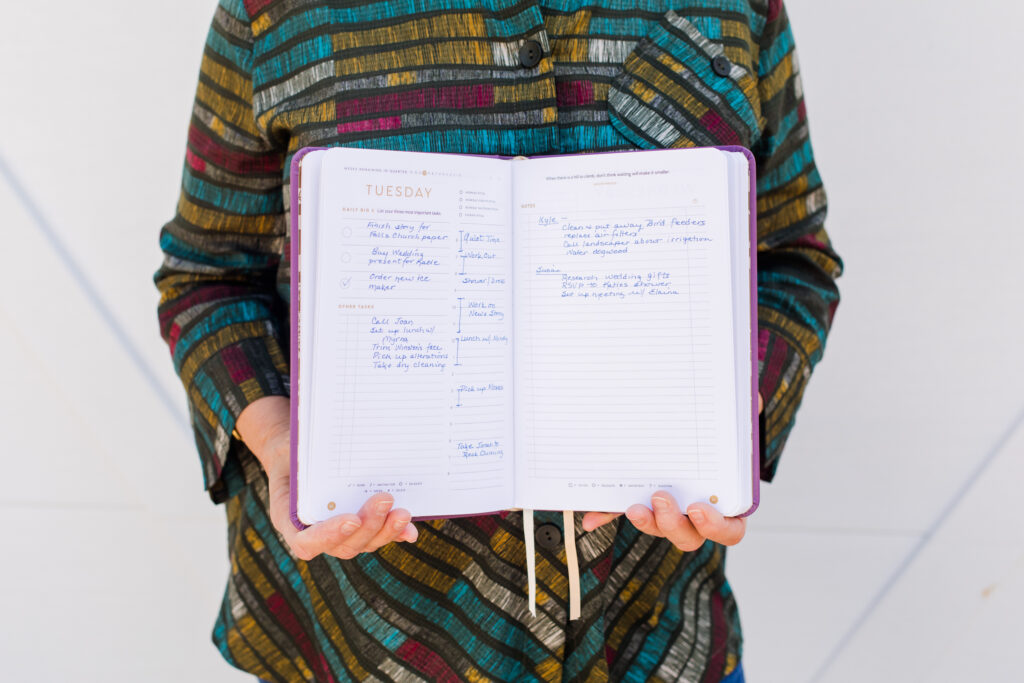 Meet Gordon Brewer, MEd, LMFT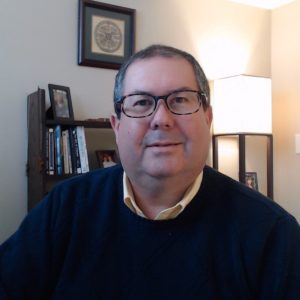 Gordon is the person behind The Practice of Therapy Podcast & Blog. He is also President and Founder of Kingsport Counseling Associates, PLLC. He is a therapist, consultant, business mentor, trainer, and writer. PLEASE Subscribe to The Practice of Therapy Podcast wherever you listen to it. Follow us on Twitter @therapistlearn, and Pinterest, "Like" us on Facebook.