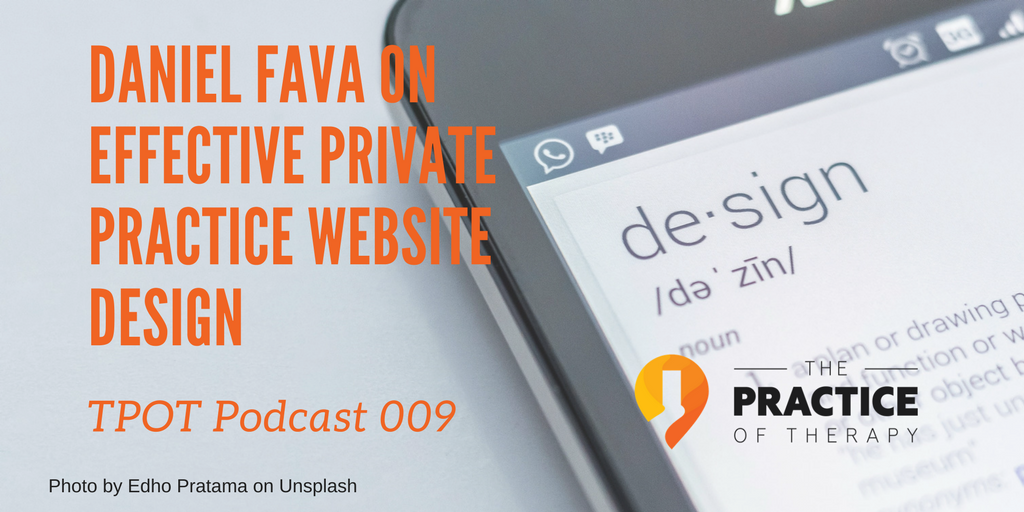 In this episode, of the Practice of Therapy Podcast, Gordon talks with Daniel Fava about building private practice websites and how to create an effective design that is user-friendly and attracts your ideal client.  Gordon and Daniel also talk about why someone might want to build their own website versus having a web designer do the work.  They also cover common website design mistakes and how to increase SEO (search engine optimization)
Meet Daniel Fava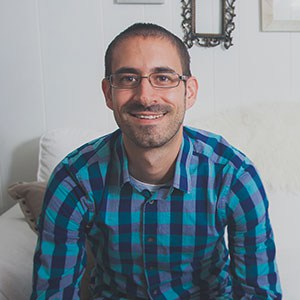 Daniel Fava is a web designer and founder of CreateMyTherapistWebsite.com. Daniel teaches therapists how to create websites and attract more clients online. After building a website for his wife's private practice and seeing the impact it had on her business, he became passionate about helping others achieve the same. Daniel offers web design services, consultations and online training to help therapists overcome tech-fears and grow their business through online marketing. You can get free access to his library of PDFs, cheat sheets, and e-books by clicking here.
Your #1 Marketing Tool
Your private practice website really is the MOST important marketing tool. When people are seeking help and looking to find a counselor or therapist, they are going to search online first.  
Your website should be a reflection of who you are as therapist and something about you and your personality. It should help your ideal client find you and begin to make that personal connection that is so important to therapeutic work.
Why Build It Yourself?
Daniel talks about some of the advantages of building your own website and why someone would want to do that. Some of these things are:
More control of the website

Much less expensive

Lets you understand the tech side of your website

You have more control over the updates and design
Website Design Tips
Daniel also talked about the importance of website design and some tips for making your website more user friendly.

"Less is more" – your website design needs to be simple and easy to navigate.  People need to know what to do when they come to your website.  Have a "call to action" that is obvious; for example, "call today for your free 15 min. phone consultation".

Be sure your contact information is front and center.  In other words, make it easy for people to find your phone number and how to contact you

"About" pages are usually the second most visited page of most therapist's websites.  The message there should focus how you help clients and the specific problems you help with.

Speak in a way that the average person can understand.  Using a lot of clinical language will cause you to lose people. Avoid using too much of that. (ex., "sad" instead of "depressed" or "worried" instead of "anxiety").

Ultimately, the copy and way in which you write on your website needs to speak to the client and struggles they are having.
Getting Your Website Found
Daniel and Gordon talk about SEO (search engine optimization) and some tips on helping your website move up in its Google ranking.

Blogging regularly is one of the most effective ways for your website to improve in rankings.  Especially if you are writing about topics that are relevant to your potential and ideal clients.

Blogging does not need to be terribly difficult.  An optimal blog length is going to be between 700 and 1200 words.

Blog posts need to be scannable since that is the way most people read blogs. Use section headers and bullet points to make it easier for people to read.

The content of your website should contain the keywords (search terms) that people would use find your services.  Words like "counseling", "therapy" or "help with _____" are good keywords to keep in mind.  Also having your location (city and state) in the copy helps with SEO and search terms.  People will search based on location (ex., "counselors in Yourtown")
Take Home Points for Building and Designing Your Website
Make it a simple design that is easy to navigate

Don't have a whole lot of copy on the home page

Make sure your contact information is front and center (above the fold)

Keep things updated and current

Blog consistently help with SEO

Your about page should really about potential clients and the problems they are having

The design should reflect your personality and help people connect with you
Resources Mentioned
Daniel's website:  CreateMyTherapistWebsite.com
Gordon's G-Suite Course: PracticeofTherapy.com/gsuitecourse
Upcoming Webinar from Gordon:  practiceoftherapy.com/freewebinar
Meet Gordon Brewer, MEd, LMFT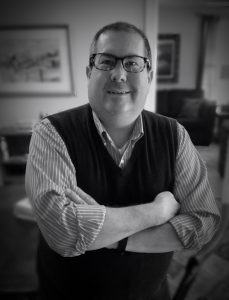 Gordon is the person behind The Practice of Therapy Podcast & Blog.He is also President and Founder of Kingsport Counseling Associates, PLLC. He is a therapist, consultant, business mentor, trainer and writer.  PLEASE Subscribe to The Practice of Therapy Podcast on iTunes, Stitcher and Google Play. Follow us on Twitter @therapistlearn and Pinterest "Like" us on Facebook.