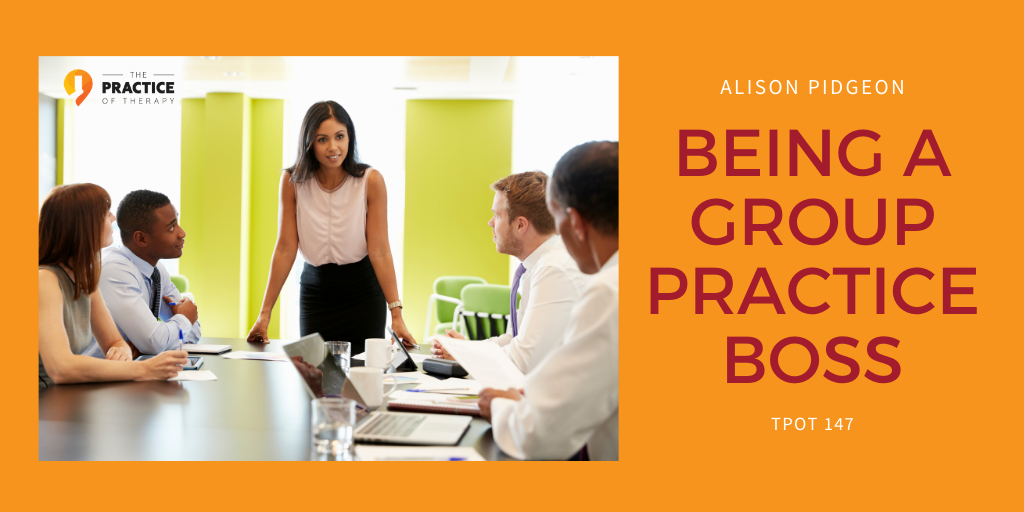 In this episode, Alison explains what it is like to run a group practice, like a boss! Alison is into tracking data; she likes to make her decisions based on numbers. You'll hear loads of tips about having a group practice. For instance, don't wait to delegate for when you're stressed out and on the verge of burn out – it's probably time to delegate today! Stay tuned as Alison explains how she finds the best clinicians for her practice, the ways that she compensates her staff, and why she utilizes an employee model rather than an independent contractor model.
Meet Alison Pidgeon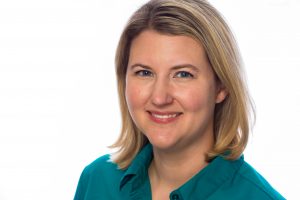 Alison Pidgeon, MA, LPC is the Founder and CEO of Move Forward Counseling LLC. What started out as a solo private practice in early 2015 quickly grew into a group practice and has been expanding ever since.
Alison has been working in the mental health field since 2003. She graduated from Immaculata University with a master's degree in counseling psychology in 2007. She earned her license as a professional counselor (LPC) in 2009. Her time spent working in community mental health helped to shape her as a leader and made her aware of the problems which exist in the mental health system.
Taking what she learned from the traditional model of mental health care, Alison set out to create something different when she started her private practice. Her attention to detail to the whole client experience and treating her staff exceptionally well have created a reputation of excellence that is recognized by the community.
Learn How To Delegate
Practice owners get caught in the trap of bootstrapping everything like answering the phone and cleaning the office. Why? Because they want to save money. However, you are putting a hard cap on how large you can grow your business. There's a way to make sure you're hiring trustworthy people who will do good work and be reliable. It's possible to delegate sooner than you need to. People wait too long to start delegating. Don't wait until your drowning at work.
Find Good Clinicians
When starting a group practice, it's essential to find the best clinicians. However, whenever clinicians wanted to join Alison, they said they couldn't because they needed health insurance. That's why Alison decided to switch from an independent contracting model to an employee model. That way, Alison can offer her employees the opportunity to have health insurance. This has been a total game-changer for Alison. Her turnover rate is a lot lower. Plus, she gets so many more applications with the employee model.
Moving Toward Group Practice
Look at your systems. This will have to change when you hire people. Most likely, your systems will only work for a private practice rather than group practice. For instance, you may need multiple phone extensions. Plus, you'll need to change up your website. Change your wording from "I" to "we." Also, think about whether or not you want to be a boss. Managing people is a significant aspect of group practice. If that sounds terrible, then group practice may not be right for you. Think long and hard about what you love to do.
Determining Fit
It would help if you were clear about your mission, vision, and values. Your values will speak a lot about the culture of your practice. You can even print these things out and have your potential clinicians look it over. The clearer you are about what you want will help you attract the right people and repel the wrong people. Having a problem employee is a nightmare and not worth the stress. That's why Alison is picky about who she hires. Alison wants her clinicians to be organized, timely, and self-sufficient. If a clinician isn't organized enough to manage themselves, it will not be a good fit. Also, Alison values boundaries – you can't teach good judgment. So Alison wants to know if her potential clinicians have good boundaries with their clients.
Recruiting
Alison uses Indeed.com, plus she has an employment page on her website. She gets quite a few resumes through that as well. Therapists talk to each other. So one therapist will tell their friends. That's why Alison likes to have an employment page on her website so that people can reach out to her directly.
Compensation
Alison says that compensation will depend on the laws in your state. In Pennsylvania, there's not a lot of options. Alison pays her therapists more to see a client and less for administrative work. She doesn't go the salaried route because your therapists will get paid the same amount no matter how many clients they have. At a minimum, they have to do twenty-five hours a week. If they want more, then they can earn a bonus. However, they don't need to work forty hours a week if they don't want to.
Gordon Brewer:
Well, hello everyone. And welcome again to the practice of therapy podcast. And I'm so happy to have with me, my good friend, Alison Pidgeon, and Alison is one of those people that I've gotten to know through, through mastermind groups, through consulting through by some of the work we've done together with Joe Sanok and over practice of the practice. And so, Alison I'm so happy to have you back.
Alison Pidgeon:
Yeah. Thank you so much for having me.
Gordon Brewer:
Yeah, it's a, it's always good to reconnect. And we were just a reminiscing here before we started about killing it camp, which was last year in Estes park, Colorado, this year, it's going to be virtual. And so Allison's going to be part of that. I would to be part of that and we'll be sure and have links here in the show notes and show summary. So you can find out more about that. Cause it's really great, but Alison is a start out with everyone else has been on the podcast before, by the way, folks, I go back and listen to that earlier episode, but Alison is, I start out with everyone. Tell folks a little bit about your private practice journey and how you've kind of landed where you've landed.
Alison Pidgeon:
Yeah, that's a great question. So here's the short story I worked in community mental health. I started out there as an intern and got hired there after school that licensed worked my way up to becoming the director of an outpatient clinic and got super burned out and knew I needed to do something different. So I left and started my own practice, just my own solo practice and realized pretty quickly that I had actually really enjoyed managing the staff at the outpatient clinic and saw all the possibilities of what I could build if I started hiring people. So I started a group practice, actually. It was almost exactly five years ago now in the fall of 2015 and figured out what I was doing and, and haven't looked back and so I have 16 clinicians now and yeah, bringing on five to six more this fall actually just because of all of the demand right now for counseling services.
Alison Pidgeon:
So yeah, it's been really exciting. We focus on women's issues. The practices called move forward counseling. It's located in Lancaster, Pennsylvania, which is about an hour and a half West of Philadelphia, if you're familiar with that area. And we started out having a contractors and then at the beginning of 2020, switched everybody over to BW to employees which has really helped with retention and recruitment of therapists. So yeah, so things are running and going better than ever. Like it's sort of ironic how, you know, the pandemic obviously has been such a difficult situation for so many people, but for us it's, I mean, excuse me, the business is, is doing better than it ever has.
Gordon Brewer:
Right, right. And that's something that I find I I'm hearing from a lot of other people in that, just like you said, the demand for mental health services is really you know, on the plus side, I think people are much more aware of how it can help and you know, people are seeking it out. And so, yeah. So, yeah. So I know one of the things we're going to talk about is just you know, what it takes to kind of scale and grow your practice. And really for those folks that might be, be solo entre, you know, so I started to say solo solo entrepreneurs, which they are, but solo practitioners is being able to take it to the next level and being able to start adding people because one of the things that I've found is is that it takes a certain breed of person to own a practice. But I think there are a lot of people out there that really just want to work for somebody and, and really work in a good place. So yeah. So give me your thoughts on all of this. I know you and I started into group practice. You've really, you're, you've gotten to be more like, I want to be when I grow up Alison with your practice, but yeah. So tell folks, you know, a little bit how you've gotten to that, what you've learned so far, which is the line.
Alison Pidgeon:
There's a lot of different areas that we could go into. I think the biggest one for me is learning how to delegate. So I think practice owners get caught in this trap of thinking like, they're just going to bootstrap everything and they're going to answer the phone and clean the office and do everything because they want to save money or they, you know, they're afraid to hire people or whatever the case may be, but you're really putting a very hard cap on the amount you're going to be able to grow the business if you're still the one doing everything. And I think that there is a way to make sure you're hiring good, trustworthy people who are going to do good work and you know, be reliable and all of those kinds of things. And that's, that's one of the things that we talk a lot about in the consulting process is like, how do you make sure you're hiring people who are the right fit, who are going to be good employees or contractors or whatever. So yeah, I absolutely think that it is possible. And probably to start thinking about delegating sooner than you think you need to. Cause that's the other thing that we see is that people wait too long to start delegating until they're like so stressed out or they're drowning in work. And then they're, you know, they can barely like figure out how to like hire and bring on that person and train them because they're so overwhelmed with the amount of work that they have to do.
Gordon Brewer:
Right. Right. Yeah. And that's a, that is so true. I know that's been my own experiences that I've been one of those people that probably waited a little bit too long to start outsourcing. And you know, you're exactly right. Learning to do that is really a big game changer when it comes to growing your practice. So, yeah. So you know, what, one of the questions that I think a lot of people ask and you're, you did, like I did, Alison, you started out with contractors then switched over to employees, W2 the situation, what was that process like for you and what would you recommend to people around deciding on that?
Alison Pidgeon:
Yeah. I think a big piece of that for me, was about getting really good clinicians into the practice. So where I live there is generally a shortage of mental health providers. So obviously the field then is very competitive in terms of employers trying to hire. So I had a lot of folks that I knew in the mental health field and when I would talk to them about potentially come to work for me, they would say, Oh, that sounds amazing. I would love to work for you, but I really need health insurance, or I really need the benefits or whatever the case may be. So that was a big reason why I made the switch so that I could offer health insurance to my employees. And that has been a huge game changer in terms of retention and recruitment. Like I get many more applications now and many more applicants who were well-qualified.
Alison Pidgeon:
And then also their retention issue too. Like I was getting to a point where I'd get 12 therapists in the practice. And as soon as I hired that 12th person, somebody would leave usually to go start their own practice. And then I hired the, you know, somebody to fill that spot and then pretty soon somebody else would leave. And I, you know, I could never break through that like 12 threshold. And so that was the other piece is that I think as w two employees, they see themselves more as a longterm employees, as a longterm place to work, rather than this is a place I'm just going to come and get some experience of what it's like to be self employed, and then I'm going to go start my own practice.
Gordon Brewer:
Right. Right. Yeah. And I'd say I've found something, you know, kind of the similar thing. You know, one of the things and people have heard me say this a lot is you really have to know your numbers well, and really understand. Because really when I switched from contractors, which on the surface, having a contractor looks much easier you know, it's much more cut and dry and you just had fill out a 10 99 form at the end of the year for them, and don't have to worry about withholding and all that kind of stuff, all the requirements for having an employee. But the truth of the matter is I, it was only after I switched over to con over to w two employees that are really became much more profitable. And I think it has a lot to do with that retention piece as, and just the fact that people are more invested with.
Alison Pidgeon:
Yeah. Right, right. Yeah. I found that people were much more willing to come on full time, which I think full time employees just are more invested in general. But then also I can predict now how much they're going to work. Whereas when they were contractors, I couldn't like if they wanted to take six weeks of vacation, they could, if they wanted to take one week of vacation, they could, you know what I mean? So it's like, I couldn't predict how much money they were going to generate throughout the year because they can choose at any point to switch their hours or take a vacation or whatever. So what's nice is, especially with my full time, people they're required to work a certain number of hours to maintain that full time status. So then I can predict much better what my potential like gross revenue is going to be. Which yeah, it does definitely help make the practice more profitable and then less turn over of course.
Gordon Brewer:
Right, right. Yeah. So they're there to kind of backtrack a little bit. And I, you know, I tend to start sometimes I start in the middle rather than at the beginning, but you know, if somebody is thinking about going from a solo practice to starting to hire people, what, what steps would you recommend that they start to take in order to move in that direction?
Alison Pidgeon:
Yeah, I think it's you know, you have to look at your systems, for example, is one thing that probably is going to have to change if you start to hire people. So a lot of times when we set up a solo practice, if we don't don't have an intention right off the bat of starting in group practice, you probably picked systems that worked for a solo provider, but not necessarily for a group. So for example, with a group, you may now need a phone system that has multiple extensions. You may need an EHR that is well suited for a group practice. You may, you know, you, you're going to need HIPAA compliant email for each person, not just one email address. So it's those types of things. I think also you know, starting to change your website, changing those words from like I, to we, even if you don't necessarily have any other people in the practice, like you can start to sort of make it look like a group practice.
Alison Pidgeon:
I think you also have to think about like, do you want to be a boss because that is a big piece of running a group practice. Like you're going to have to manage people. And for some people that it is a fun challenge or it sounds interesting to them and other people are like, Oh, that sounds terrible. I don't want to have the hassle of dealing with, you know, management issues. And so I think you have to think long and hard about that too, because, you know, we were providing a service. And so you were in Maine, you know, it's not like you're you know, making a product or something like that. And like, you're just dealing with the production of that product. You're managing people that is the, you know, the whole crux of the business.
Gordon Brewer:
Right, right. And yeah. And I think you're right. That's usually, that's what I have found to be the most challenging and dealing with, with you know, just employee issues and all of that sort of thing. And having to do things like you. And I talked about having to, to fire fire people which is always a gut wrenching kind of thing to have to do. But it's, it's a big part of it in order to maintain the integrity of your practice. But yeah. So in, in, in thinking about hiring people, what have you found that is the good fit, a good way to go about doing that? You know, obviously you want people that are gonna fit good for you. But how do you determine a person's fit for your practice?
Alison Pidgeon:
Yeah. What I tell people that I working with in, for consulting is that, and I did this for myself as well. Like you need to be really clear about your mission and your vision and your values for their practice, especially the values, because that is something that speaks a lot about the culture of the practice. And so I actually will use that in the interview process. I'll say, here, these are our values. You can even like print that stuff out and give it to them in the, in the interview or before the interview and have them look it over and you know, these are our values. Does this something you resonate with? Is this something you feel like you'd fit into this type of culture or, or not? Because I find that the more clear I've been about what I want it's helps me to attract the right people.
Alison Pidgeon:
And it also helped me to repel the wrong people because having a problem employee is like, you know, a nightmare not worth the stress. And so I very picky now about hiring to make sure that like, yes, they're a good clinician, but I also want to make sure they get their notes done on time. They generally start their sessions on time and end on time that they're not like so scattered that I have to chase them down to make sure they're getting stuff done because I don't want to micromanage people. And so if they're not organized enough to manage themselves, then I, that's not going to be a good fit for me. So I'm very clear about that. I'm also really big on boundaries with clients. So I talk a lot about boundaries in the in the interview, just, you know, clinical professional boundaries, because I feel like that's one thing you can't teach is good judgment. You either have it or you don't. And so I like to tease out, okay, do you have good judgment? And are you going to have good boundaries with clients?
Gordon Brewer:
Right? How do you do that by just giving them like scenarios? Is that basically?
Alison Pidgeon:
Yeah, yeah. I'll say, okay, this client did this. What, how would you respond?
Gordon Brewer:
Yeah. Yeah. Good. And so what, what venues are our platforms? Are you finding are best for you and recruiting people?
Alison Pidgeon:
Yeah, I would say I have had good luck with using indeed.com and so have a lot of my other consulting clients. I do have a employment page on my website and I update it regularly and I actually put it, put that up on the top. It'll say like updated as a, you know, August, 2020. So people know what's current and that they can still apply. So I actually get quite a few like resumes through that as well, because fortunately, since we now have built up a good reputation in the community, I think that, you know, therapists talk and especially the therapist who, you know, are in community mental health and are getting burned out. Like they'll, you know, the ones that have already left to come work for me, they'll tell their friends like, Oh, I'm working here and it's great. And you should apply. And so that, that really helps too having that employment page.
Gordon Brewer:
Right. Right. Yeah. So you know, another question that comes to mind for me and just thinking about running a group practice is thinking about, you know, how do you compensate folks? What, what have you found that works well for you? In terms of, is do you just do a regular salary or do you do a per pay per clinical hour? Or what is, what does that, how does that look for you all?
Alison Pidgeon:
Yeah, so that always goes back to what your laws are in your state in terms of compensation, but in Pennsylvania, there's a lot of different options about how you can pay folks. So what I decided to do was pay them a higher rate for seeing a client. So a billable hour versus doing some sort of administrative tasks, they get paid for that, but at a lower rate. So I have avoided going the salary route because I feel like that doesn't always motivate the staff to keep their schedule full because they know they're going to get paid, whether they saw, you know, 15 clients or they saw 25 clients. So I let them kind of choose how much they want to work. So at minimum, they have to do 25 billable hours a week if they're full time. And if they want to do more, they earn a bonus. But if they don't want to work more, they don't. And if, you know, they come and see their 25 clients and they get their notes done, like they can go home, they don't have to work 40 hours a week.
Gordon Brewer:
Yeah. It's similar to what I have as well. I've got an incentive based system, which really the more, the more clients they see, the more per clinical hour they earn. So it's you know, it's kind of a, as I like to call it just an incentive based system. And so again, I think you have to just play with your numbers and look at what's gonna work for you and really also know what it costs you to, to have someone and, and, and all of that. How did you learn to do all of that part of it in terms of figure, I know one of the things that you're big on Alison are dashboards and creating dashboards to help you with that kind of thing. You want to talk a little bit about, about that in terms of tracking and knowing your numbers and that sort of thing.
Alison Pidgeon:
Yeah. Yeah. That was actually one of the hardest things with making the switch over to W2's figuring out how to pay them. I actually had an accountant who ran like projections for me to help me figure that out. So yeah, I'm very big on tracking data and making sure you are basing decisions off of numbers, and you're not just pulling numbers out of the air. Cause I see so many clinicians or practice owners who are like, Oh, well I'll just pay them 70% of what they bring in. And it's like, Oh, what do you base that off of? Is that, is that based on the data of your actual average reimbursement rate compared to your expenses or you just, it sounded good. And so that's what you picked. So yeah, if that's not a strong suit of yours, I would say, definitely get an accountant to help you with that.
Alison Pidgeon:
But in other you know, other things like you were mentioning about tracking data, like what's great about our EHR is that it does aggregate a lot of data for us and we can run reports and really quickly be able to see where things are at in terms of you know, where are the, you know, how much do we have an uncollected balances either from insurance or from clients are, you know, have, are there missing progress notes from the staff? Are there you know, what's our conversion rate with the number of people who call versus the number of people we actually got scheduled? So my admin does a lot of that for me. And so I have trained her that if everything is running smoothly, if the numbers look about how we think they should, that there's no reason why she needs to necessarily like get me involved.
Alison Pidgeon:
It's only like if the numbers start to look weird or something seems out of the ordinary and she brings it to my attention. So I think that's the other really important thing. Again, like going back to delegating, I think practice owners feel like they still have to have their hand in everything. And obviously you don't want to just delegate a task and walk away and like never revisit it or never like keep tabs on it. But I see so many practice owners are still are like getting so involved in the process. They're there like doing redundant work or it's like creating chaos cause it's like too many cooks in the kitchen. So that's how I have it set up. That works for me that like, Hey, if everything's going well, great. I don't need to know. I'll just assume everything's great until it's not going great. And then you need to bring it to my attention and then we can fix it.
Gordon Brewer:
Right. Right. Yeah. And I think that's a hard, one of the hardest things I think for a practice owners to let go of is recognizing that when you do outsource, no, the person you outsource to is not going to necessarily do it exactly. Like you would do it, but you have to be to, to let that go and know and trust that it's gonna, it's going to be okay. I mean, yeah,
Alison Pidgeon:
Yeah. That's something I talked to my staff about, especially my office manager, like I really emphasized to her that I wanted her to feel empowered, to make decisions. And so even something as simple as like buying supplies, like every time she needed to buy supplies, she'd email me like, can we buy printer, ink and envelopes and it's going to cost this much money. And then I finally got to the point where it was like, you know what, you're in charge of this. I trust you to make good decisions about buying what we need. I said, here's the budget every month. If it goes above that, it's fine. Just check with me. But if it's below that number, you just order it, I don't need.
Gordon Brewer:
Right. Right.
Alison Pidgeon:
You manage that. And it's worked out really well. Again, this is like another way I've reduced my time because she's not checking with me every week to say we need to buy envelopes. You know what I mean?
Gordon Brewer:
Yeah. And I, you know, I know you're a big fan of Mike [inaudible] as well with private first, but he has a book called clockwork and he talks about that in that, you know, if, if people are constantly coming to you and asking you questions, you've not really delegated it. And so, you know, making sure that you're empowering people to make those decisions that you really shouldn't have to make, you know, it's kind of like, okay, you know, you know, if we're out of toilet paper, the toilet paper, you know, it also have to me. Yeah. Right, right. And so yeah. Or it doesn't have to be me to go get it. So yeah. That's, that's true. So, yeah. So I know one of the things you and I talked about, Alison you and Whitney Owens another good friend of ours is going to, are going to be doing another mastermind group or doing a group on Facebook or tell folks about that for folks that are interested in becoming the bar, becoming the boss.
Alison Pidgeon:
Yeah. So, so I would say it's really a membership community for people who are already established group practice owners, who we're calling it group practice boss, because we really want people to see themselves as the CEO of their business. And how do you get to that place where you're feeling confident about running the business, your doing like I did, you know, decreasing my work hours, but still scaling up the business. Looking at all the different factors that involve, you know, running a group practice. And, and I think the difference between what Whitney and I are offering and maybe what some other things that are available to group practice owners is we really want to do like a deep dive into different topics. So every month is going to be a different theme and we're really going to get into like the nitty details of the subject.
Alison Pidgeon:
So every week we're going to have events with Whitney or I we're going to have experts come on and talking about what they know related to the topic. So I'm really excited about it because I think there's so much information out there available for people. You know, you can listen to podcasts and you can read blog posts and stuff like that, but you may still only have a surface level sort of knowledge of that topic. And so we really want to help people understand how do you really do this? Or, you know, what if I implement this thing and now I've run into this problem and now how do I fix it? And so what I think is, is going to be great is obviously Whitney and I have, you know, have already done all of the things with running a group practice, but also there's going to be other group practice owners in there who are knowledgeable and we have that sense of community so that we can help each other. Yeah. So we're going to be launching that the beginning of October. So folks want to sign up for the email list. So you can be the first to know when the group has launched it's practice of the practice.com/group practice boss.
Gordon Brewer:
Okay. All right. And we'll be sure to have links in the show notes for that. So, well, Alison, I know we could spend all day long talking about this particular topic and but I want to be respectful of your time and tell folks how they can get in touch with you to find out more about what you do and your consulting and all of that. And from there,
Alison Pidgeon:
Yeah. So you can check out the web, the practice of the practice.com website. There's a tab that says work with us. So I have a page on there. And then if you want to set up a call a free call, just to talk about kind of your situation and your goals and how I might be able to help you could email me it's Alison with one L a L I S O N F practice of the practice.com.
Gordon Brewer:
Awesome. Awesome. And again, this'll be in the, in the show notes. And so, Alison, I know I'll probably have you back on the podcast again, and I know I'm looking forward to killing at camp, or we're going to both be presenting different topics. What's your topic by the way.
Alison Pidgeon:
Yeah, exactly. It's actually this, this very topic had a scale of your practice and reduce your work hours.
Gordon Brewer:
Awesome. Awesome. And I'm going to be doing something on G suite again, so that'll be, that'll be great. So I'm looking forward to, to all being together virtually, you know, I'm really sad that we're not going back to Estes park because that was such a, a great place in Alison had her little baby in arms when she was there last October. So yeah. Yeah, yeah. That's great. That's great. I love it. I love it. Well, Alison, thanks again for being on the podcast and we'll be talking again here soon. I'm sure.
Alison Pidgeon:
Yeah. Thank you so much, Gordon. It was great.
Being transparent… Some of the resources below use affiliate links which simply means we receive a commission if you purchase using the links, at no extra cost to you. Thanks for using the links!
Alison's Resources
Resources
Meet Gordon Brewer, MEd, LMFT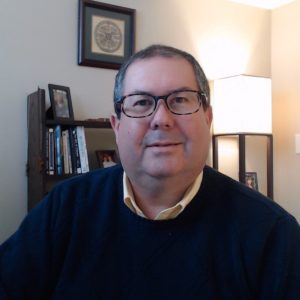 Gordon is the person behind The Practice of Therapy Podcast & Blog. He is also President and Founder of Kingsport Counseling Associates, PLLC. He is a therapist, consultant, business mentor, trainer, and writer. PLEASE Subscribe to The Practice of Therapy Podcast wherever you listen to it. Follow us on Twitter @therapistlearn, and Pinterest, "Like" us on Facebook.