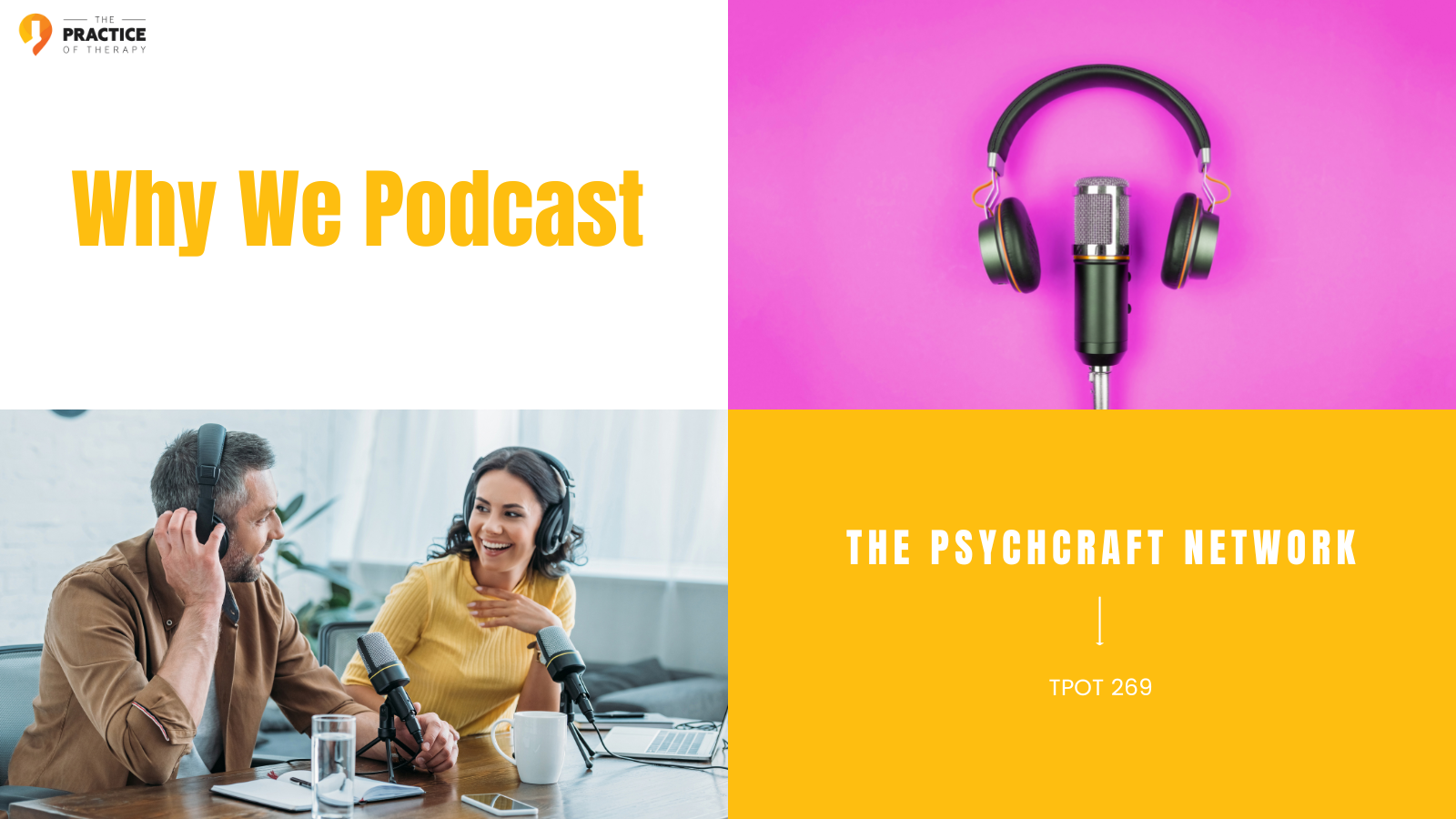 In this special episode, Gordon Brewer shares the purpose of his podcast network, the Psychcraft Network. Plus, Lisa Mustard, Daniel Fava, Aaron Potratz, Melissa Tiessen, Karen Dyck, James Marland, and Whitney Owens join the show to discuss why they podcast. Hear from these podcasters about creating revenue, giving valuable insights, connecting with the world, and making an impact in all the right places through podcasting.
Meet Lisa Mustard
Lisa is a Licensed Marriage and Family Therapist in South Carolina. She is also a wife to Billy, mama to two daughters, puppy wrangler, lover of health, wellness, and fitness, and a personal development junkie.
Lisa started her podcast because she was bored with the traditional modes of continuing education and professional development. She yearned for convenient education that was fun, interesting, inspiring, helpful, and easily accessible anywhere, anytime. And she couldn't find what she was looking for, so she created it. When Lisa is not podcasting or seeing clients, she is at the gym, running or walking, spending time with her family, or wrangling the lovable yet incorrigible Lulu, Australian Shepherd/Pitbull puppy.
Meet Daniel Fava
Daniel Fava is a father, husband, podcaster, website consultant, and founder of Create My Therapist Website and Private Practice Elevation. He helps therapists create websites and attract more clients online.
After building a website for his wife's private practice and seeing the impact it had on her business, he became passionate about helping others achieve the same. Daniel offers web design services, SEO services, consultations, and online training to help therapists grow their business through online marketing.
Meet Aaron Potratz
Aaron is a Licensed Professional Counselor in Oregon, the owner of Discover Counseling, and co-owner of Life Discovery Counseling Services – two private group counseling practices. Aaron maintains his own client caseload while also managing and supervising his counseling staff. He started out as a solo practitioner in 2007, expanded to a group practice in 2015, and started his second practice with his business partner, Nathan Hawkins, in 2016. Between the two businesses, he has 10 clinicians and one support staff. Aaron also does consulting for small businesses, helping them become more efficient and productive. He especially enjoys helping other therapist business owners grow their practices and focus on the areas they are most passionate about.
Meet Melissa Tiessen & Karen Dyck
We are Dr. Karen Dyck & Dr. Melissa Tiessen, two mid-career(ish!) psychologists working in private practice. We started Intentional Therapist out of a recognition that self-care is so incredibly important for the work that we do as mental health clinicians, and yet we get little to no training in this area. We also recognized that there are some unique factors specific to being female that can make self-care all the more challenging. So we decided to create something that could allow us all to redefine what it truly means to take care of ourselves – our best tools! – and thrive in this work.
Our mission is to help female mental health clinicians move from simply surviving to thrive in both our work and personal roles and finally create the kind of life from which we don't need to escape. Our hope is that through Intentional Therapist, we can normalize self-care in all its forms (because it's not just bubble baths and massages), foster a dialogue about its foundational importance, and create a thriving community of like-minded female mental health clinicians. And have a little fun along the way!
Meet James Marland
James Marland is the founder of Course Creation Studio. He has a master's degree in Ministry from Lancaster Bible College as well as a Master's of Business Administration from Shippensburg University. He has worked in mental health and social services for the last 18 years. He was a youth minister for two years and spoke weekly to teens and college-age students. From 2019 to 2022, he was the chief operating officer of Moved Forward Virtual Assistants, a company that provided support services for therapists and private practice offices. He is a Faculty Member at Lorman Education Services.
James is on a mission to support therapists in creating life-changing profitable online courses. He believes each therapist has at least one course within them. Unlocking that course will help many people. James is an avid reader and board game player. He hosts a monthly community game night for the people in his church and town. He still meets regularly with a group of friends he has been playing online games with for the past 7 years. In the summer, you will find him at a Pennsylvania State Park campground, where he likes to take pictures, hike, and burn things in the fire.
Meet Whitney Owens
Whitney Owens is a licensed professional counselor, group practice owner, and faith-based private practice consultant. She is located in Savannah, Georgia, where she manages a private pay group practice with 10 plus clinicians. Along with running her practice, she consults practice owners around the country on how to start and grow a successful faith-based practice. She has spoken at numerous events such as both the Georgia and Maryland annual professional counselors conference as well as training for Florida's Counseling Association.
In addition to practice consulting, Whitney is an Enneagram enthusiast and offers workshops to business owners on using the Enneagram to help run their practice. In her free time, Whitney enjoys spending time with her husband and two girls, running, reading, and relaxing in the backyard.
Growth Through Networking for Podcasters
Networking with like-minded people is an invaluable tool for personal and professional growth. It can open up new opportunities and possibilities that you may have never thought of before. Lisa Mustard began researching how to start a podcast and quickly became more curious about the process. As she gained more podcasting experience, she became a better listener, interviewer, and question-asker. Lisa also developed a more significant curiosity for things in general. Through podcasting, she met many like-minded people, opening up new opportunities and possibilities for her. Overall, networking with like-minded people can be a great way to grow both personally and professionally.
Elevate Your Private Practice With Podcasting
Private Practice Elevation aims to help people no matter what stage they are in their practice-building journey. Whether they are just starting, have been in private practice for 10-15 years, or have a group practice, Daniel Fava is dedicated to helping them elevate their practice. He offers online marketing services and works with people to create a website that meets their needs and helps them reach their goals. Whether you are just starting or have been in private practice for a while, networking with like-minded people and using podcasting as an outlet can be a great way to elevate your private practice. It can open up new opportunities and possibilities and be a great additional revenue stream. Daniel is an excellent example of how networking and podcasting can be used to reach your ideal clients and grow your business.
Sharing Experiences and Knowledge
The ability to share experiences and knowledge through podcasting is one of the most incredible benefits of the medium. Podcasts allow us to converse with people from all walks of life and share our stories, perspectives, and knowledge. It's a great way to gain insight and learn from others. It's also a great way to connect with people and build relationships. Podcasting is also a fantastic way to network and meet new people. You can meet and interview people from all over the world. We share a common interest in podcasting, and by connecting with them, you and your audience will learn from them and be inspired.
Making Connections Through Your Podcast
One way to make a difference in the lives of others is through podcasting. Podcasting is a great way to connect with people and share your thoughts and ideas. You can share your knowledge and experience with others. Plus, you can ask questions, get feedback from your listeners, and connect with other podcasters who can help you along the way. Podcasting can also help you to grow as a person. You will learn from the best of the best, not only from other practice owners but also from other people of faith. As a podcast host, you will be challenged and grow through conversations with your podcast guests.
So don't be afraid to take risks and put yourself out there. Podcasting is a great way to make a difference in the lives of others and connect with people. So if you want to make a difference in the world, consider podcasting and see how you can make a difference in the lives of others.
Lisa Mustard
Well, hi there. Thanks so much for asking this question, Gordon, why I podcast? Well, first, for those of you who don't know me, my name is Lisa mustard, and I host the therapy show with Lisa mustard. And you can find me over at least a monster.com. And why do I podcast or why do I love podcasting? Gosh, who it's a story. So, back in 20, I think was 2018 I was attending the Lowcountry mental health conference. And I was sitting in this gorgeous facility down in Charleston, South Carolina, for two days for I think was eight hours a day. And I didn't want to be sitting there for two, two days in a row for eight hours, getting my CPUs, I kept thinking, I'm in gorgeous downtown Charleston, I really want to be out and about walking around and checking out all the cool things to see here. And I thought, wouldn't it be cool if we could take these amazing presenters and put them into our earbuds and I just kind of sat there that day and thought home would not be really cool. I mean, I love listening to podcasts, I need to get my continuing education, man, it will be a win win for me. So that idea has just started to brew and I put it kind of on the back burner in my back pocket. And then a couple months later, I realized that it really kind of was a neat idea. And I reached out to a I guess you would call it a very main big continuing education company. And they weren't interested in it. I thought, well, you know what, I'm just going to go for it. I'm just going to figure out how to do this. And I am going to create continuing education via podcasting. And I just got really curious about it and started looking into how to start a podcast. What do I need? How does this work? How do I edit it? Or who can I get to edit it? And as I have become a podcast or better podcaster, I have just become better at being a therapist. I've also become a better listener, I've become a better interviewer. A question asker interviewer, same thing. I've also become more curious about just things in general. And I love what podcasting has brought into my life. It has brought really great like minded people into my world, it has opened up new opportunities and possibilities that I didn't even think would be apostolate would happen. When I started podcasting. And, you know, the trajectory that I thought my podcast would take is almost completely gone into a different direction. And I'm grateful for this experience. I've tried many things in the past, to kind of pivot and use my therapist skills in different ways. And podcasting is just such a great fit for me. Like I said, I get to ask great questions, or I think they're great questions, I get to connect with like minded people, I get to learn from other therapists. It's just been so many wins. Now, I think if I hadn't gone into podcasting, the other thing that I would have done is YouTube videos. And I say that because really, YouTube videos are searchable that you can get on there and you can type in whatever it is you're looking for. Same thing with podcasting, I like podcasting better, because I didn't have to purchase a lot of expensive equipment or cameras, or get all dolled up or do my hair every single time I wanted to podcast in fact, if you saw me now I've showered today, I don't have any makeup on. I'm in my element. And I wouldn't mind having myself video to this way. But I feel like there's always this expectation of for for YouTube video you have to you have to have it pretty produced, right? And adding that video element into it really was just not where I saw my myself going. So like I said, podcasts are searchable, you know, you just create the you create the title so people can find what they need. And it's just been it's been so much fun. I am a burnt out therapist. To truth be told y'all won't hold anything back a burnout therapists who still wanted to provide support in the field and in the world of mental health, without having to take on any more one on one clients and podcasting for me as a way to do that I get to be creative. I get to share information. I get to, you know, be a mental health advocate, all of the great things that come with being a therapist, but now I get to do it on a bigger platform which I am grateful for, and humbled by every day when I have somebody reached out who is either a colleague or somebody who is dealing with mental health letting me know how much they appreciate my show. And one more reason I love podcasting is it it's a great additional stream of revenue, it takes time. It takes time to build but it is so so worth it. And like I said earlier, you know staying open to opportunities and possibilities and networking with like minded people. You can definitely grow an additional additional stream of revenue for example, when I started the podcast, so yeah, so my initial idea was to create a membership where I would have like a continuing education, continuing education, membership, but as as I kind of got in to doing different things with the podcast that that passion kind of like went a little bit down. And I realized that I had a better, better way of creating an additional stream of revenue with affiliating with other like minded products and like minded programs. So instead of doing just continuing education and focusing on that, I'd pivoted a little bit and what the affiliate marketing way. And that, for me has been a great additional stream of revenue. Whereas I'm still creating continuing education courses. And I love doing that I don't have to, I don't feel the the what's the word, the stress, you create one every month because I have a membership that I'm responsible to giving them, you know, continuing education courses. Now, that doesn't mean that I won't revisit that, you know, down the road one day, I guess what I'm getting at is that podcasting has given me lots of different ways to create an additional stream of revenue that I didn't think would be the case when I first got started. And I mean, this, like I said, the sky's the limit. There's so many potential opportunities out there, I just stay open, I connect with like minded people. And, you know, we have similar interests and similar values. I feel like we can all we can all win when it comes to helping other people out there with mental health topics and issues or even, you know, growing your private practice. So that's why I love podcasting.
Daniel Fava
Hey, everyone, this is Daniel Faber from the private practice elevation podcast and private practice. elevation.com really excited to share about a why I podcast? That's such a great question. And I think it actually has a lot to do with this the story and evolution of my own business. So when I first started what I do, which is helping therapists with their online presence, you know, create websites, SEO and trying to really promote a private practice online, I began as basically just a blog. So it was create my therapist website.com. That was, that was my hub, that was where I shared tutorials, and blog posts, and trainings and webinars and stuff like that all to help private practices, and therapists create a great online presence. And so for two years, I focused on written content, and you know, really just consistently blogging month after month, probably about four blogs a month, you know, blog every week, just getting that content on the website. And, you know, for that time, it was it was great. Like, that was what I was passionate about doing. And I was really, really wanting to focus on getting traffic to the website. And so writing all that content, certainly helped the website rank for a lot of keywords and get a lot of traffic monthly, you know, getting I think it was probably about like 8000 visitors each month, and it was growing. But for me and my practice, not my practice my business. I was I was starting to get a little bit burnt out of doing the same thing, you know, that written content. And I had always thought maybe someday I would venture into podcasting. In one thing that I really it was becoming passionate about was not just helping people build websites, but also how do you really reach your ideal clients online? How do you build a business that can be you know, scalable, that can grow with you. And there's just so much more to the, to the, to the pieces of the puzzle than just building a website and using WordPress, which is what I had been talking about for a long time, you know, and so I wanted to start talking to people who were starting to like, you know, really grow their private practice, really build a team, maybe like venture into building a group practice, and stuff like that. And so when I created my business, which was create my therapist, website.com. That was very, it was very focused on that one thing, creating a website. And I realized that I, there's just so much more that I wanted to talk about, with people, there's so much more that I wanted to build my message around. And so I decided that podcasting was going to be a really good outlet for that. So I actually had to, I had to shift my entire business and my own marketing because I had a bigger message to share. And so it took a little bit of time and that's how I landed on private practice elevation. One thing that I was starting to do was to help people more one on one with done for you website design and development services as well as SEO services. So where I at first set out to build a blog and do online training. I was realizing that I was actually getting more fulfillment and also just getting more clients is on the side of, of the agency, you know, building those websites and helping private practices grow. And so private practice elevation just became a good, it became a good name for me, because that's really what we want to do is no matter what stage you're at, in your practice building journey, we want to elevate you to the next stage. And so, you know, we do that with our online marketing services. And so in order to speak to folks who were in that place where they wanted to elevate their practice, you know, you could have somebody who's just starting out, you could have somebody who is 10 years, 15 years into their private practice journey, and they're ready to reach, you know, 10x, you know, what they're doing right now, or they've got a group practice, and you know, their website's been live for five years, but they really need it elevated, they need a new design, they need a better SEO strategy, that sort of thing. So in order to reach folks at those different stages, I needed to not just do what I was doing, which was talking about DIY on a website, you know, and so private practice elevation was name of the podcast and launched that in probably about I think it was 2019. And one of the greatest things that I enjoy about podcasting is the people that I get to connect with, there's just people that I have collaborated with, or, you know, emailed with or supported with social media. And it's supported other people's promotions and stuff, like for years, because I've been, I've been doing this since 2016. And so it was a great way to then reconnect with some of these people that I've met, and have just good conversations just about running a business, about marketing, about leadership and scaling a private practice. So we get to have these fun conversations, and I get to meet new people, I get to learn about new things that people are doing to support therapists and private practices, and grow. And what happens when you do that is you're connecting with all these great people. And then you know, those people tell their people about private practice elevation, and I tell my people about these people that I'm interviewing, and so there's this just reciprocal effect of generosity that happens and growth that happens with a podcast, and there's a bunch of people that I can now reach by, you know, reaching somebody else's audience. And I think that that's one of the one of the greatest benefits, you know, just not only that relationship building, but also just the marketing side of things. The other side of why I love podcasting is like I said, I was blogging for like, over two years, and I was tired, I was getting tired of writing. You know, as my business started to grow, I've added more folks on my team, we've got three developers, project manager, SEO specialists, you know, so now, um, my focus is on building them up and leading my team. And so it became really difficult for me to kind of find the brain space to, to write blogs, it's something that we I still do, from time to time, on private practice elevation, but it was great to find a new format, you know, with podcasting, because I was actually able to go back to some of those blogs that I wrote, and I found like, Okay, this, maybe certain blog might work for this new audience that I was trying to reach. And so I can put that into now a podcast format, if it was a solo episode, I can, you know, kind of read through and elaborate on something that I've already written in the past, I'm able to reuse some content. And then the other thing is, when I interview folks, you know, I get to really rely on their expertise and making them shine and digging into what they can bring to, to share with my audience, you know, so there's not as much writing going on. But it's more of the conversation. And so that actually took a lot of just distress off my shoulders, because there's not as much that I need to do. As far as you're sitting down and writing, I still have to come up with some show notes and things to share what the podcast episode is about. But it was nice to get a break from that constant, weekly blog post. Deal. So. So I'm, and I'm in this place where I'm trying to figure out how to really leverage that content on our new website on private practice elevation.com. Because blogging does really help with SEO helps get traffic to your website. So there's if there's less content with the new podcast episodes with those show notes, there's not going to be as much chance for ranking. So you know, we're starting to do things like transcribing episodes and just using some AI to expand on what's in the podcast episode. Or sometimes I will write a blog. I'll still write a blog, but then I'll also use that blog again for a podcast app. So so it's really cool how podcasting can help you really reuse content you've written and also take new content and go even further where you can write it. And then you could also speak about it on a podcast episode and elaborate on it. But yeah, I'd say my favorite part about podcasting is really just the connections that I've made with some great people just like, like Gordon, and folks in the sight craft network. And, and beyond that, it's just been a lot of fun. And every once in a while, I'll reach out to some of the same folks, you know, and just say, hey, we haven't caught up in a while what's going on in your world share what you're working on. We get to just continue with that with that relationship. So Thanks, Gordon, for the opportunity to talk about why I love podcasting. Again, this is Daniel FAPA, from private practice elevation.
Aaron Potratz
Hey, this is Aaron from the shrink think podcast. And I want to tell you about why I started podcasting. As I've been thinking about this, there are actually quite a few reasons. One is a little bit of the vanity of it of because I went to a conference and Joe Sanic was talking about podcasting is like kind of, we're sort of in the early days of that. And he said that we had we as therapists have a lot of things to offer the public, and you kind of your average person, because there are not a lot of therapists out there when you just look at it statistically. And I just saw that as being like, wow, there's a tremendous opportunity to a help a lot of people share some information that I might have or experience that I might have with people. But also like, it's just freaking cool to have a podcast and to be able to tell people, I've got a podcast, and I'm doing something with it. Of course, for me, having a podcast is not just the vanity of it, I mean, it's cool to be able to have that, but also the things that I do in my life, I want to have intentionality and purpose for them. So being able to provide that information or give people something that is a value. So that's like the content or like even the experience of it is has been incredibly valuable. There's another reason for that as well. And I would say I you know, I'm a co host of the shrink thing podcast with my good friend and business partner, Nathan Hawkins. And that was an opportunity, I think, for us to be able to do this together. In all honesty, we work together, we work alongside each other as clinicians and supervisors and business owners. But we don't always get as much opportunity as we want to be able to share some of the stories, some of the experiences, some of the knowledge, or I guess some of the things that we've learned and that like tips and tricks, if you will, that we've learned over the years working with people. And so podcasting has also been kind of an opportunity to connect with each other and to really enjoy that time. So which, you know, when I, if you've listened to the shrinking podcasts, we have a great dynamic going, we get along well, we enjoy each other. So it's an opportunity for us, as CO hosts, to have a good time and to let you the listener in on that experience. On that journey for whatever it is we're talking about that day. And overall, it's just on our journey as therapists and pot as podcasters. So there's that. And then I know a lot of people use podcasting for networking, or to be able to meet a lot of cool people. And I would say that's a huge, huge thing as well. To be able to have some of these people on our podcast to meet people has just been fantastic. There are so many people I have met and interviewed, whether I've been on their podcast, or they've had me on their podcast, to have an opportunity to connect to this with these people. Because we share that in common. We're podcasters or we've got something that we want to share. Maybe they've got a unique perspective or unique niche that they bring to my audience or vice versa. That is really, really fun and exciting. I think in a lot of ways. It's, it's not just great to know other people. It's just great to connect with them and to be networked. But it's also for me, it's the ability to accomplish something that's larger than myself. And that's for me some of the meaning and the purpose behind a lot of what I do is that I certainly want to impact people and I want to impact the world as much as I can. I don't know how much you know about me from the shrink thing podcast, but I am an Enneagram three, which means I'm a doer and I've got a lot of energy. And I I channel that I do a lot of things and I have a lot of passion for what I do and for the people that I work with and help but at the same time, a lot of that is like I see a broader vision Jim and I want to accomplish as much as I possibly can in this world with the time that I've been given. And so to be able to partner with people to know them, to encourage them, to be encouraged by and inspired by other people, has been incredible because we together can impact people impact the world more than we can on our own, individually. But collectively, whether it's a couple of us like Nathan and I, I mean, that's great. He and I together can do more than just I can or just he can. But then if we've got a guest on our show, then it's like the three of us with the different strengths that we bring has been incredible to see the impact that that can have, you know, another I think just the epitome of this, for me, was a recent episode that we had on a men's retreat in Las Vegas with Ernesto says Mundo, you read Guilford and Connor McClanahan, and I hope I got that right, just met Connor so and then Nathan and I, we got together and recorded an hour long episode that we broke into two parts. But man, that was incredible. Because all of the the minds and the connection and the depth that we we experienced and were able to talk about and to share with our listeners from that episode was, in my opinion, far better than what anything Nathan and I could have done on our own. So podcasting really gave us that opportunity to capture what was going on already with these guys. And so from that standpoint, you know, being able to connect with people and have these conversations, I think, that are really valuable, that are really meaningful. And that people, honestly I think want to hear and need to hear is is just incredible. It's just been such a great journey to be able to, you know, go about my life behind the scenes with people that I meet in my personal life, and I'll tell them that I've got a podcast, and they'll you know, of course, they want to hear about that they're, you know, impressed. It's like, oh, that's cool, or whatever, let me listen, but then to actually hear from people like, oh, wow, you know, I every time I listen, I'm just laughing, I, I'm cracking up over some of the things that happens. It's like, Wow, that's awesome. You know, you're, you're listening to something that you that you enjoy, you're having a good experience there. Or like I've learned things about forgiveness, or about the fear triangle, or whatever that we were talking about on our episode. To know really more directly that I've been able to impact people. Because they'll give me that feedback is just incredible to be able to connect with the audience like that is just such a great feedback loop especially for, for me, who, you know, working with clients who don't who I don't always see that like positive reinforcement, because they're we're always sort of in the weeds in the trenches, doing the hard work. But just to be able to share something, and people give that direct feedback has been really incredible. So overall, I guess I would say, podcasting is a lot of work, you know, it takes a lot of time and dedication to it. But at the same time, I love it, I enjoy it. It's something that I in essence, kind of spend some of my free time doing right now is a little bit of a hobby just because I enjoy doing it. But I would ultimately love to turn that into something that can be monetized. And that can support me a little bit, or just give me a little bit of like passive income or things like that would be great. But if not, I've been doing this for over two years now, maybe coming up on two and a half years. And I still enjoy it. In fact, I would say the more I've been doing it, the more comfortable I feel it's helped me I think really with get more comfortable with myself. Because I think initially like and please, if you're listening, don't go back to the first episodes of, of our shrinking podcasts and listen, because I know I felt stiff, I sounded stiff, robotic and canned, or whatever. And I feel way, way more off the cuff and just natural and personable now just feel so much more authentic. And I think that's really helped me also to feel comfortable with myself. Because you're putting out episodes that people are going to listen to and you got to be vulnerable. And I remember thinking how scary that was going to be in the beginning. And it was but now it's just what I do. It's just part of the process of of having a podcast and realizing kind of the value in that and not letting that fear that insecurity really kind of overtake me. So anyway, all that's to say I have really enjoyed podcasting. There's so many great benefits. I know that a lot of people get out of it. Those are mine. I hope that has been helpful and meaningful to you. And I would just really encourage anybody that has been thinking about podcasting or been interested in it. To certainly go investigate it. Get some of those questions answered. But if any of this has resonated with you, then it's excited you then I think you should do it. And that's ultimately how I decided to do it is I just said, You know what I'm gonna do this. Never done it before. I don't know anything about it. I learned what I needed to learn. And I did the research and I just started building the plane as I was flying it, I was like, I'm just gonna do this. Just started recording things didn't really exactly know what I was doing. But I figured it out. And here I am. I love it. And I know you will, too. So thanks for listening, and happy podcasting.
Karen Dyck
We are Dr. Karen
Melissa Teissen
deck, and Dr. Melissa teason.
Karen Dyck
CO hosts of the podcast revival one on one a fresh take on self care for female mental health clinicians. Thank you, Gordon for this opportunity to reflect on our own podcasting journey, which is still in the early days. We hope our reflections are helpful to others just starting out.
Melissa Teissen
In the past few years, as we've been establishing our side business intentional therapist, we've had the opportunity to be interviewed by a few colleagues for their podcasts. And we always really enjoyed those conversations.
Karen Dyck
Over time, we started to wonder if that could be something we could do as well. And recognize that it would really fit with our desire to connect with other like minded female mental health clinicians in a way that resonates differently for people than just reading a newsletter.
Melissa Teissen
So we didn't actually do any formal podcasts training or courses, in hindsight, that probably would have been quite valuable. But we did do some research online on how to get started and realized, in fact, we could do it too.
Karen Dyck
We knew we could easily get bogged down in research and planning and of course, delay action. So we decided to psychology month, which happens in February in Canada, as an opportunity to challenge ourselves to do something different. And that led to creating a pop up podcast. This gave us permission to just test out the process, not worry about perfection. See you if we would enjoy it, see what the financial and time commitment would be like, and know that we didn't have to commit long term that it could just be a short term thing if needed.
Melissa Teissen
So after our first few episodes, we certainly weren't surprised. But we were very struck by how wonderful it was to connect with our fellow clinicians in this way, especially as everyone we spoke with was so generous and like minded and supportive of our messaging around redefining self care. Given that one of the challenges for so many clinicians is not wanting to admit that we might be struggling with our self care, we felt it was so valuable that our guests and ourselves were able to talk openly about what gets in the way of self care and also able to model giving ourselves permission to do things in a new way. And while our newsletter and courses certainly share these messages, we feel that podcasting really allows us to do this in a much more direct way, as well as a way that connects with people on much more of an emotional level.
Karen Dyck
A big key for us and continuing the podcast, the honest pop up days has been keeping the schedule sustainable. We currently release only one episode per month. At times, we might have capacity for more and this might change in the future. But we know that right now one episode per month is a pace we can sustain without overwhelming ourselves, which let's face it is pretty important.
Melissa Teissen
We also want to acknowledge another key has been joining the psych craft network, we have so appreciated the support and validation and inspiration that we receive from other members. And Gordon, we really particularly appreciate you welcoming us and our little show and to the network. And we really thank you for creating this community where like minded podcasters can connect and hopefully have the ability to reach even more people with all of our courageous messages.
Karen Dyck
So for anyone else considering podcasting or just starting out, we really think our experience highlights that podcasting can come in various forms. It doesn't have to be a weekly episode. You don't have to get it perfect right out of the gate. There are lots of reasons we can hold ourselves back. And there are even more reasons to take those courageous first steps as podcasting can bring so much connection and joy.
James Marland
Hi, this is James Marland from course creation studio, and the scaling therapy practice podcast. And I wanted to talk to you a little bit about why I love podcasting. For me, it's all about the people. I enjoy sharing tips and tools with the audience to help them improve their businesses. I also love sharing stories. These are stories of people who have faced challenges and overcome them. Because when listeners hear these stories, they get to feel good and inspired to. One of my favorite parts of podcasting, though, has to be interviewing guests as they have incredible stories of growth, perspective, courage, that inspire me and the other people who listen to the show. Through the podcast, I'm able to invite people on a journey, whether it's to explore online income, or just to simply learn something new. And the best part is that I can do it in the podcast without being pushy, or salesy. Instead, I feel like I'm inviting people to go on a journey with me, that also benefits them. But perhaps the most rewarding aspect of podcasting is knowing that I'm helping therapists and other professional helpers, grow and scale their businesses, which means of course, they can help more and more people. Even though I'm not a therapist myself, it just feels good to be able to help those who are helping other people and make a difference in their lives. So in short, I really love podcasting. It allows me to connect with people share helpful information, and just inspire other peoples in a fun and engaging way.
Whitney Owens
Hi, it's Whitney Owens here. The question is, why did I start podcasting? Many reasons for this. First of all, I love podcasts. I love listening to them. They bring me not only education, but I also find a sense of community. And sometimes if it's a really good one, it brings me good laughs. So I wanted to be able to do the same for other people. Building a faith based practice is not easy and can be lonely. And so by starting a podcast, I'm able to create a community of faith based practice owners, I'm able to educate people. And the great thing is they don't have to pay for it, which is really awesome. They can get education, easily access and free. Some of the other reasons that I love podcasting, this is gonna sound a little arrogant, but I actually like listening to myself. It has been known that there are times that I go back and listen to my own podcast. And funnily enough, sometimes it seems like someone else talking giving me advice. And honestly, I need that advice. Because sometimes I've already forgotten all the great things that I might have said, and it speaks to me in that moment. And so I think there's something to be said, for looking back at podcasting as a journey. And as the person giving the podcast growing themselves. And so starting a podcast has grown me, I see the ways that I started my practice, I see the ways of growing my practice. And it makes me a better person. I really enjoy being able to connect with other podcasters. That part is really neat. I can do that through the site craft network, and through other podcasting outlets, like conferences, or just meeting people that podcast, it brings you a connection. That's a really special connection that you can make with people. I also love all the guests I get to have on the show, to be honest, it's an excuse to be able to reach out to amazing people and say, Hey, come talk to me, right? So I get to learn from the best of the best, not only other practice owners, other business owners, but other people of the faith. And I am challenged and grown through those conversations, I can tell you for certain there are times I walk away from the podcast, and I'm downloading a book grabbing it immediately because I want to listen to this author more. I also love being able to ask my own questions to the podcast guests. That's also one of the greatest parts even today while I was podcasting, I thought, I've got some great questions I want to ask. So not only am I helping other practice owners when they listen to the podcast, but I'm personally growing my own business and learning from those that I've meet with. I honestly can't say enough about podcasting. I've had two podcasts now. And so it was good enough that it was worth doing a second one. And the other thing I have loved about it is the site craft network because I have a group of other podcasters that helped me along the way, because podcasting is not always going to be easy. And then I also have Gordon as a dear friend who just tell you the truth, kicked my butt and said Whitney, get back out there and do another podcast. And if he tells you to do something great, you know that it's gonna be good.
Gordon Brewer
So now you get to hear from me. Why do I podcast? Well, you know, one of the things I love about podcasting is it's really just a great way to connect with people. I love being able to have the conversations that I have with people every week and just get to hear some fascinating people. You know, I'm kind of reminded of the book by Malcolm Gladwell called the tipping point, which is, the subtitle is how little things can make a big difference. And I think we are influenced by people in different ways. But one of the things he talks about in that book are the different types of people that have a way of making a big difference. He talks about connectors, mavens, and salesmen. And I'm not gonna go into the details of that, but I really see myself as a connector. I love connecting people, having people find what is in common with others, and being able to really help people find a way to feel needed and wanted and that sort of thing. But also, I love being able to connect people with resources and things that are going to be helpful to them. I love and you know, I'm on Enneagram two, which is the helper so I really enjoy helping people find things and being able to connect in different ways. So that's one of the many reasons that I love to podcast and hope that this will maybe inspire you to think about doing your own podcast, but hearing from these other podcasters here in part of the site, craft Network.
Being transparent… Some of the resources below use affiliate links which simply means we receive a commission if you purchase using the links, at no extra cost to you. Thanks for using the links!
Resources
Meet Gordon Brewer, MEd, LMFT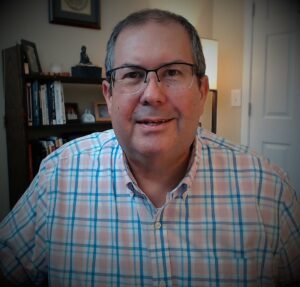 Gordon is the person behind The Practice of Therapy Podcast & Blog. He is also President and Founder of Kingsport Counseling Associates, PLLC. He is a therapist, consultant, business mentor, trainer, and writer. PLEASE Subscribe to The Practice of Therapy Podcast wherever you listen to it. Follow us on Instagram @tpotpodcast, and "Like" us on Facebook.