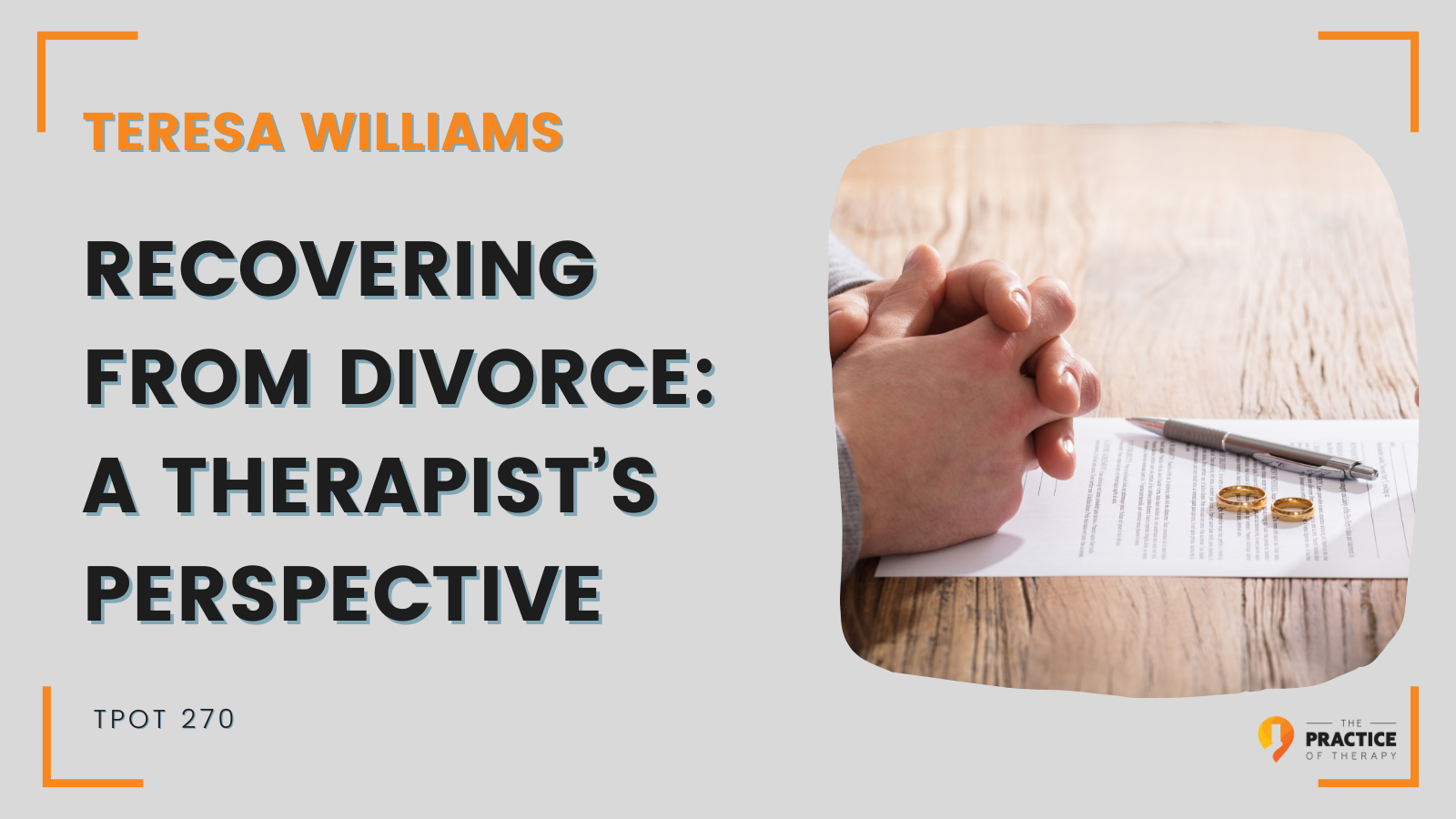 Teresa Williams is a therapist from Huntsville, Alabama, and has her own private practice where she does marriage and family counseling. In this episode, she talks about her passion for helping women who have gone through a divorce, sharing her journey as an example. She explains the distinct stages of divorce, from shock/confusion, to messy/complicated, and then the challenge of piecing things together when it is finalized. Teresa emphasized the significant losses associated with divorce and its importance for support and understanding.
Meet Teresa Williams
I'm Teresa Williams. I love to help people clear a path through the mire and muck of everyday living and the pitfalls associated with previous or current struggles. I work to help put words and order to what is being experienced. When any of us are helpless and desperate, counseling can get our feet landed on the ground.
With compassion and understanding, I serve individuals, families, and groups. Through offering practical help, I've watched them become hopeful as they maneuvered life in new circumstances. I am honored to sit with people in a variety of crises, life stages, relationship struggles, and painful situations. I am thankful to be a practical and hopeful voice.
My background includes a Bachelor's degree in Human Resource Management, a Master of Arts Degree in Human Services Counseling from Liberty University, and a Master of Science in Counseling from Faulkner University. I am a Licensed Professional Counselor in Alabama. My counseling experience includes psychological assessments, working with teens and adults, career struggles, divorce recovery, addiction, women's issues, and marital difficulties. I am a Prepare/Enrich pre-marital and marriage facilitator and a Board-Certified Life Coach. I am trained in Levels 1, 2 & 3 Gottman Method Couples Therapy, and I lead seminars as a Gottman Leader of The Seven Principles for Making Marriage Work couples program.
I love traveling with my husband, spending time reading, listening to music, and playing with our dogs, Bootsy and Ollie.
Grief Is Not Something to "Get Over"
When going through a divorce, it is crucial to remember that the emotions associated with it are valid and should be acknowledged. Grief is an emotion that is often misunderstood and difficult to move through. It cannot be "gotten over" but rather something to be accepted and worked through. Grief is a natural emotion that is felt when one has experienced a loss. It can be challenging to accept and move through, but it is essential to recognize that it is normal and necessary. It is important to remember that there is hope and that healing is possible.
Find Support During Your Divorce
It is essential to find support when going through the grief associated with divorce. Support can come from family, friends, counselors, or support groups. It is important to remember that everyone grieves differently and that it is okay to feel whatever emotions arise. Finding healthy ways to cope with grief is necessary, such as journaling, counseling, or exercise.
Practice Self-Care After Divorce
Divorce is often viewed as a failure or a sign of weakness, but it can also be a time of growth and self-discovery. It is important to practice self-care after divorce. Self-care is caring for one's physical, mental, and emotional health; it includes getting enough sleep, eating nutritious meals, and engaging in activities that bring joy and relaxation. Finding ways to manage stress, such as through exercise, mindfulness, and spending time with friends and family, is also essential. Therapists and counselors are not immune to the effects of divorce, and it is important for them to practice self-care as well.
Support Couples in Difficult Decisions
When couples face the difficult decision of whether to stay together or get a divorce, the therapist must provide support and guidance. It is not the therapist's job to tell the couple what to do but to provide them with information and resources to help them make an informed decision. This includes helping them understand the patterns in their relationship and what changes need to be made to make it healthy again. The therapist can also help the couple understand their options: staying in the relationship, getting a divorce, or both being invested in making the changes needed to make the relationship healthy again. Ultimately, it is up to the couple to decide whether to stay together or get a divorce. The therapist's role is to provide support and guidance and to help the couple make an informed decision.
Surviving Divorce: Hope and Healing
During difficult times, we all need each other, and it is possible to find hope and healing through self-care and support. Williams believes that group coaching can effectively provide support and help for those going through a divorce. She believes that by providing a platform for people to connect, it can be easier for them to navigate the grief of divorce. Group coaching can also help fill the gap in areas where more therapists need to be needed. Additionally, it can diversify one's income and help many people rather than just one.
Okay, hello there. I'm Teresa Williams and I am so excited to be on this podcast with Gordon on the practice of therapy. And today I'll be talking about helping women find hope and healing beyond divorce.
Gordon Brewer
Well, hello, everyone, and welcome to the podcast again. And I'm really glad for you to get to know Teresa Williams. Welcome, Teresa.
Teresa Williams
Thank you, Gordon. So excited to be here.
Gordon Brewer
Well, I'm glad that we, we were able to connect and it's through our mutual friend Whitney Owens. And as, as a start with everyone Teresa, why don't you tell folks a little bit about yourself and how you've landed where you've landed?
Teresa Williams
already? Well, I am in private practice. I'm a licensed professional counselor in Huntsville, Alabama, you can probably tell that by my southern accent,
Gordon Brewer
you have no accent I have.
Teresa Williams
So I see individuals and I do a lot of marriage and family. And this is a subject that is near and dear to my heart as I have unfortunately, walked the path of being in divorce and being able to come out on the other side of being healthy and whole and want to be able to share that roadmap with other women.
Gordon Brewer
Oh, that's great. That's great. Yeah. And it's it's interesting for us as therapists, I think we get into our various niches because of our own life experiences. And and, yeah, I think this is a very, yeah, I don't know that we've on this podcast have we've really talked about this particular niche that much. But I think all of us have experienced it in different forms and fashions as far as divorce. I mean, I've been through a divorce years earlier in my life, and then, you know, do a lot of work in my practice with people that are going through the same kind of issues. So yeah, so what other than your own experience, what else draws you to this particular niche?
Teresa Williams
Well, for several reasons, sometimes we don't realize how big of a loss that divorces. And it's not only just a loss of a spouse, but a lot of times it's loss of friends, family, and even our true church community. And that's so sad. And, you know, there's a lot of resources out there, but not directly, resources for women to find some hope and support.
Gordon Brewer
Right, right. So in your work, I'm curious as to what are just kind of some common themes, I guess, maybe it for lack of a better way of putting it, that you're seeing when, when people when, when women will come to you and are really struggling with with this kind of a loss?
Teresa Williams
Well, first off depends on you know which stage they're in whether they're at what I call the beginning of this shock stage, like, oh, my gosh, you know, what happened here at this is not what I wanted, I don't know what to do, don't know where to go, where to turn, my my whole world is just turned upside down. And I think from there, it's the loss of whatever was normal. You know, it's not the same. And if there's children involved, then that's a whole other upheaval. So I think in the beginning, it's just, you know, starting out and saying, Whoa, wait a minute, what happened here, and wherever I go, I think they're in the middle of it to where there's attorneys involved, and they're in what I call the messy middle, where it's, it just gets complicated. And there's fighting and bickering back and forth between their spouse and the attorneys and then getting children scooted back and forth is it's just like, oh my gosh, will I ever get through this? You know, what do I need to do? Where do I need to turn? And then the last stage is when the divorce is phenomenal. And you sit around kind of what I call in the rubble, and you go again, what just happened? This has been a whirlwind. How do I pick up the pieces? How do I find that new norm? And what in what even does the new norm even look like?
Gordon Brewer
Right, right. You know, I know, in my own work with folks, and you know, I tend typically and I guess it's just because I'm a male, but I get a lot of men that are going through similar kinds of things. And I think you're a think it's helpful to couch things in terms of grief, and that there is a lot of grief around divorce. You want to say more about that?
Teresa Williams
Well, I think sometimes that we look at it. And we don't realize that when I talk about late grief, and I talk about those losses, you know, if there's a death, usually someone, you know, the family and friends and church, and the committee will always rally around that person. And when there's a divorce, that's not the case. There's often criticism, there's often judgment, there's some support, but a lot of times you'll hear hear from friends. Like in my particular case, you know, we had couple friends and their responses, well, I don't want to pick sides, I don't want to get involved. And so that's a big loss when you lose all of your footing. Right out from underneath view.
Gordon Brewer
Right, right. Yeah. And, yeah, and I think it's something else you you mentioned, that I think is important to remember is helping people move through through the grief of this and I've I do, yeah, it's funny, because I do a lot of work with folks in grief and do a lot of grief therapy. But I think one way to think about it is it's not something you get over. Like you just, that's kind of ridiculous. It's something you move through exam. So I think, you know, and very good point and that with divorce, you don't have the same kind of support that you would if there were a death?
Teresa Williams
No, you don't. And it we should, it shouldn't be that way. But unfortunately, most of the time, it's not.
Gordon Brewer
Yeah. Well, I know that there's probably folks out there listening, that are therapists and counselors, and that sort of thing that might be going through something like this, and how do you maintain, you know, your work as a professional, and being able to move because, you know, like you said, I mean, with a death. Most of the time people understand that or give you the time off to, to, to grieve and go through all of that. But with divorce, you're probably not going to get that that time allotment or that kind of stuff.
Teresa Williams
No, you're not, unfortunately, although you should. But you don't. So given a little bit of background, my own story, went through a very messy divorce several years ago, and mine was went through my ex husband had an affair, and it was very public. And so going through that was just like, my whole life was just out on display. And yet, I still had to work, still had to make a living and go on. And you know, doing your own work. As a therapist, you know, I will say I got my own therapy, I found a wonderful person to work with and, you know, did my own, Enter, Enter work, and work through all the stages of grief and learn how to rebuild afterwards. And you have to honor your own stages of grief and your own self care. You know, just like that we teach our own clients, you have to be able to do that yourself.
Gordon Brewer
Yeah, unfortunately, I think for us, as therapists and counselors, we are we not as good as practicing what we preach. I think a lot of times,
Teresa Williams
you know, sometimes I think we think we can handle it all. We're, you know, Superman here, and, you know, we have the knowledge, we can just sell straight through it. And that's not true. You know, we need to take care of ourselves. So to be better therapists, we have to do our own work.
Gordon Brewer
Yes, No, I totally support that. I, I know, I don't know what I would do without my therapist as well. And I think that that's something that's up everybody in this this field because folks come into us and they hand us a lot of heavy stuff. And we need to be able to process that and, and understand just kind of I know I've had a few other guests on the podcast where we talked about vicarious trauma and so that that might be something for you to, to think about. For you to maybe speak about Theresa is when you're when you're working with people that are going through a divorce, how do you do yourself care when you first figure out that okay, this is kind of hitting some soft spots for me.
Teresa Williams
Well, I think is to recognize that At their story is not my story. You know, just like when you said you went through a divorce, well, your divorce is going to be very different from mine. And even if there was another lady standing beside me and experienced, you know, divorce due to infidelity, her story is going to be completely different than mine. While there have some similarities, you know, I just have to remember that I can come alongside that individual as far as understanding their pain of divorce. But my story is not their story and their stories, not mine.
Gordon Brewer
Yeah, so it's important to keep those boundaries, I think, absolutely. So. So tap to switch gears a little bit, tell us about your practice, and you know, how you've how you've kind of created your niche and how you're marketing and all that kind of stuff.
Teresa Williams
Okay, well, work, like I say, with individuals, but probably 50% of my practice, is marriage, and family. And I just kept seeing all of these women that were coming out of the throes of divorce are in the middle of it, and did not know how to navigate it. And a lot of times, if they came out of the divorce, they didn't, they didn't know the roadmap to take to become healthy and to do self care and to do their own work. And they would jump back into relationships and make a mess. And then there, you throw, again, children in to that mix. And my heart just broke. And I don't think anybody walks, going through a divorce, or any other major event perfectly. So there is no such thing as a perfect roadmap. But there are guidelines to do to help that individual navigate some of the pitfalls that go along with being divorced, and also to gain strength. So you know, I think the biggest thing I see with women is they have no self esteem, you know, it's just shot, it's in the tank. And so there's a lot of self doubt, self criticism and shame that comes along with it.
Gordon Brewer
Yeah. And I think it's, you know, both of us being in the south, I think it's even that culturally, it's, it's a little more of a stigma that may be I think we might find in other parts of the country in the world.
Teresa Williams
Yeah. And you're right, being in the South has been very difficult because we're in the Bible Belt. And, you know, in my particular case, people mean, well, but they say very hurtful things. Like, one of the things that was said to me, one of the people that I was in our church group wet came up to me and said, What did you do to make him have the affair? You know, and you just go, what? Yeah, you know, and so they mean, well, what they don't always say, or do the right thing. And you know, you're kind of ostracized, being in the south, and it shouldn't be that way. So you put the word divorce before, after any word in the south, and it's got this negative connotation to it.
Gordon Brewer
Right? Yeah. Well, I one, one thing I'm curious about, and just, I know, we're kind of delving a little bit into the clinical arena with all of this, which is okay. You know, I've had several couples and clients and that sort of thing, that, as I like to put it are really kind of discerning whether they should stay married or not. And when you run into that, how do you? How do you walk people through that process?
Teresa Williams
Well, that, for sure is a sticky one. Because again, you know, as therapists we can't tell anyone what to do, or they, although they want us to at times, right? But we can't, and you know, you have to look at it, it's their life. And you can give them holes in the assessments to say, is this an abusive relationship? Are you in a safe place? You know, are your children safe and those type things, but as far as helping them to decide, I think you navigate it very carefully. And you have to be wise in the questions that you ask. And always remember that, for me, it's not my job to determine whether they should stay or they should go. And I always tell my clients, I'll support you either way, whatever the decision that you make, I will support you.
Gordon Brewer
Right, right. Yeah, that's a it is a tough one. You know, and I remember going to an AAA MFT conference one time and throw this out here is just maybe as a help, helpful thing. And one of the one of the workshops I went to is, and I'm sure you've been to a lot of these as well, Theresa was helping helping couples when there has been an affair or infidelity, that sort of thing. And the presenter at the time, put it this way, which I think is helpful, and I've done this with couples is that really, if you think about it, when when a couple is at that crossroads, they can, they have three choices. One is they can accept the status quo, and keep doing what they're doing. Second choices, they can divorce, call it quits and go their separate ways. Or the third choice is they can both be invested in making the changes that need to be made in order to make the relationship healthy again. And so I like to, you know, I think that's a good way to kind of frame that,
Teresa Williams
you know, it really is, and what's interested in the work that we do, you know, sometimes they'll say, you know, I'm really want to make this work. But sometimes no matter what happens, it's not going to work. And that's difficult when you have those cases.
Gordon Brewer
Yeah, yeah. And I think it's to is being able to help walk couples through, you know, recognizing the patterns that they've been in and being able to understand, you know, what, what is it that we can change? What is it that is just not going to change?
Teresa Williams
Absolutely, and recognizing those symptoms and be able to say, Okay, this is, you know, what is that saying? A one time mess up is an event, but you know, the second time, then it's a pattern, you know, second or more, it's a pattern and to be able to recognize that.
Gordon Brewer
Right, right. So to switch gears, again, Teresa is as you have grown your practice. Tell us, I guess a little more about your practice and how you got it structured and that sort of thing.
Teresa Williams
Okay, well, a few years ago, before the pandemic, seeing children and adolescents, and my practice kept growing. And as it grew, I started seeing less and less children, adolescents, and really found a lot of I will say, fun in working with families, and doing marriage counseling. I'm Gottman trained. And I do a lot of seminars where Seven Principles for Making marriage work. I am a trained leader that and I love doing those seminars, just because I don't know how much you're familiar with goblins were very flat. Yeah. So you know, one of the things that I got a lot of pleasure out of during the pandemic was being able to do those webinars, and to be able to take simple tools, you know, not this big, you know, drawn out marriage counseling, but simple seminars and take that Seven Principles for Making marriage work and see some transformation in couples, and it just lit a fire underneath of me.
Gordon Brewer
Yeah, yeah, that's that. Yeah, that is always fun. It is. A few years ago, I went through their level one training and so yeah, yeah. And it's, I think it's affirming when you hear people like the goblins, and you recognize that, okay, I'm doing some good work here that we're doing doing great stuff.
Teresa Williams
Yeah. And, you know, I do a lot of speaking and teaching and when it since we're coming up on the holidays, one of the things that I have been asked to do is how to survive the holidays and not kill your spouse or relatives.
Gordon Brewer
Yeah, that's a good one. I might have to sign up for that one.
Teresa Williams
I think everybody could use them.
Unknown Speaker
It's close to home, for sure. For sure. Well, Teresa,
Gordon Brewer
what are what are some of the other things that you've got on your plate now that you're working on?
Teresa Williams
Well, I'm getting up a new website called the confident and courageous woman, finding hope and healing beyond divorce and trying to expand that to coaching. I am a board certified life coach, as well as a therapist, and also continued to offer seminars and speaking engagements about marriage and family and women's issues.
Gordon Brewer
Oh, that's great. That's great. Yeah, and I think it's much needed. And I think one of the things about it from the business side of things is that you're really tapping into learning how to diversify your income, but also being able to make that transition from the one to one way of providing help to the one to many, which I think is something that we all need to consider.
Teresa Williams
Well, and I don't know how it is there in your area, Gordon, but here there is a lack of therapists and if you can even find somebody that is taking new clients and if they are you're talking Sometimes three to six months out. And so the support and help is really short here. And so, you know, offering group coaching has actually helped fill that need in a lot of areas.
Gordon Brewer
Yes, yes. And that's, that's the thing is, is that I think too, like you're alluding to is being able to think outside the box. And that all of us have a skill set, or we're, we're we're kind of wired to the and helping mode and helping people and figuring out other ways to do it rather than just the traditional, you know, talk therapy. Yes, absolutely. Yeah. Yeah. And I think there are a lot of people that would actually prefer maybe even prefer getting help in that way, rather than coming in and doing traditional therapy.
Teresa Williams
Well, I just finished up a group here in our conference center at work, and it was about 20, ladies. And what I found was if they could come and bring a buddy, that it they felt more safe, and it was easier to navigate. So that's another reason.
Gordon Brewer
Oh, yeah, absolutely. Absolutely. And just the importance of community and that that building in that support around these, these tough issues, I think is being able to facilitate that. Because I think, as we all know, having come through the pandemic, we all need each other
Teresa Williams
terribly. Oh, we do right now. Yes. Yeah,
Gordon Brewer
sure. Sure. Well, Teresa, I want to be respectful of your time and really glad we had this conversation. tell folks how they can get in touch with you if they would like to learn more from you. And,
Teresa Williams
yes, they can reach me two different ways they can go on the confident and courageous woman.com Or they can reach me at Teresa Williams counseling.com.
Gordon Brewer
Awesome. And we'll have links here in the show notes in the show summary so people can easily get to this
Teresa Williams
already. I appreciate it. Gordon, it was a pleasure. Yes.
Being transparent… Some of the resources below use affiliate links which simply means we receive a commission if you purchase using the links, at no extra cost to you. Thanks for using the links!
Teresa's Resources:
Resources
Meet Gordon Brewer, MEd, LMFT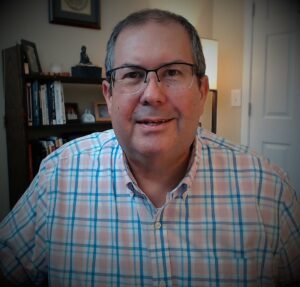 Gordon is the person behind The Practice of Therapy Podcast & Blog. He is also President and Founder of Kingsport Counseling Associates, PLLC. He is a therapist, consultant, business mentor, trainer, and writer. PLEASE Subscribe to The Practice of Therapy Podcast wherever you listen to it. Follow us on Instagram @tpotpodcast, and "Like" us on Facebook.