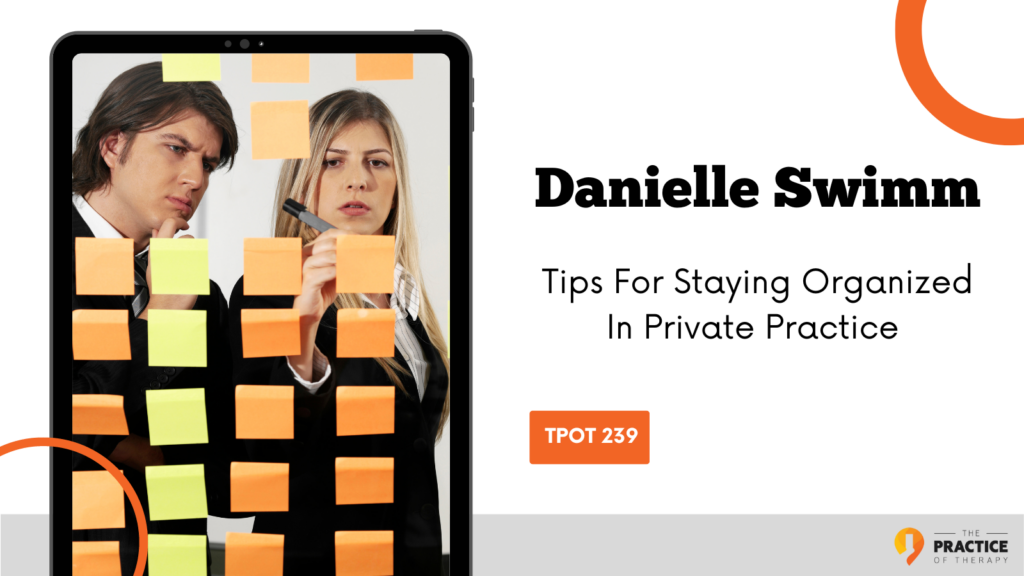 In this episode, Danielle Swimm, business coach for therapists, joins the show. First, Danielle speaks about staying organized regarding your session notes. If you haven't streamlined the process of writing your notes, now is the time to do so! Next, you need to take a good hard look at your email inbox. Danielle explains why you shouldn't have your work emails connected to your phone. Tune in as Danielle chats about keeping your work schedule organized, adding another stream of income, and the importance of being intentional when it comes to your time in private practice.
Meet Danielle Swimm
I graduated with massive amounts of student loan debt, making less than $35K a year at an agency.
I love being in the mental health field but hate the rhetoric that a therapist means you have to be a martyr.
I started my private practice, filled it up with all private pay clients, and then launched a group practice. I love the work I do and want to show how you can build a life and business you love as well.
You deserve more. More time, more money, more energy.
I'm here to help you do just that.
Stay Organized When It Comes To Your Session Notes
Danielle has never met a therapist who loves writing notes. When you're in private practice, you have so many other things to do, so it's challenging to get your notes done. Your notes can be concise when you're in private practice. Now that there is an Open Notes Policy, you want your notes to be short and objective. If you go into your EHR (like TherapyNotes), there is a system that your standard progress notes will include a lot of checkboxes. So, you aren't writing a lot when it comes to your session notes. Plus, you can hit repopulate from the previous session and change a few checkboxes. That way, you only have to write a couple of sentences; it should only take a few minutes!
As Your Practice Grows, Your Email Inbox Gets More Disorganized
As your practice grows, it can be harder to stay organized. The more clients you have and the busier your practice gets, the more emails you have coming in. You need to manage and stay on top of your inbox. Many therapists have their emails on their phones. You never take a break from private practice when you have work emails on your phone. Plus, when you have emails on your phone, you will not stay organized. Keep your work emails on your computer; that way, you can keep an organized system for them. Don't look at your emails during your most energetic and creative parts of the day. Instead, create a space where you are not always in your inbox. You can even hire a virtual assistant to run your inbox when you're farther along in your private practice.
The Importance of Having A Work Schedule In Private Practice
Get a big pack of sticky notes that you can put on the wall. Then, you can stand up and brainstorm what you want your perfect workday to look like for you. When are you starting, and when are you ending? What are you doing throughout the day? How do you feel when you are working? Pretend money is not an issue and consider what hours and how long you would work. Many private practice owners will take on the same schedule they had when working for an agency. However, you can change your schedule based on family time and self-care times. Next, stay organized by time blocking your schedule. Use different color sticky notes for each part of your day. That way, you know where your attention should be when you get into the office.
Keeping Organized With Another Income Stream In Private Practice
If you feel overworked in private practice, you need to take a long look in the mirror because you are your own boss! Therapists get burnt out quickly when they are only doing 1:1 sessions. Many private practice owners have the entrepreneurial spirit and want to scale up and add another source of income into the mix. Do a time audit and structure your day; that way, you can be intentional with your time and add in an additional revenue stream. Therapists are used to being disciplined. However, when you are working for yourself and hiring other therapists, it can be a whole new ball game. Overall, keep track of your time, stick to your schedule, and embrace time for self-care.
Danielle Swimm
Hi. I'm Danielle swim, and I am excited to be on the practice of therapy podcast, where we are going over how to be more organized in private practice.
Gordon Brewer
Well, hello, everyone, and welcome again to the podcasts. And I'm so glad for you to get to know Danielle swim. And we got a really great topic today. But, Danielle, tell folks a little bit about Glad you're here. And so tell folks a little bit about you and how you've landed where you've landed.
Danielle Swimm
Yeah, um, so I started my private practice back in 2018. So I'm glad I did it pre pandemic, when the world looks really different. And then as I was starting my practice, I found that I wanted to share about what I was doing to start my practice and kind of connect with more entrepreneurial therapists. And thus came about the brand entrepreneurial therapist. So I just created an Instagram account, you know, back when I was working three different jobs and starting my practice. And I started sharing my experience on Instagram, and kind of built a community and about a year and a half, two years later, is when I started doing consulting for therapists too. So it's all kind of grown organically. And it's been a really good experience. So now I have my private practice is a group practice. I'm still located in Annapolis, Maryland, but we're mostly virtual, since locked down, right. And then I also have entrepreneurial therapists where I have courses for therapists on practice building.
Gordon Brewer
Yes, yes. And, and really, one of the things that I know we were talking about before we started recording, which is really kind of a passion for you. And it, to be quite honest, it's a bit of a passion for me, because I don't do it so well. And that's just how you get better organized in your practice. And I know that for a lot of folks as we get busy, and I know, this was my experience early on, as I got busy, and I just felt like oh, stuff is falling through the cracks. And I'm missing stuff and forgetting to do things and all of that sort of thing. So, yeah, so kind of tell us how you kind of landed on that kind of thing.
Danielle Swimm
I know. And I can tell you right now I did it the hard way, you know, I have a, I have a two year old at home, and I have a puppy. And so going into a business and I you know, you know what it's like to run multiple, you have to have a lot of balls up in the air. And so at work, I have a lot of balls up in the air, and then I go home, and I have a lot of things I gotta do for what feels like a lot of people. And so I just wanted to get organized and kind of calm the chaos at work. Because with a baby and a toddler, it's harder to do that. Right? So it really forced me to how can I feel good about my practice and feel organized. When I'm here instead of coming into the office working, you know, let's say like six to eight hours, spinning my wheels and then leaving and feeling like I didn't get anything done like the questioning what actually happened. So I really wanted to focus on the needle moving activities to grow and not be in the weeds so much. And the biggest thing that helps me was getting really organized with my practice. And it's something I'm naturally good at, like when I was a kid, I always liked the planners, and then everything color coded. And so it's just kind of innately who I am. And I really applied it to my own practice. I wanted something that was streamlined that involves systems, but also just the feel of okay, I know what's going on this week, I feel good about how things are running.
Gordon Brewer
Right, right. Yeah. So kind of take us through kind of how you go about helping people with all of this. Yeah. So are this a starting place? And that sort of thing?
Danielle Swimm
Right? Yeah. So I'll give you guys some of your listeners, like three organization hacks that I find work really well for private practice owners. And this works well, if you're just starting out in private practice, or if you're a group practice owner with a team of 30 plus clinicians, because we all need to be organized. And the first thing I found is with our notes, like this is the first ball we drop. Because none of us like doing notes. I've never met a therapist who loves doing their notes. And when especially when you're in private practice, you have marketing and you have accounting and you just have so many other things that it's easy to not do your notes or to tell yourself you're gonna do him at 9pm when that's just not going to happen. So the best thing I found for notes was I was still writing my notes like I was in an agency where I had you know, Maybe for other providers who needed to read it because we were doing a treatment team approach, where when you're in like private practice, your notes can be really short and sweet, especially with the new or newer open notes policies where clients can easily see everything that you're writing, we really want to make sure they're short and sweet and objective now more than ever. And so, a hack that I've found is if you can go into your EHR, and I use simple practice, I believe you use therapy notes, right, Gordon? Correct. Yeah, so and they all offer this where you can just have your standard progress note involve a lot of checkboxes, so that you really aren't writing or typing much at all. And you can hit repopulate from the previous session, change a few checkboxes. And we really want you to only write a couple of sentences, sign the note and be done. This should take three minutes. Right. Now the execution on it is where we get stuck as therapist because we have, you know, maybe five minutes, 10 minutes, ideally, before the next client, and we want to go the bathroom, check social media check emails, we have two new voicemails, so the notes can easily get put to the bottom of the list. So what I like to do is start the note, as soon as the session is beginning. So if you know that you're about to start session, and you can pull up the note and you can hit auto populate, and all the boxes are checked. This starts a note, which already starts the momentum of it getting done before the session has even started. So it really holds you accountable to getting that note done and not having, you know, 20 notes to do on a Friday. We just don't want that for you.
Gordon Brewer
Right. Right. And I would what I would add to that is, I think two is scheduling the time to do the notes. So like, like, you know, if you need to put like 15 minutes between your sessions or something like that. Yeah, yeah. And I was not scheduled, it won't get done.
Danielle Swimm
Right, exactly. And I know a lot of therapists who do really well with scheduling some time at the end of the week, to just catch up on admin or notes. And I hear what you're saying too, about, like scheduling it in between, so you don't have to do it all at one time. Yeah, that's, that's a really good hack for notes. And then the second one is for your inbox. So and Gordon, you mentioned as you grow, it can be harder to stay organized. And that's really what I've experienced, too, because as you grow, so does your inbox. So you have a ton of emails coming in, that you need to manage and stay on top of. And what I found is a lot of therapists have the emails on their phone. And when you do that, it never actually allows you to take a break from work because you're constantly seeing your work emails all the time. And it's also really hard to keep them organized when you do that. And I've I've had this conversation with my community all the time. And some of them push back on this, because it's just so normal for them to have it on the phone. But if you can get it off your phone just for a week to trial it, see how it works. And then we just have it on your laptop or on your computer where you're in your inbox. This is where we can create a good system for it. So the biggest mindset shift I want people to take away from this is your inbox is somebody else's to do list. So I do not want you in your inbox during the time of day where you are most productive, and most creative, because I want you to be moving the needle in your practice, I want you to be doing the marketing the hard stuff like the website, copy creation, or if you're starting a social media page, that's the needle moving activities I'm referring to I don't want you in your inbox. If we can create some space where you're not in your inbox all the time, that will help so much. Now therapists do make money from email because new clients are emailing to get on their calendar, we need to also be aware of what's going on in our inbox. In case there's a clinical emergency or the schedule is changing. So one of the things I like to do is just do like a check engine in the morning when I am checking my inbox when I get into the office. So I call it check engine because it's literally that I'm not responding to anything unless I absolutely have to. I'm just checking it real quick and then I'm going into the needle moving stuff that I want to do because I'm at my best in the morning. I'm more of a morning person. And then like you were referring to with notes I have admin time scheduled where this is normally around 2pm When I'm at my lowest energy level, or towards the end of the day, because it doesn't take A lot of brainpower to be in your inbox. So that's good if you're solo. And then if you are farther along and you can have an admin who's running your inbox or VA, that's even better.
Gordon Brewer
Right? Right. What I love about that, and this is something that I've tried to encourage people to do as well, as is look at when your energy levels are the best. And I think the stuff that is, like you said, Danielle, was that the stuff that is takes more energy. Do that when your energy level is the highest? Yeah. And that's an important real important piece, I think.
Danielle Swimm
Yeah, there's a book by I think Brian Tracy called, like, eat the frog first or something along those lines. Yeah. And it's that concept.
Gordon Brewer
Yeah. Yeah. Yeah, absolutely. So
Danielle Swimm
yeah, so the inbox is is a good one to keep organized. Because honestly, if your inbox is organized, you just feel more organized in your practice in general. And then that third 1/3, productivity hack is actually my favorite. So this is really about organizing your schedule. And this is, really speaks to your energy levels, too. So one of the ways I like to do this is to get a big Amazon, like sticky notes that you can put on the wall. And it's just like, you know, a big sticky note that you can put on the wall. And then you can stand up and you can brainstorm what you want the perfect workday to look like for you. Like, what time are you starting? What time? Are you ending? What are you doing in between? And the focus really is how do you feel? So I don't want you to worry at first about numbers or clients or finances, I want this to just be pretend money's not an issue. And you can work any hours for any amount of time, what would it look like? Because I think you know, and I'm sure you've noticed this, too, Gordon, like therapists come into private practice and just take on the same schedule that they had wherever they were working before. And this really helps like break through those limits of Do you want to go to yoga at lunchtime? You know, do you want to like end by 3pm? Do you want to start early, just like really map out what you want your schedule to look like. And then once you do that, I like the color coding method of having like an orange sticky for marketing. So where can we put the marketing block in that needs to go in that week. And then like a green sticky for finance Friday, is what I call mine, where I'm just in the finances, looking at how the week went before. And this helps you really juggle all the hats that you're wearing in private practice, because this is where we all get overwhelmed by it, no matter what level you're at. And for me, I'm such a visual person that I really like to see the different colors, but days they're happening. And this is an ideal scenario. So if kids get sick or something else happens, it's okay if things move around some. But we really want some things mapped out for you. So you know where your attention needs to be once you get in the office. Yeah, we don't want you getting in and then figuring that out.
Gordon Brewer
Right. Right. Yeah. And it's like we said earlier, if it doesn't get scheduled is probably not going to get done. Or you end up being too much in firefighting mode, where you're just reacting to what is handed to you, versus really thinking about it out. There's a grid that I think it was developed by. I've heard that it was developed by Benjamin Franklin, but it was about the use of our time, you know, things that are urgent versus not urgent, things that are important versus not important. So if you were to put that on a grid like important, not important, and then yeah. And then urgent, not urgent, really, the space we need to live in is in the stuff that is important but not urgent.
Danielle Swimm
Right. Yeah. And Franklin's view on time is fascinating. So if he has anything that he's structured about time, like we want to pay attention to it,
Gordon Brewer
right, right. Yeah. I learned that years ago when I was working for an agency. They would, they would give us all the Franklin Covey planner, which I guess it's still around I've switched to another planner, the full focus planner from Michael Hyatt and company. So that was a little blatant plug for them. But I going back to your you know, kind of figuring out your ideal day that is one of the sections in that planner that they is really, really, really important, I think piece for us to kind of figure out, because our work as therapists is very schedule driven. And so we need to have control over that rather than just reacting to it or in the other thing I would add, and hopefully, I think you would probably agree with, as Danielle, is create your schedule and stick to it, don't try to schedule people, you know, want to be nice and flexible to to some degree. But once you block off that time for clients, don't try to start plug people in at times that you really had planned for something else.
Danielle Swimm
Yeah, and that's what I tell people too. It's like, if you don't like your schedule, if you feel like you're being overworked, in your practice, look at the mirror and get get mad at your boss, because it's you like you're the one doing it to yourself. And that's the hard truth. And so I have to do this with myself all the time, because I love what I do. So I will be like, Oh, this sounds exciting. Let me do it during this time. And if I can do this exercise, it also helps, I think, see, therapists can get burnt out really quickly, if only if you're only doing one to one sessions. So a lot of them in private practice are very entrepreneurial, and they want to scale up and add something else into the mix. But they're wondering, when do I have the time to make my first hire, when do I have the time to start the online course to start the podcast. So let's do this. Let's do a time audit to see where your time is actually going now. And then let's structure out what your ideal day is. And if you do those two things, that's when you can be really intentional with your time and start to put in those creative blocks where you can scale up and add that additional revenue stream and beyond the one to one. So it's really powerful. And I think a lot of us as therapists are used to being very disciplined and we have a lot of willpower. But when it comes to working for yourself, and or managing other people too, it's a whole new ballgame. So you really got to press the gas pedal on learning the organization because it helps increase the productivity too.
Gordon Brewer
Right. Right. Yeah. So what are some other things that kind of come to mind? I love those three hacks. That's Those are, those are perfect. What are some other things that you that come to mind for you, Danielle, when you think about kind of being better organized with our time and our time management stuff?
Danielle Swimm
Yeah, one of so I mostly work with female therapists. And so one of my favorite exercises to do is if you can picture your energy, kind of like you would a sand bucket. So if we have a sand bucket, and we're just pouring water into the bucket, and there's a lot of holes in the bucket, then the water is draining out really quick speeds, and we keep having to pour water in the bucket really quickly to keep it full. So for females, especially with little kids at home, or if you're a caretaker of any kind of like an older parent, or niece and nephew, you really want to look at where are your holes in your bucket. And it does outside of work big time for a lot of us. Because there is so much energy output happening. And like the invisible workload when you go home, all of that that comes up. And so really, if you just go throughout an entire week, where you're like, where am I feeling most drained in my day as a human, not a business owner. And it could be the smallest things that I found, you know, coaching some therapists that laundry was a huge hole in their bucket, and just patching that hole by creating a better system around it, or delegating it out, gave them so much more energy to then produce in their practice, or that they never even considered that before. So it's like we really want to look at being more organized overall, by looking at what's draining your energy the most during this season of your life.
Gordon Brewer
Right. Right. And I think that that leads into just the whole notion of, of outsourcing. I think one of the things that I think particularly for folks that are just getting started in practice, you know, it's there is some necessity to bootstrapping and doing a lot of the stuff yourself while you have the time but once you get busy with clients and and all the other stuff of life, that's when you really need to look at outsourcing some of the stuff that you've been spending your time on. And one one in particular that comes to mind is outsourcing the just the intake process for for for clients as far as hiring maybe a virtual assistant to answer the phones and do the scheduling and that kind of thing. And then there are several other things that we can begin to begin to outsource and not necessarily take on all the time.
Danielle Swimm
Right? Yeah. And it's like, what's the biggest hole in your bucket with your practice and the intake, or the calls are going to be the biggest drainage for most therapists? Because you're doing that in between sessions already. Right? Yeah. So I agree and delegating that out. And then going through, you know, your week or your month, like where I know, there's a lot of resistance, I've noticed. And you might have noticed this too, with oh, I can't delegate yet, because of XY and Z. And so if we can really switch the mindset to, like, let's pretend there's an easy solution to this and look for the solution through that lens and set up. I can't afford it. I'm not big enough yet. X, Y, Z, like, let's look for the solution in it. Because there is one.
Gordon Brewer
Yeah. And a lot of times when, when I hear that argument, I Well, I can't afford it. I usually think well, you can, you can, if you don't do it, you can't afford it. By all right. Yeah, yeah. Because it our time, as therapists and counselors are our most valuable asset is our time and our extra expertise. And that's where what people are paying us for.
Danielle Swimm
Right? Yeah. And so you want to be intentional with it too, because it can also go, you know, when I was a one man show, going from a client consultation, that might be really heavy, to now you're starting sessions for the day, like that's just so draining on your energy level. And if you can have somebody else answering the phone instead of you, like all of a sudden answering the phone when you weren't expecting a new client call, and it's a distressed mother trying to find therapy for her child, you know, it just puts you in a different state, energetically and with your mindset going into sessions where you have to hold space for a lot of people.
Gordon Brewer
Exactly, right. Yeah. And so, yeah, so really the importance of outsourcing. And I would say also outsourcing those things that tend to drain your energy. You know, things that you don't enjoy doing that somebody else can do.
Danielle Swimm
Yeah, and somebody else can do a better. Yeah, like that. I'm sure you have found that too. Like, man is so much better at having the dashboard for where all the referrals are coming in, where I was kind of like, half doing it some weeks because I just had too much on my plate where she's really good at keeping those systems organized that I've wanted organized this whole time.
Gordon Brewer
Right? Right. Yeah, that's great, great stuff. Well, Danielle, I want to be respectful of your time. tell folks how they can get in touch with you and, and connect with you around the things that you're doing?
Danielle Swimm
Yeah, sure. So you can find me at the entrepreneurial therapist podcast. You can also find me on Instagram at the entrepreneurial therapist, or you could check out my website, which is the same WWW dot the entrepreneurial therapist.com
Gordon Brewer
Awesome. And we'll have links of course in the show notes and the show summary for folks to find it easily. So, Danielle, I hope we're gonna be be having a conversation again. I'd love to have you back.
Danielle Swimm
Yeah, thank you, Gordon. This was fun. Thank you.
Gordon Brewer
Yes, it was great. So Take care, folks.
Being transparent… Some of the resources below use affiliate links which simply means we receive a commission if you purchase using the links, at no extra cost to you. Thanks for using the links!
Danielle's Resources
Email Danielle: danielle@ambitiouspractice.com
Resources
Meet Gordon Brewer, MEd, LMFT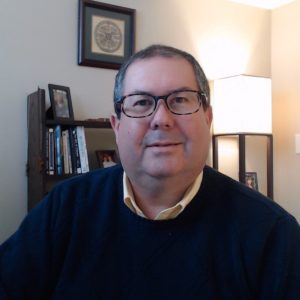 Gordon is the person behind The Practice of Therapy Podcast & Blog. He is also President and Founder of Kingsport Counseling Associates, PLLC. He is a therapist, consultant, business mentor, trainer, and writer. PLEASE Subscribe to The Practice of Therapy Podcast wherever you listen to it. Follow us on Twitter @therapistlearn, and Pinterest, "Like" us on Facebook.