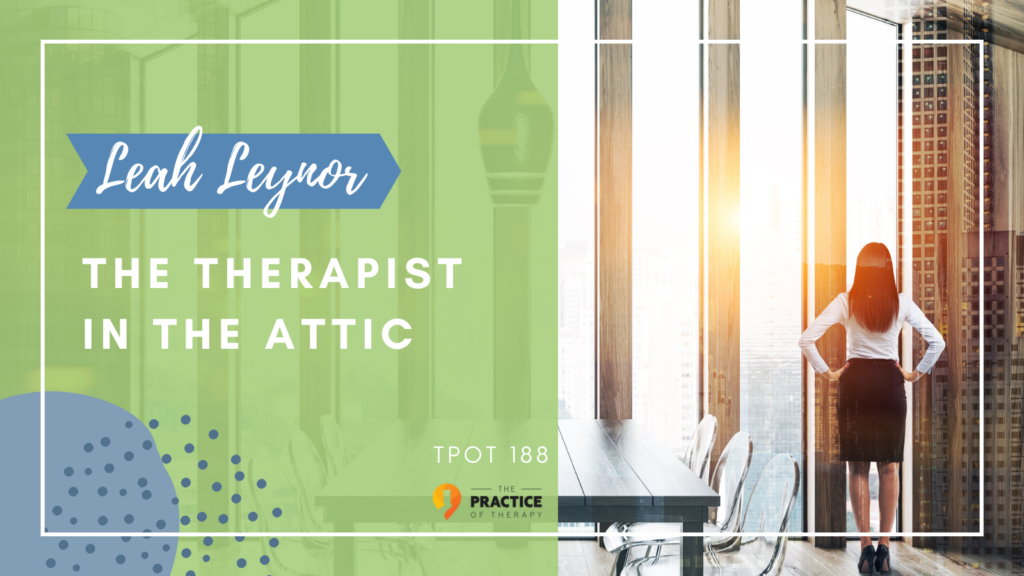 During the pandemic, most of us started conducting psychotherapy sessions through 100% Telehealth. "The Therapist In The Attic," Leah Leynor joins the show to talk about her transition from her thriving private psychotherapy practice office to the attic. Plus, Leah speaks about her consulting work and what private practice owners are struggling with today as the pandemic winds down. Later, we talk all about becoming an insurance-based practice and what sorts of things you need to consider before accepting insurance. Tune in as we chat about diversifying your income, negotiating rates with insurance companies, and marketing your private practice.
Meet Leah Leynor
Leah Leynor provides a variety of counseling services to families and individual children, teens, and adults in Cary, North Carolina. She holds a Master's degree in Marriage and Family Therapy from Pfeiffer University, a massage therapy diploma from the American and European Massage Clinic, and a Bachelor's degree in political science from Rider University. She is a certified hypnotherapist with specialized training in trauma counseling and family systems. She is a proud member of the American Association of Marriage and Family Therapy (AAMFT) and the North Carolina Association of Marriage and Family Therapy (NCAMFT).
The Therapist In The Attic
During the pandemic, Leah ultimately moved her practice from in-person to her attic. The attic was the perfect place for privacy and for consulting with clients. Whenever Leah called herself the therapist in the attic, people would laugh. For Leah, the attic was a way to connect with others in complex, uncertain, and stressful times. Plus, when you think about it, we are all somewhat "stuck in the attic." Leah hopes to relate to the varied experiences many of us have been experiencing in these uncertain times.
What Private Practice Owners Are Struggling With Today
Most private practice owners have a high level of anxiety because of the pandemic. Many people question if private practice is the right move for them or if they need to start changing their business plans. Plus, they have anxiety around dealing with stressed-out clients while managing their businesses' administrative side. On top of private practice responsibilities, many owners are looking after their children participating in online classes. Finally, people are considering if life will go back to the way it was or adjust to a new normal.
Becoming An Insurance-Based Practice
When thinking about becoming an insurance-based practice, there are a few questions you should ask yourself first.
–      What brought you to this decision?
–      Where do you see your practice going?
–      What would you like to see in your practice?
You don't have as much control over your fees with insurance-based practices because the insurance companies determine it. So, you need to set your expectations accordingly. You can't just ask the insurance company to change your prices. Plus, you'll want to consider how your marketing and website efforts are going. You'll need to ensure the right people see your advertising when using insurance panels.
Negotiating A Higher Fee From An Insurance Company
Negotiating a higher fee will depend on the insurance company. Sometimes, you have to put the negotiation in writing. The insurance company may ask what your proposed rate would be. Other times, you need to find the contract negotiator representative and call them directly. Then, you can start the negotiation process. You have to find out what the process is for the specific insurance company. If the insurance company is not taking negotiations, then you should figure out why. The best time to negotiate is a couple of months before recredentialing.
Gordon Brewer 0:00
This episode is brought to you by therapy notes, therapy notes calm. They are the leading Electronic Health Record system for private practices in the mental health field there who I use in my practice, so be sure and check them out therapy notes.com.
This is the practice of therapy podcast with Gordon Brewer, helping you to navigate your private practice journey.
This is session number 188 of the practice of therapy podcast. Hello, folks. I'm Gordon Brewer, glad you've joined me for the podcast. Hope you're having a good week or weekend whenever you might be listening to this. And if this is your first time joining the and listening in to the podcast, welcome. Glad you're here. Glad you found us. And if you're coming back for more glad you're back and hope hopefully you subscribe to the podcast wherever you might be listening to it. So thanks for joining me, I'm excited for you to hear today from Leah liner and Leah. One cool thing was is that she's located in my hometown, I think I've had two or three therapists. Now. Michelle Hardman was one that are located in in Cary, North Carolina, which is where I'm from where I grew up. So anyway, Lee is located there. But Leah has also been kind of on a theme for the last few episodes of, of just really different ways in which people are diversifying their income within private practice. And Leah started a medical billing billing company, and I'm looking forward to you hearing her story about that. And the things that she discovered. You know, there's there's sometimes a debate within private practice about whether you should take insurance or not. And so I think each person has to kind of decide that on their own depending on several factors, there's no exact correct way to do it. And I think a lot of people look for, okay, what's the correct way of doing it, but an insurance based practice, and it is working? Well, for me in my practice, I will say it does take a lot more work on the front end. But once I got it set up, and quick shout out to the therapy notes, the sponsor of the podcast that that platform makes filing insurance claims pretty seamless. So anyway, we'll get to my conversation with Leah here in just a minute. One of the things I wanted to let you know about is just some upcoming webinars, and they're quickly approaching as this particular episode is coming out. But if you go to practice of therapy.com, slash webinars, I've set up a landing page for all the current webinars that I'm either involved in myself or just want you to know about if you'll go check that out. Again, practice of therapy.com slash webinars, you can find links to these particular webinars. The first one is a webinar that my friend David Hall, along with another good friend, Whitney, oh, once and her husband, James, are doing together on the inia gram. Whitney has been one person that introduced me to the inia gram. And I've just really been enthralled with it this past year, and just starting to use it with my own client saw, I think it's a good way to just kind of talk about personality and what motivates people underneath. But anyway, they've got this webinar coming out. And then also, I've got another free webinar coming out. And I forgot to mention the date of that is July 29. And it'll be 4pm. Eastern time. And with both these webinars that I'm mentioning here, be sure and even if you can't join them at the time that they are alive, be sure and register and that way you can get the replays. So the other webinars, I'm doing another webinar on Google workspace, but this one is going to be really geared to how you use Google workspace as a practice platform, particularly the business side of things, which is what I use my practice, really to kind of handle a lot of the business kind of functions, like email, and
just those kinds of things. And so we're going to be talking about that and that webinar, and that's going to be on July 30 at 1pm. Eastern time. And again, if you'll go to practice of therapy.com slash webinars, you can find the link to that Oh, You can go directly to practice of therapy.com slash g w s webinar, Google workspace GW s webinar. GW S stands for Google workspace. For people like me that can be candidates sometime. But anyway, be sure and check those both of those webinars out. I know I'm really excited about the enneagram webinar, that's going to be a lot of fun. But also, I'd love to join you have you joined me for the Google workspace webinar. And also just a good another quick shout out to our sponsor for the podcast. And that's therapy notes. And if you've got a practice of therapy.com, slash therapy notes, you can check them out. They are the leading Electronic Health Record system for private practice owners in the mental health field. It absolutely is a go to platform for the clinical side of your business, particularly like your documentation, filing insurance claims, scheduling clients, sending reminders, I've got a patient portal that is second to none also have telehealth available through their platform. So it's a it's a it's a great, it's a great software, and it's a great thing to have. But be sure to check them out practice of therapy.com slash therapy notes. And if you'll be sure and use the promo code Gordon, just g o r, d o n, you can get two months of them and try them out for two months for free. So it's a win win situation with that so well, with all that, let's go on to my conversation with Leah later.
Hello, everyone, and welcome again to the practice of therapy podcast. And I'm so happy for you to get to know Leah laner. Leah, welcome to the podcast.
Leah Leynor 7:06
Thank you so much, Gordon.
Gordon Brewer 7:08
Oh, I would say what I was really excited about was when when I looked at Leah's biography bio that she sent me. She's from my hometown Cary, North Carolina. So big shout out to Carrie.
Leah Leynor 7:23
Yes, that was fun to find out. You were from where I live? Yes, yes.
Gordon Brewer 7:28
It's always exciting. So we were just kind of talking about different streets in town, and what's there now, so it's changed a lot since I lived there. But anyway, Leah is, as a start with everyone. Why don't you tell folks, if you will, kind of about your private practice journey and how you've kind of landed where you've lent where you've landed?
Leah Leynor 7:49
Okay, well, I was not always a therapist. And I actually started out in financial services in corporate America. And I worked in that industry and, and took a good break from it. Right prior to 911. I used to work in the Twin Towers. So I worked in the World Trade Center tower two, and I left there August 23, of 2001. That is the long story. It was like following my gut. I had no real reason I quit my job and just walked. But I had, you know, worked in employee benefits and retirement products. At that time, I was working for Oppenheimer funds, but I've worked for Morgan Stanley and and some others. left there. In 2007, moved down or left, carry your hometown. Sorry, started my family had my kids kept thinking while I want to do I did a stint back in financial services working for a hedge fund in Raleigh did that for a year, but not really the way I wanted to help people. And so in 2010, well, between 2008 2009 and 2010, I actually went to massage therapy school. And so I do hold a current North Carolina massage license. So did that. Unfortunately in 2010, sometime after graduation, I was in a car accident, so it does make it too difficult. For me. I'd be living in Okay, how am I still going to people? How am I going to work with them. And somehow I got this idea like I know I'll become a therapist and went back to grad school graduated. started working for a agency in Raleigh that worked with you know, family children, teens, some adults, so did do that for a few years on their outpatient team. And while I was in the midst of that decided to head into private practice, so struck out on my own and then discovered there was just so much I didn't learn in grad school. Wow. Yeah. And so just trial and error, asking questions, figuring things out, pulling on some of my prior corporate knowledge started to put things together and realized over time, I had a lot of colleagues, contacting me unsolicited, saying, How did I feel my practice? How did I keep people on my schedule? How did I bill? What was this credentialing thing about? How do I get on that closed panel? I mean, just, you know, a variety of questions. How do I handle my my workload? I mean, sometimes even a therapist, we might have trouble with time management, right? We might have trouble ending a session, how did I say, you know, within time limits, so it just sort of organically grew. And one day in 20, late 2018, I was like, I know, I want to help people even more. So I started a med, medical and mental health billing company. We do credentialing as well, contracting fee schedule negotiation. And I also provide private practice consulting. For sometimes people just may ask for consulting, and sometimes I'll provide that to our signed billing clients. Right.
Gordon Brewer 11:40
Right. Yeah. And, and what's, what is fascinating to me, as we were talking about before we started recording is just how you've taken all these things, and really kind of created just a diversity of income streams for yourself, but also really doing some things that you're really passionate about.
Leah Leynor 12:00
Yes. I mean, I, I think it's awesome. When one of our, you know, health care providers, you know, grows their practice, and they call and they're like, Hey, I didn't really have any money coming in when I came to you. And I paid my bills this month. Mm hmm. Like, that's super exciting, right? And just kind of saying, Okay, well, what else do you want to do? Is there anything else? They don't have to? But if there is, like, Kenny, let's talk about it. Um, you know, and with a pandemic, as I mentioned to you started off as a joke, the therapist in the attic, but that kind of, has it catch on as well? Uh, huh. It's new people about how were their practices affected in the pandemic? Or, you know, clients in general.
Gordon Brewer 12:52
Right. Yeah. So tell folks a little bit about the backstory around therapist in the attic, and how you landed on that. Yeah. So
Leah Leynor 13:00
you know, when we headed into the pandemic, March 2020, within a matter of three days, I had completely moved my practice to in person located my office and carry to the third finished third floor of my home, also known as the attic, because I had other family members at home, maybe doing online school or things, things like that. So I needed a place for privacy, right to conduct sessions, or to consult with clients for you know, billing or credentialing and practice. So I ended up third floor in the attic, and I just jokingly kept saying, haha, now you have the therapist in the attic. And I realized that even for as stressed out, as people were, or our it would start laughing. You know, I think it was just a way to connect differently in a really very difficult, uncertain and stressful time.
Gordon Brewer 14:01
Right, right. Yeah. So what are what sort of things are you? Have you noticed just in your consulting with people and that sort of thing? What are the things that you see as kind of their pain points and struggling areas within their practices?
Leah Leynor 14:19
Well, we're healthcare providers are concerned and run in a private practice. I think there's a high level of anxiety. Now, I'm not saying there wasn't always but, you know, we have even us as individuals, as providers, we have the additional anxiety that's been added by the pandemic, right. And I think it's just heightened things. Will I continue to make a living is this what kind of practice do I have? Do I go back to my office? What do I do? How do I deal with these stressed out clients? How do I manage my administrative pieces, my billing, things of that nature, I might have a child who's sitting you know, two rooms away. That I'm trying to ensure is doing, you know, online school. You know, so their schedules were unpredictable and and different and how do I fit that in? And what is my practice look like now? Does it change? Does it go back to the way it was? Probably not. What does new normal look like?
Gordon Brewer 15:24
Right, right? Yeah. Yeah. And just with the other piece of it being being a, you know, my practice as well as an insurance based practice, and one of the things that was coming up is okay, do our insurance company's going to pay for telehealth and all of those kinds of things. Of course, we all kind of know now that that was just kind of a no brainer for them. In that they had to they had to do that. But yeah, so well, so one question that I'm wondering about is that when people are thinking about maybe going on insurance panels are becoming maybe insurance based to some degree? Where do you see as kind of the starting point for all of that?
Leah Leynor 16:13
Well, I generally will talk to those folks and kind of say, like, Okay, what, what brought you to this decision? Where do you, you know, see your your practice going? What would you like to see? Right? And, and knowing that you don't have as much control over your fees, right, that's determined by the insurance companies. So kind of setting setting expectation, right, it is a good thing. But then there's the limitations there as well. You can't just march up to an insurance company and say, Hey, listen, I really don't like that fee schedule. So care to move it, you know, they may very well, you'll get this email back that says, No, thank you. We're not negotiating at this time. And, and really, what panels are, do they feel maybe popular in their area, so that they can target marketing? Right? And also, you know, what, you know, if they know anything from any colleagues, or rumors, I know, we can't openly discuss fee schedules, right? But what, what might be their minimum on the fee schedule that they'd be willing to accept? Because sometimes we still might apply to a panel contract comes out, and I may have a provider say, I just can't accept that. And we can try and negotiate or we can just leave it on the table. Right? And sort of helping them with that that process? And how will they reach folks? Are they going to be on Psychology Today? Or, you know, how are they going to advertise? I may, we may discuss their website, I may go look at their website and say like, how are you coming up in SEO? How's your website built? find you, so that you can capture the audience's for those specific panels?
Gordon Brewer 18:08
Right, right. Yeah, I love that. You know, that's, you know, you mentioned a topic there that gets asked a lot, or maybe there's some myths or assumptions around it. And that people think that they have to just simply accept what the insurance company hands them in terms of their contract fee. So what are what are some of the strategies around negotiating a higher fee from an insurance company?
Leah Leynor 18:37
Well, it depends on the insurance company, to be honest. You know, I know like, I'll give an example, a company like Aetna, you have to put it in writing. And they have, in my opinion, something that's a little strange. They actually request that you give them certain CPT codes, certain billable codes, and what your proposed rate would be. Mm hmm. And so that goes in on the proposal, and they have this, in my opinion, this general fax number, right, because you use it for many things for Aetna, and I just call it the black hole fax. Yeah. Like everything goes there. And I hope somebody finds something I don't know. And so it really depends, right? You have to find out that particular panels process. Whereas let's say if it's Cigna, you need to call a Provider Services, find out who that area contract negotiator, Representative is and contact them directly and start the negotiation process.
Gordon Brewer 19:44
Right.
Leah Leynor 19:45
You know, so you have to just kind of find out what their process is. See if they're going to be willing to negotiate at that time, or, if not, why not? Is it just that they're not going to do it or do you You need to wait until you're about to re credential, which would be usually every three years, sometimes that's the best time a couple months before we credentialing to put in a request,
Gordon Brewer 20:10
right? How often do you find that people really try to, to, to renegotiate the rights?
Leah Leynor 20:20
You know, I want to say they can do that. They can ask or maybe, you know, as clinicians, we hate to say it, we might have a problem with money, right? We might feel guilty, right? We even feel guilty, sometimes charging clients like, Oh, is that too much? Oh, my gosh. Right. So there may be a component of that clinician or providers relate own relationship with money, right? Yeah, my worth more, I'm in a helping profession. Now you want me to go into this big panel and ask for more money? Right? Can I do that? Should I do that? Am I worth that? And you know, sometimes we do a lot of those requests for our clients. But sometimes it's just because I'll actually ask them if they'd like to say, Hey, I looked at your fee schedule. Yeah. From what I know, fee schedules in your area, we might be able to do better. Let's give it a shot. No, no guarantees, but doesn't hurt to ask.
Gordon Brewer 21:23
Right. Right. Yeah. And I think that's something that can be really some low hanging fruit for a lot of practices. In that, particularly if you kind of think about which panels do you get the majority of your of your reimbursements from. And then to be able to go after those to really kind of get your to help get your per session, right average up. One of the things that I like to teach people about, particularly those of us that are accepting insurance, is you want to have a higher, because it varies from insurance company to insurance company, what you can do to kind of get that bump that average up. And so yeah, that's how I think it's kind of goes back to, you know, really paying attention to your numbers. And really understanding all of that and where the money's coming from.
Leah Leynor 22:18
Exactly. Like I said, What panels are popular in your area? So where will you catch your audience, right? How can you be focused in marketing, so you can capture those numbers. And I also may talk to providers about, you know, some panels have pay for performance, where you may get bumps in your fee schedule, without having to ask for an increase in simply like you're saying, because you've met certain criteria or numbers, and if it's a panel, where I may be familiar with or heard of whatever program, they have, I say, hey, I've come across whatever criteria they use, here's what united may use so that, you know, if you meet XYZ, you may benefit and all automatically receive a pay for performance increase.
Gordon Brewer 23:14
Right, right. Yeah, that's Yeah, and this is fascinating stuff in terms of just thinking about, you know, I want to get our, I want us to talk about how you've diversified your income. But again, just thinking about ways in which you can get more income for your practice. is, like I said, with the low hanging fruit, what are the easy ways to increase your income without necessarily having to increase your workload?
Leah Leynor 23:46
Right? Sometimes it could even be, you know, are there certain certifications or specialties or niche areas where there may be some kind of, you know, benefit, billing wise? Might that Garner extra extra income? Or could that possibly attract self pay clients, maybe you don't take their panel, but because of a certain niche or a certain specialty, they may be willing to pay you and you can offer them an out of network super bill, right, so that they can file for out of network benefits with our panel or their insurance if, if they would like but they can pay you directly. So that might be another way of accessing your audience and increasing income.
Gordon Brewer 24:41
Right. What I love layout that you're talking about is just really thinking outside the box with a lot of things. So why not one of the things that I know that you've been involved in is just really doing a lot of work with that kind of the entre within entrepreneurial community in your area. And you've really taken you just took kind of a traditional private practice and diversified income in several different ways. You want to talk a little bit about how you got things structured, and just how you've landed on all that.
Leah Leynor 25:17
I think some of it just really happened organically. I know, they say you should, you know, as they say, work from the end, I talked to my clients a lot about that, don't worry about the middle work from the end, even if you're at the beginning. Right? Um, you may be familiar with that, you know, what is it you'd like to see? So I think it's sometimes I might be going towards, like, hey, I want to see 25 clients a week. Right? However, that occurs organically? How do I focus on you know, customer service? How do I keep people in my practice, or referring them throughout the community? How do I work with other health care providers, a for my clients benefit for, you know, integrated health care, which, which, you know, you help your client, you help your practice. But also, in terms of referral, having other sources, but just thought, besides just an insurance list, knowing that you're there, right. So that's kind of some of how I've diversified. And like I said, some of it like therapists in the attic sort of started as a joke. But, you know, and then just getting to know other folks in different areas, right, from having a billing company where we have clients throughout the US, right? They're not only in North Carolina. So getting to know folks and other states getting to know, the markets that they're in, and being able to build that, that knowledge. And just saying, okay, what's next? How do I want to grow? So one of the next things I'll probably be on to is I'm in the midst of, you know, working with your friend Margarita coach there, Mm hmm. For some out of state licensure, and I will most likely be opening offices for my practice in different states.
Gordon Brewer 27:19
Right, right. Yeah, it's a, it's what what I love again, is that you're thinking outside the box, and really just thinking about other ways in which you can create streams of income through services that are needed. Like, like, for example, the insurance billing is something that is in great need for a lot of a lot of practice. A lot of a lot of people and then you know, the other thing, just kind of post COVID, here we are, I think we're post COVID. I don't know if it's fair to say that yet. I don't know four out of the woods yet or not. But the whole stigma around mental health is really just kind of dropping by the wayside to some degree and that people are recognizing what stress does. And so being able to provide services in underserved areas or in areas that are outside your geographical area. So yeah,
Leah Leynor 28:22
finding ways to reach a wider audience, I know that there is a shortage of health care providers, especially mental health in this country. You know, I did read an article in it. It was published around the time that the pandemic came in. So, and the numbers were pretty staggering. And I thought, well, if X amount of people are going to have difficulty being served, right, there is definitely in a knowing your audience who's your audience, right? And what is what is your purpose or mission or your intent? And then kind of looking at those numbers going? Well, considering one that was published, it's probably based on research that's pre pandemic, right? I can only imagine that those numbers are exponentially higher and less stigma around mental health and an acknowledgement of the mental health concerns that the pandemic How do I want to say this either ushered in or brought to the surface because I think for some folks they may have had long festering things or concerns or issues that they may be even more aware of, but denied pushed away. I don't have time for this. And with the you know, it was kind of pushing the the water to boil to the top, if you will, and finally reaching out for help when maybe they are assistance. Maybe then they really needed to, but didn't make the time or didn't feel comfortable or didn't want to acknowledge Maybe years prior.
Gordon Brewer 30:03
Right, right. It's so true. And I think it's to just, when we all made the switch to telehealth, we really realized for ourselves how much more accessible we can make ourselves. Which that's really that's really the bottom line to marketing and private practice is just making sure that people can find you.
Leah Leynor 30:29
And then really talking to some of our, you know, in my private practice consulting, or our billing clients, right,
Gordon Brewer 30:38
Mm hmm.
Leah Leynor 30:39
You know, if they, you know, sometimes I think that, you know, health care providers, it's just helpful to have a conversation with a colleague. And just maybe talking about it helps them come up with where it is that they want to go. I don't always tell him just like, clients, I don't tell them be like, Okay, do you think that fits in your area? How are you going to do that and helping them figure out how to grow? And also, okay, well, if we're your billing, you know, or credentialing provider, how do we help you grow? How do we help you accomplish that goal, right, because it's not just my private practice, I have a group practice of other clinicians, right. So serving clients, but our other clients who are practices, right, do they have group practices? How do they do that? How do they serve their clients? And you know, I have a whole different team that works over there.
Gordon Brewer 31:35
Right? Right. Yeah. Well, Leah, I want to be respectful of your time. And then No, there's, we could probably spend hours just talking about these things. And it's exciting stuff and glad you're doing the work that you're doing. tell folks how they can get in touch with you and your websites and all of that sort of thing. Okay, I
Leah Leynor 31:55
can call my office manager, Shannon, her numbers 919-268-2182, so they can call. And then I have three websites, there's life learning, counseling.com reliant, practice calm, and the therapist in the attic, calm, awesome, awesome. They will have links to all of this in the in the show summary in the show notes so people can access it easily. So well, Leah, I'm
Gordon Brewer 32:23
so glad that you came on the podcast and tell all my peeps and Carrie Hello, and glad you're glad you're doing the work that you're doing.
Well, thank you, Leah, for joining me on the podcast. And be sure to check out her information and, and the therapist in the attic. And again, there are links here in the show notes and show summary that you can easily access Leah's websites and her information to get in touch with her if you'd like to either do some consulting with her or interest in her billing services that she provides. And I will say, you know, again, I love having people likely on the podcast, just to be able to share with you ways to think outside the box. And again, the theme that we've been on here lately of just diversifying your income, and why that's important for people. So be sure and check it out. And also I failed to mention at the beginning of the podcast, but I've got a survey that I've put together. Just if you'll check it out to let me know what you want to hear on the podcast. I love getting feedback. And there's a link if you'll go to practice of therapy.com slash PTO survey. And that way, I can learn from you what you'd like to hear about. It's just a very short survey, just a few questions, just take you just a few minutes. It's a Google Form survey. So I'm big, big fan of Google Forms. So anyway, check that out. And also be sure to check out the upcoming free webinars. And I've got a landing page for all of those if you'll get a practice of therapy.com slash webinars, and you can find out what's coming up and a lot of great, great content in both of those and hope you'll join us join Whitney and in James and David in that enneagram webinar. And then the one that I've got coming up on Google workspace is a practice platform. And as always, check out our sponsor for the podcast. And if you'll go to practice of therapy.com slash therapy notes, you can find out more about their services and in particular, the therapy notes platform. Which is just one of the best clinical platforms out there for mental health providers there who I use in my practice and really couldn't survive without them. So be sure to check them out. And be sure and use the promo code Gordon, just g o r d o n, to get two months of their services for free. And so you can check it out for free. And it's a win win situation. And again, thanks for joining me for the podcast and being with me on this journey. Be sure and take time to to subscribe to the podcast, wherever you might be listening to it. And also be sure to share with your friends. I'd love to get more and more listeners. You know, the feedback I'm getting is that people are finding this podcast helpful and I hope that you are too. And I'd love it if you're not if there's something you're not happy with. Let me know about it. So But anyway, take care folks, and we'll talk to you next week.
You have been listening to the practice of therapy podcast with Gordon Brewer. Please visit us at practice of therapy.com for more information, resources, and tools to help you in starting building and growing your private practice. And if you haven't done so already, please sign up to receive the free private practice startup guide and practice of therapy.com. The information in this podcast is intended to be accurate and authoritative concerning the subject matter covered. It is given with the understanding that neither the host guests or producers are rendering legal accounting or clinical advice. If you need a professional, you should find the right person for them.
Being transparent… Some of the resources below use affiliate links which simply means we receive a commission if you purchase using the links, at no extra cost to you. Thanks for using the links!
Leah's Resources
Call: 919-268-2182
Resources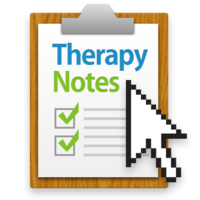 Use the promo code "GORDON" to get 2 months of Therapy Notes free.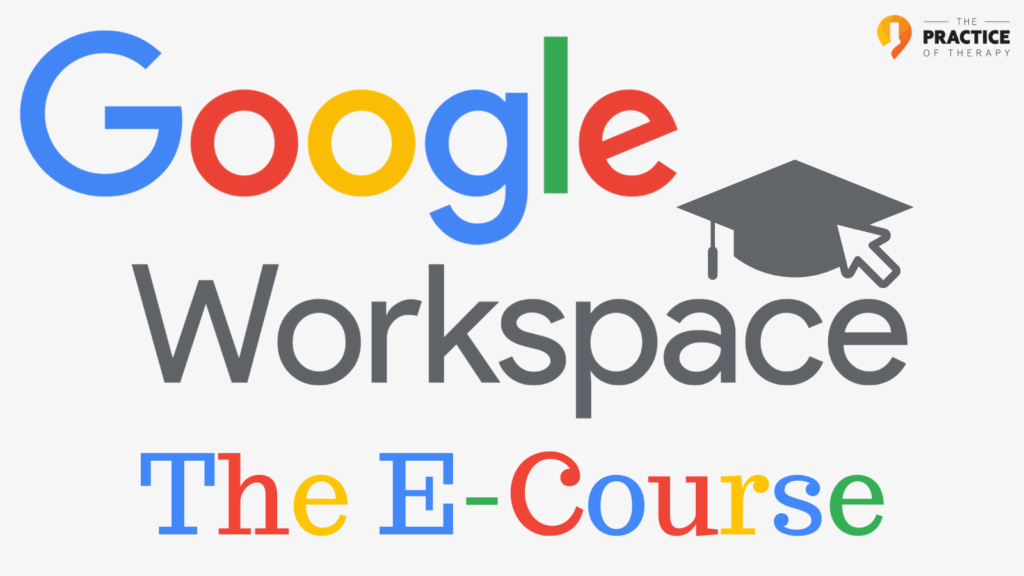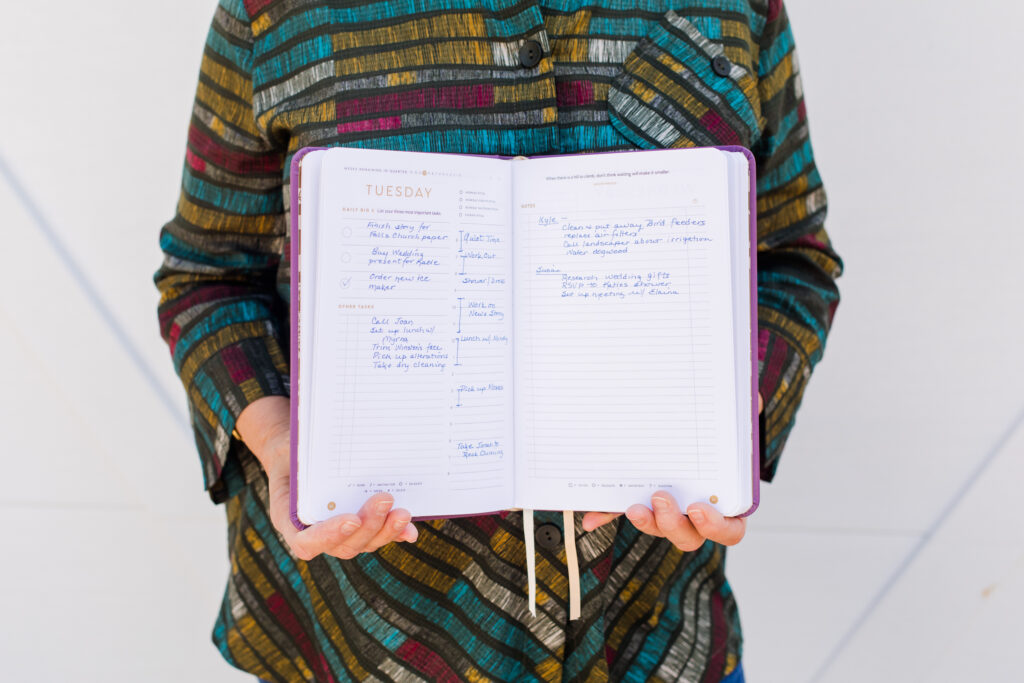 Meet Gordon Brewer, MEd, LMFT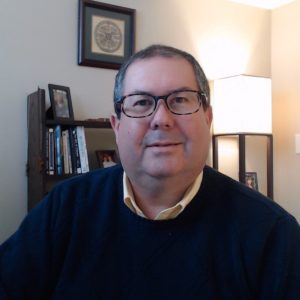 Gordon is the person behind The Practice of Therapy Podcast & Blog. He is also President and Founder of Kingsport Counseling Associates, PLLC. He is a therapist, consultant, business mentor, trainer, and writer. PLEASE Subscribe to The Practice of Therapy Podcast wherever you listen to it. Follow us on Twitter @therapistlearn, and Pinterest, "Like" us on Facebook.