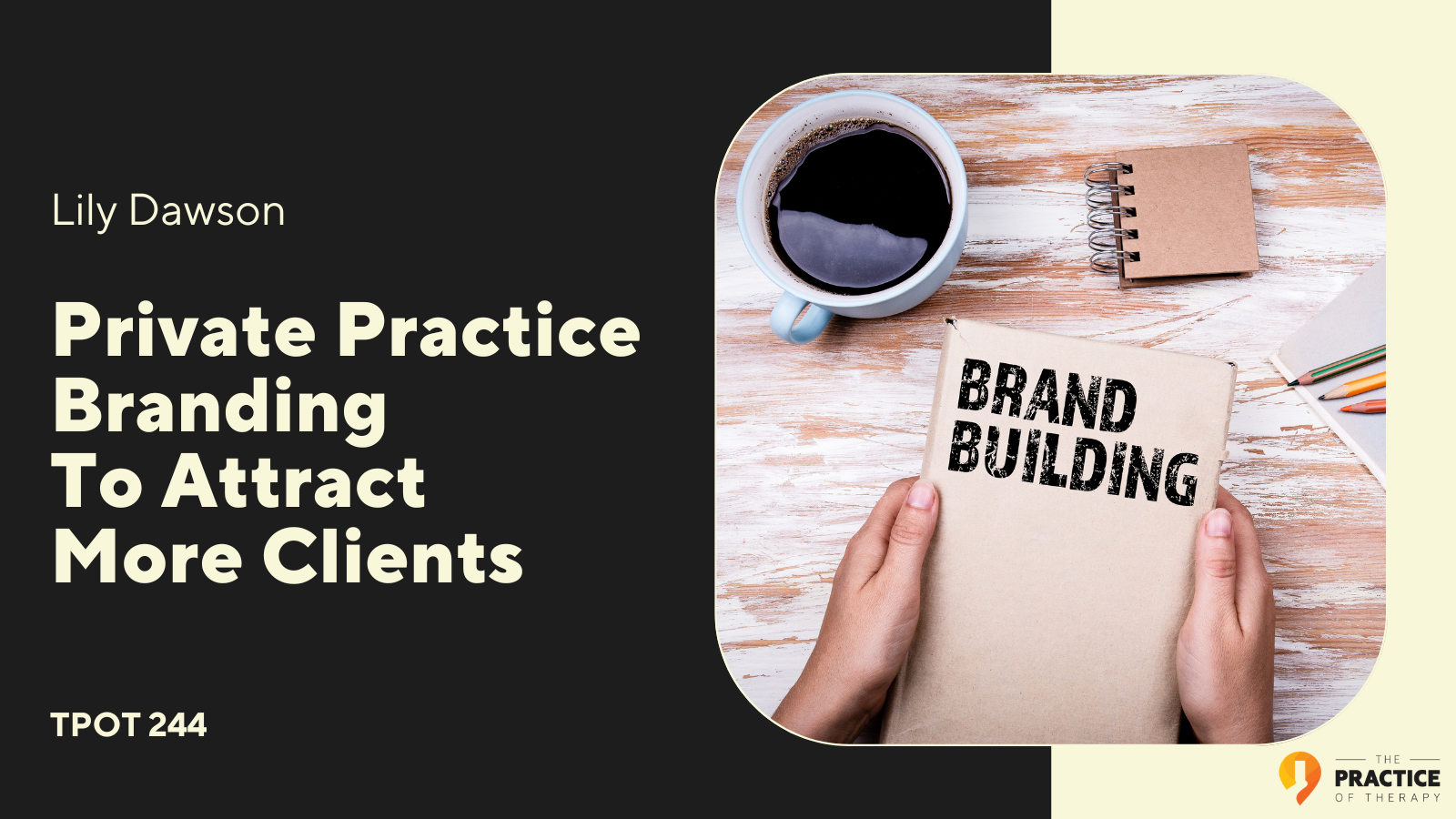 In this episode, Lily Dawson joins the show to talk about making the right business choices to attract clients to your private practice. One of private practice owners' biggest mistakes is wanting to get extra training done to attract more clients to their practice. Instead of training, private practice owners must invest in their marketing and branding. Lily speaks about the importance of your niche and why you need to know precisely how you stand out from other therapists. Tune in as we chat about improving your private practice website and putting yourself on social media.
Meet Lily Dawson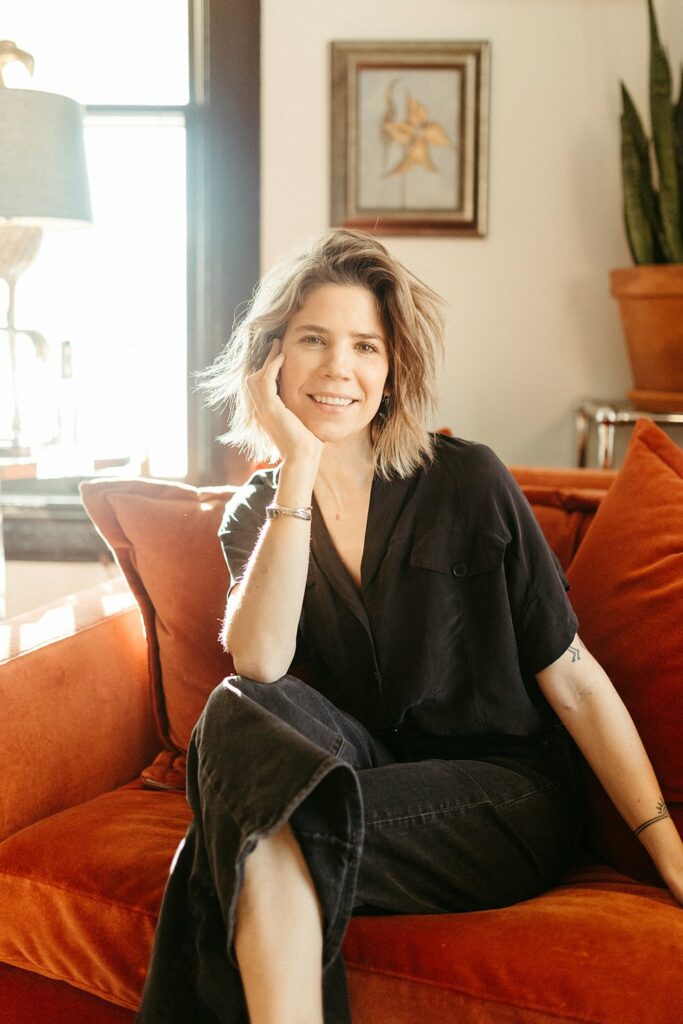 Hi. I'm Lily. After art school, I started a business out of my spare bedroom. It grew to my full-time job and supported me through the decade before I realized I wanted to become a therapist. I used the same small-business know-how to build my therapy practice into a six-figure career only three months after opening. My goal was to reach 20 clients a week, and I managed to make it to 35. Full fee. No insurance. No sliding scale.
It's hard to imagine going from a few clients a week to 35, but it's what you deserve. You entered this profession to create better lives for people. I want to help you reach those people that need you.
Investing in your business when you're new at it or have experienced a slow start is intimidating. I feel you! I want to support you and take some of that pressure off during this scary time. I want to move you from experiencing scarcity to creating a waiting list.
Why You Don't Need More Training After Graduate School
Practitioners think they need more training to attract more clients to their services. However, that's the wrong reason to do extra training. After a year of private practice, if you decide to be EMDR trained, you should get EMDR trained. As a clinician, you should build confidence and reduce modesty; ensure you are doing it for the right reasons. So much you learn as a therapist comes from things you didn't get taught in school. There are many experiences that you have to offer as a therapist. You don't need to invest in more training after you graduate. Instead, you must invest in marketing and getting your name out there. Overall, you have strengths that you can legitimize without going to more training.
What Makes You Different From Other Therapists?
There are so many free resources you can utilize to market your practice. It costs nothing to have a Facebook, Instagram, and YouTube page where people can learn more about you. Before you use these resources, you need to nail down your point of difference. You have to offer something that a client needs to be able to find. So, consider what makes you unique and distill it into your brand. Consider why clients want to walk through your door instead of a therapist down the street. It would help if you were aware of what is unique about you. Before a client books with you, they should have a good idea about what kind of experience they will have going to therapy with you.
Improving Your Private Practice Website To Reflect Your Branding
There are particular ways to do your website that will be very important for getting clients. First, you need to have a professional-looking website. Lily is a fan of Squarespace. Another way to improve your website is by getting professional pictures taken. The biggest mistake therapists are guilty of is making their website about them. You want to get your reader's attention. You need to talk about things they care about to get your reader's attention. The main thing your reader cares about is their problems. Speak to your client's issues on your website. There's only one portion of your website that should talk about you. In that section, you will speak about how you guide your clients.
Putting Yourself Out There On Social Media For Your Private Practice
It can be challenging and scary to put yourself on social media. If you have any hang-ups on social media, it's worth getting help. You should use social media as a tool. If you have fears about social media, it's prohibiting you from using this free resource that can be helpful for your private practice. You can create two months of posts in a couple of hours. To do it, you must be able to engage with social media. So, it's time to get over your learning curves or emotional blockages with social media. If you're looking to beat the overwhelm with social media, I did a podcast episode about strategic social media marketing strategies with Andréa Jones. Check it out HERE.
Gordon Brewer
out. Oh, let me okay, if you're ready, go ahead with your Barbara.
Lily Dawson
Okay. Hi, this is Lily Dawson. I'm so excited to be on the practice of therapy. Today, I'll be talking about why marketing is so important for private practitioners and the things that you really, really need to focus on to get that going. Yeah.
Gordon Brewer
Well, hello, everyone, and welcome again to the podcasts. And I'm happy for you to get to know today. Lily Dawson. Welcome, Lily.
Lily Dawson
Hey, thanks. Hi.
Gordon Brewer
Yes. And Lily, as I start with everyone, why don't you tell folks a little bit about who you are and where you are, and how you've landed where you've landed?
Lily Dawson
Yes, so I am an MFT, a marriage and family therapist in Missouri, I'm in Kansas City. Let's see I was I owned my own business for 15 years, I was an artist before I went to grad school. And so what I found is that when I left grad school and became a private practitioner, I very quickly was able to build my business because I had so much experience building a business before that was pretty successful. So it was a very quick transition from graduating school to having a full caseload and a waiting list and all sorts of stuff. And so I really found that what I enjoyed was not just giving therapy, but building my business, you know, and all the things that go along with businesses. And then I started a side business where I consult other therapists about how to build their businesses. So this is really a passion of mine. And so not only do I love giving therapy, but I have also found that I really, really love being an entrepreneur and helping other people who may not have that same gift or skill that I find that I really enjoy.
Gordon Brewer
Right, right. Well, I know one of the things that we were talking about before we started recording was just kind of a passion that you've kind of developed for really helping other therapists that are just getting getting started in private practice. And, you know, I think the thing that kind of stuck out for me, and and what we talked about, and then also, and just what you had written to me was, you know, I think when people first get started in practice, they're focusing more on getting more training or more experience and that sort of thing. But you have a little bit of a different view about that. So you want to say more about that.
Lily Dawson
Yeah, yeah. It's funny, there's so many specific interests, of course, that people can take their education, right, like, oh, I want to go get EMDR trained or somatic experiencing or neurofeedback, or whatever. And lovely, go do it. But what I keep running into are brand new practitioners who say, I just, you know, took out a bunch of student loans are paid for all this education, I think that I probably need to go get some more training so that I have more to offer so that more people are attracted to me. And that's when I say, wrong reason to do extra trainings, right? If you find that a year, months into your practice, you really, really want to get EMDR trained, go get EMDR trained. But I think that the thing that I really like to work on with my clients is not only building confidence, but reducing modesty. And there is so much just have that imposter syndrome. Oh, I'm just not good enough that we're going to keep perpetuating. If we say yeah, you do need more letters behind your name or you do need more certification. It's like, No, I mean, so much of what I know as a therapist has even come from things I didn't even learn in school, right? It's my I went through a divorce setting young age I had I lost my mom at a young age, like they're just, they're just so many experiences in here that I have to offer that I am really discrediting. When I tell myself, I need more training, I mean more experience, what I have isn't good enough. So what I would argue is it's not the training that you need to invest in right after you graduate but marketing getting your name out there helping people find exactly what you do have to offer those skills like I just mentioned, experiencing loss, helping people through grief uncoupling and what that Looks like you know, these sorts of things that I do have as strengths and I need to legitimize as opposed to going to find a training to start to legitimize my knowledge.
Gordon Brewer
Right? Right. And yeah, and I couldn't agree more, because I think one of the things not to get too much on a soapbox is that up, our academic system were particularly well around their training of counselors and therapists, has kind of baked into it, this meta message of, you know, you're an imposter until you have so many years after your, you know, so many years of experience, or you've got so many letters after your name, or you've written so many things, or all of that sort of thing. And you're exactly right, that most of those clients could really care less about all of that stuff, they just want to know that you are, can connect with them, and that you are least have a little bit of qualifications to help them. But yeah, you know, all of the other stuff doesn't really matter as much to them.
Lily Dawson
Hmm, I think that's so good. Yeah, yeah. It's kind of sad, sometimes the, you know, lack of confidence, I see. But also almost that desperation that I see for people who really think I need to go get something else, right. And it's like, oh, my gosh, you have no idea how much good stuff you've got in there already.
Gordon Brewer
Right? Right. And you're right to do, again, not to get off on a tangent or anything. But I think one of the things that I've learned in my, my clinical work, and, again, I don't say this as a bragging, bragging thing, but I have been doing this, you know, over 20 years now, and one of the things that I know is really effective and gives gives more credibility with clients is to know that you've experienced art stuff in your life as well and handled it. And that that's what they're where you really connect with clients. And so, yeah, so what I wonder, is you have thought about this, and they worked with other therapists. How do you market all of this? How do you? How do you get that out there so people can connect?
Lily Dawson
Mm hmm. Great question. Um, if the task now becomes Okay, so market yourself, don't do trainings. And luckily, in this day and age, we have so many free resources we can utilize, right? It costs nothing to have a Facebook page where you put up all sorts of stuff that someone could really go to, and learn more about you and understand if you're the right fit for them. And that sort of thing. Same with Instagram, YouTube, podcast, tick tock, I mean, there are lots and lots of different places you can go for this.
The number one step for me, though, before you utilize any of these resources, I should throw to your website on there too, because that needs to be a really nice form of marketing too. But before you use any of these resources, you really do need to nail down your specific point of difference, which again, can be really difficult when you're just graduated, maybe experiencing some fear, some imposter syndrome, some Is there really anything all that special about me feeling. But there is right like, there is something that you have to offer that someone out there who is hurting, really needs to be able to find. And the only way we can do that is if we can actually distill what is so different and special and great about you down into a brand. Basically, how I do it is I have people really first we get really, really quiet, I asked them to ask their whole family to leave the house and they sit there and get really quiet because we have enough things that get in the way when we ask the question, what makes me special in our own minds. But if you have you know, a partner or a dog or a kid in the other room that needs attention, you're not gonna get anything done. So first, get yourself really quiet, and then say, Why do clients keep coming back to me? What is the thing that makes the client want to walk in this store? As opposed to the therapist down the street from me or around the corner? Right? There is something there really is. And unfortunately, I can't ask your clients what that is. So you need to be able to have the awareness to say, I know there's something here. What is it? Right? That's the first step. You distill that down. I asked people to distill it down into five adjectives. So five adjectives that they can encompass who they sort of are as a therapist, what is going to drive their brand experience It's gonna be things like I'm bubbly and experienced, right? Oh, what an interesting combination, right? So finding different things about yourself. And getting really specific, I met with this woman recently who, she's bubbly, she's cheerful. And she's like, but Lily, that's not quite the right word. And she was. So she sat on it for a couple of weeks, and wrote me back. And she said, It's effervescent. I'm effervescent. And I was like, Oh, that is so very different than just bubbly or something that is specific, that's good. So being able to really sit with and take seriously these words, because these five words need to then drive the experience that all of these other sources that we talked about social media, website, that sort of thing should be designed based on these five words. So fonts, colors, layouts, and even how you speak the types of content that you share. These all should only be determined, after you have selected, distill down who you are, and what those words are. I mean, there are fonts out there that are more effervescent than fonts out there that are like professional. And I mean, I've met with other people who are not effervescent. And they are, you know, I had one gal even saying I'm kind of cold, and I was like, great, we can find like, professional, not very personal websites, designs for you and stuff like that. And that was so helpful for her to just be like, This is who I am. And it's really helpful to certain people, right? Yes, yes. So you just want to make sure you're thinking really intentionally about these decisions. So that even before someone books with you, they can have a really, really good idea, no doubt in their mind that I'm going to have a really good experience with this person. Everything they're putting out there aligns with the things I'm looking for. The other side of this coin Gordon is I want people to be able to look, for instance, at my branding, and be able to say, Oh, she is definitely not going to be the therapist for me, right? Like, that's not a good fit. And I'm so glad to know that so that I don't waste 150 bucks and a whole session, sitting with someone who's like, oh, wow, you advertised yourself as this. But now that I'm sitting with you, I can see that I want I need something different. That's not who you are. Right? Right. So I'm trying to get long lasting, sustainable client relationships with my therapists, not just the one off that people are never going to come back again. Right. So it's really about distilling down who you are, and then making sure that that is driving every single thing you put out there.
Gordon Brewer
Yes, I love that. Because, you know, I think, you know, one of the things that you're you're kind of getting at here is the importance of niching down in your practice. So really, really defining for yourself who, who are the clients that when you work with them energize you, and who are the clients, that are the ones that you look forward to going to work for every, every single day? Because I think a lot of times, people make the mistake of casting too broad of a net in trying to market their practices. And so if you don't, if you're doing it too broadly, then you you don't really resonate with anybody. And so, yeah, and I think we've all had all had clients at some point in our, in our careers with that we just did not enjoy. He's kind of like you look at the schedule, and you think, Oh, no knock them today, you know, that kind of that kind of thing. And so I think by like you, like you said, you know, starting with, who are you? And I would add to that, you know, what is your why behind what you do?
Lily Dawson
Oh, great. Absolutely. Yeah. You know, that niching down casting tight net, rather than a broad one. I was working actually with the two play therapist who shared who shared an office together. So ostensibly very similar practices. And I was doing websites with each of them the branding process for each of them. And one gal said, I work with all kids, all ages, send them to me, I don't care. And the other woman said, you know, I really have found that I loved adolescents, like give me your 10 to 14 year roles. I just really love working with them. So on one gal's website, it says, you know, so and so play therapy, all the kids. And on the other website, it says, I work with, I think she even got some more specific, like 12 and 13 year olds, and the woman who works with 12, and 13 year olds had a waiting list within a month. The other gal is still not full. Right? And I mean, if you think about it, if you have a 12 year old who's suffering, you're gonna send that 12 year old to someone who specializes in 12 year olds, if that sounds there, right? Yeah. Not the one who's like, I'll just take anybody. So in fact, naming even your own insecurities or dislikes about certain clients, right? If I really hated working with men, for instance, I better have a website that says therapy for women, you know, like, yes, let's just help ourselves out here. It doesn't behoove me until I feel ready to maybe cross that bridge or do some work around it to invite some men into my sessions. I really need to say, this is where I shine. This is who I help the most, let me use all the resources possible to reach those people.
Gordon Brewer
Right, right. Yeah, that's it. Yeah. And that's a, that's a theme that people will hear over and over again, on this podcast is that the importance of really identifying who your ideal client is and who you prefer to work with, because if you don't really know that, you're number one, you're not going to be happy in your career. Number. And number two, it just again, if you don't, like, as I like to say, if you're going on a trip somewhere, if you don't know where you're going, how are you going to get there? And so, you've got to really be able to know, you know, who are your ideal clients? And who do you resonate with?
Lily Dawson
Yes, and what makes you the happiest, right? Like, if that girl hated working with men, I don't want to send her a bunch of men. Jeez, Louise, you know, you do great with women, let's let's find these things that match, like, let's not burn people out. Let's admit people's strengths, and where are they shine? There's somebody else out there, that's going to be great for that male client, you know, let's let that person find each other.
Gordon Brewer
Right. Right. So So what are some of the other thoughts that you've got around this topic? Yeah.
Lily Dawson
Um, so when we get to it, maybe we've done the branding process, we know our five adjectives, we know you know, the fonts, the colors that we're sort of wanting to stay in the realm of. There are very specific ways to do your website that is going to be very important for getting clients. The number one is you need to have a really professional looking website. So there's a lot of free websites out there. And honestly, what you see what you pay for is what you get with those, I recommend Squarespace, I think that they have really professional websites that are wildly easy to use. So get a professional website, I would also encourage you to get some really nice pictures taken. This is another way that you can extend the branding process, don't decorate your office until you have decided your five adjectives, right? There are there is decor that's effervescent. And then there's decor that's professional, you don't make the mistake of buying a bunch of stuff or your office. But you did before you did the branding stuff. And you're like, Oh my God, this isn't even me. So professional is really good, right? We want people to know that we can be trusted, that we know what we're doing. And so this all goes along with it. Your website should not be about you. This is the biggest mistake I see. Yes. People, right. I mean, I'm Lily, I'm fantastic. Because of this. This is what I'm going to do with you when you get into my office. And here's my credentials below the level. Your website needs to get the reader's attention, which means that you have to talk about what the reader cares about, which are their problems. I mean, if they're sick and can't sleep at night and endlessly scrolling through Psychology Today, at three o'clock in the morning, they want to see somebody that says hey, are you scrolling at three o'clock in the morning because you can't sleep and your boyfriend just broke up with you and edited it. I did that and they're like, this is me. Yes. Uh huh. So speaking to Your clients problems is the biggest thing. I mean, there's, there's one little part on your website. And in my consulting, I go through exactly what needs to go and exact spots on your website. But there's only one portion that's going to talk about you. And the only reason that it's going to talk about you is it needs to speak about how you are going to guide this person, how you are the best guide for them. So it's not really even about me, it's still about just how I'm going to help this person get to the ending goal for them, right. So talking about them is great. With all the free resources, like I mentioned earlier, in terms of social media, and YouTube, and podcasts, and all the things, take advantage of all of them, because you also are going to get people who may really really like what they see on your website, or Instagram or something, but are just not ready to pull the trigger on it yet. And so we need to have a way for people to date you who aren't ready to marry you yet. Right. So having things like Instagram page, Facebook pages, podcasts, tick tock stuff for people to just follow, so that maybe even a year from now, they just keep seeing information from you. You keep sharing things that are relevant, helpful, personal, so they're developing a nice personal relationship with you. And enough that they can say maybe even a year from now, when they go through something bad or when they're like, maybe have a job that affords them the ability to get therapy, they say, I know exactly who I want to see. She's been in the back of my mind this whole time. Now is the time, right?
Gordon Brewer
Yeah, yep. There's, yeah, there's kind of along this line. Again, I don't want to get too far on a tangent. But I'm reminded of a story of a friend, friend of mine who I had really identified with this friend, you know, with my clinical professional political hat or whatever, that this this particular client, not client, but friend of mine had, maybe been struggling with ADHD. And so I had had suggested that to them, and they said, You know, I don't think it is that kind of thing. But they had come across to us come across a social media post that described what it was like in the life of an ADHD person. And they came back to me and they said, Gordon, you know, you're right. This is me. That really stuck in my head when I was just thinking about all that you just mentioned about, you know, resonating with people on your website of being able to describe what it's like in their world. And then, like, in a totally agree, just, you're there as the guide. Not you're the, as Donald Miller puts it, you're the you're the guide of the story, not the hero of the story.
Lily Dawson
Yes, yes, exactly. Yeah. It's that story brand method that I really guide people through.
Gordon Brewer
Right, right. Yeah. Yeah, that's cool. So the
Lily Dawson
other thing with social media, because I think that it can be really difficult and a little scary for people to think about, like putting themselves out there and coming up with content all the time. But what I know is that if you can take seriously, like, how important it is to help people and to keep people interested in you and following you, then it's also worth, if you have any hang ups about social media or putting yourself out there, it's worth getting help around. I have met so many people who want to build their practices, who also have really great boundaries around social media, because it can be really troubling for people. And that's when I say it's time that we get some therapy around this because we need to use this as a tool, like the boundaries that some people have around social media, negate their ability to use it as a tool responsibly for their business. And so if this is you, then take it seriously. Go ahead. I know it sounds silly to be like, what I need to talk to somebody about my fear about seeing my ex on Instagram or something. And it's like, yeah, you do, because it's prohibiting you from being able to use this resource. That could be so helpful, because I really want you to use it regularly and put some ideas out there. There's a lot of help I give with people to become social media machines, which means we create two months of posts in a couple hours and then we schedule it all out so that we don't have to do much maintenance of it and it's really nice, but in order to do that you act Do you have to be able to engage with these things? And so getting over whatever learning curves you need to or emotional blockages that get in the way, is really important. Or maybe you're just like, hate new technology. And it's like, well then figure out either how to do it or hire somebody to do it for you.
Gordon Brewer
Right, right. Yeah. Yeah, it's interesting. I again, I had, you know, a conversation with somebody earlier this week about, you know, maybe the dilemma that people feel in our field of putting stuff on social media. But that's exactly where we need to be. In terms of being able to help people find you marketing is just simply helping the people that need your help find you.
Lily Dawson
Really, well, like your friend with the Add diagnosis. I mean, how helpful that someone put something out there that resonated with him. And he said, as many times that people told me, it didn't click, but this time it clicked, because somebody decided to be vulnerable on social media. And he said, This is me how helpful.
Gordon Brewer
Right? Right. So well, Lily, I want to be respectful of your time of what sort of parting thoughts do you have for folks.
Lily Dawson
Um, what I know is that it's really scary to think about investing in anything, after you've spent a lot of money on school. What I want to remind everyone is that there will be a time when you're making a lot of money, when you have a waiting list, when you have too many people to even manage, and you're cutting back on your hours and you're raising your prices. Anything you can do to invest in helping yourself out. Now, to begin everything really well. We'll set the best foundation for a thriving practice later on, and probably not that much later on, like in a month, maybe after you start some of this stuff. So I would really, really try to encourage some comfort and calming of those fears. And just some deep trusting of that inner knowing and all the knowledge that you have, and then go ahead and investing in the thing that's going to be able to put it out there.
Gordon Brewer
Right, right. Yes, very well said. Very well said. So Lily, tell folks how they can get in touch with you and how they can find you.
Lily Dawson
Yeah, um, so my business is called therapy Corp, C O R P S, kind of like the Peace Corps, but for therapists and I'm, my website is therapy corp.org. I'm on Instagram, Facebook, tick tock giving out lots of free advice. If you want to schedule a one on one session, I would love to help you with whatever phase of the process you're in. If you just want to date me and find me on Instagram, do it. I will give you lots of free information that you can take and run with and find really, really helpful. Lots of blogs and stuff out there too. So yeah, find me. Let's connect. Yeah. All right.
Gordon Brewer
And we'll have links here in the show notes in the show summary for folks to find it easily and get with the allele. Well, Lily, I really enjoyed our conversation to get today and so glad you joined me on the podcast. Hopefully we can do it again soon.
Lily Dawson
Thanks, Gordon. Thanks all for listening.
Being transparent… Some of the resources below use affiliate links which simply means we receive a commission if you purchase using the links, at no extra cost to you. Thanks for using the links!
Lily Dawson's Resources
Resources
Meet Gordon Brewer, MEd, LMFT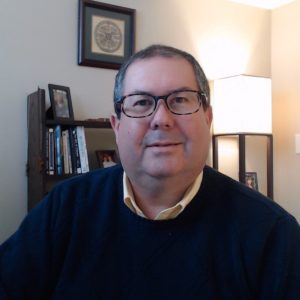 Gordon is the person behind The Practice of Therapy Podcast & Blog. He is also President and Founder of Kingsport Counseling Associates, PLLC. He is a therapist, consultant, business mentor, trainer, and writer. PLEASE Subscribe to The Practice of Therapy Podcast wherever you listen to it. Follow us on Twitter @therapistlearn, and Pinterest, "Like" us on Facebook.