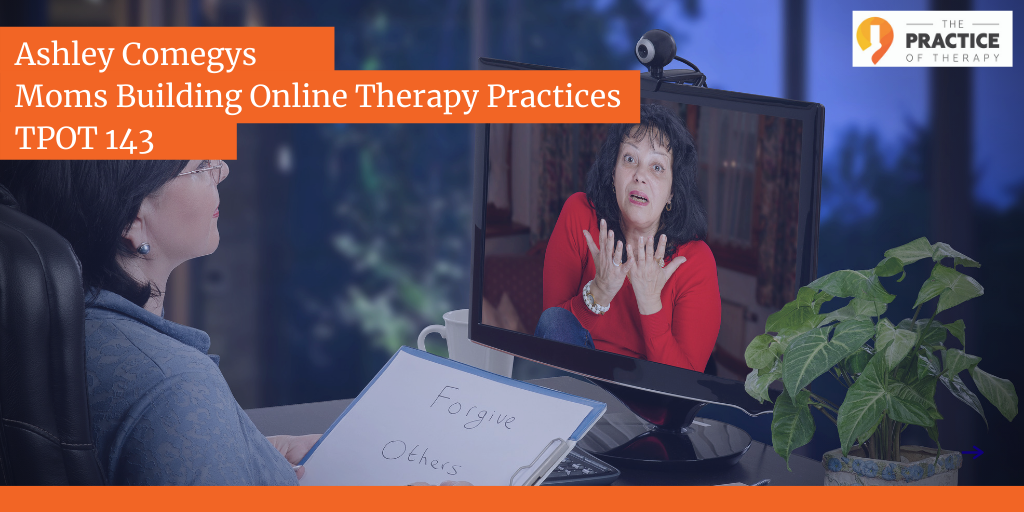 In this episode, Ashley Comegys gives us the basics of building an online practice. We talk through some of the challenges of being a full-time virtual therapist and how clients react to telehealth during COVID-19. Stay tuned as Ashley explains the process behind getting licensed in several states and the importance of flexibility during these uncertain times.
Meet Ashley Comegys
Ashley Comegys is a licensed clinical social worker with an online therapy practice that helps women with anxiety navigate life transitions, grief, trauma, and loss. She has been working with clients online since 2014 and loves the ability to work with clients who may not be able to make it into a traditional office for therapy. Through cross country moves, and a growing family, Ashley has built a successful online practice, working with clients in Louisiana, Hawaii, and Colorado. Ashley is passionate about helping other mom clinicians build their own online therapy practices so they can have the time freedom and flexibility to have a career and raise their family.
To help moms get started with building their online practices Ashley has created a free guide called The ABCs of Online Therapy: A Quickstart Guide for Mom Clinicians to Take Their Practice Online. You can download the free guide at bit.ly/momABCguide.
Telehealth During COVID
The reality is, schools can shut down at any time. Working with clients online will give you the flexibility and freedom that a brick and mortar office doesn't provide. For example, do you share an office space with someone else? Then you may be limited to which hours you can go in there. Working with clients online, you have the flexibility to work around your schedule and your childcare. It cuts down on the extra time for commuting too! No one knows what the outcome will be from COVID; it's time to pivot and adjust your expectations and find success in online practice.
Flexibility with Clients
Clients have been willing to be very flexible during COVID. There are a lot of moms who understand the importance of being flexible. Even those clients who aren't moms, they understand the need to be flexible. Nothing is normal right now. Some days we can work from home, while other days we need to be in the office. Ashley has very understanding clients.
Adjusting Your Schedule
When you need to make adjustments to your schedule, Ashley says that it needs to be an upfront conversation. Tell your clients the situation and prepare them for possible changes. Also, be willing to have options for your clients. For the most part, our clients are also going through difficult times too; they understand and relate to you. Communication is critical during these uncertain times.
Getting Licensed In Several States
Getting licensed in several states happened organically for Ashley because she kept moving around. As a military spouse, it's hard because each state is so different. The only beneficial thing is that Ashley's application went to the front of the line in Hawaii. Compared to some applications, the Hawaii application wasn't too bad. Most of Ashley's clients are in Hawaii, even though Ashley lives in Louisiana. Plus, Ashley works with military families that moved to Colorado. So, she got licensed in Colorado – it was a simple process compared to other states.
Marketing Your Private Practice
Get a good website! That will be a significant source of referrals for your practice. When you market to too many people, then you're marketing to no one. Think about your physical location. That will be the most accessible place to start marketing. A website will be the easiest way for people to find you. Plus, you can still have a lunch meeting with someone in your area that is a natural collaborator with you. That way, you can connect with other counselors and get a referral source.
Starting Your Virtual Practice
Get the basics in order. Figure out what is the EHR system that you are going to use. There is a variety of systems out there, which one will be best for you? After you get the nuts and bolts, you can start picking up the phone and finding clients. Ashley has a free guide to help you get started. You can find it here: https://bit.ly/momABCguide.
Gordon Brewer:
Well, hello everyone. And welcome again to the practice of therapy podcast. And I'm so happy to have with me today, Ashley Comegys who is in New Orleans. So that is we were chatting here before we started they've started the big hurricane that came through here recently, but anyway, Ashley, so glad you're with me today.
Ashley Comegys:
Thank you for having me. I'm really excited to be here.
Gordon Brewer:
Yes. And I'm so excited about this topic that we're gonna kind of delve into because I think it's so timely. And I know just in my own practice, I've got several moms that work in my practice and just balancing all that we're balancing. So as I start with everyone, why don't you tell folks just a little bit about your private practice journey and how you've kind of land where you've landed?
Ashley Comegys:
Yeah, thank you. So I, I'm a licensed clinical social worker and I definitely did not get into social work initially with the idea of private practice. I got my masters from Tulane University and lived and worked in New Orleans for six years in a variety of different capacities, crisis counseling emergency response trauma, trauma recovery. And then I met my husband who's in the coast guard and that took us relocating to Maui Hawaii. And yeah,
Gordon Brewer:
Poor people. I'm just so
Ashley Comegys:
And it was really at that time that I kind of had the ability to kind of reinvent my career if I wanted to not necessarily by choice, but I just couldn't find the type of just couldn't find work there. It's not a big location, not a big area and was kind of in a place to say, you know what, maybe it's time to start to check out private practice. And in doing that, there worked with a few other clinicians to help build a group practice there on Maui that is still continued up and running multidisciplinary practice thriving there in that community. But during that time, I also continue to learn more about online therapy. Tele-Health was I, I was so licensed back in Louisiana and began working with clients that were located back there and really just kind of dove into this at what felt like at the time, kind of this new thing, but really had been around for a while.
Ashley Comegys:
And so fast forward a couple of years, we ended up moving back to New Orleans. I have a baby and it's kind of that chicken or the egg. Do you decide to find childcare or find a job and, and was just kind of really wrestling with the fact that every three years we move with the coast guard and you know, it doesn't make sense financially or effort-wise to start up and shut down a brick and mortar private practice. And I really loved the freedom and flexibility that I had in working for myself and in private practice. And it was just kind of at this place of what do I, what do I do? And a light bulb kind of went off of, you know, I was licensed still in Hawaii, was doing a little bit of contract work with the group practice that I was associated with back there.
Ashley Comegys:
And I thought, well, we're going to have to uproot every, you know, three to four years. Why not start an online practice myself that regardless of where we are, regardless of, you know, what's kind of going on in life, I don't have to shut down my business and I can continue to carry it through. And it'll be, you know, financially stable sustainable, cause I'm not dependent on, you know, having an actual office and all the startup of that. So I've been completely online working for myself since the beginning of 20, 19 2019. Yeah. And I'm now licensed in Hawaii, Louisiana, and Colorado and work with clients in all three of those States.
Gordon Brewer:
Wow, wow. Yeah. And it's you know, as we were speaking about at the beginning maybe before we started recording, you know, it's, it's pretty obvious since COVID hit that online therapy is something that's going to stay around and we're going to, I think a lot of people are rethinking how they do their practices, but you'd already done that part before, before any of this hit with COVID. And so, yeah, and I know one of the things too, is that Ashley, you have a Facebook group and it's just titled moms building online therapy practices. And so, yeah. So talk a little bit about that and just kind of your thought process around why particularly, you know, I think there's there, there's a lot of bleed over for dads too. I think it's another, another thing to think about.
Ashley Comegys:
Yeah, no, absolutely. You know, and I think you're right that a lot of people, I think before coven either didn't have any interest in doing telehealth or were kind of skeptical of it. And then, you know, it, this pandemic forced everybody to get online and to figure out how to do this quickly. And I think a lot of people have been surprised at how much they like it and are reconsidering. Yeah, I do. Do I want to go back to an office when it's safe or, you know, do I at least want to keep this as part of my practice of doing it in person people, if it's safe, but also having an online presence. And I think it is important to have the option of both. Even if you do decide to go back in person, but yeah. You know, the reality is that this is for anybody, you know, you can be a dad, you don't have to be a parent at all.
Ashley Comegys:
But I've chosen to focus on, you know, supporting other moms with building an online practice because, you know, the reality is a lot of times childcare does fall to moms and it really does then impact our career. And that was kind of where I was when I kind of had that aha moment of, you know, my career's really important to me. I'm not ready to just stay at home. I, I still want to have this. And so yeah, you know, with coven right now, there's the virtual learning going on there's or, or childcare centers are closed. We're very fortunate. Our or my son is able to go to his preschool. He just started a couple of weeks ago again. And, you know, we feel safe sending him, but also the reality is it can shut down at any time. And, and the, the struggle of, you know, how do I manage a new schedule and adapt with all of this that working with clients online really does give you flexibility and freedom that may be a brick and mortar office doesn't necessarily provide.
Ashley Comegys:
You know, for example, if you share an office space with somebody else, or, you know, maybe you aren't over the whole office building there, you may be limited the hours that you can go in there. But with working with clients online, you know, I've been fortunate where maybe something's going on and my husband isn't able to be home that day. And I have to flex clients either to a different day and I can do it on a weekend, or I can do it after bedtime. At a time that I know I have childcare and I'm not having to, you know, say, well, now I have to travel a half-hour to an office a half-hour back. And you know, all of the extra time that adds up to that. So with, you know, we're not sure where we are in this pandemic right now and let you know what the outcome is going to be, but it's going to be a lot of continuing to kind of pivot, adjust, adjust expectations. And so having an, an online practice, I believe for moms really can help with that, having that flexibility to be the mom and to be a condition and still have your career. Right.
Gordon Brewer:
Right. You know, one question that I bet a lot of people might have, and you know, I've I've kind of experienced this a little bit here recently. I've shared on the podcast, my wife had a major surgery and we have, and I've had to kind of re adjust my schedule to be able to take care of her and make sure we get everything done for her. What have you found with your clients are, and their willingness to be flexible around things? Yeah.
Ashley Comegys:
Yeah. I, you know, I've been really, I've been very fortunate that my clients, especially during this time have been willing to be very flexible with all of this. And I think for a couple reasons, I think I do see a lot of moms and, and they get it cause they're also having to be flexible in their own life. And, and, you know, they've asked, can we adjust my schedule? Cause now my kids are home. You know, I can't see you at this time now. Cause I have to be in a virtual learning class with my child, you know, what can we work? And so even those who aren't moms, I think a lot of people right now, at least personally, what I've been experienced, people get it, like nothing's really normal right now. You know, one day we're at work the next day everything's shut down or, you know, some days we're able to work from home or we have to go into the office, you know, the net the following day.
Ashley Comegys:
So I, again, I've been very fortunate that my clients have been very understanding, but one of the things, you know, we've been talking about this in that in the Facebook group group recently is how do you adjust your schedule when stuff comes up? How do you prepare clients for some of that? And, you know, especially I think with as we're in this kind of time of virtual learning and kids are starting to go back to school, schools are sending kids home for things like just sort of simple runny nose, because you know, they're concerned about that. And that normally wouldn't force you to say, I can't see clients today. But, but now it is. And so we've been talking about pay, how do you kind of have some of those upfront conversations with clients to just say, Hey, I'm just kind of giving you a heads up. You know, kids are back in school, we may have to adjust things a little bit more and, and kind of prepare them for that. And then being willing and ready to say, here are some options of where we could, you know, shift appointments too. So that way you already kind of have an idea of this is what my flexible availability would be.
Gordon Brewer:
Right. Right. Yeah. And I think you're exactly right. I think by giving clients a heads up ahead of time, they understand. I mean, because they, they they've for the most part, our clients are going through, you know, difficult, you know, some are going through difficult times too. And so they understand and can relate to that. And so it's communication on the front end, I think is just huge with that. You know, another thing that you've done Ashley, that I think is just real intriguing is getting licensed in several States. And what's that process been like for you? And how did you go about doing that?
Ashley Comegys:
Yeah, so some of that kind of happened organically because of our moves. I was already, I had already gotten my LCSW in Louisiana when we moved to Hawaii and knew in order to work there, I was going to need to have a license there. And you know, as a military spouse, it's hard because each state is so different, even though there's been a lot of efforts to try to help make things easier for military families. But in regards to Hawaii, it the only thing that was really quote unquote beneficial was they kind of put my application towards the front of the line to say, we'll try to get your application through quicker. And so it wasn't compared to some, some applications that one wasn't too bad. And I've just continued to maintain that the majority of my clients actually are still in Hawaii, even though I'm in Louisiana which is, you know, we could always end up getting stationed back in Hawaii, which is partly why I've maintained that license. But it's, it's a large source of income for me. And and Colorado kind of happened. Interestingly you don't, there's not a coast guard station.
Gordon Brewer:
Yeah. I was wondering about that. Yeah.
Ashley Comegys:
Yeah. We won't end up there, but I actually had, I worked with military families as well and had several clients who were going to be moving to Colorado and being credentialed with Tri-Care, I, it doesn't have to be state specific, it's more region specific. And, you know, I just was like, let me just take a look. What would it be like to get licensed in Colorado? And it was actually a very, very simple process compared to a lot of other States and you know, not high license fees and stuff. And so I decided, you know, that's also an area where there is a lot of military families and you know, let's go ahead and just add that license. So that's why I've decided to carry that one. I'm not of the mindset of just get licensed everywhere because then you start to, you know, you market yourself to everyone and you're kind of speaking to no one then. So it really, for me has been, you know, strategic of, okay, where, where are clients located? Where are we going to be located and figuring out cost benefit analysis? Is it a really high license fee to add there? And how many clients am I going to get in that area? And, and what's, you know, the ease of continuing that license.
Gordon Brewer:
Right, right. Yeah. I think you've got a, yeah. You're, you're exactly right. I think if you try to cater air to everyone, you end up catering to none. And so, yeah, I think that's a, it sounds like an amazing niche that you've created. Yeah. And so, you know, that that's a good segue into I'm sure people would be curious as to how you've marketed your practice and how you've gone about getting new clients and referrals and that sort of thing.
Ashley Comegys:
Yeah. So one of the first things that I would definitely recommend and has been really beneficial for me has been to get a good website. And I ended up building it myself on Squarespace, but I have had support to help get it optimized. And so that has become a, a big source of referrals for me because I'm, I haven't marketed towards each, each state specific, but I use language in the SEO and on my pages to help target specific areas. So kind of like what I was saying a minute ago, I think sometimes there's a temptation when we're moving into tele-health again, it's like, well, I'm licensed for the whole state. I can do everybody, but again, you start talking to no one. And so, you know, just like you would with a brick and mortar office first start in your area first start where you're physically located.
Ashley Comegys:
And so I've been very purposeful, you know, when I'm writing blog posts or when I'm doing copy on my pages to still target certain localities in the area where I white, you know, my virtual addresses, that's pulling people up. So that way it's just getting me ranking higher in those areas for people to find me. I also, you know, a big advocate of directories you know, again, cost benefit analysis. What is it bringing in for you, but it's a great way for people to to find you you just by doing a basic search. And then, you know, I think there's a myth too with online work of, well, how, how am I going to network, how am I going to do this if I'm, you know, all online. And it's a lot of times the marketing strategies are the same way as in person, right?
Ashley Comegys:
Like you can still have a coffee date or, you know, a lunch meeting with somebody in your area that you, that you know, is a natural collaborator with you. I work with, like I said, a lot of moms women who are postpartum. So for me, whether it is doing a zoom meeting and whether they're in my community or in a more rural community that maybe they need a little bit more mental health support, I can connect with somebody, you know, that way, and I can meet with them and share what I'm doing. And that also helps, you know, what kind of resources do they have that I can provide to my client.
Gordon Brewer:
Right, right. Yeah. Yeah. I think for some, they find that intimidating, but it sounds like you've, you've probably worked at it a little bit at a time and kind of built it from there and, and, and it's yeah. And so it's it takes, it takes some patience, but also persistence, I think times to do that. Yeah.
Ashley Comegys:
Yeah. And I think marketing can feel really intimidating sometimes, especially as clinicians, right. Where like, I don't want to be too pushy, but it's, if you look at it more of I'm collaborating with somebody else, because yes, it's helping for you to get your name out there, but how many times are we with a client and they're asking about, Oh, do you know of a psychiatrist, or do you know of you know, somebody in the community that works with this type of population and we may not provide, you know, provide service to them, but we have another referral source to say here, let me connect you with this other clinician. So it's, again, thinking about this is building a relationship so that you can refer and that they can refer to you. And I think yet, not saying I have to do it all at one time, but kind of setting a goal, maybe it is, you know, one person, every, you know, one to two weeks that you're reaching out to, to try to have some kind of conversation with.
Gordon Brewer:
Right. Right. Yeah. Yeah. So I, the, I know another thing that it that I think people would be interested in is your Facebook group and maybe just some of the conversations that you're seeing there and kind of topics that come up. Yeah. What, what are you noticing so far?
Ashley Comegys:
Yeah, so the group is moms building online therapy practices and it's, it's I really loved my group because it's not just about being a clinician, but also being a mom too. And the, you know, the, the struggles that come with that. And so, you know, right now we're in the time of people are getting ready for school or school has started back. And you know, how, how do we manage virtual learning? How do we manage kids are at home? And so we've been having recently, there's been a lot of conversation about how are, how are people balancing this? How are people managing this? And one of the things that I feel like has been a consistent theme that I've seen as we're, as we're having conversations around this, isn't really about adjusting expectations. And that, you know, I think when we, when everything shut down in March, we were like, okay, well, this, this will be a couple of weeks.
Ashley Comegys:
And then it will go back to quote unquote normal. And clearly that's not the case. And so, you know, working on it, it may not be reasonable to expect that, like, I can have a caseload of 30 people right now and I can see them all, and I'm not going to be disruptive. I'm at home. And I have little ones at home too. So working on what is a reasonable expectation for your practice currently, and it's not going to probably look like how it was, how can we make this fit for what you've got going on right now? So that's been a really big piece of conversation that's been happening in the group recently. And then we have a lot of moms too, who are kind of at the beginning start of, of getting into private practice or getting into online therapy and, you know, what are the things that they need to do to start?
Ashley Comegys:
What are the places that they need to do to say, okay, I've got these things in order, I'm ready to start seeing clients. And so I do a Facebook live every week and we've been kind of going through different pieces of what is, what are the texts that, you know, technology that you need next week, we'll be talking about what are some of the marketing strategies, time management of all of that. So it's, it's great because there is a variety of people who have had a practice I've been running online for awhile, and those who are just starting. So it's a real collaborative effort of learning from one another.
Gordon Brewer:
Right. Right. Yeah. So with, with, with that, what are you if somebody was maybe thinking of just going into private practice and just doing a, a strictly online practice, where would you say the best starting place would be?
Ashley Comegys:
So I actually have a free guide that people can download that will kind of help walk through some of those steps. If you go to a Bentley forward slash mom, ABC guide they can download the guide there. And it kind of goes through what are, it's called the ABC's of online therapy and it's, what are the essentials, right? Where do we start? And so that guy will help kind of give you a framework to kind of think through some of the things the things that I usually recommend kind of starting with is getting the basics in order, you know, getting a NPI number, getting your tax ID number, figuring out what is the EHR system that you want to use. I know that there's a variety of them out there, but you know, what is going to be, I I'm big on efficiency and systems, especially as a mom, we have limited time.
Ashley Comegys:
So what can we make work for us that we're not going to be having to do all these things in different places. And that is an easy for us to use. So getting those kinds of essential pieces set up, and then your, your video system, you know, what are you going to use? Does your EHR offer that? Or are you going to add something on like Google meet or doxing me something like that. So they're kind of the essential pieces to say, okay, you've got, you have basically the nuts and bolts so that if someone picks up the phone to call you, you're ready to start seeing them and then grow from there. But that guide is a really good place to kind of start to help you think through what are those first steps that I need to take.
Gordon Brewer:
Yeah, that's great. And we'll be sure to have links to all of that in the show notes and shows summary for, for people to access Ashley's thing. So, well, actually I want, I want to be respectful of your time, but this has just been a fascinating conversation. Your wisdom is just incredible. And I love the way that you've thought about this and, and kind of organized it in a way that just makes, make sense for I think for a lot of people. So, yeah. So tell, tell folks a little more about how they can get in touch with you and, and find if they want to, you know, connect with you.
Ashley Comegys:
Yep. So you can find me in two different places I'm on Facebook and we would love to have you join our group. And it's moms building online therapy practices with Ashley Comegys, or you can go to my website for the support of continuing to build an online practice, raised, to empower.com. And I think you'll have that in the show notes too. But yeah, those are two ways that you can easily connect with me.
Gordon Brewer:
Oh, that's great. Oh, great. Well, Ashley, I hope we can have another conversation you're saying, and I'm so glad that you've been on the podcast. I think this is been just something that's going to be very helpful to people.
Ashley Comegys:
Thank you. Thank you. I'm glad to get to be here today. Yeah.
Gordon Brewer:
Yeah. Well, thanks. Take care. Stay safe. Thank you. Yes.
Being transparent… Some of the resources below use affiliate links which simply means we receive a commission if you purchase using the links, at no extra cost to you. Thanks for using the links!
Ashley's Resources
Resources
Click on this link, nominate yours truly, and write your most intriguing questions for the "Up Close and Personal Podcast Mini-Series."
Use the discount code "AUG2020" on all of the Practice of Therapy e-courses and digital products at Gumroad and Teachable.
Meet Gordon Brewer, MEd, LMFT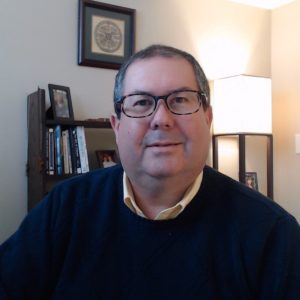 Gordon is the person behind The Practice of Therapy Podcast & Blog. He is also President and Founder of Kingsport Counseling Associates, PLLC. He is a therapist, consultant, business mentor, trainer, and writer. PLEASE Subscribe to The Practice of Therapy Podcast wherever you listen to it. Follow us on Twitter @therapistlearn, and Pinterest, "Like" us on Facebook.