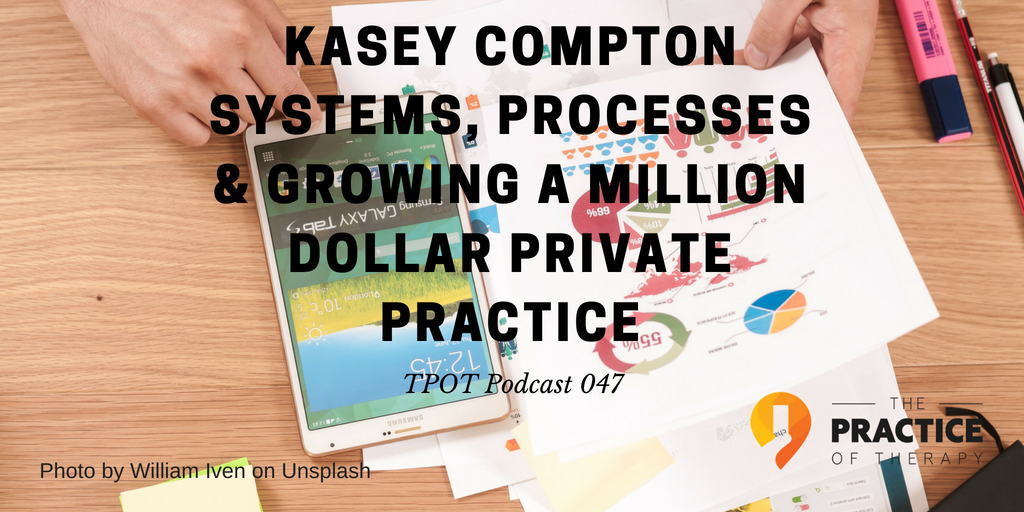 In this episode of the Practice of Therapy podcast, Gordon talks with Kasey Compton, LPCC who is the President/CEO of Mindsight Behavioral Group. Kasey was able to build a large group practice (80 staff members!) in 3 years time.  Kasey and Gordon talk about the systems and processes she put in place in order to sustain that kind of growth successfully. Kasey also talks about money mindset and what is needed in order to feel confident about growth and building a practice to that level.
Meet Kasey Compton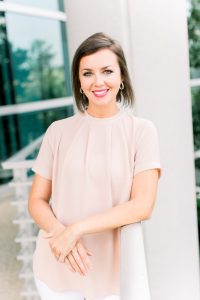 Kasey built a million dollar practice with over seventy-five staff members in less than two years from the ground up. She is the President/CEO of Mindsight Behavioral Group with multiple offices located in Kentucy.  Kasey says, "it definitely wasn't easy but I learned a lot scaling a practice". She is now in year three and her business with basically running itself; largely due to the systems and processes we put into place.
Now, Kasey is a behavioral group consultant (www.consultwithkc.com) and author that helps practices avoid mistakes by cleaning up their systems, implementing better processes, and understanding what to do with their money. Kasey says, " I take so much pride in my own practice and now I feel honored to help others grow too."
Residual Income
One of the things that Kasey realized early in her private practice career was the need for "residual income".  As a solo practitioner, your income is based solely on what you can produce. You have to see clients in order to make money.  But as Kasey said, "life happens" and you have to take time away… getting sick, having babies, or other family stuff.
Kasey started her group practice out of a desire to not have to worry about having income stop when she was not working.  It just made sense to be able to duplicate her efforts and be able to provide employment for other clinicians.
Processes and Systems
Kasey's phenomenal growth (80 staff members and a million dollar practice in just 3 years) came primarily out of her ability to create processes and systems to make the growth as seamless as possible.  
She put most of her effort on the front end into mapping things out so that the processes and systems where well defined. She also said that she made some mistakes and learn from them rather than let them be defeating.
Group Practice Culture
Another important piece of Kasey's success in having a practice the size of her's was in developing a culture that was positive to work in.  Kasey said she wanted to promote people's strengths and creativity. She also recognized that not everyone was as driven as she was but they could thrive better if she did not force that way of being on them.
Kasey also has put in place a lot of incentives for her employees that help motivate them use their strengths and promote the culture she has establish within her practice.
Delegating and Outsourcing
Another area that Kasey and Gordon talked about was learning how to delegate and outsource things. As a practice grows, the owner needs to be able to just focus on those things that help the company grow and be profitable.
When a practice is just starting, you have the time to "do it all" and you really need to keep costs down. But as growth occurs, it really becomes less efficient and even more costly to do all the bootstrapping yourself.  It's better to delegate and outsource so you can spend your time on tasks that actually bring in income.
Following Your Purpose and Vision
Being in private practice and owning your own business can be hard.  It requires a lot of hard work and time to make it successful. But without purpose or vision things can quickly become disorganized and burdensome.
Understanding Your Numbers and Metrics
As a practice grows the logistics can become cumbersome and even intimidating. But when practice owners truly understand their numbers and metrics, it is much easier to know how to handle the logistics of growth.
For example, Kasey knows, because she had studied her metrics and numbers, that for every 5-8 clinicians she adds, she needs to also add an admin person. She also knows that is when it becomes cost effective to do that.
Using "Profit First"
Kasey and Gordon also talked about their excitement about the Profit First book by Mike Michalowicz.  They both said it was a game changer and helped them immensely with their money mindset and how to make their practices profitable.
The key with the "Profit First" system goes back to understanding and having a handle on your financials and then knowing how to allocate money in the right way. So many times people will either ignore their financials or be afraid to look at them.  But to be truly profitable, you HAVE TO understand the financial side of running a private practice.
Knowing The Lifestyle You Want
A big part of understanding the financial side of private practice is understanding cash flows and what you personally need to maintain your lifestyle.  A person's lifestyle desires can vary, but most of us want just some basic things. Food, shelter, and clothing are the baseline but we also want to be able to have some other perks in life.
We also do not want to be financially strained and living just paycheck to paycheck.  Everyone needs a cushion to make sure that they can make it through the down times.
Going After Your "Big Idea"
The other thing about private practice and being in this somewhat entrepreneurial space is also being able to go after your "big ideas".  Whether it's writing a book or doing speaking engagements, we need to have the time to do that. But the time it takes to do those things shouldn't jeopardize your cash flow and income.
That's why it's important to have that residual income and systems in place to help free up your time while still having some income (AKA passive income)
Knowing Your "Why"
Finally, Kasey and Gordon talked about the importance of having purpose and vision for yourself in your practice.  As Gordon puts it, "knowing your WHY". Everything you do with your practice to maintain and have the lifestyle you want, should be driven by your "why".  
When you are feeling bogged down or just dreading going into work everyday, it's time to take a look at your passion and vision.  Know this, and follow it, and everything else has a tendency of falling in place.
Resources Mentioned
Kasey's Mastermind Group with Joe Sanok
Email Kasey- hello@consultwithkc.com 
Kasey's Website- www.consultwithkc.com
Kasey's Book & Profit First
[amazon_link asins='B07D9499N2,073521414X' template='ProductGrid' store='POT Sales' marketplace='US' link_id='e53ea708-a2ec-11e8-b954-c5a1056978f6′]
Meet Gordon Brewer, MEd, LMFT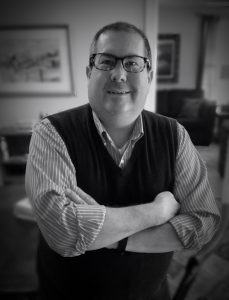 Gordon is the person behind The Practice of Therapy Podcast & Blog.He is also President and Founder of Kingsport Counseling Associates, PLLC. He is a therapist, consultant, business mentor, trainer and writer.  PLEASE Subscribe to The Practice of Therapy Podcast on iTunes, Stitcher and Google Play. Follow us on Twitter @therapistlearn and Pinterest "Like" us on Facebook.