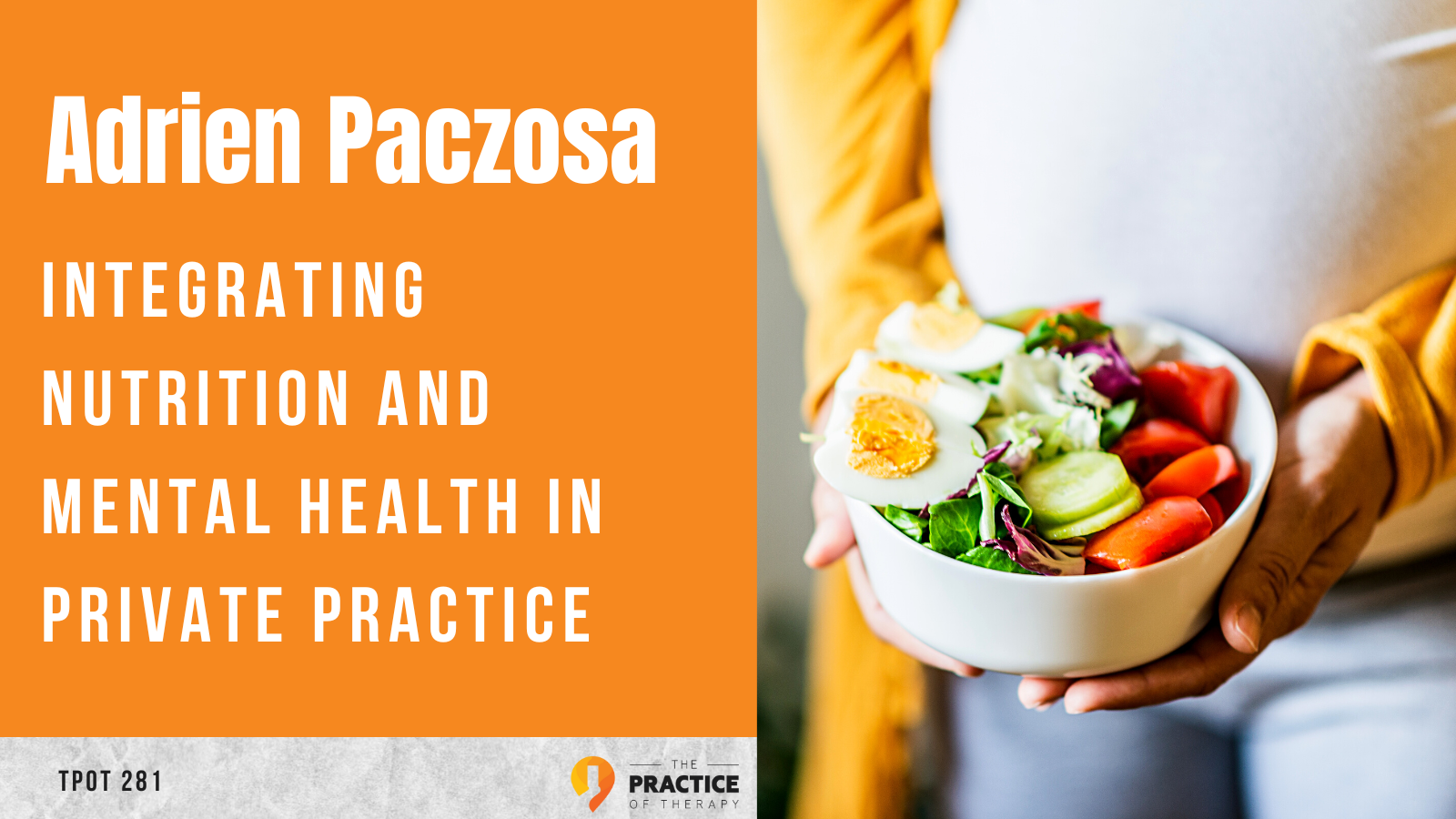 In this Practice of Therapy Podcast episode, host Gordon Brewer welcomes Adrien Paczosa to discuss the intersection of nutrition and mental health. She explains her entrepreneurial journey, which includes successes and mistakes, and tells listeners that forming relationships with mentors and joining a mastermind group are essential growth methods. Together, they explore how therapists and dieticians can work together to help patients build sustainable lifestyles. They emphasize the importance of treating the whole person and provide insights into ways to optimize the patient experience with a team approach.
Meet Adrien Paczosa
Adrien Paczosa (RD, LD, CDERD-S) has more than 20 years of experience working in the dietetic field with a focus on eating disorders, neurochemistry nutrition, and business development. In 2007, Paczosa founded and opened her first private practice in Austin, Texas, called iLiveWell Nutrition. Paczosa combined evidence-based nutrition science with a compassionate approach to counseling patients to deliver health outcomes and improve patients' day-to-day lives.
She has personally counseled hundreds of patients ranging from severe eating disorder cases to diabetics to high-performance athletes.
A few years later, iLiveWell Nutrition has become Nourish — a nationwide, virtual-first nutrition group focused on addressing America's healthcare crisis through greater access to nutrition care. Paczosa now serves as the Chief Clinical Officer of Nourish, and what started out as just an idea now serves thousands of patients, nearly all of whom use the service via telehealth and are completely covered by their health insurance.
Get A Mentor and Join A Mastermind
Having a mentor and joining a mastermind can be incredibly beneficial to anyone looking to build a successful business. A mentor can provide guidance, support, and advice on navigating the business world. In contrast, a mastermind group can provide a support system of like-minded individuals who can help each other work toward their goals. Adrien Paczosa, a registered dietitian and entrepreneur, experienced the benefits of having a mentor and joining a mastermind firsthand. She started as a solopreneur, slowly organically growing her business into a group practice, and then was approached by a technology company, partnering with them to take her practice nationally. She attributes her success to the mentors and the masterminds groups that she has participated in.
Consult a Dietitian
Consulting a dietitian can be beneficial in a variety of situations. For example, if someone is struggling with an eating disorder, a dietitian can help them develop a nutrition plan and provide advice on managing their food intake. Additionally, if someone is using substances, a dietitian can help them understand the impact of their substance use on their diet and provide advice on healthy eating habits. For those who are feeling depressed, consulting a dietitian can help them understand how their diet can impact their mental health and provide advice on how to improve their dietary habits.
Nutrition is Individualized & Personal
It is important to remember that nutrition is not just about dieting but about creating a healthy lifestyle tailored to the individual's needs. Nutrition is individualized and personal. No two people are the same, and everyone has different needs and preferences when it comes to food. It is essential to take the time to understand what works best for one's body and to find a way to make it enjoyable. Consulting a dietitian is a great way to do that. A dietitian can provide invaluable advice, support, and guidance, which can help someone reach their goals and improve their overall health.
Collaborate for Patient Success in Private Practice
Collaborative care is a critical factor in achieving patient success. Nourish understands that healthcare providers need to work together to provide the best possible care and ensure the best outcomes. By connecting people to nutrition services and providing resources to support them, Nourish is helping to bridge the gap between providers and patients.
Plus, Nourish is helping to make nutrition services more accessible and inclusive. It is a fantastic platform that can help anyone looking for a dietitian find the right provider for them. With the right provider, patients can get the nutrition advice and support they need to make positive changes in their diet and lifestyle.
Unknown Speaker
Okay, go ahead and do the floor.
Adrien Paczosa
Hi all, my name is Adrian, Texas. I'm a registered dietitian. And I am so excited to be here today on practice of therapy podcast, I'm excited to talk about how nutrition and mental health providers can come together to help you build a wonderful, sustainable practice.
Gordon Brewer
Well, hello, everyone, and welcome again to the podcast, and I'm looking forward to you meeting today. Adrienne Peck soza. Hey, Adrian, glad you're here.
Adrien Paczosa
I am so excited to be here.
Gordon Brewer
Yes, yes, I did a little bit we've been chatting here before we started recording. I think Adrian is gonna give you all a lot of great knowledge and just really thinking about she's been in, in the dietitian kind of world doing private practice, and really just thinking about how we can integrate the two mental health and, and nutrition which as we all know, go really hand in hand. But Adrian has a start with everyone. Why don't you tell folks a little bit about you, yourself, and how you've landed where you've landed, Stuart?
Adrien Paczosa
Well, for everybody out there that doesn't know a dietitian is it's okay, we're, we're the ones that love to talk about food. So that's okay, if you don't know, I hope by the end of this podcast, you'll want to go and find a dietitian yourself. But as far as my entrepreneurial journey, I've done it all. So started as a solopreneur. And was going to change the world and see all the patients and slowly, organically grew into a group practice. And then about a past year was approached by a technology company, and partnered with a technology company, it was able to take the practice nationally. So we are now over 100. practitioners in 48 states. So from me and trying to figure it out on my own to building a group practice to being a national company. I got it all. I know I made every mistake.
Gordon Brewer
Awesome. Awesome. Yeah. It's, as people hear from me a lot. I tell folks that I've been doing it a while, but I've learned a whole lot the hard way.
Adrien Paczosa
Yes. But it also like it makes it more real. And you're like I will never do that again.
Gordon Brewer
Yeah. And if you're not making mistakes, you're not learning. Exactly. Yeah. So well tell folks a little bit more about just kind of your journey as a dietitian and the practice piece. And I know how it's kind of evolved into this new venture with nuture nourish as the name of the of the company, and I was looking at your website, and I think it's going to be a great resource for people, particularly making referrals to dietitians.
Adrien Paczosa
Yeah. So how do you trician and mental health work together? I think, of course, the easiest is eating disorders. And that's my background and passion as eating disorders. And that one makes sense. And like, Okay, if somebody is struggling with an eating disorder or disordered eating, it makes sense to have a dietitian on the team. The other piece where a lot of times when I'm working with mental health providers, they're like, Oh, I never thought of that is with depression and anxiety. So all of our neurotransmitters, serotonin, dopamine, norepinephrine, start with food. And so if your patient isn't eating adequately, we're not able to make all of that. So fun little fact, serotonin actually comes from carbohydrates. And it's digested in our stomach and our gut microbiome, which we're starting to hear a lot about, as a huge player in serotonin production. And so just starting to think about how food affects mental health is huge. And so I always tell therapists, you know, it doesn't hurt to ask like, hey, what do you have to eat before you came and saw me? And I feel like nothing I haven't eaten today, like, oh, today's therapy session is gonna be rough.
Gordon Brewer
Yeah, that's, yeah, it's, I think most of us are really kind of learning more and more, particularly with just thinking on the clinical side of things about the importance and the efficacy of like somatic therapy, and just how the whole mind body connection and that sort of thing.
Adrien Paczosa
Yeah, it just kind of when you start to take a step back from you're like, Oh, well, that makes sense. We're all connected. Everything is connected and it works together. And so if we understand that sleep is a piece of puzzle pieces, so if somebody's not sleeping, it's easy to understand that but when we kind of think about nutrition and like, Oh, if somebody is eating a balanced meal, oh, no wonder they might be struggling with anxiety, depression. Yeah, it starts to make one of those puzzle pieces connect like, oh, well, that makes sense,
Gordon Brewer
right? Well change gears a little bit you've you've done, you've been in the business a while, and they've really kind of moved up. Maybe it's fair to say moved up the ranks, but you've done a lot of things within the dietitian world. Tell us a little bit about what you learned just kind of on the business sides of things about running a practice and all that sort of thing?
Adrien Paczosa
Ah, how much time do we have, because there's so much that I've learned, I think the biggest takeaway, the things that I wish I would have done sooner, is get a mentor, get a mentor, find a mastermind, that when I joined a mastermind group, that's when I saw my business go, one at have started to really understand the business sides of okay, what do I need to be looking at at profit and losses? How do I start to fix this from a financial side? What do I need to do to get to the next level, and it would push me in ways that I never thought of before? And you know, as the owner, you get to ask yourself questions and have like CEO talks like, Oh, do you think this is a good idea? I think so. As opposed to when you have a business coach or a mentor, you can start to bounce ideas off of somebody. So if I had to do it again, those would be things I wish I would have done way sooner. And then also delegate hire out God don't do anything you don't know how to do.
Gordon Brewer
Right? Yeah, that did out of every bit of that. But I know this in the folks that I've worked with, over the last several years, that's those are the same, same struggles different, maybe a little bit different focus. I mean, we're both both kind of in the allied health fields. And yeah, same kind of thing. I think anytime we, you know, being particularly if you're in solo practice, it gets really lonely. And even even as a group practice owner, it can be kind of lonely at the top, so to speak, finding those peers and those people that can help you and support you, in the journey. Same experience, it just, my my practice grows exponentially, or has grown exponentially, whatever. I've gotten some coaching and mentorship and the party, being part of masterminds.
Adrien Paczosa
It's so it's so invaluable. And it's amazing, just all the other ideas people have, because they are not in it every single day. But you are. And so they can suggest ideas and like, Hey, have you seen this blind Stein, you're like, Ah, I didn't see that. So it's just been nice. And I think another thing I learned the hard way, is, I needed to mark it all the time. And I think that's different in possibly the mental health world is hopefully patients are with you for a good amount of time. Our clients and in nutrition world, when somebody's gut health is better, they're done. And we send them on their merry little way. And so for us, and our patient span is majority, six to eight months. And so always making sure we have enough patients coming in. And so I used to always joke that truly my job was marketing, and then it was running a business and then it was seeing patients.
Gordon Brewer
Yeah, yeah, that's great. Yeah, and it's not too far, not too far of a difference in the mental health world, either. I mean, you've got to have even though people's length to stay with us might be longer depending on your, your method or your approach or whatever. But you gotta you gotta have those constant referral sources from whatever, and probably a lot of different referral sources is important too.
Adrien Paczosa
Oh, such a huge piece. And I think that's what I've loved about always collaborating with therapist is I know how to fix the nutrition side. I don't know how to fix the mental health side. And so a lot of times if somebody is struggling with nutrition, once we kind of fix that, then all of the mental health stuff will pop up and like I have no idea how to fix happy, sad, mad glad I thought about a therapist, or, Oh, you really don't like who you are. I don't know what to do with that. Like that's gonna find a therapist. So it's, there is a huge correlation that comes up in nutrition land that Do we refer out so much to mental health?
Gordon Brewer
Yeah, yeah. So other than other than the obvious kinds of things that maybe we think about with, you know, certainly like if you mentioned earlier, somebody that, you know, meets the criteria for an eating disorder, that kind of thing would certainly makes sense to refer to a dietitian, what are some other cases that we might run into where it might be a good idea to do that?
Adrien Paczosa
Yeah, um, substance use disorder, same type. Just in my experience when working with those patients or treatment centers, they have not been eating and I think the last statistic I saw 60% of patients with substance use disorder have an underlying eating disorder as well. So that's an easy one. And then I think it's just up to how the patient is feeling if there is any body dysmorphia if there is any body image issues. What are they doing it with their food that they're trying to air quote, It control their body in a nutrition realm? Are they over exercising? Are they abusing exercising using it as a form of compensation? Um, and then looking at a lot of our severely depressed patients? Do they have any genetic mutations? The MF thr genetic mutation? Would it help to add in a methylated? Folate? What's going on in their diet? So really looking at kind of the whole entire person and seeing it could nutrition help? It can't hurt? Um, can we add in some nutrition?
Gordon Brewer
Yeah, yeah. So I bet a lot of folks are thinking about, okay, if I noticed these things, where do I start with making a referral?
Adrien Paczosa
Yeah. I think, you know, always asking permission from the patient, like, Hey, I thought about this, because you and I both know, if you make a referral, then patient like, no, that sounds silly. And it sounds scary to go and see a dietitian, because we get the bad rap of being the food police if we're going to tell you never to eat a cookie and, or that some people believe that. I think that's just the misinformation. And so helping a patient understand. And I would say, if you are interested yourself, see a dietitian, come to nourish, we're in 48, States wouldn't be happy to see you. We accept insurance. So we usually there's no cost to most patients. And so it really makes the barrier and access pretty easy. So what we will do in a session as we get to know that patient, what is it like their lived experience? What did they enjoy? What did they love, if you love cookies, awesome, we will make sure you never go a day without a cookie. We want to make sure that we're building a good solid foundation, and slowly finding ways for you to enjoy food that supports your physical and your mental health. So that's truly what it's like to work with a dietitian. And with patients that are struggling with depression or anxiety, we want to look at, well, how is our nutrient timing. So if we're going more than three to four hours without nutrition, or food, that has a huge impact on our blood sugar, which impacts our brain chemistry. If we're not getting enough water, our cognitive reasoning abilities go down by like 70%. So we really want to make sure that just some basic stuff is being addressed.
Gordon Brewer
Yeah. And I know, I know, one of the things that you had, at least I saw on your information sheet. I think a lot of people, there's so much of the diet culture that's out here right now. And just helping people navigate bad. You want to say something about those things?
Adrien Paczosa
Oh, yeah. It's so funny. You bring that up. I was actually at a provider's office the other day, and just meeting some providers that refer to us. And it was just funny because they're like, Okay, what do you think about keto? What do you think about athletic greens? What do you think about this? Because we're inundated with nutrition, marketing, and through social media through media all the time, and people don't know is this a good idea? And what, what should I be doing this? Yeah, because you trician is so individualized. And so there will always be the diet industry is a multibillion dollar industry. And so it'll always be there. And it's, it's hard because 95% of the time, it's just a whole bunch of hooey. And it really affects people's mental health. We see. We see that in the research of how Instagram finally is getting rid of some of the stuff around eating disorders and stuff on Insta Grand but it's there. It really affects people's overall thoughts and approach to food. But the day industry is crap.
Gordon Brewer
Okay. Yeah. It's funny you mentioned that because I've recently started listening to another podcast that somebody had recommended to me just thought I might be interested as called maintenance. Oh, yeah. Yeah, yeah. So that was, I've been kind of listening to them this week. And that's just been fascinating. Just a lot of a lot of the myths around different dieting things and fitness crazes and stuff I was there. One of their most recent episodes was about the this whole thing. And I've got a Fitbit but the whole 10,000 steps about how that's just kind of an arbitrary thing that really, marketers came up with the try to promote their products.
Adrien Paczosa
Yeah. 100% Oh, you should listen to the one about the BMI. Oh, it's so good.
Gordon Brewer
Oh, okay. Yeah. Okay. I'll put that on my queue next.
Adrien Paczosa
Yeah, that's a great one. Because what I appreciate about it is the look at the research and debunk it. And that's the hard part is research, you can make anything or whoever pays for the research make it look amazing and touted as the new thing. And so that's what I love about dieticians is we go back to biochemistry like, Okay, how does your body actually use food, and every body is different. And so let's try this out. And if we can get some lab work, or tests, we can know even better how it will work for your body as opposed to mass ideas or recommendations.
Gordon Brewer
Right, right. Yeah. And so when somebody typically works with a dietician, what can they expect? I mean, you know, we all have, at least in our field with mental health we get out of Canada. Okay, this is what a typical session looks like this is kinds of things we work on. So what does it look like on the diet, diet? dietitian side, the nutritional side?
Adrien Paczosa
It's really great with mental health people I say it's exactly like meeting with a mental health provider, but every time you talk about an emotion substituted for food, so it is a lot of talking about nutrition coming up with let's try this. Next time you're in this situation, how about we try that? So we use a lot of the same skills and DBT? Or art, those type of things? CBT? So a lot of those same techniques, but
Gordon Brewer
with food. Right? Right. Yeah, that makes sense. So tell. Tell folks, I know we're jumping around a little bit here, Adrian, but tell folks a little bit about how you got into this into Nutrish. And, and what that's all about?
Adrien Paczosa
Yeah, so about a year and a half ago, was plugging along had a large group practice in Central Texas, we had in person virtually, we're just plugging along was doing great. And I got a random email. So that isn't one of my faults, as being the owner is I will answer every email that came into my inbox. And so if somebody wanted to learn about nutrition or want to learn about the nutrition industry, I would I would answer anything. And since I got approached in the group wanting to know, you seem to have a really great handle the nutrition world, we'd love to learn more. And so set up a couple of phone calls, because they were seeing that nutrition was going to be the next big wave, like mental health was for telehealth. So I was like, okay, cool. I'll talk to anybody. And it was just great conversations. And they were like, Oh, well, do you know anybody that would want to partner and I was thinking of older providers and nutrition that went to sell their businesses and retire? And they're like, Oh, how about you? And I was like, me, little me. Like, why don't like it never even crossed my mind of taking the business to larger and I just thought it was such a shock. That was like, like, Yes, I don't know what that means. But sure. And so what that turned into in the past year and a half is we went from about 15 providers, and we're now over 100 providers, and it takes an army. We have a lot of support team. We have a lot we have technology and engineers and it's just been absolutely wonderful because my mission and vision has always been create better access to care. And that's why we've always accepted insurance why we've always wanted to find a easier way for patients to come and see us and And so my little mission and vision heart is just like bursting with joy because we've continued to live those values of how can we create better access to care, inclusive care, really coming at it from a non diet weight and inclusive approach. So it really hopefully will take down that stigma and barriers to care.
Gordon Brewer
Right. Right. I love I love that. Yeah. So what another question that just kind of came to mind for me. And just thinking about the platform that you've created and working with, with it's kind of almost like, dare I say, like, BetterHelp. But for the nutritional world? Yeah, exactly. Exactly.
Adrien Paczosa
Like talkspace. Or I forget all, there's so many in the mental health world. Yeah, we're trying to kind of do that for dietitians that have like the humans behind it, and really working on that side. So 100%. And it's so interesting is, I can't even tell you guys, how many times in our dietitian community like Oh, you guys know, a therapist that specializes in depression in Washington. Does anybody know a therapist in Arizona? And so because we don't know all of y'all yet, like that is a huge continued ask of all of our providers is we need to know everybody.
Gordon Brewer
Right? Right. Well, if somebody is looking for a dietitian, how what, what would they what would they want to look for? I mean, think about, you know, somebody's finding a therapist, that's a good fit, how would they know a dietitian is a good fit
Adrien Paczosa
about the same thing. So of course, you want to make sure it's a registered dietician. So having that rd, and then each state some states do have licensures, other states don't. So depending on the state that you are, some of the dietitians will be licensed or not. And then depending on what might be going on, so some dietitians do specialize in eating disorders, and might have more certifications, some might specialize in diabetes and be a diabetes educator. So if you have something very specific, you would want to look for that. But then also, with a therapist, like, do you want to test them out? See if your personalities match. And so I think that's also part of the process, and that we definitely support it nourishes, we want to make sure that this is a good working relationship.
Gordon Brewer
Yes, yes. Are there any restrictions about licensure or crossing state lines? That kind of thing? I know, that's been a big issue, particularly with you know, now that we're, hopefully we can say we're out of COVID. But you know, it's still around. But I mean, what, when we all switch to telehealth? That was one of the concerns is that for most people in the mental health field, you're really not supposed to see or work with somebody that's outside your state your license? And
Adrien Paczosa
yeah, great question. So dietitian license is not heroin, I say this, some states are stricter than others. So to give you an example, California doesn't license their dieticians. So that means any dietitian in the country can see patients in California. And Texas, we do have a licensure law. And so anybody that sees something in Texas has to be licensed. So it's different from state to state. And so what we do at nourish, is we first we want the dietician, wherever they live, they'll have their license. So if somebody's coming in from Iowa, I was a licensed state, we want to match that patient up with that provider that's licensed in that same state. And we are working on getting our dietitians licensed in all their states. It just it takes time.
Gordon Brewer
No, yeah, yeah. Well, that's this is fascinating stuff. And Adrian, I want to be respectful of your time. So tell folks how they can get in touch with you and find out more if they're interested in all of this.
Adrien Paczosa
Yeah, well just head over to our website. It's used Nourished up calm or on all the social channels that use nourish. And if you want to learn more about how we can refer to you because we meet therapists, please don't hesitate to reach out and shoot me an email Adrian at US nourish. I would love to connect with you guys. Any way we can. Because I think collaborative care is just so key to really having patient success.
Gordon Brewer
Right. Right. Absolutely. It's the coordination of care piece has become much more important. Exactly. Yeah, sure, as well. We'll have links in the show notes and the show summaries for folks to find all of this easily. And Adrian, I'm so glad we get to Meet and I'm glad you were part of this journey with us
Adrien Paczosa
oh thank you this has been so much fun
Unknown Speaker
okay
Being transparent… Some of the resources below use affiliate links which simply means we receive a commission if you purchase using the links, at no extra cost to you. Thanks for using the links!
Adrien Paczosa's Resources
Resources
Meet Gordon Brewer, MEd, LMFT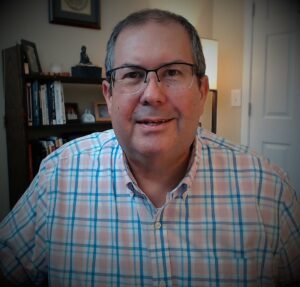 Gordon is the person behind The Practice of Therapy Podcast & Blog. He is also President and Founder of Kingsport Counseling Associates, PLLC. He is a therapist, consultant, business mentor, trainer, and writer. PLEASE Subscribe to The Practice of Therapy Podcast wherever you listen to it. Follow us on Instagram @tpotpodcast, and "Like" us on Facebook.