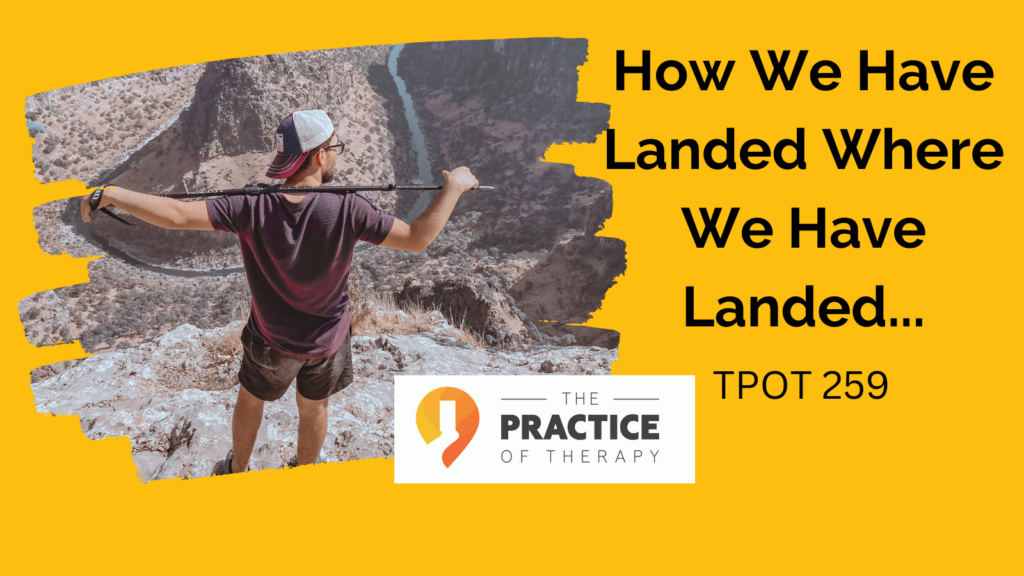 In this episode, Gordon does something he usually does with his guests. He asks the questions, "What is your story? And how did you land where you have landed? Gordon shares his own private practice story and how he got started with the Practice of Therapy. And with this being the last episode of 2022, Gordon reflects back on the year and some of the changes and new things happening in his practice and with the Practice of Therapy. He talks about starting the PsychCraft Network and the Practice Launch Club. He highlights the importance of community and his mission to help people connect and find support.
How We Got To Where We Are Now
As we approach another year end, it is only natural to want to reflect back on the year. There have been a lot of great changes and additions for the Practice of Therapy. And this has been an ongoing transition over several years.
Gordon started into private practice around 2006. He had been working for a non-profit organization that provided mental health and in-home services for at risk children and youth. He began working for Youth Villages in 2002 and quickly worked his way from being a front-line in-home counselor, then supervisor and later a clinical consultant. As a consultant he supervised several teams of counselors reviewing treatment plans and providing supervision to the clinical side of the organization.
After some discernment and recognizing his family needs, Gordon moved into part time private practice in the context of his church, starting a counseling ministry. At same time he took a position within the National Episcopal Church as coordinator of Episcopal Appalachian Ministries. As he continued to grow is private practice, he eventually moved out of the church setting.
In 2014 Gordon started his group practice by bringing on a pre-licensed clinician he was supervising. As their caseloads grew, he then added an additional contract therapist. His practice, Kingsport Counseling Associates, PLLC, eventually out grew their space, and he purchased a building in which the office is now housed.
Gordon's practice now employs 6 clinicians and 1 support staff in Kingsport, TN. They serve a broad range of niches in a small metropolitan area surrounded by a large rural community.
The Practice of Therapy Starts
In 2016, Gordon started The Practice of Therapy as a blog to start sharing what he was learning about being in private practice. When Gordon first started into private practice there were very few resources available. And he was starting to get a lot of clinicians asking him about resources and how to go into private practice. It was from this that The Practice of Therapy was born.
In 2017, Gordon started the podcast as a way to have greater reach with this emerging medium. There were only a handful of people with podcasts in this niche at the time. Since starting the podcast, it has grown to now getting a little over 6000 downloads a month and over 250,000 total downloads so far.
What Has Happened in 2022
In this past year, there have been a lot of new things to happen. First there is the start of the Practice Launch Club. It's an exclusive membership community for those folks that are in those beginning stages of private practice. And secondly, the PsychCraft Network of podcasts was started. It currently has 7 different independent podcasts in this private practice building space.
Plans for 2023
One of the big themes for Gordon in 2022 has been community. And with this thought and purpose in mind, this will be the ongoing theme for The Practice of Therapy in 2023. The Practice of Therapy Community has moved from being a Facebook Group to being housed on the Circle Platform. The main reason for this switch was to get away from the control of the social media algorithms and just have a more intimate experience.
The Practice of Therapy's goals for 2023:
Continue weekly podcast episodes with quality and expert guests in the private practice space and to bring top notch resources to the listeners.
Continue to expand the PsychCraft Network in order to cross-promote other quality podcasts and consultants in this private practice space.
Provide opportunities for community building and networking for the Practice of Therapy audience. We'll do this through the Practice Launch Club and the Group Practice Launch Club (more to come on this!).
We'll be continuing to develop training opportunities and online course materials on the Teachable platform.
We'll also continue adding to our digital products on Gumroad.
And, we will continue to provide individual consulting for those folks that would like more intensity and focused support.
Conclusion
The Practice of Therapy is all about providing support and community. Gordon has learned a lot about private practice over the years. Most of what he has learned he had to learn "the hard way" through trial and error. He doesn't think others should have to do the same. In the coming year, the Practice of Therapy is dedicated to help clinicians get the resources and support they need to have successful and sustainable practices.
Gordon (00:54):
A little over 15 years ago when I started my private practice, I had to learn a lot and most of it the hard way, and I don't think you need to do the same. Hi, I'm Gordon Brewer, a licensed psychotherapist, and welcome to the Practice of Therapy Podcast, part of the Site Craft, network of podcast. Join me in this journey of discovery as we have conversations with other leaders and professionals in both the mental and allied health fields. Join us as we explore both the business and clinical sides of running a private practice.
(01:42):
Hello everyone. This is episode number 2 59 of The Practice of Therapy Podcast. I'm Gordon Brewer. Glad you're with me. Glad you're tuning in and listening to the, this particular episode. And this happens to be the last episode of 2022. Um, hard to believe that I'm saying that already. It just seems like, and I say this every year, is that this seems like this, this, um, year has flown by, and I know for sure December, excuse me, November and December just seemed like they were just a whirlwind. They just seemed like short months for some reason. Uh, but anyway, glad you're with me on this particular episode. You know what my idea for this particular episode was to really do something that I don't think that I've done before and, um, just ask some of the questions that I asked my guest. The the big one being is, is that tell us your story and how you've landed where you've landed.
(02:43):
So in this episode, I'm gonna kind of tell you my story, um, how I've landed where I've landed, and also maybe a little bit of the background behind the practice of therapy and the podcast. And also with it being towards the end of the year, or being the end of the year, the last episode of, of 2022. Wanted to share with you some of the things that have happened over this past year that I'm excited about, and that are hopefully maybe some opportunities for you and maybe just some ways in which you can get support for me, not only through the podcast, but also just through some consulting and memberships and membership communities and that sort of thing. And so I wanna spend a little bit of time talking about this, these things in this particular episode. So stay tuned as we go into those things. Um, and before we get to, um, my, uh, reflection on the year and just kind of telling you my telling you more about myself and my story, I'd love for you to hear from our sponsor of the Podcast Therapy Notes.
Speaker 3 (03:52):
As your practice grows, the systems and processes you have in place, we'll keep your practice running smoothly. That is why it is important to have an electronic health record system that is specific to mental Health providers. Therapy Notes is a complete practice management system with everything you need to manage patient records, schedule appointments, meet with patients remotely, create rich documentation and bill insurance right at your fingertips. Their Streamline software is accessible wherever and whenever you need it. They're who Gordon uses in his practice. And did I mention that they are one of the top rated EHRs for mental health private practices? Their support is also second to none. Be sure to check them out@practiceoftherapy.com slash therapy notes. Be sure to use the promo code Gordon to get two months free.
Gordon (04:57):
You know, one of the things about doing this podcast that, um, and I've said this several times, is that I get to have just meaningful conversations with a lot of great people. And, um, you know, I really consider it a privilege to be able to do this and, um, hope to continue doing this, uh, for several years to come. Um, you know, one of the things, uh, not to give too much away is, is that I'm in those years where I'm already thinking about retirement. And, um, but I hope to be able to keep this podcast going for some time. And, um, at least the feedback that I'm getting from people, Liz, is that they find the podcast helpful. Um, you know, and the numbers kind of speak for themselves with this podcast. Um, it's not a huge podcast when it comes compared to some of the others out there that maybe are more mainline, but in our niche of being private practice owners or in the mental health space, I feel like we're doing pretty well.
(05:58):
We're averaging close to 6,000 downloads a month. Um, so, um, that tells me that, um, this information hopefully is helpful for people. But one of the things that I, I realized I've, I've not done, and I ask my guests about this all the time, I ask the question, that's kind of my standard beginning question. Does this tell us more about yourself and how you've landed where you've landed? And so I don't know that I've shared that much on this podcast, but before now, but, uh, here it goes. I'm gonna kind of tell you my story and, um, also share with you here in this episode, just some of the things that I'm excited about and kind of some things that have changed for me and the practice of therapy over this past year that, again, things that I'm excited about. Um, you know, I think change is good and, um, when if we're not changing, we're not really growing.
(06:55):
So, uh, wanna let you know about some of the changes and things that are, that are on the, on the horizon with the practice of therapy. But, um, you know, I started the practice of therapy back in 2000, 2016. That's hard to believe now. But, um, you know, I started it really just as a blog, just as a way to kinda share what I've learned about being in private practice over the, over the span of time. You know, at that particular time, I think I had been in private practice for about 10 years, and, um, I had really learned a lot of stuff, as I like to say, the hard way. When I first went into private practice back in 2006, uh, there wasn't the number of podcasts. There wasn't the number of people that were in private practice, or at least you didn't hear about it.
(07:52):
And there weren't as many resources around how to start a private practice. You know, fortunately, or maybe unfortunately, or whatever, there is just a plethora of information out there. A lot of great people that are sharing their knowledge about being in private practices and starting private practices. Um, and, uh, a lot of those folks are good friends of mine. And so, uh, we, one of the things I've learned in being in this space of doing private practice consulting and podcasting and that kind of thing, is that the majority of the people, other people that are doing this, are very collaborative and we want to help each other out. And so anyway, I started the practice of therapy with the, with the whole goal of just sharing resources and helping people find the knowledge that they need to understand the business and clinicals, the, mainly the business side of private practice, but also share in the clinical knowledge of things.
(08:54):
And so that was my purpose, and it's still my kind of, my ultimate mission is to help people learn what they need to learn about how to be in private practice, particularly the things that we didn't learn in graduate school. And so I'm doing that mainly now through the podcast. The podcast I started about a year after I began the practice of therapy, the blog, I realized that podcasting was really a way to reach more people. And that podcasting is just really, uh, taken off in the last few years. There are some, there are millions of podcasts now, but when I first started it, they were probably not that many. So I've, I managed to stick it out. Here we are at 200 and almost 260 episodes, um, which that's a lot of podcasting under the belt. But anyway, I'm passionate about podcasting. I listen to a lot of great podcasts and listen to other private practice podcasters, and I'm gonna tell you more about how that kind of evolved here later on.
(10:01):
But one of the things that, um, I've also done over the, over the last several years with my, um, practice and the practice of therapy, is that I've really learned a lot more about how to put systems and processes in place to make things run smoothly. I started my group practice in earnest, I guess in around 2014. That's when I formed Kingsport Counseling Associates, um, located in northeast Tennessee. You might be able to detect a little bit of an accent here, uh, northeast Tennessee, up where Tennessee and Virginia and Kentucky and North Carolina cut all, all touch. But we're part of the Tri-Cities area. King Sport, Johnson City and Bristol are part of this regional, kind of small metropolitan area. And what's unique about the niche or the area that we serve is that we're a, as I mentioned, a small metropolitan area surrounded by a large, rural, rural area that is part of the Appalachian Mountains.
(11:09):
Um, I'm really fortunate in where I live in that I'm really in a very beautiful part of the country. Um, the thing about it is, though, within the Appalachian culture, there's also a lot of poverty. And, um, when I started my pri started my private practice, I had been working for an agency, and I'll give a shout out to the agency, um, that I worked for, it's called Youth Villages. It's a non-profit, uh, agency that works mainly with at risk children and youth. And I started with them back in 2001 right after I graduated from graduate school with my master's in Marriage and Family Therapy. And, um, I learned so much from that job. I kind of moved my way up the ranks of that organization. And when I left there, or resigned or retired from there, maybe as a way to say it, I was a clinical consultant with them and worked with teams of counselor on the clinical side of things and helping them develop their treatment plans and, um, how they were gonna help their, the families.
(12:20):
Uh, youth Villages provides both, uh, they have some residential programs in, in west Tennessee, but also their biggest program is their, what they refer to as the Intercept program. And it is intensive in-home therapy. And at the time that I started working with them, they were using, uh, MST multi-systemic therapy. And I know there are a lot of organizations that use that. And so it's a very specific form of in-home therapy that is really designed specifically for working with at risk youth. And so I was a, a supervisor with Youth Villages, and then later a clinical consultant. And really during that period when I was working there, felt like they were doing great work. But as many people know, working for an agency can really quickly lead to burnout, particularly if you have a family, if you are, um, um, you know, working a lot of hours and spending a lot of time on your cases and being on call and all of those kinds of things.
(13:26):
I knew that that, for me personally, was not sustainable. So that's when I began looking into going into private practice, which going into private practice had always been a dream kind of in the back of my, in the back of my mind, in the back of my head. And so I really started looking at how I was going to do that. And, um, as I, as I began to build my, my private practice, I started out mainly just working in the evenings and a weekend, seeing clients, just carrying a small caseload of clients. And what happened was that that quickly grew for me. I really, my name was starting to get out there within the community. I built a website, um, back during the days when not many therapists in private practice had, we had websites. So I built a website on my own and learned how to do all of that kind of thing.
(14:24):
And, um, my practice started to grow. And so I was at a turning point. And one of, one of the other things that I've shared on this, um, on the podcast here is one of the other hats that I wear is I also happen to be a clergy person in the Episcopal church. And so in 2009, I had become ordained in the Episcopal church as a deacon. I'm a vocational deacon, which is, is, uh, considered a clergy position within that tradition. And the, the ministry of a deacon is really in the world. Um, I'm assigned to a parish and I do my kind of my Sunday duties, and I preach some and do all those kinda traditional churchy kinds of things. But my main ministry really has evolved into my practice. Um, I'm not, don't consider myself or consider our practice a faith based practice, but I really consider it kind of faith formed.
(15:25):
And I tell my clients that, um, if those are ever things they want to talk about or delve into, I'm happy to do those things, but I don't have a religious agenda with my practice. So, um, anyway, that's, that's kind of how my practice got started. And then in 2009, after, uh, was really at that turning point where I, I had recently become recently ordained and I, in my church, and, um, also was really looking at, I was at that pivotal point where I needed to either cut back on the number of private clients I was seeing or go into at Four Force. And I knew too, just with the timing of things, my daughter was getting ready to go into high school. She was in the band, she was going to be, um, doing a lot of traveling with the band. The, um, here in Kingsport we have the Dins Bennett, uh, band, and they are, uh, for those folks that might be band folks, you might have heard of them, they're a pretty large band.
(16:28):
Uh, they, they, it's like 400 members in the band. So it's a quite a, um, quite a quite a thing with the Dins Bennett Band. And they do a lot of competitions. And, um, through my, you know, not to get too far off on a sidetrack, but my daughter was really fortunate in that she got to go to the Macy's parade, was in the Rose Bowl parade. She also marched in the second inaugural parade, uh, for when, uh, president Obama was elected the second time. And, um, so I got to go on a lot of those trips. And so it was a lot of fun and a lot of it was just a blast and being able to do those things. So my starting my private practice kind of coincided with that timeline. And it turned out that part of the way that I was able to move into private practice and feel more secure in my practice was I also, um, got, was employed by the church, by the Episcopal Church, the National Episcopal Church, as the coordinator for Episcopal Appalachian Ministries.
(17:35):
Um, they're no longer in existence, but their main focus was just helping, uh, meet the needs that are unique to the Appalachian region and folks that are kind of embedded in the Appalachian culture. Um, you know, the Appalachian Mountains really actually run, most people don't know this from northern Mississippi all the way up into Maine. And so it's a large geographic area and, um, has a very specific culture in a lot of areas. And so, um, and there's also a lot of poverty in the region, uh, particularly in the coal fields of, of Southwest Virginia and Eastern Kentucky and West Virginia. Um, and so a lot of what I did in that ministry was just addressing some of those issues, being an advocate and helping people find resources. But at the same time that I was doing that, I was building my practice. And, um, as my practice grew, I really, again, I was reaching that tipping point where I no longer could do two part-time jobs and really needed to move into my practice full-time.
(18:40):
And that was also the point at which I, um, really started thinking about a group practice. Um, the other thing that happened in my life during that, during that period around 2010, uh, my wife was diagnosed with breast cancer, and, uh, she is quite the survivor, but we'd been through a lot of ups and downs with her health issues. Uh, she had a metastasis to the brain, and that was really life changing for all of us in our family. My wife now is disabled and is in a wheelchair, and I have caregivers with her, but that's, I just share that, not to get sympathy or anything like that, but just to let you know that that's part of my story. Um, and that that's a big part of, you know, kind of what I, why I do what I do, uh, in being ab being a helper and, and a caregiver and all of that sort of thing.
(19:36):
So, um, fast forward, I started my group practice in 2014, and that was the point at which I was making my exit from Episcopal Appalachian Ministries. And the really, the way that I started my group practice was I had a person that I was supervising for licensure. I'm a A M F T approved supervisor. And so I was supervising, um, Amy, um, who joined me in my practice. And so we were sharing an office space and really just kinda splitting the cost of the office and kinda grew from there. Um, my next step was to take on some contractors, and I learned a lot through that experience. I won't go into all of it there, but one of the things that I did, one of the mistakes I made in having contractors is, is that I didn't really know my numbers well. And so that's a theme that you hear from me a lot here on the podcast, is the importance of knowing your numbers and being able to be aware of that.
(20:39):
And that's one of the reasons that I started, um, and put together the Money Matters and Private Practice course, um, which, um, I've partnered with Julie Harris on, on part of that course, uh, but that's there to teach people the financial side of private practice. Uh, again, stuff I had to learn. And so I just really felt like it was important to share what I had learned and really put that course out there. So that's available, um, still available with, um, the Practice of Therapy Resources. The other thing that happened was, is that when I was growing my practice, I really realized that I needed to have better systems and processes in place, and particularly with contractors and then later employees, um, I really realized that I needed to have things run more smoothly and more automatic. And so that's when I really started looking at the tools of Google Workspace.
(21:40):
It was called, uh, um, goo G Suite back then. And so I looked at how I was gonna integrate that with my practice, mainly around email. Um, I needed a HIPAA secure email system. Uh, also wanted to have an email that used the URL from my practice, kingsport counseling.com. And so I stumbled upon, uh, again, Google Workspace and started learning about that and how to make it HIPAA secure and all the tools that are involved in that. And so that's when I created the course on using Google Workspace. And it's Google Workspace, uh, for therapist, and it's still available. Um, and so again, you can go to practice a therapy.com and find out more about that and all the other courses that I've put together there. And so, um, as I've grown the practice of therapy, there's been a lot of parallels between what I'm learning in my own practice and, uh, what I wanted to share with others.
(22:43):
And so that's how the practice of therapy has grown over the years and why I started the podcast in that I was learning a lot of stuff about running a practice and getting a lot of experience in some of the dos and don'ts of all of that. And so again, fast forward to, we made it through the Covid Pandemic, um, a lot of big shifts there, like it was for everybody, and being able to, um, move into telehealth and know how to do that and learning again from that, that whole process of putting those systems in place. And, um, in 2017, I had grown to the place where I needed to get a new space, and, uh, so I stumbled upon this old or um, uh, uh, dentist office that the building was for sale. And again, it was something that just kinda landed in my lap.
(23:39):
But anyway, I ended up buying the building. And so that was a huge win for me at that point in my life. And so we moved the practice to its own building in which I was the owner. And, um, again, just share that, not to in a bragging way, but really helping you kind of see some of the possibilities out there in growing your practice. If you grow it, you can, um, do things like becoming a property owner rather than, than leasing, um, your office space. So anyway, did that then, um, I kind of backtracked there with just talking about the building, and then of course, in 2020 we, we hit the Covid Pandemic. And so everything changed with the way we did our practice like it has for most everybody else. And, um, so fast forward to where we are today to 2022. One of the things that I realized that was missing as a, as a result of the, the Covid Pandemic was that, um, I really needed, needed community.
(24:46):
And that's something that I have learned through my growing my practice, but also growing the practice of therapy, is that it's not something that I could do very well alone. And also, one of the things that I've learned, the, the hard way is, is that I have done too much on my own. And so I needed some support and needed a community to help me with all of this. And so, as I thought about this and in working with some of my colleagues, I big shout out to Uriah and Jessica Whitney. We're in a mastermind group together, Jessica Tap with, um, simplified SEO and Ry Gilford with the productive therapist. And then Whitney Owens with Whitney Owens Consulting and the New Wise Practice podcast, shout out for that. Um, it started just a few weeks ago as I'm recording this, um, meet with them regularly and through their encouragement and also through the encouragement of my good friend Dr.
(25:49):
David Hall, who we meet regularly. He's one of those trusted colleagues where we share our, what's going on in our practices, but also, uh, not only in our practices but also is going in our consulting businesses. Um, we were, we did a lot of stuff. We're doing a lot of stuff and just sharing ideas and sharing resources and that sort of thing. But anyway, where, where I'm going with this is I realized that one of the things that was missing within this whole private practice space was the need for, um, community and having a way to have a community, particularly for those folks that are just getting started in private practice. And so that's why I started the Practice Launch Club was a way for people to be able to connect online and also be able to meet with me, um, two times a month to talk about their practices, do some consulting in a group setting, and then also be able to interact with each other, um, between meetings through our, um, I discovered the Circle platform, I'll tell you a little more about that here in a minute, but Discovered, discovered the Circle platform and, um, have been real excited about that particular tool.
(27:12):
So back earlier this year, I started the Practice Launch Club and, uh, you can find out more about that by going to practice a therapy.com/launch club. And also just here's a heads up and I'm gonna put a plug in for this. If you're on my email list, you will have gotten some information about this. But, um, I, through the end of the month of December, through the end of the, this year 2022, I'm re, I'm opening the cart again for something similar to what I did to the, for the founding members. So, uh, from from now until the end of this year, you can join the Practice Launch Club, uh, for just $59 a month, which is a pretty good deal when you think about all that you get with that, you get your twice a month meetings with me and the other people in the group.
(28:07):
You get access to a library of resources and paperwork packets and all those kinds of things. Also lessons, individual lessons that I've put together just on different aspects of putting together a practice. So if you're interested in that, check it out. And if you wanna take advantage of the discount when you go to the checkout to join the membership, you can use the code P C 22. So, uh, just put in a plug for that here, and there'll be links here in the show notes and the show summaries. They can find out more about that. But the other thing that I wanted to share with you that I did, one, one of the things that happened, uh, has happened over the last few years, particularly through the Covid Pandemic and so many people enrolling in courses and that sort of thing. I experienced just a lot of growth and, um, I was getting lots and lots of feedback from people about the podcast and really thinking about, okay, how can I connect with other podcasters in this space?
(29:14):
What can we do to collaborate with each other and support each other? And the light bulb went off in two things. One is I realized just a, financially I needed to separate the practice of therapy off into a separate entity. I've kind of held it under my practice, um, llc, which is Kingsport Counseling Associates. It's been operating under that umbrella. But I realized I needed to separate it out because eventually one day I'm, I'm gonna sell my practice. And so just wanted to make a cleaner break, but I didn't wanna, didn't wanna lose, uh, the practice of therapy in that, in that deal. So I started a second llc and it's called Psych Craft llc. And, um, as part of that, again, with the encouragement of some of my, um, colleagues who have just given me a lot of great feedback on the podcast, I decided to start a podcast network.
(30:17):
And so, um, again, earlier this fall, I launched the Psych Craft Network. Again, you can go toy craft network.com and find out about all of the other great podcasts in the network. And a quick shout out to all of them. So I think I can remember 'em all cuz we're up to about seven of 'em now. We have this podcast, the Practice of Therapy podcast. We got my other podcast. I didn't mention that, that I started back, um, the first of 2022, the Kindness and Compassion podcast, which is geared more towards the general public and just talking about topics around how we can live into more kindness and compassion our lives. We've got, um, the therapy show with Lisa Mustard, who is part of the network. We've got the Traveling Therapist, um, podcast with Kim Tollson. We've also got the Shrink Think podcast with a Aaron Ports and Nathan Hawkins got the Private Practice Elevation Podcast with, uh, Daniel Fava Daniel's been a good friend over the years and you're gonna hear more from Daniel in this coming year just with, uh, his company Private Practice Elevation, and you're gonna hear from some of the others as well.
(31:39):
We've got our newest podcast, which is the Wise Practice Podcast by Whitney Owens. And Whitney is, um, she is quite, she is one of my closest friends in this space, so be sure to check out her new podcast. Um, it's particularly geared for those folks that want to have faith-based practices or consider themselves faith-based based. Um, and, um, it's, it's a wonderful podcast and Whitney's got a lot of experience in podcasting just from her, um, previous podcast, which you might have heard of the Faith and Practice Podcast, um, which she went through some transitions and changes, uh, here earlier this year with that. But, um, anyway, I digress. Um, and then we've got the Thrival 1 0 1 podcast with, um, Melissa Tesson and Karen Dick, and they are, they round out, uh, part of our podcast network with making it truly international. They are located up in Win Winnipeg, Manitoba, and so they're our good friends to the north in Canada.
(32:48):
And then also a new podcast that's gonna be coming out here in just, um, probably might be even launching as this particular episode comes out is the Scaling Therapy Prod podcast with James Marlin and, um, Dr. David Hall. And so it's a, it's a great podcast and I'm looking forward to it coming out and the things that they're gonna be doing with that podcast. So be sure, check out all of these podcasts on the Site Craft Network and you can go find it aty craft network.com and you're gonna be hearing more and more about that network as we grow it and as we collaborate on things. Um, we're sharing a lot across promoting a lot of our resources, um, that are out there for, for practice owners and plus, um, a lot of great podcasts as well. They're really, we've got kind of different niches and different things that we talk about, but all of them are just great people and I'm really enjoying that community.
(33:52):
And speaking of community, that is kind of the thing I want to kind of close out here with. You know, one of the big themes that I I've noticed over this past past year for me personally is just the need for community. And I really depend on my close friends and my, my colleagues and all the people around me and helping me sustain my practice, but also the practice of therapy and then even my local friends here and just helping me navigate, um, having a disabled wife and caregivers and all of that kind of thing is so important to me. And so community is something that I really need in my life. And so I'm grateful to all of those people and again, that is one of the reasons why I switched over to the Circle platform in that I have more control over the communities that I interact with.
(34:52):
I really wanted to get off of, uh, social media and Facebook and all of that sort of thing just because we don't have much control over. But if you'll go over to practice of therapy.com/community, I've got a free community there, uh, that I've started on that platform for anyone that wants to join that community. And again, it's a way that you can interact with other people, ask questions, put stuff out there, share things that you wanna share much like you would in a Facebook group, but more people are gonna see it there because we've got more control over that. We're not having to depend on the Facebook algorithms and all, all of that sort of thing. So be sure and check it out practice of therapy.com/community. And you can, you can join me there and love to have you there. I'm gonna be, I do have the Practice of Therapy Community on Facebook, but I'm gonna be closing that group, probably be the by the end of this year, um, just, just because I'm not able to devote the attention to it that I'd like to.
(36:06):
And I'm really focusing more on the practice, um, the practice of Therapy community located on the Circle platform. Plus it's where I house the other communities that I'm involved in that I've started here with the practice of therapy and I want you to be able to, um, to just be, have different kind of access there. So that was a lot to share in this particular episode, this final episode of 2022. Um, the things that I wanna mention to you here is that I would love to get your feedback on ways in which I can be more helpful to you in your journey. Um, one thing that I'm realizing that I'm probably gonna be launching here in 2023 is a similar community to the Practice Launch Club, but one that is geared more to group practices, um, for people that are making that transition from, um, solo practice to group practice.
(37:09):
In fact, uh, again, mentioning courses earlier. I've got a course out there that I did along with my colleague Dr. David Hall called the Group Practice Outfitter, and that's still available. Again, you can go to practice of therapy.com and find a, a link there or a button there to get access all the courses that I've got available. But that, um, that particular course is a very intensive course on how you make that move from a solo practice to a group practice. And, uh, we've got a webinar, hopefully it'll be up again, an automated webinar that kind of introduces some of the concepts around that. Um, but anyway, reach out to me and let me know how I can be of help and support to you, um, in your journey in this whole private practice space. And again, I'm really thankful for you all. I've had so many great people reach out to me and, um, share their stories with me.
(38:07):
And I'll mention here, if you feel like you've got, uh, some of your story that you would want to share about being in private practice, I'd love to have you as a guest here on the podcast. So check us out by going to practice of therapy.com and if you click on the link where it just says podcasts, um, you'll see, uh, a link on that page that you can, um, apply to be on the podcast. I'd love to maybe potentially have you as a guest. So, um, thanks for joining me on this podcast. Thanks for being with me on this journey and, um, looking forward to being around you and interacting with you in 2023. Um, I'm going to be, um, oh, here's, uh, a few, uh, looks ahead. I'm planning on going to London with my good friend Ernesto Beto, um, in his summit that he's holding in London in September of 2023.
(39:10):
And also I will be at the summit that Whitney Owens is gonna be hosting in October, which is, um, a Faith and Practice summit. And she is, uh, the Wise Practice Summit rather. I need to get my names right, but planning on being at those two live events and hopefully some others. And also I've got some plans for doing some of my own live events. So, um, if you haven't done so already, be sure and go to practice of therapy.com and um, get the free Private Practice Startup guide and that'll put you on my email list and you'll get to find out about those things that are coming up in the future. So have I shared enough with you already? Thanks for being with me folks, and I'm glad you're with me. Uh, do take time to follow me wherever you might be listening to this.
(40:03):
Um, whether you're on Spotify or Apple Podcasts or wherever you might listen to your podcasts, um, just click the follow button and also click on the, um, leave us a review and click, uh, give us a star or two, um, to let me know what you think of the podcast. I love getting honest feedback, so take care folks. Happy New Year if I don't talk to you, if I don't hear from folks before then. Um, and thanks for being with me in 2022 and in this whole journey. Take care of folks and happy holidays. I didn't mention that at the beginning. Have a great, if you're celebrating Christmas or Hanukkah or any of the other kind of traditional holidays during this season, hope you have a warm and wonderful holiday season. Take care folks.
(41:02):
You have been listening to the Practice of Therapy podcast with Gordon Brewer, part of the Site Craft Network of Podcasts. You can find out more about the other great podcast in the network by visiting site craft network.com. And if you haven't done so already, please visit us@practiceoftherapy.com and get your free private practice startup guide along with a lot of other great resources and webinars and free things just by visiting. Also, be sure to follow us wherever you might be listening to your podcast. This podcast is intended to be educational and purpose and is not intended to give legal, accounting or counseling advice. If you need a professional, find the right person for the.
Being transparent… Some of the resources below use affiliate links which simply means we receive a commission if you purchase using the links, at no extra cost to you. Thanks for using the links!
Resources
Meet Gordon Brewer, MEd, LMFT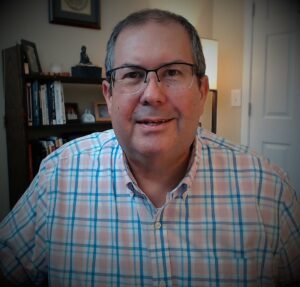 Gordon is the person behind The Practice of Therapy Podcast & Blog. He is also President and Founder of Kingsport Counseling Associates, PLLC. He is a therapist, consultant, business mentor, trainer, and writer. PLEASE Subscribe to The Practice of Therapy Podcast wherever you listen to it. Follow us on Instagram @tpotpodcast, and "Like" us on Facebook.