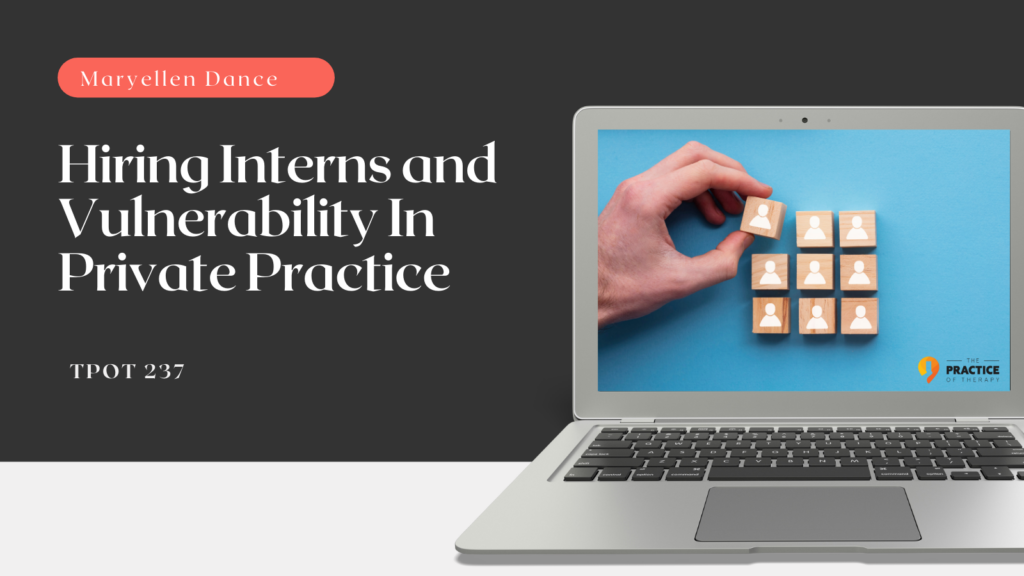 In this episode, Maryellen Dance speaks about all the obstacles she had to overcome to succeed in private practice and, eventually, her group practice. From figuring out how to ask people for money to worrying about having enough clients for her clinicians, Maryellen has navigated it all! Then, Maryellen dives into the benefits of hiring an intern for your practice and the importance of having relationships with nearby graduate programs. Tune in as we chat about the inspiration behind Maryellen's OKAY-ISH Podcast and why therapists shouldn't be afraid to be vulnerable.
Meet Maryellen Dance
Maryellen received her Bachelor of Science degree from Brockport State University of New York in 2011 in psychology and health science. Maryellen then graduated from Medialle College with her Master's degree in Mental Health Counseling in 2014. She later received her New York State License in Mental Health Counseling (LMHC) in 2015. Maryellen was trained in Eye Movement Desensitization and Reprocessing Therapy (EMDR) in 2018.
Maryellen has worked in CASAC substance abuse counseling facilities, domestic violence facilities, hospitals, and mental health clinics. Maryellen has worked with both children and adults. Maryellen has been a psychology professor at Nazareth College since 2018 and has owned a private therapy practice since 2017.
Overcoming Challenges and Obstacles In Private Practice
Initially, the biggest challenge Maryellen had to overcome in private practice was asking people for money. She wasn't sure how she would do her work or build a business because of her fears of asking others for money. After overcoming that challenge, Maryellen had to figure out what to do with the therapists she hired. She would worry about giving them enough clients. Suddenly, Maryellen had therapists who depended on her, so that was a huge mental challenge to overcome. Luckily, Maryellen gives her therapists plenty of clients to work with. Now, Maryellen is now wondering how she can be the best and do the best work for her community.
Should You Hire An Intern For Your Group Practice?
Having interns is a blast! Maryellen loves having interns because they are excited and ready to learn. Plus, interns can be molded; they haven't learned bad habits yet. Maryellen has good relationships with grad programs in her area. She also has good relationships with their onsite school supervisors. These relationships have been valuable to Maryellen's group practice. Lastly, if a client sees an intern, you can offer a discounted price; this is appealing to people who want to have therapy but may not be able to afford it fully.
Don't Be Perfect; Be Okay-ish
Maryellen was successful in her private practice early. She got there because of her nice and friendly disposition. When Maryellen started to hire people, she wanted therapists who would be welcoming and have good customer service skills. Also, Maryellen keeps it real, and she wants the therapists in her practice to not be perfect but real. So, two years ago, Maryellen started the OKAY-ISH Podcast because toxic positivity and self-care were all over the place in society. She wanted people to know that you shouldn't be perfect. Instead, it would be best if you were okay-ish.
Self-Disclosure and Vulnerability As A Therapist
Therapy is changing, and there's a lot of discussion around self-disclosure in grad school. Being real with people and being yourself goes a long way with your clients. Plus, being real makes you a better clinician, and it's better for your business. The client-therapist relationship is unique, and there aren't any other relationships like it out there. That's another reason Maryellen started her podcast, to be vulnerable with people, including her clients if they choose to listen. OKAY-ISH is all about getting honest regarding mental health, therapy, and the show we call life.
Maryellen Dance
or button. Okay. Hi, I'm Marilyn dance. I am a licensed mental health counselor. I own a therapy practice in upstate New York. And I'm so excited to be on the practice of therapy podcast.
Gordon Brewer
Well, hello, everyone, and welcome again to the podcasts. And I'm really excited for you to get to hear from Mary Ellen dance and, and just the little bit of time we've chatted here at the beginning. She is a good one, I can tell you that. So. So Mary Ellen, welcome to the podcast.
Maryellen Dance
Thanks so much for having me. And thanks. Thanks for the endorsement.
Gordon Brewer
Yes, yes. So. So Mary Ellen, is a start with everyone. Why don't you tell folks a little bit more about yourself and how you've landed where you've landed in your private practice?
Maryellen Dance
Yeah, so it's been kind of interesting. And I always joke that I kind of accidentally started a private practice, and I accidentally hired people. So I worked in after grad school, I worked in clinics, I worked in hospitals, you know, kind of the the typical gamut. And I
Gordon Brewer
Whoops, that's okay. That's okay. They're welcome.
Maryellen Dance
And I, um, so I got a job. When I was 26 years old, I got a job as a manager at a clinic, I was a manager of a home and community based Services program, and I was managing 55 people. And I was in way over my head, I was miserable. I hated it. Again, I'm 26 years old, I didn't know what I was doing. When they hired me, the the company kind of, they had these ideas to like, mold me. And then I got there. And some things happened with the company that they just didn't have the time or capacity to mold me. And so six months into that job, they asked me to resign. Wow, yeah, they asked me to resign. And it was as a 26 year old, it was terrible. And they said to me, they said, You haven't done anything wrong, you have done nothing wrong, you're just in over your head, which, which was accurate. And I'm like, But you knew that when you hired me, but so my confidence was shot, shot. So that was in June of 2017. So in June of 2017, I get asked to resign, my confidence was shot, that by the next day, I had applied for like 40 jobs or something like I was, you know, and so that summer, I applied for interviewed at, got eight different job offers, eight different offers. All in like clinics, that type of thing. And every time I got a job offer, I would call my mom crying. And I'd be like, oh, it just feels like I'm going back into the belly of the beast and I and I don't want to go back into the belly of the beast. So every time I got a job offer, I would call my mom crying. And so September of that year, so after a few months of this, September of that year, I was like, I'm going to stop applying for jobs, I am going to start a private practice. And if it doesn't work, I now know I can get a job. I'm hireable I got a job offer so I can get a job. So I told my parents, I was like, Alright, give me six months. And if it doesn't work in six months, I'll go get a job. We've already found out I'm hireable. And so they're like, Okay, and within three months, I had hit the goals that I had set for myself for the first year of the business.
Gordon Brewer
Wow. Yeah. Yes. So this was like 2018 2019,
Maryellen Dance
or that was 2000. Set. So September 2017 is when I when I stopped applying for jobs and when I opened my doors. And then so I did that for a while and then September or around September of 2019. I started hiring therapists. Wow. So it was just me for about two years, maybe a little over two years. And then I started hiring therapists. And so now I have a therapists that work in a practice. Yeah,
Gordon Brewer
yeah. So yeah, it's, and I think that's a typical, typical journey for a lot of folks and that they, you know, did you think you would ever want a group practice when you first started as a solo practitioner? Yeah.
Maryellen Dance
I still don't know if I want a group practice.
Gordon Brewer
And that funny. Funny how that works. Yeah, so yeah, I think that's how it usually goes. So yeah. So what are you learning so far about just being in private practice and doing all the stuff that you're doing? I know, that's a broad question.
Maryellen Dance
Oh, gosh. So um, a lot. So I've learned that I really like the business owning aspect of it. Like I really enjoy, which I never thought I would enjoy, but I really enjoy looking at marketing and oh, how can we improve and I'm not really a numbers person, I mean, you know, I'm a feelings person. But I still like looking at like, oh, let's look at like growth and just some of that nitty gritty stuff that I never thought I would like, I really, really enjoy. Um, I love being able to just be a therapist. Yeah, you know, I love being able to just see clients, I feel like having so. So I hired my first therapist, like fall of 2019. And so by March of 2020, I only had two therapists working for me. So then, obviously, COVID hit, and then it's been kind of a whirlwind, and we've grown really fast. So I still feel like I don't feel like I don't know what I'm doing at all. Like, I definitely have impostor activists, because it kind of blew up so fast, because then there was such a need and all of that. So I still feel like I'm learning every day. But I also like that, because it's, it's fun. And I love having the group practice, because we can learn so much from each other. And you know, it's lonely being a private practice is lonely. People don't tell you that, or maybe people don't realize that, um, but it's really lonely. And so that's another, you know, really nice thing about the group practice. Um, another thing that I love about the group practice is I love that we're, we're kind of a family, family practice, right? So, you know, it's very common that I'll be seeing a mom, while another therapists, you know, is seeing the teenage daughter or things like that, which I love, like just being able to provide that kind of one stop shop. Like, here it as it's easy. I just I love that. Right.
Gordon Brewer
Right. Yeah. So what have been, what would you say, have been the big challenges for years, over, you know, making that transition from, again, typical story, people just get overwhelmed with working for an agency or, you know, some sort of public entity and then go into private practice, just because as much as anything because of the autonomy, it gives us some, just all of that sort of thing. What, what have been the biggest challenges that you've been able to kind of overcome through all of this?
Maryellen Dance
Um, oh, well, it's kind of, you know, it kind of changes as I change, you know, so initially, the biggest challenge was, how can I ask people for money? How can I do this? How can I actually build a business off of this? Like, how is that possible? You know, so that was kind of the first big challenge that I overcame? And then the next kind of big challenge I overcame was, um, hiring people, what do I do with them? Will I be able to give them clients like, Will business keep coming? What if it stopped, like, now I have these people, depending on me, where before, it was like, Okay, if I fail, I can kind of just like, secretly fail, you know? It's like, these people are depending on me. And now the kind of current challenge I'm facing is okay, how can we be the best? How can we just continue to be doing good for the community and treating our clients in the best way? We know how, and be our best versions of ourselves? And as our therapists and things like that?
Gordon Brewer
Yes. Yes. What and what? What tools are you using to help your staff with that, as far as developing kind of those values and being the best,
Maryellen Dance
um, lots of lots of CPUs, lots of educational training, lots of group supervision, lots of lots of connection, honestly, is the biggest thing. Because, you know, at the end of the day, CEUs, any type of professional development are really helpful. They're really helpful. They're really knowledgeable, but the things that like ignite me, are conversations, and, you know, bouncing around ideas and things like that. That's what that's what like, fuels the fire inside of me.
Gordon Brewer
Sure. Sure. Yeah. That's, yeah. And so the, in many ways, you we were talking, you'd mentioned supervision. And you and I had both talked a little bit before we started recording about working within terms and I think a lot of times people in, in private practice that, particularly if they have a group practice, miss out on an opportunity to have in terms in their practice and work with them. So what's been How did that happen for you, and how did that all come about? Then? You know, what sort of systems do you have in place for that?
Maryellen Dance
So I love having interns. I love love love interns, because they are so excited, they are so ready to learn. And they're kind of mold moldable you know, they haven't learned bad habits yet. So I love that. So I have good relationships with a few of the grad programs, you know, where I live, and so being able to have good relationships with their, their on site, school supervisors, and then the clinic is just so valuable. Um, so valuable. Um, and so with interns. It's really fun. Like, I just find it really fun, like, and I find, you know, they always say that, like, teaching helps you learn. So like, I feel like it keeps me honest, it keeps me kind of up to date with things. And, you know, I think it helps me as much as it helps them.
Gordon Brewer
Right, right. Yeah. And I think there's a, there's a great get, I think, as far as the opportunity for those in, in private practice, I know, I noticed when I was kind of cruising your website that you do, do things pretty much in the same way that we do, in that if, if one of our interns sees a client, we're able to offer to the client a reduced fee. And so I think it gives, I think that's appealing to people. But also, you know, a great idea that you had, that you did on your website is to have a blurb on there about for the public about what it's like to work with an intern. And I think that, you know, explaining what supervision is, and how all that works, rather than, you know, trying to pretend like it's, you know, it's not a thing. So, yeah,
Maryellen Dance
right. Well, and it's hard, because so many people, and I get it, but they hear the word intern, and they're like, oh, no, I know. I'm so. So we get so I get that. And so I just want to make it clear, and I am I'm very, I very much prescribed to the idea of like, let's be transparent as possible. Right. So when it Yeah, that like, and I think people appreciate that. I hope people appreciate that. transparency of this is where they're at. And we can offer you this reduced rate and great, right. It's also good, because a lot of the time I like to hire on interns afterwards.
Gordon Brewer
Yes, absolutely. And I've had a lot of success with that as well. You know, the last two, last few people that I've hired have actually been because, you know, I'm sure you're writing the same thing, finding fully licensed people is kind of hard right now. Because everybody because the demand is so high in our field and that sort of thing. And so I think, you know, it's kind of a win win, and that you give the intern an opportunity to learn from you and to be able to, you know, kind of get their sea legs with just being in practice, and then being able to Yeah, kind of raised them up, so to speak. Yeah, and your practice and really kind of develop them in that way.
Maryellen Dance
Yeah, well, and it's also my so I had an interesting kind of journey with grad school in my internship, so I was a substance abuse counselor, with just my bachelor's degree. So I for the three years I was in my master's program was three years. Um, and for the three years I was in that program, I was a drug and alcohol counselor, I was a substance abuse counselor, which was amazing in a lot of ways, but also exhausting, I should say. It was also pretty exhausting. And it was, um, I wasn't able to do my internship there. So for a year, I was 40 hours a week as a substance abuse counselor. 20 hours a week, I was doing an internship at a domestic violence shelter, and then I was still going to classes. And so I feel like that time of my life was like such a whirlwind. And at that time, where I was doing my internship was very understaffed, so I wasn't really getting great, like supervision. So it was, it was a wonderful experience, because it's made me the counselor I am today. But also, I think it's taught me of like, what I want to do differently, you know, what I would have liked differently. Does that make sense?
Gordon Brewer
Yes, yes, it does. It does. Yeah, so I think yeah, Just kind of thinking about your own kind of learning experiences and how we can make it better for for those of you that are coming to us as interns and thing. Yeah,
Maryellen Dance
right. Yeah, absolutely. And we need good therapists, we need good therapists out there. I don't think that need is going away any anytime soon.
Gordon Brewer
Right. Right. Well, what are the switch gears just a little bit very Ellen. I know one of the things. Again, when I went and looked at your website, it just looked at, you know, again, kind of putting on that private practice consultant hat of looking at people's branding and all of that kind of stuff. You've done a wonderful job of, of branding your practice. And, and in particular, it really ties a real well with the podcast that you have. So I wanted to tell folks about that. And kind of your philosophy behind that. And and where that's taking you.
Maryellen Dance
Yeah, so Okay. Where do I start? So I, when I was successful, in my private practice early, right, like the amount of clients I wanted to see a week my goal, I got to pretty quickly. And the only reason I think I got there is because I think I'm nice and friendly. And like, you know, I mean, I think I'm an okay, therapist, I think I'm decent, I hope to be a good therapist, you know, that's my goal. Um, but I don't think that that's the reason why I got successful in the first place. I think it was being nice being welcoming, being, you know, like, good customer service kind of thing. And so that was really important to me with hiring people on like, we, I want us to be real people, like I am very real. Like, I often will sit with my leg up and you know, talk about my dog. Yeah, like things like that, like very real. And that's really important to me, because I think people connect with that it makes it less scary. It makes it less like daunting. And so um, so with that being said, I started about almost two years ago now, I started a podcast called The okay ish podcast, because at the time, that term toxic positivity was starting to kind of come out. And self help was rampant self care, the term self care was rampant. And I really struggle with that that term. And I was like, Noonan, like, we're looking at this wrong, like, we're not trying to be perfect. We're not trying to be self caring our way out of things. Like that's not how mental health works. I'm not trying to be perfect either. Like, I'm just trying to be okay, ish. And so that's kind of like, where that I came from.
Gordon Brewer
Right. Right. Well, it's the theme of just making, making people comfortable with, with talking to someone. And, you know, just, you know, the other the other part of it too, and this is, this topic has come up several times on the podcast, and just the the amount of self disclosure that therapists do with their clients, and that I think that when you can share with your clients kind of your own struggles in life, it gives you a little more credibility. I mean, it's not like you, it's not like you're pouring your guts out to him like you would with your own therapist. But I mean, it's just really, really just saying, you know, I get it, because I've struggled with that, too. And, well, that just goes a long way, in just building rapport, and just really building that therapeutic relationship.
Maryellen Dance
Well, and I think, you know, it's, I think one of the things that I'm really, really proud of myself for the best compliment I ever received from a client told me she goes, You know, I don't really know that much about you. Like, I don't really know, like, I know, you have a dog, and, you know, like, some random things. She was like, I don't really know that much about you. But I feel like I know you really, really well. Because I am like how I'm talking right now. It's hard talking session. It's how I talk to my friends. It's how I talk to my family. Like, I don't really filter, right? I don't put on like a therapist hat. Maybe the content of what I'm talking about is slightly different. But I still will be like, Oh my gosh, did you see the bachelorette last night? Because I'm really pissed off about it. You know, like, I'll still All right, do that. And I think that that, you know, people know that I'm, I'm a human and it's also you know, it's it was tough starting the podcast, because I realized that I was putting myself out there more like now, if clients chose, they would learn more about me. Um, and so that was really, really vulnerable. But yeah, I, I think that the the profession of therapy is changing. You know, like when I was in grad school, they talked about self disclosure a lot. And now Greg, and I don't do that type of self disclosure in the therapy room. But with social media, I'm the city I live in is not very big, either. Like, people people know, people and things like that. Um, I think that I think that it's changing a little bit and that it's not so frowned upon that. Yeah, some of my clients probably listen to my podcast, and I'll share things about myself there. And I don't think that's doing anything
Gordon Brewer
bad. Right. Right. Well, it makes, you know, the number one, one number one thing that makes therapy efficacious is the client therapist relationship. I mean, that's just, you know, that kind of, in many ways is kind of, I'll go out on a limb and say it's kind of set in stone, but there's, you know, the data to back that up. But yeah, and so I think being being real with people and just being yourself just goes a long way with with everything, it not only it not only makes you a better clinician is just better for your business in that sense.
Maryellen Dance
Yeah, yeah. Well, and I talk about a lot how the client therapist relationship is such a unique relationship. Like, I feel like there's no other relationship like it. And it's just awesome. Like, it's just so I mean, that's why I do it. Like, that's why. That's why I do it. Because Because of those relationships, it's it's amazing. It's really, really, it's really honorable to be a part of,
Gordon Brewer
yeah, yeah, I would totally agree. Totally agree. Well, Mary, Ellen, I want to be respectful of your time. And I'm so glad we got to have this conversation. Tell folks more how they can tell him where it how they can reach you and where they can find your podcast and all that kind of stuff.
Maryellen Dance
Yeah, absolutely. So my podcast is called Okay, ish. Okay, why ish? It's on wherever you stream podcasts. My therapy practice is called Pittsford. Therapy, the best place to find anything now, my name is Marilyn dance, if you go to Maryland dance.com. It's kind of like a hub of all these things. It links to everywhere you need to go.
Gordon Brewer
Yes. Yes. And well, I will have links here in the show notes and show summary to get to all of that stuff quickly. So well, Barry Allen, any parting thoughts? For folks that are listening?
Maryellen Dance
Well, I just want to say that I really appreciate you doing this podcast, I appreciate you having me on and being a part of it. But doing the podcast, I think it's so helpful. I know, it's been helpful for me to listen to, because I do feel a little bit siloed. Right. And so to listen to other therapists, journeys, and you know how you can really and how you can learn from it's just, I think it's so helpful.
Gordon Brewer
Yes, yes. And that's, that's my experience, too. You know, there's something I don't know, it's a, you know, it's probably a little bit less little bit false or pretentious, or I don't know, what's the right word there. But when you're listening to a podcast, it's just kind of personal. Because it feels like you're really just having a conversation with that person. So yeah, so I'm glad glad you're doing doing podcasting because I think you're probably helping a lot of people that you don't realize you're helping.
Maryellen Dance
I hope so. I hope so.
Gordon Brewer
Well, thanks again, Mary Ellen, for being here. And again, we'll have links in the show notes and show summary for folks to get in touch with her.
Maryellen Dance
Thanks so much for having me. Yes.
Being transparent… Some of the resources below use affiliate links which simply means we receive a commission if you purchase using the links, at no extra cost to you. Thanks for using the links!
Maryellen's Resources
Resources
Meet Gordon Brewer, MEd, LMFT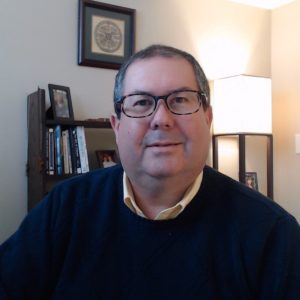 Gordon is the person behind The Practice of Therapy Podcast & Blog. He is also President and Founder of Kingsport Counseling Associates, PLLC. He is a therapist, consultant, business mentor, trainer, and writer. PLEASE Subscribe to The Practice of Therapy Podcast wherever you listen to it. Follow us on Twitter @therapistlearn, and Pinterest, "Like" us on Facebook.