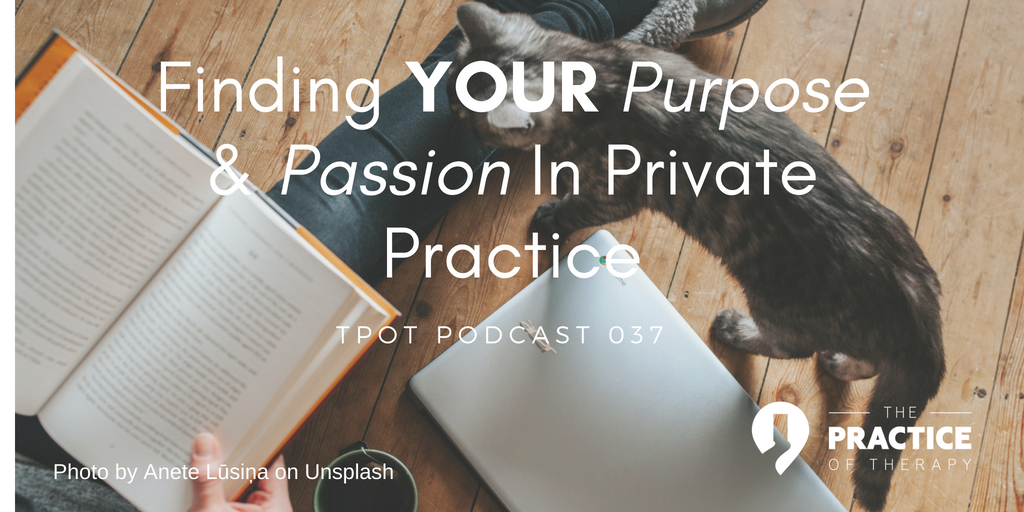 In this episode of the Practice of Therapy Podcast, Gordon talks about finding and living into your purpose and passion in private practice as a therapist, counselor or social worker. One of the important pieces of being successful in private practice is simply making sure you are doing what you enjoy and that give meaning. Gordon talks about some of the insights he has had lately through attending conferences and the work being done around the opioid crisis occurring in Tennessee and other parts of the country.
Finding Your Passion
If you were to think about it, when was it that you decided to go into the career you are in? Was there a defining moment? What about people that maybe influenced you?
All of us go into this work for different reasons.  It might be an interest in the clinical side of things. Or maybe you simply do this out of a passion for helping people who are struggling in life. It might be too that you had gone to therapy yourself and discovered a passion for this kind of work. Regardless of how you get into this field or career, I think it is important to remind yourself why you did that.  
So many times we can become jaded and lose sight of our passion for the work we do.  Getting bogged down in the logistics of the work, whether it is the paperwork and documentation or the schedule, can cause a person to forget why they decided to go into this kind of work, to begin with.
Finding Your Purpose
Obviously, purpose and passion tend to go hand in hand. But I think of purpose as the place we can put our passion into action. Your passion helps inform your purpose. Then your purpose will help you inform your niche.
Having a niche in your practice will help assure two things:
Helping you fill your practice with your ideal clients.

Ensuring you of doing the work you are passionate about.
Changing Passions and Purposes Over Time
One of the things that happens for many people is that our passions and purpose changes over time. This can occur for many different reasons. Many times though this occurs when we have experienced an event or epiphany about something.
An example of this was a clinician that I knew that had gone through some significant health problems.  It was something she overcame, but as a result, it caused her passion and purpose to change. She had been primarily focused on helping children in her practice.  But as a result of this issue in her life, she began working with people struggling with chronic pain.
For me, I had a bit of an epiphany in my own focus with the opioid addiction crisis we are having in our area.  One of the things I am seeing in my practice is more and more clients either affected directly or indirectly by opioid addictions. In tandem with this, I happened to attend two conferences recently that dealt with the opioid crisis here in Tennessee and nationwide. Both of these things have prompted me to have a new passion for me around this issue and the effects it is having on many of my clients.
Being Genuine, Authentic and Present
Finally, the work of being a counselor, therapist or any other mental health clinician does require authenticity and genuineness.  It is the only way to do your best work as a clinician and a business person. Otherwise, people see right through it.
As I tell the people I supervise for licensure, to be a good clinician you have to have the ability to connect with people. It requires being totally present with people…what I like to refer to as "the ministry of presence"
There are a lot of hurting people out there.  You will and can make a difference in their lives!  So go out there and help heal this hurting world by finding your purpose and passion!
Resources Mentioned:
Holy Friendship Summit: https://divinity.duke.edu/events/holy-friendship-summit-healing-heart-southern-appalachia
Hacks and Tips for Google G-Suite
Meet Gordon Brewer, MEd, LMFT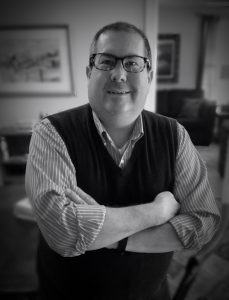 Gordon is the person behind The Practice of Therapy Podcast & Blog.He is also President and Founder of Kingsport Counseling Associates, PLLC. He is a therapist, consultant, business mentor, trainer and writer.  PLEASE Subscribe to The Practice of Therapy Podcast on Apple Podcasts, Stitcher and Google Play. Follow us on Twitter @therapistlearn and Pinterest "Like" us on Facebook.