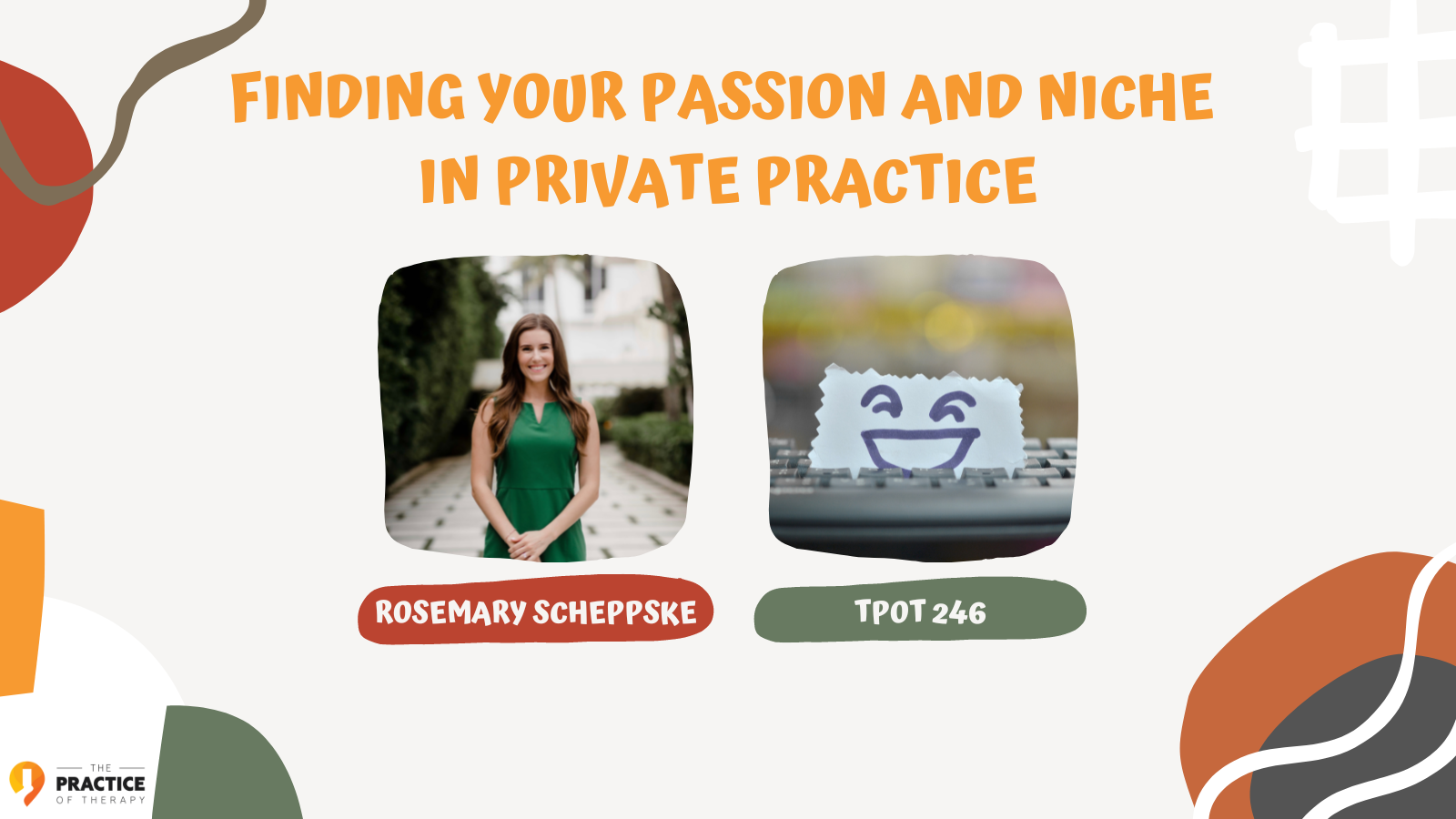 In this episode, Rosemary Scheppske explains why she decided to join a group practice instead of diving into the world of private practice. Then, Rosemary digs deep into her passion for couples counseling and why she's such a big fan of the Gottman Method. Plus, we discuss using the Enneagram and the Gottman Method for couples counseling. Tune in as we chat about the importance of community, faith-based counseling as a niche, and how our relationships can impact our physical health.
Meet Rosemary Scheppske
Hello! I'm Rosemary, a Licensed Mental Health Counselor accepting new clients in Davie, Florida. I enjoy working with couples and individuals to offer hope while helping them achieve their goals.
I specialize in the areas of relationships, trauma, grief, anxiety, life stressors, and personal growth. With couples, I use the Gottman Method to help build the foundation of a new relationship or strengthen a seasoned relationship. I also apply evidence-based techniques primarily from the areas of Cognitive Behavioral Therapy (CBT), Trauma-Focused CBT, and Solution Focused Therapy. I hold a master's degree in Mental Health Counseling from Palm Beach Atlantic University and a bachelor's degree in Psychology from the University of Florida.
I am knowledgeable and trained in the Enneagram, a personality tool used for growth and development. This can be used in therapy to increase a person's strengths, become aware of growth areas, and use that information to manage mental health challenges. It is even used to help partners communicate better and become closer when both know their personality types.
I aim to create a compassionate space for each person to feel safe pursuing health, healing, and personal growth. Also, in my clinical experience and my own life, I find spirituality to be a source of strength in difficult times. I am happy to provide Christian-based counseling as requested.
Joining A Group Practice Before Private Practice
As a growing clinician, Rosemary wanted to focus on her therapy work before she wanted to learn about building a business. That's why Rosemary joined a group practice. Group practices are a great way to get your feet wet and have a team of other clinicians to work with. That way, you don't feel like you are totally out on your own. Rosemary says working for a group practice has been a great experience. Eventually, she does plan to open a private practice. However, she's looking to learn more about business management, marketing, and networking before diving into full-time private practice work.
Using The Gottman Method During Couples Therapy
Rosemary's first exposure to couple's therapy training was the Gottman Method. She was fascinated with the research and how effective the method was. Rosemary started seeing couples, then continued with the Gottman Method. Seeing couples is a different experience than only seeing one client in the room. When Rosemary sees couples therapy working, she is motivated and encouraged to keep it up! Some couples will come to therapy knowing which method they want to try, and other couples have never heard of the Gottman Method before. Luckily, the Gottman Method comes with many tools and resources that couples can use even when they're not in therapy.
Combining The Enneagram with The Gottman Method in Therapy
The Enneagram works well with the Gottman Method. The Gottman Method discusses learning your partner's internal world through love maps. While on the other hand, the Enneagram talks about understanding internal motivations. There are so many couples who do not see eye to eye. However, once they learn that they just have different lenses through which they see the world, it can lead to a lot of compassion for their partner's perspective. Eventually, couples will understand that an argument isn't about who is right and who is wrong. Instead, arguments are all about recognizing that there are two different lenses through which you can see the world.
Faith-Based Counseling As A Niche
Faith is another topic that Rosemary is passionate about when it comes to her clinical work. Rosemary will integrate Christian counseling as much as the client wants to. Some clients will come in and request Christian counseling. Sometimes, clients will start to naturally talk about their faith, culture, and spirituality during therapy sessions. Then, Rosemary can integrate her faith-based counseling at a level relevant to the individual client. In fact, faith-based counseling works really well with the ideas of CBT. Clients who struggle with anxiety and low self-esteem can challenge their negative thoughts by encouraging truthful thoughts through scriptures.
Gordon Brewer
Okay, do you can do the word.
Rosemary Scheppske
Hi, my name is Rosemary Shecky. And I'm happy to be with Florida and on the practice of therapy podcast today, we'll be talking about Christian counseling, the Enneagram and couples counseling.
Gordon Brewer
Well, hello, everyone, and welcome again to the podcast. And I'm happy for you to get to know today Rosemary ship ski. Did I say your last name correctly? Oh, good. Good.
Rosemary Scheppske
To be here. Thank you so much.
Gordon Brewer
Yes, I'm so glad to have rosemary and I was telling her before we started recording her name is and I have an endearment for her name, because that's my sister's name is Rosemary as well. And you don't hear it that often. So
Rosemary Scheppske
you don't it's a it's a family name. And pretty rare that I'll run into somebody with the same name. So that is really special.
Gordon Brewer
Yeah, yeah. That's great. That's great. So rosemary, as let's talk, start with everyone. Why don't you tell folks a little bit more about yourself and how you've landed where you've landed?
Rosemary Scheppske
Sure, thank you. I'm a therapist at a group practice in the Fort Lauderdale area. And I have been with that practice for about two and a half years, pretty much throughout the entire pandemic, before that, I was in community mental health counseling. And that's sort of where I started out, you know, during grad school as a case manager. And then after I graduated, became a therapist. And so I worked throughout Palm Beach and Broward County as a case manager and therapist in homes with children and families. And then after licensure, I moved into the group practice that I'm with now, which is caring therapists of Broward. And I've had an amazing experience there, it's been really cool to have just a different setting and different experience. I have been working online and in person. So after, you know, some restrictions of the pandemic kind of calmed down, and we were able to return to the office, I've gotten to see clients in that setting. So that has been exciting. And it's been different to see my career kind of grow through the through the restrictions of the pandemic has been a little bit different than I imagined. But it's been an awesome experience.
Gordon Brewer
Yes, yes. Well, one of the things it's funny because I had a conversation with the owner of your of your practice, Amanda, earlier this week. And, you know, I guess one question I'm curious about is, as you were navigating out of agency work into private practice, what were some of the motivating factors for you? And how did you kind of decide maybe to join a group like Amanda's versus just striking out on your own, because I think a lot of people would be interested in that. Right. So
Rosemary Scheppske
I did consider looking into private practice, I knew that I wanted to transition out at some point, just for different reasons, scheduling is, it's difficult in community mental health. So you're working with children and families primarily in the home in the evenings after school hours. And that really was such a learning experience. And I'm so grateful for it. But I knew that at some point, I would want to transition into more of an office based setting with different hours. And so I thought about private practice, I thought about group practice. And I knew that I was, I was growing as a clinician, and I wanted to really focus on that and becoming really comfortable with therapy. Before I took on kind of the business building approach as well, I wanted to be able to focus more on therapy, than honestly building building a business right away. So I thought a group practice would be a way a great way to to get my feet wet, and to also have a team to be able to work with other clinicians kind of alongside them. So I wouldn't be totally out on my own. And so it's been a great experience. For that reason, I would love you know, one day to open a private practice, but I've learned so much about business management, marketing and networking, and also just really have enjoyed having a team to see, you know, in between session, you know, in the hallway in the office for some camaraderie.
Gordon Brewer
Yes, yes. And I think that's, that's what you what you say there, once you kind of get what you're saying. Yes, I've heard from a lot of folks and that initially, particularly earlier on in your career, I think a lot of us really do like to hone our clinical skills and really kind of figure out what our niche is, so to speak, because one of the things about community mental health is you have to wear a lot of hats to deal with a lot of different issues and you don't necessarily have the freedom to kind of pick your niche so to speak, as you do in private practice. Yeah,
Rosemary Scheppske
that was my experience. Like I said, it was a great learning experience and you're kind I've exposed to a lot of different presentations and diagnoses and family systems all at once. And in in my current position, I've been able to, like you said, kind of focus more on a niche or a specialty. And I probably wouldn't have discovered how much I love couples counseling if I hadn't joined this group, because there was sort of a need to fill. And so I started taking the Gottman method trainings, when I joined practice and was surprised with how much I fell in love with working with couples, I didn't even really know that was kind of a calling of mine until until I started taking those trainings. And so I'm thankful for that discovery as well.
Gordon Brewer
Yeah, yeah. So I'm curious, you know, being being an LMFT, myself, you know, just kind of working with couples is kind of my niche as well. So what was it that drew you and that kind of working with couples and what was it that kind of grabbed ahold of you? I've met?
Rosemary Scheppske
Yeah, yeah. So I was introduced, my first exposure to couples therapy training, like I said, was the Gottman method. So I did one of their I did their level one training. And I was just really fascinated with the research, I was so impressed with how thorough it was and how effective that method was. And so I kept going with it, I started seeing couples did the level two training just to continue to reinforce that I really felt like it was a good fit for my therapy style. And so as I continue to see couples, I saw it working. And I really enjoyed seeing couples, it's different than just having an individual client in the room. And so I think the the way that I saw it work for people was really motivating and encouraging. I wanted to be able to bring that education to people, Some couples come to therapy, knowing what method they've done their research, and they kind of know what to request. And some have never heard of it before. And so they're thankful to have tools right away a lot of resources. And yes, I think they feel equipped with some practical tools to use.
Gordon Brewer
Yes, yes. And and I know the other thing that we were talking about at the beginning is is that you've really kind of fallen in love with the Enneagram. Again, something to that I've really, through our mutual connection with Whitney Owens, it's something that I've really, really gotten to enjoy. So tell us about that.
Rosemary Scheppske
Yeah, so I actually did Whitney's Enneagram training a few months back. So I heard about the Enneagram, originally from friends, probably back in 2015 2016. And just found it interesting for personal use, it was kind of a hot topic, you know, in churches and around friends. And so people were discovering it. And so I was familiar with it for a few years before I started using it in a clinical setting. And then I took her training, and I've introduced it to individual clients, but also couples as well. resource for people just to have, again, another tool just for language. So it gives us language around our motivations and why we do what we do and highlights our strengths and our growth areas. So I found like, individuals and couple of actually have responded really well to it. And I have found it transformative. And so yeah,
Gordon Brewer
yeah, I think, yeah, that for me as well, I just, you know, I know, one of the things too, that we're gonna kind of transition into here is just kind of faith based practices and that sort of thing. And as I've shared in, in previous episodes, part of one of the other hats I wear is I'm a clergy person in the Episcopal Church. And so last year during Lent, I really kind of took a deep dive into the, into the Enneagram. And it was it was it was really enlightening and really looking at, again, my internal motivations. And really looking at what is the healthiest version of my type? Which I'm, I'm a two with a three wing curious.
Rosemary Scheppske
Yes, so I'm a type one. And actually, I saw I miss typed earlier on, I was actually gonna bring this up about what what clients, it's ideal to use what because I've heard that the way that you can recognize your type is to think about what's been true of you for most of your life, especially in your 20s. And so a lot of my teens or young adults, they're still coming into their personality. So their, you know, their behaviors and their motivations might not be fully shaved yet. And so I took this test when I was younger and typed as a six originally. And then after a couple years, I retested or did some more research and I realized I was a type one. So there's some similarities between the two. Yeah, I landed on type one. Yeah, I know Whitney, I think Whitney shared in her training that she has as well.
Gordon Brewer
Yes, she As she has said, so, yeah, that comes up a lot with my conversations with Whitney Whitney and I communicate regularly. So but yeah, it's fascinating stuff. And I think going back to what you're talking about and doing couples work, it's really a great tool with that, in that, you know, particularly with using kind of an emotionally focused approach, which the Gottman method is, is an emotionally focused approach, and really getting people to understand each other's in a couple their, their internal world. And, you know, as I am I work with couples, you know, one of the things that I try to get across to them is that a sign of a healthy relationship is when two people can can understand each other's internal worlds, and then treat that with kindness and compassion. And I think the Enneagram allows allows that gives for that. Yeah,
Rosemary Scheppske
I think it works really well. The Enneagram in conjunction with the Gottman method, because the Gottman method does talk a lot about learning your partner's internal world through love maps. And an Enneagram talks about understanding internal motivations. And so I've seen couples who have a lot of differences, you know, they'll get really frustrated with each other, they're not seeing eye to eye. And once they learn that the they just have different lenses through which they're seeing the world. Like you said, they can be compassionate to that person's perspective, their partner's perspective and come to an agreement. And so it stops being about who's right or wrong. And more about just recognizing that there's two different lenses.
Gordon Brewer
Yes, yes. Important part of that? That kind of work is especially Yeah, yeah. So I know the other. The other thing I know that you're kind of a motivator for you is just your with your faith and how that integrates with your practice. You want to say more about that?
Rosemary Scheppske
Right? Yeah, so that's another topic that I'm really passionate about in my clinical work as well. So I will integrate Christian counseling as much as the client wants to, like I said, with the Gottman method, and with couples counseling, some people come in requesting that some people come in requesting the Gottman method, or they'll come in requesting Christian counseling, because I'll let people know, you know, online that I'm a Christian counselor. And so they'll come in asking for that, or sometimes people don't even know when they'll come into therapy, and they'll start talking about their culture or their spirituality. And they'll start sharing about what role that plays in their life. And so I'm able to integrate it to the level that it's relevant to that client. And so I am really passionate about that I enjoy being able to bring that into the room, if it's beneficial to the client. I've actually found recently, well, n different clients have different levels of of integration with Christian counseling, some are even leaning more toward the biblical counseling side where they really appreciate Christian books and Scripture bring being brought into therapy. And so I've noticed it actually works really well with, with the ideas of CBT clients who might be struggling with anxiety or low self esteem, and they have these automatic negative thoughts about themselves or the world, or even God, if they're a spiritual person, we're able to take some truths that they believe in Scripture and and challenge those negative thoughts with encouraging truthful thoughts and scriptures. And that really helps to transform their perspective.
Gordon Brewer
Right, right. Yeah, I think it's, yeah, and that's, that's been my experience as well, in many ways. As I tell my clients, when I do an intake with them is that I don't, don't don't have a religious agenda with my therapy. But if those are things that they want to talk about, or they want to integrate in their work, I'm happy to do that. And, and have a lot of fun with those kinds of things as well. So, yeah, so I think that's one of the things that, and I know, Whitney and I've had this conversation several times is that, you know, I think when, when people are seeking that, to be able to offer that as an all as a, as an option, just gives them more room to grow, because it's it gives them a context to which they are, is very much a part of their values and that sort of thing. And it's, as you know, I'm sure rosemary, it's never about trying to convert someone or trying to get them to change their mind about their spirituality or with other beliefs or that sort of thing. Yeah,
Rosemary Scheppske
yeah. You know, in different clients are at different levels and perspectives of spirituality. And so yeah, when they come in, and that's something that they want to integrate, and it's something that's a part of their value system. Like you said, it's just a Another way for them to grow.
Gordon Brewer
All right, right. Yeah. So what's got you excited about your practice in your work right now?
Rosemary Scheppske
Yeah. Well, I would say just growing in in those three areas really being able to incorporate my passions with Christian counseling with the Enneagram, I'm excited to be using that more and more in therapy. Like I said, I was familiar with it on a more personal level, and being able to integrate it now with clients has been really fun. And watching them click with it has been exciting. You know, a lot of clients have gotten the feedback of wow, this is so accurate, or I've never felt so validated in this way, or I shared this with my partner, and they're going to take it to and they're really excited to learn and, or the partner will read about, you know, the clients Enneagram type, and they'll say, Wow, that makes a lot of sense. I understand you more now. And so I think just watching people, find something that clicks with them and find something that validates them so well, is cool. And it's transforming their relationships and the way that they view themselves. So I love to see that with clients, I love to see them get excited about a new perspective and the potential for growth there. And we talk a lot about levels of development. So I like to tell clients, there's no good or bad number, there's no, you know, better number than any other type. But you can just become aware and healthy in your in your Enneagram type. And so we'll talk about those levels of development and what makes them feel secure versus what makes them feel stressed and how they go to their stress and their security numbers. And different times. So it really provides a lot of I would say optimism and encouragement for them. Sure.
Gordon Brewer
Sure. Yeah. So what what would you say you would want people to know about private practice? And why it's a good thing?
Rosemary Scheppske
Yeah, yeah, I think my experience has been just having, like I said earlier, having a team has been awesome. Because when I was in community mental health, there's a team there, you're obviously all you know, you're going out into the community to see your different clients. And so the majority of your day you're spending with your clients, truly, but then there is a team there as well. And so I think, if you can connect yourself with other clinicians, even if you are in private practice, you're not necessarily in group practice. I was actually at a networking event this morning, and I saw some familiar faces in the community. And so it's just, it's been really important for me to connect with other clinicians in the area, I enjoy working with clients so much, but then it's also just a different conversation to meet with other clinicians, and get encouragement. It's great for, you know, learning about what other people are doing and what their specialties are, and being able to work together and collaborate together. So that's been really important to me, I think, going into grad school. And going into this field, I thought a lot about therapy and the kind of traditional therapy room with you and your client and how that would go. But I've hadn't thought so much about what the community aspect of it would look like what the team aspect would look like. And so that's been a pleasant surprise, as well. And I would say just try to stay connected. And to anybody, you know, who is going out into practice or joining in for practice. It's a great supportive environment.
Gordon Brewer
Yeah, yeah. Yeah. And that's an important, such an important piece. And I guess the word that stands out for me, and what you're saying is community and that was one of the things that I think everyone needs, is a community of other practitioners, that they can bounce stuff off of, and scuze me we'll cut that part out. But the one thing that stands out most for me Roseberry, that you're saying is, is that community is is an important piece of being in private practice, and particularly, I think, in our fields as professionals, because people are bringing to us very heavy stuff. And we need to have a way of being able to process that, within within the right setting, you know, whether it's through, you know, even though we're licensed, and we might not necessarily need supervision, technically, I think we still need that kind of being able to have that feedback. And I know, in my own practice, that's something that we we really kind of cherish with each other as being able to talk about our cases with each other and some of the things that we're running into and how it's affecting us emotionally and all of that sort of thing. And
Rosemary Scheppske
agree. Yeah, I mean, again, community mental health when I was doing supervision there, you know, there's lots of team meetings and checking in with people and after licensure or once there wasn't kind of a requirement for supervision, I realized, oh, you know, I still want to have a collaborative approach with people, I still want to be able to, like you said bounce ideas off of people and just kind of feel filled up with my peers and feel encouraged and supported. And like I have people to lean on professionally. So it that's been really important to me. Yeah, yeah. Because I think
Gordon Brewer
the kind of the bottom line is, is that we're all social creatures. And we need whether we're introverted or extroverted, we still need other people, and we need to be able to, to make those connections. And, you know, that's kind of coming full circle around to doing couples work, that's what it's about is about helping helping people make those those close connections, those intimate connections, that are just bring meaning to our life. And, again, that's the spiritual element as well, just thinking about, about that, you know, we we need, we need to have things that bring meaning in our life, to be whole and full and unhealthy.
Rosemary Scheppske
I was just listening to a podcast, actually, that was talking about how relationships can have an impact on our physical health. And Dr. Caroline leaf I enjoy listening to too, she was talking about there was a study done with can with couples, and those that were able to resolve conflict quicker, they were able to also recover from physical ailments quicker. And so it was all about how the quality of our relationships impacts our physical health and how it's not actually, it's not this invisible thing that doesn't matter, it actually makes a difference in our bodies and our minds. So,
Gordon Brewer
yeah, yeah. Yeah, most of the most of the stress we endure in life has to do with other people. So
Rosemary Scheppske
social creatures, we're always, you know, engaging people in one way or another. So it's important to make sure that those relationships are healthy. And
Gordon Brewer
yeah, sure, sure. Well, rosemary, I want to be respectful of your time, what, what sort of parting thoughts might you have for folks?
Rosemary Scheppske
Oh, well, well, first, I just want to thank you so much for having me, I really enjoy talking about these ideas and these kind of corners of of therapy that we've been talking about today. So I appreciate you just having a space for us to chat about that. And yeah, I will say I was actually a little bit nervous about doing this podcast, because it's my first podcast interview back. And so I'm trying to take a little bit of my own advice, because something that you know, clients will even talk about is just doing hard things and doing things outside of your comfort zone, you know, kind of branching out. And so I guess that's my encouragement to
Gordon Brewer
people. Yeah, well, yeah, it's about I'm glad that glad you were on this for your first time. But yeah, you know, I want one little inside secret about this. One of the things I love about doing podcasts as you get, particularly this format, with the interview format, you get to have really good conversations with people. But you know, for any other therapists out there that might be shy about coming on a podcast is no different than sitting in a therapy room with someone and having a conversation.
Rosemary Scheppske
Yeah, I mean, I do a lot of telehealth anyway. So it's like having another having another conversation. So I get that. And it's great to try new things.
Gordon Brewer
Sure. So rosemary, if people want to get in touch with you, what's the best way?
Rosemary Scheppske
Yeah, so like I said, the practice that I'm with is called caring therapists. So you can find us online there. And I have a profile on the website that explains about what I do and what clients I see. I'm also on Instagram therapy with rosemary. And so those are kind of the two main places I would say
Gordon Brewer
to friends. Awesome. And we'll have links in the show notes in the show summary for folks. And also, since we mentioned that on here, we'll have a link to to Whitney's Enneagram course, which is a great, great. Yeah, yeah, I went through. I went through it myself. So I mean, it's a great it really is a great course. Okay, well, thanks, rosemary, and I look forward to hopefully having you on again.
Rosemary Scheppske
Thank you so much, Gordon.
Being transparent… Some of the resources below use affiliate links which simply means we receive a commission if you purchase using the links, at no extra cost to you. Thanks for using the links!
Rosemary Scheppske's Resources
Resources
Meet Gordon Brewer, MEd, LMFT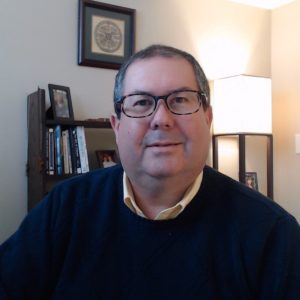 Gordon is the person behind The Practice of Therapy Podcast & Blog. He is also President and Founder of Kingsport Counseling Associates, PLLC. He is a therapist, consultant, business mentor, trainer, and writer. PLEASE Subscribe to The Practice of Therapy Podcast wherever you listen to it. Follow us on Twitter @therapistlearn, and Pinterest, "Like" us on Facebook.