Creating your private practice website (just the basics) Part 2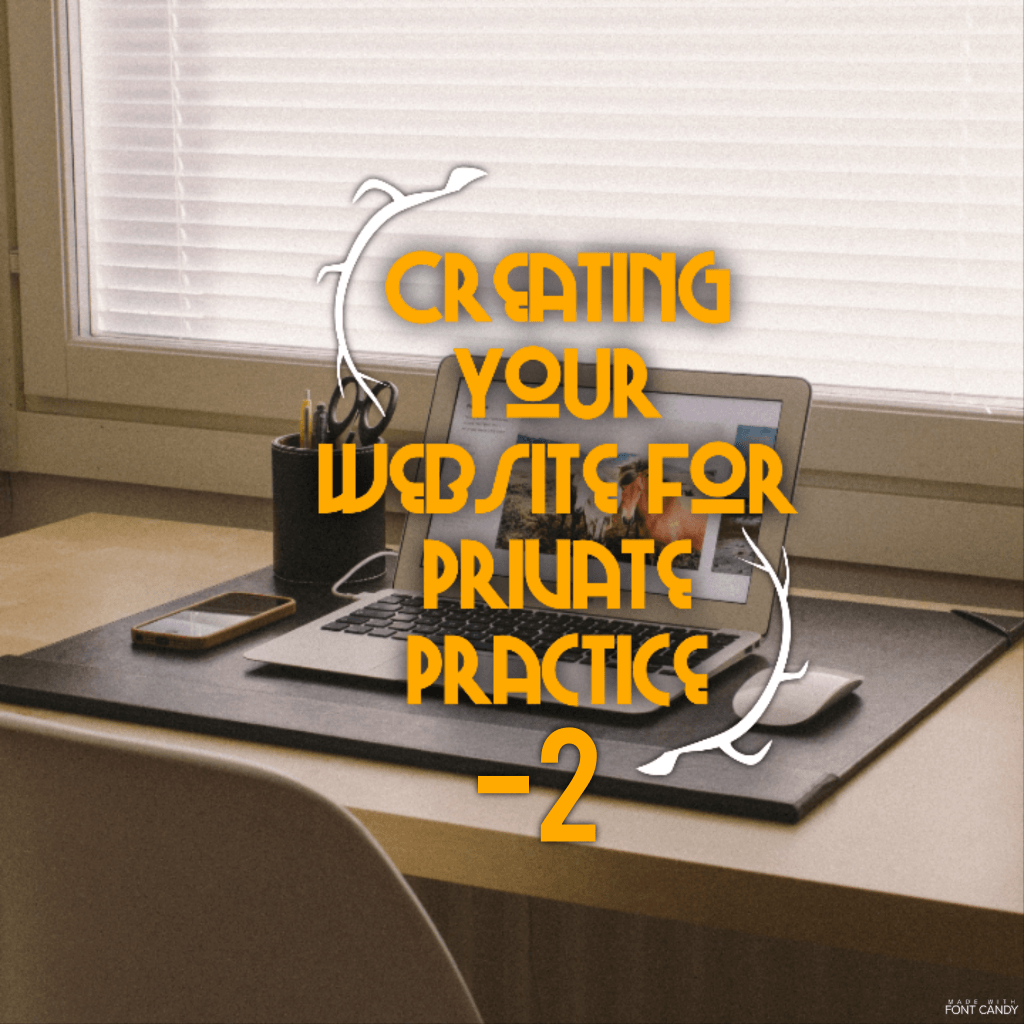 Creating your counseling private practice website is really not as hard as you might think.  It is especially true if you simply break things down into smaller pieces and have a plan in place for your design and content. In the previous post, we talked about some very basic things such as your domain name and hosting services. In this part, we will look at some more basics and what content you absolutely need to have on your website.
Know WHY you are creating your website…
The first thing to think about is WHY you are creating a website to begin with.  Hopefully your main answer is to get referrals and clients to use your services.  And truthfully, this does need to be your main priority.  Your website can also do a lot of other great stuff, like provide great information and self-help tips. But ultimately, your website will "drive" people to you so that they can make an appointment.
So here are a few very basic tips:
Make sure you have your contact information be one the very first things they see when they open your website. At the very least, I would suggest putting your phone number in the header.
Secondly, make sure you "ask" people to schedule with you. So many times we are reluctant to "make the sale".  In fact, most of us in this profession don't even like using that language.  A lot of times people just need a gentle nudge to make that first appointment.  So all you really need to do in your home page and other pages is simply say something like, "make your appointment today" or "call today to make your appointment" or any other way that helps make that gentle nudge to make that first appointment.
Have several ways for people to contact you. Obviously, having your phone number published throughout your website makes it easier.  Also include contact forms and any links to online schedulers, etc. (more on this coming in future posts).  I would suggest that you set up an email that is dedicated to your private practice that you would use to publish.  (Google Voice is a good free option for this- see my previous post on this) However, a lot of web experts suggest using forms that are a bit more secure to keep your email address and your website from being "spammed" too much.  After all, once it is on the internet, it is out there for the world to harvest.  At the same time, people need to have access to that information in order to contact you.
The website needs to be easy to navigate. One of the things that I have learned and tweaked over the years is to make my own private practice website simpler.  I do have a lot of information on various pages, but when you come to my landing page or homepage, it is simple.  I give very basic information about the practice and most importantly ways for them to contact me.  I have prominent direct links to how to schedule an appointment, frequently asked questions, contact us and cost of services. We also have other links to the about pages for the individual therapists within my group practice.  There are other links at the bottom to the page to the rest of the website content.  That is basically it for the home page.
One page that I think deserves a lot of attention for any counseling private practice website is your "about" page. Most of the research I have done and also see from the analytics of my own websites is, people will look at the "about" page almost as much as the home page.  People want to know about who they are scheduling with.  One of the best tools for an about page is to have a video of you telling about how you help people.  It really does not have to be anything overly fancy or professional, but simply something that gives people a feel for you and what you are like.  Also on your about page, talk about any areas of specialization and experience.  Credentials and degree are important as well.  Again though, focus on your personality and what makes you unique and what you can offer people coming to see you.
Another important piece to include in your private practice website are the directions and/or a map to your office. One great way to do this, which will cause your website to rank higher in Google, is to include a Google Map. You can embed a map to your office on your landing page along with your contact information. You will need to know a little bit of coding, but it is really just a matter of copying and pasting onto your webpage. (Directions for doing that are here).
One of the things that I would encourage counselors in private practice to do, is continue to learn about websites and having a web presence.  It just helps guarantee a steady stream of referrals for you in your private practice. Your website really is as important as your office space.  It is the place that will give the first impression for your counseling practice and enable people to find you.  It is also where you will get the greatest return on investment (ROI).
We will continue with more information on setting up a website in future posts.  Below are some other resources for you to begin educating yourself on website design and what is needed to "bootstrap" your own private practice website.
Also check out this podcast and blog post by Joe Sanok and friends:
 L. Gordon Brewer, Jr. MEd, LMFT