Get the latest version of the Session Note Helper- Version 2.5
Session Note Helper 2.0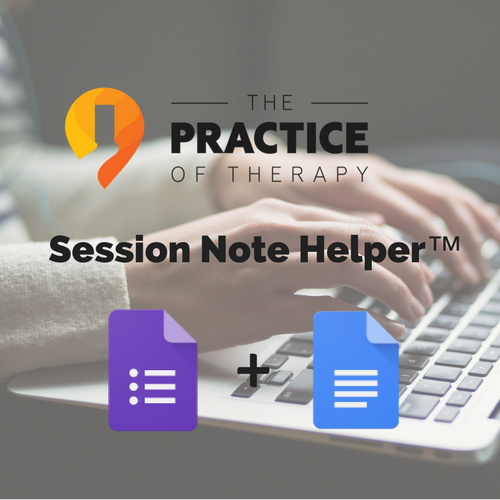 Session Note Helper™ is an application system that uses the tools of Google G-Suite. It enables you to quickly write therapy session notes or treatment progress notes in a narrative format using standard phrases and descriptors.  Session Note Helper™ is easily customized and can be improved as you go.
Session Note Helper™ uses Google Forms and Google Docs

Session Note Helper™ is fully customizable on the front end for your practice

Notes are customizable as you write the note

The template can be expanded as you develop more phrases

Comes with some standard clinical phrases

Unlimited use with the purchase of the Template

Notes can be copy and pasted, saved or printed

Works with any practice management software that allows you to paste from Google Docs

No risk to try for 30 days
Session note writing has now gotten easier!

I have always hated having to write therapy session notes and progress notes!  But I do love spending time with clients and working with them.
I knew there had to be an easier way to write my counseling session notes without having to type EVERYTHING out.  There had to be a way to work smarter and more efficiently!
I had tried using checklists session notes and progress notes but unfortunately, those just didn't seem to cut it either!
What I needed was a way to put together something in a narrative format that actually described what I did in sessions.
I needed something that was inexpensive, customizable and efficient.  I needed something that would give me more time with clients and less time doing paperwork and documentation.
Thus Session Note Helper™ was born!
When I was writing my notes, one of the things I noticed was that I tended to write and use a lot of the same phrases for my session/progress notes.
So I put some thought and research into developing a session note that essentially writes the note for me using check boxes.
It uses the applications and tools of G-Suite; Google Forms and Google Docs.  By using an add-on called "Form Publisher" you can link what you enter in a Google Form to a Google Doc.
Note about "HIPAA Compliance"

For the Session Note Helper™ to meet HIPAA standards, you will need to use the paid version of G-Suite, which costs $5 per month per user. This will allow you to obtain the BAA (Business Associate Agreement) which is required by HIPAA.

(Disclaimer: The G-Suite link is an affiliate link which means we receive a commission, at no extra cost to you, if you purchase using the link)
The other thing that you will love about the Session Note Helper™ is that it will work with virtually any practice management software or systems.  You simply copy and paste your session note from the template to your practice management system. Or you can save it in Google Doc, Word or PDF format.
And of course, you can print it!
There is no risk for you in trying it out!  I am offering a 30-day money back guarantee if for any reason you are not satisfied with Session Note Helper™
What You Will Get:
You will receive the Session Note Helper Quick-Start Guide (in both PDF and DOC formats) that contains the step-by-step instructions for setting up the Session Note Helper system.  
The guide contains links to give you access to the templates you will need to get started with the Session Note Helper
The guide also contains links to the video tutorials and course for understanding and making changes to the templates
So what is the cost?
Get Session Note Helper™ templates and tutorials for just $49!
Do you need other private practice forms and paperwork?  Consider getting the full Paperwork Packet  You can get over 20 different forms to customize and use in your private practice.  It is $400 value for only $98!
Legal Things:  This published material is intended to be accurate and informative in the content covered.   It is provided with the understanding that legal and ethical standards vary from state to state. The author and publisher are not engaged in giving legal, accounting or other professional service advice. If legal or other services are needed, please seek out appropriate professionals.