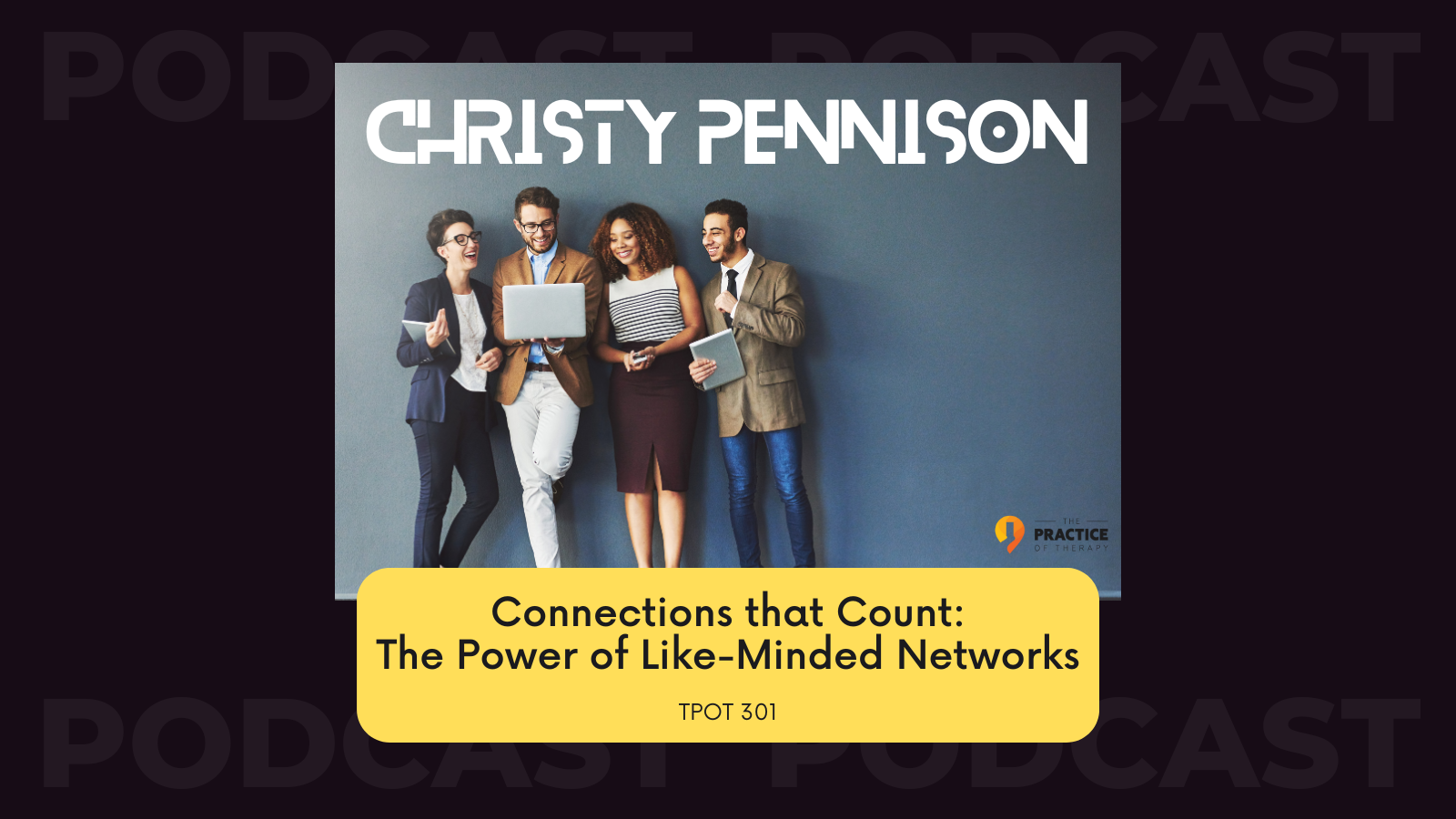 In this episode, we're diving deep into the essence of personal and professional growth through connections with Christy Pennison. Imagine breaking free from limiting beliefs and unlocking a world of new opportunities that were once thought impossible. Our exploration begins with the profound impact of mentors who guide, support, and inspire us to challenge conventional wisdom and expand our perspectives. Join us as we navigate growth through diverse experiences and fearless exploration, discovering fresh insights and uncovering hidden talents.
But that's not all – we'll delve into the crucial role of reflection in personal and professional development, where we share insights on creating space for clarity, goal setting, and envisioning future possibilities. Then, we'll explore the power of like-minded connections, revealing the potential of surrounding oneself with individuals who encourage growth and challenge limited mindsets. And don't miss our exploration of the importance of embracing slowness for self-care and professional impact. Christy reminds us to step back, reflect, and prioritize self-care in today's fast-paced world, offering a compelling perspective on preventing burnout.
Get ready to embark on a journey of growth, reflection, and self-discovery that promises to reshape your personal and professional landscape. Tune in and embrace the possibilities!
Meet Christy Pennison
Christy Pennison is a board-certified counselor, 7-figure business building entrepreneur, host of the Inspiring Possible podcast, and founder of Be Inspired Counseling & Consulting in Alexandria and Natchitoches, LA. She has coached and advised dozens of leaders, mental health professionals, and business owners from across the country to help them grow through the many challenges they face. Due to her knowledge and leadership, she is highly recognized by other professionals in her field. As a result, she was awarded the 20 under 40 Acadiana Leadership Award. In addition, she has been a guest on the Montel Williams' podcast Free Thinking, and her expertise has been regularly featured in articles on NBC, Today, and many other media outlets and publications. She is passionate about empowering mental health professionals and women in leadership to live with confidence, conviction, and limitless belief that anything is possible.
Embracing Growth Through Expanding Perspectives and Mentorship
Expanding your view of possibilities is a key aspect of personal and professional growth. It involves breaking free from limiting beliefs and exploring new opportunities that may have seemed impossible before. By expanding your view of possibilities, you open yourself up to new experiences, ideas, and perspectives that can lead to transformative changes in your life. One way to expand your view of possibilities is by seeking out mentors or individuals who have achieved success in areas that interest you. These mentors can provide guidance, support, and insights that can help you see beyond your current limitations. They can inspire you to think outside the box and challenge conventional wisdom.
Navigating Growth Through Diverse Experiences and Fearless Exploration
Another way to expand your view of possibilities is by exposing yourself to new experiences and environments. This can be as simple as listening to podcasts, reading books, or attending conferences where you can learn from experts in your field or connect with like-minded individuals. By immersing yourself in new ideas and perspectives, you can gain fresh insights and discover new paths that you may not have considered before. It's important to be intentional in seeking out opportunities to expand your view of possibilities. This requires stepping out of your comfort zone and being open to taking risks. It may involve pushing past fears and self-doubt, but the rewards can be immense. By embracing new challenges and embracing the unknown, you can discover hidden talents, passions, and opportunities that can lead to personal and professional fulfillment.
Personal and Professional Growth Through Reflection
This episode highlights the importance of reflection and space in personal and professional growth. Gordon and Christy emphasize the need to take time to reflect on one's desires, goals, and possibilities in order to expand one's view of what is possible. Reflection allows individuals to consider where they want to go next and what they want their life to be like. By taking the time to reflect, individuals can gain clarity on their aspirations and identify the possibilities that exist for them. This process of reflection opens up new perspectives and expands one's view of what could be possible.
The Power of Like-Minded Connections, Reflection, and Reading for Growth
Gordon and Christy discuss the importance of surrounding oneself with like-minded individuals who encourage and challenge limited mindsets. By being around people who share a similar mindset, individuals can learn from each other and discover new ideas and opportunities that they may not have been aware of before. These individuals can also help challenge limiting beliefs and provide support in realizing that certain beliefs may not be accurate. Additionally, Gordon and Christy highlight the importance of creating space and time for reflection. They discuss the value of cultivating a morning routine that includes journaling and asking reflective questions. This practice allows individuals to assess their progress, identify opportunities for growth, and evaluate their energy levels and needs. Reading is also mentioned as a valuable tool for gaining insights and ideas that can be applied to personal and professional development.
Embracing Slowness for Self-Care and Professional Impact
Slowing down is essential. In today's fast-paced world, it can be easy to get caught up in the hustle and bustle of everyday life. We often find ourselves constantly busy, juggling multiple responsibilities and tasks, and feeling overwhelmed by the demands placed upon us. However, Christy reminds us of the importance of slowing down, taking a step back, and creating space for reflection and self-care. Burnout is prevalent in many professions, including private practice. Burnout can sneak up on individuals, and it is necessary to take care of oneself to prevent it. Slowing down and prioritizing self-care, even when it may seem counterintuitive or difficult to find the time, will be essential in preventing burnout. By taking care of oneself, individuals can create a bigger impact not only in their own lives but also in the lives of others.
Gordon Brewer
Okay, go ahead.
Christy Pennison
Hi, this is Christy Penniston. And I'm excited to be on the practice of therapy today with you. Have you ever felt stuck or overwhelmed and you feel like there's something else you could be doing in your practice or just as a person. And you're not just sure how to create a new vision for where you want to go, then stay tuned.
Gordon Brewer
Well, hello, folks, and welcome again to the podcast. And I don't know why this hasn't happened before now. But I am so glad for you to get to know Christie penicillin. And Christie is one of those peoples where we've had a lot of network things together and gotten to know each other pretty well over the last few years. And Christy, I'm so glad you're here.
Christy Pennison
Yeah, I'm very excited to be here, Gordon, because, you know, I fangirled you for a long time when I was getting my start. And, you know, the prac, the private practice world, because, you know, it was a world that I had to get acclimated to because I had never done it before. So you really helps me a lot, but the information resources you put out there?
Gordon Brewer
Well, you're awfully kind you're awfully Can I just say that? Well, Christi as a start with everyone and, and folks what you're gonna, what you're gonna hear from Christy is just so much positive energy and enthusiasm for what we do. And that's one of the reasons I needed to have her on the podcast. But Christie has a start with everyone. Why don't you tell folks a little more about yourself and how you've landed where you've landed?
Christy Pennison
Yeah, well, I am located in Alexandria, Louisiana. And I currently have a group practice that has two locations, one that's in Alexandria at once a knack additional Louisiana. And I wanted that land where I landed, you know, I really think it's because I had a vision. And that's what we're going to talk about today. You know, I was in a place where I had a job for quite a long time in community mental health, that I that was a passion and then became a real stuck place for me as there were changes and leadership shifts and things like that. And it was no longer aligned with my values. And so I gotten to a place of burnout and overwhelm and just wasn't sure what I was going to do next. So I jumped out into anything that wasn't that and took about a year just to kind of reconnect with myself because I had lost myself along the way. And one, one day, I came back to my hometown that I said, I would never move back to. And really I can say it was like a light light bulb went off that I was supposed to move back to my hometown and start this practice, called the Inspire counseling and consulting, had no idea what I was gonna do or how I was going to do it. But three months later, I packed my daughter up. So my house, my multiple rescue animals and move back to where I'm from, and started a solo practice that then grew into a group. So it's just been an incredible journey, when I think about myself in the past four years that that's happened, even through a pandemic, and lots of craziness of just like what is possible when you get out of your own way and trust, what you feel like you're being called or drawn to do.
Gordon Brewer
Yes, yes. And that and I think, for for those of us that have just kind of branched out beyond just kind of the traditional way of what we're taught in school, and, you know, but we're like, like you, Christy, I started out working for an agency, and really just kind of, you know, kind of got, as you said, burned out. And so it's it's interesting how, how many parallel stories that are just around all of this. And I think one of the things that I love about what you do is your creativity and being able to think outside the box about things. So tell folks just kind of what has inspired you. What, over over the years?
Christy Pennison
Yeah, well, there's multiple things that inspire me throughout the years, I do think that getting around good mentors are people that it can expand your mindset, like people like you, Gordon, or people that are just doing things that are a little bit outside the box, because like you said, when I went to graduate school, I had this idea when I graduated, that I was actually not the person that was going to go into private practice. I was like, I'm going to need a nine to five job that has steady income because I'm also a single solo parent. And I just had never imagined that owning a business would be possible or they're like having a podcast would be possible or that there are ways that I was going to connect and collaborate with all these amazing individuals who are doing these incredible things. So I think the first thing is just being able to put yourself Open places and spaces that can expand your view of what could be possible for you. Because a lot of times, you know, we just grow up in our own environment, or our own silos that tell us or give us a narrative of this is how your life should be. And so hey, don't intentionally put yourself in places. And it could be things like listening to podcast, or reading a book, or trying to connect with people at a conference that you're like, I might be the only person that I've known that's going there, but I'm gonna go with intention to learn and grow. And when you allow yourself space, or just time to even reflect on, where is it that I want to go next? What do I want my life to be? Like? What are the possibilities for me? Then you can really start to expand your view of what could actually be possible for you?
Gordon Brewer
Yeah, yeah, I totally agree. And I think being able to, you know, we throw this term around a lot, thinking outside the box, but I think allowing ourselves to be creative, and be able to think of other possibilities. And I think one of the ways, as you mentioned, as you alluded to, by being around other people that have kind of the same mindset, we we start learning stuff that we didn't even know, we didn't know. And so that's, that's always cool, we'll win that.
Christy Pennison
And people that can help you challenge your limited mindset, like, as I can think of some of the people that we've gotten to know collaboratively together who have when I'm in a stuck place, or I have this limiting thought that, oh, that's not something that I can do, then they can quickly help me realize that that may not be an accurate, an accurate belief. And so when you are in those groups of people that do have this kind of mindset of like, what can we do to learn or grow or expand? What our roles is our therapists, you know, we there's traditional roles of therapists, but there's like, I didn't even know there was all the things that you could do from being like el coche, to like, using your skills to do consulting and like, you know, workplace settings, or I mean, write books, or do podcasts or be a social person that helps encourage and influence people to help them know how to navigate their life. I mean, there's so many things you could do. But you have to be able to get into places in spaces where there is other people that may also have that ideas, or creativity that they're trying to tap into.
Gordon Brewer
Right, right. Yeah. So in, in your journey, Christy, how have how have you tapped into all of that? I mean, as far as just thinking about? I know you've, you've got your practice, you've got your podcast, you've got all of these things? What is it that helped you kind of tap into that word? Besides? You know, we talked about the people that we've come and talk with, but what would be some of the things that help you tap into all that?
Christy Pennison
Well, look, this is gonna sound very basic, what I'm saying it, and we are talking, I know a lot of the listeners are therapists, right? So what I'm about to tell you is going to be something that you probably tell a lot of people to do, but maybe struggled to do yourself. And there is no shame in that as well. But one of the things I think that's really helped me besides just the people piece, is to really allow time and space for reflection. And I am going to give a disclaimer, I do not always do this well. But I've really tried to cultivate a morning routine that allows me space to journal or ask reflective questions of myself of like, you know, Hey, how did this past month go? What were the highlights? What are something that you learned? What are some other opportunities that you think that you could expand on? How's your energy? What do you need more of, but not only just journaling? Another thing that's really helped is then also reading, and I am a terrible reader. A lot of ways, like, I don't just read sit down and read a book in like, two minutes, right? But I read progressively over a period of time. And I think reading also helps you gain ideas or gain insights. And it's always interesting, Gordon, I don't know if you ever had this happen. Do you ever have it where you're like reading something and you're like, Man, this is just what I needed for this moment. Right? Yeah. But you had to give yourself the space to like, actually have time to do it. And I think what's hard and I'm gonna talk about myself here for a minute. For especially I call us a cheaper therapist. Therapist and like really want to make things happen and achieve things which there's nothing wrong with that. But we have a hard time realizing that the Doing nothing is just as important as the doing. And so giving yourself that time, whether it be a walk in nature, whether it be you know, whatever space or place that allows you to tap into creativity, if you're a person of faith to tap into whatever spiritual belief systems that you have, I think all of that is really underrated but highly important for you to be able to figure out okay, what else is there for me? What, what is giving me energy and and what's draining me? What do I need to delegate to because I was thinking about us before we finish recording, right? There's some things that our life suffers from that just suck the life out of me. And fortunately, I've gotten to a place in my practice, but it didn't start out that way, where I can now delegate some things to others, but just being allowing yourself to have that space to give you what you need, so that you can show up in the best version of you as possible, to help move the needle forward on whatever vision that you have.
Gordon Brewer
Right, right. Yeah. Again, just totally agree with all of that. And I think being able to, you know, really, in many ways, we're talking about just slowing down enough to be able to give herself a space like you, Christie, some of the most valuable time for me is in the morning. And I'm usually out on a walk or a run. I'm listening to podcasts. The way I read now is through audible. So I've been doing. Yeah, I mean, it's just that that's just, I'm just kind of a listening and visual learner anyway. So I mean, being able to listen to books I've been, I've been, you know, it's interesting. I've been re rereading, and I'm using air quotes here. Malcolm Gladwell, his book called David and Goliath. And it just talks about how underdogs have triumph over the years in different situations. And I think kind of what you're talking about, too, that he alludes to in that book is not doing things necessarily there in the conventional way. I mean, that whole for folks that are familiar with that story from from the Bible of David and Goliath, which I think most people have heard it, even if they're not necessarily church folk, but, you know, David overcomes this giant. And it's because he engaged with that giant in an unconventional way. In other words, he was expecting to the giant was expecting him to lie. So expecting him to go into hand to hand combat. But David, thinking outside the box was able to overcome that in a much different way. Rock dry, just a little rock, and so. So anyway, not to get too far off on that. But I think you're exactly right has given ourselves the space, the downtime, all of that, to be able to really clarify things for ourselves. Yeah,
Christy Pennison
well, when I know when I can't solve problems well, and you know, and you know, this Gordon, as a like, group, practice, Owner, sometimes there's a lot of problems you have to be solving or solutions, you have to find, or we have this challenge. And when you're the leader, people are often looking to you to come and have these creative solutions, which I tried to put it back on them nowadays and be like, Look, what can you solve it? I don't get anything. But I think that given yourself what you need to show up as clear and as calm and whatever as possible. In field, you know, I think what I'm seeing a lot of is, even if you get into private practice, there's a tendency in this profession to get to burnout. And in like, it sneaks up on you. It's like this little thing that we don't see come in, and then wham, it knocks you on your side, and then you think, Well, I don't have time to slow down and take care of me, you know, but I think really to create the biggest impact for yourself and for others, it is like essential, and trying to switch our mindset from the fact that slowing down is something that is valuable and just as important as anything else that we did.
Gordon Brewer
Yes, yes. Yeah. And I think it's a again, it's something that I think we have to be very intentional about because we can get we can get really busy with stuff. I mean, I'm terrible for that. I mean, I just pile on more and more and not gotten better. Without saying no to things, but yeah, it's really well,
Christy Pennison
and you bring up a good point. And this is where I'd also say, is really being able to get clear and take the time to write down. And, you know, we talk about goals in our sessions with our clients, right? Like, let's make some goals, and this is what we're going to aim towards. But so often we get busy in our life, and we don't set goals for ourself, and we don't set goals, or we may set goals for like our business, but we may not set goals for our health, our relationship, you know, our own well being. And so then what happens is life happens, and everything takes over. And then all of these things that may have supported us, over time, then start to become something that we'll do one day, like, Oh, go on that walk one day, man, it's really hot outside, you know, at least it is right now where I live, you know, do I need to actually take time to do something outside in nature, that that's really not a priority right now? Do I really need to go visit my friends when I have all of these emails that I have to respond to? You know, but it's, it's taking the time to say how do I want to be intentional in my life, about my life, not just about the work that I'm doing, too? I think it's important.
Gordon Brewer
Yeah, yeah. One of the things that I've found helpful and I, you know, being being honest here, not always as good and with it as I should, but I've got a planner, and people have heard me talk about it before the full, the full focus planner that I use that was created by the Michael Hyatt company, but it's got the one thing that it has in the the weekly Scott, the weekly review that you do, and so you actually are very intentional about really thinking about, Okay, what's most important to me right now. And really being able to set aside the time to focus on those things that I know are important for me to be doing right now. Otherwise, you just get busy. Get busy being busy, and it really doesn't move the needle forward much.
Christy Pennison
Well, and you said something earlier, Gordon, that I'm thinking about now that you're saying this, it helps you figure out what you need to say no to write. Because I don't know about you, but there are certain things I'm like a recovering people pleaser. And so people would say, Christy, can you do this? I'd be like, I want to help? And I'm like, Yes. And they're like, Christie, can you do this? And I'm like, yes. You know, so I became this Yes. Person that started saying yes to things. And I realize, no, I can't do everything. If I can't do it, can I ask somebody else and give them an opportunity that I don't have the time to do but they maybe would like love that opportunity? So I think it that intentional reflection, like you said, you're doing and I use the Passion Planner. So it's a little bit different than the full purpose planner, but it actually does it like once a month. It has like a little place that you can reflect during the week, but not as I think, intensive as the one that you're talking about. But, you know, it really gives you a space to say, Okay, I need to say no to these things. I need to say no, thank you. Not this time, maybe another time. And when you learn to the art of saying no to the things that are not a priority for you, then it frees you up to have the space and time to do those things. We're talking about, like, reflect, take a moment to breathe, right? Have dinner with your family, you know, whatever it is.
Gordon Brewer
Right? Right. Yeah. And you had said you had said something a little bit earlier to Christy about those things that suck the energy out of us. Those things that maybe we just don't enjoy doing that are just really kind of drudgery. And this is one of the things is hard, hard thing for people to do but finding somebody else to do those things. Taking it, taking it off your own plate and, and learning to outsource I think you know, I learned that I bootstrapped way too long and my practice and what I've done and all of that. Yeah,
Christy Pennison
well, and look, I'm telling you meet. I remember I was pretty hard to let go at first when I've started to grow to delegate things, and I still do not have this perfect. So like you said, Gordon, like we're talking about these things. No, it's an ebb and flow. It's not always 100% consistent practices that we do. Like let's normalize this for people. But I will say that the delegation piece frees up so much but it's hard and I don't know if this is the reason why it's hard for you, Gordon, but I grew up in a hard work ethic family which means that If you could do it, you should. So if you can mow your lawn, you should, if you can, you know, clean your house, you should. And it's really been interesting because I've had to work on my mindset as I've grown in the business of therapy and the practice of therapy, not only the day to day practice, but like the practice of even grow in a therapy business, to change my mindset around that, because I only have so many times in a day. And just because I can, doesn't mean I should. And it's trying to get clear on if I want to be the greatest agent of change, and impact the most amount of people, I have to let other people support me. And I also have to realize I don't have to wear it weigh the burden of doing it on my own. Thank god, okay. Because I think sometimes we just put a lot of burden and responsibility in ourselves to do all this stuff on our own. But you know, you think about the story of David Goliath, right? Like, yes, David came in through this this slingshot, but there was a whole other army that was that had his back, right, that supporting him. It wasn't just him, you know, and I was even watching the cyclist documentary The other day, about one of these cyclists that does the Tour de France or whatever. Right, I was just so shocked, because I thought these people just, you know, bicycled by themselves, and then I realized, no, they have a whole team, that's actually bicycling at the same time as them as fast as them sometimes to position them to these, these, I guess positions, so that they can win at this certain point in the race. And then they have people that are falling behind them to get them a new bike. I mean, if they, it just blew my mind, because I never really watched it until watch this documentary, like this one, person winning is not just this one person winning. It's a lot of people behind them, getting them to the finish line. And so when you realize that you cannot do it on your own, and there are people that want to help you and want to support you and want to grab the vision that you have and the places that you're going, and it's letting them say, hey, I need help. I can't do it alone. Which is ironic, right? Because this is the thing about therapy. Right? I can't do it alone. I need to like help you. Right. It's hard to do it ourselves.
Gordon Brewer
Yeah, it really is. And I think I think another thing that we have to kind of overcome is, you know, we we like to think of ourselves as the expert. And we like to think about, you know, well, I know all of the know all of this stuff, I know, everything but you know, we we're human beings, and so we have to have that help, but I don't you know, we're also social creatures. I mean, even if you're even if you're wired as an introvert versus an extrovert, or whatever, we still need people around us to support us and, and move through things.
Christy Pennison
Yeah. Yeah. And it's the same thing. It's like, no matter what area of our life, creating possibilities, or even creating, you know, I just went on vacation last week. And it was so wonderful, because, you know, even though I did, there was a few things I checked in on and I knew I was gonna have to check in on for the most part. I mean, I was in I was actually sick the week before that. But guess what, the sky didn't fall. And actually what guess what happened when people didn't have me around to help them solve the problems they saw. And they may even did a better job than I would do. So I think sometimes it's realizing that, you know, you have to give yourself space, just like you want to encourage them to take the time for rest and recharge, and whenever, but it's everybody going towards the same goal can actually have a lot more momentum than just one person trying to go there.
Gordon Brewer
Right. Yeah. And it's, in many ways, it's kind of the ultimate thinking outside the box. Because certainly, I have ideas about things that I do and certain ways of doing things. But if you hand it off to somebody else, they might come up with an even better way of doing it and might even do it better than you think you can do it yourself.
Christy Pennison
Yeah, well, and then when you're giving feedback, like in real time, then it actually can get better because you're doing it collaboratively versus just by yourself. Because that feedback can be like because I know a lot of times I'll give a project off to somebody I'm doing better about this chord. And I've been, I've been trying because I've realized I have to remind myself as we're talking about this Let go Let go. Let it go. You know, that frozen song? Yeah. But it's like let go and then give feedback. So if you are handing something off to somebody and you say, Hey, here's what I need, make it happen. And it's not exactly as you envisioned it or you think it could be a little bit better. Just give feedback in a nice way. Hey, I love how you did this. This is This, and the next time you do this, can you pay attention to this? Or can this be look a little bit differently? Or how can we make this better? is a great question to that you can ask other people, and they might could even come up with a solution of how to make it a little bit better than what you think it could be.
Gordon Brewer
Right, right. Well, well, Christy, I love I love this, these kinds of things that we're talking about. And I've got to be respectful of your time. What are some other parting thoughts and also tell folks about how they can reach you and some of the things that you're offering, folks, particularly your podcast?
Christy Pennison
Yeah, absolutely. Well, I would say my last thoughts would be just realize that there are possibilities, there are things that I'm continuing to expand in my life that I wake up sometimes in a life that I'm like, five years ago, I wouldn't have thought this is possible. So life can change in a very short period of time, I once heard someone say that people overestimate what they can accomplish in a year, but they can underestimate what they can actually get done in three to five years. And I feel like part of my story is living proof of that, is that you know, sometimes we think change does take time, but it is possible. And I do think that if you feel stuck or overwhelmed in life, just like we help our clients, you too can have a life that you feel good about. Waking up in, it may be hard, it doesn't mean it's like, devoid of challenges or obstacles or overwhelming things. I mean, those still happen, life happens. But it can be a little bit more aligned with how you want to live your life and the vision that you see for yourself. But if you want to get in touch with me or listen to some of the episodes that we have on this very topic, you can check it out inspiring possible on any of your streaming platforms, or inspiring possible.com. And then another way you can connect with me is something exciting, that maybe we'll come back and talk about on another episode that me and one of my friends, practice owner friends are working on and that's called the practice collab. It is pretty much where you're doing things in community with other practice owners. Because I think a lot of times we can get siloed in our world, and the more on the toxic get the lonelier it gets. So sometimes being in collaboration can really help you move the needle forward. So and you can find me on social media, Christie, penicillin, all the different places.
Gordon Brewer
Awesome. Well, I have links here in the show notes in the show summary, so folks can get a hold of you easily. And so Christy, I'm so glad you're on the podcast. And we I know we've got to have you back. So we'll do it again. Yeah, well,
Christy Pennison
topic. We'll talk again. Well, Gordon, thank you so much for what you do to help people that are aspiring to figure out how to do this practice of therapy a little bit differently, or better to create possibilities for them. Because I think when we do share our stories, it then encourages other people like, hey, if somebody's figured this out, maybe I can tell
Gordon Brewer
ya, I say all the time, if I can do it, then anybody else can? Oh, well, yeah,
Christy Pennison
meet you. I'm from small town ball, Louisiana, which people would not be able to find it on a map. Okay. You know, I mean, the dream around here was like, and it's not a bad dream, but it was like, you get married and you just settle down and all that is great, you know, but there is more possibilities in life than you know, sometimes what we are exposed to grown up so right, allow yourself to dream and realize that dreaming is actually something I feel like we were part of his training to do. I feel like we wouldn't have dreams if we couldn't dream. Yeah, me. Yeah.
Gordon Brewer
Totally. Totally agree. Well, thanks, Christy, and we'll, we'll have you back here soon.
Christy Pennison
Okay, I'm looking forward to it.
Being transparent… Some of the resources below use affiliate links which simply means we receive a commission if you purchase using the links, at no extra cost to you. Thanks for using the links!
Christy Pennison's Resources
Resources
Meet Gordon Brewer, MEd, LMFT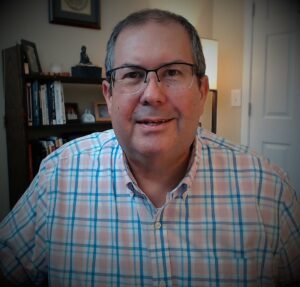 Gordon is the person behind The Practice of Therapy Podcast & Blog. He is also President and Founder of Kingsport Counseling Associates, PLLC. He is a therapist, consultant, business mentor, trainer, and writer. PLEASE Subscribe to The Practice of Therapy Podcast wherever you listen to it. Follow us on Instagram @tpotpodcast, and "Like" us on Facebook.