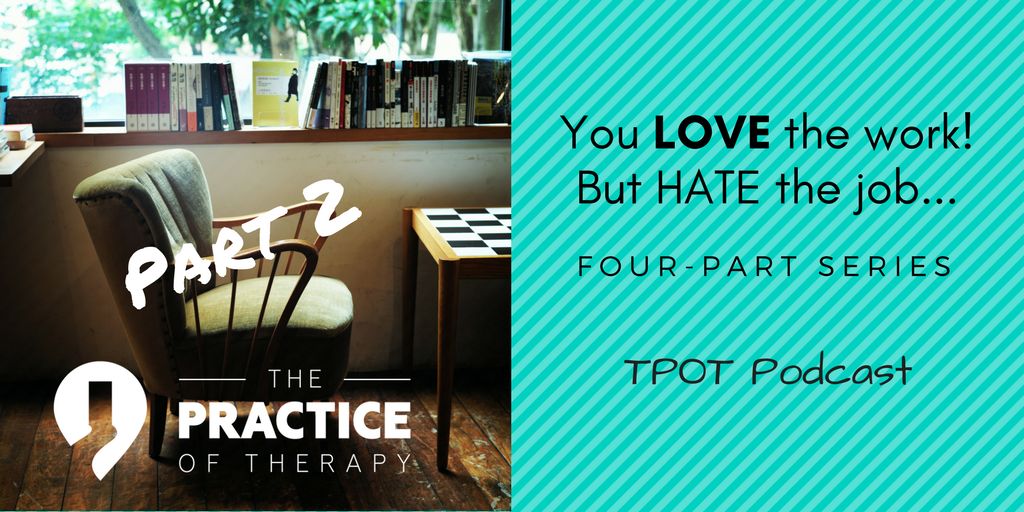 This is part 2, of this four-part series of the Practice of Therapy Podcast, "Love the Work, But Hate The Job". In this session, Gordon talks about making a plan for transitioning into private practice from working in an agency setting into private practice.  This four-part series discusses the various steps and things a clinician might want to think about as they move into private practice. The series discusses: 1.) Knowing your "WHY", 2.) Making a Plan, 3.) Setting-up an Office, and 4.) Marketing & Getting Referrals.
Check out the mini-course: "Love the Work, But Hate The Job"

In this course you will be emailed 4 lessons, one each day, that will walk you through a way to think about making the transition from agency work into private practice. (Get the discount here!)
Making a Plan
Needless to say, for most things in life, if you plan it out, things usually tend to go better. That is not to say though, plans always go as expected! Nonetheless, if you don't know where you are going, how are you going to get there?!
So you have figured out your "WHY" and decided that going into private practice is what you really want to do.  You have envisioned your future and thought about where you see yourself, 5, 10, or 20 years from now. The next thing is to begin thinking about how you are going to get there.
Understanding Your Financial Need
Most of us need to feel secure and know that changes will only enhance our lifestyle and better ourselves financially. And the place to start is to understand fully your current financial situation.
If you are committed to moving into private practice full time, a good place to start is to figure out what it would take to make a lateral move.  In other words, in order to replace your current salary and benefits, how many private practice clients would you need to see?
A way to do that is to "work backward".  Take the total you are making now, benefits included, and add in the costs associated with running your practice.  This will give a figure to work backward from. For example:
Salary and Benefits = $50,000.00 per year
Cost of Business ("overhead") = $12,000.00 per year
$50,000 + $12,000 = $62,000
$62,000 is needed to match what you are currently receiving from the agency.  You would then divide that by the average per session rate you anticipate. That will then let you know how many sessions in a year you will need to support yourself.
More detail on all this in this blog post: "Managing the Financial Side of Private Practice"
Planning For Slow Times and Growth Periods
Needless to say, when you go into private practice there are periods of time when the practice is not bringing in any income. This is especially true for the first several months (and sometimes years) of when practice is started. No one starts at "full".  It takes time…
You need to be prepared financially for those slow periods and for times when you want to take off.  As a general rule, I suggest you have 2-6 months salary & expenses in reserve for those times.
Getting Your Financial House In Order
Part of the planning process is to also get your personal financial situation in order. The number one reason private practices fail is that the practitioner was not prepared financially to make that move. They put too much of a financial strain on themselves personally. It's a good idea work to get yourself out of debt as soon as possible before making a move into full-time private practice.
One strategy is to move into private practice part-time while continuing to work a full time in the agency.  This works sometimes… Certainly, you do not want to create conflicts of interest or do anything unethical with clients while doing this. (No stealing sheep!!).  But if you are in a niche that does not compete with your current employer it is doable.
By doing this, you can use what you make in the private practice to build a reserve and get yourself out of debt or both.  It will also give you the opportunity to build the practice without being under a financial strain.
Planning For Where and How You Provide Services
There are several ways to provide services.  Usually, we think of traditional office visits as the main way of providing services.  In the initial stages of your practice, you will probably want to borrow or sublease space from another therapist or business.  Or you could join another practice that is already established as a contracted (1099) provider.
Other things to consider seeing clients in non-traditional ways.  For example, teletherapy or in-home services.
Planning for Being in Business
Finally, it is important to remember that being in private practice as a counselor or therapist means you are running a business. As you plan, it is important to learn as much as possible about running a business and marketing your practice.  
In this next session, we'll be discussing the logistics of finding and setting up an office.
Recommended Reading:
Meet Gordon Brewer, MEd, LMFT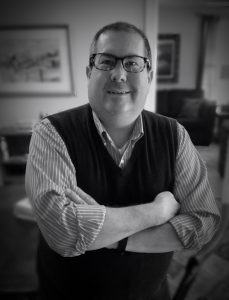 Gordon is the person behind The Practice of Therapy Podcast & Blog.He is also President and Founder of Kingsport Counseling Associates, PLLC. He is a therapist, consultant, business mentor, trainer and writer.  PLEASE Subscribe to The Practice of Therapy Podcast on Apple Podcasts, Stitcher and Google Play. Follow us on Twitter @therapistlearn and Pinterest "Like" us on Facebook.