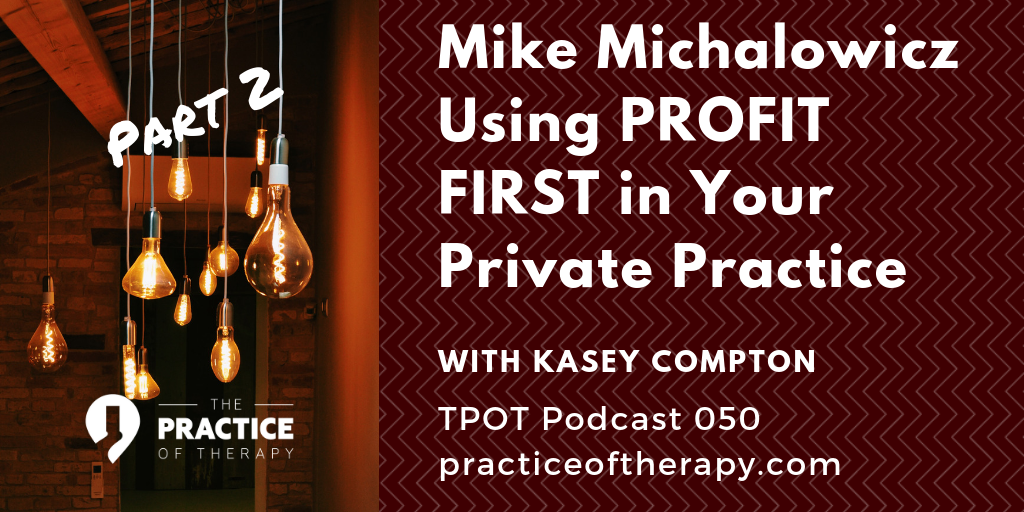 This episode of the Practice of Therapy Podcast is the second of a two-part series interviewing Mike Michalowicz, the author of Profit First and Clockwork.  Gordon is also joined by Kasey Compton and they both interview Mike about the Profit First concept and how it can help clinicians in their private practices and make them more financially secure. They also talk about honing your systems and processes to make your practice run itself rather than having it "run you".  Listen in to this fun interview and Mike's knowledge about entrepreneurship and being a small business owner.
In part two of this interview, Mike focuses on some of the concepts behind his newest book, Clockwork: Design Your Business to Run Itself.
---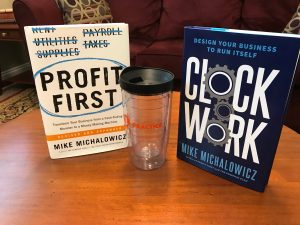 ---
Meet Mike Michalowicz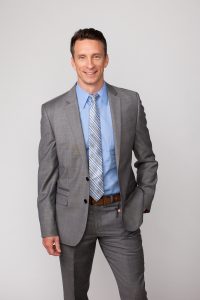 Mike mi-KAL-o-wits is the author of Profit First, Surge, The Pumpkin Plan, and his newest release Clockwork. By his 35th birthday, Mike had founded and sold two companies – one to private equity and another to a Fortune 500. Today he is running his third multi-million dollar venture, Profit First Professionals.
Mike is a former small business columnist for The Wall Street Journal and the former business makeover specialist on MSNBC. Over the years, Mike has traveled the globe speaking with thousands of entrepreneurs and is here today to share the best of what he has learned.
Mike's Websites
Clockwork.life – Get the free clockwork kit!
Website – www.mikemichalowicz.com 
Mike's Books
Full Disclosure: these links are affiliate links which simply means we receive a commission at no extra cost to you when you buy using these links.  Mike and I thank you for purchasing his books! You won't regret it!
[amazon_link asins='073521414X,0525534016,0981808247,1591844886,0981808204′ template='ProductGrid' store='POT Sales' marketplace='US' link_id='51e13632-aef3-11e8-9c80-4d9e70981c88′]
Delegating and Taking Time Off
In order for any business to scale or grow, a business owner HAS to be able to delegate and take things off their plate.  The problem for most of us is we think we are the only ones that can do a particular thing or "it's just easier for us to do it ourselves" than teach someone else how to do it.
Also, Mike challenges us to commit to a 4-week vacation.  Number one it will give us a chance to rejuvenate and "recharge the batteries".  And it will also force us to set up the systems and processes needed for the business to run itself.  
Empowering Others
It's very easy to get trapped in a role of trying to feed our own egos and micromanage people. A better way is to empower others within our organizations to do the jobs that are not the best use of our time as practice owners.  What we have to be willing to give up is this idea that the people we delegate to "won't do it as well as I can do it". They probably won't. But it empowers them AND strengthens your practice when you let them do it their way.
Business Growth
Practice and business growth are usually a "step process".  In other words, they reach a plateau and they need to change something in order to reach the next plateau. There is a concept called "pivoting" that Mike talks about.  Pivoting is figuring out what your clients want the most and then doing that with your clients. The problem is that it might not line up with what the practice owner wants.
Being Clear On Your Purpose and Passion- Your "Why"
The solution to pivoting to what the customer wants when it doesn't align with our own wants is to get in touch with your purpose and passion.  Then, deliver that service to people that are also wanting that same purpose and passion.
The Importance of Your Niche
In essence, by identifying our passions and knowing which clients also share those same passions, we have defined our niche.  It is the place where you will do your best clinical work and be much more profitable for you in the long run.
Finding Congregation Points – Marketing to Them
Once we identify our ideal clients and define our niche, we need to then figure out where they congregate and what they are most into.  Then, we make sure we are in front of them in those places. We let them know our expertise in those areas and how we can help them; AKA marketing…
Giving Preference to Your Best Clients
The other point that Mike makes about this is that we should give our ideal clients preference over other clients. (Despite the value of treating all people equally…) We need to give our ideal clients the better appointment slots and work with them at our optimal times.  
Abundance Mentality
One of the pushback points for many clinicians is they worry that if they create a niche and move away from being a "generalist" they will somehow lose potential clients.  The truth of the matter is that there is an abundance of clients out there that need and want our help. So it is important to remember to keep an abundance mentality vs. a scarcity mentality. "The riches are in the niches…"
Example of Chiropractor
Mike gives an example of a Chiropractor that identified his passion for working with youth athletes and their susceptibility to injury.  As a result of this, he began getting involved with youth athletic programs in his town and offering free evaluations. His town was fairly saturated with other chiropractors, but he became known as a "performance chiropractic doctor".  As a result of this, parents started bringing their children athletes to him in droves.
Understanding Your "Queen Bee Role" (QBR)
Mike talks about what he refers to as a "queen bee role".  It comes from the analogy of beehives and how everything happens within a beehive is dependent on the queen bee.  He defines the queen bee role as the core activity or function that drives your business forward.
FedEx example- Mike uses the example of FedEx.  The one thing that FedEx is most known for and depends on is logistics.  But more than that, everything the company does is focused on one thing… making sure packages arrive on time.  If they don't get that right, then everything else fails.
For most of us in private practice, our QBR is around providing sound clinical services and/or being able to get clients to sessions in a timely manner.  In other words, getting them in to see us as soon as possible without long wait times.
The Big Takeaways
First of all, we need to make our practices profitable in order to feed and sustain them.  Without making a profit, a business will quickly die (the same is true for non-profits). We also need to have systems and processes in place in order to make profitability a priority and make it so it supports the lifestyle we want to maintain for ourselves.  The systems we put in place also need to help us generate the revenue needed (referrals) to sustain the business and our lifestyle.
Bigger is not necessarily better, but we all deserve to be paid a fair amount for our services.  Figure out what you need in terms of cash flow to maintain your lifestyle and create the reserves you need to have in place to maintain all that.
---
Watch The Full Interview
---
Meet Kasey Compton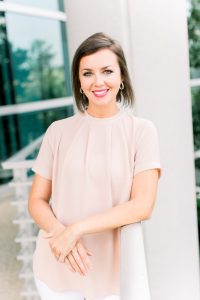 Kasey built a million dollar practice with over seventy-five staff members in less than two years from the ground up. She is the President/CEO of Mindsight Behavioral Group with multiple offices located in Kentucky.  Kasey says, "it definitely wasn't easy but I learned a lot scaling a practice". She is now in year three and her business with basically running itself; largely due to the systems and processes we put into place.
Now, Kasey is a behavioral group consultant(www.consultwithkc.com) and author that helps practices avoid mistakes by cleaning up their systems, implementing better processes, and understanding what to do with their money. Kasey says, " I take so much pride in my own practice and now I feel honored to help others grow too."
Meet Gordon Brewer, MEd, LMFT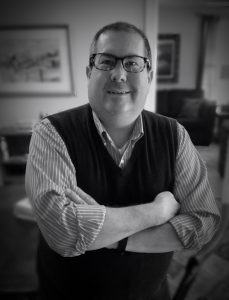 Gordon is the person behind The Practice of Therapy Podcast & Blog. He is also President and Founder of Kingsport Counseling Associates, PLLC. He is a therapist, consultant, business mentor, trainer, and writer.  PLEASE Subscribe to The Practice of Therapy Podcast on iTunes, Stitcher and Google Play. Follow us on Twitter @therapistlearn and Pinterest "Like" us on Facebook.