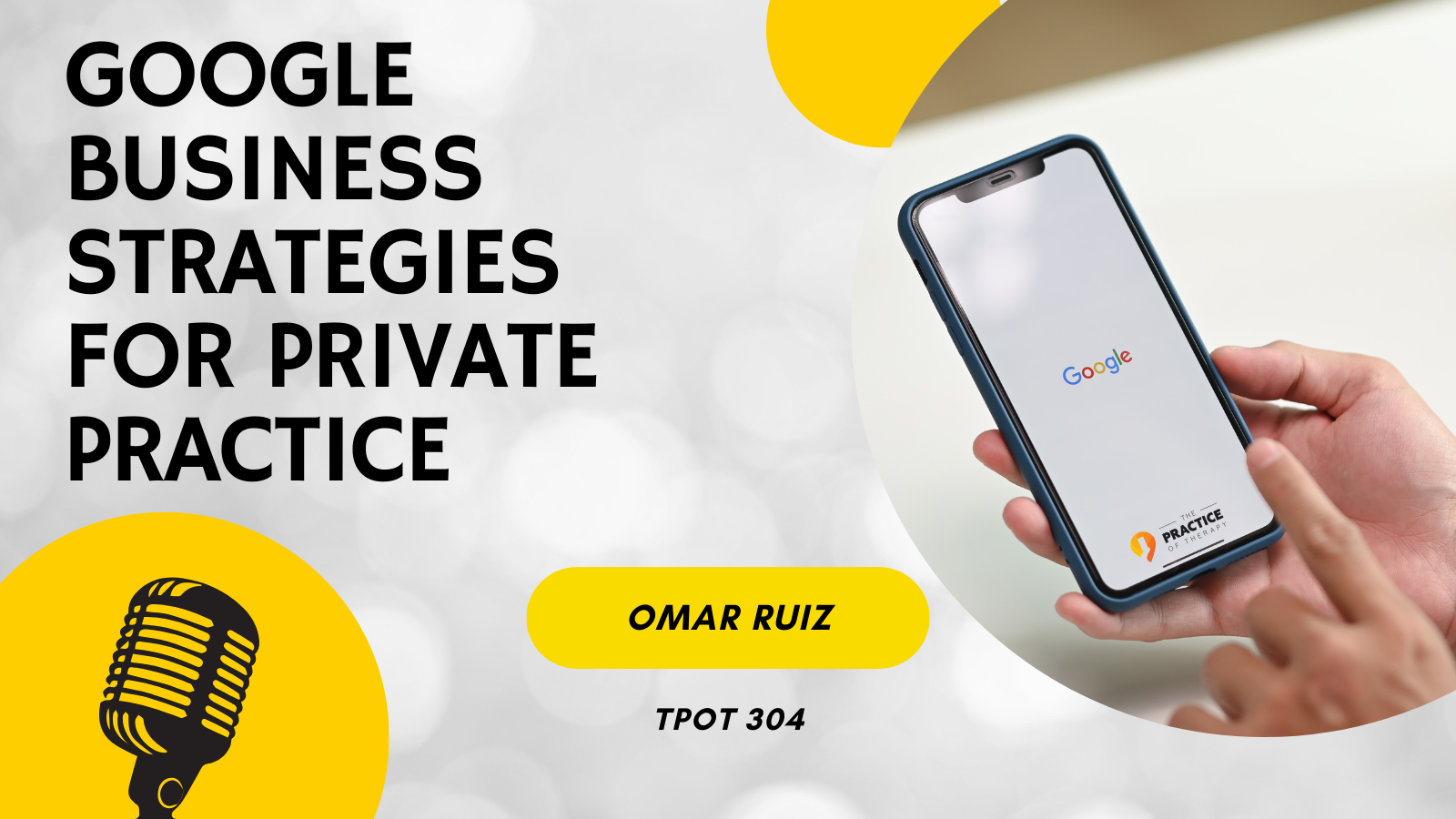 In today's digital age, online marketing has evolved into an indispensable component of establishing a prosperous private therapy practice. With the rapid advancement of technology and the increasing ubiquity of the internet, therapists now possess the means to reach a broader and more diverse client base. Join us in this episode as Omar Ruiz, a marriage and family therapist and a seasoned business coach for therapists, shares his wealth of insights on harnessing the power of online marketing strategies to attract clients in your local area.
We'll delve into various key elements of online marketing, with a primary focus on Google Business Profiles, SEO strategies, and the art of optimizing your digital footprint. We'll explore the ins and outs of leveraging Google Business Profile as a valuable marketing tool. Omar's expertise in this area will guide us through the steps to ensure your Google Business Profile is a beacon for local clients in need of your therapeutic services.
Meet Omar Ruiz
Omar established Online Private Practice as a coaching service offered either online or at his office located at 11 River Street in Wellesley, MA
Not only does Omar bring under a decade of experience building his own counseling business, but he's also working to build a robust online presence that has allowed him to grow a successful online private pay practice.
Omar's focus is to provide therapists & counselors with actionable steps toward achieving a profitable private practice. Omar comes ready to help you and your practice get found online and start growing.
Mastering Online Marketing: A Therapist's Guide to Building a Thriving Private Practice
Online marketing for therapists has become an essential aspect of building a successful private practice. With the advancement of technology and the increasing use of the internet, therapists can now reach a wider audience and attract clients from various locations. In this episode, Omar Ruiz, a marriage and family therapist and business coach for therapists, shares his insights on how therapists can utilize online marketing strategies to attract clients locally.
Omar begins by discussing his own journey in private practice and how he transitioned from relying on insurance referrals to focusing on marketing his services online. He highlights the importance of having a solid online presence, especially for therapists who choose to operate on a private pay basis. Unlike insurance practices, private pay therapists need to market themselves to attract clients actively.
Private Practice Strategies for SEO, Google Business, and Successful Online Marketing
One of the first steps Omar took was to improve his website and create a strong online brand. He emphasizes the need for therapists to invest in their websites and optimize them for search engines. This includes utilizing search engine optimization (SEO) techniques to increase visibility and attract organic traffic. Additionally, he mentions the significance of having a Google Business Profile, which helps therapists appear in local search results and attract clients in their area.
Omar also shares his experience with traditional marketing methods, such as business cards and networking events, and how the COVID-19 pandemic forced him to shift his focus to online marketing. He emphasizes the importance of adapting to changing circumstances and learning how to market effectively in an online environment.
To enhance his knowledge of online marketing, Omar turned to resources such as YouTube and online courses. He mentions the value of learning about SEO and local SEO, specifically the Google Business Profile, as these strategies can significantly boost a therapist's online visibility and attract local clients.
Unlocking the Power of Google Business Profile: A Therapist's Key to Rapid Online Visibility
One particular aspect of online marketing that we focus on is the use of Google Business Profile. A Google Business Profile can be a valuable tool for marketing a therapy practice. Google Business Profile is a free business listing offered by Google. It functions similarly to a Better Business Bureau profile or a Yelp profile, where people can leave reviews and access important information about a business. When someone searches for a therapist's name or practice name on Google, the Google Business Profile appears prominently on the right-hand side of the screen on a desktop and as the first result on mobile phones.
Omar highlights several benefits of utilizing Google Business Profile for marketing. Firstly, it allows therapists to get shown within Google search results faster than traditional search engine optimization (SEO) strategies for their websites. While SEO can take months for a website to rank on search engine result pages, a well-optimized Google Business Profile can generate traction and visibility much more quickly.
Mastering Your Google Business Profile: Tips for Optimal Visibility and Engagement
Omar provides tips and strategies for optimizing a Google Business Profile. The first tip is to complete everything about the practice when signing up for a profile. This means adding all relevant information about the practice, including services offered, contact information, and hours of operation. By providing comprehensive information, therapists can make it easier for potential clients to find and contact them.
The next tip is to include pictures on the profile. Omar advises against using stock photos, as Google can differentiate between legitimate businesses and those using fake photos. Instead, therapists should think outside the box and take pictures that represent their practice. For online-only or telehealth practices, the host suggests taking a picture of themselves in front of a laptop or recording a small business explainer video. Visual content is important because people are more drawn to pictures and videos than just text.
Elevating Your Practice with Google Business Reviews: Strategies for Success and Ethical Considerations
Reviews are another important aspect of a Google Business Profile. Omar acknowledges that reviews can be a taboo subject in the mental health field, as some professional organizations have ethical guidelines against asking for reviews. However, the host points out that not all organizations prohibit asking for reviews. Marriage and family therapists and mental health counselors can ask for reviews as long as certain best practices are followed. For other professionals, the recommendation is to ask colleagues, coworkers, or referring partners for reviews. Reviews are important because they provide social proof and validate the quality of a therapist's services.
Omar also suggests performing a competitive analysis to optimize a Google Business Profile. This involves looking at the profiles of other therapists in the same area and averaging out their reviews and scores. The goal is to have more reviews and a higher score than the competition, as clients are more likely to choose a therapist with a better reputation.
Gordon Brewer
I'm ready. Okay, if you want to do the blurb
Omar Ruiz
Hi, everybody, my name is Omar Ruiz. I'm a marriage and family therapist, business coach for therapists. And I'm here on the practice of therapy podcast where we're going to be talking about Google business profile and how to attract clients locally.
Gordon Brewer
Well, hello, everyone, and welcome again to the podcast. And so glad to have with me today, Omar Ruiz. Welcome, Omar.
Omar Ruiz
Hi, thank you so much for inviting me. Yes, yes. And
Gordon Brewer
so was just catching up with Omar here before we started recording. And, Omar, you've been in private practice kind of on and off, I think since 2014, and gotten into doing some coaching and really helping people do handle the marketing side of things. But as a start with everyone, why don't you tell folks a little bit more about yourself and how you've landed where you've landed?
Omar Ruiz
Yes. So for those who are not familiar with me, my name is Omar Ruiz. I am a licensed Marriage and Family Therapist out of Boston, Massachusetts. And I'm also now a business coach for therapists were, in my private practice, I specialize in helping couples that are struggling with infidelity and communication issues. And from my business coaching side, I normally specialize in helping therapists improve their online presence so that that way they can attract more clients online, hence why I developed a brand on buying private practice.
Gordon Brewer
Yes, yes. So we're gonna, we're gonna dive into that. And so as, as you have kind of learned along the way, just how did you get interested in Canada, the online presence thing, and just learning about marketing and all of that sort of thing?
Omar Ruiz
Yep. So when I started my private practice, it was under insurance. So for those who are new or interested in building a practice, when you're at least from my experience, and speaking to other therapists, insurance practices don't really have to do much marketing, they tend to, they don't really have to focus on building a solid website, all they need is maybe a good Psychology Today profile, a very basic free website. And then that's pretty much it. A lot of their referrals just come through those those networks, the Psychology Today, or even people calling insurance asking for a provider, and then they're listed within their list of providers. So after about four and a half years, I end up closing down the practice. It was at a point where there were shifts in insurances where clients who had a specific insurance got switched to another one. And I could not keep up with the shifts in that timeframe and hadn't moved from one location to another whereby I lost the majority of my clients. So at that time, I had a house, unfortunately, I was underwater with the mortgage, I could not catch up. And because I wasn't really doing much marketing, it was very hard to to get my caseload to where it needed to be. So I had to make an executive decision of closing down the practice, and just applying to work full time at a school. So worked as a middle school counselor. So I was there. The practice was from February of 28th 20. Oh, man, I'm going back in time, February of 2014. And I closed down a practice of August of 2018. I reopened a year later. And I reopen it under a brand. So it's still a solo practice. But the brand I created was talking thrive. I was inspired by talkspace and thriveworks. I don't want to create like a brand for it. And this was just months. No, yeah, I reopened in September 2019. And this is months before COVID. So when I reopened it, I decided that we do private pay and not insurance. And that's what I quickly realized. Private pay is a completely different beast of a business model, where you really have to focus on marketing. And so I was doing a lot of the traditional ideas, passing out business cards going to networking events, and COVID hit and when COVID hit and the pandemic had everything that I was doing before just went to waste. My business cards were collecting dust because I couldn't meet with people physically. So I needed to take I needed to make a shift and learn how to market online. I had no idea about anything. So I decided to do what I would call go to YouTube University. I went and started watching a lot of videos. The issue that I had at that time was the videos that were currently out there were from For private practices were business coaches that were sharing information that I had already knew, because I had already had a practice and there wasn't anything new that they were sharing. And I think I actually, you, Gordon has decided to do a special video, you collaborated with a lot of the other folks like from focus on practice of the practice and private practice startup. And I had seen that video. And then afterwards, I said, I need to think of my private practice as a small online business. So I took it, and started watching videos about online marketing. And I decided to take some courses. And and I learned about SEO, local SEO, which is the Google business profile. And after a while, within about two years, I was able to get my practice where it needed to be, unfortunately, my full time job started noticing I wasn't paying as much attention. So they decided to discontinue my contract. Because when you're working in the school, you're hired under a contract for the year. And when anybody who gets noticed that they're not going to be renewed, I went into survival mode, I had the practice as part time, and I was applying to different jobs, I have two young girls that I need to take care of. And the funny thing was, I would never get hired. And I would get to the final stage. And years of experience, I had a lot of clinical skills to offer. I'm also bilingual, I speak both English and Spanish, and no one wanted to finalize the hiring. And so I figured maybe that's a sign of the universe, that this is not where I need to be, I need to focus on the practice and then build it at six months. And by the end of the six months, I was able to get full time in my practice. And then how I got to business coaching was, I honestly never thought about being a business coach, I never had the intent of doing it. I learned about Facebook groups for prior practices, and I started joining them, assuming I would get new information about how to improve my practice. And I quickly learned that I had more to give than to receive. And so much so that I got suspended and kicked out of different Facebook groups, because I didn't understand the culture, the culture of Facebook groups, is that if someone owns a group, they're trying to promote their service or their practice voting program, I assumed it was a community of people who just want to share. So as I got kicked out, I started quickly realizing, okay, I need to take a pivot, and I would get messages from people asking me, Oh, do you coach do you offer support, and I decided to try it out. And I got a lot of great feedback. And that's when I decided maybe this is the pivot I need to turn. Because I have my practice I was, I feel I still have the practice in this day. I feel great about it. However, I find myself being more passionate, helping therapists, especially where I spent years trying to get a clearer understanding of how to market in online. And that's why I created the the idea of online private practice, because that's how I built my practice, I had to study online and figure out how to get it to where it needed to be. And so that's where I'm at today, where I have a very small growing YouTube channel where I produce videos on teaching people and showing visually what they need to do online. And it's slow growing simply because you're editing YouTube videos. It's a lot of work. And so I have to, which is why I'm potentially interested in doing podcasting for myself, because of the creative script. After recorded, I have to figure out the screen recordings. Because what I wanted to do was do something better than what was already existing. I wanted to give people I don't think lost my ending piece would be, I'd want to give people solid information whereby anything I share could be Google fact checked, where if I share something with someone, if you don't believe me, just go to Google, type it up. Or go to YouTube and watch a video that I didn't produce that you can go by the information. And so that's, that's what I learned. No.
Gordon Brewer
Yeah, yeah. So the shift a little bit. I know one of the things that you've gotten real interested in is, is using the Google business profile as a way to really market your practice. So what have you learned about that?
Omar Ruiz
So a couple of things. Me, whenever I speak to therapists, especially when they're trying to do online marketing, I put it under five categories. There'll be directory sites website, a Google business profile, networking, and optional a social media. Google basic profile is helpful. One, if you see people in person, and two, it allows you to get shown within the Google Search It results faster than if you were to do search engine optimization for your website, or SEO, SEO in general takes between nine to 18 months for any page of your website to get shown because it's considered a long term marketing strategy, or business. However, if you set it up correctly, then you could get traction to that profile. So for for the audience who doesn't know, Google business profile is a free business listing that's offered by Google, you literally type go to Google type of Google business profile, and you sign up. It's basically it's almost like, compared to like a better business bureau profile, or Yelp profile where people can leave reviews. It's, it's designed as a panel that if you go on a desktop, and you search up your name, it should show up on the right hand side of the screen. If you use a mobile phone, and you type up your practice, name, or your name, it's the first thing that shows up includes like your picture, your name, your business information, any reviews that you have that's connected to your practice, and additional pieces. So to me, I'm an advocate for Google business profiles. Because one, it's free to you, you're the one in control of it. So you can upload and put in as much information as you need about your practice. And three, it increases your chances when you have clients locally who are searching on Google, especially if you are able to successfully get your profile to show up and in the map section on a Google search results.
Gordon Brewer
Yeah, so what are what are some tips and maybe strategies around getting your Google business profile up to speed or to have the how things should be worded? What What are things that maybe people ought to consider when setting up their Google business profile? Yep,
Omar Ruiz
I would say the first thing is when you sign up for Google business profile, you need to complete everything, anything and everything about your practice, you need to add it there. Second, you need to add pictures. And when you add pictures, try to avoid uploading stock photos. Because Google can tell the difference if it's a legitimate business versus you're just going on Unsplash or Shutterstock to get these fake photos of like couples or whoever you work with. If you're an online only practice or a telehealth practice, and you're trying to think well, I don't have an office that I can upload photos with. Then my recommendation is Think outside the box. Take a picture of you in front of your laptop as though you're in a telehealth session. Or take a picture of yourself or have someone record a small, what I call a business explainer video, where you explain the services you offer similar to what people might see on Psychology Today, nowadays, where they have that second video, you want to upload that. The reason being is because people are visual. So they already are bombarded with a whole bunch of text. And we live we now live in an age where video and pictures is what people want more days. Next is reviews, which is the biggest piece that whenever I'm engaging in Facebook groups of discussions around reviews is the most taboo subjects. Google business by itself, you look at it as both a profile and a review of review site or review listing. When we're thinking about clients clients, just like us were consumers. So what we're doing is when we go online, and we're researching something we're researching for what is the best product or the best service. The pushback I get from folks is loads against the code of ethics to ask for reviews. And so I had to do some research, and I found out that it's against the code of ethics for three of the main mental health providers, social workers, psychologists and professional counselors. It is not against the code of ethics for marriage and family therapists who abide by the AAA MFT nor is it against the code of ethics but a mental health counselors who abide by the a m A m HCA read into their code of ethics. It doesn't explicitly state they cannot ask for review. Now there are MFTs are Marriage and Family Therapist of California in which it within their code of ethics it does specify that they need to avoid soliciting testimonials from anyone who's vulnerable to undue influence. And I was also able to locate an article written by the legal department that clarified what that meant, which essentially means that the person themselves cannot independently make a choice for themselves. So such as like minors, so with marriage and family therapists and mental health counselors, they can ask for reviews but there's like certain best practice Here's about going about that. For social workers, professional counselors who abide by the ACA and psychologists who abide by the APA. The recommendation is for them to ask colleagues, co workers or referring partners, because one, they're not in treatment with them. And two, there's no, there's no unbalancing of power that differentiates between them. So reviews are important simply because that provides what is now called social proof, social proof validates that your service or your product is worth paying for. And so that's the biggest key what I would push for Google business. And normally, my biggest advice is use or what I would call do perform competitive competitive analysis. All you do is if say, for example, you are you an anxiety specialist, and you go to Google you type of anxiety therapy near me. And you look at the map section, and you press more places, say, for example, you're on desktop or mobile, you're going to look at every one that's listed there, because everyone listed there has a Google business profile, you're going to average out the reviews of how many reviews or does everybody had, and what's their score. So like if most people have 10 reviews, and their average score is around 4.5, your goal is to get 11 reviews and try to get like a higher than the 4.5. Because ultimately, it's still a it's still a competition, clients are choosing who's going to be the best for them. So you want to tailor your reviews to them. So that's that part. And then the last piece is are utilizing their product section and their Google post. Products. Normally, therapists don't sell products. Some do. Some might sell therapeutic workbooks or journals or fidgets. But you can actually use the product section by marketing your services as products. And then the last part is Google posts. It's not people treated as social media posts, but they need to be treated as like mini advertisements. So what I would suggest is folks to post once a week, that within that post, you're posting something related to your service. So pretend you're pretending it's a billboard, you have no more than seven words on the image, and then some text beneath it and with that text and needs to connect to a particular service page on your website. So that's, again, we're going we're getting into the nuances of it. But to me, I find that it's helpful simply because it helps therapists attract clients locally, especially if they're using an SEO strategy that's going to take months for their website to show up. To speed up the process to get more clients, I would say focus on Google business profile, and then work your way to SEO for your website.
Gordon Brewer
Right, right. Yeah. So as you as you were talking about all of that, and one of the things that I think is helpful for is for people to think, think about whatever they put, like in Google business, or just anything related to SEO, is to be able to put it in a language in which you know, people might be searching for services. And, yeah, so I mean, you know, one simple example would be, you know, to use the word worried rather than anxiety. You know, I think most people, most people today, you know, understand what anxiety is, but that might not be that's kind of a clinical term and to some degree, and so being able to put it in simple terms, or put it, not necessarily dumbing it down, but I mean, be able to put it in plain language so that when people search, they're usually searching and, you know, more plain language rather than a lot of clinical language.
Omar Ruiz
Yeah, I would say if folks are struggling with how to make it more simpler, literally go to source.com. And type up whatever word you're trying to look for synonyms for be weary, anxious, overwhelmed, eat up anything that might come up that you want to add. And that's, I would say this. The second part with that is going back to the review section, one of the things that I found interesting while trying to understand Google business profiles, and the power behind it is there's more power behind what the person says in the review than what we respond within the review. So that's to say if you're someone who, if you're within a profession where you cannot ask clients for reviews, but you're asking coworkers or colleagues for reviews. My recommendation is ask them to put down the specific service that you want to be found for. So if I'm, if I'm a couples therapist, and I want them to speak on my character as a couples therapist, and what they need to write down in their review is I have known Omar for this amount of years. He does great work with couples when he was offering marriage counseling and couples therapy. When they got within the review, Google will start noticing it. And it's called go review justifications. It's if you search something. And if you look at the map section, and certain words are bolded. Within the review, it's because Google is trying to showcase to the searcher, this person actually offers the service you're looking for. And it's more of a fixates on the person's eyes when they're seeing the screen to see something voted, and then they're gonna most likely want to click on it.
Gordon Brewer
Right, yeah. So yeah, I think it's just in thinking about that, like you said, is making sure that your your wording is going to be is going to speak to a person that is searching for you. Always searching for your services. Yeah, yeah. So well, this, this might be a little bit of a detour here, Omar. But I, you know, and I guess I'm reason I'm asking this is, because it's come up a few times for some colleagues or whatever, where you might have a disgruntled client or patient. And so they go in to the Google business and give you a negative review. So what are some what are some strategies, strategies around that? Because from what I hear, Google doesn't let you take down any any reviews, unless it's just completely slanderous or something? Yep.
Omar Ruiz
So that's a great question. So to clarify with people, there are ways to remove reviews, however, you would have to really dig into the weeds of Google's policies whereby they will only remove a review if it goes against their their content policy. So if, say, for example, there's a local pizza shop near me that actually got closed down, because the old there was an investigation on the owner. Locals left reviews saying you shouldn't treat your workers that way. Or how dare you use? How dare you abuse immigrants in that in that manner. And what's interesting is, the likelihood is that that owner was able to submit a request to Google to say these reviews do not fit to our business. Even though Google has no idea what's been happening as to why they were getting an FBI investigation. However, those reviews are removed, because it goes against their policy as far as like what people can leave. Now, if a client leaves a negative review, the first thing I tell therapists is you have to respond to that review, the concern that people have is around HIPAA. Now, as a lot of therapists are aware with HIPAA, it's more about protecting the client's confidentiality. But from a business perspective, we can still respond in a HIPAA compliant way, as long as we're not identifying that we have worked directly with them, all you would have to do is you would have to respond saying, Thank you so much for your review, we strive to offer the best quality care to our patients. Since this platform is open to the public to see and read, we encourage you to please give us a call at this number so that we can address some of the concerns to mention in your review. And then period. That's it. Because what you're trying to do is you're trying to get that conversation offline onto a phone call to try to mitigate what the issue was. The client still has the capacity to edit that review, because as with with any review left on on Google business, it's directly connected to someone's Gmail account. So as long as one you respond to both positive and negative reviews, and to you, excuse me, you ensure that your your response is, is addressing the issue, but in a way that you're encouraging them to take offline is still within HIPAA compliance. I would say the issue with getting a negative review is that it almost takes about four to 10 reviews just to balance out your score. And that's the troublesome so you really have to have a what I would consider a online reputation management strategy on how you improve it. And be mindful. I think a lot of people strive for like a five star. Normally, if you ask that everyday person, people will still consider your business if it's between 4.2 to 4.8. I forgot what article I read. But there was an article that said that when they see me 2.8, that that speaks more realistic about what they can expect versus if you had 105 star reviews, because people will question like, no one's perfect. So there has to be something that's off.
Gordon Brewer
Yeah, yeah, it's, it's interesting. I've had, it's happened to me, but you know, the, and the other. Another colleague of mine, we were talking about this, David Hall, so shout out to Dr. David Hall. But most of the time, when you get negative reviews, it's it's usually somebody that might not even be a direct client directly. And it might be that they are, you know, maybe they had trouble getting through to make an appointment, or they had trouble with with something that was totally unrelated to your services. And so that, you know, in those cases that do come up, but I agree with you, I think you do need to respond, and do it in a way that lets the other people that can maybe come through, see that you're responding and responding in a kind and compassionate way. But it's also protecting the person's privacy. So I mean, that's, yeah, I totally agree. And just invite them to, you know, contact us directly. And we'll try to, you know, whatever the concerns are, and be able to deal with deal with it in that way.
Omar Ruiz
Yeah, what I explained that therapist is that, because you're starting and building a business, this is part of that, which is customer service. And so read that they can see that you are attentive as a business, you're addressing the concern, and you're trying to offer some sort of solution. And when if clients were to ever address it to you in person, whether if you are online, doing telehealth or just seeing them in an office setting, there might be a time where people might share, like, I really do appreciate how you responded to them. And then that's where you can speak to, you know, because of my values around privacy and confidentiality, we do the best that we can to address people's concerns. But we can't unlike other businesses address that particular client. And that happens a lot. But some of the folks I've worked with where they say the same thing, someone call they didn't get a hold of them, they got upset. And then they wrote a review saying they didn't answer the phone call. I tell people context matters or consumer, because if I'm a consumer, I read, like, if I see a restaurant that I enjoy, and I'm reading, and most of the people are saying good things about the food, but bad things about customer service. I still might want to try their restaurant, I just may not. I'll just do a takeout and just focus on the food instead of having right, that same experience.
Gordon Brewer
Right. Right. Yeah. So that good. Good advice there. So, Omar, I need to be respectful of your time. But tell folks a little bit more about your consulting. And I know you've got some some resources for people as well.
Omar Ruiz
Yeah, so I'm offering every therapist the ability to have a free consultation if they are required or needed it. Within that consultation. Essentially, I go over what are your practice goals. If you have a Psychology Today profile, we'll take a look at it so I can give you some quick feedback about it. The services that I as of now offer tend to focus on two things, individual coaching, which is set for like 45 minutes. And the other is what I call a group marketing, group marketing intensives. That's basically for our program where it could be between one to 10 people, however, many people sign up. And that's where we will go through the different levels of online marketing strategies such as therapy directories, website, Google business, and going into the weeds of like SEO search engine optimization. I'm in the works of possibly thinking about in 2020 for creating my own podcasts, I'm still in the in the works of organizing, trying to figure it out for myself. But in the in between time. If anybody wants to schedule a free consultation, they can go to online private practice.com Or they can see any of my free videos on YouTube. And you can just go to YouTube and search up online private practice.
Gordon Brewer
Great, great and we'll have links in the show notes in the show summary for people to get to it easily. Well Omar, thanks for being on the on the podcast and hope we'll be talking again with you here soon.
Omar Ruiz
Thank you so much for inviting me again.
Being transparent… Some of the resources below use affiliate links which simply means we receive a commission if you purchase using the links, at no extra cost to you. Thanks for using the links!
Omar's Resources
Resources
Meet Gordon Brewer, MEd, LMFT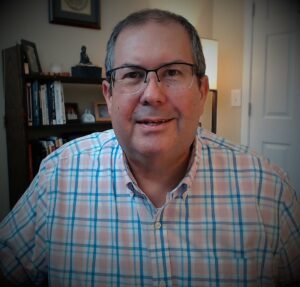 Gordon is the person behind The Practice of Therapy Podcast & Blog. He is also President and Founder of Kingsport Counseling Associates, PLLC. He is a therapist, consultant, business mentor, trainer, and writer. PLEASE Subscribe to The Practice of Therapy Podcast wherever you listen to it. Follow us on Instagram @practiceoftherapy, and "Like" us on Facebook.