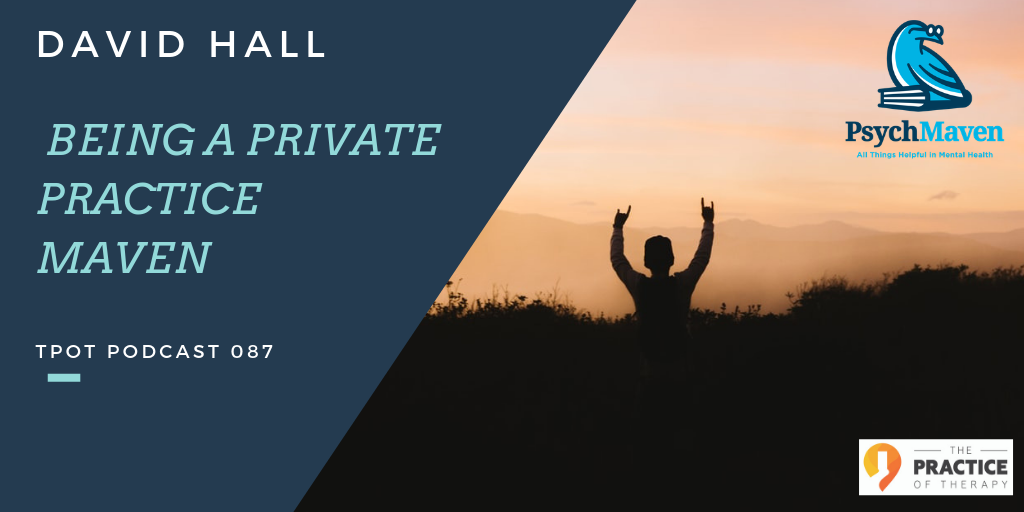 Gordon's first ever guest on the Practice of Therapy Podcast is back! Dr. David Hall of PsychMaven discusses how he has felt unqualified in more than one business venture. One of the ways David has followed his passion is by starting a continuing education group called The Narrative Institute. Also, David touches on some ethical issues in private practice and gives a little sneak peek into what he and Gordon will be presenting on at the 2019 East & West TNAMFT Conferences. Later, David and Gordon discuss why you should diversify your income and how to start earning passive income.
Meet David Hall
Dr. Stephen "David" Hall heads up content and creative direction as the "Chief Maven" of PsychMaven. He began his work as a psychotherapist in 2005, and he currently holds clinical licenses in Family Therapy and Mental Health Counseling. He has built up multiple counseling practices in his years as a clinician, first in Georgia and then in his home state of Tennessee. In 2015, he led the start-up of an independent psychiatry clinic, Haven Family Psychiatry, in Knoxville, TN. Dr. Hall maintains a psychotherapy caseload and supervises postgraduate therapists in the practice he leads in the clinic, Haven Counseling Center at Haven Family Psychiatry. 
Feeling Unqualified
David started a continuing education group called The Narrative Institute. He had no idea how to start one of these groups, he figured it out as he went along. He also figured out how to run a private practice as he went along. A lot of people are hesitant to jump in, they do not feel qualified to do something. David has done lots of things that he hasn't felt qualified to do. Doing continuing education events has led David to create PsychMaven. He first became familiar with word maven in Malcolm Gladwell's book, The Tipping Point. A maven is an enthusiast or a connoisseur who is interested in spreading the information they get and wish to be helpful.
Ethics
The first paid workshop David did for The Narrative Institute was an ethics workshop. He did it because it was a topic that everyone needed to know. He was also determined to make ethics relevant and not boring. For the most part, ethics can be very relevant. The topic they will be touching on at the 2019 East & West TNAMFT Conferences is ethics in private practice. Doing things ethically and above the board is essential as a smart business move. It will keep your business sustainable. In addition, they will discuss fee disbursements and accurate advertising at the conferences.
Passive Income and Diversifying Income
Many entrepreneurs are interested in creating passive income. David creates on-demand continuing education to supply passive income. Some states require fifty percent of the workshops you do to be in-person. However, many states do not place any limits on doing continuing education online. Once you take out the barriers of geography and time for ongoing training, then the doors will open. Find something that feels exciting and natural to you. There is not just one way to diversify your income. Imitating someone else in a way that is not organic to yourself will eventually be a burden. Find something that you love to create an alternative source of income.
Being transparent… Some of the resources below use affiliate links which simply means we receive a commission if you purchase using the links, at no extra cost to you. Thanks for using the links!
[amazon_link asins='0978562038,0316346624,1328972356′ template='ProductCarousel' store='practiceoftherapy-20′ marketplace='US' link_id='f63c42f2-d818-414c-928a-ba773ee86184′]
David's Resources
Other Resources
Meet Gordon Brewer, MEd, LMFT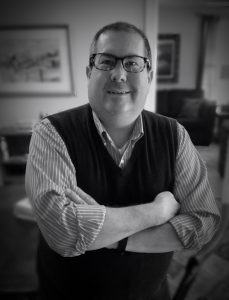 Gordon is the person behind The Practice of Therapy Podcast & Blog.He is also President and Founder of Kingsport Counseling Associates, PLLC. He is a therapist, consultant, business mentor, trainer and writer.  PLEASE Subscribe to The Practice of Therapy Podcast on iTunes, Stitcher and Google Play. Follow us on Twitter @therapistlearn and Pinterest "Like" us on Facebook.