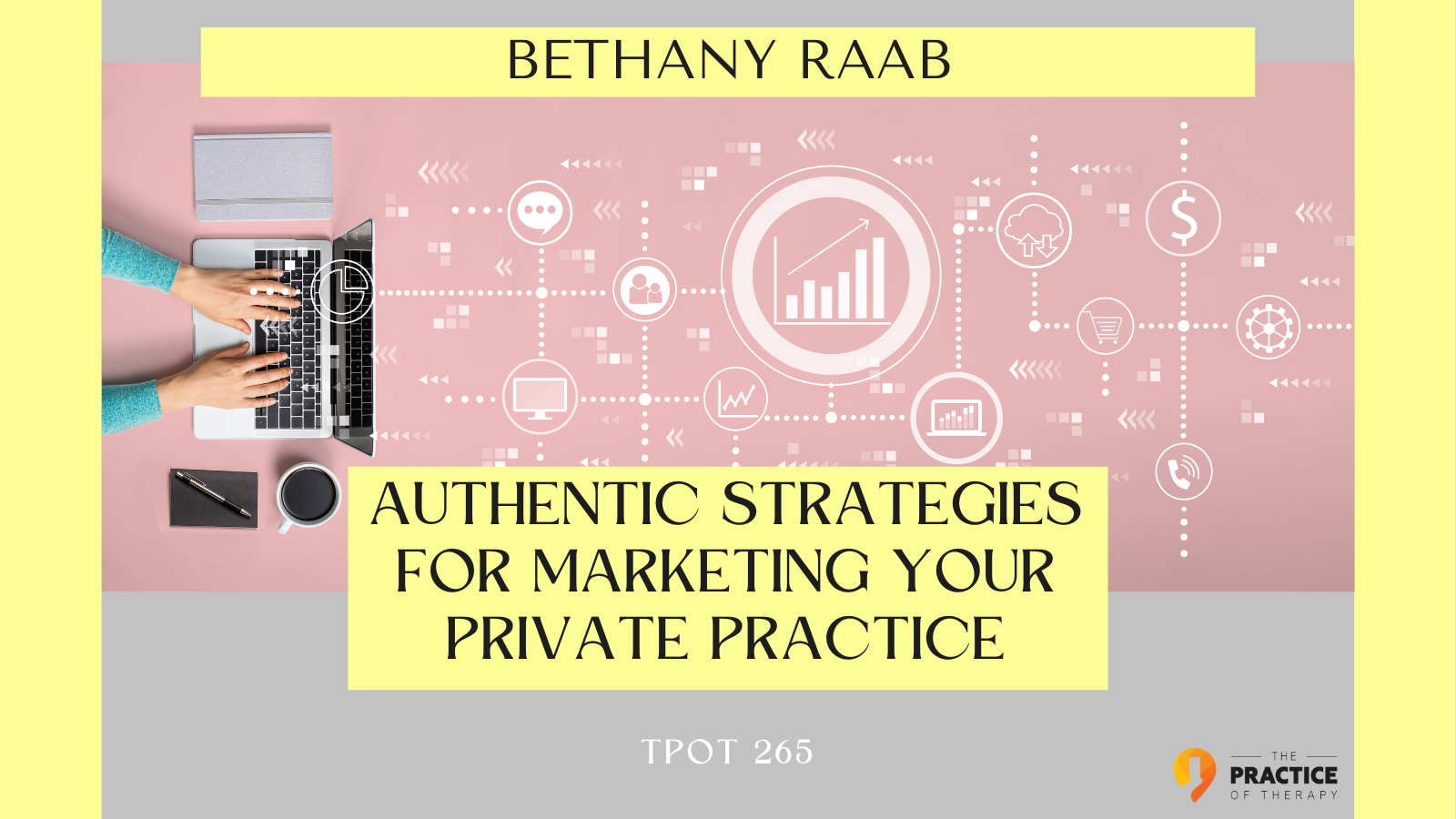 Are you looking for a cohesive strategy to attract well-aligned clients consistently? Well, you're in luck! Bethany Raab joins the show to discuss what does and doesn't work in mental health marketing. She touches on the strategies you can use to market your therapy services. Plus, Bethany reveals simple marketing techniques through referral and network partnerships, and we chat about speaking directly to your ideal client. Tune in as Bethany gives the scoop on her interactive live class that will give you the tools to grow your private practice.
Meet Bethany Raab
I am on a mission to empower more social workers to change the world and take good care of themselves while they do it.
I provide specialized therapy to youth in the criminal justice system and adolescents struggling with relationships, anxiety, and depression. I supervise 15-20 social workers pursuing their LCSW in Colorado. I consult with other clinicians on topics related to healthy sexuality and sexually inappropriate behaviors. I provide guidance to social workers who want to start a private practice. Plus, I am the President of the Colorado Society for Clinical Social Work.
Marketing Your Therapy Services in a Genuine Way
Bethany is passionate about marketing in a genuine way. There is nothing a therapist likes less than feeling stilted and non-genuine. Therapists must communicate who they are and who they like to work with. It can feel sleazy begging for clients. However, when you're talking about the pain you help people address, the possibilities, and the hope they can have by working with a therapist, it feels entirely different. Therapists need to be able to connect with people. If you can tell your ideal client's story and what it's like in their internal world, that will resonate with your potential clients.
Speak Directly to Your Ideal Clients When Marketing
First, you need to know who your ideal clients are. Who do you want to work with each and every day? Keep that ideal client nice and narrow so you have a group to talk to regarding marketing. Bethany likes to speak to the parents of lonely teenage girls in eighth grade. There are many reasons that all of those pieces go in there; it's the transition point between middle and high school. Loneliness can lead to lots of other things like depression. Identify the people you want to work with and figure out the basic experiences they are having. Hit on the language that your ideal client will use. That's why Bethany will use the word "lonely" rather than "depressed."
Effective Marketing Through Network Partners
Next, you need a set of network partners and referral parents. Network partners can look different. For instance, you can find a network partner by being a guest on a podcast. Think about who is in the world of your ideal clients. Then, find meaningful ways to build connections with those people. We build mutually beneficial relationships with other therapists by sending clients to each other. Well, other professionals are working with your clients that may not be mental health professionals. Find out who those people are and connect with them. That way, your clients can have a well-rounded approach to their care.
Four Weeks to Grow Your Private Practice
Bethany's online course just launched; it's called Meaningful Buzz: Four Weeks to Grow Your Therapy Practice. She wants you to go from "sharing business cards + begging" to consistently using a cohesive strategy to attract well-aligned clients. You'll have a new understanding of what works and what doesn't work in mental health marketing. Plus, you will gain clarity about what to say and where to say it when you promote your private practice. Also, there are four live sessions with Bethany where you can workshop and talk through the characteristics of your ideal client. After the four sessions and course, you will feel confident about marketing your private practice.
Gordon Brewer
here. Yeah. Okay, go ahead and do the floor.
Bethany Raab
All right. Hi, my name is Bethany Rob, and I'm happy to be with Gordon today on the practice of therapy Podcast. Today we'll be talking about authentic marketing for therapists.
Gordon Brewer
Well, hello, everyone, and welcome again to the podcasts. And I'm happy for you to get to know today. Bethany. Rob, welcome, Bethany.
Bethany Raab
Thank you for having me. Yes, I've
Gordon Brewer
been looking forward to getting to know her. And also just all of this. You know, there's the topic of marketing is one that we've, we kind of landed on and just her passion around that. But Bethany has a talk, as I say, with everyone, why don't you tell folks a little bit more about yourself and how you've landed where you've landed?
Bethany Raab
Sure. I'm a licensed clinical social worker who practices psychotherapy in Denver, Colorado, and virtually around the state. I finished my master's degree and started as a therapist in 2006. So I'm 16 years and as a therapist, and I've spent most of my career working with adolescents and their families in a variety of settings, they are my favorite. And I've also moved as I've gotten further into my career, become a parent, I've shifted my practice a bit, to include more supervision and teaching. And part of what I'm teaching is marketing. This is something that was so hard for me, early on, in my practice, I didn't know how to do it, there wasn't a lot of great resources out there that were really easily accessible. And so I did some of the maybe cliche things I sent, doctors offices, my business cards, I talked to everyone I knew, I put my stuff up on boards in community, gathering places like coffee shops, and hope for the best. And, and I got off the ground, it did what it needed to. I've had a successful private practice now for 10 years. But I've have come to understand so much more about marketing, I've really worked on studying methods that are good for social workers and other therapists to use that feel authentic to us, that really highlight our clinical skills, because our clinical skills are exactly what we need to go and do great authentic, non sleazy marketing, we are so ready to talk to people in their own language and to draw people in because that's what we do every day. So as I've moved to a split between my beloved teenage clients, and then some less clinical work, this has really been a place that I've landed, and and I'm really excited about it.
Gordon Brewer
Yes, yes. Yeah, you know, you hit on something that I think is important for people to remember just about marketing. And that, you know, really, marketing is no different than what we do in a session building engagement with clients. So yeah, I mean, it's just really about being, you know, having people feel comfortable with you, I think, as much as anything. Yeah.
Bethany Raab
And one of the things that our report allows us to do is to build trust, and help people understand that we have their best interests in mind that we're there to listen, we're there to listen with open ears, non judgmental perspective. And that's what people want to see, before they even get in our office. Right? You know, knowing what that we are a licensed clinical social worker, or a counselor or a psychologist EMDR trained, all these other things don't make a lot of sense to folks outside of our field, they need to know that the personal connection is going to be there, and the non judgement is going to be there. And the rest of it all comes later.
Gordon Brewer
Yeah, yeah. So I know one of the things that you're passionate about is doing marketing and just a genuine way. You want to say more about that. Hmm.
Bethany Raab
One thing that I always felt, as I was building my practice, and I've come to understand as I've supervised and taught these skills, are that there is nothing a therapist likes less than feeling stilted, non genuine, like we can't communicate who we really are, and who we work with. And I think that that's what the business card and doctor's office sort of approach and our website approach and our bio approach tends to lead us to we see that on other people's pages. So we do it too, and it doesn't feel good. Because it's not us. It doesn't consent, give anyone the concept of what it's like to be in the office with us. The other things that I know I felt and that I hear from my folks all the time is that it just feels so sleazy, or other begging for clients. And when we're just out there talking about the pain that we help people address the possibilities and the hope that they It can have with working with us, it feels entirely different, because it really does kind of harken to our clinical room.
Gordon Brewer
Right, right. Yeah, I've heard it described as you know, as far as our, our messaging of being able to connect with people is, if you can kind of tell the story of your ideal client in that be able to portray that you understand? I wouldn't say exactly, but you understand what it's like in their internal world. That's what really resonates with people,
Bethany Raab
huh? Yeah. Feeling seen something we all desire. And when we're in that panic point of something is so wrong. I need to reach a therapist, because we know folks don't call the when things are good and calm. Tipping, right? They call it a crisis point. And so feeling seen heard and understood is imperative.
Gordon Brewer
Right? Right. Yeah. So in working with people on and beginning to market their practice, what, what are some ways that you feel like they can kind of get started, and maybe a way to kind of create a framework or an idea about how to go about it?
Bethany Raab
Mm hmm. You mentioned one piece that I always start with, which is that ideal client, the niche population, process of Who do I want to work with, and keeping it nice and narrow, so that you have a group to talk to, I always give my my niche in my private practice. One of them actually, is, I want to speak to the parents of lonely teenage girls in eighth grade. And there's a lot of reasons that all of those pieces go in there. It's that transition point between middle school and high school. Lonely, can lead to lots of other things. I don't want to say send me your depressed kids, even though that's really who I work with. That's who comes into my office, but lonely sparks. So it's about identifying those people you want to work with. And then figuring out some of the basic experiences they are having, that you can speak to that aren't clinical in the therapy room issues. But more, you know, Monday morning over a cup of coffee while everyone's still waking up. What are you talking about the sort of water cooler talk? My daughter's not connecting with anyone at school? I don't know what to do anything on some of those pieces of language for your ideal client? And that's where you begin?
Gordon Brewer
Right? Right. Yeah. Again, it's it's kind of being able to give, give words to what people are experiencing internally. And just being able to give them a language for that. Which, again, going back to what you said before, is that it's really no different than doing therapy. I mean, in that sense,
Bethany Raab
it really is, you know, we don't typically have our folks walk into the room. And tell me about your depression. This is not the first question we asked, specifically thinking in private practice, for working in an emergency room or inpatient psych, some of those places, that looks a lot different. But here, we want to get to know the person, we need a lot of information. You know, and so talking about, you know, your mom tells me you're feeling pretty lonely, lands a lot differently than your mom thinks you're depressed. But obviously, there's a clinical skill difference there, right. But there really is language that that fits both in marketing and in the clinical realm. We want people to be able to hear us.
Gordon Brewer
Right, right. Yeah. So you know, another thing that I think about with this whole thing with marketing is being able to help people find you being able to, you know, because I think if people want that have listened to the podcast, for a while I've heard me say this is that there is no lack of clients. For us out there. There are so many people that that won't help or seeking help. But it's a matter of them being able to find us and then being able to resonate with us in some way. Yeah.
Bethany Raab
In addition to identifying the client that you want to work with of the set of clients, you want to work with the other part of what I what I teach, and what I help people develop is a set of network partners and referral partners. And I specifically talk about referral partners because some, some of them are going to be other therapists who work and have an overflow with our same client have adjacent clients. But network partners, and outreach partners can look really different can be coming on a podcast that speaks to your audience, but someone else So you are a therapist, but someone who may not be, you know, it's about thinking about who is in the world of your ideal clients, and finding really authentic, meaningful ways to connect with those people. And then you really can build a, we do this so much with other therapists already, we build that sort of mutually beneficial and, and positive relationship, you send each other people, there's so many people out there working with our clients, that aren't other therapists, that if we can sort of tag in with them, and offer a nice, well rounded approach to working with them as whatever types of professionals we are, we can get to a lot more people than just thinking about the therapist, to therapist method or the therapist Facebook group method. Those certainly have a place as well.
Gordon Brewer
Right, right. Yeah, it's, uh, you know, if you think about it, you know, what we do best with the rat race? You know, one of the I think the most effective way to market is what I'm trying to say is, is getting a recommendation from someone I know, I recently had to buy a new washer and dryer. And so I asked my friends, okay, what do you have? And what do you have? Oh, yeah, kind of thing. And so yeah, so being able to, you know, and I'm just thinking, in my own practice, I think, probably at least half maybe more of the people that we get, they come. As, you know, my friend said that they come here, or, you know, my doctor said that this is a good place, or all of those kinds of things are really kind of helped people find us,
Bethany Raab
they really do. Some of mine working with teens are like soccer coaches, football coaches. You know, they were not unrelated in that we're working closely with teens, but it's such a different world. And coaches can become confidants for so many kids. Right? That that's a really natural place to, to make a connection, and to have conversations and help each other understand what what you offer to each other, honestly, you know, helping their their team members feel happy and be able to get to school get to practice do well, is super beneficial for them. And I want to work with the issues that they might be struggling with. And so it just sort of is lovely cycle.
Gordon Brewer
Right. Right. Yeah. It really what it speaks to is is an investment of your time being connected in your community, wherever you might be. Yeah,
Bethany Raab
yes. Yes, it really is. And I think we as therapists do that so well within ourselves. I know I can speak in Denver, there is a robust therapy community here. We talk to each other a lot. We're in online spaces together. Last few years haven't been as much in person. But we do that really well with ourselves. And this is about just sort of looking a little a different direction and seeing who else belongs in that circle, because it is our community. Yeah, these kids in Denver are our future. And so I want to help help take care of them. Right. I think the same probably speaks for you and your community with your clients.
Gordon Brewer
Yes, yes. It's very, that's very true. And I think I know for I know, for me with a group practice, I think, being able to people to have a clearer understanding of who going back to who are their ideal clients, who do they enjoy working with and who are they energized by?
Bethany Raab
Exactly. We do our best work when we have clients that are well aligned with us as much as they are aligned with us from their perspective.
Gordon Brewer
Right. Right. Yeah. So well, Bethany, go no, go ahead. Well,
Bethany Raab
I said one of the last things that I really try to teach and embody is that, like you said, there are so many clients, looking at marketing in this way can help us take the competitiveness out of it. We don't need to compete against each other. There are so many clients, and we all do our own unique thing. So we can lean on these authentic pieces of marketing, and not feel like we need to compete and that's just going to make the therapist community better and stronger.
Gordon Brewer
Yes, yes. I totally agree. I think there's really no room for competition in all this, you know, yeah. So, yeah, so one of the things I know for you, Bethany, you're putting together some coursework and that sort of thing. You want something about that? I
Bethany Raab
would love to thank you. I launched this last couple of months, an online hybrid course called meaningful buzz four weeks to grow your practice and it is is a partially self guided course, with videos and content and worksheets taking you through some of the steps that we've talked about today, identifying your ideal or niche client? Who are your outreach partners? What language do we use? How do we want to talk to people and an authentic way. And it's paired with four online live sessions with me within a sort of workshopping setup, where we all work together, we all work through some of the topic, we do some review from the videos, but then we sit down and we talk through what are the characteristics of your ideal client, let's hash some of it out. So really, people come out of these four classes, and the course feeling really confident because they weren't just sitting by themselves trying to figure out how to do this. They've gotten a lot of good, basic concept information along with the feedback and a safe place to sort of say, is this right? And really be able to work through some things to leave with a plan?
Gordon Brewer
Yes, yes, that sounds sounds great. Because I think, you know, one of the in my membership community, that's one of the things that I know a lot of people are really interested in, especially in those beginning stages. Yeah, just how do you get your name out there? And how do you connect with people? I'm curious, Bethany, what are you with? Maybe I don't know, if we if it's fair to say post COVID? Because I don't know that COVID going anywhere. But you know, when we when we all made the switch to telehealth, and doing more online kinds of things, what, what did you kind of notice about some of the better ways to market in that environment?
Bethany Raab
I think our number one best way to market is to do excellent clinical work, which is has been certainly a learning curve these last few years, especially right at the beginning to figure out how we best serve our people online. And I found that once that was sort of under control, and my clients were sort of settled, and we had our rhythm down, that I could really return to some of the people that I have worked with before some of my referral sources sort of reengage with a Hi, I'm still here, are you still here? And really reengaged I did a lot of conversations just like this, on the phone on Zoom, to really talk with people and I have found that many people I've reached out to are really excited to sit and talk with someone, even if we're not in the same place. We'll never take the place of buying someone a coffee to talk with them. Oh, yeah, absolutely. But I have found that people are really excited about connection. They're excited about growing their business. They're excited about serving their clients. And so just shifting online from in person has been really productive and really enjoyable for me. And I'll get back to some of that in person stuff eventually. But yeah, I have found that the invitation and the scheduling really, come very easily to a lot of folks.
Gordon Brewer
Yeah. Yeah. And I think one of the things too, that has come out of it. Maybe a counter on the client side is that for a lot of clients, this is much more convenient to meet online. In that, yes, you don't have the commute time and all that sort of thing. And so it makes makes makes what we do more accessible to them in that so
Bethany Raab
it does. I have clients supervision and therapy clients from all over the state. And I am thrilled about that, you know, Colorado has lots of remote and underserved areas, as I'm sure you do as well. Oh, yeah. And it's really helped me be able to reach into some of those places. And I, I will never not have an online part of my practice at this point because of what it has allowed me to do and who it's allowed me to meet and work with.
Gordon Brewer
Sure. Sure. And I would say the same for me is, you know, it's just, it's just baked baked in as they say now, it is it is for people. Yeah. So well, Bethany, I want to be respectful of your time and tell folks how they can get in touch with you and find your things.
Bethany Raab
Yes, yes. My website is Colorado spelled out Colorado LCSW supervision. My Courses are their bio information blog. I have a team of supervisors that work with me, we're all there. And I'm really active on Instagram as well. And my handle is at Social Work supervision, helpful different ones at Social Work, supervision, and marketing information and marketing courses and any of that is open to all mental health folks. Doesn't matter if you are upset psychologist or an LPC? I would love to talk with you. And you can be from anywhere in the country. So we'd love to hear from folks.
Gordon Brewer
Awesome. And we'll have links to here in the show notes in the show summary for people to get to that easily. Well, Bethany, I really appreciate your time and I hope that we can have another conversation here before long.
Bethany Raab
Yes, I appreciate your time as well. Thanks for the opportunity.
Being transparent… Some of the resources below use affiliate links which simply means we receive a commission if you purchase using the links, at no extra cost to you. Thanks for using the links!
Bethany's Resources
Resources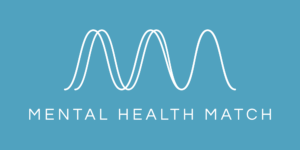 Meet Gordon Brewer, MEd, LMFT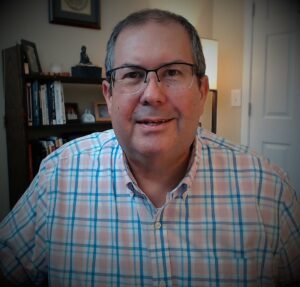 Gordon is the person behind The Practice of Therapy Podcast & Blog. He is also President and Founder of Kingsport Counseling Associates, PLLC. He is a therapist, consultant, business mentor, trainer, and writer. PLEASE Subscribe to The Practice of Therapy Podcast wherever you listen to it. Follow us on Instagram @tpotpodcast, and "Like" us on Facebook.