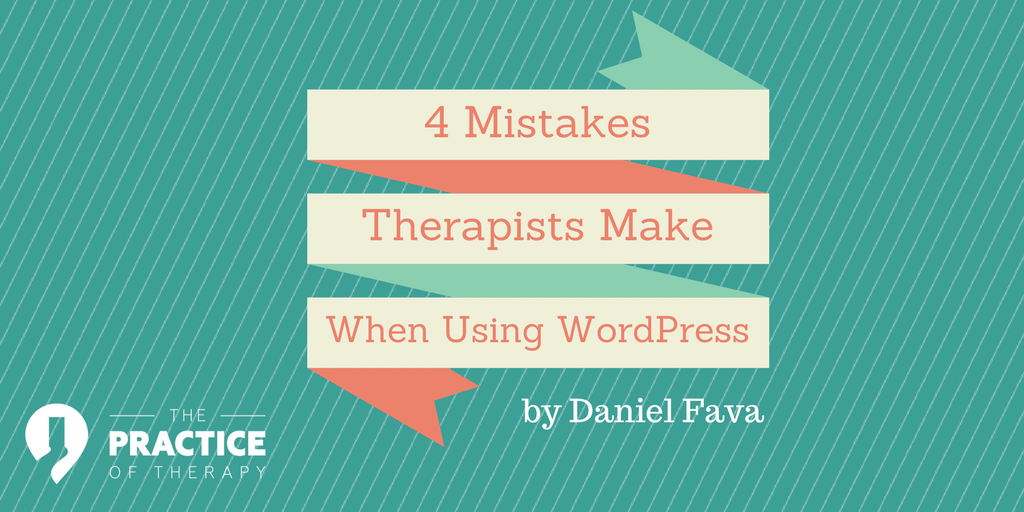 WordPress continues to be the most popular website platforms available today. It's no wonder many therapists are eager to use it create their own websites for their private practice.
But WordPress can be overwhelming with many settings that may not be clear to the beginning therapist.
So, in this article we'll talk about four common WordPress mistakes therapists make and how you can avoid them.
Mistake #1: Not Changing Your Permalinks from
Default
to
Custom
First of all, what the heck are permalinks?
Permalinks are the URLs that each piece of content on your website will appear at.
Every time you post a blog or a web page, a new permalink is created.
This is the URL that users can type in their browser to see your content, what other websites use to link to your content and the URL that search engines will use to help determine what your content is about.
So, permalinks are very important.
Setting them correctly from the beginning will save you many headaches later on, so let's talk about the correct way to configure your permalinks in WordPress.
The Default Permalink Settings
Your permalink settings can be found in the WordPress admin area under Settings/Permalinks.
When you first install WordPress, your permalinks will be set to the default, "Plain", setting:
When using this setting your URLs will appear in a not-so-user-friendly format like so: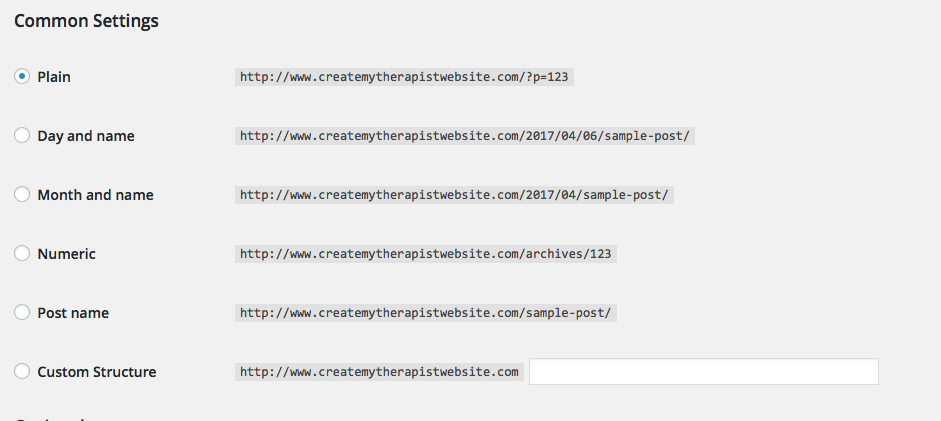 http://www.mywebsite.com/?p=125
Not very pretty, is it?
URLs with this structure can be tricky for users, should they want to reference specific pages on your website.
Using the default setting also makes it difficult to identify what the content of web pages is about.
This is especially true for search engines, which prefer a more structured URL that contains keywords, making it easier to crawl your pages and rank higher.
Which Permalink Setting Should You Use?
Many studies have been done to test both the performance and SEO benefits of the different permalink structures.
As mentioned above, there is a benefit to using permalinks that contain keywords and easily help users and Google understand what your content is about.
For that reason, many people stick to a permalink setting that contains the %postname%, which will pull in the title of your content to create the URL.
Popular options include:
Category + Name:

/%category%/%postname%/ (which creates URLs that look like www.mywebsite.com/couples/ten-dating-tips)

Post Name:

/%postname%/ (which creates URLs that look like www.mywebsite.com/ten-dating-tips)

Day + Name:

/%year%/%monthnum%/%day%/%postname%/

(which creates URLs that look like www.mywebsite.com/2017/01/01/ten-dating-tips)

Month + Name:

/%year%/%monthnum%/%postname%/

(which creates URLs that look like www.mywebsite.com/2017/01/ten-dating-tips)
According to this article from Elegant Themes, "there seems to be no performance issues linked with any common permalink structures. And to my knowledge, there is no SEO benefit of using one [of the above] permalink [settings] over another."
So which one should you use?
Because there are no performance or SEO benefits of either of the four mentioned permalink settings, you'll have to decide what makes the most sense for you and your website.
Will your website be a hub for articles you write about many different topics in your niche?
Then you may want to use Category and Name or one of the date-based options.
For most therapists in private practice, who have pretty simple websites, I recommend using the simple Post Name permalink setting.
This is the setting I use on my own websites.
I like the simple, straight-to-the-point look of each of the URLs that it creates, for example:
www.mywebsite.com/coping-with-anxiety-at-work

www.mywebsite.com/boundaries-in-marriage

www.mywebsite.com/about-me
You can understand what each of those pages are about, quickly and easily.
Plus, if I ever want to change the category or date something was posted, it makes it much easier not to include those in the permalink.
Mistake #2: Using Free WordPress Themes
Free is such an enticing price, am I right?
And I get why therapists just starting their private practice would go for a free WordPress theme.
Every penny counts when you're building your new business.
But every minute counts as well.
There are a few reasons why I don't recommend using any of the hundreds (maybe thousands?) of free WordPress themes out there:
Can be more time consuming:

In my experience, using a free theme leads to nothing but headaches. They lack much of the ability to customize that other paid themes have, so you may spend hours trying to do simple tasks like making a logo smaller or removing elements you don't like.

They are not as user-friendly:

Even coming from someone who has used WordPress since 2008, free themes often lack in usability features, making it hard to edit or find certain settings

They are usually uglier:

I'll admit, this has gotten better, but you can often spot a free theme versus a paid theme due to its simplicity and lack of style.

Less features, options and customization:

Not much more to say here, just compare what you get with a paid theme and what you get with a free theme.

Lack of customer support:

Free themes are often not supported, or not supported

well

, by their creators. If you have a question about how to use their theme, you may be left without anyone to help you. Paid or premium themes often come with online forums and access to customer support. I can't tell you how many times I've gone to these and asked simple questions like, "how do I make my header larger?", and in a day I get a response on exactly how to do it. This saves time and headaches, for sure.
So, for the reasons above, I recommend going with a premium WordPress theme for your private practice website.
Many of these themes are just a one-time fee (most seem to go for about $59) which gets you access to customer support, extra features and future updates for free.
My favorite places to find these types of themes are Themeforest and Elegant Themes (affiliate links).
Mistake #3: Using The Default Username For Logging Into WordPress
Oftentimes, when you first set up WordPress, your username will be defaulted to "Admin".
Leaving your username as the default opens you up to some security threats.
Hackers have one half of the equation – your username – that they need to take over your website completely.
Here's What You Can Do
Many hosting providers these days offer easy installation of WordPress on your hosting server.
Through these easy-installers, you often do have control over your username. If that's the case, make it a unique username that's not easy to guess.
If, however, your username became "Admin" automatically during installation, you'll have to create a new user in WordPress.
Navigate to Users/Add New: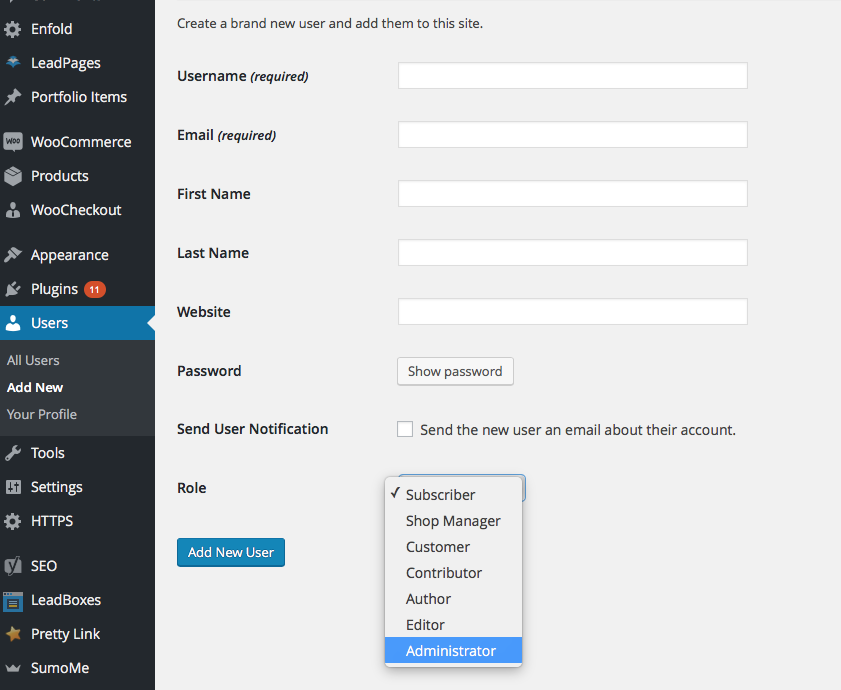 Create your new user, choosing a new username and set the role to "Administrator".
Then, log out of the WordPress dashboard and log back in with the new username and password you set up.
Once inside, you can then delete the old default Admin under Users/All Users, and use your new account going forward.
Mistake #4: Too Many (or Outdated) Plugins
Plugins are the fun little pieces of software you can add to any WordPress website to do a million-and-one different things.
They add new functionality like social sharing, SEO capabilities, calendars, user forums, you name it… there's a plugin for it.
The temptation when starting out with WordPress is to add a ton of plugins.
The trouble with this is that it adds more code to your website, can slow down load speeds and also becomes something you need to manage going forward.
Plugins should be kept up to date or you could run the risk of hackers exploiting old code that contains flaws.
So, make sure you only use plugins that are absolutely necessary for your private practice website.
Also, make sure any plugin you want to add has great reviews, is used by MANY people and is up to date and compatible with your version of WordPress.
Often one of the biggest crasher of WordPress websites is an outdated plugin that conflicts with other plugins or your theme.
This is also another place that having a well coded, premium WordPress theme comes in handy, as they will have many features that will keep you from needing more plugins in the first place.
Also, if you're not using a plugin, deactivate it and delete it completely from your server.
Those leftover files, if just sitting there, can be another way hackers can get into your website.
In Conclusion
I hope that knowing these four mistakes helps you get a jumpstart on your own WordPress website for your private practice.
I made all these mistakes (and more!) when I first began using WordPress.
I've had websites get hacked into, plugins crash the whole thing, wasted countless hours with free WordPress themes and have loaded websites down with useless plugins as well.
But I'm glad to go through all that and share these mistakes if means I can save you from a headache and help you launch your own therapy website!
Want to get started with WordPress but don't know where to begin? Check out my mini-training, A Little Course About WordPress.
About Daniel Fava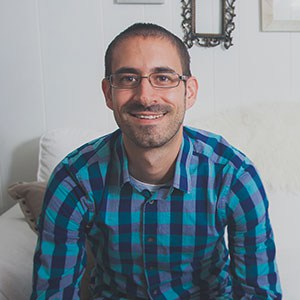 Daniel Fava, founder of CreateMyTherapistWebsite.com, teaches therapists how to create websites and attract clients online. After building a user-friendly website for his wife's private practice and seeing the impact it had on her business, he became passionate about helping others achieve the same. Daniel offers web design services, consultations and online training to help therapists overcome tech-fears and grow their business through online marketing. You can get free access to his library of PDFs, cheatsheets, and ebooks by clicking here.